June, 4, 2013
6/04/13
8:00
AM ET
Good morning, NFC West.
We are going to remember and appreciate former Los Angeles Rams defensive end David "Deacon" Jones' career on this day following his passing at age 74.
The NFL calendar pauses long enough for reflection at this time of year, which is great because Jones' legend demands it.
"Secretary of Defense" was Jones' nickname even though the eight-time Pro Bowl choice had no use for diplomacy. He head-slapped opposing offensive linemen on his way to the quarterback and personally coined the term "sack" -- years before the NFL began tracking the stat in 1982. The way he explained the term in
a 2009 Los Angeles Times piece
was vintage Jones.
"You take all the offensive linemen and put them in a burlap bag, and then you take a baseball bat and beat on the bag," Jones said. "You're sacking them, you're bagging them. And that's what you're doing with a quarterback."
Jones combined with fellow Hall of Famer Merlin Olsen on the left side of the Los Angeles Rams' Fearsome Foursome line also featuring Lamar Lundy and Rosey Grier.
I would encourage you to check out his Hall of Fame induction speech, preserved on the Hall's website in
an audio file
. Jones spoke of his road to the NFL and his personal philosophy. His comments provide some framework for his career and approach.
"Violence in its many forms is an involuntary quest for identity," Jones said then. "When our identity is in danger, we feel certain that we have a mandate for war. In 1957, David Jones, a tough, unwavering, outspoken student from the predominantly black South Carolina State College, declared his own private war against the racial injustices that were prevalent at that time, the inadequacies facing him in education, in sports and in business and launched his own campaign of aggression against a group of society that would spark his persistence and determination to reinforce his identity for many years to come."
Jones' identity is secure.
"There has never been a better football player than Deacon Jones," Olsen said in that 2009 Los Angeles Times piece.
June, 4, 2013
6/04/13
2:10
AM ET
Fearsome Foursome legend Deacon Jones' passing Monday at age 74 provides an opportunity to reflect upon one of the greatest defensive ends in NFL history.
We'll do that beginning Tuesday.
Jones, inducted into the Pro Football Hall of Fame in 1980 after spending most of his 14-year career with the Los Angeles Rams, epitomized violent play in the NFL before the league made efforts to protect quarterbacks and everyone else. He remained unapologetic and defiant to the end, including during
a 2011 interview
with XTRA910 AM radio in Phoenix:
"If you ain't sent but one man, there's going to be a casualty that day. No, I'm not a guy you send one man against. I'm a hitman. I come to hurt people. I wouldn't advise that. I come to hurt you. Me and the commissioner would talk the same language, man. I come to take you out. OK, now, I don't know what the other guys tell you. I come to take you out. Hospital. And if you go the next step, it doesn't' bother me -- not one bit. That was my approach to the game. I am not going to lie to you about it. I could not play now. Are you kidding me? I wouldn't be making no money. I would owe the league money.
Jones' passing leaves Rosey Grier as the last living member of the Rams' Fearsome Foursome line also featuring Lamar Lundy and Merlin Olsen.
March, 11, 2010
3/11/10
2:18
PM ET
The Rams and 49ers were playing an exhibition game at the L.A. Coliseum one year when a fight broke out near the 49ers' bench.
[+] Enlarge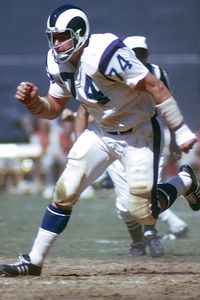 Focus on Sport/Getty ImagesMerlin Olsen was a Hall of Fame defensive lineman and member of the Los Angeles Rams' "Fearsome Foursome".
"I turn around and I start forward," former 49ers guard Howard Mudd said Thursday, "and there is 'Oly' standing there."
"Oly" was Merlin Olsen, the Rams' huge defensive tackle, one of the first truly athletic big men in the NFL. Olsen stood 6-foot-5 and weighed 270 pounds in an era before players loaded up on dietary supplements or lifted weights as seriously.
"I looked at him and he looked at me," Mudd recalled, "and he said, 'You want to just stand here and watch it?' "
Olsen,
who died from cancer Wednesday at age 69
, proved great players could be nice guys, too. He was a 14-time Pro Bowl choice and member of the Fearsome Foursome line featuring Deacon Jones, Lamar Lundy and Rosey Grier.
"He belonged in the Hall of Fame not because he went to 14 Pro Bowls, but because he was a great player and could affect a game that he played in," Mudd said. "If you didn't take care of him, he was going to make big plays on you and change your offense. That is what a Hall of Famer should be."
While some players cast football as warfare for the sake of gaining a psychological edge, Olsen could disarm an opponent with his politeness. Mudd recalled knocking down Olsen once with a peel-back block, then bracing for trouble when Olsen ran toward him after the play.
"I'm laying on the ground and this big guy runs right at me, puts his hand on my head and says, 'Nice block,' " Mudd said. "I thought he was going to kick my ass or something."
Olsen played from 1962 to 1976 and earned 14 consecutive Pro Bowl berths. He reached another generation of football fans through his work as Dick Enberg's broadcast partner during NBC's coverage of the AFC during the 1980s. Olsen also played Jonathan Garvey on Little House on the Prairie, which ran opposite "Monday Night Football" during the late 1970s. He also starred in "Father Murphy" from 1981 to '83.
News of Olsen's passing was only beginning to spread Thursday. I reached out to Mudd, who said he had been thinking of Olsen lately and had wondered what had become of him.
"I pictured him as this devout Mormon guy who had ridden off into the sunset and found a nice place and a great life," Mudd said.