August, 29, 2012
8/29/12
1:00
PM ET
While Stephen A. Smith and Skip Bayless were debating
Terrell Owens
' alleged
diva tendencies
in the video above, I was revisiting notes from our 2008 package on
all-time great NFL receivers
.
Owens ranked ninth on the list even though our seven panelists -- Hall of Famer Raymond Berry, former
Green Bay Packers
receiver and longtime scout Boyd Dowler, longtime coach/executive Mike Holmgren, Hall of Fame defensive back Ken Houston, Hall of Fame quarterback
Warren Moon
, former receiver
Keyshawn Johnson
and Packers general manager Ted Thompson -- were not unanimous in their support.
Owens, released by the
Seattle Seahawks
this week, would be eligible for the Pro Football Hall of Fame's 2017 class unless he plays this season. He has Hall of Fame numbers across the board: sixth in receptions, second in receiving yards, second in receiving touchdowns.
A sampling of what our panelists said back in 2008:
Dowler: "Terrell Owens drops too many passes. He probably drops too many passes to be on this list, but he makes so many that are so good, it's incredible. The ones he drops, he comes right back. I can't eliminate him. He is so big and so strong. You talk about how the guy has to be tough. Well, he is the epitome is toughness. To play when you are hurt and don't miss games, it isn't good enough to just go out there. If you go out there and play, you have to play the same. Some guys are capable of doing that. Some guys are not. Coach Lombardi used to tell us some guys can't play with a hang-nail. Some can play with a broken leg."
Houston: "Paul Warfield was a tough guy. Lance Alworth was a tough guy. Quiet as he was, he took a lot of beatings for the balls he caught. And then you go with Charley Taylor, I thought was extremely tough. James Lofton was, I like to say, a mean receiver. He would fight you. He'd catch it and he took quite a few hits before he got the ball. Back then, you couldn't run across the middle and catch the ball without fighting your way across the middle first. And I guess the guy that I would put in that category from today's receivers is Terrell Owens. To me, if I had to pick a receiver out of today's guys, I'd pick him over Randy Moss because he's tough. Say what you want to about him, he will go across and catch the ball. It's probably going to end his career because of it, but I've seen Randy and he's great -- I love to watch Randy Moss -- but I've seen him kind of deny some passes across the middle where he just didn't want to go in there and catch those kinds of balls. And so to me, that guy is a throwback, Terrell Owens."
Moon: "Bigger defensive backs can't stay with him because of his quickness. Smaller defensive backs can't stay with him because of his strength. He can just bully them around. And once he catches the football, he is so dangerous afterwards because he is so big and he knows how to run with the football after the catch. And again, he's been in three different offenses with San Francisco, Philadelphia and Dallas and he still continues to put up numbers. Some guys, you can say they are system guys. Even though he has kind of been in the same system two of those places, still, when you change teams, it can be a little bit difficult if you are not a great player."
That was a sampling. I'm sure we'll be revisiting this one when Owens finally does become eligible for the Hall.
June, 20, 2012
6/20/12
8:00
AM ET
The Arizona Cardinals drafted Michael Floyd to start at wide receiver opposite Larry Fitzgerald. They think Andre Roberts, displaced from the lineup by Floyd, will flourish from the slot, where he is naturally suited to line up.
There could be a transition period, however, and Roberts might be more worthy of the starting job initially. Roberts caught 24 passes as a rookie in 2010 and 51 last season.

Darren Urban of azcardinals.com
projects Roberts as the favorite to start in Week 1. Urban: "I think Michael Floyd will play an important role for this team, and Early Doucet will play. But if you don't know by now the level of confidence the coaching staff has in Roberts with his play after last season, you haven't been paying attention."
Noted:
Roberts
came on strong
for a time late last season. He blocked well and was frequently open, but quarterbacks failed to get him the ball, coach Ken Whisenhunt said last week.
Also from Urban
: a look at the Cardinals' quarterback competition.
Kent Somers of the Arizona Republic
says the Cardinals have seen good things from rookie cornerback Jamell Fleming, but it's still a bit early for bold proclamations.

Matt Maiocco of CSNBayArea.com
holds up Michael Griffin's new contract with Tennessee as one that could help set parameters for a deal between Dashon Goldson and the San Francisco 49ers. Maiocco: "Griffin agreed with the Titans on a five-year extension that ESPN reports is worth $35 million, including $15 million guaranteed. Those numbers are almost identical to the figure I've heard from league sources in connection with a possible multi-year deal for Goldson. The sides continue to be in contact about working out a long-term contract."
Matt Barrows of the Sacramento Bee
provides an update on where cornerback Perrish Cox stands with the 49ers. Barrows: "Cox said the 49ers spring drills, which for veterans wrapped up last week, were a valuable learning experience, and the newcomer emerged as one of the standouts from the session."
Daniel Brown of the San Jose Mercury News
consults with 49ers historian Donn Sinn regarding the late R.C. Owens. Brown: "The departure of R.C. after the 1961 season led to the 49ers drafting of Arkansas HB Lance Alworth in 1962. The 49ers wanted Alworth to replace Owens in the event he would not re-sign with San Francisco. Unfortunately, the 49ers lost out to the San Diego Chargers who signed the Razorback star and Future Hall-of-Fame player."

Ramona C. Sanders of the St. Louis Post-Dispatch
reports from the Rams' annual playground-building project. Sanders: "Brockers and about 100 rookie players and staff from the Rams' organization were there to build a new playground as part of the St. Louis Rams Playground Build program. In its fourth year, Playground Build provides a $50,000 grant to purchase playground equipment and plenty of manpower to assemble and erect a playground at schools or community centers that do not have one."

Dave Boling of the Tacoma News Tribune
checks in with Seahawks guard Deuce Lutui, who has clearly lost weight and seems to be in a healthy frame of mind. Lutui: "I look at things so differently. I'm playing at a weight that's mine; I'm weighing in for myself, not for others."
Danny O'Neil of the Seattle Times
compares Chris Clemons' contract to those for other players with similar sack totals in recent seasons. O'Neil on John Abraham's deal with the Falcons: "Abraham is more than three years older than Clemons, and as a free agent this year, he was able to secure a short-term deal at three years worth a total of $16 million."
February, 3, 2010
2/03/10
11:11
AM ET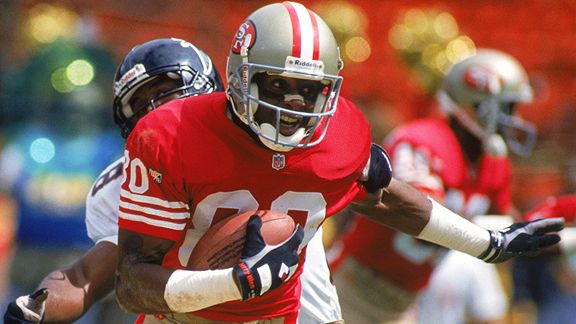 George Rose/Getty ImagesWide receiver Jerry Rice retired with his name all over the National Football League record book.
MIAMI -- Anyone advocating Jerry Rice as the greatest player in NFL history can bury the opposition in statistics.
Rice averaged 1,145 yards receiving and more than 10 total touchdowns per season -- for 20 NFL seasons.
Rice caught 69 touchdown passes -- more than the career totals for Art Monk, Michael Irvin, Charlie Joiner, John Stallworth and numerous other Hall of Fame receivers -- during a five-season span ending in 1993. Rice then caught 28 touchdown passes over the next two seasons, more than half the career total for Hall of Famer Lynn Swann.
He retired holding NFL records for:
Touchdowns (208), receiving TDs (197), receiving TDs in a season (22), consecutive games with a TD reception (13), TDs in Super Bowls (8), receiving TDs in a single Super Bowl (3) and postseason TDs (22).

Receptions (1,549), consecutive games with a reception (274), receptions in Super Bowls (33) and postseason receptions (151).

Receiving yards (22,895), receiving yards in a season (1,848), receiving yards in Super Bowls (589), receiving yards in a Super Bowl (215), postseason receiving yards (2,245) and seasons with at least 1,000 yards receiving (14).
Rice, whose selection to the Pro Football Hall of Fame is a formality Saturday, probably enjoyed the greatest NFL career. He was probably the greatest wide receiver despite some arguments for Don Hutson. But was he the greatest player, period?
"Oh, yeah," Hall of Fame defensive back Rod Woodson said almost reflexively during Super Bowl media day.
Woodson, perhaps mindful of history as a member of the NFL's 75th Anniversary team, then showed he could still backpedal a bit.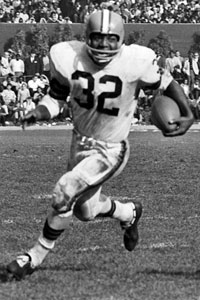 Getty ImagesWhen talking about the greatest players ever, Jim Brown needs to be in the conversation.
"I mean, he is definitely up there," he said. "I don't think one player is the greatest player ever, but he is in that water-cooler conversation. Now, if you say greatest receiver, absolutely. But the greatest player, to make him the most dominant player ever in NFL history or just say pro football history, that is a profound statement. But I can say that he will be in that argument time in and time out."
The conversation might include Otto Graham, Jim Brown, Sammy Baugh, Lawrence Taylor, Joe Montana, Johnny Unitas, Hutson, Walter Payton and Barry Sanders among players no longer active. And that list is probably shortchanging defensive greats such as Deacon Jones and Dick Butkus.
But
Ray Lewis
, arguably the greatest defensive player of the current era, didn't hesitate in singling out Rice.
"I don't know what argument you are going to make why he is not," Lewis said.
And that might be what separates Rice from the rest. There really isn't a great case against him. No one played at such a high level for as long with such grace.
"Jerry Rice doesn't
rank
in the all-time greats," said Saints safety
Darren Sharper
, a five-time Pro Bowl choice and member of the 2000s All-Decade team. "He
is
the greatest receiver and maybe the greatest football player of all time."
Maybe?
"I can't comment on eras that I didn't perform in," retired cornerback Deion Sanders said, "but the era I performed in, Jerry Rice is the best football player to play in that era."
On what grounds beyond the numbers?
"Work ethic, precision, routes, physical toughness, awareness, that hunger," Sanders said. "Jerry stayed hungry until the day he retired."
October, 23, 2008
10/23/08
3:33
PM ET
Posted by ESPN.com's Mike Sando
Rams receiver Torry Holt is on pace to finish the season with 61 catches for 696 yards and three touchdowns (2.67, actually). Patriots receiver Randy Moss, whose team faces the Rams on Sunday, is on pace to finish with 67 receptions for 984 yards and 10 touchdowns (10.67).
Those would qualify as down seasons for two of the NFL's great receivers. According to the Rams, Holt has averaged more receiving yards per game (81.9) for his career than any player in league history. Moss ranks second on the list at 78.5 yards per game, followed by Marvin Harrison (78.5), Jerry Rice (75.6) and Lance Alworth (75.5).
Holt is averaging only 43.5 yards per game this season. Moss' average is at 61.5 yards.
As improved as the Rams have appeared in the last two games, they still aren't getting the ball to Holt consistently.
Holt's yards per receptions have declined steadily over the years. Pointing to age would be the easy explanation. Holt is 32. The Rams' offense has also changed dramatically from the freewheeling days of the Greatest Show on Turf. A quick look at Holt's average yards per reception since he averaged an astounding 19.9 yards in 2000: 16.8, 14.3, 14.5, 14.6, 13.0, 12.8, 12.8 and 11.3.