October, 7, 2013
10/07/13
5:50
PM ET
INDIANAPOLIS – A star one day, released the next day. That's the unfortunate situation defensive lineman
Lawrence Guy
experienced with the
Indianapolis Colts
.
Guy blocked a field goal, which was picked up and returned for a touchdown, in Sunday's victory over the
Seattle Seahawks
. But his time with the Colts came to an end Monday when the team released him to make room on the roster for receiver
LaVon Brazill
.
Brazill was suspended the first four games of the season for violating the NFL's substance abuse policy. The Colts announced Monday that the exemption on Brazill had been lifted, which meant they had to release a player.
"Again, the roster is fluid and have to make some tough decisions, as you know," coach Chuck Pagano said. "It's always what's best for the team, what gives us the best chance to win. Lawrence did a great job the last couple of weeks, bringing him back when Ricky went down. Obviously played well yesterday and did a nice job. Thank him for his contributions."
Releasing Guy means defensive lineman
Ricky Jean Francois
is close to returning to the lineup. Jean Francois missed the past two games with a strained groin. He'll return to the practice field on Wednesday.
Here's what Pagano said about the other injured players:
--The Colts hope to have safety
LaRon Landry
(ankle) back on the practice field later this week. He's missed the past three games with a high ankle sprain.
--Like Landry, fullback
Stanley Havili
(ankle) could practice later this week.
March, 11, 2013
3/11/13
12:03
AM ET
The
St. Louis Rams
valued the hits
Quintin Mikell
put on opponents, but not enough to offset the hit his contract was going to make against their salary cap in 2013.
That explains why the Rams released Mikell in a move
ESPN's Adam Schefter reported
Sunday night.
Mikell was set to earn $6 million in salary. Releasing him means the Rams will not have to pay that money or count the salary against their cap. However, the team still must absorb $3 million in annual bonus-related cap charges for 2013 and 2014 that they previous paid him.
Had Mikell remained on the roster, St. Louis would have taken a $9 million cap hit this season. That figure reflects the $6 million salary and the $3 million bonus charge scheduled to hit in 2013. Releasing Mikell forces the Rams to account for all $6 million in bonus money this year even as the salary vanishes from the books.
The net savings against the cap is $3 million for 2013. The net savings for 2013 could grow to $6 million after June 1 if the Rams elected to use one of two annual post-June 1 designations for Mikell. In that case, the team would absorb one $3 million bonus charge this year and another in 2014.
Mikell joins a crowded safety market featuring
San Francisco 49ers
projected free agent Dashon Goldson and former longtime
Arizona Cardinals
safety Adrian Wilson. Ed Reed, Charles Woodson and LaRon Landry are also on the market or scheduled to become free agents.
The chart lists Pro Bowls for some of the notable safeties on the market or expected to hit the market. Woodson converted from cornerback. Houston's
Glover Quin
is another notable safety on the market.
The Rams have options, in other words. Another projected free-agent safety,
Louis Delmas
, was with new Rams defensive coordinator Tim Walton at Detroit.
October, 2, 2012
10/02/12
4:20
PM ET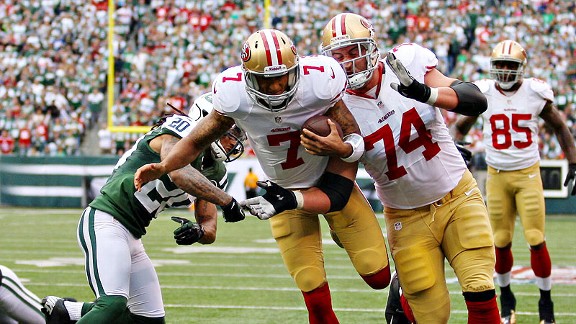 Ed Mulholland/US PresswireColin Kaepernick rushed five times for 50 yards and a touchdown in Sunday's win over New York.
The play San Francisco used to spring
Colin Kaepernick
for a 17-yard gain against the
New York Jets
carries value beyond the playing field.
These are the sorts of plays that energize a team. They keep backup players such as Kaepernick engaged in the game plan. They promote camaraderie.
Think how much it must have meant to
Joe Staley
last season when the 49ers drew up a play for him resulting in a 17-yard reception for the veteran left tackle. Most linemen never get to experience anything along those lines. The time San Francisco got the ball to nose tackle
Isaac Sopoaga
for an 18-yard catch also comes to mind.
These unconventional plays have to work some of the time for a team to justify using them. The 49ers have shown a knack for converting them. That's a sign of good coaching. It also shows the 49ers' players have put in the work to make them succeed.
On Sunday, Kaepernick subbed into the game for
Alex Smith
at quarterback. The Jets had to respect his running ability. They knew he had run the 40-yard dash in 4.53 seconds at the NFL scouting combine. They had seen him score on a 78-yard run during preseason.
Despite all this, the 49ers fooled the Jets into thinking
Kendall Hunter
got the ball on an inside handoff.
The 49ers aligned in a passing formation featuring no in-line tight end. But because the 49ers had two tight ends on the field --
Vernon Davis
was slot left,
Delanie Walker
slot right -- the Jets kept their base personnel on the field. Wide receiver
Michael Crabtree
was wide to the left. Wide receiver
Mario Manningham
was wide to the right.
Kaepernick stood in the shotgun formation with Hunter flanking him on the left. The 49ers had handed off to
Frank Gore
for inside runs on the two previous plays. Those plays gained 5 and 6 yards. Was another inside run coming?
Walker motioned into the backfield behind Kaepernick right before the snap. Kaepernick and Hunter sold the handoff well. Davis let safety
LaRon Landry
flow to the inside toward Hunter.
Outside linebacker
Calvin Pace
had a shot at Kaepernick as the quarterback ran outside to the left. Kaepernick sunk his body just enough to sell a possible pitch to Walker along the left sideline. Pace froze. Kaepernick darted upfield and into the clear, freed in part by Crabtree's block on cornerback
Kyle Wilson
.
This play was only the sixth-longest for the 49ers in a game they won 34-0. It was the one fans and players figure to remember the most.
November, 27, 2011
11/27/11
7:26
PM ET
SEATTLE -- Thoughts on the
Seattle Seahawks
'
23-17 defeat
to the
Washington Redskins
at CenturyLink Field in Week 12:
What it means:
The Seahawks missed a chance at their first three-game winning streak since the 2007 season. Continuing problems with penalties and surprising troubles on defense dropped their record to 3-7. Seattle remains mathematically alive in the NFC West race, but those chances will end with the Seahawks' next defeat or the
San Francisco 49ers
' next victory.


What I liked:
Marshawn Lynch
continued to produce as a runner and receiver. This was his seventh consecutive game with a touchdown, not counting when he was a last-minute scratch from the lineup and did not play against Cleveland in Week 7. Right guard
Paul McQuistan
, a starter since rookie
John Moffitt
landed on injured reserve, spring Lynch's 20-yard scoring reception with an impressive open-field block on Redskins safety
LaRon Landry
. The Seahawks downed
Jon Ryan
's punt at the 2 before halftime, preventing the Redskins from attempting a scoring drive.
Leon Washington
changed field position with strong kickoff returns, including a 51-yarder. Both starting cornerbacks,
Brandon Browner
and
Richard Sherman
, picked off passes.
What I didn't like:
The Seahawks' defense could not get off the field, especially early in the game. The Redskins nearly doubled up the Seahawks in first-half time of possession (19:42 to 10:18). They too often appeared helpless while Redskins quarterback
Rex Grossman
completed 16 of 19 passes for 175 yards and a touchdown in the first half. Washington finished with 417 yards. The Seahawks allowed a rushing touchdown for the first time since a Week 4 game against Atlanta. Seattle continued to struggle with penalties. Seahawks quarterback
Tarvaris Jackson
was too often inaccurate. When he did place the ball correctly, his receivers did not catch it consistently enough.
Mike Williams
dropped passes and could have done more to position himself for a deep ball that fell incomplete in the end zone. The Seahawks reached double figures in penalties (counting declined ones). Their chances ended when Jackson held the ball and took a sack on fourth down in the final minutes.
Bryant's blocks:
Seahawks defensive end
Red Bryant
blocked a field-goal try for the third time this season, this one when the game was tied in the second quarter. The block was key because the Redskins were dominating time of possession and had little to show for it. Bryant blocked an extra-point try after a Redskins touchdown put Washington ahead, 20-17, with 6:18 remaining.
Injury concerns:
Sidney Rice
entered this game with knee soreness. He appeared shaken up early in the game and later appeared wobbly after striking his helmet on the turf following an incomplete pass. Team medical personnel helped Rice off the field. Seahawks linebacker
David Hawthorne
also left the game in the third quarter. Hawthorne, who limped off the field, has had knee trouble. He did return to the game. Starting defensive tackle
Alan Branch
was named inactive with an ankle injury. Left tackle
Russell Okung
stayed in the game after McQuistan flew into his legs while committing what officials flagged as a chop block.
Questionable calls:
Officials flagged Redskins cornerback
Josh Wilson
for a 44-yard interference penalty after Williams dropped the ball. This call appeared questionable in real time and on replay, in my view. Later, officials flagged Seahawks linebacker
K.J. Wright
for an illegal high hit on Grossman. Wright shoved Grossman with his hands in the upper chest. Wright's hand might have touched Grossman's facemask, but this hardly appeared to be an egregious foul. Finally, there was no call when Redskins safety LaRon Landry made contact with receiver
Doug Baldwin
on a deep third-down pass in the final five minutes. Seattle punted.
What's next:
The Seahawks are home against Philadelphia on Thursday night.
March, 25, 2011
3/25/11
12:20
PM ET
Ken Whisenhunt is right when he says
Levi Brown
takes more criticism as a high draft choice than he would take as someone selected later in the process.
That's the way it works. The highest picks in a draft class should outperform their peers.
[+] Enlarge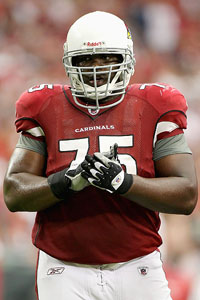 Christian Petersen/Getty ImagesLevi Brown, drafted fifth overall in 2007, can still become an "outstanding" player according to Ken Whisenhunt.
The
Arizona Cardinals
don't need anyone to remind them that they selected Brown over some All-Pro performers, including
Adrian Peterson
and
Patrick Willis
. But it's not as though Brown, a player with 56 consecutive regular-season starts, qualifies as a flat-out bust, either. He moved to left tackle from the right side last season and will stay there.
"He improved last year," Whisenhunt said this week from the NFL owners meeting in New Orleans. "As a left tackle, it's not an easy position to move from right tackle. He will continue to get better. He is a talented football player. The biggest thing he has struggled with is the consistency of his play. But a lot of times you are under the microscope more because you were the fifth pick in the draft."
I would rank Brown, chosen fifth overall in 2007, somewhere around 20th out of 32 first-round picks that year.
Brown has obviously or arguably outperformed the following first-round selections from 2007:
JaMarcus Russell
,
Jamaal Anderson
,
Ted Ginn Jr
.,
Amobi Okoye
,
Adam Carriker
,
Justin Harrell
,
Jarvis Moss
,
Aaron Ross
,
Reggie Nelson
,
Brady Quinn
,
Anthony Gonzalez
and Craig Davis.
Gaines Adams
, chosen fourth that year, passed away after Tampa Bay traded him to Chicago.
The following first-rounders from 2007 have obviously or arguably outperformed Brown:
Calvin Johnson
,
Joe Thomas
,
LaRon Landry
, Adrian Peterson, Patrick Willis,
Marshawn Lynch
,
Darrelle Revis
,
Lawrence Timmons
,
Leon Hall
,
Michael Griffin
,
Dwayne Bowe
,
Brandon Meriweather
,
Jon Beason
,
Anthony Spencer
,
Robert Meachem
,
Joe Staley
,
Ben Grubbs
and
Greg Olsen
.
"The reason we drafted Levi where we did was because we had him rated high enough to go in that position, but we also felt like we had to develop our offensive line and defensive line at that point, because that is where the most critical component of your team," Whisenhunt said. "That is the only way you are going to have a chance to compete. Levi has been a good player. He is often criticized, but I think that comes with being the fifth pick, and I don't understand how you evaluate offensive linemen, because they are not catching passes or running touchdowns in."
Whisenhunt said he thought Brown can and will become an "outstanding" player.
"Any time an offensive lineman gets drafted that high, especially in a fantasy football world where people want you to get dynamic playmakers, you are going to face some kind of criticism," Whisenhunt said. "I have to give Levi some credit. As tough as it's been, he hasn't let it affect him. He has continued to work and get better and I think this will be a big year for him. This is a chance for him to show that he can play this position very well."
September, 27, 2010
9/27/10
4:44
PM ET
Washington Redskins
defensive coordinator Jim Haslett knows better than most what
St. Louis Rams
running back
Steven Jackson
can accomplish from three-receiver personnel on second-and-long.
Haslett was the Rams' interim head coach when Jackson gashed the
Dallas Cowboys
for an 18-yard gain under those circumstances two seasons ago. That game marked the Rams' most recent home victory -- until Jackson's 42-yard touchdown run on second-and-14 helped St. Louis defeat the Redskins 30-16 in Week 3.
The play showcased Jackson's ability and, if you looked closely enough, what it takes to turn a short or medium gain into a momentum altering big play.
Jackson had lost 4 yards on the previous play, so this was a likely passing situation. The Rams set up the touchdown with two wide receivers left, one right, Jackson nearly 8 yards deep in the backfield and
Daniel Fells
, the tight end, in a three-point stance next to right tackle
Jason Smith
. The Redskins countered with only six defenders in the box.
Jackson took the handoff and ran off tackle to the right. Fells turned Redskins linebacker
Brian Orakpo
to the inside. Smith turned Redskins linebacker
Rocky McIntosh
to the outside.
Mark Clayton
, the wide receiver on the right side, impeded cornerback
DeAngelo Hall
near the line of scrimmage. Left guard
Adam Goldberg
let linebacker
Andre Carter
knife into the backfield, shoving Carter hard enough to prevent him from getting back into the play.
Jackson cut back to his left at the 35, making safety
Kenny Moore
miss. Moore had launched his body at Jackson instead of trying to wrap him up (Jackson's 245-pound frame poses an injury risk to defensive backs). Moore missed Jackson and chopped down teammate
Vonnie Holliday
back at the 37. Jackson was at the 33 by then. Receiver
Brandon Gibson
hustled from the far left side past the right hash, where he decked cornerback Phillip Buchanan.
Center
Jason Brown
and left guard
Jacob Bell
had shoved nose tackle
Albert Haynesworth
off the line, with Brown peeling off to prevent linebacker
London Fletcher
from making the tackle near the 30. Hayesworth had made his way back into the play near the 28, but left tackle
Rodger Saffold
was waiting for him. Buchanan, having been shoved by Gibson, flew into Haynesworth's legs just as Saffold arrived. Haynesworth stood no chance.
Receiver
Danny Amendola
, working from the left slot, hustled across the formation and back in search of someone to block. He wasn't needed in the end. Jackson outran safety
LaRon Landry
to the end zone.
Injury note:
Jackson suffered a strained groin during the game. The Rams described his status as day-to-day.
March, 31, 2010
3/31/10
1:00
PM ET
»
NFC History
:
East
|
West
|
North
|
South
»
AFC
:
East
|
West
|
North
|
South
»
Draft Watch
:
Biggest needs
(2/17) |
Busts/gems
(2/24) |
Schemes, themes
(3/3) |
Recent history
(3/10) |
Needs revisited
(3/17) |
Under-the-radar needs
(3/26) |
History in that spot
(3/31) |
Draft approach
(4/7) |
Decision-makers
(4/14) |
Dream scenario/Plan B
(4/21)
Each week leading up to the NFL draft (April 22-24), the ESPN.com blog network will take a division-by-division look at key aspects of the draft. Today's topic: History in that spot.

St. Louis Rams
The Rams' decision at No. 1 will likely come down to quarterback
Sam Bradford
or defensive tackles
Ndamukong Suh
and
Gerald McCoy
.
NFL teams have taken three quarterbacks first overall in the past five years.
Alex Smith
(49ers, 2005) has been mostly disappointing, although he has shown signs of progress lately.
JaMarcus Russell
(Raiders, 2007) is looking like a flat-out bust.
Matthew Stafford
(Lions, 2009) hasn't played long enough for anyone to know.
The Rams won't find much comfort in analyzing defensive tackles taken first overall lately. NFL teams haven't drafted one first overall since the Bengals selected "Big Daddy" Dan Wilkinson in 1994.
Nine of the last 15
top picks were quarterbacks. Four were linemen. One was a running back. One was a receiver.

Seattle Seahawks
The sixth overall choice is high enough for Seattle to select the top-rated player at one of the less important positions. That's what the Redskins did when they drafted safety
LaRon Landry
sixth in 2007 and what the 49ers did when they chose tight end
Vernon Davis
sixth a year earlier.
The alternative could be selecting the second-rated player at one of the marquee positions.
Andre Smith
(Bengals, 2009) was the second offensive tackle selected in his class.
Vernon Gholston
(Jets, 2008) was the second defensive end in his class, though he became a 3-4 outside linebacker in the NFL.
It's also possible the Seahawks could find the first offensive tackle or defensive end available at No. 6. The probably won't look for a cornerback that early. Adam "Pacman" Jones (Titans, 2005) was the last corner taken sixth overall.
The Seahawks also hold the 14th overall choice. Three of the last five players taken in that spot were defensive backs, including the Jets' sensational
Darrelle Revis
. The Bears found the third-rated tackle at No. 14 when they drafted
Chris Williams
in 2008, but Seattle probably will not have that option in this draft. Too many teams ahead of the Seahawks could be targeting tackles. It's one reason Seattle could take one sixth.
San Francisco 49ers

The 49ers could use an offensive tackle. The 13th overall choice hasn't been particularly lucky at the position. The Saints'
Jammal Brown
, chosen 13th in 2005, is the only offensive lineman selected in the spot since the Houston Oilers drafted Brad Hopkins in 1993.
Relatively few offensive linemen have gone between the 11th and 16th picks during that time.
The last four picks at No. 13: defensive end
Brian Orakpo
(Redskins, 2009), running back
Jonathan Stewart
(Panthers, 2008), defensive lineman
Adam Carriker
(Rams, 2007), defensive end
Kamerion Wimbley
(Browns, 2006). Orakpo and Wimbley are 3-4 outside linebackers. The 49ers could use another one of those.
San Francisco also holds the 17th overall choice. Guard
Steve Hutchinson
(Seahawks, 2001) was the last true star taken in that slot. More recently, defensive ends
Jarvis Moss
(Broncos, 2007) and
David Pollack
(Bengals, 2005) haven't panned out. Moss reportedly contemplated retirement amid struggles adapting to a 3-4 scheme last season. A neck injury forced Pollack into retirement before he had a chance to develop.

Arizona Cardinals
The Cardinals could use another linebacker and they could do much worse than finding a player as good as
Clay Matthews
, who went to Green Bay at No. 26 last year.
The 26th spot, which also produced potential Hall of Famers
Alan Faneca
and
Ray Lewis
years ago, hasn't been as kind to other teams recently.
Tackle
Duane Brown
(Texans, 2008), defensive end
Anthony Spencer
(Cowboys, 2007), defensive tackle
John McCargo
(Bills, 2006), center
Chris Spencer
(Seahawks, 2005) were 26th overall picks.
The Cardinals can't do much worse than the 49ers have fared at No. 26. San Francisco drafted tackle
Kwame Harris
(2006) and quarterback Jim Druckenmiller (1997) in that spot.
September, 22, 2009
9/22/09
5:32
PM ET

Posted by ESPN.com's Mike Sando
Ten things I noticed watching the Rams'
Steven Jackson
break a 58-yard run against the Redskins in Week 2:
The Rams were operating from what offensive coordinator Pat Shurmur calls their "zebra" personnel package with three wide receivers, one tight end and Jackson alone in the backfield. This left the Redskins with only two linebackers on the field.
The Rams ran away from Albert Haynesworth, who was lined up over left guard Jacob Bell. Left tackle Alex Barron obstructed Haynesworth just long enough for Jackson to escape between right guard Richie Incognito and right tackle Jason Smith.
Incognito and center Jason Brown initially double-teamed defensive tackle Cornelius Griffin. Incognito came off the block quickly and buckled linebacker London Fletcher with what appeared to be a left hand to the facemask. Fletcher lost leverage and Incognito buried him. Fletcher's left earhole was close to touching the grass.
Smith grabbed left defensive end Phillip Daniels by the jersey and held him. Daniels wasn't going to make the tackle.
Jackson ran strong and broke free from safety Chris Horton about 2 yards past the line of scrimmage. Horton overran the play but still appeared to grab Jackson by the foot.
Safety LaRon Landry came charging toward the line of scrimmage in run support, but he might have misjudged Jackson's speed and maneuverability. Both were between the hashmarks and within 5 yards of one another when Jackson cut to his right. I'm not sure if Landry even touched him.
Receiver Keenan Burton, lined up in the left slot, could have done a better job blocking safety Reed Doughty.
Receiver Donnie Avery hustled downfield to help with blocking, but he wasted the effort by shoving cornerback DeAngelo Hall in the back, drawing a penalty.
Coach Steve Spagnuolo grabbed Avery by the left forearm and appeared to be encouraging the receiver, not berating him. Avery seemed more interested in getting back on the field than staying around to listen.
As noted after Week 1, I'm still waiting to see whether the Rams are better off running the ball with fullback Mike Karney on the field. This was a second-and-10 play. I'm hoping to chart the Rams' personnel use before time runs short.