NFC West:

LaVar Arrington
September, 2, 2014
Sep 2
8:00
AM ET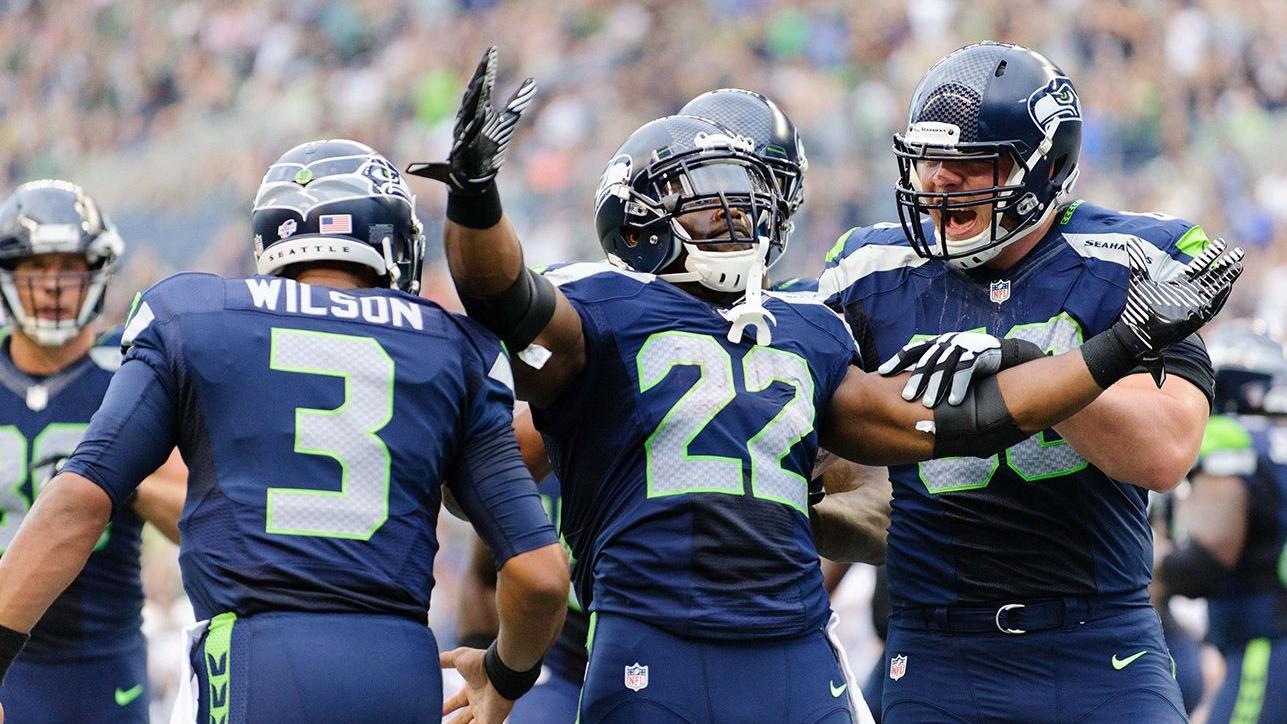 ESPN.com
Seattle Seahawks
reporter Terry Blount makes his game-by-game picks for the 2014 season.
Week 1: Green Bay Packers
All the pregame hype will center around the so-called Inaccurate Reception, the controversial Hail Mary catch by Golden Tate two years ago that won the game over the Packers at Seattle on a Monday night. Tate has moved on to Detroit, but the Seahawks now have too many weapons for the Packers to stop, no Hail Mary required. Prediction: Win
---
Week 2: at San Diego Chargers
The Chargers better hope they play a lot better than they did in the preseason game at Seattle, a 41-14 victory for the Seahawks on Aug. 15. San Diego will play better, but not good enough to beat a much better team. Prediction: Win
---
Week 3: Denver Broncos
The Broncos and their fans got a tiny bit of meaningless Super Bowl revenge in the preseason opener with a 21-16 victory over the Seahawks in Denver. Enjoy it while it lasts, boys. Repeating that outcome in Seattle is not an option. Prediction: Win
---
Week 5: at Washington Redskins
Traveling coast to coast to play on the road for a Monday night game is a tough task against any NFL opponent, and even tougher against quarterback Robert Griffin III. But the Seahawks catch a break in this one by coming off a bye week with plenty of time to prepare and be fresh for the journey. Prediction: Win
---
Week 6: Dallas Cowboys
Cowboys owner Jerry Jones gave Seattle a little bulletin-board material last month when he said the Seahawks were to blame for the increase in penalty flags during the preseason. There won't be near enough flags against Seattle for the Cowboys to win this one. Prediction: Win
---
Week 7: at St. Louis Rams
Any division game in the NFC West is a rugged battle. The Rams have a defensive line that gave the Seahawks problems a year ago. But they aren't strong enough overall to beat Seattle, even at home in their out-of-date dome. Prediction: Win
---
Week 8: at Carolina Panthers
The Seahawks were fortunate to win the season opener at Charlotte a year ago. That Panthers team was better than this one, but back-to-back road games against very physical defensive teams will end the Seattle winning streak. Prediction: Loss
---
Week 9: Oakland Raiders
Coming off their first loss of the season and returning home against an outmanned opponent, is there any doubt? Prediction: Win
---
Week 10: New York Giants
The Seahawks easily defeated the Giants 23-0 last year in New Jersey, a dress rehearsal for their Super Bowl victory at the same location -- MetLife Stadium. The Seahawks won't need a rehearsal to roll past the Giants in this one. Prediction: Win
---
Week 11: at Kansas City Chiefs
This likely will be a low-scoring game between two strong defensive teams. Odds are against any team that has to try to win by matching its defense against the Seahawks' D. Prediction: Win
---
Week 12: Arizona Cardinals
The last time the Cardinals played at CenturyLink Field was last December when they handed the Seahawks a 17-10 loss. That won't happen again unless the Seahawks get caught looking ahead to the 49ers game. The Seahawks don't look ahead. Prediction: Win
---
Week 13: at San Francisco 49ers
It's a Thanksgiving night, national TV game in the 49ers' shiny new stadium against the hated Seahawks. If San Francisco can't win this one, its time as a championship contender is over. Prediction: Loss
---
Week 14: at Philadelphia Eagles
This is the toughest part of the season for the Seahawks with back-to-back road games against likely playoff contenders. But the 10 days between games will help and be enough of a cushion to keep Seattle from losing two in a row. Prediction: Win
---
Week 15: San Francisco 49ers
This is a game that could decide which team wins the NFC West. No way the Seahawks lose to the 49ers twice in three weeks, especially not in front of a rabid full house of 12s. Prediction: Win
---
Week 16: at Arizona Cardinals
The Cardinals probably will be fighting for a playoff spot, and the Seahawks already will be in at 12-2. That difference will be just enough for Arizona to win at home in the same stadium where the Seahawks will win the Super Bowl a few weeks later. Prediction: Loss
---
Week 17: St. Louis Rams
For the second consecutive year, the Rams close the regular season in Seattle. And for the second consecutive year, the Seahawks will beat them without much trouble. Prediction: Win
---
Predicted Record: 13-3
March, 4, 2012
3/04/12
10:51
AM ET
News the NFL's
bounty investigation will expand
from New Orleans to Washington cannot be good for the
St. Louis Rams
' new defensive coordinator.
Gregg Williams was coordinating the Saints' and Redskins' defenses when those teams' defensive players allegedly earned extra cash for knocking out opponents. And with
similar revelations
coming out from Buffalo, where Williams was once head coach, Williams appears additionally vulnerable to NFL discipline.
Williams' cooperation with the NFL's investigation into the Saints, signaled by his recent
statement of contrition
, will presumably help his cause. However, Williams' cooperation with investigations into the Redskins and/or Bills would seem to work against him.
Williams is in prime position to cooperate with the Saints investigation. He no longer works for the team, so he would not face internal pressure to withhold information. Williams loses nothing if the Saints incur fines or lose draft choices. The league obviously has much invested in making an example of the Saints, adding value to whatever Williams can tell them. But if the NFL determines Williams was a driving force behind bounty systems in Washington and Buffalo, then what?
Coy Wire
, a former safety for the Bills during Williams' tenure there, described a culture of "malicious intent" toward opposing players, according to the Buffalo News. Another teammate said the culture was mostly player-driven.
"There were rewards,"
Wire told the News
. "There never was a point where cash was handed out in front of the team. But surely, you were going to be rewarded. When somebody made a big hit that hurt an opponent, it was commended and encouraged."
The NFL will have to determine just how far it wants to go in changing the culture of its game. Formal bounty systems obviously cross the line. But if a pass-rusher could privately guarantee knocking out the opposing quarterback every week, let's face it, that player would rank among the highest-paid in the league. Punishing quarterbacks will always be a top priority.
Former Redskins linebacker
LaVar Arrington
, appearing on Sirius radio, framed what happened during his Washington tenure within the broader NFL culture.
"My intent was to deliver what would be considered a kill shot within the framework of what football is,"
Arrington said
. "Not trying to hurt somebody or injure them, but again, the reality that exists, we all know what happens in pileups, from the names that are called during pileups to what ankles might get turned, private parts get punched and grabbed, people get scratched. There are a lot of things that go on."
January, 25, 2012
1/25/12
12:40
PM ET
Pro Bowl cornerback
Carlos Rogers
was among the most grateful
San Francisco 49ers
this season, relishing the working environment after growing weary of his six-year tenure with the
Washington Redskins
.
Rogers flourished all season, both in coverage and as a playmaker, collecting six interceptions, matching his total over the five previous seasons.
"It's just different," Rogers told KNEW radio during the 49ers' 13-3 season. "You've got a good group of coaches. Ownership, they lovely to be around, fun, joke with. This whole San Francisco area, it just loving us right now."
The feeling continued all season, with Rogers affirming this week his hopes to re-sign with the 49ers before his contract expires in March. The 49ers presumably want to bring back Rogers, but if the sides cannot agree on terms, Rogers could have an attractive landing spot within the division now that Gregg Williams is defensive coordinator in St. Louis.
Rogers was among Williams' vocal supporters when both were with the Redskins. He wanted out after the Redskins fired Williams following Joe Gibbs' retirement four years ago.
"After that, it wasn't fun for me anymore (in Washington)," Rogers told KNEW, adding that he never considered re-signing with the Redskins.
Rogers played for the 49ers under a one-year deal worth $4.25 million. The
entire KNEW interview
, conducted by former teammate
LaVar Arrington
and co-host
Chad Dukes
back in November, provides a true sense for how much Rogers enjoyed this season.
I'll pass along a partial transcript for those unable to play the audio at present, plus
a link
to a story summarizing some of Rogers' comments at the time.
Rogers: "They let me be free, they let me have fun, they let me blitz, they let me play man how I want to play it. The pressure is off. They know I've been playing in the league for a while, so they kind of take my advice on some things I have to say. I just like it. This coaching staff works with us. We got a coach (defensive coordinator Vic Fangio) that knows the defense, been in it for a long time, knows how to call it. Offensive coaches, the same way. They buying into what coach Harbaugh is talking about. He was an ex-player, so he knows how players think, he knows what is going on in our minds. He knows how to treat us."

Arrington: "Wow. Ultimately, is that the difference, 'los? You saw a lot of different coaches. I know you liked Gregg. I mean, I had my issues with him. I don't want to make this about me. We're talking about you. But do you feel like that is ultimately what was lacking for you here (in Washington)? I made mention of the fact, 'Look, you can talk bad about the fact that you dropped a lot of possible opportunities for interceptions, but you gotta be there to make the pass breakup to begin with. And the coverage you have shown throughout the years and your toughness to play through different injuries is commendable and should have been rewarded. It wasn't. But do you feel as though the belief in you makes the difference and why you are able to have such a type of year that you are having right now?"

Rogers: Yeah, I think so. Coaches give you a lot of confidence when you have the ability to do things and they let you do it. When you can make a mistake and they know that you are not perfect. When you drop a pass, they get on you and say, 'We're gong to get the next one.' Things like that helps you instead of the negative stuff that you do wrong that is so bad. The other thing I like here is everyone is being treated equal. If Alex (Smith) mess up, Patrick Willis mess up, Vernon (Davis) mess up, coach is going to get on them. They going to say something to that seventh-round pick, that sixth-round pick, that person making $300,000 as well as that person making $4-5 million a year. And when they mess up (as coaches), they say, 'I made a bad call, I should not have put you in that situation. It is so equal around here. ... Once you get to an organization like this, you see the difference."
Dukes followed up with another question.
"I'm happy with this Bay Area and hope I can be out here a while," Rogers said.
Also:
Williams' thoughts on Rogers,
via David Elfin
.
April, 16, 2010
4/16/10
3:52
PM ET
Ricky Williams
and
Desmond Clark
are the only active players remaining from the 1999 blockbuster trade that featured Mike Ditka trading the Saints' entire draft, plus two high future choices, for one pick.
The trade came to mind after
suggestions
that Cleveland could have interest in acquiring the first overall pick from the Rams. I'd be
surprised
if the Browns gave up what it would take to
land the top pick
. Their entire draft is worth 2,692 points on the
draft value chart
. The chart probably overvalues the top choice by assigning a 3,000-point value, but even if the top pick were discounted to 2,000 points, the Browns would be giving up the seventh and 38th overall picks.
The Saints gave up 1,575 points worth of 1999 picks, plus first- and third-round choices in 2000, to get the fifth overall choice in the 1999 draft from the Bears. The chart values the fifth choice at 1,700 points.
The deal drew initial criticism, but the players drafted with the Saints' old picks -- Clark,
LaVar Arrington
,
D'Wayne Bates
,
Cade McNown
,
Khari Samuel
,
Lloyd Harrison
,
Billy Miller
, Nate Stimson -- didn't meet expectations in most cases.
Browns president Mike Holmgren
on moving up to draft quarterback Sam Bradford: "'Look it, he's a coveted young man. To be able to go up and change somebody's mind ahead of us, you'd have to mortgage the ranch. You remember when coach Ditka did that with his picks and then he went and played golf.' Absolutely, we love the player, as do a lot of people. But in the real world, we're probably going to go in a different direction there.''