October, 23, 2013
10/23/13
5:05
PM ET
LONDON -- Some teams grumble about the idea of packing up and spending a week in England during the regular season as the NFL tries to sell the league brand to affluent and sports-hungry European fans.
However, don't count the
San Francisco 49ers
among those who may be reluctant to take their show to London. The 49ers are embracing this midseason jaunt over the pond. The 49ers-Jaguars game will be the second game played at London's Wembley Stadium this season. The NFL has three games planned for London next year.
This has yet to get stale. In fact, the 49ers could be considered darlings of the local media. Their injured rookie project, London's own
Lawrence Okoye
, is a star attraction despite not playing. Defensive line coach Jim Tomsula, a former NFL Europe head coach, is a downright media star here. Tomsula talked about the virtues of the NFL playing in England to a large throng of media Wednesday.
San Francisco head coach Jim Harbaugh and quarterback
Colin Kaepernick
shined under the spotlight at the first media session at their resort, The Grove, outside of London on Wednesday.
Harbaugh called the team's facility in England a "football oasis" and he asked the English media about a favorite television show, "Foyle's War." Kaepernick talked about enjoying the London sights Tuesday without being noticed too much. He said he doesn't even try going out in the Bay Area anymore because of his newfound fame.
The 49ers are all-in for this trip and Harbaugh thinks it can benefit the team.
"Can't say what the biggest challenge has been," Harbaugh said when asked Wednesday. "But, it's a great place to set up camp, hunker down in a great football environment. I think we have everything we need. Great set up here at The Grove, football oasis. So, it's been a pleasure.
"And I really thought two percent [improvement this week] would be a good goal. If we could improve two percent as a football team this week, but might have underestimated that. I think we might be able to get three percent, or four percent, or maybe even five percent better with the surroundings we have here and the accommodations. Excited to get out on the practice field and see the guys moving around and see if we can't start chasing those percent improvements."
If the 49ers win their fifth straight game Sunday against the 0-7 Jaguars, Harbaugh will likely be open to returning to his own European oasis.
August, 4, 2013
8/04/13
11:00
AM ET
SANTA CLARA, Calif. -- For the first time since 2004, the
San Francisco 49ers
are conducting training camp without
Alex Smith
as part of the quarterback equation. Throw in a long, growing list of injuries, and the NFC West's most established team is tougher to recognize.

I spent two days in camp without seeing starters
Aldon Smith
,
NaVorro Bowman
,
Patrick Willis
or
Jonathan Goodwin
practice. Receiver
Michael Crabtree
was already out, of course.
A.J. Jenkins
,
Mario Manningham
,
Kyle Williams
and
Kendall Hunter
also were not practicing. Third cornerback
Chris Culliver
, meanwhile, suffered a torn ACL.
Fortunately for the 49ers, it's still early August. They know how to develop talent and coach to players' strengths. But for San Francisco to win a third consecutive NFC West crown, the team could use better luck with injuries from this point forward.
Beyond the injury concerns, all signs point toward a continued rise for quarterback
Colin Kaepernick
. This is becoming his team because of the way he works and because he's such a talent. Offensive and defensive players alike say so. Kaepernick often shows up for work before 6 in the morning. He dusts teammates up the hills they run in nearby San Jose.
Outsiders tempted to brand Kaepernick -- after 10 NFL starts -- as a one-read quarterback or a read-option quarterback aren't seeing what coordinator Greg Roman is seeing.
"He doesn't look at things in a rote fashion," Roman said. "He can see big picture. He understands the trickle-down. Say you give him a play, he is going to look at it in his mind versus all different coverages. All those little acetates are going to fall down at once in his mind, and then he understands the impact and 'hey, maybe we should put this guy in this spot, let him run this and let what's-his-name do this.' He is very interactive."
The 49ers still plan to use two backs frequently and lean hard on the running game, but it's not so much because a young quarterback is limiting their options. The collaborative aspect Roman referenced is telling in that regard.
"Last year, I started to bounce things off him because I started to really trust him," Roman said. "I liked what I was hearing and seeing. Now, he has a hand in the pot, too. That is what you want. He is the quarterback. You can evolve with him, and he'll be part of that evolution process. I just love getting him thinking, because he is great."
THREE HOT ISSUES
[+] Enlarge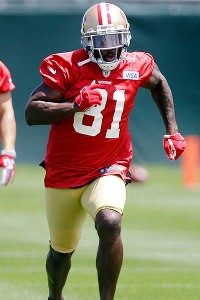 AP Photo/Marcio Jose SanchezAs injuries mount at receiver, the offseason signing of Anquan Boldin looks better by the day.
1. Attrition at wide receiver.
Every 49ers fan should be sending letters of gratitude to general manager Trent Baalke for acquiring receiver
Anquan Boldin
before the team absolutely, positively had to have him.
The situation at receiver is going to improve as Williams, Jenkins and Manningham in particular get healthy. Crabtree might even return late in the season.
For now, though, the 49ers have the following behind Boldin at the position:
Austin Collie
,
Lavelle Hawkins
,
Charly Martin
,
Chad Hall
,
Ricardo Lockette
,
Marlon Moore
,
Kassim Osgood
,
Chuck Jacobs
and
Quinton Patton
, who has one healthy hand and is running routes under orders
not
to catch any passes.
The 49ers need Jenkins to be a factor, but that's not going to happen until the 2012 first-round choice returns from a sore hamstring. Jenkins got safety
Donte Whitner
's vote when I asked Whitner which of the young wideouts would emerge. Whitner said he thought Jenkins' speed would allow him to "take the top off" opposing defenses. Again, that can't happen with Jenkins on the sideline.
San Francisco does have the ability to use two tight ends and/or two running backs, lessening the need for multiple wideouts.
2. Secondary concerns.
Culliver's injury and free safety
Dashon Goldson
's departure in free agency could make the 49ers worse in the secondary for the short term. The team has leaned on its dominant front seven to protect the back end. That will be the preferred formula this season.
Pushing first-round pick
Eric Reid
into the lineup at free safety sounds good in theory. He's going to be the starter eventually. Why not let him play?
Craig Dahl
has much more experience.
C.J. Spillman
and
Trenton Robinson
are in the mix, too.
One consideration: San Francisco opens the season against
Aaron Rodgers
,
Russell Wilson
and
Andrew Luck
before making a trip to St. Louis, where the Rams beat the 49ers last season. The 49ers will want to let the safety race play out through preseason before making a decision.
At corner,
Nnamdi Asomugha
appeared likely to step into Culliver's spot as the third corner, but
Tramaine Brock
was the player defensive coordinator Vic Fangio called upon first.
Tarell Brown
and
Carlos Rogers
are the starters, with Rogers shifting inside in sub packages.
As for Asomugha? He made plays on the ball when I visited practice, but the ever-direct Fangio offered a mixed assessment.
"He's had some good days out here and some days where you weren't sure if he was going to still have it," Fangio said. "I think we're kind of in between with him right now. Hopefully, he'll be able to still have some gas left in his tank to go out there and play like he did prior to going to Philadelphia. So, I think the jury is still out there."
Fangio passed on an opportunity to blame Asomugha's struggles with the Eagles on the scheme Philadelphia was running.
"I think there's some of that, but Nnamdi is at this stage in his career where some guys start losing, their physical skills start to diminish. We just have to see if that's entering into his picture, too, or not."
3. Potential defensive tweaks.
Defensive ends
Justin Smith
and
Ray McDonald
rank among the NFL's top five defensive linemen in total snaps played over the past two seasons, counting playoffs. The heavy use might have contributed to the torn triceps Smith suffered late last season.
The defense wasn't the same with Smith on the sideline, and was limited upon his return. The plan this season calls for expanding the rotation along the line.
Ian Williams
and free-agent addition
Glenn Dorsey
will be key to making that happen. And once second-round choice
Tank Carradine
gets healthy, San Francisco will have another option to help keep its veterans fresh.
The 49ers have gone away from the more traditional 3-4 scheme they employed when
Aubrayo Franklin
was their two-gapping nose tackle a few years back. They still run a base 3-4, but the front is more aggressive in getting up the field. Dorsey, who appeared miscast in the 3-4 scheme Kansas City ran after drafting him fifth overall in 2008, should fit better with San Francisco.
"You have a lot more freedom," Dorsey said of the 49ers' scheme relative to the Chiefs' old scheme. "There's not just staying on blocks. It's taking on blocks and you get to penetrate a lot more, go off in gaps and stuff like that and then move around. A lot of stunts and stuff. It's fun."
REASON FOR OPTIMISM
The 49ers have the front office, coaching staff, quarterback, offensive line, running backs and defensive front seven to contend for a championship. They also have one of the NFL's most dynamic tight ends,
Vernon Davis
. Just about every team in the league should envy the 49ers' roster even with the injury concerns. Kaepernick appears supremely driven. He should improve given the support system around him. Also, the 49ers have most of their tougher-looking games at home, where they should be expected to win a high percentage of the time. A relatively easy road schedule could help San Francisco gain in the standings against Seattle and St. Louis. Those teams face
tougher road schedules
.
REASON FOR PESSIMISM
[+] Enlarge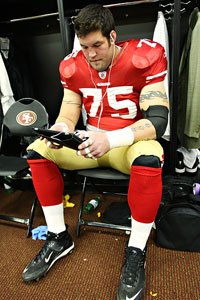 Michael Zagaris/Getty ImagesThe 49ers have been resourceful in finding starters like Alex Boone.
The injury situation is a concern. Competition within the NFC West will be fierce. The 49ers have more questions to answer this offseason after parting with
Delanie Walker
, Goldson and a few role players. Change isn't always bad, of course. This organization has consistently found upgrades such as
Alex Boone
and Bowman when flushing out starters. Still, there is some uncertainty, at least until the 49ers see how the replacements perform. And if the pace of injuries keeps up, the incline could become too steep.
OBSERVATION DECK
British Olympic discus champion Lawrence Okoye will need time to develop. His musculature stands out even among his fellow defensive linemen, but his football inexperience shows on the practice field. He's still learning technique and how to make his 6-foot-6 frame work for him.

Boone, listed at 6-8 and 300 pounds, is about as impressive looking as Okoye. He had the other linemen laughing and shaking their heads when he ended a post-practice soak in a ground-level ice tub by launching his body upright from a lying position in one violent motion, sending water and ice flying. He stuck the landing, too.

Strong safeties and fullbacks tend to relish contact. I enjoyed watching Whitner and Bruce Miller cross paths at speed during drills featuring only minimal contact. They clipped one another hard enough to pop their pads without putting themselves at risk for injury or attracting heat from coaches.

One of the traits separating Frank Gore from other running backs is his ability to maneuver amid heavy traffic on inside runs. Left tackle Joe Staley: "I've never seen a better runner in NFL history between the 'A' gaps. He finds that tiniest crease. One of the other things that sets him apart is that he can make cuts in the 'A' gaps, too. You see other runners go through the 'A' gaps and they just try to smash into someone and it's a 3-yard gain. Frank gets to that 'A' gap and he makes a quick cut and all of a sudden a 3-yard run turns into a 12-, 14-yard run."

Back in March, 49ers coach Jim Harbaugh had high praise for Lockette, a receiver the team signed from the Seattle Seahawks last season. I took note when Harbaugh appeared to be offering forcefully delivered corrections to Lockette during practice. The head coach probably wouldn't bother if he thought the player wasn't worth the trouble. Harbaugh obviously sees something in Lockette, but how will that translate?

Left guard Joe Looney and center Daniel Kilgore worked together with the starting offensive line Friday while starters Mike Iupati and Jonathan Goodwin sat out (Goodwin is recovering from injury, while Iupati sat out a few plays after limping off). Seeing Looney and Kilgore work together with the starters brought into focus the line's longer-term future. Will the team work out a contract extension for Iupati? Players such as Kaepernick and Aldon Smith could become higher priorities to re-sign after this season. Just a thought.

Change-of-pace running back LaMichael James is catching the ball well at this point.

It's not yet clear how quickly second-round pick Vance McDonald will develop as a reliable blocker. Boldin's ability in that area provides flexibility.

Players off-limits to contact typically wear black jerseys so teammates know to avoid hitting them. Patton, a rookie fourth-round pick, was in another category. He was running pass routes as usual, but the coaching staff told him to let the quartebacks' passes sail past him. The team wants Patton to get reps without risking further injury to a finger. Patton caught one pass anyway. I saw him catch another ball with one hand. Patton was the only player wearing a blue jersey, making him particularly easy to spot.

Arizona Cardinals kicker Jay Feely, 37, recently said one of the team's rookies confessed to mistaking Feely for an assistant coach all offseason. I'll admit to briefly mistaking the 49ers' 38-year-old kicker, Phil Dawson, for a team staffer when he arrived at the post-practice interview tent wearing running shoes with no socks and a pullover on his 5-foot-11 frame. Dawson, who is new to the 49ers, said he obsesses over weather conditions, to the point that he is constantly checking them using an app whose manufacturer he wouldn't reveal. Although Candlestick Park is known for rough conditions, the winds blow almost constantly at team headquarters -- something to keep in mind when the 49ers move into their new stadium across the street in 2014.

Linebacker Nick Moody, a sixth-round pick, has stood out early, but he's transitioning from safety and will need time to develop. Fangio put it best: "I think he's got a lot of good tools in his toolbox. He just isn't a union carpenter yet."

The talk of tight end Davis taking reps at wide receiver was pretty much just that: talk. Davis will remain a tight end. However, I did see him line up outside the yard-line numbers a couple times in one practice. He has the speed to do that on occasion. His route-running has improved over the years as well. A third season in the same offense is another important factor for expanding Davis' game. Still, he's going to be a tight end.
June, 28, 2013
6/28/13
11:45
AM ET
By
ESPN.com staff
| ESPN.com
Arizona Cardinals
Bruce Arians came in at No. 18
on Lance Zierlein's list of the top 20 coaches in the NFL. The 49ers' Jim Harbaugh was No. 1, Pete Carroll was No. 14 and Jeff Fisher ranked 10th.
Azcardinals.com has
six GIFs to get Cardinals fans pumped
for the upcoming season.
San Francisco 49ers
Coach Jim Harbaugh has
shown a lot of faith in rookie Vance McDonald
, who is expected to replace Delanie Walker as the No. 2 tight end on the depth chart, writes CSNBayArea.com's Matt Maiocco. Harbaugh assigned McDonald the No. 89, the same number worn by Hall of Famer Mike Ditka, whom Harbaugh compared McDonald to after the draft.
Lawrence Okoye had never played a snap of American football prior to his first practice in May. Injuries have given him plenty of opportunities for reps -- no 49ers defensive linemen played more snaps this spring than Okoye, writes the Sacramento Bee's Matthew Barrows. But
the most difficult part of the transition still lies ahead
. "It's the hardest thing I've ever done, I'm under no illusions," Okoye said.
Seattle Seahawks
Quarterback Russell Wilson is up for an ESPY
as Breakthrough Athlete of the Year.
Next up in CBSSports.com's series identifying a "relatively unheralded player per team who appears to be a good schematic fit and, therefore, more likely to be a surprise contributor early in his pro career":
Seattle fifth-rounder Jesse Williams
.
St. Louis Rams
Athlon Sports' Mark Ross
breaks down the Rams' 2013 schedule
.
The Rams were among the teams last season with
the highest percentage of touchdown passes caught in the end zone
with 63.6 percent, according to ESPN Stats & Info. The league average was 52 percent.
May, 13, 2013
5/13/13
9:00
AM ET
Rookie minicamps came and went over the weekend with players generally meeting expectations, to hear their coaches rave. That was understandable for reasons Arizona Cardinals coach Bruce Arians explained when analyzing Jonathan Cooper, the guard his team selected in the first round.
"He showed up in good shape and he looks like the player that we thought he would be,"
Arians told reporters
. "Offensive linemen, you really can't tell until you put pads on. He moves around just like we thought he would because it looks like the combine out there right now."
These camps resembled the combine in a couple ways. Players wore shorts and no pads. Also, rules prevented veteran NFL players from participating. That complicated efforts to determine how players might fare during actual games, but these first glimpses can be affirming nonetheless.
Initial reports suggest the two drafted tight ends from Rice, Vance McDonald of the San Francisco 49ers and Luke Willson of the Seattle Seahawks, made favorable first impressions catching the ball. We heard much more about Willson, but that shouldn't come as a total surprise because the Seahawks, unlike the 49ers, opened all their practices to local media.
None of the draft choices appeared to suffer a significant injury. The St. Louis Rams lost undrafted free agent C.J. Akins to a torn Achilles tendon. Akins, a receiver from Angelo State, was expected to undergo surgery this week.
The 49ers' Lawrence Okoye, the Olympic discus thrower from Britain, looked the part physically, according to reports. Some of the offensive linemen in camp reportedly matched up well with Okoye in drills. But when the 49ers participated in feats of strength, Okoye launched a medicine ball over his head and backward some 18 yards in the air.
"That was about nine yards farther than anyone else,"
Matt Barrows wrote
. "The tower at San Jose International is still wondering what was showing up on its radar."
Good morning, NFC West.
May, 10, 2013
5/10/13
9:15
AM ET
Good morning, NFC West.
Three stories from around the division caught my attention on this Friday morning:
No more Honey Badger: Cardinals rookie Tyrann Mathieu told reporters in Arizona he'd prefer to ditch the "Honey Badger" nickname that followed him from LSU. Calling Mathieu by his given name should be easier now that the Cardinals have provided an assist in the pronunciation department. "Tyrann" rhymes with "Byron" while "Mathieu" sounds like "Matthew" for those wondering. Mathieu: "I understand there are a lot of people who were in love with the Honey Badger and they will not let it go, but for me, going forward, I want people to recognize me as Tyrann Mathieu. I don't have anything against the Honey Badger. It's just that Honey Badger happened at such a dark time in my life."
Fisher's coaching style: St. Louis Rams coach Jeff Fisher offered a glimpse into his coaching style during a recent speech delivered to a leadership conference. According to Jim Thomas, Fisher dealt with a chronically late player by setting up sleeping arrangements for him in a meeting room, complete with pillow, blanket, cookies and milk. And when the player later blamed running out of gas for his troubles, Fisher brought in a gas can and said it was worth $19,000 -- the amount he fined the player.
Okoye's prowess: With rookie camps getting underway, Eric Branch takes another look at the San Francisco 49ers' Lawrence Okoye, the most intriguing undrafted rookie in the division. He notes that the 304-pound Okoye posted a better vertical leap than 21 of 34 wide receivers tested at the combine. Okoye's 35-inch vertical was better than the 32-inch mark posted by Tavon Austin, the receiver St. Louis drafted eighth overall. Amazing.
May, 6, 2013
5/06/13
8:00
AM ET
Good morning, NFC West. This week will culminate with all four teams from the division holding rookie minicamps Friday through Sunday.
The 2013 draft choices will get much of the attention. Undrafted rookies will outnumber them, and a few head into camps with some relative fanfare.
Linebacker Jonathan Stewart of the St. Louis Rams and safety Tony Jefferson of the Arizona Cardinals caught
Mel Kiper Jr.'s attention

among undrafted rookies.
The San Francisco 49ers' Lawrence Okoye is getting more acclaim than either. The 6-foot-6, 304-pound Olympic discus thrower from Britain is easily the most intriguing prospect among undrafted players in NFC West camps.
The balance, power, length and explosive movements common to the discus translate well to the defensive line in American football. Okoye lit up a regional scouting combine in Dallas by covering 40 yards in 4.78 seconds. Okoye also leapt 10-foot-5 in the broad jump and 35 inches in the vertical jump.
Okoye has never played football, however, so we're left to project. The 49ers will get a better idea at their rookie camp beginning Friday. They won't be able to assess Okoye in full-contact drills until training camps begin in late July and early August.