April, 9, 2012
4/09/12
5:00
PM ET
Todd McShay set off alarms as he considered if NFL teams drafting sixth (
St. Louis Rams
) and 10th (
Buffalo Bills
) might consider selecting wide receivers with those choices.
The alarms grew louder as McShay, speaking in the video above, noted that Oklahoma State's
Justin Blackmon
, widely rated as the top receiver in the 2012 NFL draft, did not possess prototypical size.
Blackmon, though obviously talented, doesn't fit the physical mold for receivers drafted among the top three overall choices over the past 25-plus years. We
discussed the reasons
back at the combine, when the Rams held the second overall choice and Blackmon was a consideration for them.
The Rams subsequently traded the second overall choice to Washington. They now hold the sixth overall choice. Blackmon would be a more logical value there than at No. 2, except for those alarms going off.
Consider recent draft history.
First, take a look at receivers drafted among the top five overall choices since 2000, listed in the first chart below.
Three of the seven are superstars:
Calvin Johnson
,
Larry Fitzgerald
and
Andre Johnson
. Another,
A.J. Green
, is coming off an impressive rookie season.
Braylon Edwards
has enjoyed sporadic success. The other two,
Charles Rogers
and
Peter Warrick
, fell far short of expectations.
Those seven players have combined for 12 Pro Bowl appearances (Fitzgerald 5, Johnson 5, Johnson 1, Edwards 1).
The next set of receivers, listed below, were drafted sixth to 15th overall. I selected that range because three NFC West teams -- the Rams,
Seattle Seahawks
(12th) and
Arizona Cardinals
(13th) -- hold picks in that area.
The 16 players listed in the second chart have combined for two Pro Bowls, one by
Roy Williams
and the other by
Koren Robinson
as a return specialist in Minnesota, long after Robinson had bombed as a receiver.
Receivers talented enough to command selection among the top few overall choices have fared better than the ones with enough question marks to push them down into the next tier.
That is something to consider when weighing how the Rams, Seahawks and Cardinals should use their first-round selections, even if the Rams did land
Torry Holt
with the sixth overall choice in 1999.
August, 16, 2011
8/16/11
9:15
AM ET
Coach Ken Whisenhunt offered a football education Monday during a
wide-ranging interview
with XTRA910 radio in Phoenix.
His explanation as to why the
Arizona Cardinals
did not pursue receiver
Lee Evans
by trade was terrific. Basically,
Larry Fitzgerald
's presence made Evans a questionable fit. I've broken out some of Whisenhunt's thoughts below. There's much more in the interview.
"Lee Evans is a good player and I like Lee Evans, but Lee Evans is an 'X' [split end]. Lee Evans is not a 'Z'. When you talk about a Z, his responsibility is blocking and being able to do some things that play off of the X receiver. Now, he has been in the league a long time, but when you talk about a receiver at that position being able to come inside and block inside the line or be able to do some of the things that we ask of our Zs, it's not necessarily always a good fit.

"I'm not saying Lee Evans wouldn't have been a good fit, but when you talk about that position, you know it's great to say that this guy is a good receiver, but if you have two of the same kind of receivers, then you're going to be struggling to find ways to get them the ball because they are the same positional guy. And what I mean by that is, Xs are more geared toward running some of the outside routes, the big ins, the gos, the posts, those kind of things, where the Zs are more into the crossing routes, the curls, the inside stuff where they have to make the tight catches.

"And so when you are assessing your team and you talk about a No. 1 or a No. 2, we don't really talk about No. 1 or No. 2. We talk about the role that these guys are going to play and what we're trying to get done. Can the guy play the slot? Can he block? Can he do all these other things? Because that all has to integrate."
Whisenhunt would rather find the next
Steve Breaston
-- a relatively unheralded draft choice who becomes a front-line player -- than chase an established veteran who might not fit the team's specific needs.
August, 12, 2011
8/12/11
4:15
PM ET
Arizona Cardinals
coach Ken Whisenhunt has downplayed the team's need for a No. 2 wide receiver.
The team did consider adding
Braylon Edwards
, who landed in San Francisco. And the Cardinals were also
reportedly interested
in
Buffalo Bills
wide receiver
Lee Evans
, who was traded to the
Baltimore Ravens
.
How aggressively should Arizona pursue a wideout?
I think the Cardinals can afford to be selective. They already gave up a 2012 second-round choice and starting cornerback
Dominique Rodgers-Cromartie
in the
Kevin Kolb
trade.
The team should think hard before giving up additional choices in the 2012 draft.
The situation at receiver is not desperate as long as
Larry Fitzgerald
is on the team. Could the Cardinals use another one? Sure. Do they absolutely have to have one? Not at all. The Cardinals are deeper at tight end than in the past.
Andre Roberts
and
Early Doucet
are looking good as complimentary wideouts. The Cardinals are not a No. 2 receiver away from contending for a championship.
If I were the Cardinals, I'd be more interested in trading for pass-rush help -- an unlikely area to find available talent, but one of much greater need.
April, 9, 2010
4/09/10
11:45
AM ET
Initial thoughts after ESPN's John Clayton told me that former Jaguars receiver
Reggie Williams
will participate in the Seahawks' upcoming minicamp on a tryout basis:
[+] Enlarge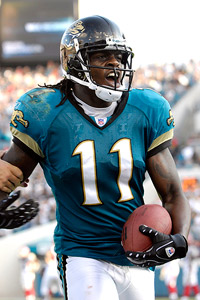 Fernando Medina/US PresswireReggie Williams will try out for the Seahawks in their upcoming minicamp.
Seahawks coach Pete Carroll appreciated Williams' talents when both were in the Pac-10.

Williams has some local appeal in Seattle after dominating at the University of Washington.

Seattle has nothing to lose by giving Williams a shot.

Williams has much to prove.

The Seahawks' new regime probably will not rule out players with troubled pasts to the degree previous general manager Tim Ruskell once did.

Seattle needs help at receiver, pending the addition of Brandon Marshall or another proven talent at the position.
I went through the 2004 class of drafted receivers and noted that, well, it wasn't a great class all the way through.
Larry Fitzgerald
and
Roy Williams
are the only guys with Pro Bowls.
Lee Evans
has done good things for the Bills. A couple of others have shown flashes.
Some background info from Clayton: "The former Lakes High School and former University of Washington star was the ninth player selected in the 2004 draft by the
Jacksonville Jaguars
. He caught 189 passes during his Jaguars career. Williams had some off-the-field problems in Jacksonville that included an arrest for marijuana possession, a DWI and another possession charge. Williams didn't play football in 2009 but he's ready to return to the field. At the age of 26, Williams welcomed the chance to return to his home turf. To participate in the minicamp, Williams had to sign an injury waiver with the team. If the three-day workout does well, he could be offered a contract."
July, 16, 2009
7/16/09
6:26
PM ET
Posted by ESPN.com's Mike Sando
Larry Fitzgerald has been providing glimpses into his ongoing workout regimen through periodic Twitter updates. I'd like to thank Facebook friend Kevin for pointing out Darren Urban's link to Jim Trotter's more detailed accounting of Fitzgerald's efforts.
Fitzgerald has organized workouts in Minnesota, arranging for Jerry Rice and Cris Carter to provide coaching. He credits former offensive coordinator Todd Haley for stressing the importance of avoiding complacency. Trotter lists Brandon Marshall, Lee Evans, Greg Jennings, Michael Clayton, Sidney Rice, Brian Robiskie, DeAngelo Hall, Malcolm Jenkins, Matt Spaeth, Dominique Byrd and James Laurinaitis among those who have attended, with Tony Romo possibly planning to attend next week.
I'm not sure of each player's connection to Fitzgerald, Minnesota or this workout program in general, but it's a good sign when players take the initiative to seek out this type of training. Laurinaitis will likely start as a rookie linebacker for the Rams. Byrd is battling for a roster spot as a tight end in Arizona and to change his image (Carter called him a wide receiver in a fat man's body, according to Trotter).
Lots of players work out effectively and without the fanfare associated with Rice or Carter. Still, the fact that Fitzgerald would organize these workouts, even providing food for players at his home, reinforces everything we've learned about Fitzgerald's work habits and approach.
June, 1, 2009
6/01/09
6:42
PM ET
Posted by ESPN.com's Mike Sando
Tom Condon's hiring as Anquan Boldin's agent probably signals a less public negotiation. Like most agents, Condon keeps a lower profile than Boldin's former agent, Drew Rosenhaus.
Condon is best known in the NFC West for his handling of Steve Hutchinson's disputed departure from the Seahawks to the Vikings. That process played out in the public, but Condon kept a low profile throughout. I would expect him to work behind the scenes on Boldin's behalf.
Rosenhaus had become known for representing unhappy receivers in Terrell Owens, Chad Johnson and Boldin. Condon is better known for representing quarterbacks.
The NFLPA lists Condon as the agent for 38 signed players. The Browns' Braylon Edwards and the Cowboys' Travis Wilson are the only receivers besides Boldin. The NFLPA lists Condon's partner, Ben Dogra, as the agent for four veteran receivers: Lee Evans and Josh Reed of the Bills, plus the Cowboys' Roy Williams and the Chargers' Chris Chambers.
Condon represents a dozen NFL quarterbacks, including his only other Cardinals client, Matt Leinart. The list includes Matt Ryan, Brady Quinn, Chris Simms, Matthew Stafford, Peyton Manning, Chad Pennington, Drew Brees, Eli Manning, Alex Smith and Marc Bulger.
November, 5, 2008
11/05/08
10:25
AM ET
Posted by ESPN.com's Mike Sando
Collin from Syracuse writes: Hey Sando, any chance on the 49ers making a move for Hall now that he is on his way out in Oakland?
Mike Sando: The 49ers invested lots of money in Nate Clements. They have drafted at the position. I'm not sure that's where they need to spend their money. Guess it depends some on what Hall might command on the market. I haven't spoken with anyone at the 49ers about it given that this news is pretty fresh.
---
Kevin from Seattle writes:
ESPN is reporting the Raiders may release
DeAngelo Hall
this week ... would the Seahawks consider picking him up to help shore up a terrible pass defense?
Mike Sando: Jim Mora likes DeAngelo Hall and stays in touch with him. The Seahawks are happy with Marcus Trufant and Josh Wilson, however. They also have 2006 first-round choice Kelly Jennings. So I'm not sure about the fit. Looking around the NFC West, he might fit better in St. Louis or Arizona, just based on those teams' situations at cornerback.
October, 11, 2008
10/11/08
11:23
AM ET
Posted by ESPN.com's Mike Sando
Fourteen NFL players have caught at least three passes covering 30 yards or longer. Some of their names are all too familiar to NFC West teams. The list (with number of 30-plus-yard receptions in parenthesis):
Henderson's stat line for New Orleans against the 49ers stands out to me. One catch for 81 yards. His teammate, Meachem, had catches of 52 and 47 yards in the same game.
October, 9, 2008
10/09/08
9:30
AM ET
Posted by ESPN.com's Mike Sando
Clare Farnsworth of the Seattle Post-Intelligencer checks in with Seahawks defensive backs coach Jim Mora, who says the team will figure out how to defend big plays. Seattle is on pace to allow 68 pass plays of at least 20 yards, up from 47 last season. The Packers' Greg Jennings visits Qwest Field in Week 6. Jennings leads the NFL in receptions of at least 20 yards. He has 11, four more than any other player.
Also from Farnsworth: Coach Mike Holmgren doesn't want to hear any excuses.
Eric Williams of the Tacoma News Tribune says Koren Robinson and Josh Wilson could see more playing time for Seattle this week. Robinson has yet to play in a game this season.
Also from Williams: Highlights from Holmgren's mid-week news conference. Holmgren weighed in on the hit that injured Matt Hasselbeck's knee.
Frank Hughes of the Tacoma News Tribune quotes Holmgren as saying Jim Zorn's departure isn't the reason behind Hasselbeck's poor stats this season. Holmgren points to injuries at receiver and warns against making judgments too soon.
Also from Hughes: Receiver Courtney Taylor could have signed with Denver's practice squad.
Danny O'Neil of the Seattle Times quotes Holmgren as saying Wilson will get more work at right cornerback starting this week.
Darren Urban of azcardinals.com says Dominique Rodgers-Cromartie is going through growing pains as a rookie. Of course, Rodgers-Cromartie isn't the only cornerback to struggle against the Bills' Lee Evans.
Also from Urban: J.J. Arrington isn't sure if he'll keep getting snaps in the offense, but he's happy to become relevant again.
Kent Somers of the Arizona Republic says Rodgers-Cromartie is learning that speed can't cover for every mistake in the NFL.
Bob Young of the Arizona Republic offers a primer for beating the Cowboys. He recommends inviting Carrie Underwood and Jessica Simpson to sing the national anthem.
Scott Bordow of the East Valley Tribune wonders how NFL scouts whiffed on Kurt Warner and Tony Romo, star quarterbacks who entered the NFL as free agents.
Mike Tulumello of the East Valley Tribune says the Cardinals' short-passing game might represent their new identity on offense. The team has scored 76 points in its last six quarters.
Jim Thomas of the St. Louis Post-Dispatch says the Rams are collecting veteran castoffs, notably Ricky Manning and Jason Craft. Thomas also suggests why Fakhir Brown has yet to re-sign with the team. The collective bargaining agreement could allow Brown to collect two salaries this season, but only if he misses one game check.
Bernie Miklasz of the St. Louis Post-Dispatch says St. Louis Blues CEO Dave Checketts might have interest in purchasing the Rams.
Bill Coats of the St. Louis Post-Dispatch updates Dane Looker's condition.
Also from Coats: Eddie Kennison doesn't mind being cut and re-signed in quick order.
More from Coats: The Rams have made a few changes under Jim Haslett, picking up the pace of practices, but most things remain unchanged.
Ann Killion of the San Jose Mercury News isn't the first person to accuse 49ers coach Mike Nolan of running a "vanilla" defense.
John Crumpacker of the San Francisco Chronicle writes about how the 49ers drafted Kentwan Balmer and Chilo Rachal when they could have had DeSean Jackson instead. They'll have to defend Jackson when the Eagles visit Candlestick Park.
Also from Crumpacker: The 49ers' Michael Lewis gets a shot at his former team.
Dan Brown of 49ers Hot Read says the Eagles' Jackson remains motivated to succeed against the teams that didn't draft him.
Matt Maiocco of the Santa Rosa Press-Democrat provides highlights from Nolan's mid-week news conference, including the coach's belief that other players would help the 49ers more quickly than Jackson would have helped the team.
Also from Maiocco: Answers to readers' questions. He's not hearing anything on the trade front.
Matt Barrows of the Sacramento Bee notes that the Eagles chose Jackson with the -- get this -- 49th overall choice in the draft.
Also from Barrows: Jerry Rice mentored Jackson before the draft. The Eagles were impressed by the former Cal receiver's knowledge of the West Coast offense.
September, 23, 2008
9/23/08
9:00
AM ET
Posted by ESPN.com's Mike Sando
The Rams could have used a little help from their schedule as they tried to gain momentum and confidence following their 3-13 record last season.
Opening at Philadelphia qualifies as a tough draw any season. I thought the Eagles would be particularly tough this season (they were my preseason pick for the Super Bowl). They have been even better than expected early in the season.

The Giants, basically an 8-8 team for much of the Tom Coughlin era, won a Super Bowl while becoming one of the toughest road teams in NFL history just in time for their Week 2 game at St. Louis.
The Seahawks, though wobbled by injuries, are almost always tough to beat at Qwest Field.
Next up for the Rams: a date with the 3-0 Bills. I figured Buffalo would improve this season, but never did I expect quarterback Trent Edwards to become this good this quickly. The Bills are perfectly suited for blowing out the Rams because they possess a physical running back and a big-play receiver in Lee Evans.
The Rams have now lost seven consecutive games dating to last season. They haven't scored more than 13 points during any of their first three games. They have scored 16 or fewer points in 12 of 19 games over the last two seasons. Things could get worse in St. Louis before they get better. And that is hard to fathom.
September, 18, 2008
9/18/08
5:18
PM ET
Posted by ESPN.com's Mike Sando

Avery
The Rams have worked rookie receiver Donnie Avery into the game plan more extensively this week, coach Scott Linehan said. Avery is healthier than he's been and the Rams are hurting at the position without Drew Bennett and Keenan Burton.
Linehan on Avery: "He is really going to play both positions, X and Z at times. We factored in a significant amount of plays for him and depending on what we are doing, we will move him around. He can play all three spots. When you prepare for a game, you can put a guy in certain spots, depending on the play, because you are specifically game planning."
Avery has very good speed. He's a rookie and a raw one, so the Rams weren't expecting to lean on him much this season. But with the offense sputtering and receiver depth an issue, Avery figures to get a few chances against a Seattle defense that has allowed long pass plays more regularly than expected this season.
The 49ers' Isaac Bruce and the Bills' Lee Evans beat Seattle for gains of 63, 41, 33, 32 and 27 yards. Torry Holt caught a 45-yarder for the Rams against the Giants in Week 2.
September, 15, 2008
9/15/08
3:34
PM ET
Posted by ESPN.com's Mike Sando
Where they stand: The Seahawks are 0-2 and tied with the Rams for last in the NFC West.
Preseason projection: 2-0
Next three games: vs. Rams, at Giants, vs. Packers
Biggest surprise: The defense has given up far too many big plays in the passing game. At least cornerback Kelly Jennings was in position while giving up chunks of yardage against the Bills' Lee Evans during the opener. The 49ers found receivers roaming free at critical times.
As expected: Free-agent additions Julius Jones and Mike Wahle have helped the running game. Jones rushed for 127 yards against the 49ers. Wahle makes a difference on the perimeter. He also helps out teammates on the line.
Fingers crossed: Seattle absolutely, postively needs receivers Deion Branch and Bobby Engram to return from injuries as soon as possible. Another injury at the position might prove too much for the Seahawks to overcome.
Rookies to watch: Tight end John Carlson looked good in training camp. He looks good during the regular season, too, catching 10 passes for 130 yards through two games. Seattle's other first-day draft choice, Lawrence Jackson, had two sacks against the 49ers.
Injury watch: Injuries have felled Branch, Engram and fellow receivers Nate Burleson, Ben Obomanu, Logan Payne and even emergency receiver Seneca Wallace. Seattle is playing without both starters on the right side of its offensive line. Another injury forced long-time starting guard Chris Gray into retirement. The bye week, Sept. 28, cannot come soon enough.
September, 11, 2008
9/11/08
10:34
AM ET
Posted by ESPN.com's Mike Sando
Re-watching the Rams-Eagles game last night brought into focus the Rams' problems in the secondary. The chart, which shows the most yards given up by NFL defenders in Week 1, lists three Rams and one Seahawk among the top five.
Tye Hill seemed to be in position on one of the Eagles' big completions early, but DeSean Jackson made the play. Hill's job is on the line. Seattle's Kelly Jennings had a hard time with the Bills' Lee Evans.
These breakdowns, tracked by Stats LLC., can be subjective. Only the Rams know for sure which of their players were responsible for certain aspects of specific coverages. Sometimes a cornerback gives up a big play after a safety fails to help in coverage. That could have been the case with some of these plays. But a careful review can generally tell us which players failed in coverage most of the time.
How to read the chart: "Targeted" shows how many times each player had passes thrown to the players he was covering. "Burned" shows how many of these passes were completed. "Yards" shows how many yards these passes gained. "TD" shows how many produced touchdowns.