NFC West:

LenDale White released
May, 28, 2010
5/28/10
7:31
PM ET
LenDale White
's release from the
Seattle Seahawks
amid
reports of a looming four-game suspension
calls for context.
I've gone back through recent interview transcripts to see what Seahawks coach Pete Carroll had said about White recently. There were no indications Carroll expected this result so quickly.
Carroll on May 17, when White missed practice: "LenDale is coming back from Tennessee. He had some issues there with the flood situations that he had to take care of. He will be back tonight. He will be back with us from now on."

Carroll on May 24, asked about White's career: "He's established that he can score touchdowns. He's been a physical runner. I've seen quite a bit of him. He lost his play time to a guy that splashed hugely on the scene last year. We all understand that. He's got a style that makes him unique. He's a little trimmer than he's been. He's right around 220, which is I think as light as we've ever seen him maybe since the time he was in high school. He's physically capable of carrying a little bit different approach to the game. He was as much as probably 250 at times. We'll see how it all fits together. It has a long ways to go. We are going to certainly wait it out and see how he does."
The part about waiting it out and seeing how White does suggests something specifically or cumulatively changed Carroll's mind between May 24 and May 28. Was it the looming suspension? Would the Seahawks really be finding out about the possibility of a suspension only now? That seems unlikely. If White were approaching his job conscientiously, the team might be willing to "wait it out" because White could still give the team 12 games of production. This is what we call a developing story.
May, 28, 2010
5/28/10
5:09
PM ET
Reading between the lines following the Seahawks' quick release of
LenDale White
five weeks after acquiring him:
The phrasing of general manager John Schneider's statement -- White wasn't ready to be a Seahawk -- tells me the team thought White wasn't committing to the extent expected. This comes as a surprise given White's improved conditioning. He reported to camp weighing less than 220 pounds. This suggests the team wanted more from White in other areas and that White didn't have the attitude Carroll expected from him. "Buy In," reads a sign Carroll has put up at team headquarters.
Other running backs on the roster have apparently stepped up, and the team must feel pretty good about Leon Washington's recovery from a broken leg. Julius Jones and Justin Forsett benefit directly from White's release. The team will now look to see if another running back emerges. Quinton Ganther and Louis Rankin are the other halfbacks on the roster. The team could always try to acquire another one if needed.
Carroll is sending a strong message by making this move so quickly after acquiring White. It shows Carroll won't offer free rides to his former USC players. Seattle still has 26 players from the Pac-10 Conference on its roster, easily a league high, but there will be no scholarships.
That's all for now. Enjoy your holiday weekend.
Update:
Jason LaCanfora of NFL.com and ESPN's Adam Schefter is reporting that White is
facing a four-game suspension
and that Seattle released him for other reasons, which would make sense. A looming suspension could explain why the Titans got so little in return for White when they traded him to Seattle. That wouldn't have been enough by itself for Seattle to cut White, in my view. There would likely be other factors relating to White's attitude and overall approach. I base that on Schneider's comments about White not being ready to be a Seahawk.
May, 28, 2010
5/28/10
4:34
PM ET
True story: Matt Williamson of Scouts Inc. texted me Friday asking whether I thought
Justin Forsett
would lead the
Seattle Seahawks
in rushing this season.
I told him I thought
LenDale White
could be a candidate based on the fact that he reported to camp around 220 pounds.
[+] Enlarge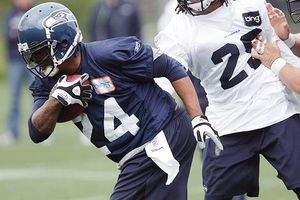 Juliann Tallino/US PresswireLenDale White had reportedly slimmed down to about 220 pounds as part of an effort to revitalize his career in Seattle.
Williamson challenged me to a debate on the issue.
I wasn't convinced White would lead the team in rushing, but I thought there were a few factors that made him a decent candidate.
Those factors might be irrelevant. White is apparently fading from the Seahawks' plans. The team is considering releasing White,
according to ESPN's John Clayton
. The Seahawks' website briefly reported that White had been waived, but
the story
was taken down and the team was apparently still talking things through with White.
A Google search
was showing a seahawks.com headline reading, "Seahawks waive running back White".
The item included the following quote from general manager John Schneider, according to the Everett Herald's John Boyle
via Brian McIntyre
of Mac's Football Blog: "It became apparent at this time that LenDale was not ready to be a member of the Seattle Seahawks. It just did not appear to be the right fit at this point in our program. We wish LenDale all the best with his future."
It's unclear what event or events, if any, precipitated the abrupt turnabout.
If White is released, the move would show why the Titans were willing to dump White for very little in return. The move would also show how overrated offseason talk can be, particularly when it applies to troubled or maligned players suddenly evolving into promising prospects. The storyline on White was that he had slimmed down into the 220 range after weighing closer to 260 earlier in his career. He was going to put on some muscle in working his way back up to the 228 range.
White's history with coach Pete Carroll lent credence to the idea that White might have a decent shot at reviving his career in Seattle. His demise in Tennessee, after all, had something to do with
Chris Johnson
's emergence as one of the elite runners in the game.
Releasing White would show that Carroll isn't offering unconditional scholarships to anyone from his past at USC. Players will have to do things his way and to his standards, and White would have presumably fallen short.
Removing White from the equation would leave Seattle with additional question marks at the position.
Leon Washington
, acquired from the
New York Jets
, is recovering from a broken leg. Forsett and
Julius Jones
are also competing at the position.
Update:
The Seahawks have now announced White's release and it featured the same quote from Schneider.