October, 30, 2011
10/30/11
7:30
PM ET
SEATTLE -- Thoughts on the
Seattle Seahawks
' 34-12
home defeat
against the
Cincinnati Bengals
in Week 8:


What it means:
The Seahawks are going to have a very hard time challenging within the division after losing back-to-back games against Cleveland and Cincinnati. They trail the
San Francisco 49ers
by four games in the standings with nine games remaining. No team since realignment in 2002 has overcome greater than a 3.5-game deficit this late in a season.
What I liked:
Rookie cornerback
Richard Sherman
tracked the ball nicely and picked off
Andy Dalton
's deep pass down the right sideline when the Bengals were threatening to build on a 17-3 lead. Sherman was starting after the team lost
Marcus Trufant
and
Walter Thurmond
to season-ending injuries. He broke up another pass, enabling teammate
Kam Chancellor
to collect an interception. Punter
Jon Ryan
tracked down Bengals return specialist Pacman Jones to prevent a touchdown.
Tarvaris Jackson
's deep pass to
Ben Obomanu
against cornerback
Leon Hall
covered 55 yards and gave the Seahawks a needed jolt late in the third quarter. Jackson topped 300 yards passing, making it clear he needs to remain the starter moving forward.
What I didn't like:
Seattle's offensive line, playing with its projected starters for the first time since Week 1, struggled in all phases. Tight end
Anthony McCoy
had another drop. Even
Sidney Rice
had some issues. On defense, Seattle gave up the big play to
A.J. Green
. Linebacker
David Hawthorne
, who picked off a pass against Cleveland last week, appeared to have the coverage when the Bengals, playing without starting tight end
Jermaine Gresham
, found
Donald Lee
for a big gain over the middle. The Bengals fared better than expected on the ground even though they were without Gresham and suspended running back
Cedric Benson
.
Poor game management:
The first-half clock ran out on Seattle after the team went for it on fourth down deep in Bengals territory with no timeouts remaining. The sequence resembled what happened to the team against San Diego last season. Yes, officials arguably should have stopped the clock when Bengals players lingered on the pile, preventing Seattle from attempting another play. But every coach must factor for such risks. Seattle went into halftime trailing 17-3 when the score should have been 17-6, at worst. Down 17-12 with 8:55 to play in the game, Carroll opted for a two-point conversion, which failed.
Questionable QB juggling:
Carroll left himself open to further criticism with his handling of the quarterback situation.
Charlie Whitehurst
started even though Jackson was available. Whitehurst struggled. Carroll switched to Jackson. If Jackson were healthy enough to play, why not start him? It was defensible for Carroll to see how things went with Whitehurst, possibly buying additional time for Jackson to make a fuller recovery. The team listed Jackson as its starter before the game, only to send Whitehurst onto the field for the first series. Jackson took a hit late in the game, after the outcome was decided, and doctors checked out his knee on the sideline. He went back into the game and tossed an interception for a touchdown, turning a sound defeat into an embarrassing one.
CB thinking rewarded:
The Seahawks traded
Kelly Jennings
to the Bengals before the season as part of an overall effort to get bigger at cornerback. That thinking appeared sound when Sherman used his size to make that leaping interception along the sideline. Sherman also contributed on the interception from Chancellor. Meanwhile, Seahawks undrafted rookie
Doug Baldwin
beat Jennings for a 31-yard gain up the right sideline.
Special-teams implosion:
The Seahawks' special teams have dropped off this season through a combination of injuries and poor play.
Brandon Tate
's 56-yard punt return for a touchdown put away the game for the Bengals. Jones probably should have scored on an earlier return, but Ryan caught him. Jones apparently injured his hamstring injury on the play.
Injuries of note:
Defensive end
Chris Clemons
left the game with a knee injury, then returned.
What's next:
The Seahawks visit the
Dallas Cowboys
in Week 9.
March, 25, 2011
3/25/11
12:20
PM ET
Ken Whisenhunt is right when he says
Levi Brown
takes more criticism as a high draft choice than he would take as someone selected later in the process.
That's the way it works. The highest picks in a draft class should outperform their peers.
[+] Enlarge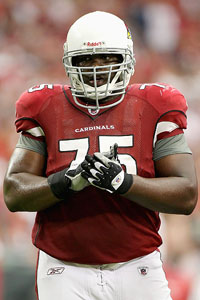 Christian Petersen/Getty ImagesLevi Brown, drafted fifth overall in 2007, can still become an "outstanding" player according to Ken Whisenhunt.
The
Arizona Cardinals
don't need anyone to remind them that they selected Brown over some All-Pro performers, including
Adrian Peterson
and
Patrick Willis
. But it's not as though Brown, a player with 56 consecutive regular-season starts, qualifies as a flat-out bust, either. He moved to left tackle from the right side last season and will stay there.
"He improved last year," Whisenhunt said this week from the NFL owners meeting in New Orleans. "As a left tackle, it's not an easy position to move from right tackle. He will continue to get better. He is a talented football player. The biggest thing he has struggled with is the consistency of his play. But a lot of times you are under the microscope more because you were the fifth pick in the draft."
I would rank Brown, chosen fifth overall in 2007, somewhere around 20th out of 32 first-round picks that year.
Brown has obviously or arguably outperformed the following first-round selections from 2007:
JaMarcus Russell
,
Jamaal Anderson
,
Ted Ginn Jr
.,
Amobi Okoye
,
Adam Carriker
,
Justin Harrell
,
Jarvis Moss
,
Aaron Ross
,
Reggie Nelson
,
Brady Quinn
,
Anthony Gonzalez
and Craig Davis.
Gaines Adams
, chosen fourth that year, passed away after Tampa Bay traded him to Chicago.
The following first-rounders from 2007 have obviously or arguably outperformed Brown:
Calvin Johnson
,
Joe Thomas
,
LaRon Landry
, Adrian Peterson, Patrick Willis,
Marshawn Lynch
,
Darrelle Revis
,
Lawrence Timmons
,
Leon Hall
,
Michael Griffin
,
Dwayne Bowe
,
Brandon Meriweather
,
Jon Beason
,
Anthony Spencer
,
Robert Meachem
,
Joe Staley
,
Ben Grubbs
and
Greg Olsen
.
"The reason we drafted Levi where we did was because we had him rated high enough to go in that position, but we also felt like we had to develop our offensive line and defensive line at that point, because that is where the most critical component of your team," Whisenhunt said. "That is the only way you are going to have a chance to compete. Levi has been a good player. He is often criticized, but I think that comes with being the fifth pick, and I don't understand how you evaluate offensive linemen, because they are not catching passes or running touchdowns in."
Whisenhunt said he thought Brown can and will become an "outstanding" player.
"Any time an offensive lineman gets drafted that high, especially in a fantasy football world where people want you to get dynamic playmakers, you are going to face some kind of criticism," Whisenhunt said. "I have to give Levi some credit. As tough as it's been, he hasn't let it affect him. He has continued to work and get better and I think this will be a big year for him. This is a chance for him to show that he can play this position very well."