December, 8, 2011
12/08/11
10:27
AM ET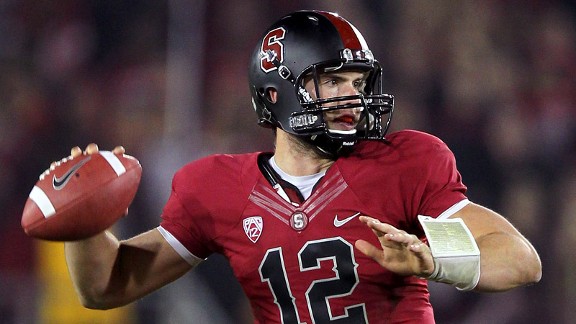 Ezra Shaw/Getty ImagesThe Colts look like a lock to get the No. 1 overall pick and the chance to draft Andrew Luck.
LuckWatch was
fun
while
it
lasted
.
There can be little doubt what happens next.
The
Indianapolis Colts
will finish 0-16 or close to it. They'll hold the No. 1 overall choice in the 2012 NFL draft. They'll draft
Peyton Manning
's successor, probably Andrew Luck.
Analysts will nod. The other teams needing quarterbacks will pick from what's left. Those leftovers could remain on the table a while, too.
Teams slotted second through fourth in the current order -- St. Louis, Minnesota and Jacksonville -- have drafted quarterbacks among the top 12 overall choices since 2010. They might not be in the market for highly drafted QBs so soon. That could allow quarterback-needy teams to land prospects at the position a little later in the round, even if Luck is long gone.
Four of the teams currently slotted to pick among the top 10 have clear needs at quarterback: Indianapolis, Washington (fifth in the current order), Cleveland (seventh) and Miami (ninth). Some of the other teams in the top 10 -- Carolina, Philadelphia and Tampa Bay, among them -- have already invested sizable sums in franchise quarterbacks.
Just outside the top 10, the
Kansas City Chiefs
(12th) and
Seattle Seahawks
(tied for 13th with Buffalo) have potential quarterback needs.
The Chiefs have
Matt Cassel
, but drafting a quarterback early would come as no surprise. Seattle likes
Tarvaris Jackson
and will presumably bring him back, but the Seahawks also need a longer-term prospect through the draft. The team hasn't drafted a quarterback since Pete Carroll took over as head coach.
Arizona, currently slotted 11th, invested heavily in
Kevin Kolb
last offseason. Kolb is expected to return, but his contract affords the team some flexibility should the team decide to head in another direction. The teams currently 15th and 16th in the order, San Diego and the
New York Giants
, already have franchise quarterbacks.
November, 9, 2011
11/09/11
2:00
PM ET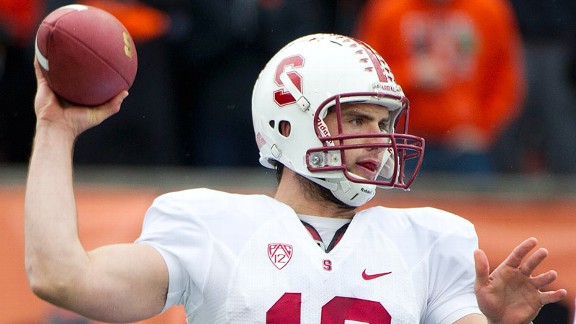 Jim Z. Rider/US PresswireAndrew Luck has thrown at least three touchdown passes in six of Stanford's nine games this season.
The
Seattle Seahawks
' handling of the quarterback situation this season has produced quite a bit of confusion.
When in doubt, follow the money.
Signing
Tarvaris Jackson
to a contract averaging $4 million a year -- less than what the team is paying its left guard, tight end and backup quarterback -- revealed plenty about the Seahawks' plans for the position.
The move told us the Seahawks were serious about drafting a quarterback in 2012, whether it's Andrew Luck or another prospect likely to be chosen early. Saying so outright would have sent the wrong message to fans and the current team, of course, but a $4 million bet on Jackson wasn't much of a bet at all.
The related decision to part ways with
Matt Hasselbeck
, who commanded $9 million a year on the market, told us Seattle saw little point in squeezing a couple additional victories from a team that wasn't going to contend for a championship, anyway.
The Seahawks would almost certainly be better with Hasselbeck, provided their former long-time starter could have held up physically behind a young, inconsistent line. But how much better would they have been? Enough to finish 7-9 or 8-8 and out of the running for a top quarterback in the draft? What then?
Swapping Jackson for Hasselbeck fell short of a blatant "Suck for Luck" mantra, but not all that far short. Teams finishing 4-12 last season picked second through fourth. Teams with five victories were fifth and sixth. Teams with six victories picked seventh to 13th.
After watching the Seahawks fall to 2-6, it's looking like Seattle will have a shot at drafting a quarterback early, even if another team winds up with Luck.
October, 27, 2011
10/27/11
10:59
AM ET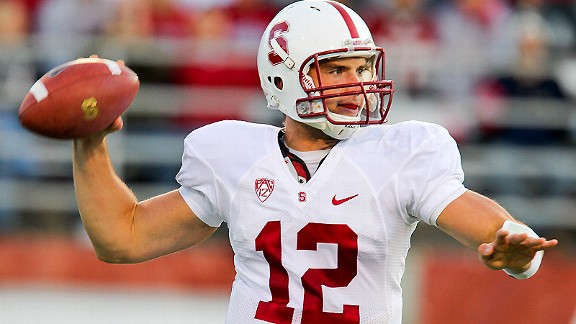 Steve Conner/Icon SMIStanford's Andrew Luck has thrown for 1,888 yards and 20 touchdowns so far this season.
No one knows for sure whether Andrew Luck is the next great NFL quarterback, the next first-round bust or something in between.
For now, the Stanford quarterback projects as the franchise-saving reward for some poor NFL team careening through an otherwise lost 2011 season.
But what if the team holding the No. 1 overall choice already has a franchise quarterback?
Four of the five teams with no more than one victory this season fall into that category, as the chart explains. I suspect
Peyton Manning
's age and injury situation would compel Indianapolis to draft a quarterback first overall if given the opportunity, but what if the
St. Louis Rams
held the top pick?
The Rams already invested millions in
Sam Bradford
. They like him very much despite what has been a rough second season for him. But if the team continues losing in a noncompetitive fashion, changes could sweep through Rams Park. New leadership could, in theory, seek a fresh start across the board -- including at quarterback.
Blasphemy, right? Hear me out.
While keeping Bradford and trading the No. 1 overall pick sounds attractive in theory, teams drafting lower could call the Rams' bluff. They could wait until draft day, then maneuver for the second overall choice, betting against the Rams taking another quarterback.
The Rams' 0-6 start has exposed holes throughout their roster. They need additional draft choices to restock a depth chart featuring too many
Al Harris
and
Ben Leber
types. Bradford would fetch quite a few picks from a team needing a quarterback.
Contract-wise, Luck would cost about half as much as Bradford cost, thanks to the new labor deal. When it comes to the salary cap, where there's a will, there's a way.
Under this scenario, the Rams could trade Bradford outside the division and even outside the conference. Cleveland would rank atop my list of destinations. Browns executive Mike Holmgren values quarterbacks, and he has additional picks from the draft-day trade with Atlanta. Browns coach Pat Shurmur was Bradford's coordinator in 2010, so Bradford could make a smooth transition to an offense he knows well.
It's a lot to digest, but time is on our side. We're still 182 days from the 2012 draft. The chart below shows the five teams with fewer than two victories.
October, 6, 2011
10/06/11
12:00
PM ET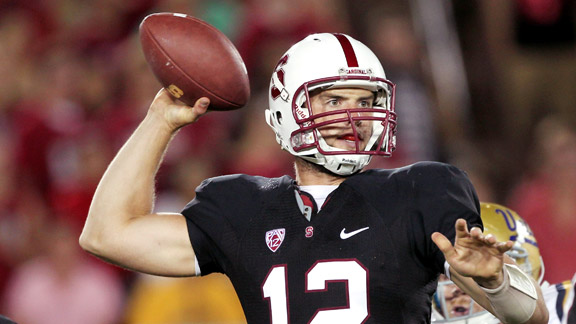 Ezra Shaw/Getty ImagesAndrew Luck has thrown at least two touchdown passes in each of Stanford's games this season.
The latest in an occasional series sizing up five NFL teams' prospects for landing Stanford quarterback Andrew Luck, the consensus projected No. 1 pick in the 2012 draft:
The
Seattle Seahawks
have gone from topping our
inaugural LuckWatch item
two weeks ago to dropping from the top five.
They wouldn't even rank sixth among the teams with the best chances for securing the first pick in the 2012 NFL draft and, by extension, a shot at Luck.
The
Miami Dolphins
,
Indianapolis Colts
,
Minnesota Vikings
,
Denver Broncos
and
Jacksonville Jaguars
comprised the top five this time, with the
Kansas City Chiefs
on standby as the unlisted No. 6 seed.
Seattle's home victory over the
Arizona Cardinals
in Week 3 told me the Seahawks would have a good shot at posting a 3-3 record in the NFC West by winning division games at CenturyLink Field. And if the
St. Louis Rams
continue to spiral into oblivion, aided by an untenable injury situation, the Seahawks could conceivably sweep the season series from them.
Home games against Cincinnati and Washington also appear winnable, as does a road game against Cleveland. Winning two of those three non-division games and three more against NFC West opponents would remove Seattle from the LuckWatch equation.
The toughest call this week was listing the Broncos and Jaguars, but not the Chiefs. Kansas City appeared doomed after losing
Jamaal Charles
,
Eric Berry
and
Tony Moeaki
to season-ending injuries, but the Chiefs have been quite competitive over their last two games. They already own a victory over LuckWatch competitor Minnesota. They face Indianapolis in Week 5, Miami in Week 9 and Denver twice.
The
St. Louis Rams
are the only 0-4 team left off the list. They're set at quarterback, which raises a question for a future LuckWatch: What could the Rams get for the No. 1 overall choice?
This race is only beginning.
September, 22, 2011
9/22/11
2:30
PM ET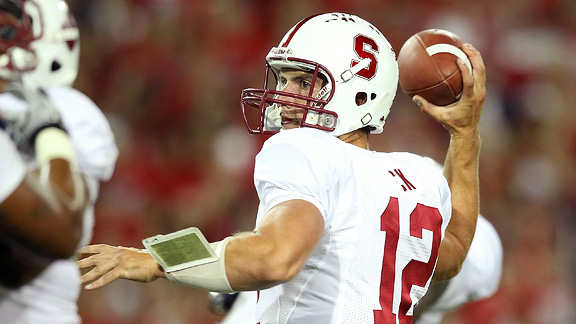 Christian Petersen/Getty ImagesStanford quarterback Andrew Luck is the top prize in the 2012 NFL draft.
The first in an occasional series sizing up five NFL teams' prospects for landing Stanford quarterback Andrew Luck, the consensus projected No. 1 pick in the 2012 draft:
Asking the NFC West guy to handle these duties had to be almost reflexive.
The division commands little respect, despite producing four Super Bowl teams over the past 12 seasons, and winning at least one playoff game for seven years running.
If there's a tendency to focus on the negative, there's been plenty of that around here, too.
Two years after the 1-15
St. Louis Rams
emerged with No. 1 overall pick
Sam Bradford
, early returns place the division-rival
Seattle Seahawks
on a short list of teams with a shot at Luck.
Seattle has been outscored by 40 points through two games, outpacing two-game averages for the 11 teams since 2006 to finish with fewer than four victories.
Those 11 teams with 3-13 or worse records averaged 12.6 points scored and 28.3 points allowed per game through Week 2. The five 2011 teams singled out here -- Seattle, Indianapolis, Miami, Kansas City and Denver -- have averaged about as many points (13.4) while giving up even more (31.3).
Plenty of time remains for these teams to salvage their seasons. With Luck waiting on the other side, however, there's hope in bottoming out, too.