November, 30, 2012
11/30/12
4:29
PM ET
The
St. Louis Rams
listed
Danny Amendola
as "doubtful" on their final injury report last week, indicating the receiver had less than a 25 percent chance of playing against Arizona.
Amendola played in the game anyway, burning the Cardinals for a 38-yard reception.
The Rams listed Amendola as doubtful again Friday. Amendola's availability to the Rams against San Francisco appears critical. He caught 11 passes for 102 yards during a 24-24 tie against the 49ers in Week 10. Penalties wiped out an 80-yard reception and 62-yard punt return for Amendola in that game.
Amendola has already joined select company by playing in a game after being listed as doubtful. Against Arizona, he became the sixth player since 2008 to receive at least one pass target in a game after his team listed him as doubtful, according to ESPN Stats & Information. The chart shows stats for all six.
I'm hoping to find out how many players listed as doubtful wind up playing in games. That would provide some perspective for what seems like a rare occurrence.
April, 24, 2012
4/24/12
2:18
PM ET
Any team with
Larry Fitzgerald
at wide receiver would seem to be set at the position, or close to it.
But as Steve Muench of Scouts Inc. explained when we discussed receivers Tuesday, there's a reason
Mario Manningham
made the key reception for the
New York Giants
against New England in the most recent Super Bowl.
"They talked about Bill Belichick in the Super Bowl saying, 'Give them Manningham,' and then Manningham makes that crazy catch," Muench said. "That was because they didn't want
Hakeem Nicks
and
Victor Cruz
to beat them."

The concept, explored further in the "First Take" video above, could justify any decision Arizona might make to select a wide receiver, most likely
Michael Floyd
, with the 13th overall choice in the draft Thursday.
A few more thoughts on the Cardinals' options, lifted from my conversation with Muench ...
Sando:
You like
where the 49ers stand
in this draft. What about Arizona?
Muench:
The Cardinals are not in a bad spot. They are going to get Michael Floyd or
Riley Reiff
, the way I see it. And really, I don't think you are upset about either one of those picks. To me, it's Buffalo and Arizona. What Buffalo does, Arizona will take the other player. Buffalo needs a tackle and would like to get a playmaking wide receiver. The same for Arizona.
Sando:
I've felt as though improved quarterback play would be the key to maximizing the Cardinals' existing weapons. That might be the case, but your point on Manningham and the Giants resonated, too.
Muench:
Kansas City tried to get Jonathan Baldwin to play next to
Dwayne Bowe
. San Diego had some success with
Malcolm Floyd
and
Vincent Jackson
. It's what those guys make defenses do in coverage and also to defend the run. When you have two guys on the outside, it's tough.
Sando:
Arizona used third-round choices for
Andre Roberts
and
Early Doucet
. Without a second-round choice this year, those are the types of receivers that might be available to them if Reiff is the choice in the first round.
Muench:
The Cardinals haven't had that guy to draw attention away from Fitzgerald.
Steve Breaston
was a good complimentary receiver, a good sub-package receiver, but he was not going to force a coordinator to make a tough decision. Floyd could do that.
Sando:
OK, then, let's say your theory plays out, but the Bills take Floyd.
Muench:
Riley Reiff would start at right tackle from day one. I don't think he's a left tackle, but some of
Matt Kalil
's weaknesses are Reiff's strengths. He is a tough, hard-nosed guy -- not the most athletic, but he finds a way to get it done and is tough in the run game. Sort of like the Jon Runyans of the NFL. He immediately makes you better and starts for years.
Sando:
Best-case scenario, then, which player would the Cardinals get at No. 13?
Muench:
With no second-rounder, from a roster standpoint you would almost rather them get Reiff because it's a deeper receiver class and you could find some guys in the third round to come in and contribute, like a
Brian Quick
from Appalachian State. He has a lot to work on, but if he realizes his potential, he's going to be a starter on the outside.
August, 28, 2011
8/28/11
12:38
PM ET
At least three physically impressive NFC West linebackers qualify as "emerging" this season.
[+] Enlarge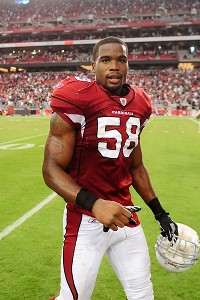 Mark J. Rebilas/US PresswireArizona Cardinals linebacker Daryl Washington seems on the cusp of a big season.
The
Arizona Cardinals
'
Daryl Washington
is one of them. Teammate
Jay Feely
called Washington a "breakout" player
no one is talking about
. Feely called Washington fast, powerful and well positioned for a big year.
Washington led the Cardinals in tackles with seven against San Diego on Saturday night. Four of those tackles came on rushing plays that gained six yards combined. Against the pass, Washington made tackles well downfield (after a 31-yard gain by receiver
Vincent Jackson
) and nearer the line of scrimmage. I've gone through each play and made the following notes:
First quarter, 7:41 on clock, first-and-10: The Chargers run Ryan Mathews up the middle. Washington moves before the snap, settling over the center and four yards off the ball. Calais Campbell prevents the left guard from reaching Washington. When the center guides Dan Williams to the side, there's a lane for Washington to charge through. Washington and outside linebacker Clark Haggans meet Mathews in the backfield for a loss.

First quarter, 5:24 on clock, first-and-10: Washington lines up in the same spot before the snap. Center Nick Hardwick and left guard Kris Dielman double-team Williams at the snap. Hardwick tumbles Washington's lower body, but does not make contact. Dielman comes off the double team and locates Washington, but he's off-balance and can't make the block. Washington sidesteps through traffic and brings down fullback Mike Tolbert following a 6-yard gain.

First quarter, 3:06 on clock, second-and-5: Washington lines up over the left tackle (weak side) and four yards off the ball. The Chargers send receiver Richard Goodman across the formation from Washington's side, as if to give him the ball on a handoff. Washington stays put. No one blocks him. He tackles Mathews for a loss.

Second quarter, 14:22 on clock, third-and-6: Philip Rivers finds Jackson open outside the right hash for a big gain up the sideline. Washington takes the best angle among several Cardinals defenders giving chase. He catches Jackson after a 31-yard gain and blasts him out of bounds with a big hit. Cornerback Patrick Peterson had slipped twice in coverage on the play.

Second quarter, 3:32 on clock, second-and-9: The Chargers had faced a first-and-20 on this drive after Hardwick essentially tackled Washington while the linebacker was shooting a gap. Officials called holding on that play. On the second-and-9 play, Washington lines up three yards off the ball and over the left tackle (weak side). He shifts over the outside of the center and creeps toward nearer the line of scrimmage before the snap. Washington diagnoses the play at the snap, dropping into coverage and tagging receiver Malcolm Floyd, who had beaten Peterson on what had to have been a quick slant. Washington hit Floyd only a moment after Floyd caught the ball for a 7-yard gain.

Second quarter, 2:51 on clock, third-and-2: This is the very next play. Washington lines up five yards off the ball and over the left tackle. Rivers is in the shotgun. Rivers throws quickly to Bryan Walters for a 5-yard gain. Washington is there and he's not happy with the result, although it's not clear what more he could have done. He pounds the grass with his hand after the play.

Third quarter, 14:20 on clock, second-and-7: Washington lines up five yards off the ball and over the left guard and fullback. The Chargers are in an offset-I formation. The men in front of Washington occupy their blockers long enough for Washington to chase down Mathews on the perimeter. Dielman tries to reach Washington but does not come close. Mathews tries to stiff-arm Washington, who strings out Mathews and forces him toward the sideline. Mathews follows up his stiff-arm with a jab to the head area. Washington slugs Mathews with a roundhouse right to the head area as Mathews' momentum carries him out of bounds. Washington throws up his arms as if to indicate he hadn't done anything against the rules. Officials throw a flag. Washington slips on the slick apron between the field and stands. Mathews seems to enjoy this, offering a wave. Referee Pete Morelli waves off the flag.
Thank you, Jay Feely, for
reaching out
on Washington's behalf. It was helpful watching these plays a little more closely.
As for those other two physically impressive NFC West linebackers who could be emerging?
NaVorro Bowman
(
San Francisco 49ers
) and
Leroy Hill
(
Seattle Seahawks
) were two I had in mind. Bowman is a regular starter heading into a season for the first time in his career. Hill is trying to regain his career footing after a couple rough seasons.
July, 28, 2011
7/28/11
10:07
PM ET
Thoughts
on the
Arizona Cardinals
' trade for
Kevin Kolb
and contract agreement with veteran center
Lyle Sendlein
(thank you,
ESPN's Adam Schefter
).
More thoughts:
Challenging perception: The Cardinals have taken criticism for what has been portrayed as unwillingness to pay Marc Bulger last offseason after reaching agreement with Derek Anderson. To review, the timing worked out poorly for Arizona. The team considered acquiring Charlie Whitehurst, then decided to sign Anderson while he remained available. Meanwhile, the St. Louis Rams were waiting to release Bulger, a player the Cardinals otherwise would have targeted. After adding Anderson, the Cardinals weren't going to pay similar money for Bulger, despite apparent pleas from coach Ken Whisenhunt. Whether or not the criticism was valid, the Cardinals aren't holding back now. Perhaps a 5-11 disaster season gave Whisenhunt the power he needed. Whatever the case, if the five-year, $63 million contract Kolb plans to sign does include more than $20 million in guarantees, as advertised, it's tougher to say the organization is afraid to spend on a quarterback, even an unproven one.
Offensive focus: Arizona is transforming its offense. Third-round pick Rob Housler projects as a receiving tight end. Veteran Jeff King, who agreed to terms with Arizona recently after beginning his career in Carolina, projects as more of a blocker. Ryan Williams, a surprise pick in the second round, projects as a running back with big-play ability. The offense has evolved significantly. The team could use a speed receiver after Steve Breaston left for Kansas City, but San Diego's Malcolm Floyd apparently isn't on the radar, Kent Somers of the Arizona Republic noted.
Jump start?: After a quiet start to the negotiating period, the Cardinals appear to be operating with urgency as the signing period approaches Friday. Kolb's addition was a big step. Keeping Sendlein was a key for a line that needs to move forward, not take steps in the other direction. Sendlein has quietly become a consistent, solid contributor on the line. He and newcomer Daryn Colledge, formerly of Green Bay, should help the line develop more of an enduring identity. I still think the Cardinals could use help at tackle, but that doesn't appear to be a priority.
The Cardinals also reached agreement with former
Pittsburgh Steelers
defensive lineman
Nick Eason
. His ties to new defensive coordinator Ray Horton made this a natural fit. Eason, 31, has started five games in each of the past two seasons.
October, 14, 2010
10/14/10
12:11
PM ET
Congrats to
Cullen_Powers_Dominates
for putting together the highest-scoring Week 5 team from among more than 3,500 entrants in the ESPN.com Blog Network Gridiron Challenge.
Starting
Matt Forte
(30 points),
Ray Rice
(27),
Malcolm Floyd
(27) and the
Chicago Bears
' defense (23) helped produced a 176-point total.
Meanwhile,
my team
continued heading south for the winter (point totals for the last four weeks: 146, 118, 101 and 100). The new week brings renewed hope.
Please do point out the errors of my ways in thinking these fantasy thoughts for Week 6:
The chart shows the top 10 overall competitors in the Blog Network group, plus a few stragglers (yes, my wife's team continues to lead my team, and I hear about it once or twice every day, usually when she asks from the other room if I know my point total).