January, 20, 2010
1/20/10
8:45
AM ET

Jim Thomas of the St. Louis Post-Dispatch
says Rams majority owner Chip Rosenbloom and sister Lucia Rodriguez are weighing three offers to buy the team. Thomas: "All three offers, described as "acceptable" by the sources, are comparable to what the Pittsburgh Steelers franchise recently sold for -- which was in the range of total franchise value of $720 million to $800 million. ... The pressure to sell the team comes from estate taxes resulting from the death of
[Georgia]
Frontiere. By 2014, Rosenbloom and Rodriguez must start paying on the principal of those estate taxes rather than the interest, and that increased payment would severely cut into the team's profits."
Also from Thomas
: The Rams have signed defensive tackle Chris Bradwell.
More from Thomas
: a chat transcript featuring thoughts on Donovan McNabb's potential availability via trade. Thomas: "If you trade for McNabb, you're getting him for just one year. His contract expires following the 2010. He's scheduled to make $5 million in base salary, actually a pretty modest amount. But he is due a $6.5 million roster bonus in May. So obviously, a trade would have to take place before then. Anyway, I wonder if McNabb would even want to come here to a 1-15 team with one of the league's worst offenses. He might resist such a trade or threaten to retire."

Clare Farnsworth of seahawks.com
quotes CEO Tod Leiweke this way on what he wants from the team's front office: "Can collaboration work? It does all the time, in all sorts of environments. In fact, it's how I lead. This is the model that makes sense to us -- to get guys to work together, to share opinions. And the coach's opinion is going to matter in who we pick (in the draft). But ultimately, that's the general manager's job: To go out and find those guys. And how can you not ask Pete Carroll what he thinks about the draft? That's exactly what we want here."
Danny O'Neil of the Seattle Times
calls John Schneider a surprise choice as the Seahawks' new general manager. O'Neil: "Schneider doesn't have 20 years of front-office experience like Floyd Reese, the other finalist who many around the league considered the favorite to get the job. Schneider, 38, doesn't have a Super Bowl ring like Marc Ross of the Giants or Omar Khan of the Steelers, who were also interviewed. Schneider didn't even have his own Wikipedia page at the time of his hiring. But what Schneider does possess is a sterling reputation for draft acumen, and after spending the past seven seasons in Green Bay, he's well-schooled in the Packers' approach to steering clear of the league's free-agent spending frenzy."

Darren Urban of azcardinals.com
looks at factors surrounding Kurt Warner's decision on retirement. Urban: "There are his teammates, of course, and any obligation he might feel to them. That would never trump his family, but if you think Larry Fitzgerald is just sitting idly by and not letting Warner know constantly how much he wants Warner to return, that's just being na´ve. There is little question the Cards still have a team that can win the NFC West and conceivably contend for a Super Bowl. It'd be hard to walk away from that -- especially when Warner knows he's a key piece to such an equation."
Aaron Schatz of Football Outsiders
ranks the 49ers' Andy Lee as the NFL's best punter in 2009, with the Cardinals' Ben Graham third. The methodology is interesting. One thing I'd like to see: more specific values assigned to punts downed inside the 20. That was one area where I thought Graham in particular excelled.

Matt Barrows of the Sacramento Bee
does not expect the Saints' Reggie Bush to become available to the 49ers as a return specialist. Barrows: "The Saints definitely could -- and probably will -- ask Bush to restructure his contract. But Bush could command enough interest around the league, especially in a cap-less season, that he could safely decline the Saints' request. For the 49ers, a more likely veteran target would be Cleveland's Joshua Cribbs, who is unhappy with his contract and whose team would be more interested than the Saints in accruing extra draft picks." Advice to the 49ers: Draft a returner who doubles as a third receiver or nickel cornerback.
Matt Maiocco of the Santa Rosa Press-Democrat
says the 49ers' Frank Gore and Justin Smith could land spots in the Pro Bowl if the Vikings advanced to the Super Bowl. Scheduling the Pro Bowl before the Super Bowl should give quite a few Pro Bowl alternates a chance to qualify as Pro Bowl players.
Bruce Jenkins of the San Francisco Chronicle
says the 49ers' fate in 2010 rests more on Warner's decision than anything the 49ers might do.
David Fucillo of Niners Nation
looks at how the 49ers' receivers performed in 2009. Michael Crabtree was consistent, if not spectacular.
January, 13, 2010
1/13/10
10:42
AM ET

Danny O'Neil of the Seattle Times
says new Seahawks coach Pete Carroll spoke uninterrupted for nearly 12 minutes to begin his first news conference as Seahawks coach. O'Neil: "This is the new voice of Seattle's franchise, and get ready. He talks fast and with a mix of passion and humor. This was Carroll's show Tuesday, something that now could be said about the franchise in general."
Also from O'Neil
: Expect Jeremy Bates and Alex Gibbs to join Carroll's staff. Also, CEO Tod Leiweke apologizes to former coach Jim Mora. Leiweke: "While I apologized, it was also just one of those difficult awkward moments you find yourself in. Jim knew we were going to go have substantive discussions last week. We didn't know where those were going to come out. None of this was preordained. It was a fluid situation. The only thing preordained is we had to fix things here because what took place the last two years, to win nine games -- and with all due respect, four of those to the St. Louis Rams -- is simply not sustainable." Leiweke has repeatedly discounted victory totals by pointing out that some were against the Rams. That has to go over well in St. Louis.
Clare Farnsworth of seahawks.com
says Carroll's former players anticipate a smooth transition back to the NFL. Lawyer Milloy dates himself with this testimonial: "This is a guy who sat me down in his office and told me I was going to be the Tim McDonald in his defense. At the time, in my second year, I was like, 'Ah, what are you talking about?' "
Also from Farnsworth
: Carroll's presence is palpable. Leiweke: "He's kind of the king of L.A."
More from Farnsworth
: Carroll stresses competing. Carroll: "What you'll hear a lot from us in this program, this program is about competition. We'll see in all aspects of the work that we do that we will be in a relentless pursuit of a competitive edge in everything we're doing. We're going to compete like crazy. Maybe like you've never seen. And I hope that will be the theme that will rise to us and that will be the most important part of it, because we are in the most competitive world that you can be in in the NFL. I can't wait to get this thing underway. I can't wait to get it started."
Jerry Brewer of the Seattle Times
liked what he saw from Carroll in the coach's first news conference as Seahawks coach. Brewer: "Carroll was honest, raw, introspective, real. During the 40 minutes he spoke, his genuine enthusiasm and self-deprecating candor became so captivating that it obstructed skepticism about his so-so NFL record. Of course, as soon as he was done talking, the skepticism resumed, but, hey, trust isn't built in a day."
Steve Kelley of the Seattle Times
says it's tough to know how Carroll will fare. USC fans initially shunned him. Kelley: "When the rancor reached a crescendo, the school had to shut down the phones and turn off its e-mail. Protests against Carroll went viral. But at USC, the haters became lovers. Carroll was the unvarnished truth. He was the answer. He won two national championships, won at least a share of seven consecutive Pac-10 titles and finished 97-19 in nine seasons. He resurrected a ramshackle program. Now at a much higher level, he's being asked to do it again."
Greg Johnson of seattlepi.com
sees more exclamation points in the Seahawks' immediate future.
John McGrath of the Tacoma News Tribune
tried to keep pace with Carroll at the news conference. It wasn't easy. McGrath: "Pete Carroll talks almost as fast as he thinks, and he thinks so fast you can imagine him working the New York Times crossword with his right hand as he turns the pages of a Solzhenitsyn novel with his left hand -- something to occupy him as he's preparing the braised sweetbreads with mushroom sauce on the stove while breaking down an opponent's zone-blitz tendencies on the speaker phone."
Eric D. Williams of the Tacoma News Tribune
says the Seahawks interviewed John Schneider and Marc Ross for their general manager's job.

Kent Somers of the Arizona Republic
says the Cardinals are using their experience to their advantage. Quarterback Kurt Warner: "I think the biggest thing is to try to just be a bit of a calming presence in these kinds of situations. You understand things are going to happen, crazy scenarios, and you understand that the teams that you're playing are all good."
Also from Somers
: Injured receiver Anquan Boldin hopes to practice this week. Also, Russ Grimm expects to interview with the Bills for their head coaching job. Somers: "The time of the interview has not been set. According to NFL rules, the Bills can interview Grimm this week, but with the Cardinals playing Saturday, time is an issue. The interview would have to be conducted at a place and time of convenience to the Cardinals. It could happen Wednesday or Thursday evening in Arizona, or on Sunday, the day after the divisional playoff."
More from Somers
: Cardinals players have received $42,000 for their postseason efforts so far, including $21,000 for winning the NFC West and playing in the wild-card round. The other $21,000 is for beating the Packers.
Darren Urban of azcardinals.com
says inside linebacker Gerald Hayes was wearing a walking boot Tuesday, although it was unclear whether the injury was serious.
Also from Urban
: The Cardinals' secondary is seeking redemption after a rough outing against the Packers. Urban: "Michael Adams said the secondary as a group was angry when they first watched the video of the game, but he did note the group had a hand in helping sack Rodgers five times while the Cards' defense also forced three key turnovers. And in an interesting twist, the secondary was not only part of the turnover on the first play of the game -- DRC's pick -- but also a turnover on the last play of the game, when Adams recovered from a four-penalty day to force a fumble that led to the game-winning points."

Jim Thomas of the St. Louis Post-Dispatch
says former Rams coach Jim Haslett is the new defensive coordinator for the Redskins. Thomas: "After three seasons in St. Louis, including the last 12 games of 2008 as the Rams' interim head coach, Haslett spent this past season as head coach of the Florida Tuskers of the fledgling United Football League. The Tuskers went unbeaten in the regular season, but were upset by the Las Vegas Locomotives in the UFL title game. Haslett met with Washington team officials earlier this week. Haslett became the front runner for the job once Mike Zimmer agreed to stay in Cincinnati as Bengals defensive coordinator."
Also from Thomas
: a chat transcript featuring his thoughts on the quarterback position. Thomas thinks the Rams would have a better chance landing Michael Vick than Donovan McNabb if they wanted to target an Eagles quarterback. Thomas: "Since Spags spent so many years with the Eagles, their roster also bears watching. I think there has been some discussion of Vick. I guess it's possible the Rams would give up picks for the right player, particularly if it's an uncapped year, meaning there are many more restricted free agents than usual."
Jim Rodenbush of the St. Louis Globe-Democrat
lists 10 questions facing the Rams this offseason. Who will start at quarterback? Rodenbush: "In 2009, Rams quarterbacks combined to throw 12 touchdowns against 21 interceptions and completed 57.5 percent of their passes. Their TD total ranked 29th in the NFL and would have been worse if not for a 36-yard scoring pass from kicker Josh Brown to Daniel Fells during the team's 17-10 win at Detroit on Nov. 1."

Matt Barrows of the Sacramento Bee
thinks the 49ers still have plans for Glen Coffee despite a 2.7-yard average last season. Coffee was a preseason sensation. It's far too early to write him off.
Also from Barrows
: The 49ers have signed fullback Jehuu Caulcrick to a future contract.
Matt Maiocco of the Santa Rosa Press-Democrat
says the 49ers have restructured the business side of their operation at the expense of Andy Dolich, team president Jed York announced to employees. Maiocco: "York will also assume the new title of chief executive officer. The new CMO will report directly to York, along with general manager Scot McCloughan, as well as chief financial officer Larry MacNeil, and executive vice president of football administration Lal Heneghan. During the transition, Dolich will remain as a senior advisor, York said. In Dolich's two years with the 49ers, he improved customer service for 49ers season-ticket holders, York said."
Also from Maiocco
: an early look at how the 49ers might proceed in the draft. Maiocco on the 13th overall choice: "Like a year ago, the first thought is the 49ers will take their highest-rated offensive tackle. But the 49ers don't need to 'each' in this spot because they have another pick just a few slots later. If a cornerback, defensive lineman or linebacker falls to them, they're in the spot to choose one. One player who -- based on watching the BCS title game -- seems like a good fit would be Alabama linebacker Rolando McClain. He reportedly has great passion and football smarts. Takeo Spikes is entering his 13th season and the final year of his contract. The 49ers were smitten with USC linebacker Rey Maualuga last year and tempted to move up a few spots in the second round to get him. They also wanted Lance Briggs a couple years ago. So the 49ers would love to get another young impressive player to line up next to Patrick Willis."
Lisa Fernandez of the San Jose Mercury News
has a 49ers stadium update.
January, 11, 2010
1/11/10
11:55
AM ET
Pete Carroll has pretty much
confirmed his imminent hiring
by the
Seattle Seahawks
.
Now comes the important part.
How much power have the Seahawks agreed to give him? I suspect it's less than advertised.
The Seahawks have already tried the coach-as-king setup. Mike Holmgren had the leverage when they hired him in 1999. Naming Holmgren general manager was the price of getting him as coach. Holmgren's run as GM wasn't a total failure, but neither was it successful enough for him to keep the title.
[+] Enlarge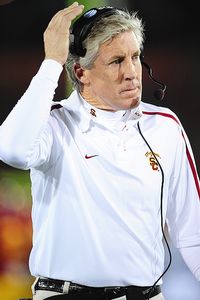 Gary A. Vasquez/US PresswireHow much power Pete Carroll will have in Seattle remains to be seen.
Bestowing another coach with similar powers wouldn't make any sense, particularly if that coach lacked Holmgren's NFL credentials.
The Seahawks have also tried the opposite approach. They've armed a GM with powers over the coach. That worked well for a while, with Tim Ruskell helping get Holmgren's team to a Super Bowl, but not for the long haul. Once the team pried away GM powers from Holmgren, all future arrangements came with expiration dates because Holmgren so badly wanted the "juice" -- his word -- to command all levels of the organization.
This might be time for a more balanced approach. Let the GM oversee the draft and free agency. Give the coach control of the roster. Let both report to ownership directly or indirectly.
Floyd Reese, one of the candidates Seattle is considering for the GM job, worked alongside Jeff Fisher in such a system with Tennessee. The setup wasn't perfect, but it seemed to work pretty well for an extended period.
Ruskell's resignation and Jim Mora's firing have given the Seahawks a chance to synchronize their coach and GM for the first time since Holmgren held both titles. The change can be refreshing as long as the Seahawks hire the right people.
The reported candidates for the GM job -- Reese, Pittsburgh's Omar Kahn, the Giants' Marc Ross and Green Bay's John Schneider -- have varied backgrounds and qualifications.
It's still a little baffling to see the Seahawks apparently ignore a key architect for the team that dethroned them in the NFC West.
Steve Keim arose as a potential candidate almost immediately after Ruskell stepped down, but the Cardinals' director of player personnel hasn't yet surfaced as someone the team plans to interview. Perhaps the Seahawks were too busy conducting internal audits and clandestine interviews with Carroll to notice the Cardinals' 10-win regular season and 51-45 victory over the Packers in the wild-card round Sunday.
Keim has helped stock the Cardinals with young talent.
Beanie Wells
,
Early Doucet
,
Steve Breaston
and
LaRod Stephens-Howling
looked good against Green Bay. Think the Seahawks could use a cornerback such as
Dominique Rodgers-Cromartie
? Think they could use a defensive end as physically imposing as
Calais Campbell
?
Carroll could certainly use building blocks of that caliber.
I'm not convinced Carroll is the right coach, but neither is there enough evidence to say he's the wrong man for the job -- unless that job gives him powers far beyond those a coach typically enjoys. This team needs a qualified personnel evaluator to work alongside Carroll, not necessarily over him, and certainly not beneath him.
January, 10, 2010
1/10/10
1:15
PM ET
John Clayton has some details on the Seahawks' search for a general manager to work with Pete Carroll.

Steelers contract negotiator Omar Kahn is scheduled to interview early in the week. Packers director of football operations John Schneider, a former Seahawks employee under Mike Holmgren, and Giants college scouting director Marc Ross are also on the list of candidates.

No word yet on whether longtime Carroll associate Pat Kirwan, a former NFL executive now working as a Sirius Satellite Radio host and NFL.com contributor, might join his good friend in a front-office capacity.
January, 8, 2010
1/08/10
10:09
AM ET

Dan Bickley of the Arizona Republic
says the Cardinals' season will be defined by how the team performs Sunday. Bickley: "The mood in town is certainly different from last January. A rash of injuries has muted the optimism. The saga of Anquan Boldin -- injured when he shouldn't have been on the field last week -- threatens to dog coach Ken Whisenhunt for years to come. That would be a shame." Leaving Boldin and Larry Fitzgerald in the game too long put both players at unnecessary risk on a day when Whisenhunt's top priority was to avoid injuries.
Kent Somers of the Arizona Republic
says during a chat that he thinks having Ben Patrick and Dan Kreider available should help the Cardinals' ground game. Also: "My sense is the Cardinals will try to trade Anquan Boldin in the off-season." That could be easier to do now that Beanie Wells appears ready to carry more of the offensive load. I just wonder whether the team can justify taking away a primary weapon from quarterback Kurt Warner. Much could depend on what Arizona could get in return for Boldin. Would another team make it worth their while? Would another team want to give up compensation to the Cardinals and then give up big bucks for Boldin?
Also from Somers
: a look at the impending matchup between Larry Fitzgerald and Charles Woodson.
More from Somers
: Clark Haggans is thankful for his health after missing the Cardinals' playoff run last season. Somers: "Haggans has been a regular starter at left outside linebacker and has been among the team's more consistent defenders."
More yet from Somers
: The Cardinals' injury situation in the secondary has improved, but receiver Anquan Boldin might not know his status until Sunday.
Bob McManaman of the Arizona Republic
says playoff experience can be overrated, according to running back Tim Hightower.
Also from McManaman
: Woodson's smarts help make him such a dynamic player. Fitzgerald: "He's a cerebral guy, crafty, a phenomenal talent, super intelligent. He's all over the field. Usually he's matched up against the top receiver, but he's still able to get after the quarterback and cause a lot of disruptions."
Darren Urban of azcardinals.com
looks at the team's ability to avoid back-to-back defeats in a season for the first time since 1975. I'm not sure we should count Week 17 as a normal defeat, though, since the Cardinals didn't make a legitimate effort to win the game.

Danny O'Neil of the Seattle Times
reads between the lines in determining reasons for the Seahawks' offensive struggles in 2009. O'Neil: "The Seahawks face an offseason of change, which won't be confined to the front-office addition of a new president. Something has to be done to bridge the gap between the offensive game plan and the players being trusted to run it after the offense was slow at first and then got worse."
Also from O'Neil
: Giants personnel man Marc Ross is expected to interview for the Seahawks' general manager job. The Seahawks have not confirmed interest in any candidates, allowing various reports to shape perceptions at a critical time for the franchise. It's all good if the team makes the right hire.
Seahawks.com
offers details on recent surgeries for defensive end Patrick Kerney and safety Deon Grant. Kerney could return in 4-6 weeks after having loose cartilage and bone fragments removed from his elbow. Grant will have surgery to reconstruct a torn ligament in his wrist. He could return after the draft.

Both players could be candidates for release this offseason, depending on what the next GM thinks about keeping around older players after a rough season.
Bryan Burwell of the St. Louis Post-Dispatch
says Rams general manager Billy Devaney appears relaxed and in good spirits now that the regular-season grind has given way to thoughts about the draft and free agency. Burwell: "One of the biggest decisions he'll be making over the course of the next few months is what to do about the Rams quarterbacks, and part of that process begins with what to do with veteran starter Marc Bulger. Thursday, the Post-Dispatch reported that several team sources were convinced that the embattled 33-year-old passer is considering retirement. Yet on Tuesday, R.J. Gonser, who represents Bulger with agent Tom Condon of CAA, said Bulger isn't ready to hang up his cleats just yet."
Bernie Miklasz of the St. Louis Post-Dispatch
says there's no reason for Bulger to return. Miklasz: "All he would do is absorb more of a pounding and probably get hurt again. He is not a difference maker in a rebuilding situation, but could be an effective quarterback when surrounded by good working parts. The Rams aren't there yet. If they bring in a new veteran QB to handle the job for a couple of years until a youngster is ready, it should be someone who is mobile, someone who can give the offense a different kind of dimension. It's just time to move on."
Jim Thomas of the St. Louis Post-Dispatch
checks in with injured Rams defensive tackle Adam Carriker, who hopes to bounce back. Thomas: "Coach Steve Spagnuolo's staff may have a sense of what Carriker can do. But they've seen very little of him in person -- on the practice field or on game day. Prior to the shoulder injury, he missed three weeks of training camp and three preseason games with an ankle injury. At this point, while the coaching staff and front office sifts through their roster options for 2010, Carriker can't be sure how or even if he fits into the team's plans. But he'd like the opportunity to revive his career for the team that drafted him 13th overall in 2007."

Matt Barrows of the Sacramento Bee
says during a chat that recently fired 49ers special-teams coach Al Everest won't be out of work long because he's very good at what he does.
Matt Maiocco of the Santa Rosa Press-Democrat
ranks the 49ers' offseason needs as offensive tackle, return specialist, cornerback, outside linebacker, guard and quarterback. Drafting a speed cornerback with return capabilities would address two of those needs in one move.
Kevin Lynch of Niner Insider
passes along notes, including one about 49ers great Byrant Young possibly becoming a position coach at San Jose State. He also passes along this quote from Everest: "I tell my players all the time, you have to make a bad play into a good play and a good play into a great play. That's what I plan on doing."
David Fucillo of Niners Nation
takes a statistical look at the 49ers' defense in 2009.