September, 2, 2014
Sep 2
8:00
AM ET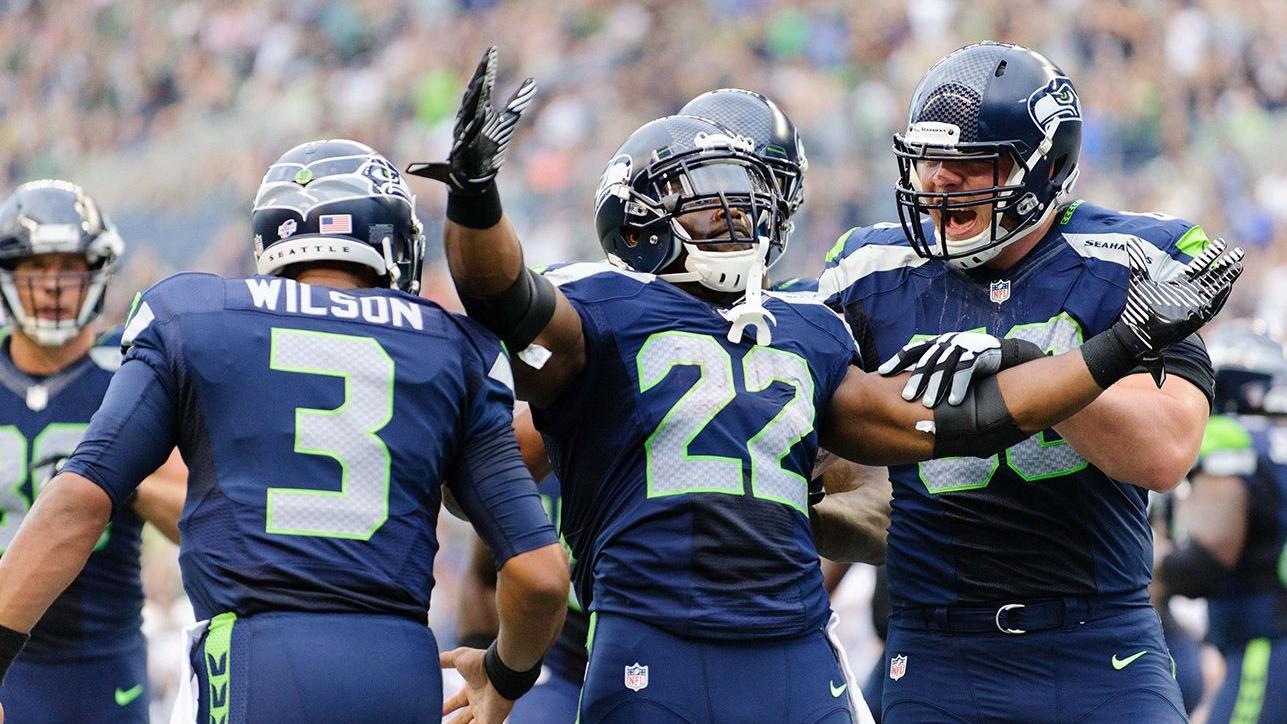 ESPN.com
Seattle Seahawks
reporter Terry Blount makes his game-by-game picks for the 2014 season.
Week 1: Green Bay Packers
All the pregame hype will center around the so-called Inaccurate Reception, the controversial Hail Mary catch by Golden Tate two years ago that won the game over the Packers at Seattle on a Monday night. Tate has moved on to Detroit, but the Seahawks now have too many weapons for the Packers to stop, no Hail Mary required. Prediction: Win
---
Week 2: at San Diego Chargers
The Chargers better hope they play a lot better than they did in the preseason game at Seattle, a 41-14 victory for the Seahawks on Aug. 15. San Diego will play better, but not good enough to beat a much better team. Prediction: Win
---
Week 3: Denver Broncos
The Broncos and their fans got a tiny bit of meaningless Super Bowl revenge in the preseason opener with a 21-16 victory over the Seahawks in Denver. Enjoy it while it lasts, boys. Repeating that outcome in Seattle is not an option. Prediction: Win
---
Week 5: at Washington Redskins
Traveling coast to coast to play on the road for a Monday night game is a tough task against any NFL opponent, and even tougher against quarterback Robert Griffin III. But the Seahawks catch a break in this one by coming off a bye week with plenty of time to prepare and be fresh for the journey. Prediction: Win
---
Week 6: Dallas Cowboys
Cowboys owner Jerry Jones gave Seattle a little bulletin-board material last month when he said the Seahawks were to blame for the increase in penalty flags during the preseason. There won't be near enough flags against Seattle for the Cowboys to win this one. Prediction: Win
---
Week 7: at St. Louis Rams
Any division game in the NFC West is a rugged battle. The Rams have a defensive line that gave the Seahawks problems a year ago. But they aren't strong enough overall to beat Seattle, even at home in their out-of-date dome. Prediction: Win
---
Week 8: at Carolina Panthers
The Seahawks were fortunate to win the season opener at Charlotte a year ago. That Panthers team was better than this one, but back-to-back road games against very physical defensive teams will end the Seattle winning streak. Prediction: Loss
---
Week 9: Oakland Raiders
Coming off their first loss of the season and returning home against an outmanned opponent, is there any doubt? Prediction: Win
---
Week 10: New York Giants
The Seahawks easily defeated the Giants 23-0 last year in New Jersey, a dress rehearsal for their Super Bowl victory at the same location -- MetLife Stadium. The Seahawks won't need a rehearsal to roll past the Giants in this one. Prediction: Win
---
Week 11: at Kansas City Chiefs
This likely will be a low-scoring game between two strong defensive teams. Odds are against any team that has to try to win by matching its defense against the Seahawks' D. Prediction: Win
---
Week 12: Arizona Cardinals
The last time the Cardinals played at CenturyLink Field was last December when they handed the Seahawks a 17-10 loss. That won't happen again unless the Seahawks get caught looking ahead to the 49ers game. The Seahawks don't look ahead. Prediction: Win
---
Week 13: at San Francisco 49ers
It's a Thanksgiving night, national TV game in the 49ers' shiny new stadium against the hated Seahawks. If San Francisco can't win this one, its time as a championship contender is over. Prediction: Loss
---
Week 14: at Philadelphia Eagles
This is the toughest part of the season for the Seahawks with back-to-back road games against likely playoff contenders. But the 10 days between games will help and be enough of a cushion to keep Seattle from losing two in a row. Prediction: Win
---
Week 15: San Francisco 49ers
This is a game that could decide which team wins the NFC West. No way the Seahawks lose to the 49ers twice in three weeks, especially not in front of a rabid full house of 12s. Prediction: Win
---
Week 16: at Arizona Cardinals
The Cardinals probably will be fighting for a playoff spot, and the Seahawks already will be in at 12-2. That difference will be just enough for Arizona to win at home in the same stadium where the Seahawks will win the Super Bowl a few weeks later. Prediction: Loss
---
Week 17: St. Louis Rams
For the second consecutive year, the Rams close the regular season in Seattle. And for the second consecutive year, the Seahawks will beat them without much trouble. Prediction: Win
---
Predicted Record: 13-3
June, 23, 2012
6/23/12
9:00
AM ET
ESPN recently published a list of the
25 greatest playoff performances
in NFL history.
The ballot I submitted featured five performances for franchises currently aligned in the NFC West. It included three performances for the San Francisco 49ers and three for the Washington Redskins. There were two from Kurt Warner, including one each from his years with St. Louis and Arizona. All 15 were for offensive players, a disparity I couldn't reconcile.
Several worthy performances just missed the cut. You'll find most of them accounted for in the top 25.
Keith Lincoln's 329-yard game (206 rushing, 123 receiving) ranked seventh on my ballot, 13 spots higher than it ranked in the top 25. This performance wasn't on my ballot initially because Lincoln played for the then-AFL San Diego Chargers. I gave it a prominent spot when told this performance was eligible because it appeared in the NFL record book.
All for now. Here's hoping this Saturday ranks among your top five this month.
July, 7, 2010
7/07/10
12:00
PM ET
A weeklong look at current or former players or coaches with Hall of Fame potential in the division.
Rams:
Orlando Pace
, LT
Claim to fame:
Seven Pro Bowl appearances and three first-team All-Pro selections affirm Pace's standing as one of the elite offensive linemen of his era. Pace started two Super Bowls for the
St. Louis Rams
, winning one, and he was one of the best players for the Greatest Show on Turf.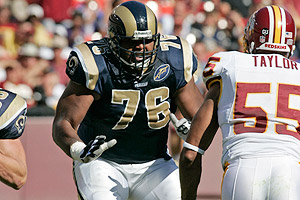 Jeff Fishbein/Icon SMIOrlando Pace was selected to the Pro Bowl seven times during his career.
Case for enshrinement:
At his best, Pace dominated in all aspects of the game and he did it while playing for some of the best offenses of any era. Any discussion of the great tackles since the mid-1990s must include Pace,
Walter Jones
and
Jonathan Ogden
. The Rams drafted Pace first overall in 1997 and he lived up to expectations. That's saying a lot.
"The thing Orlando does so well is that he can get caught off balance on the pass rush and recover and finish the block, which is very difficult to do," then-Rams coach Mike Martz told the St. Louis Post-Dispatch in 2002, when Pace was in his prime.
The Rams' offense put pressure on its tackles to hold up in protection. Receivers ran deeper routes, forcing quarterbacks to hold the ball longer. The Rams were willing to risk sacks for the big play. They gave up more than most teams by design, not because Pace had trouble protecting.
"Orlando is the cornerstone of everything we're trying to do on offense," teammate
Isaac Bruce
told the Post-Dispatch in 2004.
Case against enshrinement:
Pace's conditioning wasn't always the best and he battled injuries throughout his career, at the expense of consistency.
Pace managed to play through the injuries for most of his first nine seasons, but he missed 23 of 32 games over the 2006 and 2007 seasons. Pace was never the same thereafter and he was below average last season for the
Chicago Bears
.
Parting shot:
The final five or six seasons of Pace's career shouldn't overshadow what he accomplished in earning those seven trips to the Pro Bowl. Pace deserves strong consideration for the Hall of Fame even though he'll likely rank a couple notches below Jones and Ogden.
Cardinals:
Kurt Warner
, QB
Claim to fame:
Warner authored a legacy unique to the NFL in going from virtual anonymity to superstar status when the Rams lost
Trent Green
to injury before the 1999 season. He was a four-time Pro Bowl choice and two-time MVP. He was also Super Bowl MVP. Warner helped turn two floundering franchises into Super Bowl teams quickly.
Case for enshrinement:
None of the 14 quarterbacks enshrined in the Hall of Fame since 1985 can match Warner in completion percentage (65.5) or yards per game (260.8). Of the 14, only Steve Young had a higher passer rating and more yards per attempt. Only Dan Marino had more 300-yard games.
Warner reached 10,000 yards passing in fewer games than anyone in NFL history. Only Marino reached 20,000 and 30,000 yards as fast (they tied by reaching 30,000 yards in 114 games). Warner and
Peyton Manning
are the only players with a perfect passer rating in three games.
Warner was also about winning. He has a 9-4 starting record in the playoffs and has posted the three highest passing yardage totals in Super Bowl history. Only Bart Starr has a higher career postseason passer rating. Warner averaged 66.5 percent completions, 304 yards and 8.55 yards per attempt in the playoffs. Warner has 31 postseason touchdown passes in only 13 games (the three players ahead of him own between 18 and 24 playoff appearances).
Case against enshrinement:
Warner started more than 11 games in a season only four times. He started between nine and 11 games four times and didn't accomplish much for a five-season period beginning in 2002.
Any argument against enshrinement for Warner will focus on the disjointed nature of his career and the fact that he produced sporadically as a result. The consistency simply wasn't as good with Warner as it was with the typical Hall of Fame quarterback.
Parting shot:
Warner's candidacy improved significantly when he led the Cardinals to the Super Bowl following the 2008 season. I thought it was also important for his Hall credentials to follow up with another strong effort in 2009. Warner did that, leading the Cardinals to another division title. Tossing five touchdown passes with only four incompletions during a wild-card victory over the
Green Bay Packers
might have pushed him over the top.
[+] Enlarge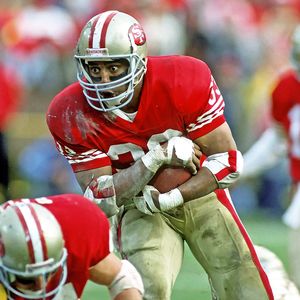 US PresswireRoger Craig was the first player in league history to post 1,000 yards rushing and receiving in the same season.
49ers:
Roger Craig
, RB
Claim to fame:
Craig was among the more versatile running backs in league history, earning Pro Bowl honors at running back and fullback. He was a three-time Super Bowl champion and four-time Pro Bowl choice.
Case for enshrinement:
Craig was the first player in NFL history to top 1,000 yards rushing and receiving in the same season. He led the NFL in receptions with 92 in 1985 and set the 49ers' season rushing record with 1,502 yards three years later.
It's tough to measure players across eras, but Craig ranked 13th on the all-time rushing list when he retired even though he did so much more than simply run the ball. His three touchdowns against the
Miami Dolphins
helped the 49ers win the Super Bowl after the 1984 season.
Craig was one of three players in NFL history with 8,000 yards rushing, 4,900 yards receiving, 70 total touchdowns and four Pro Bowls. Marcus Allen and Marshall Faulk are the others.
Case against enshrinement:
Craig's versatility meant he usually wasn't exceptional in any one category. He generally wasn't a threat to rank among the league rushing leaders. While he did play fullback, he wasn't a great one in the traditional sense.
Craig was a four-time Pro Bowl choice with 8,189 yards rushing, 4,911 yards receiving, 73 total touchdowns and a 4.1-yard rushing average. Ricky Watters was a five-time Pro Bowl choice with 10,643 yards rushing, 4,248 yards receiving, 91 total touchdowns and a 4.1-yard rushing average.
Parting shot:
Craig has good Hall of Fame credentials, not great ones, and he'll have a hard time breaking through given the quality of candidates and limited spaces.
Seahawks:
Kenny Easley, SS
Claim to fame:
Easley was a game-changing force while earning five Pro Bowl berths in seven seasons. He was the NFL's defensive player of the year in 1984.
Case for enshrinement:
All-time Seahawks sack leader Jacob Green called Easley the best athlete his Seattle teams ever had. Tight end Todd Christensen of the division-rival Los Angeles Raiders said Easley, at his best, was even better than Hall of Famer Ronnie Lott. Bill Walsh said Easley would be a Hall of Famer if Easley had played longer and, in his words, "maybe he still is -- he was that good." Lott said he knows the 49ers would have drafted Easley over himself if Seattle hadn't taken Easley first, and he blamed the Seahawks' failure to appear in a Super Bowl for keeping Easley out of Canton.
"Kenny could do what Jack Tatum could do, but he also could do what corners could do -- he could do what Mike Haynes could do," Lott said several years ago. "He was not only a great hitter and great intimidator on the field, but he was a great athlete. In that day, what made him so special -- him, Lawrence Taylor, those guys changed the game of football on the defensive side because they were not just guys that were big hitters. Now, all of sudden, you were seeing guys who were big hitters but also as athletic as anyone on offense."
Easley's outstanding ball skills helped him pick off 17 passes over a two-year period. He was indeed part of a trend toward greater athleticism on defense.
Case against enshrinement:
Even if Easley were, at his best, better than Lott, there was no comparison between each man's careers. Easley, forced into early retirement after suffering from kidney failure attributed to excessive use of ibuprofen, simply didn't play long enough to solidify his Hall of Fame credentials. That wasn't his fault, but it was reality and it's tough to judge candidates on what might have been.
Parting shot:
Easley becomes eligible for consideration by the Hall of Fame's Senior Selection Committee in 2012. His case deserves careful consideration and I think his chances for enshrinement will improve once the Senior Committee takes a harder look at his career. Easley was better than a lot of people realize. The respect he commands from all-time greats will help his cause.
February, 1, 2010
2/01/10
2:33
PM ET
MIAMI -- Hall of Fame voters will consider nine 2010 finalists with ties to current NFC West teams.
I'll be presenting the case for Cortez Kennedy during the proceedings Saturday as the geographic representative for the Seattle market.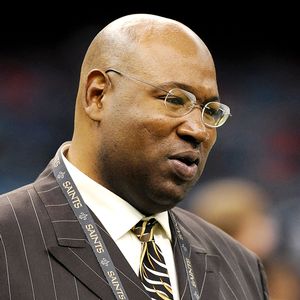 Al Messerschmidt/Getty ImagesFormer Seahawks defensive tackle Cortez Kennedy is a candidate for the Pro Football Hall of Fame.
Two things about Kennedy have jumped out during my research:
Kennedy was a great every-down player. Kennedy played at least 90 percent of the defensive snaps from 1991 to 1996, including 97.22 percent in 1994. He was a force against run and pass alike, not just a situational player or one-dimensional player.
Kennedy and Hall of Famer Randy White are the only defensive tackles in NFL history with at least 150 starts, 50 sacks and eight Pro Bowls.
I'd like to use this forum to solicit your thoughts on Kennedy and the eight other finalists with ties to current NFC West teams. I'll single out a note or two on each player here to help get the conversation going (while fully recognizing that some of these players enjoyed most of their success for teams outside the division):
Jerry Rice, 49ers WR. Arguably the greatest player in NFL history.
Roger Craig, 49ers RB. One of three players in NFL history with 8,000 yards rushing, 4,900 yards receiving, 70 total touchdowns and four Pro Bowls. Marcus Allen and Marshall Faulk are the others.
Richard Dent, 49ers DL. One of three players in NFL history with at least 135 sacks and 35 forced fumbles. Bruce Smith and Chris Doleman are the others.
Charles Haley, 49ers OLB/DE. One of 10 players in NFL history with 100 sacks, 25 forced fumbles and five Pro Bowls.
Rickey Jackson, 49ers linebacker. One of five players in NFL history with at least 125 sacks and 40 forced fumbles. Bruce Smith, Derrick Thomas, Doleman and Jason Taylor are the others.
John Randle, Seahawks DT. One of five players in NFL history with185 starts, 135 sacks and seven Pro Bowls.
Don Coryell, Cardinals coach. Helped change the way teams played offense in the passing game, which helped revolutionize how defenses responded.
Emmitt Smith, Cardinals RB. All-time NFL rushing leader.
Russ Grimm, Redskins guard (and current Cardinals assistant coach). Arguably the best player on the most famous offensive line in NFL history.
March, 18, 2009
3/18/09
10:03
AM ET
Posted by ESPN.com's Mike Sando
Kurt from parts unknown writes: I like Matt Williamson's analysis of our nose tackles. In fact, he might have been a bit too kind to Alan Branch. But I have a serious problem with his statement about the running backs -- that Edge and Tim Hightower are both "backups at best" and "a dime a dozen." I won't get into Edge's Hall of Fame candidacy [past accomplishments] or Hightower's starting-eight-games-as-a-rookie stuff [since the logical starting point for sports enthusiasts, paid professionals or not, is "Cardinals suck anyway."] That said --
| | |
| --- | --- |
| | |
| | Jed Jacobsohn/Getty Images |
| | Running back Edgerrin James proved in the postseason that he still has value. |
Edge averaged 3.9 yards a carry in the playoffs. Hightower averaged 3.8. By comparison, Willie Parker averaged 3.5, Brian Westbrook 2.4, and Willis Mcgahee 3.9. In the wild-card game, Edge outrushed Michael Turner 73 yards to 42 on two less rushes. Hightower scored in all three NFC playoff games. He touched the ball 8 times in the Cardinals final 14 plays in the NFC Championship, scoring the winning TD. Not a bad rookie effort for a guy who'll be lucky to make a team somewhere.
I agree that our running game needs an upgrade this season. The Texas Tech offense wasn't pretty in games 10-16. But these players deserve fair credit given their performances once we put the ball in their hands. 40-yard-dash times hold nothing over results on the field.
Mike Sando: The term "dime a dozen" is a relative one, of course. James and Hightower are NFL-caliber running backs. They simply aren't special, in Williamson's analysis. The Cardinals confirmed as much by removing both players from the starting lineup at various points last season.
As you noted, James proved during the postseason that he still has value. This was something I discussed Monday with Williamson's colleague, Jeremy Green.
Green: I don't think Edgerrin James is done. What about Tampa Bay? Tampa is a great fit for him. Cadillac [Williams] is coming off another knee injury. Edge would love to go home to Florida. I think Edge still has the value.
The thing about Shaun Alexander is that he was a horrible blocker and didn't catch the ball well. Edge doesn't have it as a runner, but there is a fit for him in an offense. He is a good route runner, good blocker, catches the ball well.

That is what Edge has to decide, whether he can play as a situational player. Can he still give you 20 [carries] for 95 [yards] every once in a while? Probably. Every once in a while, but not on a weekly basis. I definitely think he has strong value because he catches the ball well.
Quite a few running backs have extended their careers by becoming situational players. Marcus Allen is probably the most extreme example. He played from 1982 to 1997 and never had a 1,000-yard season after 1985. He played himself into the Hall of Fame with a productive five-year run in Kansas City to end his career.
I always thought Ricky Watters could have played three or four more years in a situational role. He wouldn't do it. Did it cost him the Hall of Fame?
Allen was 32 when he finished with the Raiders. He had 8,545 yards rushing and 97 total touchdowns, plus 446 receptions for 4,258 yards. Watters was 32 when he retired. He had 10,643 yards rushing and 91 total touchdowns, plus 467 receptions for 4,248 yards.
Allen added 3,698 yards rushing and 47 touchdowns in Kansas City. He caught an additional 141 passes for 1,153 yards. The Hall of Fame welcomed him in 2003.
James is younger now -- 30 -- than Allen was when he left the Raiders. He keeps himself in top condition. He has 12,121 yards rushing and 91 touchdowns, plus 430 receptions for 3,335 yards. His days as a featured back appear finished, but more teams are using two primary backs, anyway. That would seemingly give James additional opportunities to continue his career, provided he's willing to accept a situational role.
March, 8, 2009
3/08/09
2:45
PM ET
Posted by ESPN.com's Mike Sando
Greg from Jacksonville writes: It sure is a shame that a hall of fame receiver who is 11th in league history in career receptions has to ask an organization to release him. You would think a team with an asset of that caliber would choose to make him happy rather than alienate him out of the gameplan. His receptions for yard percentages are more than any receiver in the past decade and his yards per game average is more than any receiver in history.
However, that is not what I want to talk about. Just because they will save a few million in salary cap, there is no excuse for the Rams to treat Torry Holt this way. There are few players left in this league that come to work everyday and consistently challenge the work ethic of everyone on the field without holding press conferences about it. His lack of off-the-field antics leads to his lack of publicity for the great things he did for this organization. Lets give credit where credit's due.
How about we give it up for a guy who wouldn't be caught dead talking trash about his team, even though they went 2 and 14. Even though each week he continued to put up hall of fame type numbers, his team continued to lose, but each week he showed up and performed. Guess what, you never saw him screaming at an offensive coordinator. Week after week, he tried his best to keep morale high on the sidelines, and regardless of the win loss percentage, sources say he did a pretty good job.
If anyone had every right to become a trash talking hot shot it would have been him, but he's not that guy, even though there is no question he had the stats to back it up. I hope he finds a suitable home soon, because any team would be lucky to have him.
Mike Sando: The way the Rams phased out Holt last season did not sit well with other players on the team. It was a factor in the Rams' demise last season, based on what I know. The new regime is not part of that. The new regime has a mandate to start over. I think that makes this a more natural time to part with Holt in a move that would benefit both parties. The Rams would benefit by clearing needed cap room and infusing youth into their roster. Holt would benefit by having a chance to catch on with a contending team.
While I agree that Holt was not a prima donna or troublemaker, he did clash with Scott Linehan during one well-publicized sideline dispute.