NFC West:

Marcus Robertson
March, 19, 2012
3/19/12
6:49
PM ET
Similarities between
Matt Flynn
and
Matt Hasselbeck
border on eery.
Flynn, like Hasselbeck in 2001, came to the
Seattle Seahawks
from the
Green Bay Packers
. Both were reunited in Seattle with personnel people they knew in Green Bay (John Schneider for Flynn, Ted Thompson for Hasselbeck).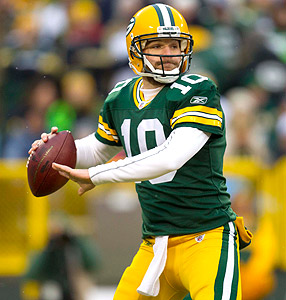 Jeff Hanisch/US PresswireThe Seahawks believe they have a strong supporting cast in place for Matt Flynn.
Flynn is 25 years old. Hasselbeck was 26. Both quarterbacks, though unproven, appeared close to joining the
Miami Dolphins
before landing in Seattle.
Flynn's new coach, Pete Carroll, has a 14-18 record and one playoff appearance with the Seahawks. He has been on the job for 26 months. Hasselbeck's coach in 2001, Mike Holmgren, had a 15-17 record and one playoff appearance with Seattle. He had been on the job for 26 months when the Seahawks landed Hasselbeck.
For all the striking circumstantial parallels, three differences give Flynn an opportunity to enjoy early success, something that eluded Hasselbeck and nearly derailed his career with the team. All three factors are a direct reflection of Carroll and, to an extent, Schneider:
Realistic expectations: Carroll has tempered expectations by declaring publicly that Flynn must compete for the job with Tarvaris Jackson. Holmgren anointed Hasselbeck, went on about the importance of the position, and suggested his own job security hinged on his new quarterback's performance. There's always pressure on quarterbacks, but Carroll isn't adding to the pressure on Flynn by suggesting he's their savior.

Support system: Carroll and Schneider are further along rebuilding the roster, particularly on defense, than was Holmgren in 2001. This allows the current Seahawks to better support all their quarterbacks. This was by design and carried risk when the team opted to use its 2011 first-round choice for guard James Carpenter instead of quarterback Andy Dalton, figuring the line needed reinforcing before welcoming a young passer.


.


But the upside is that Carroll and Schneider have put together the NFL's youngest defense, one that ranked ninth last season and should only improve. When Hasselbeck arrived in 2001, Holmgren was patching the NFL's last-ranked defense with veterans John Randle, Chad Eaton, Marcus Robertson and Levon Kirkland. There wasn't a young talent base to build around on that side of the ball.


.


"Matt (Flynn) comes in at a time when our sights are set on a strong running game, a young offensive line we're excited about with depth, an attitude that plays off the defense-and-special-teams-style that we play, and that we all can feel," Carroll said Monday.

Overall philosophy. Carroll wants to win with a strong defense and running game, whereas Holmgren was all about the quarterback.
"We have never asked the quarterback to carry the whole show," Carroll said. "We want him to be part of this offense and part of this football team, and be the point guard and spread the ball around."
Questions remain regarding the current Seahawks' ability to develop a quarterback for the long term. That was Holmgren's strength, and one reason Hasselbeck eventually developed into a Pro Bowl player.
The NFL has become more of a passing league since then, opening for debate whether Carroll's philosophy is best for the current NFL landscape.
Those are subjects for another day. Improving the short-term chances for Flynn has to be the top priority. The Seahawks have done that. The rest is up to Flynn.
August, 12, 2010
8/12/10
2:58
PM ET
NFC West teams made a few under-the-radar veteran signings that could pay off this season.
The
Arizona Cardinals
signed veteran linebacker
Paris Lenon
, whose value has increased with
Gerald Hayes
recovering from back surgery. The
Seattle Seahawks
added veteran offensive linemen
Ben Hamilton
and
Chester Pitts
, players experienced in their new offense and potentially valuable mentors for first-round choice
Russell Okung
. And in St. Louis, the Rams brought in defensive tackle
Fred Robbins
from the
New York Giants
in an effort to bolster their run defense and provide veteran leadership.
"They had a bunch of young guys who had never played the game in the NFL before," Robbins said via phone this week in sizing up the 2009 Rams. "They had a lot of lineup changes, different guys playing different spots, injuries, this and that. But when you bring in some core veteran guys, you bring in some other key guys and you get guys with a better feel for what is going on and understand the game a lot better -- not just running to the football, but technique and learning your plays and keys. That is the part that carries over and makes teams better."
The Rams have added 13 veterans to their roster since Week 17 last season. Four of them -- Robbins, quarterback
A.J. Feeley
, center
Hank Fraley
and linebacker
Na'il Diggs
-- are 32 or 33 years old. A few others -- safety
Kevin Payne
and cornerback
Kevin Dockery
come to mind -- have starting experience. Like Dockery, Robbins was with Rams coach Steve Spagnuolo on the Giants. Diggs played for Rams defensive coordinator Ken Flajole in Carolina. Fraley and Feeley were with Spagnuolo and Rams offensive coordinator Pat Shurmur in Philadelphia.
"We're able to make the guys be aware of how to play the defense [or offense], what to expect, what to look for," Robbins said. "These guys know how to perform, how to practice and you look forward to games. When you bring in some veteran guys, we've been through it. This is a young team and a young team brings energy. We are just trying to show them how to exert their energy in the right way. Once guys learn how to get that feel, good things are going to happen for us."
Former Seahawks coach Mike Holmgren took similar (if more aggressive) measures after a 6-10 season in 2000. He was even more aggressive by bringing in veterans Levon Kirkland, Chad Eaton, Marcus Robertson, John Randle and Trent Dilfer. Seattle finished 9-7 the next season.
Robbins singled out
Chris Long
and
James Laurinaitis
as defensive players who could exceed expectations in St. Louis this season. I also asked him about rookie quarterback
Sam Bradford
. Robbins was with the Giants when
Eli Manning
was a rookie, so he knows what it's like to break in a young quarterback.
"What has surprised me was just how quick he is picking up to the NFL tempo, the NFL speed and everything that way," Robbins said of Bradford. "He's stepping in and doing a good job and the things he does on the practice field make it seem like he is not a rookie."
NFC WEST SCOREBOARD
Saturday, 12/20
Sunday, 12/21