September, 26, 2013
9/26/13
12:00
PM ET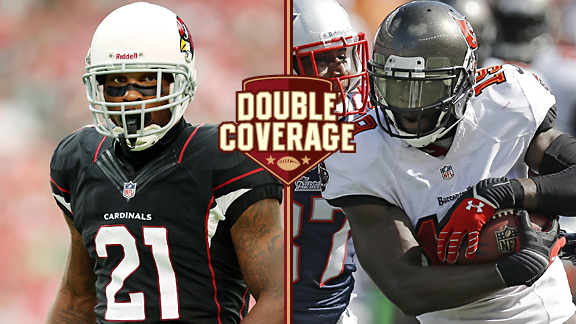 Getty ImagesMike Williams will be called on to help jump-start Tampa Bay's offense, while Patrick Peterson will be charged with helping to keep him in check.
The
Tampa Bay Buccaneers
aren't the only NFL team practicing in the Tampa Bay area this week.
The
Arizona Cardinals
are practicing at IMG Academy in Bradenton, Fla., as they get ready for Sunday's game.
Cardinals reporter Josh Weinfuss and Buccaneers reporter Pat Yasinskas talk about Sunday's game.
Yasinskas:
Josh, I know IMG has great facilities. The Buccaneers used them during the lockout, and the
Carolina Panthers
worked out there last year to avoid the congestion from the Democratic National Convention before playing the Bucs. But why did the Cardinals elect to come east early?
Weinfuss:
Having just adjusted to the two-hour time difference in New Orleans, Bruce Arians didn't want his players' bodies to get totally out of whack going back to Pacific time (technically, Arizona is on Mountain time, but the state doesn't change its clocks when the rest of the country does) and then five days later fly cross-country to the East Coast, another three hours ahead. I'm tired from thinking about it. This way, the Cardinals can adjust their body clocks to playing what would be a 10 a.m. home game in Arizona. We'll see whether it works. There's a pretty significant contingent inside the locker room that's not a fan of this, but those players might be after they realize what their bodies would have gone through. And then there's playing in the Florida humidity, which takes more than a day or two to adapt to. In Arizona, it's a dry heat (yeah, I know, everyone doubts it, but it really is), and the Cards neither practice nor play outside, so the added time in the elements could help.
Speaking of elements, is the Bucs' locker room in as much disarray right now as the perception makes people believe?
Yasinskas:
It might be in even more disarray than people realize.
Wednesday's news
that the Bucs are benching quarterback
Josh Freeman
in favor of rookie
Mike Glennon
was just more evidence of how much dysfunction is going on with this team. Freeman and coach Greg Schiano never were firmly on the same page, and Freeman's fate was sealed the moment Schiano used a third-round draft pick on Glennon in April. But the fact that Schiano now is going with "his guy" isn't going to instantly solve all the problems. Freeman is a popular figure in the locker room, and some teammates might not agree with his benching. There also have been multiple reports about players not liking Schiano's militaristic style. The Bucs have denied those reports, but I think there's something to them. I believe that where there's smoke, there's fire.
Speaking of coaching styles, it's early in the Arians era, but what is his persona and how has he been received by the players?
Weinfuss:
He's a no-nonsense type of guy, and the players love it. Well, maybe they loved it. Having a lackluster offense and starting 1-2 wasn't what this team projected out of Arians. There haven't been any signs of the players losing faith in their coach. They all raved about him during organized team activities, minicamp and training camp. The players appreciated his candidness with them. If they ever want to know where they stand, he'll tell them the truth, the whole truth and nothing but the truth. Whether they like it or not.
He has been there for only three games, but is the
Darrelle Revis
acquisition working out and how has he changed the Bucs' defense?
Yasinskas:
Revis has been everything the Bucs hoped for. They brought him in to fix a defense that led the league in passing yards allowed last season, and the early results have been good. Revis is the kind of player who makes those around him better, and his arrival really has helped strong safety
Mark Barron
. I'd imagine the Bucs will put Revis on
Larry Fitzgerald
for most -- or all -- of this game.
If Revis can neutralize Fitzgerald, do the Cardinals have enough other offensive weapons to win?
Weinfuss:
That's the $10,000 question. The short answer is yes, they do. The long answer is only if the other weapons -- most notably receivers
Michael Floyd
and
Andre Roberts
-- are not double-teamed. If they are and Revis can shut down Fitzgerald, it could be a long day for Arizona's offense. But Arians is a smart enough offensive mind, so I'm sure he has accounted for this. Expect tight end
Rob Housler
to play an integral role Sunday, and look for the Cardinals' stable of running backs --
Rashard Mendenhall
,
Alfonso Smith
,
Andre Ellington
and
Stepfan Taylor
-- to come out of the backfield for passes and to create mismatches.
Aside from Revis, how has the rest of Tampa Bay's defense looked?
Yasinskas:
The defense has been a bright spot for Tampa Bay. In addition to the secondary, linebackers
Mason Foster
and
Lavonte David
, defensive end
Adrian Clayborn
, and defensive tackle
Gerald McCoy
are off to very good starts. But the Patriots were able to run the ball against the Bucs, and Tampa Bay had trouble with the tight ends against the Jets and the Saints. The Bucs could be susceptible if Arizona can get some production from the running game or its tight ends.
November, 2, 2012
11/02/12
3:00
PM ET
Steve Spurrier has suggested
Alabama might be good enough
to defeat an NFL team.
I'm not sure whether Spurrier was serious, but as
Seattle Seahawks
coach Pete Carroll pointed out, the notion is ridiculous (unless, perhaps, Spurrier had the 2002-03
Washington Redskins
in mind).
"Alabama's got a great team and Nick [Saban] is a fantastic coach," Carroll said, "but when you match up the interior lines against regular NFL teams on either side of the ball, it wouldn't even be close."
Athletic prodigies occasionally flourish in the professional ranks. LeBron James was 18 years old when he had 25 points, six rebounds, nine assists and four steals in
his NBA debut
.
In the NFL, rules prohibit players from participating until they're at least three years removed from high school. It's generally thought athletes aren't ready for the physical pounding until they're older. Rookies face adjustment periods. Even the best ones can appear lost during the first days of training camp.
The majority of players on Alabama's roster will likely never play in the NFL. It is absurd, then, to think those players would defeat a roster filled with players who are, by definition, good enough to play in the league.
For fun, I've put together a chart showing 2012 NFL draft choices from Alabama. There were eight, including four first-rounders. Injuries have sidelined three of them. Four others have played quite a bit. Another pick, fullback/tight end Brad Smelley, is on the
Cleveland Browns
' practice squad.
We'll have to wait and see if Alabama produces 22 rookie starters, three full-time specialists and some core special-teams players for NFL teams in 2013. Kind of thinking not.
April, 25, 2012
4/25/12
2:15
PM ET
Mel Kiper Jr. is back

with his fifth 2012 NFL mock draft for the first round.
The
San Francisco 49ers
(
Kevin Zeitler
) and
Arizona Cardinals
(
Melvin Ingram
) were first up.
The
Seattle Seahawks
, picking 12th, are next.

12. Seattle Seahawks: Chandler Jones, DE, Syracuse
Kiper's give:
The Seahawks need a pass-rusher, and I really like the fit. Pete Carroll can use a player with Jones' length and athleticism in a "Leo" role, and create an added dimension to the rush. The Seahawks will built a pretty formidable defense if they can add a final piece or two up front. Jones makes sense here.
Sando's take:
Kiper will get no argument on this one. After all,
Jones was the pick
for Seattle during our recent
ESPN Blogger Mock Draft
, published Monday. In Kiper's mock, the Seahawks take Jones when Melvin Ingram,
Mark Barron
,
Stephon Gilmore
,
Quinton Coples
and
Whitney Mercilus
were also options for teams looking to upgrade on defense. Scouts give Jones high marks for work ethic, physical potential and versatility. As
Scouts Inc. put it

, "Best fit will be as a LDE for a 4-3 scheme. Can develop into 5-technique if he continues to get stronger and learns proper technique. Has good core strength, room on frame, and long arms. ... Has experience reducing inside to a three-technique on obvious passing situations, as well." Sounds like an outstanding fit for the Seahawks given their needs.
April, 23, 2012
4/23/12
3:05
PM ET
The first six picks of
ESPN's Blogger Mock Draft
unfolded pretty much as expected.
That's when James Walker, our AFC East representative, put out the word: "I'm willing to make a trade back with Buffalo at No. 10."
Before anyone could respond, AFC South representative Paul Kuharsky announced he'd swung a deal with Dan Graziano of the NFC East. The Jaguars had traded the seventh overall choice and a sixth-rounder to Philadelphia for the 15th, 88th and 153rd selections.
The Eagles took defensive tackle
Fletcher Cox
at No. 7.
"By the way," I wrote in an email to the group, "Seattle would love to trade back from 12."
Then came the word from Walker, sent only to me, the NFC West rep: "Don't make your pick at No. 12 yet. I have an offer from New England coming. Working out the point chart. First, I have to figure out Buffalo's pick at No. 10."
A few seconds passed before the AFC West's Bill Williamson, unaware Walker had already made contact regarding the 12th pick, reached out to me in another email.
"If
Melvin Ingram
is on the board at 12," Williamson wrote, "I might have San Diego come up from 18."
This was intriguing. Seattle's actual leadership had swung a deal with San Diego for quarterback Charlie Whitehurst a couple of years ago, so trade talks for the 12th pick seemed realistic. But the Seahawks also have a working relationship with the Patriots, having traded Deion Branch to them not all that long ago.
"Sounds good," I replied to Bill. "James might also make an offer here."
The potential deal with Williamson and San Diego was fleeting. Walker executed a trade with himself, allowing the
New York Jets
to move into Buffalo's spot at No. 10. The Jets took Ingram, the player Williamson had wanted for San Diego.
The fun was only beginning.
Our eight divisional bloggers made four trades involving the seventh, 10th, 12th, 15th, 16th, 27th, 31st and 32nd overall choices, plus later considerations.
Five of our first-round selections in this mock failed to appear in our previous one.
Jerel Worthy
,
Kevin Zeitler
,
Chandler Jones
,
Shea McClellin
and
Coby Fleener
pushed out
Rueben Randle
,
Andre Branch
,
Peter Konz
,
Kendall Wright
and
Mike Adams
.
Courtney Upshaw
,
Dontari Poe
and
Stephen Hill
made double-digit drops from then to now.
Michael Brockers
,
Cordy Glenn
,
Stephon Gilmore
and Cox climbed at least eight spots since last time.
We drafted seven defensive ends/outside linebackers, six offensive linemen, five defensive backs, four defensive tackles, three receivers, three quarterbacks, two inside linebackers, one tight end and one running back.
Mostly, we had some fun with the process. Thanks for coming along.
***
ESPN.com's NFL bloggers went through one final mock draft leading up to Thursday's start of the NFL draft. Here is how
#ESPNbloggermock
played out.
April, 23, 2012
4/23/12
1:44
PM ET
What's going on:
Our eight divisional bloggers are participating in
an ongoing mock
draft Monday. Each blogger can make selections or trade picks for the four teams in his division.
The latest:
I traded Seattle's first-round pick, 12th overall, and fourth-round pick, 106th overall, to the
New England Patriots
for the 27th and 31st selections.
My rationale:
The Seahawks could use a starting middle linebacker.
Luke Kuechly
would have been a strong consideration, but he did not last past the ninth pick. Trading back became an appealing option. Bill Williamson of the AFC West blog reached out about possibly having San Diego move from 18th to 12th for a shot at
Melvin Ingram
. That was a consideration until the AFC East blogger, James Walker, moved up to take Ingram at No. 10 for the
New York Jets
. Walker wanted that 12th pick for New England, however, so I was in luck. The draft value chart said our exchange -- Nos. 12 and 106 for Nos. 27 and 31 -- matched up well. And so I made the move. The Patriots moved up for safety
Mark Barron
, a difference-maker for their defense. Seattle was already set at safety, having placed two of them in the Pro Bowl this past season. Two first-round picks were better than one in the absence of a player Seattle absolutely had to have.
What's next for the NFC West:
The
Arizona Cardinals
are on the clock with the 13th overall choice.
April, 5, 2012
4/05/12
3:26
PM ET
Let's just say the latest NFC West chat was the latest NFC West chat -- about 45 minutes late in starting. My apologies. I lost track of time while reading through Gregg Williams-related pieces and speaking with a range of people about the implications.
There's much to consider.
Sean Pamphilon's
engrossing piece
(R-rated for language) provided context for the damning video he shot revealing
Williams' instructions
to injure specific
San Francisco 49ers
players in specific vulnerable places. One of Williams' former players in New Orleans,
Malcolm Jenkins
, subsequently suggested Pamphilon had
exploited for personal gain
the access afforded him through
Steve Gleason
, the former Saints linebacker suffering from ALS.
Both men make understandable points. What we need, I think, is a fuller and more honest discussion of what goes on inside pro football. We need context.
Jack from Charming, Calif., asked during the chat what I took from Williams' pregame speech.
Mostly, I tried to differentiate the normal pregame stuff -- kill the other guys, knock out the QB, etc. -- from the specific instructions to target specific injuries on specific players (for cash in at least one instance). I think the extent to which Williams reveled in this stuff was largely his undoing. There's a reason players aren't excited about disclosing injuries in a lot of cases. They know opponents will target them.
That's what I said in the chat, anyway. Gaining additional context over time will lead to better informed opinions.
Full chat transcript
here
. Highlights below:
Yvan from Paris asks whether the St. Louis Rams' interest in wide receivers during free agency suggests they're not sold on drafting Oklahoma State's Justin Blackmon.

Mike Sando: Not necessarily. It means the Rams are weak at the position and want to protect themselves to the greatest degree possible as they head toward the draft. They do not want to be in trouble if Blackmon is not there for them at No. 6, or if there is another player they might value more. Let's say they like Blackmon and love another prospect, but they realize receiver is the bigger need. That is a realistic scenario. Diminishing the need before the draft allows the Rams greater flexibility to draft the best player regardless of position. That is what every team wants.

Tommy from Honolulu asks what I think about suggestions the Seattle Seahawks might draft safety Mark Barron in the first round, then move Kam Chancellor to linebacker.

Mike Sando: I think it sounds unlikely. Chancellor is a Pro Bowl safety. He probably has more value there than he would have at linebacker, unless the coaching staff felt strongly about developing a specific hybrid role for him. In that case, I would be intrigued, but still a little skeptical. Why mess with a good thing? I do think it's easier, in theory, to go from defensive back to linebacker than the other way around, as the Michael Boulware experiment seemed to demonstrate years ago.

The_Jagaroth from Arizona asks about mock drafts suggesting the Cardinals could trade down from the 13th overall pick, select Cordy Glenn and recoup a second-round choice along the way.

Mike Sando: That makes some sense. Teams hate going into a draft without a pick in an early round. The scenario you outlined would make sense if the Cardinals felt as though there wasn't an offensive tackle worth taking at No. 13. In that case, they could go to a Plan B. They could trade back, as you suggested, add a guard and then consider their options, possibly moving Adam Snyder to tackle. I'm skeptical of Snyder projecting at tackle for the long term, but Russ Grimm indicated it could be an option.

Ryan from Irvine, Calif., asks how drafting Stanford tight end Coby Fleener could impact the 49ers' offense.

Mike Sando: Wow, talk about formidable three-tight end personnel groupings. Sounds like overkill to me, but if anyone would embrace newfangled personnel groupings, Jim Harbaugh and Greg Roman would be the ones. Imagine Fleener, Vernon Davis and Delanie Walker on the field with Frank Gore and one wide receiver.
By the way, it looks like our Seahawks logos have been updated to reflect the recent redesign. Check it out above. Those who razzed me for having outdated logos in the seconds following the redesign did have an affect. I emailed proofs of the new logos to editors a few minutes earlier than I otherwise might have done.
April, 5, 2012
4/05/12
8:00
AM ET
Good morning, NFC West.
We've had some great discussions in the comments sections of various entries. I checked in around 3 a.m. ET -- hey, it's earlier here on the West Coast -- and joined a conversation about what the Seattle Seahawks might be thinking in the first round of the upcoming draft.
Some were discussing
Tony Pauline's contention
that Seattle could draft safety Mark Barron, then move Kam Chancellor to outside linebacker. That seems like unnecessarily messing with a good thing.
SEAFENCEmwa
said he wanted Seattle to draft defensive end Courtney Upshaw to help the pass rush.
Ian 202128
noted that some have questioned whether Upshaw would fit in the Seahawks' defense.
My take: Seattle has done a good job adapting scheme to players, specifically with Red Bryant. Pete Carroll likes guys with unique or unusual traits. Chancellor is huge for a safety. Earl Thomas is blazingly fast for a safety. K.J. Wright is on the tall side for a linebacker. Richard Sherman and Brandon Browner are huge for corners. Bryant is monstrous for a defensive end. Etc.
We'll continue these sorts of conversations for all the NFC West teams when the next NFC West chat gets going Thursday at 1 p.m. ET.
See you there
.
April, 2, 2012
4/02/12
11:14
AM ET
The NFL's transformation into a pass-happy league has sent teams scrambling for ways to keep up defensively.
Perhaps that explains why defensive linemen and 3-4 outside linebacker types dominated ESPN.com's first NFL Blog Network mock draft for 2012.
AFC West blogger Bill Williamson snapped up three of them for the division he covers. Six other defensive linemen and 3-4 outside linebackers found homes elsewhere in the first round.
Offensive linemen (seven), defensive backs (five) and wide receivers (five) accounted for most of the remaining first-round selections.
In keeping with the pass-oriented theme, Alabama's
Trent Richardson
was the lone running back selected, landing in Cleveland with the fourth overall choice.
And, of course, we kicked off the mock with a couple of quarterbacks.
February, 27, 2012
2/27/12
2:37
PM ET
INDIANAPOLIS -- Alabama's
Mark Barron
, the top-rated safety in the 2012 NFL draft, will have to deal with stricter safety rules once he recovers from hernia surgery.
"I don't like them," Barron said flatly when asked about rules against dangerous hits.
The rules have opened the middle of the field for offenses by protecting receivers the NFL considers defenseless. The idea is to limit concussions and other serious injuries with long-range consequences for athletes. But some players factor those risks into the game and would prefer to play under the old rules.
[+] Enlarge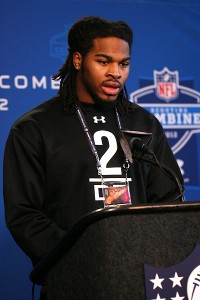 Brian Spurlock/US PresswireMark Barron, on the NFL's rules protecting receivers: "I guess I'll have to make some adjustments. Hopefully, I'll be able to make them."
"The way I have been taught to play the game, I hit and I hit hard," Barron said. "I guess I'll have to make some adjustments. Hopefully, I'll be able to make them. I'm not sure I will because that is how I was taught to play the game. I guess we'll see what happens with that."
Increasingly pass-happy offenses have put pressure on defenses to counter with better coverage players. NFC West teams have turned back the clock with some of the biggest, hardest-hitting safeties around. Seattle's
Kam Chancellor
and Arizona's
Adrian Wilson
are both 6-foot-3 and around 230 pounds. San Francisco's
Dashon Goldson
and
Donte Whitner
joined Chancellor in repeatedly delivering heavy hits.
The
league fined Chancellor $60,000
over a three-week period for hits last season. Wilson, heavily fined in past seasons, drew a $7,500 fine for roughing the quarterback against San Francisco late in the season. Whitner sent
New Orleans Saints
running back
Pierre Thomas
out of the game with a concussion during the playoffs. The $25,000 fine Goldson drew against Arizona was for fighting, not an illegal hit. He consistently put the hurt on opponents in 2011, once drawing a
disputed penalty
for a hit on Cleveland's
Greg Little
.
Barron, meanwhile, heads toward the draft as the only safety expected to challenge for first-round status.
According to SI.com
, Barron won Alabama's 5A state titles in the shot put and triple jump, plus third in the long jump. Barron said he threw the shot 59 feet, covered about 47 feet in the triple jump and 23 in the long jump.
The SI.com piece said Barron was playing youth football by age six (on the defensive line) and could dunk a basketball by eighth grade.
The shot put title seemed least likely given Barron's size. He measured 6-foot-1 and 213 pounds at the combine.
"That is something I take pride in," Barron said. "The shot put was always a lot of big guys, and I was always the smallest one. I used to go out there and beat all of them."