November, 17, 2012
11/17/12
1:30
PM ET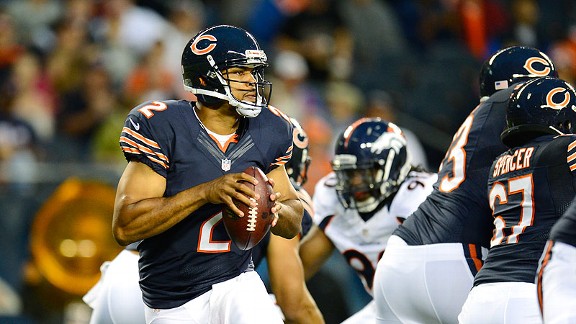 Mike DiNovo/US PresswireBears backup Jason Campbell's career stats are similar in many ways to starter Jay Cutler's.
The
San Francisco 49ers
won't have to face
Chicago Bears
quarterback
Jay Cutler
on "Monday Night Football" in Week 11.
They'll draw backup
Jason Campbell
instead.
This would seem to increase the 49ers' chances for victory, but based on what? Cutler has a better won-lost record as a starter. He has greater experience running the Bears' offense. But if you're looking for additional evidence, you won't find it in the traditional or advanced stats used to evaluate quarterbacks over time.
You'll see a couple of quarterbacks who have produced similarly over the past five seasons. Cutler has played more and for better teams. But his NFL passer rating since 2008 is 83.0, compared with 85.1 for Campbell and 84.1 for every other NFL quarterback. Cutler's Total QBR score since 2008 checks in at 56.5 when 50 is about average and 65-plus represents Pro Bowl-caliber play. The figure was 50.9 for Campbell and 52.0 for all others.
The point is that the 49ers might not be catching a big break while Cutler sits out the game after suffering a concussion in a 13-6 home defeat to the
Houston Texans
in Week 10. The Bears paid a $3.5 million salary for Campbell to be their backup because they figured they could win with him.
"We feel like he is a starting quarterback in the NFL that we have being our backup, and we feel very comfortable with him leading us," Bears coach Lovie Smith told reporters.
NFC North blogger Kevin Seifert and I discussed on a recent
Inside Slant podcast
how aggressive the Bears should be in re-signing Cutler after the season. I had some general impressions of Cutler but was curious to see how he stacked up against the highest-paid quarterbacks the past few seasons.
Peyton Manning
,
Aaron Rodgers
,
Tom Brady
,
Drew Brees
and
Matt Ryan
all had QBR scores in the 70s among regular starters over that period. Cutler was at 56.5. The figure for Cutler is 50.3 since 2009, compared with 50.5 for former Bears starter
Kyle Orton
and 47.7 for Campbell. Again, all the top quarterbacks were closer to 65-plus.
Cutler does have a 31-19 starting record with the Bears. That is far better than the 31-39 mark Campbell has posted for his career. But the Bears were 30-20 in the 50-game period before Cutler arrived. Orton,
Rex Grossman
and Brian Griese were their starting quarterbacks in that span.
Campbell's former team, Washington, was 31-39 in the 70-game span before Campbell posted the same starting record for the Redskins and Oakland Raiders. Tony Banks, Shane Matthews, Patrick Ramsey, Danny Wuerffel, Tim Hasselbeck and Mark Brunell were the starting quarterbacks during that run.
Quarterback play matters a great deal. Teams with the higher QBR scores have won 86 percent of games since 2008. Teams with higher NFL passer ratings have won 79.7 percent of the time over the same period. Those figures outrank even the winning percentages for teams winning the turnover battle (78.5 percent, a figure related to the previous two in that QBs are leading contributors to turnover stats).
The Bears are most dangerous for their defense, however. They rank among the NFL's top five on defense in passer rating, QBR, yards, rushing yards, net yards per pass attempt, interception percentage, third-down conversion rate and points. They were built to win without great quarterback play.
So, if Cutler has been only slightly above average and Campbell plays an average game Monday night, the drop won't be as pronounced as it usually is when a journeyman replaces a big-name quarterback. And if Campbell plays poorly, well, Cutler has done that, too. He has thrown more than three picks in a game four times since 2008, a league high.
August, 28, 2012
8/28/12
12:53
PM ET
Regular blog commenter
4949Centennial
hit the NFC West mailbag after watching the
San Francisco 49ers
' defense struggle against
Peyton Manning
and the
Denver Broncos
in the team's third preseason game.
"How concerned 49ers fans should be after Denver game?" he asks. "IMO, not much, but wanted to get your take."
Sando:
The 49ers have a well-coached defense stocked with front-line talent. They'll be fine as long as their key players remain available to them.
Aldon Smith
's health is one variable to watch.
The 49ers are not going to dominate on defense from wire to wire this season. They open at Green Bay. They play road games against New Orleans and New England. Even last season, the 49ers gave up yardage in huge chunks against the best offenses they faced.
To review
, "The 49ers allowed 422.5 yards per game last season when facing
Michael Vick
,
Matthew Stafford
,
Eli Manning
and
Tony Romo
, up from 270.1 yards per game against all other quarterbacks.
Aaron Rodgers
,
Tom Brady
,
Drew Brees
and
Jay Cutler
join Manning and Stafford on the schedule this season."
The 49ers should be better on defense even if their final stats aren't as good. They'll be more familiar with the scheme. They should be better at cornerback. The front seven remains fearsome.
But it's also possible the defense will find itself in tougher situations. The offense was sensational in avoiding turnovers last season. A few more turnovers would put opponents in better position to score points. The special teams were similarly dominant last season. A less dominant performance in that area would put additional stress on the defense.
I'm guessing the 49ers will take a couple steps backward from a statistical standpoint. But their defense should again be a strength and something that helps their chances in the postseason.
Some of the most dominant defenses in NFL history feasted on weak quarterbacks.
As we discussed
, the 2000
Baltimore Ravens
faced
Jay Fiedler
,
Brad Johnson
,
Kordell Stewart
,
Steve McNair
,
Mark Brunell
,
Vinny Testaverde
,
Jake Plummer
,
Kent Graham
,
Tim Couch
,
Scott Mitchell
,
Akili Smith
,
Doug Pederson
,
Ryan Leaf
and a declining
Troy Aikman
.
How the 49ers' schedule shapes up will hinge, in part, on how well several less-proven quarterbacks fare this season. That list includes
Christian Ponder
,
Mark Sanchez
,
Ryan Fitzpatrick
,
John Skelton
/
Kevin Kolb
,
Russell Wilson
,
Sam Bradford
and
Ryan Tannehill
.
February, 21, 2012
2/21/12
10:57
AM ET
With the offseason in full swing, let's take a look at one major question facing each NFC West team upon beginning preparations for the 2012 season:

ARIZONA CARDINALS
Why so much hedging over the quarterbacks?
Team president Michael Bidwill and general manager Rod Graves are
both
on record
as hedging their bets about
Kevin Kolb
returning for a second season with the team. Coach Ken Whisenhunt has recently made it clear the team would not make Kolb its outright starter for 2012, instead forcing him to compete with
John Skelton
.
The money Kolb would earn if he did return will guarantee him riches, but not a starting job.
The approach is vintage Whisenhunt. Now entering his sixth season with the team, Whisenhunt has remained consistently averse to anointing starters. The approach reflects his own NFL playing career. Whisenhunt stuck with Atlanta as a 12th-round draft choice in 1985, starting 43 of the 74 games he played over seven seasons. Nothing was handed to him and nothing will be handed to his players now.
The Cardinals' relatively noncommittal approach with Kolb has left the impression Arizona could go after
Peyton Manning
. That could be a difficult decision to make strategically, however, because Manning might need time to get healthy. Letting Kolb hit the market without knowing whether Manning could hold up would leave the Cardinals with Skelton as their fallback option.
ST. LOUIS RAMS

How can the Rams help themselves in free agency?
This is a tough one. Very few of the Rams' own free agents qualify as players the team must re-sign.
Receiver
Brandon Lloyd
is arguably the only clear starting-caliber player on the list. He is 30 years old and, by all accounts, hoping to catch on with Josh McDaniels in New England.
Teams with new coaching staffs often sign players with connections to various assistants. The Rams could follow that path.
Defensive coordinator Gregg Williams was in New Orleans, where cornerback
Tracy Porter
might be the most impressive defensive player scheduled to hit free agency.
Coach Jeff Fisher was with Tennessee when another potential free-agent corner,
Cortland Finnegan
, was building his reputation as one of the NFL's most hard-nosed defensive backs.
Offensive coordinator Brian Schottenheimer was with the
New York Jets
, but their list of offensive free agents features older players such as
Mark Brunell
,
LaDainian Tomlinson
and
Plaxico Burress
.
New general manager Les Snead has ties to the
Atlanta Falcons
' free agents, including 35-year-old center
Todd McClure
and 35-year-old outside linebacker
Mike Peterson
. Linebacker
Curtis Lofton
is only 25 and a productive player, but he has played the one linebacker position where the Rams are set, in the middle. Cornerback
Brent Grimes
is 28 and has a Pro Bowl on his résumé, giving the Rams a connection to another established corner.

SAN FRANCISCO 49ERS
How much better can Alex Smith become?
The 49ers plan to re-sign Smith after the veteran quarterback finished the 2011 season with 17 touchdown passes, five interceptions, a career-best 90.7 NFL passer rating and a signature playoff victory over New Orleans.
It's easy to forget that rules governing free agents prevented Smith from participating in formal 49ers practices until Aug. 4, only five weeks before the regular-season opener. Smith nonetheless appeared in tune with new coach Jim Harbaugh and new coordinator Greg Roman. He did take too many sacks and, until the team's divisional playoff victory over New Orleans, became best known for avoiding turnovers.
Smith did seem to progress as the season went along. It'll be tough for him to match or improve upon his TD-to-INT ratio. Opponents will be better equipped to counter scheme advantages the 49ers enjoyed with a new staff fresh from the college ranks. Durability will be another concern if Smith takes another 44 sacks.
But logic also suggests Smith can continue to grow within the 49ers' offense. He proved skeptics wrong last season and appears positioned to do so again.

SEATTLE SEAHAWKS
What is the holdup with Marshawn Lynch's new contract?
Yes, the Seahawks want to bring back Lynch. His physical running style gives them an edge Seattle cannot realistically get from another back in 2012.
There have been no hard reasons to get a deal done quickly, however. Seattle can name Lynch its franchise player, an appealing alternative for teams wary of how long running backs will hold up physically. Lynch has until March 13 before becoming a free agent for the first time in his career. His next long-term deal could be his final one. He'll want to get more than what Seattle would pay him in guaranteed money as a franchise player over the next couple seasons.
Lynch is 25 years old and has 1,280 career touches.
Steven Jackson
(2,507),
Frank Gore
(1,940) and
Maurice Jones-Drew
(1,762) are among the prominent backs with considerably more touches. Seattle should be able to get three more productive seasons from Lynch, enough to justify doing a multiyear deal with him.
But the franchise tag provides a tantalizing fallback.
July, 14, 2010
7/14/10
10:02
AM ET

Matt Maiocco of CSNBayArea.com
says Vernon Davis' low-keyed approach toward his contract situation is refreshing and one reason the 49ers are taking him to London as a representative of the organization. Davis has always worked hard. He just needed to become more consistent in his demeanor and in his catching. Maiocco: "In 2007, then-offensive coordinator Jim Hostler did one thing well: He made it a priority to get the ball into Davis' hands. The 49ers' passing game was horrendous that season. The team's combined passer rating was an abysmal 64.3. Davis caught 52 passes. Sure, he had a few drops along the way. But 52 receptions from a second-year tight end on a team that struggled to complete a pass was quite an accomplishment. The next season, Mike Martz came in with a different approach. Because seven-step drops were such a large portion of his approach, Martz kept Davis in as a blocker in a lot of passing situations. There were games in which he was involved in the pass route fewer than 50 percent of the time. As a result, Davis was targeted for fewer passing attempts than he caught the previous season under Hostler. How did Davis react? He did not complain publicly."
Matt Barrows of the Sacramento Bee
says Davis has become a face of the franchise. Barrows: "Davis, it seems, has become the 49ers' go-to player not only when they need a touchdown on the field but when they need to sell the team and the league off of it. And why not? He's confidant (just ask him), he's good-looking (just ask him), he's eager to please and he has a seemingly inexhaustible supply of energy. Patrick Willis may have received a whopping contract extension through 2016 that makes him the face of the franchise this offseason. But it's Davis, whose contract expires after the 2010 season, who has been showing his face around the globe this year. He's not only an offensive MVP, he's a PR MVP."
Taylor Price of 49ers.com
says Tom Rathman and Joe Staley are among those offering expertise to youth football campers.
Howard Mintz of the San Jose Mercury News
updates the 49ers' efforts to build a new stadium in Santa Clara.

Danny O'Neil of the Seattle Times
passes along a chat transcript featuring these thoughts on whether Seattle overpaid for quarterback Charlie Whitehurst: "Actually, this particular dead horse called me personally last week to request -- politely of course -- that the beatings stop. I can understand your point, Chuck, and particularly when you compare it to what Philadelphia got McNabb, I certainly agree that there's a compelling case to be made the Seahawks overpaid. But the package didn't come out of left field, either. It was similar to the packages that Green Bay got in trading backups who were seen as potential starters. Guys like Mark Brunell, Aaron Brooks and this Hasselbeck character, too. Ultimately, the measure of whether it was worth it is Whitehurst's performance on the field. Is he capable of being an NFL starting quarterback? If the answer turns out to be no, then, yes, Seattle gave up too much."
Clare Farnsworth of seahawks.com
profiles special-teams coach Brian Schneider. Farnsworth: "No matter what positions he coached, Schneider always has been involved with special teams. It happened at USC last season. It has happened again with the Seahawks. It's a strange twist for the former linebacker from Pomona High School in Arvada, Colo., and Colorado State, because he had not played special teams since his freshman year in college."
John Morgan of Field Gulls
says the Seahawks' interest in 3-4 defensive personnel comes amid great demand for such players across the league, making it harder to find good ones. Also from Morgan: "Long story short, I think Seattle will allow a lot of passing yards. If the formula works, Seattle will counter that weakness with a strong run defense and a rapacious secondary. The linebackers will neutralize the underneath passing game and the safeties will keep big plays in check. The Seahawks will attempt a bend but don't break defense, and this time next year, have hopefully reloaded at pass rusher."

John Hageman of the Minnesota Daily
reports from Larry Fitzgerald's camp through the eyes of former University of Minnesota receiver Eric Decker. Hageman: "The camp is modeled on Cris Carter's FAST program, which was co-founded by Fitzgerald's trainer Bill Welle and has been held on the Minnesota campus for two years. In addition to the immense amount of conditioning involved in the camp, Decker said he has been learning some of the technical aspects of being a receiver."
Darren Urban of azcardinals.com
provides
a link
to download the Cardinals' 2010 media guide.
Also from Urban
: Four Cardinals players were born the year the team moved to Arizona from St. Louis. John Skelton, A.J. Jefferson, Andre Roberts and Beanie Wells couldn't tell Roy Green from Neil Lomax. Urban: "The Cardinals have been around since 1898 and are charter members of the NFL that emerged 22 years later. But these days, for these four players, the history is a little more shallow than that. For Wells, his first thoughts of the franchise are Emmitt Smith's arrival in 2003. Same with Skelton, who grew up in New Mexico, where the Cardinals are geographically the closest team but where everyone was a Cowboys' fan. Lomax? No. Roy Green? Nah. Roberts does know about former Cardinals' running back Stump Mitchell, but even that is sort of cheating -- Roberts attended The Citadel, from where Mitchell is the highest-profile NFL product."

Jeff Gordon of stltoday.com
offers a chat transcript featuring some Rams-related thoughts. Gordon: "Chris Long made nice strides last season, but I believe the Rams could really maximize his production by moving him around with different looks up front this year. Perhaps they can find a pure speed rusher in the pile of DE prospects they are bringing to camp."
Turf Show Times' VanRam
provides a transcript from an interview with Rams quarterback Sam Bradford. Bradford: "I feel very good with where I'm at right now. I feel like I made a lot of progress during OTAs and minicamp. I feel like I've become a lot more comfortable in the huddle calling plays from the line of scrimmage, going through my reads. But I think it's just like anything else -- the more you do it, the more comfortable you become. I expect that as training camp comes, and as we get into two-a-days, the more reps I get, the more comfortable I'll become. So I look forward to getting to training camp and getting those reps."
May, 10, 2010
5/10/10
11:51
AM ET
Ryan from Lakeport, Calif., writes:
Hi Sando, love the blog. All this talk about stripping people of their achievements -- namely Lawrence Taylor and
Brian Cushing
-- got me thinking. If they do make
Jairus Byrd
the rookie of the year, what about
Lofa Tatupu
? Does anyone remember how
Shawne Merriman
got busted for steroids? Lofa should be handed that honor. Granted, it's been five years, but this Seahawk fan wants something from 2005 to not get cheated from us.
Mike Sando:
Good memory, Ryan. Merriman beat out Tatupu for defensive rookie honors after both turned in Pro Bowl rookie seasons in 2005. Merriman then served a four-game suspension during the 2006 season. If they strip Brian Cushing of top rookie honors after his positive test, why not strip Merriman? Sounds reasonable to me, although the timing of Merriman's positive test could be an important factor to consider. The San Diego Union-Tribune said the initial positive test was
during 2006
.
Note:
This answer was updated to reflect the timing of Merriman's suspension, which was served from Weeks 8-11 of the 2006 season, not the first four games.
News of the suspension
broke in October 2006. As former player Eric Allen put it for ESPN.com at the time, "The Rookie of the Year award and Pro Bowl honors we all thought Merriman earned ... have now been sullied completely by his imminent suspension."
---
Mark from Clinton, Utah, writes:
Mr. Sando, First off let me say that you coverage is something I look forward to as a Rams fan and it helps me pass through the downtime while deployed out here in Afghanistan. My question is this: I recently read a post that there hasn't been a successful lefty QB since
Steve Young
. While there have been 'lefty' flashes of brilliance, I do consider this to be pretty valid. The post also went on to say that this is a league for right-handers. Do you think that this is due to so much emphasis going to the left (blind) side of the line? If not, why the left-handed QB drought?
Mike Sando:
Thanks, Mark. There have never been very many left-handed quarterbacks in the NFL to begin with, so the sample size is probably too small for us to make sweeping proclamations about these players' professional fates. It's possibly coincidental that some of the best ones -- Steve Young,
Mark Brunell
and Boomer Esiason -- played in the same general era.
Current NFC West teams found room for some of the better ones, from Young to Jim Zorn to Frankie Albert. Young is
the only left-handed quarterback
in the Pro Football Hall of Fame.
This analysis
posted on the Rutgers University website includes stats for left-handed quarterbacks. Todd Marinovich and
Cade McNown
didn't help the cause as left-handed first-round draft picks during the 1990s.
Your initial thought could be on the right track. Football is traditionally a right-handed game. Offenses are set up to go that way. Left-handed quarterbacks could be at a disadvantage even at the lowest levels of the game, and this could influence how many of them eventually make it in the NFL. Meanwhile, baseball puts a premium on left-handed throwers, so talented lefties are probably funneled toward baseball and away from football as they come up through the ranks.
I like the subject matter. It's something I'd like to ask
Matt Leinart
about at some point. Anyone have any theories?
---
Zachary from San Francisco writes:
Are the 49ers mishandling
Alex Smith
's contract situation? What if he has a breakout season? Even if Alex has a "breakout" season, I can't imagine the 49ers being in a position to place the franchise tag on him this offseason. Have the 49ers burned bridges with Alex? They've kept him on an awfully short leash and signed Davis Carr this offseason while telling him, 'No. It's still your job, Alex.'
Wouldn't Alex rather go and start for Minnesota in 2011? What if
Kevin Kolb
doesn't work out? Maybe he lands a job in Philadelphia. If Alex succeeds this season, he'll have the 49ers on a short leash.
Mike Sando:
Smith made it clear he wanted to stay in San Francisco. He could have gone after more money as a free agent if he had refused to rework his rookie deal. The people most responsible for mishandling Smith early in his career no longer work for the 49ers. If Smith plays well this season, yes, the 49ers will have to step up. But they would welcome such a problem. I also think Smith will have more value to the 49ers than he will to other teams, based on his familiarity with the system.
---
Neil from Jackson, Miss., writes:
Sando,
your article
on the best QB in the NFC West considered Matt Leinart but not
Derek Anderson
. Anderson could easily end up the Cardinal's starter and, for that matter, the best QB in the division. Not at all saying I think he will, but with the QB situation so weak across the division, he deserves to be considered a contender.
Mike Sando:
You're right in that we should at least allow for the possibility. Matt Williamson of Scouts Inc. addressed the Anderson signing in Arizona for a
recent Insider piece
. He thought the Cardinals could have done better than Anderson even in looking only for a backup. I'm interested to see what happens with
Charlie Whitehurst
in Seattle given that Arizona was also trying to acquire him from the Chargers. Which player delivers more value -- Whitehurst or Anderson -- could impact the division this year or next.
February, 20, 2010
2/20/10
10:00
AM ET
I've taken the NFL's list of projected free agents and put it in a format you'll find quite powerful.
Download it
here
.
And if you're not quite sure how to maximize the information, check out
the demo
.
This file lets you sort all 235 projected unrestricted free agents, plus all fourth- and fifth-year restricted free agents, by accrued seasons, team, position, starts, agent and division. I've added sheets with the breakdowns used for earlier items on
which agents
have the most UFA clients, how many
projected UFAs
each team has by position and the number of
projected UFAs by division
.
I've updated the file to reflect
Troy Williamson
's new
deal with the Jaguars
and
Leigh Bodden
's recent
hiring of agent Alvin Keels
.
The chart below is also based on information in the file. It shows all quarterbacks projected to become UFAs this offseason.
Chad Pennington
might be the most appealing name on the list. The Rams could certainly do worse.
January, 25, 2010
1/25/10
4:24
PM ET
Seahawks general manager John Schneider expanded on his philosophy during
a recent interview
with John Clayton on 101ESPN Seattle. New Seahawks coach Pete Carroll did the same thing during
a recent interview
with KJR950's Mitch Levy.
Thoughts and highlights:
Schneider favors taller cornerbacks to combat the growing number of large receivers in the NFL. This was the approach Seattle took when Schneider and one of his mentors, Ted Thompson, were with the Seahawks several years ago. Ken Lucas and Ike Charlton are among the taller corners Seattle selected under that mindset.
Schneider favors bigger receivers. Schneider said it's a "big man's league" and this has "more to do with corner and receiver than any other position."
Finding linebackers, running backs, defensive linemen and offensive linemen is more about finding people to fit schemes. Seattle will pursue offensive linemen and running backs to fit the zone blocking scheme, for example.
The Seahawks could draft quarterbacks regularly, independent of perceived need. Another mentor for Schneider, Ron Wolf, believed in drafting quarterbacks frequently, developing them and then deciding whether to promote them or trade them. Ty Detmer, Mark Brunell and Matt Hasselbeck were examples from Schneider's early years in Green Bay.
Carroll cleared up confusion over whether the Seahawks were considering incorporating 3-4 principles on defense, something Carroll alluded to during the news conference to introduce Schneider. The team will run a 4-3 scheme. The team might deploy its 4-3 defense with some personnel that might project more naturally in a 3-4 alignment. Hence references to "elephant" linebackers such as Brian Cushing, formerly of USC and now with the Texans. Background info here.
April, 21, 2009
4/21/09
2:23
PM ET
Posted by ESPN.com's Mike Sando
A scenario to consider for when the 49ers are on the clock with the 10th overall choice in the 2009 draft: Four offensive tackles are off the board, the top two pass rushers are gone, nose tackle B.J. Raji is gone and quarterback Mark Sanchez remains available.
Short of trading down, would there be a realistic option for the 49ers drafting someone other than the quarterback? I discussed the matter earlier Tuesday with Steve Muench of Scouts Inc. He thinks the 49ers should draft Sanchez, if available, even if tackle Michael Oher and pass rushers Aaron Maybin and Everette Brown remained available.
Muench: "They missed on Alex Smith with the first overall pick in 2005, but they can't let that prevent them from making the right call now. Sanchez is a different quarterback from more of a pro-style offense. They need a quarterback now."

How the 49ers perceive their quarterback situation probably differs from how most outsiders view the situation. This is fairly typical. I think the Seahawks view their quarterback situation differently than people following the team from afar view it. The Cardinals appear to view their needs on the offensive line -- specifically at center -- differently than others view the situation. The Rams have lots of holes, but general manager Billy Devaney rejected the idea that St. Louis has enough needs to justify practically any selection.
With those things in mind, I'll take a look at 49ers general manager Scot McCloughan and the quarterbacks his teams have drafted since 1994.
August, 17, 2008
8/17/08
4:42
PM ET
Posted by ESPN.com's Mike Sando
St. Louis' first-team offense continues to mystify, but watching the Rams' 7-6 victory over San Diego last night provided a few clues. A few observations:
First and foremost, quarterback Marc Bulger was not in sync with his receivers. He is a much better quarterback than what we saw in this game. His protection was good enough. Bulger appeared to throw early and behind his intended targets.
Bulger and Drew Bennett appeared to be reading from different playbooks at times. This can happen when the quarterback and receiver are interpreting blitzes and coverages differently. The Sporting News examined this in a 2000 story about the Rams' offense (current offensive coordinator Al Saunders was the receivers coach at the time).
The Redskins' quarterbacks also put up shaky numbers when starting out in Saunders' offense. I pulled up the stats from an Aug. 13, 2006 exhibition game between the Redskins and Bengals.

Saunders, the Rams' new offensive coordinator, was in his first year with the Redskins at the time. Jason Campbell, Todd Collins and Mark Brunell combined to complete barely half of their passes with no touchdowns and three interceptions in that game. The Redskins also lost Clinton Portis to injury when the running back made a tackle on an interception return (perhaps Steven Jackson's holdout spared the Rams last night).
Rams left tackle Orlando Pace needs the preseason work. Chargers backup Jyles Tucker threw Pace aside before drilling Bulger as the quarterback threw right before halftime. Bulger was shaken up. He's not accustomed to getting blasted in the back when Pace is in the lineup.
Leonard Little's return to health gives the Rams an active defensive front. Little gave starting Chargers tackle Jeromey Clary problems. Adam Carriker also brought pressure up the middle after pushing aside Chargers left guard Kris Dielman. I spoke with Little a few days ago. "I'm going to be productive," he said. "That is my whole thing this year."
The Chargers rested defensive starters Jamal Williams, Luis Castillo, Shawne Merriman, Stephen Cooper, Quentin Jammer and Antonio Cromartie. That's why I would have expected more from the Rams' passing offense, even without Torry Holt. The communication between quarterback and receiver must improve.
This was not a case of the Rams failing to hold up physically. Their starting units held up reasonably well while working against lots of San Diego backups.
Darren Sproles, the Chargers' 181-pound running back, took out Rams defensive end Chris Long with a block at the knees. Sproles appeared to be the only blocker assigned to Long on the play.
Long makes hustle plays. He accelerated out of the backfield to take down a runner after an 8-yard gain. We are not seeing Long making big plays yet. Without regard for draft status or paycheck values, it's tough to say the Rams are better right now with Long on the field. Backup James Hall appears somewhat rejuvenated this summer. I expect Long to improve as he plays more.
Those are a few things that stood out while watching the first half of this game. I'm going to take a look at the Packers-49ers game next.