June, 2, 2013
6/02/13
8:00
AM ET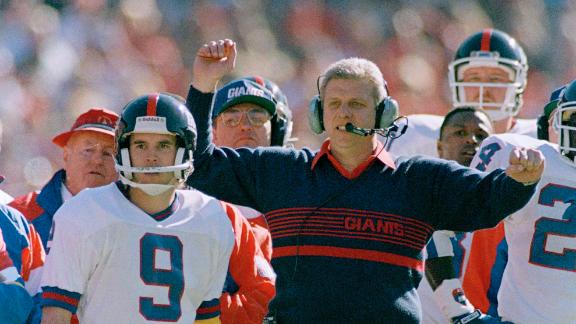 Jim from Albany, Ore.,
had no beefs with the
"Greatest Coaches" ballot
I submitted for the ESPN project. He did question the project itself, however.
"It seems to me that a coach becomes 'great' only after he has a 'great' quarterback," Jim wrote in the NFC West mailbag. "The coaches at the very top of the list might be exceptions, but let's look at some of the others."
The way Jim sees things, Bill Belichick struggled in Cleveland before he had
Tom Brady
in New England. Mike Shanahan struggled without John Elway. Mike Holmgren was considered a great coach in Green Bay, but he had Brett Favre. Tom Landry struggled after Roger Staubach retired. Tom Coughlin was fired by Jacksonville, but once he had
Eli Manning
, he became a great coach. Tony Dungy became great when he had Peyton Manning. Bill Walsh was innovative, of course, but he also had Joe Montana and Steve Young.
"The voting is a fun exercise and I don't mean to dismiss the importance of a coach," Jim writes. "Some are certainly much better than others and some are great, but I think people are overlooking the role that a franchise quarterback plays in how 'great' a coach is considered to be."
There is no doubt quarterbacks make a tremendous difference. Head coaches sometimes play leading roles in acquiring and developing quarterbacks. Let's take a quick run through the coaches Jim mentioned in search of added perspective:
Belichick: We could say the Patriots lucked into Brady in the sixth round, but Belichick was ultimately responsible for drafting him and then sticking with him after Drew Bledsoe's return to health. Also, the Patriots had an 11-5 record when Matt Cassel was their primary quarterback in 2008.
Shanahan: Shanahan deserves credit for getting the most from an aging Elway. The Broncos had six winning seasons, one losing season and one 8-8 season in the eight years immediately following Elway's retirement. The post-Elway Broncos went 91-69 under Shanahan overall. That works out to a .569 winning percentage in Denver after Elway. Bill Parcells was at .570 for his entire career.
Holmgren: Even if we give Favre credit for the Packers' success in Green Bay, we still must account for Holmgren's winning with Matt Hasselbeck and a more run-oriented offense in Seattle. Hasselbeck was a sixth-round pick in Green Bay. Holmgren traded for him and eventually won with him. Hasselbeck went to three Pro Bowls. Holmgren didn't luck into Hasselbeck. He helped develop him.
Landry: The Cowboys enjoyed their greatest postseason success under Landry when Staubach was the quarterback through the 1970s. However, the Cowboys were 31-10 under Landry in the three seasons before Staubach arrived. They were 21-6-1 in Staubach's first two seasons even though Staubach started only three of those games, posting a 2-1 record in his starts. Dallas went 24-8 in its first two seasons after Staubach retired. The Cowboys posted five winning records in their first six seasons of the post-Staubach era, going 61-28 over that span.
Coughlin: Manning wasn't all that great for much of Coughlin's early run with the Giants. Players such as Michael Strahan have credited Coughlin for adapting his gruff personal style in a manner that allowed the Giants to become a championship team. That could be entirely true, or it could be convenient narrative. We can't really know. However, although the Giants might not have won titles without Manning, we can't ignore the role their defense played in defeating Brady's Patriots following the 2007 season in particular. They didn't win disproportionately because of their quarterback.
Dungy: I listed Dungy 20th on my ballot because he won with two completely different types of teams. However, I also think a case can be made that the Colts should have enjoyed greater playoff success during the Peyton Manning years. Ultimately, I point to the success Tampa Bay enjoyed beginning in 1997 with a team built to some degree in Dungy's defensive image. The Buccaneers went 48-32 in their final five seasons under Dungy. That franchise was floundering previously.
I left off Walsh because Jim wasn't challenging his credentials as a great coach. Hopefully, the information above provides some context. I do think it's tough knowing to what degree a coach has facilitated his team's success. We're left to look at success over time, plus whatever contributions a coach seemed to make in terms of strategy, team building, etc.
Joe Gibbs gets credit for winning three Super Bowls with three quarterbacks, none of them Hall of Famers. It's not as if Gibbs had horrible quarterbacks, however. Joe Theismann and Mark Rypien were both two-time Pro Bowl selections. Doug Williams obviously had talent. He was a first-round draft choice, after all.
Perhaps we'll find ways in the future to better measure a coach's contributions. Right now, there's a lot we do not know beyond the results on the field.
October, 5, 2011
10/05/11
10:53
AM ET
The
Buffalo Bills
did not suddenly field a roster packed with perennial Pro Bowl linemen.
Their quarterback,
Ryan Fitzpatrick
, has nonetheless taken only two sacks in 147 drop backs.
I ran across this improbable stat when researching for the next MVP Watch item. It reinforced the idea that sacks, which are often drive killers, reflect so much more than a line's ability to prevent them.
The list
of players with the fewest sacks in a season (minimum 300 pass attempts) features almost exclusively players lacking the raw speed or athletic ability to avoid defenders. Dan Marino, Mark Rypien,
Kerry Collins
, Joey Harrington and Troy Aikman are the only players in the sack era (since 1982) with at least 300 attempts and fewer than 10 sacks in a season.
The system a team runs, the receivers a team has and the decisions a quarterback makes also play prominently into the totals.
We're seeing that in the NFC West through four games.
The
St. Louis Rams
'
Sam Bradford
is on pace for 72 sacks, which would tie
Randall Cunningham
for the second-highest total in a season since sacks became an official stat in 1982. He's learning a new system featuring deeper drop backs and slower-developing routes, all while playing without his most dependable receiver. Bad combination.
San Francisco's
Alex Smith
(14 sacks), Seattle's
Tarvaris Jackson
(14) and Arizona's
Kevin Kolb
(12) rank among the seven most-sacked quarterbacks in the NFL this season. NFC West starters have taken 58 sacks, with Rams backup
A.J. Feeley
also taking one. Line issues have played larger roles for Smith and Jackson, in my view. Kolb's feel for the pocket hasn't seemed strong enough, possibly a reflection of his inexperience and learning a new offense.
Sacks were down for Smith (three in 36 drop backs) and Jackson (zero in 38, against an Atlanta defense that now has no sacks in its past three games) in Week 4. The Rams are off this week, but the other NFC West teams rank among the 15 teams with at least 10 sacks so far this season. This will be a theme for the division in Week 5.
August, 15, 2011
8/15/11
4:55
PM ET

Back in 2002, when
Matt Hasselbeck
had not yet won over fans and veteran
Trent Dilfer
was recovering from injury, the
Seattle Seahawks
signed an over-the-hill
Mark Rypien
as veteran insurance.
Rypien hadn't started a game in his previous three seasons. He never made it out of camp and soon retired.
Later that season, when a ruptured Achilles tendon landed Dilfer on injured reserve, the Seahawks signed another past-his-prime passer,
Jeff George
.
George, like Rypien, would never again attempt a regular-season pass in the NFL.
All of this comes to mind as the
San Francisco 49ers
consider signing
34-year-old
Daunte Culpepper
as veteran insurance for starter
Alex Smith
and rookie second-round draft choice
Colin Kaepernick
.
Culpepper would not compete for the starting job. Adding him to the roster would not demand full-scale reassessment of the position. In a best-case scenario, Culpepper would become another George -- an experienced player the team would never need to take a regular-season snap.
As then-Seahawks coach Mike Holmgren put it regarding George in relation to Hasselbeck back then: "It's important for our football team that Matt gets another shot at this thing, with the fans. It's important for everyone to understand what we are really doing. Jeff George is coming in to fill a particular role."
Adding Culpepper would not muddy the 49ers' meaningful plans for the position.
Smith would remain the projected starter for the short term, playing under terms of his guaranteed contract. Kaepernick would remain the projected starter for the longer term. Culpepper would provide a low-cost insurance policy if the team could not find a superior option over the coming weeks.
More than any 49ers coach in recent years, Jim Harbaugh deserves the benefit of the doubt on quarterbacks. He played the position at the NFL level. He developed quarterbacks at the college level while with San Diego and Stanford.
It's not like he would be bringing in Culpepper to start.
July, 18, 2011
7/18/11
9:15
AM ET
The NFC West's dominance extends beyond
fighter jets
,
croc files
,
athlete award eligibility
,
currency collection
and
retractable playing surfaces
.
A look through the
celebrity golf leaderboard
from Lake Tahoe, Nev., shows Ken Whisenhunt, Jerry Rice and Marshall Faulk finishing among the top 20. Whisenhunt, who grew up around the game in Augusta, Ga., site of the Masters, was tied for 13th with 49 points in Stableford scoring, just ahead of Rice (15th) and Faulk (20th).
These guys need to get NFC West alumnus Trent Green out on the course a little more often. Green, former quarterback for the
St. Louis Rams
and three other teams, finished 80th in the 83-man field, barely beating the
notoriously
swing-challenged
Charles Barkley.
Indeed, golf is a humbling game. It's tough to envision Barkley beating anyone after
watching him swing a club
. The retired NBA great did cruise past musician Jay DeMarcus (minus-83) and Sacramento Kings rookie Jimmer Fredette (minus-88).
Tony Romo
,
Chris Chandler
,
Mark Rypien
,
Billy Joe Tolliver
and
John Elway
finished among the top 15 with at least 47 points. Fellow quarterbacks Joe Theismann,
Trent Dilfer
,
Vinny Testaverde
,
Matt Ryan
,
Aaron Rodgers
,
Jim McMahon
and
Steve Beuerlein
put up respectable or semi-respectable scores.
All quarterbacks do not make for competitive golfers, however.
Green scored minus-65 points.
Arizona Cardinals
linebacker
Joey Porter
finished 78th at minus-61. Chiefs coach Todd Haley, the Cardinals' former offensive coordinator, tied with
New England Patriots
receiver
Wes Welker
for 64th at minus-9.
With any luck, it's about time to
put away the clubs
and tee up another kind of ball.
April, 15, 2010
4/15/10
10:17
AM ET
Count 49ers legend Jerry Rice among those impressed by Phil Mickelson's bold Masters victory Sunday.

"The Masters this past weekend was just unbelievable," Rice said during a recent conference call. "To see Phil Mickelson be up by 2 strokes and going for that shot in between the trees with a 6-iron from 207 yards was very inspirational. After that I had to go hit some more golf balls."

Rice's passion for golf has led him to compete in the Fresh Express Classic in San Francisco. The Nationwide Tour event begins Thursday, with proceeds going to Rice's foundation. It's the first time Rice has competed in a professional tournament. He'll have to make the 36-hole cut to compete for prize money.

"I got an exemption into this tournament and it blew me away completely," Rice said during the call. "The thing about me is that you know I'm a competitor, and I don't want to go out there and have the Nationwide Tour players think this is a publicity stunt or something for attention. It's not. I respect the game of golf and I work hard at it. I have the opportunity to go out there and prove to everybody that I can play golf."

Rice said he used to rise at 4 a.m. and hit the driving range at 6, then report for work at the 49ers around 8:30. He would head back to the range at night. Rice said his best round was a 68, and he has broken par twice at TPC Stonebrae, site of the current event. No professional athletes from other spots have made the cut in a Nationwide event, although Mark Rypien, Al Del Greco and others have tried.
October, 15, 2008
10/15/08
8:50
AM ET