NFC West:

Mark Zuckerberg
September, 2, 2014
Sep 2
8:00
AM ET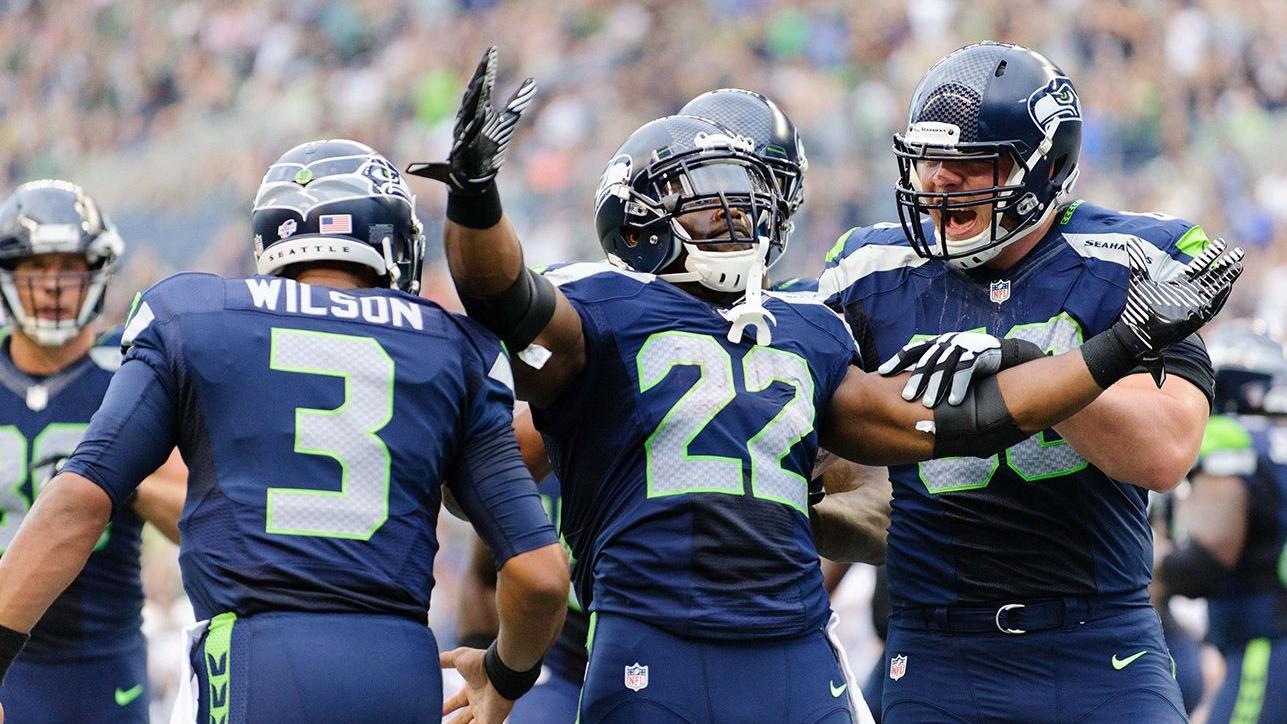 ESPN.com
Seattle Seahawks
reporter Terry Blount makes his game-by-game picks for the 2014 season.
Week 1: Green Bay Packers
All the pregame hype will center around the so-called Inaccurate Reception, the controversial Hail Mary catch by Golden Tate two years ago that won the game over the Packers at Seattle on a Monday night. Tate has moved on to Detroit, but the Seahawks now have too many weapons for the Packers to stop, no Hail Mary required. Prediction: Win
---
Week 2: at San Diego Chargers
The Chargers better hope they play a lot better than they did in the preseason game at Seattle, a 41-14 victory for the Seahawks on Aug. 15. San Diego will play better, but not good enough to beat a much better team. Prediction: Win
---
Week 3: Denver Broncos
The Broncos and their fans got a tiny bit of meaningless Super Bowl revenge in the preseason opener with a 21-16 victory over the Seahawks in Denver. Enjoy it while it lasts, boys. Repeating that outcome in Seattle is not an option. Prediction: Win
---
Week 5: at Washington Redskins
Traveling coast to coast to play on the road for a Monday night game is a tough task against any NFL opponent, and even tougher against quarterback Robert Griffin III. But the Seahawks catch a break in this one by coming off a bye week with plenty of time to prepare and be fresh for the journey. Prediction: Win
---
Week 6: Dallas Cowboys
Cowboys owner Jerry Jones gave Seattle a little bulletin-board material last month when he said the Seahawks were to blame for the increase in penalty flags during the preseason. There won't be near enough flags against Seattle for the Cowboys to win this one. Prediction: Win
---
Week 7: at St. Louis Rams
Any division game in the NFC West is a rugged battle. The Rams have a defensive line that gave the Seahawks problems a year ago. But they aren't strong enough overall to beat Seattle, even at home in their out-of-date dome. Prediction: Win
---
Week 8: at Carolina Panthers
The Seahawks were fortunate to win the season opener at Charlotte a year ago. That Panthers team was better than this one, but back-to-back road games against very physical defensive teams will end the Seattle winning streak. Prediction: Loss
---
Week 9: Oakland Raiders
Coming off their first loss of the season and returning home against an outmanned opponent, is there any doubt? Prediction: Win
---
Week 10: New York Giants
The Seahawks easily defeated the Giants 23-0 last year in New Jersey, a dress rehearsal for their Super Bowl victory at the same location -- MetLife Stadium. The Seahawks won't need a rehearsal to roll past the Giants in this one. Prediction: Win
---
Week 11: at Kansas City Chiefs
This likely will be a low-scoring game between two strong defensive teams. Odds are against any team that has to try to win by matching its defense against the Seahawks' D. Prediction: Win
---
Week 12: Arizona Cardinals
The last time the Cardinals played at CenturyLink Field was last December when they handed the Seahawks a 17-10 loss. That won't happen again unless the Seahawks get caught looking ahead to the 49ers game. The Seahawks don't look ahead. Prediction: Win
---
Week 13: at San Francisco 49ers
It's a Thanksgiving night, national TV game in the 49ers' shiny new stadium against the hated Seahawks. If San Francisco can't win this one, its time as a championship contender is over. Prediction: Loss
---
Week 14: at Philadelphia Eagles
This is the toughest part of the season for the Seahawks with back-to-back road games against likely playoff contenders. But the 10 days between games will help and be enough of a cushion to keep Seattle from losing two in a row. Prediction: Win
---
Week 15: San Francisco 49ers
This is a game that could decide which team wins the NFC West. No way the Seahawks lose to the 49ers twice in three weeks, especially not in front of a rabid full house of 12s. Prediction: Win
---
Week 16: at Arizona Cardinals
The Cardinals probably will be fighting for a playoff spot, and the Seahawks already will be in at 12-2. That difference will be just enough for Arizona to win at home in the same stadium where the Seahawks will win the Super Bowl a few weeks later. Prediction: Loss
---
Week 17: St. Louis Rams
For the second consecutive year, the Rams close the regular season in Seattle. And for the second consecutive year, the Seahawks will beat them without much trouble. Prediction: Win
---
Predicted Record: 13-3
February, 28, 2012
2/28/12
9:30
AM ET
Good morning. I'm back from the NFL scouting combine and ready for free agency, which unfortunately does not begin until March 13.
The gap between the combine and free agency was once shorter. Years ago, the combine became that time when teams lined up their options, with news breaking about which free agents planned to visit certain teams when the market opened for business.
The most recent combine lacked that feel of impending activity.

But as
Howard Balzer of 101ESPN St. Louis points out
, the St. Louis Rams might want to act sooner when it comes to trading the second overall choice. That is because the quarterback landscape will change once free agency opens. Some teams will fill their quarterback needs, and when they do, they might have less interest in acquiring the second overall choice for a chance to draft Baylor's Robert Griffin III. Balzer: "While trades involving draft picks normally don't occur until draft day or at best a few days before, (chief operating officer) Kevin Demoff thinks there's a possibility something could happen before the start of the league year or at the league meeting at the end of March. Of course, trades can't become official until the league year begins, but the deal can be in place in advance."
Jim Thomas of the St. Louis Post-Dispatch
says the Rams have "laid the groundwork" for trading the pick.
Bryan Burwell of the St. Louis Post-Dispatch
says a quick resolution to Peyton Manning's situation would help the Rams get value for the second overall choice.

Joshua Mayers of the Seattle Times
suggests Leroy Hill's latest arrest could derail his career with the Seahawks.
Noted:
I don't think this arrest, for possessing less than one ounce of marijuana, will kill the Seahawks' interest in Hill. The arrest will hurt Hill's market value and give the Seahawks a better shot at re-signing him for less money. The situation would be different, in my view, if Hill had been caught in a more compromising position. In this case, he was hanging out at home when authorities showed up unexpectedly, acting on a search warrant after a neighbor apparently complained about smelling marijuana. The incident reflects poorly on Hill, but this allegation reflects behavior less reckless than, say, driving under the influence.
Brock Huard of 710ESPN Seattle
thinks the Seahawks should consider Wisconsin quarterback Russell Wilson in the draft.
More from Huard
: thoughts on combine quarterbacks.

Darren Urban of azcardinals.com
says the team could bring back Deuce Lutui if he meets standards for physical conditioning. General manager Rod Graves: "It's up to Deuce. We'd like to have him back, but one of the things we have to get worked out with Deuce is with his weight. We had to struggle with him the last couple of years. The bottom line is that Deuce hasn't played as well when he has been heavy. We would love to see Deuce come back, get in shape and play well for us and we'd love to have him under those conditions. But we can't afford to not give someone else a chance if Deuce is going to come in overweight."
Also from Urban
: to what degree the Cardinals could need to add receiver help.

Matt Barrows of the Sacramento Bee
says the 49ers probably had Baylor receiver Kendall Wright in mind when they interviewed Griffin at the combine. Barrows: "The 49ers have traded up in each of the last two drafts, in 2010 to snag offensive tackle Anthony Davis in the first round, then last year to get quarterback Colin Kaepernick in the second. Wright ran his 40-yard dash Sunday in 4.61 seconds, which is slower than expected. He'll likely run again at Baylor's pro day March 21 when he also will catch passes from Griffin."
Tim Kawakami of the San Jose Mercury News
checks in with former 49ers executive Carmen Policy. Kawakami: "As someone who gains nothing from praising the 49ers at this point, it's very credible when Policy calls the stadium in Santa Clara a fait accompli, talks about Santa Clara receiving possibly the best deal any community has received from an NFL team and points out the twists and turns that solidified the Santa Clara effort. ... Policy confirmed he had dinner with Gideon Yu recently and was very impressed. ... Read over his comments about the Raiders' situation, and everything points to Mark Davis looking for the best deal in hand, and that continues to feel like Los Angeles, at some point. ... The Jim Harbaugh/Bill Walsh resiliency/emotional comparison is fascinating, and I think probably quite accurate."
Also from Kawakami
: Jed York as Mark Zuckerberg?
Noted:
Talk about comparisons that would not have been made before hiring Harbaugh, going 13-3 and getting a stadium deal done. Yes, times have changed, and quickly.