March, 23, 2011
3/23/11
10:30
AM ET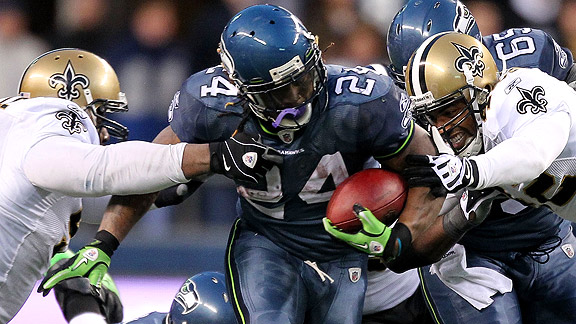 Otto Greule Jr/Getty ImagesMarshawn Lynch and the Seahawks running through the Saints in the postseason may have helped silence the critics who said a 7-9 team shouldn't be hosting a playoff game.
The disgust was palpable when
James Carville's favorite division
dared to offer up a 2010 champion with a losing record.
"Has there ever been a better argument for the NFL to switch to a seeded-tournament postseason?"
ESPN's Gregg Easterbrook asked
.
Atlanta Falcons
president Rich McKay, longtime chairman of the NFL's competition committee,
promoted discussion along those lines
even during the regular season, before the
Seattle Seahawks
emerged with a 7-9 record and a home game against New Orleans in the wild-card round.
But when NFL owners held their annual spring meeting to discuss league business this week, re-seeding the playoffs wasn't even up for discussion. The issue has less momentum now than it did two years ago, well before Seattle became the first division winner in league history with a losing record.
What happened?
The Seahawks upset the Saints in the wild-card round, for starters. The game featured nearly flawless quarterback play from
Matt Hasselbeck
and one of the most memorable touchdown runs in league history, regular season or otherwise. When Seattle's
Marshawn Lynch
eluded or ran through eight potential tackles on his way to
a 67-yard touchdown
, he also trampled the notion, for now, that a 7-9 team had no business hosting a playoff game or appearing in the postseason at all.
"I think Seattle winning probably had an effect on people, yeah,"
New York Giants
owner John Mara said from the NFL owners meeting. "If there was any sentiment to change it, maybe there is not. But that is not even something we discussed at the competition committee this year. It never even came up."
Mara was a voice for re-seeding even before his team missed the postseason with a 10-6 record this past season. Tampa Bay also missed the playoffs at 10-6. The Giants and Bucs defeated the Seahawks by a combined 79-23 margin this season, but the seeding system left them on the outside when playoff games kicked off in January.
"I've always felt that was something we ought to look at," Mara said. "I still think if you win your division, you should be in the playoffs, but I personally believe the teams with the better records ought to have the home games. I don't think I'm in the majority on that opinion."
Indeed, the coaches, owners and executives I polled this week came down strongly against any system sending a division champion on the road to open the playoffs. They would rather endure what happened with Seattle than have their own teams head onto the road as division champions.
"We want to put an emphasis on winning your division,"
Green Bay Packers
president Mark Murphy said. "There's still a strong feeling that if you win a division, you should get a home game. Our fans expect that and like that."
The league has devalued division games in other ways over the past 30-plus years.
Thirty-five years ago, teams played as many as eight division games in a 14-game season, depending on how many teams were in a division.
"So, you won the division championship, you earned it," McKay said. "Today, going to four-team divisions and a 16-game schedule, we're at a little different place with respect to the number of division games versus the number of regular-season games. That is where the push came a couple years ago."
Had a straight seeding system been in place for 2010, neither the Seahawks nor
St. Louis Rams
would have had anything on the line when they played in Week 17. Both would have been eliminated from the playoffs. Under a modified seeding system, the NFC West champion would have headed onto the road for the playoffs (it's tough to say where, exactly, because some teams would have approached the final weeks differently, affecting records).
The existing system guaranteed a home playoff game for the winner of that Rams-Seahawks game.
"Trying to keep as many late-season games relevant as you can was the other side of the push for re-seeding," McKay said. "And one of the ways to do that is, don't let people know where they are going to go. Let the seeding continue to work itself out other than the top two seeds. Not enough support. Will it come back some day? Probably. I am not sure it will be next year, but it will come back."
And it will face the same strong resistance it met this time around. If McKay and Mara couldn't gain any traction on the issue after Seattle made history as a 7-9 division champion, it's tough to imagine this issue going anywhere in the near future.
"I just think winning your division is important,"
Carolina Panthers
general manager Marty Hurney said. "That means something. I think that's where it starts. It's a good setup."
Arizona Cardinals
coach Ken Whisenhunt argued passionately for the current system. His team played home games as a 9-7 team in 2008 and as a 10-6 team one year later. The Cardinals won wild-card playoff games at home both years, and both times they did it against teams with superior records. The 2008 Cardinals advanced to the Super Bowl after beating a 9-6-1
Philadelphia Eagles
team in the NFC Championship Game at University of Phoenix Stadium. Again, their status as division champs gave them the edge.
"For me, it's tough to judge teams evenly that aren't in the same division because you never know about schedules," Whisenhunt said. "Let's just talk about us as a West Coast team. Let's go back to 2008. Philadelphia did not play a game out of the Eastern time zone after Nov. 15, whereas we played six games with more than a two time-zone change that year. So, how can you compare two teams that have similar records or even compare their records based on variables that aren't the same?"
As a player for the Atlanta Falcons, Whisenhunt regularly traveled long distances for division games against the
San Francisco 49ers
and Los Angeles Rams in the old NFC West. He said traveling west to east for games is much tougher on the body than traveling east to west.
"It's easy to say this team is better than this team because its record is better, but the reason that you have divisions is so that those four teams will have an equal footing as far as the conditions that they face," Whisenhunt said. "I've noticed through the years, they talk about Seattle traveling 30-some thousand miles during the year. How do you compare their travel schedule or what they are being forced to do? To me, the only way that you can have an even comparison of those teams is within the division."
The travel angle resonates on the West Coast, but not at the league level. Niners president Jed York is among those who have complained about 10 a.m. PT kickoffs, and we discussed the subject again at this league meeting. The league has been unsympathetic and isn't likely to change its stance.
The seeding system also appears unflinching.
"Maybe this wasn't the year to propose any type of changes [amid larger labor issues]," McKay said. "Maybe that is why we only had five rule changes being proposed. It didn't seem like the membership had an appetite, so let's put that in the background and wait."
December, 3, 2010
12/03/10
1:13
PM ET
Russ Grimm's name keeps
surfacing
in connection to the
Carolina Panthers
' expected coaching vacancy. That make sense because Grimm played for the
Washington Redskins
when Panthers general manager Marty Hurney covered the team as a reporter.
Grimm ranks as the
Arizona Cardinals
' most prominent assistant coach, overseeing the offensive line and coordinating the running game. He is also
assistant head coach
.
Losing Grimm after losing offensive coordinator Todd Haley to the
Kansas City Chiefs
would further weaken Ken Whisenhunt's staff in Arizona.
We can debate to what degree Haley ran the offense or whether the offensive line has played to expectations under Grimm's leadership. We do know Haley and Grimm have strong leadership qualities. We know Whisenhunt trusted and valued Haley. We knew he trusts and values Grimm.
Whisenhunt's staff has already undergone significant changes. The team fired former defensive coordinator Clancy Pendergast after the 2008 season. Another defensive assistant, Teryl Austin, left to become defensive coordinator at Florida after last season.
The current defensive staff could change again this coming offseason even though personnel issues are also to blame for the defense's problems this season.
April, 28, 2009
4/28/09
6:45
PM ET
Posted by ESPN.com's Mike Sando
The 49ers' and Seahawks' ability to land first-round choices in 2010 set apart their drafts. Mike Silver of Yahoo! Sports takes a closer look at how the 49ers pulled it off (thanks to redng0ld for passing along the link).
The piece looks at the draft from general manager Scot McCloughan's perspective. My favorite passage covers the period when Panthers general manager Marty Hurney offered Carolina's first-round choice in 2010 to the 49ers. Here is how Silver described it:
McCloughan was so happy, he was tempted to make the deal on the spot. Instead, he said to Hurney, with as much nonchalance as he could muster, "OK, I'll get back to you." It was halfway through the team's seven-minute window, and there were a lot of nerves in the draft room as McCloughan hung up the phone and did absolutely nothing.

"That's the part of the draft I love," he says. It's like a chess match. When I hung up the phone, everyone in the room was looking at me, and I just stared up at the ceiling. They're going, 'What are we gonna do?' I'm there thinking, 'Hmmm, Carolina's got the toughest schedule in the league next year. [Jake] Delhomme's a pretty good quarterback, but if he gets hurt ... that pick could be pretty high.' "

About two minutes passed before McCloughan reached for the phone. Instead of calling Hurney, however, he added to the tension by "purposely dialing the wrong number first. Finally, I dialed again and tried to get more out of Marty -- 'Can you throw in your [sixth-round pick]?' I had to try it. He said no, and I said, 'OK,' and made the trade."
The 49ers' ability to land Michael Crabtree and a 2010 first-round choice makes this draft highly promising for San Francisco even though the team didn't address primary needs.
And, as McCloughan indicated in the Silver piece, the team isn't necessarily finished. I'm not sure what the 49ers have planned, but if they could find a way to further address needs, this offseason could become a smashing success -- or at least as successful as an offseason can be without having an established starting quarterback.