NFC West:

Marty Mornhinweg
March, 6, 2013
3/06/13
10:20
AM ET
The
St. Louis Rams
'
Danny Amendola
, like
Wes Welker
of New England, is a cat-quick slot receiver from Texas Tech with experience in Josh McDaniels' offense.
Neither receiver has a contract for the 2013 season. Neither was named his team's franchise player. Both could become unrestricted free agents March 12.
McDaniels' presence in New England as the Patriots' offensive coordinator would seem to make Amendola a viable fallback option for the team if Welker were to leave in free agency. As
Mike Reiss of ESPNBoston.com wrote
Monday, there were increasingly reasons to think Welker and the Patriots would reach agreement before the signing period opens. But with
ESPN's Adam Schefter reporting
Wednesday that Welker planned to test the market, it's good to remember that there are no guarantees.
If Welker were to re-sign with the Patriots, where would Amendola fit beyond New England or St. Louis? Would any team value him more than the Rams would value him?
Those aren't easy questions to answer. Amendola, like Rams teammate and fellow free-agent candidate
Brandon Gibson
, was with Andy Reid and the
Philadelphia Eagles
before coming to the Rams. Before that, Amendola was with Jason Garrett and the
Dallas Cowboys
in 2008, when Garrett was offensive coordinator.
Sometimes those past connections come into play when a player reaches free agency. Reid is the new head coach in Kansas City. Garrett fills the same role in Dallas. Reid's receivers coach, David Culley, is the same one he had in Philadelphia when Amendola was there in 2009.
But even if Amendola's ties to those teams' coaches were relevant, neither Kansas City nor Dallas appears to have a pressing need for a slot receiver. The Chiefs'
Dexter McCluster
and
Tony Moeaki
combined for 62 receptions from the slot last season, according to game charting from ESPN Stats & Information. The Cowboys'
Miles Austin
and
Jason Witten
combined for 83 slot receptions.
There could be other suitors, of course. There are other connections, too.
Amendola's offensive coordinator in Philadelphia, Marty Mornhinweg, has the same role with the
New York Jets
. One of his former offensive coordinators in St. Louis, Pat Shurmur, has the same job with the Eagles.
Again, though, does either team have a pressing need?
Jeremy Kerley
caught 43 passes for 612 yards from the slot for the Jets last season.
Jason Avant
had 50 catches for 609 yards from the slot for Philadelphia.
With Amendola coming off two injury-shortened seasons, the Rams should have a better shot at keeping him without overpaying, particularly if Welker re-signs. That would be good for St. Louis given the value Amendola has provided on third down in particular.
"He has great quickness in a short area and when you talk about a smaller guy, he has that great ability to create some separation," McDaniels said of Amendola in 2011, when he was the Rams' offensive coordinator. "You gotta be really tough, you gotta be able to create some separation quick because you don't have all day to run a 5-yard route sometimes. You gotta get open. He does that and he has great hands and he's really tough. He is everything you want in that regard."
October, 24, 2011
10/24/11
3:26
PM ET
The
St. Louis Rams
' 0-6 start has left that team with a 13-57 record since 2007.
The record is 8-30 since Steve Spagnuolo became head coach in 2009.
A 34-7 defeat at Dallas in Week 7 left Spagnuolo on a short list of head coaches on the hot seat. He's one of five with a record at least 22 games below .500 and fewer than eight career victories, according to
Pro Football Reference
.
Spagnuolo, who won a championship with the
New York Giants
following the 2007 season, has company on the Rams' staff. First-year offensive coordinator Josh McDaniels went 83-19 during his final eight seasons with New England and first six games as Denver's head coach in 2009. His teams have gone 5-24 since that time.
I've been getting more questions about Spagnuolo's job security as the losses mount. How the team loses will be important. Getting trampled on the ground by opposing running games becomes demoralizing.
Overall, Spagnuolo's inability to keep the defense competitive this season works against him. Yes, the Rams have suffered significant injuries at cornerback, but their defense was having problems anyway. The free agents they added haven't upgraded the defense.
Some
Arizona Cardinals
fans are also getting restless. Their coach, Ken Whisenhunt, has gone 3-14 over his last 17 games. The Cardinals were 5-12 in their final 17 games under Dennis Green. The obvious progress Whisenhunt made posting three consecutive non-losing records, complete with a Super Bowl appearance and 4-2 postseason record, fades with each defeat.
In Arizona, as in St. Louis, I think it's important for the franchise quarterbacks to finish the season better than they have started it. Without quarterback progress, it's tougher for anyone -- fans, owners, players -- to feel as though an organization is moving in the right direction. It's also much tougher to win, of course.
The chart shows head coaches who are at least 22 games below .500 and possessing no more than nine career victories. I've updated the Pro Football Reference numbers to reflect Week 7 results, and have recalculated winning percentages to account for ties.
.
May, 21, 2011
5/21/11
12:53
PM ET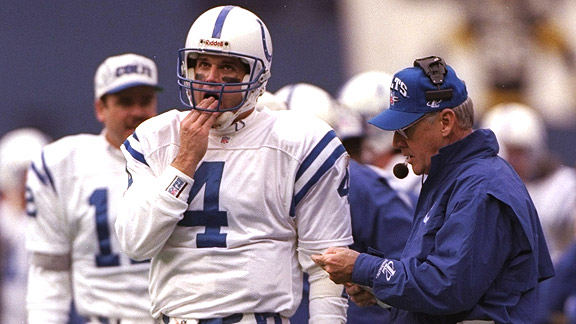 Doug Pensinger/Getty ImagesJim Harbaugh, left, says former coach Lindy Infante, right, had a huge impact on his career.
Jim Harbaugh
's reverence for Bill Walsh has been palpable since the
San Francisco 49ers
named him head coach this offseason.
Harbaugh has sought to round up
old coaching tapes
featuring Walsh installing game plans. He has embraced Walsh's offensive philosophy, pledging to run
a similar version
of the West Coast system. He has paid homage to 49ers tradition. Before Walsh died in 2007, he backed Harbaugh at Stanford, where Walsh was twice head coach. Walsh even
spoke to players
at Harbaugh's first spring practice.
Harbaugh has also been around the NFL long enough to know the league has produced a long list of outstanding coaches, even if few match Walsh in terms of success and overall legacy.
Lindy Infante
was one of those coaches in Harbaugh's eyes.
"Lindy doesn't get near the credit that Bill Walsh does," Harbaugh said this offseason, "but in many ways they are equals in terms of football minds. I never played for Bill Walsh, but there's no question in my mind."
This statement struck me as profound, but context is key. Harbaugh wasn't comparing their careers. He was comparing football acumen. One of the things Harbaugh admires most about Infante, who coached him in Indianapolis and is now retired, applies directly to Harbaugh's current challenge with the 49ers.
"It would be the ability to make a quarterback really play well," Harbaugh said.
Not just any quarterback, but quarterbacks with limitations.
"I went to the Pro Bowl playing for Lindy and up until that point, I wasn't thought of as a good quarterback at all," Harbaugh said. "But coaching made a difference."
Bernie Kosar and Don Majkowski enjoyed their best statistical seasons with Infante coaching them.
[+] Enlarge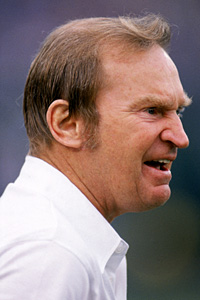 Photo by George Rose/Getty ImagesThe passing concepts taught by longtime NFL coach Don Coryell influenced the coaches who influenced Jim Harbaugh.
All of this came to mind Thursday during our blog discussion measuring
Don Coryell's impact on Walsh
and, by extension, on the 49ers.
Coryell never won a championship as a head coach, but he affected modern football tremendously through his innovative scheming.
Though Walsh and Infante never worked together, Coryell influenced both. Infante expanded upon Coryell's innovations while serving as offensive coordinator for the
Cincinnati Bengals
during the early 1980s. The concepts became staples within offenses around the league, including the one Infante taught to Harbaugh while both were with the Colts during the 1990s.
Infante, reached by phone at his Florida home, spoke specifically of the option routes Coryell used in San Diego to make Chargers tight end Kellen Winslow more dangerous.
The way Infante tells it, he was studying the Chargers' offense under Coryell when something unusual stood out on film. San Diego would run what appeared to be the same play from the same formation, but Winslow seemed to be acting on his own.
The first time, Winslow might run 12 yards and break toward the outside right. Ten or 12 plays would pass, and then the same play would come up again, but this time Winslow would run a tight hook to the inside, getting open for a first down. A quarter might pass and the same play would appear, with Winslow breaking across the field to his left.
"I kept writing these things down and diagramming them and I sat back and said, 'It looks to me like they are giving Winslow the right to go where he wants to go,' " Infante said. "We started playing around with what we call the 'Y' or tight end option. The first day out on the practice field, we had a full scrimmage and I said, 'Here goes, we're going to find out whether this thing is going to work.' "
It worked.
"By about the third or fourth time we ran it, Kenny Anderson and the tight end, Danny Ross, ended up on the same timing-type situation, but the quarterback got to the point where he could tell where the receiver was going to go way before he went," Infante said. "He was trying to get the ball there early and we had the ball hit Danny Ross in the face because he couldn't get turned around fast enough. We had to do some on-the-job training, but that is what got us thinking."
If the tight end could make such adjustments, Infante thought, why couldn't wide receivers do the same? If wide receivers could do it, why not the running backs? Before long, receivers could have as many as five options on a particular route based on the coverage, blitzes and the other factors.
Ross caught 71 passes for 910 yards and five touchdowns in 1981. He was on pace for even bigger numbers a year later, finishing the strike-shortened 1982 season with 47 catches for 508 yards in just nine games. Ross went to the Pro Bowl that season.
"It evolved to the point where we were doing a lot of option-route running, a lot of route adjustments after the snap of the ball and the quarterback would have the right to change certain plays if certain things were going on," Infante said. "It was exciting because it was inventive and you had to feel free to go and try to invent something. When I started coaching with Harbaugh, they brought me in to Indianapolis and the idea was I would bring my offense with me."
Harbaugh finished his playing career under Ted Marchibroda (
Baltimore Ravens
), Mike Riley (
San Diego Chargers
) and Marty Mornhinweg (
Detroit Lions
). He coached under Bill Callahan in Oakland before becoming a head coach at the University of San Diego and then Stanford.
The lockout has prevented Harbaugh and offensive coordinator Greg Roman from installing their offense with the 49ers. The coaching staff has used the time to refine exactly how they'll present information to players once the lockout finally does end.
Players might not know it, but former coaches will influence the process, at least indirectly.
"For this offense, there's a lot of Lindy Infante principles," Harbaugh said, "but I don't think it's exclusive to this offense. You talk about the option routes. The
smash route
now is a universally run route, but that was Lindy Infante.
"From a quarterback standpoint, I learned from him that there were more ways to read a route than just through a progression. I learned how to throw people open from him, that covered did not mean covered. That is a huge part of football now. The whole option game, the option routes, the smash concepts -- all those things I learned from him. He was very technical, very detailed. Just a
different way to understand the passing game
is what I learned from him."
Update:
This item originally said Coryell and Walsh worked together with the Chargers. Walsh predated Coryell in San Diego.
April, 27, 2011
4/27/11
1:45
PM ET
Colleague Kevin Seifert showed
some daring
by sending TCU quarterback
Andy Dalton
to the
Minnesota Vikings
at No. 12 in a recent
ESPN.com mock draft
.
He wasn't arguing for Dalton's value so much as saying the Vikings' need for a quarterback might compel them to take one there.
[+] Enlarge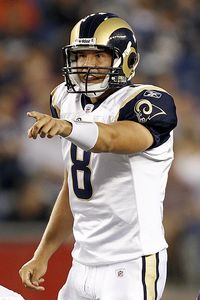 AP Photo/Winslow TownsonDid the Rams "reach" to get quarterback Sam Bradford in the first round last year?
"To me,"
Seifert later wrote
with first-year Vikings coach Leslie Frazier in mind, "there is no better time to jump to the other side than in a coach's first year, giving him a building block for the rest of his program."
The key, of course, is not mistaking anchors for building blocks.
Steve Mariucci was the
San Francisco 49ers
' first-year coach when the team used a 1997 first-rounder for
Jim Druckenmiller
, a blunder softened only by
Steve Young
's presence on the roster. That experience should not directly influence the 49ers' thinking as they consider first-round quarterbacks for new coach Jim Harbaugh, but it's a reference point.
With Harbaugh and the 49ers in mind, I went through recent drafts to see which teams with first-year head coaches used first-round selections for quarterbacks. More precisely, I looked at all first-round quarterbacks since 2000 to see which ones had first-year head coaches.
Six of the last eight first-round quarterbacks --
Matthew Stafford
,
Mark Sanchez
,
Josh Freeman
,
Matt Ryan
,
Joe Flacco
and
JaMarcus Russell
-- joined teams with first-year head coaches. All but Russell remain franchise quarterbacks in their teams' eyes. All but Russell are still playing for their original head coaches. Four of the six had winning records in 2010.
For most of those franchises, value and need lined up pretty well, and first-year coaches benefited.
"If you don't have a quarterback, you're drafting maybe a different kind of running back, maybe a different kind of offensive lineman, than if you have somebody," Lions coach Jim Schwartz told reporters at the scouting combine. "We had
Calvin Johnson
, but our ability to get
Jahvid Best
,
Nate Burleson
in free agency, to draft
Brandon Pettigrew
-- those pieces were because of the quarterback that we have."
We could also argue that the
St. Louis Rams
were better off building their offensive line and other areas of their roster before making
Sam Bradford
the first overall choice in 2010. They could have drafted Sanchez or Freeman instead of defensive end
Chris Long
in 2009, then spent subsequent selections on players to build around one of those quarterbacks.
Bradford and Denver's
Tim Tebow
were the "other" first-round quarterbacks in the eight-man group featuring Stafford, Sanchez, Freeman, Ryan, Flacco and Russell.
In general, getting the right quarterback for a first-year head coach puts a franchise in strong position for the long term. There's no sense forcing the issue, however, because the wrong quarterback can drag down any coach, regardless of tenure.
A coach such as the Vikings' Frazier might have a harder time waiting. His contract runs only three seasons and ownership expects quick results. Harbaugh has a five-year deal with the 49ers. Expectations are high, but there's less urgency for immediate results.
The first chart shows the 14 first-round quarterbacks since 2000 that landed with returning head coaches.
The second chart shows the 14 first-round quarterbacks since 2000 that landed with first-year head coaches.
February, 9, 2011
2/09/11
7:20
PM ET
The
Arizona Cardinals
hired
Pittsburgh Steelers
secondary coach Ray Horton as defensive coordinator because they wanted to model their defense after the one the Steelers ran under coordinator Dick LeBeau.
Horton has worked with LeBeau for 12 of the past 14 NFL seasons.
The chart traces Horton's coaching roots back to his first job, under Norv Turner in 1994.
January, 6, 2011
1/06/11
12:44
PM ET
Cross off former
Denver Broncos
coach Josh McDaniels from the list of potential fallback candidates for the
San Francisco 49ers
.
McDaniels is not interested, according to a source I spoke with Thursday.
The 49ers still hope to hire Stanford coach
Jim Harbaugh
, but they
reportedly reached out to McDaniels
as a potential fallback while the
Miami Dolphins
became more active in pursuing Harbaugh, according to the San Jose Mercury News.
The 49ers have
interviewed Harbaugh
and
Oakland Raiders
offensive coordinator Hue Jackson. Dolphins owner Stephen Ross and general manager Jeff Ireland led a contingent that
flew from Miami to the San Francisco Bay Area
to meet with Harbaugh beginning Thursday morning, ESPN Insider Chris Mortensen reported.
McDaniels, 34, is more likely to land as a coordinator than as a head coach this season. Questions about the 49ers' current leadership -- specifically whether the team has a winning mix with third-year president Jed York, first-year general manager Trent Baalke and executive vice president Paraag Marathe -- made the head coaching job there less appealing to McDaniels following a turbulent run with the Broncos, the source said.
For the 49ers, hiring McDaniels as head coach months after the NFL punished him for illegally videotaping a 49ers walk-through practice would seem stupefying, in my view. Of course, we do not know how serious the 49ers would have been about McDaniels, so I'm reluctant to judge them too harshly for merely reaching out. Might the 49ers have been more interested in McDaniels as a coordinator?
At the very least, it's revealing when a recently fired candidate has no interest in the 49ers. It says McDaniels remains confident he'll land a more appealing job once he repairs his image through a successful run as a coordinator. It also suggests high-profile candidates could elude the 49ers, as the case appeared to be during the team's search for a general manager.
Landing Harbaugh would change perceptions. If Harbaugh accepts a more lucrative offer from the Dolphins, however, the 49ers will look like a team that overplayed its hand and misled fans when York said money would be no object.
The 49ers might then have to settle for another tier of candidates. That would not necessarily prevent them from hiring a capable coach. None of us knows whether Harbaugh would fare better than Marty Mornhinweg, Brian Billick, Jackson or any other potential candidate.
We do know the 49ers wanted Harbaugh, however. Watching him take a job with the Dolphins or anyone else would sting.
December, 30, 2010
12/30/10
10:06
PM ET
George from Orlando, Fla., writes:
Maybe I'm too hopeful that Jed York hasn't really made his decision on a GM, but I want to throw out a scenario for you: Howie Roseman (GM of the Eagles); Marty Mornhinweg as head coach, Brad Childress as offensive coordinator and either retain
Greg Manusky
or hire Jim Mora. Mornhinweg was the 49ers' offensive coordinator in the late 1990s. He and Childress both worked with Andy Reid in Philadelphia. Mora was the 49ers' defensive coordinator overlapping Mornhinweg as offensive coordinator. They could move back to the West Coast offense and bring in
Donovan McNabb
or
Kevin Kolb
to groom someone like Blaine Gabbert from Missouri.
Mike Sando:
Roseman is
already the GM
in Philadelphia. He's not coming to San Francisco for a lateral move on the flow chart and a downward move in NFL standing. Mornhinweg as head coach is something John Clayton has raised as a possibility. It's something we should keep in mind. Mornhinweg was with Mora on the 49ers beginning in 1997.
I do think Jed York wants to reconnect with the 49ers' past. Getting back to the West Coast offense would represent a step in that direction. Hiring Mornhinweg would not invigorate the fan base, but he would be an offensive-minded coach with ties to more successful 49ers seasons. He would not threaten the 49ers' current power structure. That could be important to York.
---
CC from Baltimore writes:
I just think you have
something against the Rams or NFC West
. I don't remember you saying anything when the Chargers were 8-8. This is just another knee-jerk reaction to something that has happened how many times in the history of the NFL? Three. Get over it.
Mike Sando:
I don't remember saying anything about the Chargers in 2008, either, but that is probably because I do not write about the AFC West. I don't see anything wrong with the Rams winning the NFC West with an 8-8 record, but it is unfortunate for the NFC West's showcase game to feature teams with losing records.
On San Diego, remember that the 2008 Chargers won their final four games. That team scored 93 points in its final two games. The Rams have scored 75 points in their last four. Both were 8-8, but that Chargers team beat Indianapolis in the playoffs. If the Rams beat Seattle, they'll likely draw New Orleans in the wild-card round. Beating the Saints would silence the criticisms of the NFC West, for sure.
---
Richard from Queen Creek, Ariz., writes:
Hey Mike, like everyone else, love the blog. As a looooongtime Niners fan, suffering through this season was as painful as I remember. That being said, I believe a silver lining may be in sight, albeit a slightly tarnished one.
If I understand the draft order rules right, San Francisco could end up with the second overall pick in the 2011 draft! This may take a bit, but bear with me.
If (big if, but here we go) the 49ers lose to Arizona while Denver, Cincy and Buffalo all win, the 49ers and those teams would be 5-11. Cleveland, Dallas and Detroit could also be 5-11. The 49ers would win (lose?) the tiebreaker based on opponents' strength of schedule. Am I right on this? If so, would they risk another high draft pick on a QB such a Andrew Luck, Gabbert, or Jake Locker?
Mike Sando:
This is fun as long as you're not taking this parlay to Vegas, OK? I've gone through the scenario. Add Houston to the list of teams that would have to lose in Week 17. The following things would have to happen for the 49ers to emerge with the second overall choice, provided the strength-of-schedule tiebreaker still favored the 49ers:
Denver beats San Diego to finish 5-11
Cincinnati wins at Baltimore to finish 5-11
Buffalo wins at the New York Jets to finish 5-11
Arizona wins at San Francisco to finish 6-10
Cleveland beats Pittsburgh to finish 6-10
Dallas wins at Philadelphia to finish 6-10
Detroit beats Minnesota to finish 6-10
Houston loses to Jacksonville to finish 5-11
That scenario would leave Buffalo, Denver, Houston, Cincinnati and San Francisco with 5-11 records. Carolina would be the only team with a worse record. If all that happened and the 49ers emerged with the No. 2 overall choice, sure, I could see them taking the top-rated quarterback.
---
Jesse from Pleasanton, Calif., writes:
A quarterback question for Seattle next season. Mike, what do you think the chances are Seattle will look to pursue
Kyle Orton
(if avaliable) this offseason? He is a very underrated QB and familar with Jeremy Bates and his offensive system. With a win Sunday, Seattle would be looking at drafting possibly the fourth- or fifth-best QB in next year's draft during round one if they choose that route. Wouldn't a play for Orton make more sense?
Mike Sando:
Orton and Bates were never together in Denver. Quite a few people think they were together there. Bates left Denver for USC after the 2008 season. Bates left Denver in January 2009. The Broncos added Orton in February 2009. I do think adding Orton or another veteran quarterback makes sense. We'll need to see what happens with
Matt Hasselbeck
.
Reinforcing the quarterback position in free agency could give Seattle flexibility in the draft. I still think the team needs to consider drafting one.
---
Mike from St. Louis writes:
Sando, love the NFC West blog, and the whole blog idea in general, so thanks to you and ESPN for keeping this up. I have a question on MVP, and yes it is probably a little biased since I am from Saint Louis. But when the MVP voters assess a player's value, what exactly are they looking for in that particular player in respect to other weapons on the team?
Tom Brady
and
Michael Vick
have been the front-runners thus far (maybe after Tuesday night it might be a little more clear). Brady gets points for not having a superstar cast like Vick. My question is,
Sam Bradford
's name does not get brought up at all in conversation, understanding that his team could finish below .500, but in terms of pure value to a team, doesn't he stack up well? Brady has better weapons to throw to and New England has proven it could win with
Matt Cassel
, and Vick has tons of weapons.
Again, maybe it is a stretch, especially since he is a rookie and the MVP sometimes goes to those who have been in the league or on dominating teams, but if football is the ultimate team sport, then how can one player on a dominant team stand out over others? Thanks for taking the question.
Mike Sando:
Thanks for the support. The production has to be there and the winning usually has to be there. I think there's a baseline for production that prevents, say, the 24th-rated passer from contending (Bradford is No. 24 in rating). He is 18th in touchdown passes and 13th in passing yards. The MVP would usually have to be closer to setting the pace in the key statistical categories.
I hear what you're saying on Bradford. He has been more valuable than most this season. There just hasn't been enough production or team success to separate him.
---
Justin from Tucson, Ariz., writes:
What are the chances the Cardinals pick up Mike Singletary as their defensive coordinator?
Mike Sando:
I would think nil. Singletary has never been a coordinator at any level and he has no ties to Ken Whisenhunt.
April, 13, 2009
4/13/09
9:38
AM ET
Posted by ESPN.com's Mike Sando

Matt Maiocco of the Santa Rosa Press-Democrat says the 49ers' alleged tiff with Matthew Stafford stemming from a psychological exam is the "most overblown non-story" of the 2009 draft. Stafford has a visit to the 49ers scheduled for Monday.
Also from Maiocco: The 49ers' pick at No. 10 might not start in 2009.
Gil Brandt of NFL.com was the one who reported Stafford's plans to visit the 49ers.
Matt Barrows of the Sacramento Bee sees Florida State's Everette Brown as a "one-trick pony" who might not interest the 49ers.
Tim Kawakami of the San Jose Mercury News says 49ers coach Mike Singletary won't shy away from problem players in the draft. Kawakami: "Despite Singletary's blue-collar attitude, team-first passion and deep religious faith (or maybe in conjunction with all three), Singletary believes he can coach anybody. I think we can use the Vernon Davis example to make the point clear."

Deena Andrews of Blockshopper.com says former Rams coach Scott Linehan has listed his St. Louis-area home for sale, seeking $2.3 million. Linehan, who cited family reasons for declining the 49ers' offer to become offensive coordinator, subsequently took a job with the Lions.
Jim Thomas of the St. Louis Post-Dispatch says former Missouri coach Bob Stull didn't produce many victories at the school, but his staffs did produce ascending coaches, including new Rams defensive coordinator Ken Flajole. Thomas: "Flajole becomes the fourth member of Stull's Mizzou staff [1989-93] currently working in the NFL as a coordinator, joining Marty Mornhinweg [Philadelphia], Dirk Koetter [Jacksonville] and Dave Toub [Chicago]. Mornhinweg and Koetter are offensive coordinators; Toub is special teams coordinator with the Bears."

Paul Coro of the Arizona Republic says the Minnesota Timberwolves donated $2,500 to the Carol Fitzgerald Memorial Fund, established in the name of Larry Fitzgerald's late mother. The fund benefits urban education, the African American AIDS Task Force and the Circle of Love.
Revenge of the Birds' Andrew602 ranks the Cardinals' running backs last in the NFC West. The Rams, 49ers and Seahawks go 1-2-3 in his ranking. Andrew602: "[Tim] Hightower showed flashes of being that franchise back the Cardinals have been waiting for last year. Then at times, he failed to average over 3 yards per carry. He's a quick and tough back that could be a full time starter, but he needs to develop his game more, and stop dancing around in the back field." The scouts I know do not see Hightower as a starter.

Justin Harper of the Oklahoman says former Seahawks linebacker Brian Bosworth administered CPR to a fallen man, according to an eyewitness.
Eric D. Williams of the Tacoma News Tribune says 2008 first-round draft choice Lawrence Jackson is motivated to improve upon his rookie season. Jackson: "For me, I'm done with last year. I watched the film -- I still watch it and I go over it -- but last year was last year. The disappointment I felt is gone. That was year one. I take what happened, good and bad, into preparation for year two and move forward, and that's kind of my plan for things."