NFC West:

Marty Schottenheimer
March, 7, 2014
3/07/14
8:00
AM ET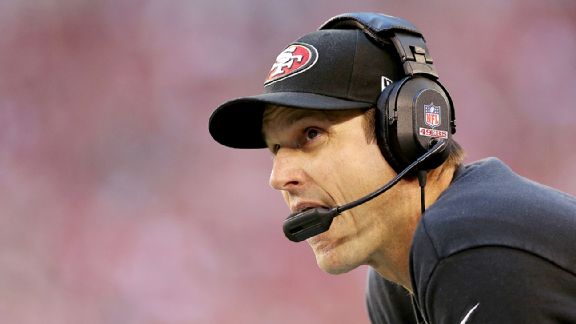 Christian Petersen/Getty ImagesJim Harbaugh has reached the NFC title game in each of his three seasons, so why would the 49ers look elsewhere?
Coach Jim Harbaugh's situation in San Francisco has been one of the most talked-about stories in the league in recent weeks.
If a resolution on his contract isn't reached, it will likely hover over the franchise all season and would be a major story next January, when Harbaugh could leave the team,
although Harbaugh told Sports Illustrated this week he is happy with all aspects of his job and doesn't see any way he will leave the team before the end of his contract.
Still, getting the contract done would ease a lot of issues.
We all know the backdrop: Harbaugh has led the 49ers to the NFC title game in all three of his seasons as coach. He got them to the Super Bowl after the 2012 season. He is entering the fourth year of a five-year contract that pays him $5 million per year. Harbaugh and the 49ers have been in discussion about a new deal for about a year, but are not close to an extension. Team owner Jed York recently told the Sacramento Bee he thinks contract talks will resume after the NFL draft in early May.
Things got interesting when the
Cleveland Browns
pursued a trade for Harbaugh. The 49ers were not interested, but that could change next year.
There have been rampant reports that Harbaugh has had trouble with some in the 49ers' front office, including general manager Trent Baalke. York, Harbaugh and Baalke have long downplayed the friction, indicating that they can coexist.
However, there is enough smoke here to think this situation go could south if a contract isn't agreed upon this year. Let's look at some issues that may be part of this story as it further develops:
The history:
While it would be stunning to see the 49ers-Harbaugh marriage disintegrate after such a stellar start, similar breakups have happened before.
[+] Enlarge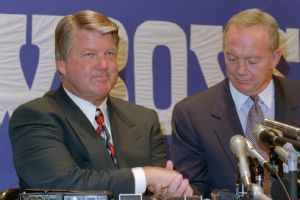 AP Photo/Ron HeflinJim Harbaugh would not be the first successful coach to leave during a team's prime. Jimmy Johnson left the Cowboys after winning two Super Bowls because of fighting with owner Jerry Jones.
After winning two straight Super Bowls, Jimmy Johnson famously left the Cowboys in 1994 after fighting with owner Jerry Jones. Following the 1998 season, Mike Holmgren shocked the NFL when he left quarterback
Brett Favre
and a
Green Bay Packers
team in its prime after a seven-year run that included a Super Bowl win. Holmgren left for more power and much more money in Seattle. In 2002, the Raiders traded coach Jon Gruden to Tampa Bay for a massive amount of draft picks. The Raiders were burned as Gruden led the Buccaneers to a Super Bowl win against Oakland in his first season. In 2007, the Chargers sided with general manager A.J. Smith in his feud with coach Marty Schottenheimer even though the Chargers went 14-2 the season before.
If Harbaugh leaves the 49ers, it wouldn't be the first time a coach and team split despite success.
The highest-paid coaches:
Harbaugh told Sports Illustrated he is not unhappy with his pay, but the man is underpaid considering his massive NFL success. Nine of the 32 NFL coaches in 2013 made at least $7 million. Only five of them had won a Super Bowl.
I'd think it has to bother Harbaugh that Chip Kelly earned $6.5 million in his first NFL season and NFC West rival Jeff Fisher made $7 million in St. Louis. Coaches' salaries are at a premium and, by NFL standards, Harbaugh is underpaid.
The best coaches without power:
He is hypercompetitive and likes to be in control. So, Harbaugh probably isn't always thrilled to defer personnel decisions to Baalke. But I don't sense Harbaugh wanting to be the general manager and making every decision as he said. He is a coach.
I don't see this as a deal-breaker.
There are plenty of great NFL coaches who don't have total power, including Harbaugh's brother, John, in Baltimore. There's also Mike McCarthy in Green Bay, Mike Tomlin in Pittsburgh and Pete Carroll in Seattle. So, a lack of total power in the NFL really isn't a big deal anymore for coaches.
[+] Enlarge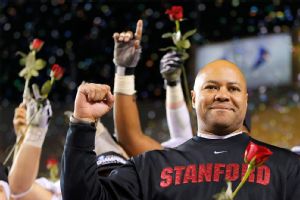 AP Photo/Matt YorkWould Stanford coach David Shaw be a candidate to follow Jim Harbaugh again?
Where could Harbaugh land?
Harbaugh's situation could cause teams to adjust their plans late in the season. I could see many owners prematurely firing a coach to get a shot at Harbaugh if he goes into January unsigned.
But right now, the list of teams that may be making a change next year and may make sense for Harbaugh isn't very long.
Miami and Dallas would be among the biggest suitors. Miami tried to hire Harbaugh before he went to San Francisco. The team has deep pockets, a need for good public relations, and the Dolphins have a good young quarterback in
Ryan Tannehill
. Dallas has big bucks and
Tony Romo
. Harbaugh could like both places.
Other possibilities could include both New York teams and Atlanta (coaching
Matt Ryan
would surely be intriguing). A potential long shot could be Oakland. Harbaugh was an assistant in Oakland and he could stay in the Bay Area. But the Raiders have to find a quarterback and ownership would have to be willing to shell out financially to make it work. Plus, the 49ers would need to get a haul from the Raiders to trade him to their Bay Area rival.
If I had to give odds on the early favorite, I'd look toward Miami.
Who could replace Harbaugh?
It's only logical to think that San Francisco ownership, in the back of its mind, is thinking post-Harbaugh just in case.
The chance of getting draft picks for a coach the 49ers can't come to an agreement with could interest the team next offseason. Also, the idea of front-office peace could be at the forefront as well, especially if things go haywire the rest of this year.
The first place the 49ers would likely look to replace Harbaugh is on the current staff. Because the team has been so successful, I could see the 49ers having interest in staying close to home. Offensive and defensive coordinators Greg Roman and Vic Fangio, respectively, would likely be on the 49ers' list. Defensive line coach Jim Tomsula is a favorite of the front office. He was a candidate when Harbaugh was hired and his players love him.
Here's another name the 49ers could look at -- David Shaw. He replaced Harbaugh at Stanford. I'm sure he wouldn't be afraid to do it again.
Shaw has been steadfast in his desire to stay at Stanford. But if he were ever to leave for the NFL, this would likely be an appealing situation. He and his family could stay in their house and he'd go to a near perfect NFL situation with a franchise quarterback in
Colin Kaepernick
.
There is plenty to unfold in this situation in the next several months. Harbaugh and the 49ers could end it all by coming to a contract extension. But as we have realized early this offseason, it's not that simple.
May, 30, 2013
5/30/13
7:15
PM ET
Any ranking for the 20 greatest coaches in NFL history would leave off at least two of the
22 enshrined
in the Pro Football Hall of Fame.
The ballot I submitted for our "
Greatest Coaches
" project left off eight of them: Guy Chamberlin, Jimmy Conzelman, Weeb Ewbank, Ray Flaherty, Sid Gillman, Bud Grant, Greasy Neale and Hank Stram.
That seems outrageous. However, there were only 20 spots available, and many coaches appeared interchangeable to me outside the top 10 or 12. Current or recently retired head coaches such as Bill Belichick, Tom Coughlin, Mike Holmgren, Mike Shanahan, Tony Dungy, Bill Cowher and Marty Schottenheimer deserved consideration, in my view, but including them meant leaving out others. I also thought Chuck Knox should be in the discussion even though he's long retired and not a Hall of Famer.
Putting together a ballot was difficult. There's really no way to fully analyze the jobs head coaches have done. We must consider won-lost records over time, of course, but little separates some of the coaches further down the list. I figured most panelists would go with Lombardi in the No. 1 spot, but I'm not sure whether that was the case.
Herm Edwards revealed
his ballot

previously. We agreed on George Halas at No. 1. He put Lombardi second. I went with
Paul Brown
and
Curly Lambeau
after Halas, followed by Lombardi, Tom Landry, Bill Walsh, Don Shula, Joe Gibbs, Belichick and Chuck Noll to round out the top 10. The choices got tougher from there.
Edwards had Bud Grant, Dick Vermeil and Marty Schottenheimer in his top 20. He did not have Steve Owen, Holmgren or Cowher. I easily could have justified swapping out some of the coaches toward the bottom of my ballot for others not listed. Edwards and I both had Coughlin at No. 15. Our rankings for Lombardi, Landry, Walsh, Shula, Gibbs, Belichick, Madden and George Allen were within three spots one way or the other. I had Brown and Lambeau quite a bit higher than Edwards had them.
I tried to balance factors such as winning percentage, longevity, championships, team-building and impact on the game. The coaches I listed near the top of my ballot were strong in all those areas. There was room lower on my ballot for coaches whose achievements in some areas offset deficiencies in others.
Halas was a straightforward choice at No. 1 for me. He coached the Chicago Bears for 40 seasons, won six championships and had only six losing seasons. The Hall of Fame credits him as the first coach to use game films for preparation.
"Along with Ralph Jones, his coach from 1930 through 1932, and consultant Clark Shaughnessy, Halas perfected the T-formation attack with the man in motion,"
Halas' Hall of Fame bio
reads. "It was this destructive force that propelled the Bears to their stunning 73-0 NFL title win over Washington in the 1940 NFL Championship Game and sent every other league team scurrying to copy the Halas system."
Brown was my choice at No. 2 because he won seven titles, four of them before the Cleveland Browns joined the NFL in 1950, and he revolutionized strategy while planting a massive coaching tree. Lambeau edged Lombardi in the No. 3 spot on my ballot. He founded the franchise and won with a prolific passing game before it was popular. His teams won six titles during his 31 seasons as coach.
ESPN has revealed the coaches ranking 13th through 20th based on ballots submitted by Chris Berman, Jeffri Chadiha, John Clayton, Colin Cowherd, Mike Ditka, Gregg Easterbrook, Edwards, David Fleming, Ashley Fox, Greg Garber, Mike Golic, Suzy Kolber, Eric Mangini, Chris Mortensen, Sal Paolantonio, Bill Polian, Rick Reilly, Adam Schefter, Ed Werder, Seth Wickersham, Trey Wingo and me.
The eight coaches, beginning at No. 13: Jimmy Johnson, Coughlin, Grant, Stram, Levy, Gillman, Shanahan and Dungy.
Gillman was an interesting one. He spent 10 of his 18 seasons in the AFL and had a 1-5 record in postseason, but there is no denying
his impact on the passing game
. Like other coaches rounding out the top 20, his case for inclusion was strong, but open for debate.
January, 24, 2012
1/24/12
2:37
PM ET
A few notes after participating in a conference call featuring new
St. Louis Rams
offensive coordinator Brian Schottenheimer:
QB coach on way: The Rams did not have one last season. Then-coordinator Josh McDaniels handled that role. Schottenheimer plans to hire one and said the subject was one of the first things he discussed with new coach Jeff Fisher. Schottenheimer: "Because there are so many things that come across your plate as a play caller and coordinator, you need someone for Sam (Bradford) or any of the quarterbacks to go to and be hearing the same voice."
Two backs: Schottenheimer believes in supplementing the starting back with a change-of-pace runner. He emphasized the need for depth everywhere, including that position.
Clemens fan: Look for the Rams to re-sign backup quarterback Kellen Clemens, who was with Schottenheimer on the New York Jets. Schottenheimer described himself as a "big fan" of Clemens and someone who supported the drafting of him.
Philosophy: The offense St. Louis will run has roots in the Don Coryell digit system, though Schottenheimer said his offense would be more concept-based than reliant upon actual numbers. Schottenheimer learned the game from his famous father, Marty, but he initially thought he would fall under the West Coast tree. He pointed to Mike McCarthy, Jimmy Raye and Steve Spurrier as coaches he had borrowed from over the years. He learned the Coryell-based offense from Jerry Rhome in St. Louis during the 1997 season, when Dick Vermeil was coach. Schottenheimer said he likes the way "the formations flow" and the flexibility afforded coaches on game days.
Sam Bradford: Schottenheimer met with Bradford recently and plans to streamline the transition by making sure the terminology associated with a new system isn't a stumbling block. Schottenheimer: "The most important thing is not getting caught up in terminology. That will not be a problem. I understand how smart he is."
On his Jets departure: Schottenheimer had only good things to say about his six seasons with the Jets. He said he was ready for a change and does not think he would have remained in New York even if the Jets had finished the season strong.
The Rams' new defensive coordinator, Gregg Williams, is also scheduled to be available Tuesday. I'm also about to speak with Bernie Miklasz for our weekly spot on 101ESPN St. Louis. Back in a bit.
August, 22, 2011
8/22/11
3:55
PM ET
This will come as a great shock, but one of the first times I attended a Raiders game in Oakland, the guy sitting directly in front of me was wearing a piece of red tape across his back with X-rated instructions for then-
Kansas City Chiefs
coach Marty Schottenheimer.


There's no telling what might have happened if someone decked out in Chiefs gear -- or, worse,
San Francisco 49ers
gear -- had told him where to go.
Alas,
scrapping exhibition games
between the Raiders and 49ers seems like a logical, if unfortunate response to the violence at Candlestick Park on Saturday night.
Games between the 49ers and Raiders throw together the rougher elements of these teams' fan bases in large numbers, with alcohol readily available. The shooting that marred the Raiders-49ers game Saturday night took the usual fighting to more dangerous levels.
There's no compelling reason to recreate circumstances that precipitated widespread, potentially deadly violence for games that don't even count in the standings.
The bottom line: I wouldn't have taken my young kids to a Raiders-49ers game before this shooting incident, based on what they would have seen and heard in the stands. Looks like that won't be an option in the future.
April, 27, 2011
4/27/11
1:45
PM ET
Colleague Kevin Seifert showed
some daring
by sending TCU quarterback
Andy Dalton
to the
Minnesota Vikings
at No. 12 in a recent
ESPN.com mock draft
.
He wasn't arguing for Dalton's value so much as saying the Vikings' need for a quarterback might compel them to take one there.
[+] Enlarge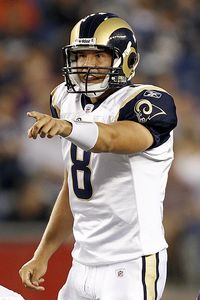 AP Photo/Winslow TownsonDid the Rams "reach" to get quarterback Sam Bradford in the first round last year?
"To me,"
Seifert later wrote
with first-year Vikings coach Leslie Frazier in mind, "there is no better time to jump to the other side than in a coach's first year, giving him a building block for the rest of his program."
The key, of course, is not mistaking anchors for building blocks.
Steve Mariucci was the
San Francisco 49ers
' first-year coach when the team used a 1997 first-rounder for
Jim Druckenmiller
, a blunder softened only by
Steve Young
's presence on the roster. That experience should not directly influence the 49ers' thinking as they consider first-round quarterbacks for new coach Jim Harbaugh, but it's a reference point.
With Harbaugh and the 49ers in mind, I went through recent drafts to see which teams with first-year head coaches used first-round selections for quarterbacks. More precisely, I looked at all first-round quarterbacks since 2000 to see which ones had first-year head coaches.
Six of the last eight first-round quarterbacks --
Matthew Stafford
,
Mark Sanchez
,
Josh Freeman
,
Matt Ryan
,
Joe Flacco
and
JaMarcus Russell
-- joined teams with first-year head coaches. All but Russell remain franchise quarterbacks in their teams' eyes. All but Russell are still playing for their original head coaches. Four of the six had winning records in 2010.
For most of those franchises, value and need lined up pretty well, and first-year coaches benefited.
"If you don't have a quarterback, you're drafting maybe a different kind of running back, maybe a different kind of offensive lineman, than if you have somebody," Lions coach Jim Schwartz told reporters at the scouting combine. "We had
Calvin Johnson
, but our ability to get
Jahvid Best
,
Nate Burleson
in free agency, to draft
Brandon Pettigrew
-- those pieces were because of the quarterback that we have."
We could also argue that the
St. Louis Rams
were better off building their offensive line and other areas of their roster before making
Sam Bradford
the first overall choice in 2010. They could have drafted Sanchez or Freeman instead of defensive end
Chris Long
in 2009, then spent subsequent selections on players to build around one of those quarterbacks.
Bradford and Denver's
Tim Tebow
were the "other" first-round quarterbacks in the eight-man group featuring Stafford, Sanchez, Freeman, Ryan, Flacco and Russell.
In general, getting the right quarterback for a first-year head coach puts a franchise in strong position for the long term. There's no sense forcing the issue, however, because the wrong quarterback can drag down any coach, regardless of tenure.
A coach such as the Vikings' Frazier might have a harder time waiting. His contract runs only three seasons and ownership expects quick results. Harbaugh has a five-year deal with the 49ers. Expectations are high, but there's less urgency for immediate results.
The first chart shows the 14 first-round quarterbacks since 2000 that landed with returning head coaches.
The second chart shows the 14 first-round quarterbacks since 2000 that landed with first-year head coaches.
April, 20, 2011
4/20/11
4:29
PM ET
SANTA CLARA, Calif. -- Highlights from
San Francisco 49ers
general manager Trent Baalke's predraft media session following my quick trip down the West Coast to team headquarters Wednesday morning:
GMs can be compulsive about evaluating talent and other things. Before beginning his interview session with roughly 20 reporters, Baalke arranged into a neat row the 10 audio recorders left before him. "They've never seen my desk," Baalke said to laughter. "They can't put these things all discombobulated."

[+] Enlarge

Jed Jacobsohn/Getty ImagesThe door for Alex Smith to return to the 49ers appears to still be open, as GM Trent Baalke said he's "very comfortable" with Smith.

Baalke dodged early questions about quarterbacks. He opened up more as the session progressed, eventually offering scouting reports on Cam Newton, Blaine Gabbert, Jake Locker and Ryan Mallett. He sees Newton as a highly talented "work in progress" needing time to develop. Gabbert has "rare passing talent" but must adapt from a spread system. Locker comes from a pro-style system but has flourished outside the pocket, an indication he faces an adjustment period. Mallett might have the "best arm talent" in the draft and comes from a pro-style system, but will not fit for every team because of his limited mobility.

If the 49ers do draft a quarterback early, they would prefer to have him get some seasoning before having to start. Baalke pointed to his own experiences working under Bill Belichick, Bill Parcells, Joe Gibbs and Marty Schottenheimer before becoming a GM. "The quarterback position is no different," Baalke said.

Why would the 49ers consider re-signing Alex Smith? Baalke: "There are a lot of reasons. He understands this building. He understands the system that coach is interested in running. [Coach Jim Harbaugh and Smith] obviously hit it off in their discussions. There is a lot of comfort in having somebody, especially when we are in the situation we are in, where there are so many unknowns. Coach is very comfortable with him. I am very comfortable with him. Will Alex choose to come back here? You will have to get him on the phone and ask him that question. But he is certainly a guy that we would like to throw into the mix." Baalke discounted the suggestion that the 49ers could easily acquire a quarterback familiar with the system Harbaugh intends to run.

The 49ers will continue to favor big, physical players. Baalke: "The littler the player, the more special they have to be. They have to have a special trait to overcome their lack of size."
I'll be heading onto the practice field shortly to watch the 49ers' new coaching staff interact with the 50 players invited to a pro day featuring college prospects with ties to the Bay Area. More in a bit.
March, 21, 2011
3/21/11
8:07
PM ET
NEW ORLEANS -- Jim Harbaugh had just finished explaining why he thought football was the greatest game when the giggling began.
We were 13 minutes into a 15-minute interview session tacked onto another long day for the
San Francisco 49ers
' new head coach. Harbaugh had traveled to New Orleans from a charity event in Lake Tahoe, Nev., and he was two days into his first NFL owners meeting.
"It is the greatest game ever invented," Harbaugh had said. "It works every muscle of your body. You go to bed and sleep good after you have played football. You don't think about anything else except scoring a touchdown or making a play when you are out there on the field. I love it."
[+] Enlarge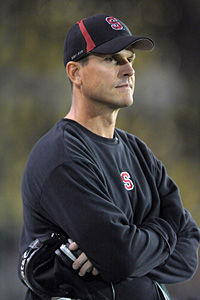 Kirby Lee/Image of Sport/US PresswireIt's clear from a conversation with Jim Harbaugh, who left Stanford to coach the 49ers, that he loves football.
Then came the giggling, which I figured was my cue, a 2-minute warning of sorts. Harbaugh had to be winding down. Hearing owners ramble on about labor relations and arcane rules changes would wear on any coach.
I glanced toward the 49ers' public-relations director and asked, lightheartedly, whether our 15-minute window had closed. There was no time for him to respond.
"It tests a man's courage," Harbaugh said.
At the time, I figured Harbaugh was joking about the courage it would take to extend him past the agreed-upon time limit. But after listening to a tape of our conversation, I realized Harbaugh was merely picking up where he had left off regarding his love for the game. He apparently hadn't noticed my little aside.
"You know, I could go on," Harbaugh said. "You start in the heat and go through a season that ends in the cold. The elements."
Now he was sounding more like an NFL Films narrative, without the dramatic intonations.
"Nothing makes you feel more like a man than when you defeat an opponent in the cold," Harbaugh went on. "Cold, bitter weather. Because now you have also not only beaten an opponent, but you conquered the elements as well. Hundreds of things I love about football."
There were times during our interview when Harbaugh ignored or did not see obvious cues, such as when I opened by asking what it's like to attend the NFL owners meeting as a first-time head coach. It had to be pretty cool.
"Well, it's informative," Harbaugh said. "It's been business-like. Business-like and informative. There is an agenda and people are packing it all in to, so far, a day and a half. There is no frills to this."
A computer could not have answered any more dryly.
Perhaps he had misunderstood. After settling into the job at the 49ers' headquarters, I noted, Harbaugh was now mingling with the other head coaches for the first time. I wondered whether the overall experience made his hiring as head coach sink in a little more. Has it been meaningful to him?
"It hasn't been nostalgic in any way," Harbaugh said. "It's really just trying to keep pace, learn and apply it to the task at hand."
Perhaps it's as simple as this: Football excites Harbaugh. The rest he endures.
Harbaugh's mind appeared to be running at all times. He tapped a pen on the end table next to him throughout the interview -- not rudely or to signal boredom, but more as though he were discharging excess energy. I counted 32 taps of the pen during one 11-second sequence.
Harbaugh is an equal-opportunity tapper. He tapped the pen when he spoke, too, including after I asked him about the importance of the tight end in his offense.
"In our philosophy, the tight end is a needed component because of the physical nature with which you want to play football," Harbaugh said.
His words became measured.
"The tight end. A fullback. Needed. Without those two positions, you tend more to be a finesse type of team."
Now he was rolling again.
"Especially if you can get a fullback, a man who lives a spartan life, who goes to bed and dreams about physical confrontation and getting from Point A to Point B to go hit somebody," Harbaugh said. "If you have that kind of face as your identity for your team, then you can play the kind of football that we are talking about."
Harbaugh traces his offensive lineage to Lindy Infante, who coached him as a player at Indianapolis, and Bill Walsh, who played a leading role in hiring him at Stanford and made famous the basic West Coast system Harbaugh is implementing with the 49ers.
Decades ago, critics slapped the "finesse" label on the West Coast system because it substituted short, precise passes for more manly running plays. The more offenses have gravitated toward three- and four-receiver personnel groupings in recent years, the more smash-mouth Walsh's approach appears by comparison. Harbaugh's background under Infante with Indianapolis and Bo Schembechler at Michigan are at play here. Infante worked under Marty Schottenheimer in Cleveland and Forrest Gregg in Cincinnati.
"It's a belief that the surest ways to win are if you can physically dominate an opponent, out-hustle them -- those are the surest ways to win," Harbaugh said.
Former 49ers coach Mike Singletary couldn't have said it better, but his background as a linebacker complicated efforts at implementation. With Harbaugh, the 49ers have a longtime former NFL quarterback with college head coaching experience and the proven ability to install a successful, creative offense.
"I feel that everything that has led up to this point where I am now -- playing, coaching, growing up with a dad who is a coach, a brother who is a coach, all that time, all those lessons, all that competition -- has prepared me for this one task, this one task of coaching the 49ers," Harbaugh said.
It's a huge challenge. The 49ers haven't been to the playoffs in nearly a decade. They won the last of their championships after the 1994 season.
Harbaugh won't be the only one giggling if he can turn them around.
January, 27, 2010
1/27/10
4:32
PM ET
The Rams were the fifth team of the free-agency era to finish with a 1-15 record. Three of the other four won at least seven games the following season. None selected a quarterback in the first round of the next draft.
Here's a quick look at how those four other 1-15 teams responded (I might expand on this down the road):
Three of the four fired their head coaches. Three of the four signed veteran starting quarterbacks the next off season (the Jets already had one). Something to consider as the Rams decide how to acquire their next quarterback and how to proceed with the first overall choice of the draft.
October, 13, 2008
10/13/08
5:18
PM ET
Posted by ESPN.com's Mike Sando
A follow-up on Mike Nolan's hotly contested replay challenge against the Eagles in Week 6: His overall challenge record is 12-17 in three-plus seasons as a head coach, but the record is only 6-13 for home games. He lost two challenges during the 40-26 defeat at Candlestick Park.

Nolan
These numbers are according to me. I have tracked replay reversal information by team, coach, referee and replay official for all games since 2003. I check the numbers against certain league totals each offseason.
By my count, the Cowboys' Wade Phillips is the only head coach with a winning reversal rate among coaches with at least 10 coach-initiated challenges since 2003. I've got Phillips at 8-3 since 2003 after he won two challenges Sunday (this includes 4-0 on the road).
Mike Shanahan is next at 25-26 (.490), followed by Jeff Fisher (13-14, .481), Marty Schottenheimer (12-14, .462), Mike McCarthy (6-7, .462), Dick Jauron (11-13, .458), Bill Parcells (10-13, .435), Scott Linehan (8-11, .421), Nolan (.414) and Tom Coughlin (16-24, .400).
Coaches have initiated more challenges at home. They have succeeded in a lower percentage of home challenges. Perhaps they take chances challenging calls at home because they feel more confident about winning those games.
Nolan isn't the only one with a particularly poor challenge record at home. I've got Romeo Crennel with an 0-13 challenge record at home, but 4-6 on the road. Gary Kubiak is 0-6 at home and 4-9 on the road. Jim Haslett is 1-11 at home, 3-6 on the road. All since 2003.
Update: This entry originally listed Nolan's challenge record as 12-18. I changed it to reflect 12-17, which is what the league lists. In re-checking gamebooks, I had recorded an extra challenge during the 2005 season.
October, 11, 2008
10/11/08
10:56
AM ET
Posted by ESPN.com's Mike Sando
The Rams haven't won on the road outside the division since Marc Bulger completed 27 of 33 passes at New Orleans on Nov. 11, 2007.
The 37-29 victory meant a lot to the Rams' then-defensive coordinator, Jim Haslett, who was facing the Saints for the first time since serving as head coach in New Orleans. Haslett is back in the head-coaching role for the Rams as they head to Washington in Week 6. His offensive coordinator, Al Saunders, is facing the Redskins for the first time since Washington fired him after last season.
Anthony Brown, who writes about the Redskins for MVN.com, suggested a Rams upset could hinge on this and other issues relating to karma. The Redskins previously lost return matchups against Marty Schottenheimer, Brad Johnson and Norv Turner. Brown also notes that the Redskins are favored for the first time this season -- by 13 points, no less -- and that Johnson's 2003 redemption victory against the Redskins fell on Oct. 12.
First-year Redskins coach Jim Zorn does have a long history of success against Haslett, winning the last seven meetings between each man's teams. Zorn was with Seattle when the Seahawks swept Haslett and the Rams in 2006 and 2007. Zorn and the Seahawks also opened the 2003 and 2004 seasons with victories over the Saints when Haslett was New Orleans' head coach. Zorn was with Detroit in 2000 when the Lions beat Haslett and the Saints in the season opener.
September, 23, 2008
9/23/08
6:45
PM ET
Posted by ESPN.com's Mike Sando
Jim Thomas of the St. Louis Post-Dispatch had plenty of ground to cover in his Rams chat today. Scott Linehan's job security wasn't the only issue after the team benched Marc Bulger. Asked about potential coaching candidates Dick Vermeil, Marty Schottenheimer and Bill Cowher, Thomas said he thought only Schottenheimer would take it, if offered.
Kent Somers of the Arizona Republic breaks out reasons for optimism about the Cardinals and reasons for concern. He spells the word "juggernaut" correctly, historically a concern in Cardinals-related stories. He's wondering when a third receiver will emerge with meaningful stats. I thought Steve Breaston made his contributions count against San Francisco and Miami, but there hasn't been much from which to choose.
Matt Maiocco of Instant 49ers takes a player-by-player look at the 49ers' contributions during the Week 3 game against Detroit. He covers everything from Billy Bajema's terrific block on Frank Gore's 33-yard run to Barry Sims' big block on Gore's 4-yard touchdown run. Also, Takeo Spikes again gets more time than Jeff Ulbrich.
Dave Mahler of KJR-AM radio in Seattle talks with injured Seahawks receiver Nate Burleson. This is an audio file, just FYI. Burleson was in Alabama following knee surgery.
Michael Steffes of Seahawks Addicts takes a look at a few unresolved issues for the team, including defensive tackle Red Bryant and Jim Zorn's replacement. He's a bit skeptical on reports about Bryant after finding out Courtney Taylor wasn't as good as advertised. To be fair, the Taylor reports assumed he might serve as the fourth receiver this season, not a starter.
September, 12, 2008
9/12/08
10:15
AM ET
Posted by ESPN.com's Mike Sando
Richard from New York writes: Mike, apologies if you've covered this during the preseason, but could you explain again how waivers work? Doesn't this mean that another team could sign the player? Why would a team "waive" one of its draft picks so early on (e.g., Seahawks/Forsett)? I thought Forsett was signed to a multiyear deal?
Mike Sando: Not a problem, Richard. It's a good question and something we should brush up on every so often.
Late-round draft choices fail to earn roster spots somewhat routinely. Justin Forsett was a seventh-round choice. NFL teams drafted 80 players in the sixth and seventh rounds this season. Half those players were not on 53-man rosters as of midweek.
Contracts can include guaranteed money, but the contracts themselves are not guaranteed. An NFL team can terminate a veteran's contract, making the player eligible to sign a new contract with another team.
Nonveterans can be waived. Another team can file a waiver claim. If more than one team claims a player, the team with the worst record in the previous season prevails. The league then awards the waived player to the claiming team. The claiming team inherits the waived player's contract.
August, 8, 2008
8/08/08
9:20
AM ET
Posted by ESPN.com's Mike Sando
Danny O'Neil of the Seattle Times sizes up Seahawks rookie running back Justin Forsett as tougher than his diminutive frame might indicate. Forsett has performed well during camp so far. A strong exhibition season could force the Seahawks to consider keeping him. At practice the other day, I asked Mike Holmgren about the numbers at running back. He said they usually go with a combined 11 players at running back and receiver (six of one, five of the other). Forsett would likely be the sixth running back if Seattle kept that many. Jordan Kent might be the sixth receiver if Seattle kept that many.
Matt Barrows of the Sacramento Bee explains why J.T. O'Sullivan appeals to 49ers coach Mike Nolan. The quarterback's businesslike demeanor and command of the offense set him apart from the other quarterbacks in camp. The team wants to see how that translates from the practice field to a live situation.
Tom FitzGerald of the San Francisco Chronicle compares the 49ers' quarterback auditions to American Idol, minus Paula Abdul. Former starter Alex Smith is the second quarterback. Smith: "It's weird. It's certainly different. Even today, not taking reps with the ones (the first team, in the last practice before a game) is something different."
Also from FitzGerald: Niners receiver Isaac Bruce might not play in the exhibition opener at Oakland Friday. The team wants Bruce rested for the regular season. Fellow receivers Bryant Johnson (hamstring) and Ashley Lelie (calf) are resting injuries. Keep an eye on rookie receiver Josh Morgan and second-year receiver Jason Hill.
Scott Bordow of the East Valley Tribune describes Cardinals quarterback Matt Leinart as even better than his impressive stat line. I'll have more on Leinart later this morning.
Kent Somers of the Arizona Republic singled out several Cardinals for praise following the team's exhibition opener against the Saints. Somers: "Quarterback Matt Leinart, in his third year, was sharp. Receiver Steve Breaston, in his second season, was dynamic. And a handful of rookies, including running back Tim Hightower, defensive end Calais Campbell and linebacker Ali Highsmith, turned in some big plays."
Also from Somers: Highs and lows from the Cardinals' performance. Rookie defensive end Kenny Iwebema had a sack. From what I saw, Iwebema appeared active.
Also from Somers, II: A notebook with items about the Cardinals' penalty problems and coach Ken Whisenhunt's belief that Arizona has better depth than the score might indicate. The Saints outscored the Cardinals by a 17-0 count in the second half. Arizona's depth is an issue.
Bob Young of the Arizona Republic channels comedian Jeff Foxworthy with a column entitled, "You might be a Redbird if ..." Sample material: "If the Bears are who you thought they were, you might be a Redbird." Be sure to check out the comments on this one. As reader Chocolatemilk countered: "If you're making reference to a comedy bit from 1992 in a 2008 sports story, you might be Bob Young." Not bad.
Darren Urban of azcardinals.com singles out Dominique Rodgers-Cromartie, Steve Breaston and Jerheme Urban among those Cardinals to play well against New Orleans. On the flip side, free safety Antrel Rolle muffed a punt while getting work as a return specialist.
Mike Tulumello of the East Valley Tribune points out the Cardinals' 0-5 record in exhibition games under Whisenhunt. But with Leinart's strong showing, the team doesn't have to worry about increased calls for backup Kurt Warner, who did not play against the Saints.
Eric Williams of Seahawks Insider breaks down some key matchups and opportunities for Seattle players entering the exhibition opener at Minnesota. He wonders if Kyle Williams' development might make it tough for injury-plagued offensive lineman Floyd Womack to earn a roster spot this summer. A fair question.
Frank Hughes of the Tacoma News Tribune says the Seahawks have brought a fatter playbook to camp, giving the offense a better chance against a veteran defense returning all 11 starters. Also: Former Cowboys running back Julius Jones is fired up about finally getting into a game situation with his new team. That would be a Texas-sized chip on Jones' shoulder.
Jim Moore of the Seattle Post-Intelligencer says the NFL borrowed from the Seahawks for its recently released policy on fan behavior at games. Years ago, I remember sitting in the stands at the L.A. Coliseum while marijuana smoke wafted through the stands. I also remember sitting behind a fan wearing an expletive-laden sign telling then-Chiefs coach Marty Schottenheimer what to do with himself. The environment was rated NC-17. The Seahawks' motto for fan behavior is, "Keep it PG."
Clare Farnsworth of the Seattle Post-Intelligencer says the Seahawks aren't saying how much quarterback Matt Hasselbeck will play against the Vikings tonight. Hasselbeck suffered a knee injury playing against the Vikings in 2006. He wasn't happy with Vikings linebacker E.J. Henderson, the player who rolled into his legs.
Greg Johns of the Seattle Post-Intelligencer says former Browns quarterback Charlie Frye hasn't forgotten what happened to him in Cleveland after only one game last season. Hasselbeck helped Frye adjust upon arriving in Seattle. Offensive coordinator Gil Haskell on the Seahawks No. 3 quarterback: "He's a very smart guy and he wants to be a good player, but the system takes awhile to learn. Trent Dilfer had a tough time with it. Matt had a little bit of a tough time with it. But (Frye) can definitely throw, so we'll go from there."
Bill Coats of the St. Louis Post-Dispatch said the Rams liked what they saw during practices with the Titans. Coach Scott Linehan liked how the Rams stood up to the Titans during a fight-marred practice session.
Jim Thomas of the St. Louis Post-Dispatch was there when former Titans Drew Bennett and Jacob Bell, now with the Rams, caught up with their former teammates.