March, 31, 2014
Mar 31
1:30
PM ET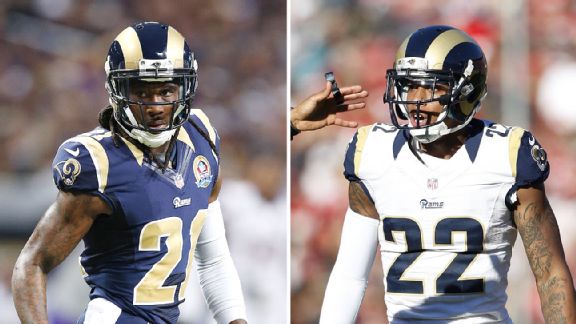 Getty ImagesThe Rams have been pleased with the work of CBs Trumaine Johnson (22) and Janoris Jenkins.
The
St. Louis Rams
said goodbye to cornerback
Cortland Finnegan
early in free agency, releasing him in a move that will save them $7 million in salary-cap space. Safety
Darian Stewart
signed with the
Baltimore Ravens
. Fellow safety
Matt Giordano
remains unsigned.
None of those three moves will do much to hurt the fortunes of the Rams' secondary in 2014, but they have left the team short on experience in the defensive backfield. At cornerback,
Trumaine Johnson
and
Janoris Jenkins
, each entering his third season, are the longest-tenured NFL players. Likewise at safety, where
Matt Daniels
and
Rodney McLeod
enter their third years.
Under coach Jeff Fisher and general manager Les Snead, the Rams have not been afraid to roll with young players and, after staying out of the fray for free-agent defensive backs, it appears that's one area they will do so again in 2014.
According to Fisher, the team's lack of veteran help on the back end of the defense wasn't necessarily by choice but also doesn't have him concerned, either.
"It would have been nice [to add a veteran], but honestly that market got priced out of what we were looking for," Fisher said. "And again, we've got two young safeties coming into their second year as starters. Not disappointed in the improvement we saw out of Cody [Davis], got Daniels coming back, the potential to draft and there's still going to be experienced safeties out there. Not disappointed.''
There may still be some experienced safeties and even corners on the market, though those shelves have mostly been picked over at this point. It's going to be hard to find starting-caliber players anywhere but the draft at this point in the offseason. Which means the Rams' secondary could well bear a striking resemblance to its 2013 receiving corps, relying on players with no more than two years of experience to handle the bulk of the snaps.
The Rams haven't completely ignored the defensive backfield this offseason, rolling the dice on cornerback
Greg Reid
, an under-the-radar signing they hope can pay off big as a potential solution for the nickel role next to Jenkins and Johnson.
Brandon McGee
, a fifth-round pick in 2013, also has drawn positive reviews from Fisher and Snead and could be part of the mix.
It's probably safe to assume the Rams will add some help at cornerback at some point in the draft, though it remains to be seen how early. Reports over the weekend indicated Oklahoma State cornerback
Justin Gilbert
is scheduled to arrive in St. Louis this week for a visit. He's considered one of the top corners available in May's draft.
Either way, the Rams do appear quite confident in the ability of Jenkins and Johnson to take another step forward.
"I think the corners can always improve. I'm pleased what we got out of them last year," Fisher said. "Jenks had a couple issues with the ball, he got tangled up in the Seattle game on the
Golden Tate
touchdown and a couple others, but was productive week in, week out. Tru, on the other hand, didn't give up a lot of plays, the balls were in front of him, thought he tackled well, it's been good to see Tru in the building, he's committed, he's working hard this offseason. I think he's really growing up and maturing, think you're going to see a lot more improvement out of him.''
Meanwhile, at safety, the Rams believe in
T.J. McDonald
at one starting spot but his running mate remains a spot up for debate. McLeod started every game last season and proved valuable if for no other reason than his versatility to play in the slot when needed. But the Rams are still in serious need of a ball-hawking, rangy safety to complement McDonald.
That's why one of the most consistently predictable mock draft selections found anywhere is the Rams taking Alabama's
Ha Ha Clinton-Dix
and, to a lesser extent, Louisville's
Calvin Pryor
, with the No. 13 overall pick.
Armed with 12 picks in this year's draft, it's a safe bet the Rams will select at least one corner and one safety somewhere along the way. All that remains to be seen is whether those positions are enough of a priority for those picks to happen sooner than later.
September, 15, 2013
9/15/13
5:36
PM ET
ATLANTA --
Observed in the locker room after the St. Louis Rams' 31-24 loss to the Atlanta Falcons.
C. Long
Chris Long frustrated with offside penalty
: On the game's opening drive, the Rams appeared to get a quick three-and-out when tight end
Tony Gonzalez
was dropped for no gain on third-and-12 at Atlanta's 18. A flag came out on the play, and Rams defensive end Chris Long was called for offside. The drive stayed alive, and the Falcons scored to take an early 7-0 lead. On the play, Atlanta right tackle
Lamar Holmes
appeared to move early, causing Long to jump and the flag to come out. Lined up in a two-point stance, the normal reaction to a snap would force Long to come off late, not early, leaving Long stunned when the call went against him.
"Absolutely I was surprised," Long said. "They'll watch tape, too, and they'll get better just like we will."
Long said he was offered no explanation for the call.
Saffold on crutches:
Right tackle
Rodger Saffold
left the game with a knee injury about halfway through the second quarter and did not return. Injury issues have been a persistent problem for Saffold, and Rams coach Jeff Fisher said Saffold has further evaluations that need to be made before determining his status. Saffold was moving around the locker room on crutches after the game.
Daniels fractures ankle:
Rams safety
Matt Daniels
clearly doesn't have much luck when it comes to injuries. He suffered a fractured ankle in the first quarter and will need to have surgery as soon as possible, according to Fisher.
Penalties killer:
The Rams once again had penalty problems, racking up seven for 53 yards. Most egregious, though, were the flags that cascaded down upon the special teams. Those flags drew the ire of Fisher after the game. The Rams got good work from the special teams last week, but the group posted four penalties for 33 yards. More often than not, the result of those penalties left the Rams with dreadful field position.
August, 30, 2013
8/30/13
12:00
PM ET
A few, quick leftover observations from the
Rams' 24-21 win
against Baltimore in Thursday night's preseason finale:
• Rams coach Jeff Fisher was thoroughly disgusted by the continued mistakes of his team in the first half against the Ravens. They finished with 17 penalties for 123 yards and Fisher voiced his displeasure at halftime. Although the bulk of the penalties were coming from players who likely won't make the final roster, it has to be a concern when you fumble three times in the opening five minutes and each fumble came from a player (receivers
Brian Quick
and
Tavon Austin
and running back
Isaiah Pead
) expected to contribute in the regular season.
[+] Enlarge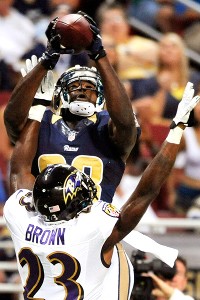 AP Photo/Bill BoyceBrian Quick had a busy night Thursday with five catches on six targets.
• Quick did bounce back with a solid performance in the first half as a repeated target of quarterback
Kellen Clemens
. He finished with five catches for 60 yards while being targeted six times. He probably should have hauled in that sixth catch too as he struggled to drag his feet in bounds and haul it in at the same time. Quick is hopeful that he's done enough to earn a role in the offense when the season starts. I believe he's earned a chance to get worked in but I also believe that Fisher isn't going to put Quick into that role on a more permanent basis until he's convinced that Quick can be consistently successful.
• In the competition for the backup quarterback job, Clemens and
Austin Davis
each probably had his best outing of the preseason though Clemens' effort was probably the best by either during the exhibition slate. He kept plays alive with his legs and was getting the ball downfield on a consistent basis. It still seems logical that the Rams would do what they did last season and release Clemens and bring him back after Week 1 on a nonguaranteed contract but he certainly helped his cause to be the No. 2 guy if the Rams opt to go that route.
• Safety
Matt Daniels
was all over the place in Thursday night's game, coming up with an interception, making tackles on defense and special teams and just being around the ball in general. The competition at safety is an interesting one and Daniels was probably in good shape to make the 53 before last night but Daniels' efforts might have sewed up a spot.
• Competition for a possible sixth receiver spot didn't gain a ton of clarity as
Justin Veltung
and
Nick Johnson
both had their moments. There's still a real chance the Rams will only keep five and Veltung and Johnson could both go to the practice squad.
• Nice night for tight end
Mike McNeill
, who also finds himself in a battle for roster positioning. It's entire possible the Rams keep five tight ends, especially if they only keep five receivers. McNeill would almost certainly be one if they keep five but his two catches for 48 yards probably bolstered his chances to be No. 4 in the pecking order if the Rams opt to keep that many.
• Should the Rams keep nine defensive linemen as they did last season, they have a tough choice between the versatile
Mason Brodine
and rookie
Gerald Rivers
. Brodine scooped up a fumble and generated some pressure against Baltimore. Rivers was active again, coming up with a sack and six tackles. The decision boils down to whether the Rams believe they can sneak Rivers through to the practice squad given the strong film he's put out for other teams to see. If they do, Brodine probably makes it because of his ability to play inside and out. If not, Rivers might make the 53 outright.
• Will the Rams keep four running backs, not including the suspended Pead?
Daryl Richardson
,
Zac Stacy
and
Benny Cunningham
appear locked in for roster spots. I mentioned
Chase Reynolds
as a possibility to make it for at least one week in Pead's absence and he did nothing to hamper that last night. Reynolds had a fumble recovery and scored the winning touchdown on a 17-yard catch and run late. He's been a staple on the first unit special teams throughout preseason and might have earned a job on the initial 53.
August, 29, 2013
8/29/13
11:40
PM ET
Looking back on five things to watch in the St. Louis Rams' 24-21 win against Baltimore in Thursday night's preseason finale.

1.Backup quarterback quandary.
Starting quarterback
Sam Bradford
didn't play a single snap as the Rams protected him in the final preseason game. That meant plenty of work for backups
Kellen Clemens
and
Austin Davis
. Clemens got first crack at the job, playing the entire first half. And though Baltimore played none of its starters, Clemens made the strongest case either backup has made in this preseason, finishing 13-of-18 for 188 yards for a rating of 105.8. Davis didn't have as much success, though he did lead two scoring drives, finishing 6-of-13 for 50 yards with two touchdowns.
2. Sitting starters.
Rams coach Jeff Fisher followed through on his statement that he'd make some "adjustments" to the starting lineup for the preseason finale. The majority of his usual starters did not start or even play a snap in the game. In fact, only six presumptive starters – guard
Chris Williams
, tackle
Rodger Saffold
, receiver
Austin Pettis
, cornerback
Janoris Jenkins
, linebacker
Alec Ogletree
and safety
T.J. McDonald
– played. If you include safety
Rodney McLeod
, who is competing with
Darian Stewart
for a starting job, it brings the total to seven.
3. Coming out healthy.
From all appearances, the Rams made it through the game and the preseason without suffering any serious injuries to a key contributor. Tight end
Cory Harkey
will miss a bit of time from his injury suffered last week against Denver, but the few starters who did play against the Ravens made it out of the game OK.
4. Last chance.
A full evaluation of players who might have earned or cemented roster spots won't come until the final cuts are made tomorrow or Saturday, but a few players made some good cases. Safety
Matt Daniels
might have made the best. Aside from a missed tackle on a Baltimore touchdown run, Daniels was all over the field. He finished with two tackles, two passes defended and an interception in unofficial press-box statistics. Daniels was likely in good shape to make the final roster before Thursday night. He seemed only to help himself with his performance.
5. Running in place.
Starter
Daryl Richardson
did not play, a logical move considering the Rams still need to sort out their backup running back situation. Once again, there wasn't much room to run as the backups on the offensive line couldn't create many holes.
Zac Stacy
and
Isaiah Pead
got the first opportunities. Pead got off to a rocky start, fumbling the opening kickoff before the Rams recovered. He carried seven times for 27 yards and caught two passes for 16 yards. Stacy didn't have much room to run but finished with 37 yards on 11 carries and scored on a 1-yard run. He could become a factor in short-yardage and goal-line scenarios given his size and style.
Benny Cunningham
got some limited late reps and was the most effective of the group. He finished with 76 yards on eight carries and one grab for 7 yards as he likely cemented a spot on the roster.
Chase Reynolds
even got in on the act with a 17-yard catch and run to give the Rams the lead in the fourth quarter.
August, 5, 2013
8/05/13
8:27
PM ET
EARTH CITY, Mo. -- The Rams returned to the practice field Monday afternoon after a day off Sunday.
Unlike last week when they returned to the practice field on the heels of a day off, Rams coach Jeff Fisher was pleased with how his team did in bouncing back from a little down time.

"(It was) better than the last time we had a day off," Fisher said. "Last time it took us awhile to get 'em going. We talked about it and they came out and started making plays to start practice. I was pleased."
The turnaround this week will be short as the Rams prepare to travel to Cleveland for the preseason opener on Thursday night.
As is the norm, there won't be a whole lot of planning or scheming over the next couple of days.
"We are just going to carry some basic things into the game," Fisher said. "We have to prepare for their defensive front out of fairness to our guys and the quarterback so we'll do that and then try to keep things pretty simple."
In other Rams' news:
Safety Matt Daniels came off the physically unable to perform list and returned to practice Monday afternoon for the first time this camp. He's returning from a knee injury suffered against New England on Oct. 28 of last year but is unlikely to play Thursday night.
Receiver Nick Johnson (hamstring) and defensive tackle Al Lapuaho (hand) also returned for Monday's workout.
Isaac Bruce, the team's all time leader in nearly every receiving category, is still in town working with the team's young receivers. Torry Holt, Bruce's long time running mate, is also in town as he prepares to provide analysis for Thursday night's broadcast. Former Rams tackle Grant Williams was also in attendance Monday.
Wideout Brian Quick has been up and down in camp but Monday was one of his up days. He caught a long pass down the middle in team drills in which he elevated over cornerback Quinton Pointer for a big gain and followed with catch deep down the sideline in a soft spot in the zone.
It was running back Isaiah Pead who made the catch of the day, outmuscling linebacker Alec Ogletree for the ball and tapping his feet in the corner of the end zone for a touchdown during red zone work.
Cornerback Janoris Jenkins, who has had some major battles with receiver Chris Givens during camp, came up with an interception after battling Austin Pettis for a pass. Jenkins batted the ball a few times before ultimately hauling it in.
The Rams continue to take precaution with some of their veteran offensive linemen. Center Scott Wells, guard Harvey Dahl and tackles Jake Long and Rodger Saffold get regularly breaks during the course of practice in an effort to keep them fresh.
There will be one more practice Tuesday afternoon before the Rams depart for Cleveland on Wednesday.
July, 26, 2013
7/26/13
7:59
PM ET
Two of the NFC West's top receivers,
Michael Crabtree
and
Percy Harvin
, headline a list of players declared physically unable to perform (PUP) as training camps gain momentum.
PUP designations carry different meanings at different times of the year. With that in mind, now is a good time to freshen up on the implications.
Players on PUP lists entering camp continue counting against the 90-man roster limit. They cannot practice while on the list. However, their teams can activate them from the list at any time before the mandatory roster reduction to 53 players, provided the players pass a physical exam.
This year, teams must reduce to 53 players by 6 p.m. ET on Aug. 31.
Players remaining on PUP lists at the reduction to 53 players must remain on the list for their teams' first six games. They do not count against the 53-man roster limit during that time. After six games have passed, players on PUP have a three-week window to resume practicing. Once a player begins practicing within that window, the team has another three weeks to activate the player from the PUP list onto the 53-man roster.
In effect, a player on the PUP list at the reduction to 53 players could return after his team's sixth game or as long as six weeks after that. The NFL had discussed expanding the three-week window for practicing by two weeks. I'm checking on the status of that proposal, which would have required collaboration with the NFL Players Association.
Update:
The window has indeed been extended from three weeks to five weeks, according to the NFL.
Thirteen players from the NFC West are on PUP lists. Five others are on non-football injury (NFI) lists. The rules for NFI mirror those for PUP, the difference being that players on NFI lists suffered injuries unrelated to football. For example, the
San Francisco 49ers
recently activated defensive lineman
Lamar Divens
from the NFI list. They did not disclose the source of his injury, but teammate
Ahmad Brooks
had struck him in the head with a bottle in June, according to authorities.
Separately, the 49ers have also activated linebacker
Darius Fleming
and receiver
Kyle Williams
from their PUP list.
December, 11, 2012
12/11/12
5:29
PM ET
Jeff Fisher's addition as head coach has surely helped the St. Louis Rams become more competitive this season. The team's current three-game winning streak is its longest since 2006.
Here is something else to consider beyond coaching: The Rams have zero established starters on their injured reserve list heading into the final three weeks of the season. That is down from as many as six at this point last season, although some of those players were on their way out for reasons related to performance.
There are three Rams players on IR at present, down from 12 following Week 14 last season.
The current injury situation in St. Louis more closely approximates 2010, when the Rams were hurting at wide receiver but healthy enough elsewhere to have a 6-7 record at this point. The current team is 6-6-1 heading into Week 15.
Many other variables beyond injuries differentiate a team from season to season, of course. But in looking at the chart, we can see why Arizona is having a hard time snapping what is now a nine-game losing streak.
The Cardinals have been the most injured team in the NFC West this season and it's not close. Their most significant injury, to quarterback
Kevin Kolb
, doesn't even show up in the chart. Kolb has not played since Week 6. The team has continued to carry him on its active roster in case he can return.
The numbers next to players' names in the chart show how many estimated starts each will have missed by season's end. I assumed Arizona's Ryan Williams would have started at running back until
Beanie Wells
' return. I also assumed Rams rookie Rokevious Watkins would have started at left guard if available for the final 15 games. That might be overestimating his role, but the situation appeared dire early in the season.
October, 10, 2012
10/10/12
7:37
PM ET

Arizona Cardinals:
Life without the injured
Ryan Williams
at running back begins Sunday against a Buffalo defense that allowed 621 yards to San Francisco, including 311 on the ground. Utility back
LaRod Stephens-Howling
expects to return from a hip injury. He was limited Wednesday. Arizona will presumably incorporate Stephens-Howling into its no-huddle offense and into its spread passing sets. He's not an every-down back, but when healthy, Stephens-Howling provides big-play ability in doses. The Cardinals did not sign a veteran back after losing Williams (for the season) and would-be starting back
Beanie Wells
(until Nov. 25).
William Powell
and
Alfonso Smith
are the leading candidates to carry the ball on early downs. Defensive end
Darnell Dockett
(hamstring) played sparingly in Week 5 and was limited Wednesday. Tight end
Todd Heap
practiced on a limited basis. A knee injury has kept Heap out for the past three games. Cornerback
Greg Toler
, who pulled up with a hamstring injury while allowing a touchdown pass at St. Louis, did not practice. Cornerback
Michael Adams
also missed practice with a hamstring injury. The Cardinals figure to need their cornerbacks against Buffalo, a team that uses three-plus receivers extensively. Fullback
Anthony Sherman
(22 snaps at St. Louis) and outside linebacker
Quentin Groves
(six snaps) also sat out. Sherman has a knee injury. Groves has a hamstring injury. Quarterback
John Skelton
is back from his ankle injury, but he's not full strength.
Kevin Kolb
remains the starter.

St. Louis Rams:
Leading receiver
Danny Amendola
will miss roughly six weeks, beginning with St. Louis' game at Miami. That will probably affect the Rams' ability to throw quickly and productively against pressure, and to convert on third down. Amendola ranks third in the NFL behind
Wes Welker
and
Victor Cruz
with 24 receptions from the slot. He made eight of those receptions on third down. Safety
Quintin Mikell
practiced without limitation Wednesday less that a week after suffering a concussion against Arizona. Linebacker
Mario Haggan
(thigh), fullback
Brit Miller
(ankle) and left tackle
Rodger Saffold
(knee) did not practice. Saffold has missed three games and was expected to miss at least four. Defensive linemen
William Hayes
(back) and
Eugene Sims
(head), key contributors both, were limited in practice.

San Francisco 49ers:
Coach
Jim Harbaugh
and quarterback
Alex Smith
told reporters they're
not concerned
about the injury Smith suffered to the middle finger on his throwing hand. The injury did not appear serious, but it was initially a concern. This could be the week San Francisco debuts running back
Brandon Jacobs
, who has not played since suffering a knee injury during camp. Letting Jacobs suit up against the
New York Giants
, his former team, would seem fitting. The 49ers are getting good play from their existing backs, however, and Jacobs doesn't offer much on special teams. One question is whether the 49ers could use Jacobs in short-yardage situations.
Frank Gore
has two first downs on six third-and-1 carries this season.
Anthony Dixon
has one first down (a touchdown) on his only third-and-1 carry. Gore converted the team's only fourth-and-1 rush. Add it up and San Francisco has converted four times in eight short-yardage chances, the same figures Jacobs posted with the Giants during the 2011 regular season.

Seattle Seahawks:
Center
Max Unger
will join the injury report for Seattle this week with a hip injury that was expected to keep him from practicing Wednesday. Former starting guard
John Moffitt
, a contingency at center when healthy, was also among those missing practice. A knee injury will keep him inactive this week. Eight players have started on the offensive line for Seattle this season, tied with Jacksonville for most in the league. Seattle does have options at center.
Lemuel Jeanpierre
has started there. Defensive linemen
Clinton McDonald
(groin) and
Jaye Howard
(foot) did not practice. The team continues to list running back
Marshawn Lynch
as limited with a back injury. He has 121 touches this season, second-most in the NFL behind
Arian Foster
(142). Lynch had 313 touches last season.
September, 9, 2012
9/09/12
12:05
PM ET
August, 25, 2012
8/25/12
2:00
PM ET
Three things to watch for Saturday night in the St. Louis Rams' third exhibition game, this one at Dallas (8 p.m. ET):


1. Center of attention.
Veteran center
Scott Wells
makes his Rams debut after recovering from knee surgery. Wells was one of the Rams' key free-agent signings. The team expects Wells to take pressure off quarterback
Sam Bradford
by handling more of the pre-snap responsibilities. This game gives Wells and Bradford a chance to work together in a game situation. Getting through the game healthy will be important for Wells, who is 31 years old and has started 100 regular-season NFL games. Wells did not miss a start in his final two seasons with Green Bay.
2. Offensive draft choices.
The Rams already know first-round defensive tackle
Michael Brockers
and second-round cornerback
Janoris Jenkins
are going to start. They feel very good about those players' ability to contribute right away. There's less certainty surrounding the team's offensive rookies. Running back
Isaiah Pead
, receiver
Brian Quick
and receiver
Chris Givens
are the three primary ones to watch. Running back
Daryl Richardson
, a seventh-round pick, and guard
Rokevious Watkins
(fifth round) could also factor. Coach Jeff Fisher has indicated younger offensive players could get into this game earlier than usual. How will they fare?
3. Roster battles.
Teams must reduce from 90 to 75 players by Monday. Tight end and safety are a couple positions with question marks around the fringes of the roster. Tight end
Mike McNeill
caught my attention -- and just about every pass thrown his way -- early in training camp. Safeties
Darian Stewart
and
Craig Dahl
aren't expected to play against the Cowboys. The Rams were excited about signing
Matt Daniels
as an undrafted free agent. Another undrafted free agent,
Rodney McLeod
, could get an opportunity as well. The tough decisions come on the reduction to 53 players, scheduled for Friday.
July, 3, 2012
7/03/12
10:00
AM ET
Our two-day look at NFC West rosters continues with projections for the St. Louis Rams' defense and special teams.
Defensive linemen (13)

Average number kept since 2003:
8.8
Safest bets:
Chris Long
,
Michael Brockers
,
Kendall Langford
,
Robert Quinn
Leading contenders:
William Hayes
,
Eugene Sims
,
Darell Scott
,
Matt Conrath
,
Jermelle Cudjo
Longer odds:
Trevor Laws
,
Jamaar Jarrett
,
Cornell Banks
,
Scott Smith
Comment:
The Rams have three relatively recent first-round draft choices starting on the line, plus Langford, a free-agent addition from Miami. The position should be a strength for years to come. Brockers and Langford give the team needed bulk in the middle. It's tough to know what the new coaching staff thinks about some of the other talent. Hayes received a $100,000 roster bonus, an indication the team has hopes for him. Sims and Scott each played more than 20 percent of the defensive snaps last season. Cudjo was on the roster but did not play.
Linebackers (10)
Average number kept since 2003:
6.3
Safest bets:
James Laurinaitis
,
Jo-Lonn Dunbar
Leading contenders:
Rocky McIntosh
,
Mario Haggan
,
Josh Hull
,
Aaron Brown
,
Sammy Brown
,
Alex Hoffman-Ellis
Longer odds:
Justin Cole
,
Noah Keller
Comment:
Laurinaitis is the only mainstay player at the position. Dunbar projects as a starter after the Rams paid a $1 million signing bonus to him in free agency. McIntosh and Haggan are veteran newcomers with starting experience. They're stopgaps until the Rams can address the position next offseason. It's looking like at least one undrafted rookie linebacker will stick on the roster.
Defensive backs (14)
Average number kept since 2003:
8.2
Safest bets:
Cortland Finnegan
,
Darian Stewart
,
Quintin Mikell
,
Janoris Jenkins
,
Trumaine Johnson
,
Craig Dahl
,
Bradley Fletcher
Leading contenders:
Matt Daniels
,
Josh Gordy
,
Jerome Murphy
Longer odds:
Kendric Burney
,
Quinton Pointer
,
Jeremy Caldwell
,
Rodney McLeod
Comment:
Secondary depth is vastly improved, and not just through improved health. Fletcher was arguably the most promising cornerback on the roster last season. Now, it's tough to know whether he fits into the team's long-term plans. Depth at safety might be better than it appears. The Rams had a high enough grade on Daniels to give him a $10,000 signing bonus as an undrafted free agent from Duke.
Special teams (4)
Average number kept since 2003:
3.1
Safest bets:
Greg Zuerlein
,
John Hekker
,
Jake McQuaide
Leading contenders:
Tom Malone
,
Garrett Lindholm
Longer odds:
Travis Tripucka
Comment:
McQuaide, the snapper, is back from last season, but this group lacks experience overall. Zuerlein was a sixth-round pick. Hekker was an undrafted free agent. The Rams wanted better directional punting than
Donnie Jones
provided, particularly after watching
Patrick Peterson
score twice on returns last season.
June, 1, 2012
6/01/12
12:25
PM ET
Four safeties from the NFC earned Pro Bowl honors last season.
All four played in the NFC West:
Earl Thomas
and
Kam Chancellor
from Seattle,
Dashon Goldson
from San Francisco, and
Adrian Wilson
from Arizona.
On the surface, few positions appear stronger within the division. Beneath the surface, there isn't much depth -- at all.
Matt Barrows of the Sacramento Bee sized up the situation in San Francisco recently, noting that
C.J. Spillman
is the team's
only backup safety
with even one regular-season defensive snap on his resume.
The 49ers can expect Goldson, an unsigned franchise player, to report at some point before the season. But San Francisco, like Seattle in particular among NFC West teams, lacks proven alternatives if injuries strike at safety. The drop from Pro Bowl talent to unknown backup can be a hard one.
It's a position to watch in the NFC West, for sure.
Arizona Cardinals

Starters:
Wilson,
Kerry Rhodes
Backups:
Rashad Johnson
(498 defensive snaps in 2011),
James Sanders
(462),
Blake Gideon
(0),
Eddie Elder
(0).
Comment:
Rhodes missed nine games to injury last season. Johnson started in his place and played extensively during the Cardinals' late-season defensive revival. The experience Johnson gained should leave the Cardinals feeling better about the position. Sanders started six games for Atlanta last season. Arizona did not re-sign backups
Hamza Abdullah
or
Sean Considine
, who were special-teams contributors. Overall, the Cardinals feel very good about their depth in the secondary. Wilson's ability to play at a high level last season despite a torn biceps tendon improved the position's outlook. Wilson turns 33 in October, but appears to have quite a bit left.
Seattle Seahawks

Starters:
Thomas, Chancellor
Backups:
Chris Maragos
(11 defensive snaps in 2011),
Jeron Johnson
(9),
Winston Guy
(0),
DeShawn Shead
(0).
Comment:
Atari Bigby
provided veteran depth last season. San Diego signed him as a potential starter in free agency. Maragos projects as a core special-teams player. The Seahawks were high enough on Jeron Johnson, an undrafted rookie in 2011, to keep him on the 53-man roster over a draft choice,
Mark LeGree
. Maragos projects as a core special-teams player. Guy and Shead have made positive impressions in practice recently. This is one position where Seattle could stand to develop or acquire quality depth in case Thomas or Chancellor suffers an injury. But with two of the NFL's best young safeties in the lineup, the team should be set at the position for years to come.
San Francisco 49ers

Starters:
Goldson,
Donte Whitner
Backups:
C.J. Spillman (16 defensive snaps in 2011),
Colin Jones
(0),
Ben Hannula
(0),
Trenton Robinson
(0), Mark LeGree (0),
Michael Thomas
(0).
Comment:
The 49ers did not re-sign veteran backups
Reggie Smith
and
Madieu Williams
. They did not use an early draft choice for a safety or target a veteran in free agency. Spillman, undrafted from Marshall in 2009, is getting plenty of reps this offseason while Goldson remains unsigned as the 49ers' franchise player. Spillman is already among the very best special-teams players in the division (he joined Seattle's
Heath Farwell
among non-positional specialists on our
all-NFC West team for 2011
). It's a bit early to know whether the 49ers could count on Spillman at safety if an injury forced their hand. But with eight safeties on the roster, the 49ers do have developmental options at the position.
St. Louis Rams

Starters:
Quintin Mikell
,
Darian Stewart
Backups:
Craig Dahl
(486 defensive snaps in 2011),
Matt Daniels
(0).
Comment:
Dahl started three games last season and 24 over the past three. He gives the Rams decent veteran depth behind Mikell and the emerging Stewart. Daniels is an
undrafted free agent from Duke
. He was
eager to sign
with the Rams when he learned they had only three other safeties under contract. Rookie third-round choice
Trumaine Johnson
has the size to play safety, but coach Jeff Fisher said the plan will be for Johnson to remain at cornerback. "(Moving to safety) may be something that happens later in his career, but right now he helps us as a corner," Fisher told reporters during the draft.
May, 22, 2012
5/22/12
9:09
AM ET
Kellen Winslow set season highs in 2010 with seven receptions for 98 yards and two touchdowns during a 38-15 victory over the Seattle Seahawks.
Winslow caught 10 passes for 83 yards against the other NFC West teams that season.

What, exactly, are the Seahawks getting in Winslow, acquired Monday night from Tampa Bay for a conditional draft choice in 2013?
Brock Huard of 710ESPN Seattle
expects Winslow to become the H-back in Tom Cable's offense, allowing Zach Miller to focus on his duties as an in-line tight end. Huard: "Tom Cable has talked about the eight- and even nine-man box counts opposing defenses threw at the Hawks a year ago. Putting two tight ends like Miller and Winslow on the field will force the defense's hand. Play base defense and Winslow is a mismatch; play nickel defense and expect Beast Mode to run off of Miller and set up the play-action pass."
Noted:
Winslow's bad knee is also worth our consideration here. The knee has kept Winslow off the practice field. Seattle will have to manage the injury throughout training camp and the regular season. Winslow has managed to produce anyway. He has missed no games over the past three seasons.

Kent Somers of the Arizona Republic
outlines five areas to watch for the Cardinals over the next month. Somers on the quarterbacks: "There is competition between Kevin Kolb and John Skelton for the starting job. Rich Bartel and rookie Ryan Lindley could be competing for a roster spot. Position meetings can sometimes be like an old one-room schoolhouse. One student, say a 10-year veteran, is ready for calculus. Another, say a rookie, is learning multiplication tables. That's not the case with this group. The Cardinals four quarterbacks aren't exactly at the same level, but it's close. There is no 10-year veteran in the room who has been there, done that."

Stu Durando of the St. Louis Post-Dispatch
explains why the Rams had little trouble landing undrafted free-agent safety Matt Daniels. For one, the Rams had only three safeties on their roster at the time. Daniels: "That was the reason I came here. It's the biggest opportunity to actually make a roster and make an impact. It wasn't about money or getting a big signing bonus or going to the team that's predicted to win the Super Bowl. The reason you come here is the opportunity to play and help a team win and go to a Super Bowl."

Matt Barrows of the Sacramento Bee
takes a closer look at the 49ers' receiving targets from last season. Barrows: "Everyone's percentage, aside from Vernon Davis', went down as the season progressed, perhaps because of the weather or the caliber of opponent or both. Davis also was the only pass catcher who had any success in the playoffs. He caught 10 of the 15 passes that went his way (for 292 yards and four touchdowns). The rest of the group combined to catch 10 of the 33 passes that went their way against the Saints and Giants. Michael Crabtree caught five of 16 passes thrown in his direction; Williams caught two of the 10 passes on which he was targeted."
Cam Inman of the San Jose Mercury News
offers a look at the 49ers' locker-room layout.