November, 7, 2013
11/07/13
10:00
AM ET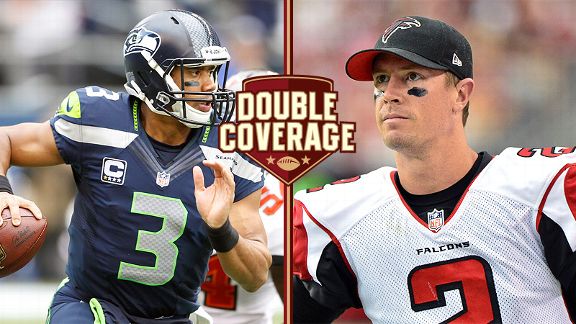 USA TODAY SportsSeattle's Russell Wilson, left, and Atlanta's Matt Ryan have their teams on different paths.
The last meeting between the
Atlanta Falcons
and
Seattle Seahawks
was memorable.
In last season's divisional playoff matchup, the Falcons jumped out to a 20-point lead only to see rookie quarterback
Russell Wilson
rally the Seahawks to a 28-27 edge late in the game. Atlanta's
Matt Ryan
engineered a last-minute drive that ended with
Matt Bryant
's game-winning, 49-yard field goal and a trip to the NFC Championship Game.
The teams are headed in opposite directions now, as the 8-1 Seahawks keep soaring and the 2-6 Falcons continue to descend.
How will things unfold Sunday in Atlanta? It's not looking good for the home team. The Seahawks nearly lost to the winless
Tampa Bay Buccaneers
last week, so they are sure to come to the Georgia Dome refocused.
ESPN.com's Falcons reporter Vaughn McClure and Seahawks reporter Terry Blount break down the matchup between Atlanta and Seattle:
McClure:
I talked to ex-
Chicago Bears
linebacker Brian Urlacher before the season, and he said the Seahawks were, by far, the best team in the league based on having faced them last year. He also picked them to win the Super Bowl. Do you think the Seahawks are the favorites, or did the game against Tampa Bay show they are vulnerable?
Blount:
Vaughn, they've shown a lot of vulnerability this season, long before the game last week. They won several times when, statistically speaking, they should have lost. But the bottom line is they find a way to win. They are an incredibly confident bunch that believes in each other. And the Seahawks should get better down the stretch when both starting offensive tackles return and receiver
Percy Harvin
finally gets on the field. Seattle still is capable of reaching the Super Bowl, but a couple of things must improve -- pass protection and run defense -- down the stretch if the Seahawks are going to live up to expectations. They are living on the edge right now, maybe too much so.
The mood around the Falcons must be pretty depressing these days. I've always found the hardest teams to cover were the ones that everyone expected to be good and entered a season with high expectations but ended up having a horrible year. So what's it like around there, inside the team headquarters and around the city?
McClure:
The fans, of course, are irate about the direction of the team and are calling for coach Mike Smith to be fired. More surprising to me, this being my first season around the team, is how much criticism has been directed toward Matt Ryan. Both Smith and Ryan have handled the negativity well. The closest I've seen Smith come to showing his frustration with the season was after last Sunday's loss to Carolina, when his face was bright red and he had a distraught look on his face. But team owner Arthur Blank came over and gave Smith a reassuring embrace.
Ryan has kept a positive outlook throughout, although his performance has been far below expectations. The vibe Ryan gives off -- remaining upbeat -- rubs off on the players around him. I'll be curious to see how some of the veteran players handle the second half of the season, particularly if the losses keep piling up. Speaking of Ryan, he has thrown seven interceptions over the past two games -- and he hasn't faced a secondary as strong as Seattle's. How well are both
Richard Sherman
and
Earl Thomas
playing?
Blount:
Until the Tampa Bay game, I felt Thomas was the best defensive player in the league. He missed a few tackles against the Bucs, but he also had a controversial interference call go against him. Tampa didn't throw much at Sherman, a wise decision. I think Ryan is a bit of a victim of not having his starting receivers out there, but if he or anyone he throws to makes a mistake, this secondary will make them pay.
Vaughn, it looks like
Tony Gonzalez
, one of the all-time great tight ends, is going to end his career on a losing team. It's a bit of a surprise the Falcons didn't move him before the deadline. I know he is an extremely popular player with the Atlanta fans. Was that a factor in the decision? What happened there?
McClure:
The Falcons were adamant about having no intention of moving Gonzalez. Once that was made clear around the league, no teams even bothered to inquire before the deadline. That being said, even Gonzalez understood the reason behind the media- and fan-driven speculation. He knew returning to Kansas City sounded like an enticing option, considering the Chiefs are undefeated, and it would have allowed Gonzalez probably his best chance to win a Super Bowl ring before he retires at season's end. But Gonzalez told me he only would have been open to listening to a trade if the Falcons felt it would be best for them. Obviously, they didn't.
I expect Gonzalez to go out a champion no matter how the team finishes, just because he represents everything that's right about the NFL. More players should strive to be like him. It looks like the Seahawks have a model citizen themselves in Russell Wilson. How is his development going in his second season?
Blount:
It's hard to judge just how good Wilson could be, because he has been under siege most of the time with poor pass protection from the patchwork offensive line. Wilson has been under duress on 40 percent of his passes, the most in the league. But he has this innate ability to perform at his best when things seem to be at their worst. He has led the Seahawks to victories in three games they trailed in the fourth quarter. Two of those games were won in overtime. He actually seems to thrive on pressure circumstances. I've covered many great athletes, but I don't think I've ever seen anyone better than Wilson at making the big play in the most difficult moments.
The last time these teams faced each other was an exciting playoff game. Obviously, a lot has changed since then, but can the Falcons surprise the Seahawks on Sunday?
McClure:
I just don't see it happening. The loss of top receiver
Julio Jones
to season-ending foot surgery instantly made the Falcons' offense far less potent. The offensive line isn't as strong as it was last season. Although the Falcons believed they upgraded with
Steven Jackson
over Michael Turner at running back, an early-season hamstring injury has kept Jackson from hitting stride. And the defense hasn't gotten much better than the one that surrendered 491 yards to the Seahawks in last season's playoffs. To win Sunday, Ryan has to be flawless and Jackson needs to rush for 100-plus yards.