September, 2, 2014
Sep 2
8:00
AM ET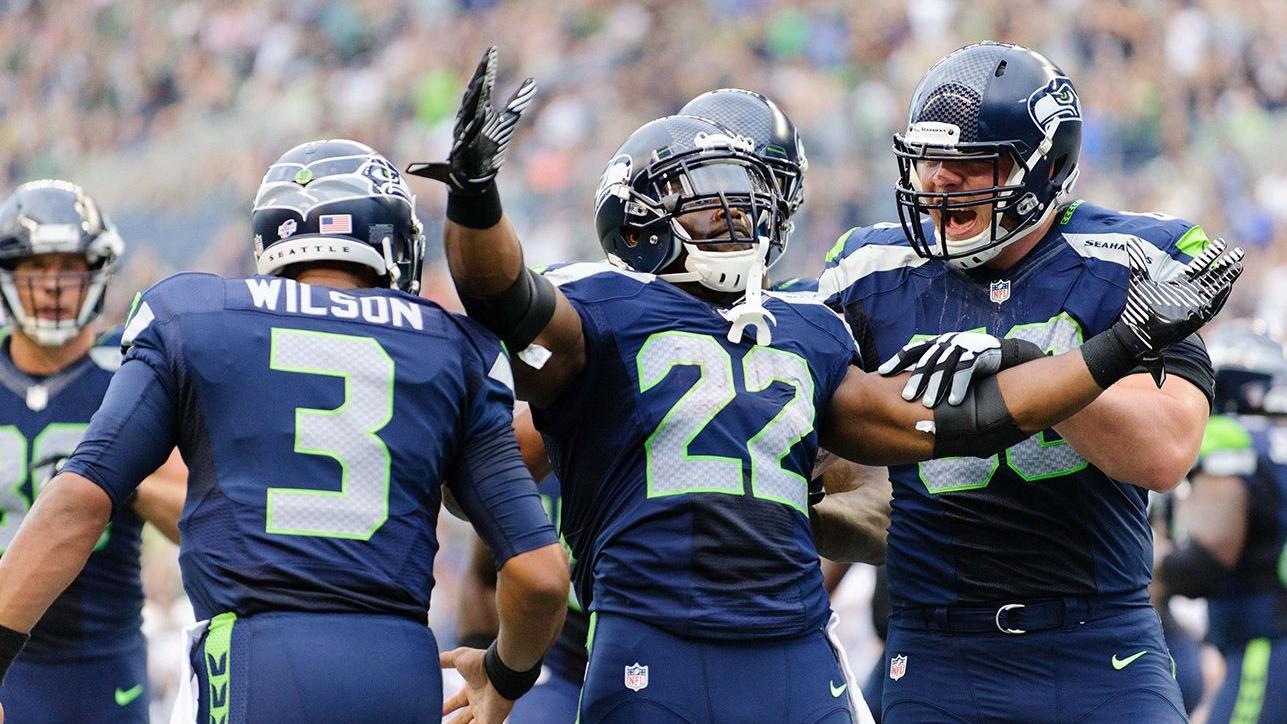 ESPN.com
Seattle Seahawks
reporter Terry Blount makes his game-by-game picks for the 2014 season.
Week 1: Green Bay Packers
All the pregame hype will center around the so-called Inaccurate Reception, the controversial Hail Mary catch by Golden Tate two years ago that won the game over the Packers at Seattle on a Monday night. Tate has moved on to Detroit, but the Seahawks now have too many weapons for the Packers to stop, no Hail Mary required. Prediction: Win
---
Week 2: at San Diego Chargers
The Chargers better hope they play a lot better than they did in the preseason game at Seattle, a 41-14 victory for the Seahawks on Aug. 15. San Diego will play better, but not good enough to beat a much better team. Prediction: Win
---
Week 3: Denver Broncos
The Broncos and their fans got a tiny bit of meaningless Super Bowl revenge in the preseason opener with a 21-16 victory over the Seahawks in Denver. Enjoy it while it lasts, boys. Repeating that outcome in Seattle is not an option. Prediction: Win
---
Week 5: at Washington Redskins
Traveling coast to coast to play on the road for a Monday night game is a tough task against any NFL opponent, and even tougher against quarterback Robert Griffin III. But the Seahawks catch a break in this one by coming off a bye week with plenty of time to prepare and be fresh for the journey. Prediction: Win
---
Week 6: Dallas Cowboys
Cowboys owner Jerry Jones gave Seattle a little bulletin-board material last month when he said the Seahawks were to blame for the increase in penalty flags during the preseason. There won't be near enough flags against Seattle for the Cowboys to win this one. Prediction: Win
---
Week 7: at St. Louis Rams
Any division game in the NFC West is a rugged battle. The Rams have a defensive line that gave the Seahawks problems a year ago. But they aren't strong enough overall to beat Seattle, even at home in their out-of-date dome. Prediction: Win
---
Week 8: at Carolina Panthers
The Seahawks were fortunate to win the season opener at Charlotte a year ago. That Panthers team was better than this one, but back-to-back road games against very physical defensive teams will end the Seattle winning streak. Prediction: Loss
---
Week 9: Oakland Raiders
Coming off their first loss of the season and returning home against an outmanned opponent, is there any doubt? Prediction: Win
---
Week 10: New York Giants
The Seahawks easily defeated the Giants 23-0 last year in New Jersey, a dress rehearsal for their Super Bowl victory at the same location -- MetLife Stadium. The Seahawks won't need a rehearsal to roll past the Giants in this one. Prediction: Win
---
Week 11: at Kansas City Chiefs
This likely will be a low-scoring game between two strong defensive teams. Odds are against any team that has to try to win by matching its defense against the Seahawks' D. Prediction: Win
---
Week 12: Arizona Cardinals
The last time the Cardinals played at CenturyLink Field was last December when they handed the Seahawks a 17-10 loss. That won't happen again unless the Seahawks get caught looking ahead to the 49ers game. The Seahawks don't look ahead. Prediction: Win
---
Week 13: at San Francisco 49ers
It's a Thanksgiving night, national TV game in the 49ers' shiny new stadium against the hated Seahawks. If San Francisco can't win this one, its time as a championship contender is over. Prediction: Loss
---
Week 14: at Philadelphia Eagles
This is the toughest part of the season for the Seahawks with back-to-back road games against likely playoff contenders. But the 10 days between games will help and be enough of a cushion to keep Seattle from losing two in a row. Prediction: Win
---
Week 15: San Francisco 49ers
This is a game that could decide which team wins the NFC West. No way the Seahawks lose to the 49ers twice in three weeks, especially not in front of a rabid full house of 12s. Prediction: Win
---
Week 16: at Arizona Cardinals
The Cardinals probably will be fighting for a playoff spot, and the Seahawks already will be in at 12-2. That difference will be just enough for Arizona to win at home in the same stadium where the Seahawks will win the Super Bowl a few weeks later. Prediction: Loss
---
Week 17: St. Louis Rams
For the second consecutive year, the Rams close the regular season in Seattle. And for the second consecutive year, the Seahawks will beat them without much trouble. Prediction: Win
---
Predicted Record: 13-3
February, 12, 2009
2/12/09
3:11
PM ET
Posted by ESPN.com's Mike Sando
General managers hoping to keep their jobs tell us we need several years to fully evaluate a draft class.
They are often correct.
Evaluating free-agent decisions takes less time. Some of them are obviously flawed from the beginning.
With that in mind, I wanted to look back at the decisions each NFC West team made in free agency one year ago.
We'll start with the Cardinals because they won the the division title.
The chart shows each of the 17 free agents Arizona added, re
-signed or lost to other teams, based on the records I keep. These included unrestricted free agents, restricted free agents and franchise players. If you have questions or see potential omissions, let me know in the comments.
I've added a third column to flag decisions that worked out poorly. I did not downgrade the Cardinals for re-signing Oliver Celestin or Joe Tafoya -- players the team later released -- because players such as them served the intended purposes during camp. The provided depth and they competed, but they lost out to players the organization valued more.
I flagged only two of the Cardinals' decisions for review. Cornerback Eric Green was a significant disappointment, but the Cardinals protected themselves by drafting Dominique Rodgers-Cromartie. They also did not invest heavily in Green. They gave him one year to prove his worth, and they moved on once they determined he wasn't meeting expectations.
Letting Calvin Pace leave in free agency hurt the talent level on defense, but the Jets probably overpaid for him. Did the Cardinals err on Pace? Reasonable people could probably disagree.
Overall, however, the Cardinals avoided serious mistakes in free agency. Salary-cap limitations prevented them from spending more aggressively. They'll have more cap flexibility when the next signing period begins Feb. 27.
August, 28, 2008
8/28/08
9:19
AM ET
Posted by ESPN.com's Mike Sando
Jim Thomas of the St. Louis Post-Dispatch breaks down the Rams' depth at receiver, noting that Marques Hagans, Brandon Williams, Derek Stanley and Reche Caldwell might not earn spots on the 53-man roster. Thomas sees veteran Dane Looker as the likely sixth receiver.
Bill Coats of the St. Louis Post-Dispatch assesses Adam Goldberg's value to the Rams as an offensive lineman with experience at all five spots. Goldberg has started at left tackle recently, giving Orlando Pace a rest. The photo accompanying this story doesn't inspire confidence, but coach Scott Linehan says Goldberg has played well this summer.
Steve Korte of the Belleville News-Democrat checks in with backup Rams quarterback Trent Green, who will start the final exhibition game -- against the Chiefs, one of his former teams. Green needs the work after attempting only eight passes during the first three exhibition games.
Daniel Brown of the San Jose Mercury News quotes Jerry Rice as "expecting [49ers rookie receiver Josh Morgan] to do some great things this year."
Also from Brown: Ashley Lelie's uncertain future heading toward the 53-man cutdown. Lelie has 21 career receptions of at least 40 yards. Can he be a deep threat in Mike Martz's offense?
Matt Maiocco of the Santa Rosa Press-Democrat says the 49ers haven't seen enough from their receivers to know how they'll react during the regular season. Injuries and even illness have kept players off the field. Morgan will miss the final exhibition game.
Tom FitzGerald of the San Francisco Chronicle describes 49ers guard Tony Wragge as an inspiration to players fighting for roster spots. The Cardinals cut him three times. Wragge played in the Arena League and even took a job at Home Depot before finally earning a spot with the 49ers.
Frank Hughes of Seahawks Insider expects Justin Forsett to get plenty of work in the final exhibition game. Forsett might need an impressive performance to earn a roster spot. The practice squad could be the most likely option.
Dave Boling of the Tacoma News Tribune checks in with new Seahawks long snapper Jeff Robinson, who isn't very new at all. The way Boling breaks it down, Robinson could earn more than $5,000 per snap this season. Boling: "The fact that his wife is a physical therapist and dietician is a key to his readiness, he said. While she's busy running their business, a wellness center named '5focus' on South Lake Union, Robinson has been staying nimble by chasing down their 16-month-old daughter, Mae Louise. It should enhance his coverage skills."
Frank Hughes of the Tacoma News Tribune saw Seahawks center Chris Spencer fall down twice while making routine blocks in his first practice back from injury. Spencer expects to make his preseason debut Friday night against Oakland.
Clare Farnsworth of the Seattle Post-Intelligencer says the Seahawks signed Robinson to snap after Tim Lindsey suffered a back injury against the Chargers on Monday night. Lindsey had replaced Tyler Schmitt, who also suffered a back injury.
Also from Farnsworth: highlights from practice, including two touchdown catches by John Carlson. The rookie tight end could have a big season.
Mike Tulumello of the East Valley Tribune breaks down the Cardinals' position battles at receiver and linebacker. Sean Morey, Jamaica Rector and Lance Long could be fighting for the sixth receiving spot. Ali Highsmith, Brandon Moore, Matt Stewart and Monty Beisel could be fighting for two spots at linebacker.
Kent Somers of the Arizona Republic says the Cardinals feel good about third-string quarterback Brian St. Pierre, who learned the offense with Pittsburgh and has completed 76.7 percent of his passes during the exhibition season.
Also from Somers: Kurt Warner gets the start in the final exhibition game. Still no announcement on who starts the regular-season opener, but giving Warner time with the first-team offense puts him in a favorable position.