NFC West:

Maurkice Pouncey
June, 6, 2013
6/06/13
4:00
PM ET
Using an early draft choice for an unusually young player can carry risks.
The upside: a potentially longer career window.
As noted
earlier Thursday, the
San Francisco 49ers
' Anthony Davis and the
Seattle Seahawks
' Earl Thomas are among three players to start all 48 games over the past three seasons before turning 24. Davis has already received a contract extension. Thomas is in line for one.
The chart breaks out all others with more than 35 starts over the past three seasons before they turned 24. Rolando McClain stands out as an exception for the wrong reasons. Most of the others have met general expectations.
That doesn't necessarily mean teams should rush out to draft especially young players. In some cases, it means exceptionally talented players were good enough to attract teams' interest in the absence of college seasoning.
Four of the players in the chart have achieved Pro Bowl and first-team Associated Press All-Pro status: Thomas, Pierre-Paul, Rob Gronkowski and Maurkice Pouncey. Thomas and Pouncey have also been second-team All-Pro choices.
May, 16, 2013
5/16/13
11:30
AM ET
Rolando McClain
's early
retirement from the NFL
comes three years after the
Oakland Raiders
made him the eighth overall choice in the 2010 draft.
While McClain is inviting derision, I wondered whether he was even the most disappointing choice from the first round of that 2010 class. He would fit right in with
the 2009 group
, for sure.
A quick check of games started by 2010 first-rounders showed four players with 48 starts in 48 possible regular-season games. Three of those four players were from the NFC West: Mike Iupati and Anthony Davis of the
San Francisco 49ers
, and Earl Thomas of the
Seattle Seahawks
.
Tyson Alualu, the player Jacksonville controversially selected 10th overall, rounds out the quartet.
St. Louis Rams
quarterback Sam Bradford (42) and Seattle Seahawks left tackle Russell Okung (37) were relatively close behind. Dan Williams, chosen 26th overall by the
Arizona Cardinals
that year, ranked 26th on the list with 21 starts over the past three seasons.
All starts aren't quality starts, of course. McClain ranks relatively high on the list with 38 starts despite his bust status. Anyone familiar with the NFL would rather have
Denver Broncos
receiver Demaryius Thomas (23 starts) than Alualu, who has
struggled with knee trouble
and generally been just OK.
First-round picks from 2010 have combined for 21 Pro Bowl honors.
Maurkice Pouncey leads the way with three. Thomas is one of five players with two. Ndamukong Suh, Jason Pierre-Paul, Eric Berry and Jermaine Gresham are the others.
Iupati and Okung are part of an eight-man grouping with one Pro Bowl. Ryan Mathews, Thomas, Devin McCourty, Gerald McCoy, C.J. Spiller and Trent Williams are the others.
Iupati, Pouncey, Suh, Thomas and Pierre-Paul have been first-team Associated Press All-Pro once apiece.
Bradford was offensive rookie of the year. Suh won defensive rookie of the year.
June, 19, 2012
6/19/12
5:40
PM ET
NFC West teams have loaded up on offensive linemen over the past several seasons.
They used first-round choices for
Joe Staley
,
Mike Iupati
,
Anthony Davis
,
Jason Smith
,
Levi Brown
,
Russell Okung
and
James Carpenter
since 2007.
Only the AFC North (eight) and NFC North (seven) have used as many first-round choices for offensive linemen over the same span.
It was a little concerning, then, to see only one NFC West player on
Matt Williamson's list

of 15 offensive linemen with the brightest long-term futures. Iupati, entering his third season as the
San Francisco 49ers
' left guard, was sixth behind
Jake Long
,
Tyron Smith
,
Joe Thomas
,
Maurkice Pouncey
and
Mike Pouncey
.
"This is the season that Iupati will establish himself as one of the elite guards in the NFL," Williamson wrote. "A project coming out of college, Iupati has progressed well and is loaded with great tools for playing the position. He is huge, extremely powerful and nasty. Run blocking isn't a problem at all, and his pass protection has consistently improved. Iupati and Joe Staley quietly make up one of the best left sides of any offensive line in the NFL and should continue to improve going forward."
Staley, the 49ers' left tackle, earned Pro Bowl honors last season. Williamson gave Staley and
Seattle Seahawks
left tackle Russell Okung honorable mention outside the top 15. Williamson has previously been extremely high on Okung, but injuries have made it tougher to project Okung's fortunes for the longer term.
Williamson was projecting for the 2015 season. The seven NFC West linemen mentioned above should remain in their prime years at that time. A quick look at where each of them stands heading toward 2012 training camps:
Staley, 49ers: started all 16 regular-season games and two playoff games last season after missing 14 games over the previous two.
Iupati, 49ers: played all but four snaps last season and has started all 32 games.
Davis, 49ers: improved last season and should benefit some from increased familiarity with the offense.
Smith, Rams: Rams think he'll benefit from Paul Boudreau's coaching in what could be a make-or-break year for Smith.
Brown, Cardinals: improved late last season and must continue on that trajectory after receiving $7 million signing bonus.
Okung, Seahawks: talented and possesses a nasty temperament, but hasn't been able to stay on the field.
Carpenter, Seahawks: devastating knee injury threatens his 2012 season, while Breno Giacomini's emergence could relegate Carpenter to guard.
January, 6, 2012
1/06/12
2:23
PM ET
This was indeed a special season for the
San Francisco 49ers
and, by extension, the NFC West overall.
The Associated Press All-Pro Team,
announced Friday
, includes five 49ers, a league high for any team. Arizona's
Patrick Peterson
made the team as the return specialist, joining the 49ers'
David Akers
and
Andy Lee
to give the NFC West all three specialists.
The 49ers'
Patrick Willis
and
NaVorro Bowman
made it as inside linebackers. Teammate
Justin Smith
made it as a defensive tackle. He also got votes at defensive end. Smith moves around the line, playing end in the base 3-4.
Aaron Rodgers
won 47.5 out of 50 votes at quarterback, a strong indication Rodgers will emerge as the leader in MVP balloting. Those results have not yet been revealed, but they draw from the same group of voters.
The chart shows All-Pro counts by division.
Also making the team: fullback
Vonta Leach
, center
Maurkice Pouncey
, guard
Carl Nicks
, guard
Jahri Evans
, running back
Maurice Jones-Drew
, running back
LeSean McCoy
, tackle
Joe Thomas
, tackle
Jason Peters
, tight end
Rob Gronkowski
, receiver
Wes Welker
, receiver
Calvin Johnson
, cornerback
Darrelle Revis
, cornerback
Charles Woodson
, defensive end
Jason Pierre-Paul
, defensive end
Jared Allen
, defensive tackle
Haloti Ngata
, linebacker
Derrick Johnson
, outside linebacker
Terrell Suggs
, outside linebacker
DeMarcus Ware
safety
Troy Polamalu
and safety
Eric Weddle
.
March, 10, 2011
3/10/11
9:58
AM ET

Matt Barrows of the Sacramento Bee
wouldn't be surprised if the 49ers moved up from the second round to snag a quarterback. Barrows: "My sense is that the 49ers - who have the 13th pick in the second round - would be willing to move up in that round, or even climb into the bottom of Round 1, to get the quarterback they desire. In previous years, when the 49ers were in rebuilding mode, they cherished every one of their picks. Now, however, there is a feeling that the overall roster is strong, especially if they use their No. 7 pick on a pass rusher like Von Miller or Robert Quinn or on a cornerback like Patrick Peterson or Prince Amukamara. Furthermore, general manager Trent Baalke already has shown he's willing to trade up to get his man. He did so last year in order to land Rutgers offensive tackle Anthony Davis."
Also from Barrows
: a potential setback in the 49ers' efforts to get a stadium built.
Matt Maiocco of CSNBayArea.com
addresses whether the 49ers could have a reason not to pursue a tampering case against the Eagles after learning that Andy Reid had been in contact with running back Brian Westbrook. Maiocco: "First, we don't know the 49ers are unwilling to pursue this matter. That's only speculation. But we might be onto something here. The 49ers are believed to be one of the teams interested in obtaining Eagles backup quarterback Kevin Kolb. So the 49ers might not want to create any acrimony between the two organizations. But, ultimately, it'll come down to which team offers the Eagles the best level of compensation for Kolb. And, of course, no trades can take place until the owners and players hammer out a new CBA. Teams are allowed to speak to each other during this time to gauge interest. I do not know if the 49ers and Eagles have spoken on this matter, but my guess is there has been some level of communication."
Cam Inman of Bay Area News Group
checks in with Jerry Rice for thoughts on a potential lockout.

Clare Farnsworth of seahawks.com
says instincts and production helped Lofa Tatupu earn a spot on the team's 35th anniversary squad. Chad Brown, Fredd Young and Rufus Porter were the other linebackers. Farnsworth on Tatupu: "His contributions have been across the board: 551 tackles in the regular season, including a career-high 123 in 2006; 66 tackles in the postseason, making him the franchise leader; 10 interceptions, including three in a 2007 game against the Philadelphia Eagles and two returned for touchdowns; 8.5 sacks, including four in his rookie season; 41 passes defensed; seven forced fumbles; three Pro Bowl selections, the most for a linebacker in club history."

Kent Somers of the Arizona Republic
says the Cardinals' Larry Fitzgerald is everywhere these days, and his contract situation is what everyone is asking about. Somers: "Money won't be an obstacle for the Cardinals. Or at least it shouldn't be. Their payroll was near the lowest in the NFL in 2010, and management is smart enough to know that low-balling Fitz will alienate even avid fans. The biggest challenge will be opportunity. Like any elite receiver, Fitzgerald wants the ball. He won't complain publicly because he's sensitive about being labeled as a diva. And he has that right. Over the years, Fitzgerald has developed a work ethic that's hard to match. Last year, he was overthrown more than a Little League first baseman, yet never complained publicly."
Darren Urban of azcardinals.com
says Fitzgerald was speaking only about Tommie Harris and not his own situation when he said a change of scenery can help.

Nick Wagoner of stlouisrams.com
passes along thoughts from ESPN's Mel Kiper Jr. regarding the Rams' draft plans. Kiper: "If the top two receivers are gone then they could look defensive tackle because that's the value. Outside linebacker, I don't see anybody that would fit what they are doing defensively there if you are looking for a traditional outside linebacker. Maybe an interior offensive lineman they could look at. It's a little early maybe for (Florida OL Mike) Pouncey, who I don't think is as good as his brother Maurkice. That's early. I wouldn't take Mike Pouncey ahead of where Maurkice went because I don't think they are similar players. I think Maurkice was a much better prospect."
Howard Balzer of 101ESPN St. Louis
sounds unconvinced about the Rams' potential interest in former Giants receiver Plaxico Burress.
February, 4, 2011
2/04/11
11:15
AM ET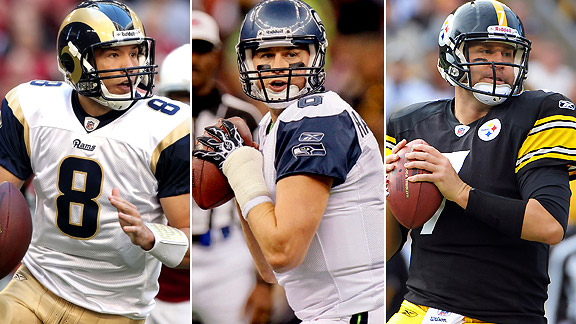 Getty Images/US PresswireHow do Sam Bradford, Matt Hasselbeck and the other NFC West QBs stack up against the Steelers' Ben Roethlisberger?
FORT WORTH, Texas -- Close your eyes for a moment after reading this sentence and imagine your favorite NFC West team lining up against the AFC champion
Pittsburgh Steelers
in the Super Bowl.
How would your team's offense measure up, starter for starter, against the one NFC champion Green Bay will face Sunday?
The chart compares NFC West teams' offensive starting lineups against the one Pittsburgh has listed on the official Super Bowl flip card.
Doug Legursky
will likely replace center
Maurkice Pouncey
, and injury situations could affect projected NFC West lineups.
I've generally recreated NFC West lineups as they were when each team's season concluded, just to see how offenses from the division might stack up against the one NFC champion Green Bay will encounter Sunday. An NFC West all-star team would produce an overall talent upgrade, but no single NFC West offense prevails in a head-to-head comparison, at least in my view.
For additional perspective, check out
how NFC West offenses stacked up
one year ago.
Enjoy the imaginary games.
January, 31, 2011
1/31/11
5:04
PM ET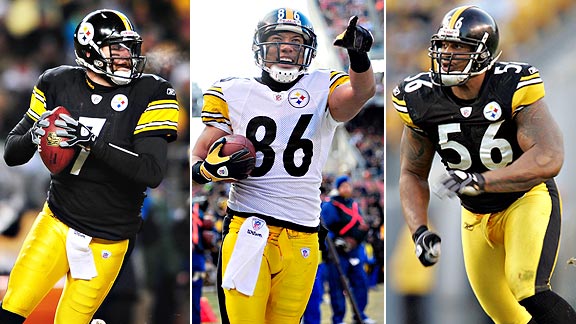 US PresswirePittsburgh's Ben Roethlisberger, Hines Ward and LaMarr Woodley are all playing in Super Bowl XLV, but could they have ended up in the NFC West coming out of college?
FORT WORTH, Texas -- The
Pittsburgh Steelers
appeared loose and comfortable during their first Super Bowl 45 media session.
They've been in big games before, and frequently, thanks largely to shrewd drafting.
This is the Steelers' third Super Bowl appearance in the last six seasons.
The team made available
James Farrior
,
Flozell Adams
,
Hines Ward
,
Brett Keisel
,
Ben Roethlisberger
and
LaMarr Woodley
during its initial media session Monday -- just the opportunity I needed to produce an item corresponding to the one titled, "
Draft hindsight: Aaron Rodgers and beyond
".
The idea: to examine a Super Bowl team's featured players -- in this case, the ones made available Monday -- with an emphasis on draft status and the decisions NFC West teams made in the same rounds. Not every team held a choice in every featured round.
The
Arizona Cardinals
had a shot at Steelers quarterback Ben Roethlisberger, but they came out OK.
Here goes ...
1997 Draft: James Farrior, LB, Virginia
Round:
First (eighth overall, by the
New York Jets
)
NFC West spin:
Farrior is a two-time Pro Bowl choice, but the NFC West offers no apologies for passing over him.
Orlando Pace
and
Walter Jones
became perennial Pro Bowl tackles. Jones became the best player in Seahawks history, in my view.
Shawn Springs
made one Pro Bowl trip and picked off 33 passes during a 13-year career. The Cardinals had no shot at Farrior. They chose Tommy Knight one pick later. He started 54 games in six NFL seasons. Rumor says the 49ers selected a quarterback in the first round of this draft.
First-round selections in the division:
1998 Draft: Flozell Adams, T, Michigan State
Round:
Second (38th overall, by Dallas)
NFC West spin:
Adams became a five-time Pro Bowl choice with Dallas. His career appeared finished, or close to it, until injuries led the Steelers to call on him this season. Arizona passed on Adams twice. Safety
Corey Chavous
, chosen five spots before Adams, went to a Pro Bowl with Minnesota. He was a productive player for roughly a decade. Tackle
Anthony Clement
, chosen two spots before Adams, started more than 100 games for three teams.
Second-round selections in the division:
1998 Draft: Hines Ward, WR, Georgia
Round:
Third (92nd overall, by Pittsburgh)
NFC West spin:
The Rams and Seahawks found Pro Bowl-caliber players when they passed over Ward in the third round. Seattle gave up on
Ahman Green
prematurely, however, after coach Mike Holmgren grew weary of early fumble problems. The 49ers missed on tackle
Chris Ruhman
three choices before Ward went to Pittsburgh. Ruhman played in six games with the 49ers, starting none. He played in 11 NFL games with two starts overall. The 49ers passed on Ward even though
Jerry Rice
had suffered a devastating knee injury in the 1997 opener.
Third-round selections in the division:
2002 Draft: Brett Keisel, DE, BYU
Round:
Seventh (242nd overall, by Pittsburgh)
NFC West spin:
The 49ers drafted longtime starting guard and center
Eric Heitmann
three spots before the Steelers found Keisel. Pittsburgh could use Heitmann this week after the Steelers' starting center,
Maurkice Pouncey
, suffered a severely sprained ankle during the AFC Championship Game. Keisel became a Pro Bowl choice for the first time this season, distinguishing him from 2002 NFC West seventh-rounders. The Rams found their mainstay snapper in this draft. Keisel was gone when the 49ers found guard
Kyle Kosier
, who started 29 games for them and remains a starter with Dallas.
Seventh-round selections in the division:
2004 Draft: Ben Roethlisberger, QB, Miami of Ohio
Round:
First (11th overall, by Pittsburgh)
NFC West spin:
The Cardinals passed over Roethlisberger and came away with a potential Hall of Fame receiver. No complaints there, even though quarterbacks are more valuable than receivers. None of the other NFC West teams had a shot at Roethlisberger. Seattle and St. Louis were set at quarterback, anyway.
First-round selections in the division:
2007 Draft: LaMarr Woodley, OLB, Michigan
Round:
Second (46th overall, by Pittsburgh)
NFC West spin:
The Cardinals could certainly use Woodley now, and badly, but they had already invested millions in the position heading into the 2007 draft. Free-agent additions
Chike Okeafor
and
Bertrand Berry
had combined for 14.5 sacks during the 2006 season. Unfortunately for the Cardinals, they haven't gotten enough from their second-round investment in
Alan Branch
.
Second-round selections in the division:
OK, all done, and just in time. ESPN.com teammates Mike Reiss, Kevin Seifert and I are heading out to the Packers' media session next. Seifert is driving and he doesn't wait for anyone. Gotta jam.
May, 12, 2010
5/12/10
9:46
AM ET

Clare Farnsworth of seahawks.com
says Chris Clemons projects as a stand-up defensive end for Seattle. Farnsworth: "Clemons is a 'tweener player who has been playing a hybrid position for the Seahawks since they acquired him in a March trade with the Philadelphia Eagles. There are others in line at the defensive end spot coach Pete Carroll brought with him from the University of Southern California -- Nick Reed, Ricky Foley and Dexter Davis. But the line forms behind Clemons."
Also from Farnsworth
: quick bios on the aforementioned players.
Nate Davis of USA Today
puts ex-Seahawks Walter Jones and Steve Hutchinson on his NFL all-decade team, but Torry Holt and Orlando Pace miss the cut among NFC West notables. Says ESPN analyst Trent Dilfer: "Walt and Steve were the best left guard-left tackle tandem for a few years that the league's ever seen. What we did with those two was mind-boggling. I saw Walt get beat one time in four years. My opinion -- greatest offensive lineman to ever play the game."
Danny O'Neil of the Seattle Times
has this to say about Seattle quarterbacks Matt Hasselbeck and Charlie Whitehurst: "It was very clear there was a difference in the way starter Matt Hasselbeck went through his progressions, came off his first read, and the way Whitehurst did. Whitehurst had many more instances in which he ended up throwing the ball away, neither finding nor forcing a spot to throw the ball. Hasselbeck is getting the majority of the repetitions during the practices, but Whitehurst is getting a healthy chunk, too. Mike Teel isn't seeing much time at all during the 11-on-11 team drills."

Darren Urban of azcardinals.com
recounts 49ers-Cardinals games from the last decade or so, noting that the 49ers once went 2-14, with both victories over Arizona. Urban: "Now that both teams have been revived to the level of division title contenders -- and given the dichotomy of the Cards' 10-6 division-winning record if a year ago compared to the Niners' sweep of Arizona despite a .500 record -- this season's matchups may be the most anticipated since the two moved in together in the NFC West."
Revenge of the Birds' Andrew602
says the Cardinals are enjoying one of their better situations at running back, at least in recent years.

Brian Burwell of the St. Louis Post-Dispatch
says the Rams' pending sale is preventing the team from making offseason moves that would add salary. Burwell: "No matter how much general manager Billy Devaney and team president Kevin Demoff swear that they have not been hamstrung by the ownership being in limbo, we have to know better. Our own Jim Thomas has said that he's had several conversations with agents who have been told by Rams officials that they can't get business done on the free agent marketplace because they don't have the cash to make deals. No matter how much Rosenbloom says that he hasn't put the clamps down on spending, think about it. If you were selling a house, how much would you be willing to spend beyond the most superficial improvements?"
Jeff Gordon of stltoday.com
says this about the Rams' status: "As I've noted in this corner of cyberspace, the Sam Bradford contract could become a big dilemma. If I represented Bradford, I wouldn't finalize any deal until the ownership is resolved. Demoff has similar concerns from the Rams side, since the next owner will write the big checks on this massive contract. How much can he get done with ownership in limbo? Moving forward through the spring and summer, the Rams will need to make additional changes. Fans applaud Devaney for shedding failures like Alex Barron, but they fret about the remaining holes."

Matt Maiocco of CSNBayArea.com
looks at 49ers players with contracts expiring after the 2010 or 20100 seasons. Maiocco on center Eric Heitmann, whose deal runs through 2011: "He is getting up there in service and slowing down. This is the reason several people I spoke with before the draft believed the 49ers should've taken guard/center Maurkice Pouncey instead of Mike Iupati with the No. 17 overall pick. After Heitmann's deal expires, the 49ers can think about him on a year-to-year basis."
Matt Barrows of the Sacramento Bee
says the 49ers' announcement on William James' signing shows where Dre Bly and Walt Harris stand with the team -- on the outside.
April, 24, 2010
4/24/10
5:00
PM ET
»
NFC draft analysis
:
East
|
West
|
North
|
South
»
AFC
:
East
|
West
|
North
|
South
The 2010 NFL draft should stand as a watershed event for the NFC West.
The division entered the draft with a league-high six first-round choices, and NFC West teams used those picks to fill obvious needs with highly rated players.
That's what stood out about this draft for the division. Teams filled obvious needs with almost every pick. There was less talk about drafting the best player available regardless of position. There were exceptions, like when the Rams valued tackle
Rodger Saffold
enough to take him 33rd overall even though they could have justified going in another direction from a need standpoint.
In most cases, however, perceived value aligned with need -- exactly what teams want from a draft. Some of those perceptions will prove incorrect, of course, but there's very little to complain about based on what we think we know.
The Rams found their franchise quarterback in
Sam Bradford
. The Seahawks found their replacement for all-world tackle
Walter Jones
, the sixth player chosen in 1997, when they drafted
Russell Okung
with the sixth pick this year. The 49ers finally addressed a lingering issue at tackle when they drafted
Anthony Davis
at No. 11. The Cardinals filled their primary need when nose tackle
Dan Williams
fell to them somewhat unexpectedly at No. 26.
Every NFC West team emerged from this draft legitimately able to claim things went their way. Three of the four second-round choices -- Saffold (Rams), safety
Taylor Mays
(49ers) and receiver
Golden Tate
(Seahawks) -- were widely considered likely first-round choices by general managers I spoke with in recent weeks.
"I thought, overall, the NFC West killed it," Steve Muench of Scouts Inc. said.
Best move
[+] Enlarge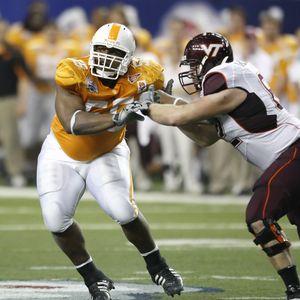 Todd Kirkland/Icon SMIDan Williams recorded 62 tackles during his senior season at Tennessee.
The Cardinals' ability to land Williams at No. 26 without maneuvering stood out.
Arizona was picking later in the first round than any team in the division, but the Cardinals' need at nose tackle was significant. Most mock drafts suggested Williams could go 12th to the Dolphins. The Cardinals said they had Williams rated 11th overall.
Those factors, coupled with the growing list of other teams running 3-4 defenses, put pressure on Arizona to consider moving up for Williams as its pick approached. The team held an extra third-round choice, so the Cardinals had options. But instead of panicking, they let the draft come to them.
Arizona has emerged from its past three drafts with Pro Bowl cornerback
Dominique Rodgers-Cromartie
(2008), ascending running back
Beanie Wells
(2009) and now Williams despite picking in the last half of the first round each time. Those are building-block players.
Coach Ken Whisenhunt has pushed the Cardinals toward a purer version of the 3-4 predicated on strong play from the nose tackle position. Arizona already has a Pro Bowl left end in
Darnell Dockett
and a strong starter at right end in
Calais Campbell
. Adding Williams to the mix could help the Cardinals become more consistent defensively.
"He has the potential to be their franchise nose tackle with the potential to develop into a
Vince Wilfork
,
Jamal Williams
-type player," Muench said. "We were really high on
Maurkice Pouncey
, the center/guard from Florida. These guys really got after each other in the Florida-Tennessee game. You get a sense when he makes the jump in the NFL, he is definitely is going to be able to hang."
Riskiest move
Drafting a quarterback first overall carries great risk when that quarterback has had trouble staying healthy.
Bradford was the smart choice for the Rams at No. 1 based on their obvious need at the position. But so many factors go into determining whether a quarterback succeeds ultimately.
Steve Young has stressed the importance of having a strong organization with the right mix of top-notch offensive coaches. Are the Rams a strong organization right now? Do they have the right mix of top-notch offensive coaches? It's tough to answer those questions definitively in the affirmative at this point.
Throw in the question marks surrounding Bradford -- his health, how he'll adjust to an NFL offense -- and it's clear the first overall choice was also the riskiest one.
"There are concerns about Bradford and I get it," Muench said. "Anytime you are in an offense where you turn to the sideline to get the play, there are questions. I think he is so smart, he can make the transition to a pro-style offense and two, he can beat pressure because he's smart. He'll learn where pressure is going to come from."
Most surprising move
The 49ers sacrificed a fourth-round pick in moving up two spots to No. 11 before selecting Davis out of Rutgers. San Francisco then took Idaho guard
Mike Iupati
with the 17th overall choice.
I figured the 49ers were excited about upgrading their offensive line. I figured coach Mike Singletary would have more input following Scot McCloughan's departure as general manager five weeks before the draft. I still didn't expect the 49ers to be so aggressive and emphatic in their effort to beef up their offensive front.
The 49ers punctuated their first round with exclamation points.
The picks they made might be wise ones. I was just surprised they would double up on the offensive line early while trading up to get it done.
File it away
The Seahawks and Cardinals invested fourth-round choices in talented defensive players coming off serious knee injuries.
Look for cornerback
Walter Thurmond
(Seattle) and pass-rusher
O'Brien Schofield
(Arizona) to emerge as more significant contributors in 2011. Both would have been drafted much earlier if healthy.
April, 22, 2010
4/22/10
8:55
AM ET

Bernie Miklasz of the St. Louis Post-Dispatch
says the Rams' leadership has been too conservative in rebuilding the team, and that must change in the 2010 draft. Miklasz: "At this rate the rebuilding project will be completed in time for the 2029 season. This safety-first philosophy is so pronounced at Rams Park, I wouldn't be surprised to see general manager Billy Devaney and head coach Steve Spagnuolo wearing biohazard suits the next time they step forward to announce a personnel move." Miklasz thinks the team should draft Sam Bradford.
Howard Balzer and Jim Rodenbush of the St. Louis Globe-Democrat
advocate Bradford and Ndamukong Suh, respectively, as the Rams' choice at No. 1. Balzer: "Balance it. A great defensive tackle, or a great quarterback. Simply stated, the great quarterback will help win more games. Heck, if it's a balance between a great defensive tackle or a very good quarterback, the quarterback is still more important. That's why, when Devaney polled his scouts and coaches Wednesday, asking who they would take No. 1, it was virtually unanimous. That's why the name called at about 6:40 Thursday night will be Sam Bradford."
Also from Balzer
: a mock draft showing what he thinks teams should do, not what they are likely to do.

Kent Somers of the Arizona Republic
says the Cardinals are expecting a more stressful draft given the new format. Coach Ken Whisenhunt: "It will be more nerve-racking, especially if you ... have your eye on a particular player and you have to wait all through the night and the next day before you know what is going to happen."
Also from Somers
: The Cardinals are expected to unveil an alternate jersey to be worn once during the exhibition season and twice during the regular season.
More from Somers
: a look at risks associated with any pursuit of Ben Roethlisberger.
Darren Urban of azcardinals.com
says it's tough to know which players will be available to Arizona at No. 26.
Also from Urban (PDF)
: He sends linebacker Daryl Washington to Arizona with the 26th overall choice.

Matt Barrows of the Sacramento Bee
offers theories on reports suggesting the 49ers have interest in Notre Dame quarterback Jimmy Clausen. Barrows: "If the 49ers felt that Jimmy Clausen was a starter-caliber quarterback, they should take him at pick No. 13. The scouts/analysts I've talked to have Clausen rated highly, and they say there are fewer questions about him than with (Brady) Quinn and (Aaron) Rodgers. What we don't know, of course, is how the 49ers have Clausen rated."
Matt Maiocco of the Santa Rosa Press-Democrat
considers offensive options for the 49ers in the draft. He thinks Maurkice Pouncey could make more sense than Mike Iupati. Maiocco: "While the 49ers must come away with a starter at right tackle, it's not as if they can't use help at the other positions on the offensive line, too. Iupati is a guard. Perhaps, he could transition to right tackle. But that would not be a Year 1 development. That would be far down the road. Pouncey, likewise, would start out at guard. He would transition in 2011 or 2012 to center to take the place of Eric Heitmann. The more I think of this scenario, the more I think the 49ers could easily select Pouncey. (And my final-final mock draft for tomorrow's newspaper is likely to reflect that.)"
Tim Kawakami of the San Jose Mercury News
has this to say about Clausen: "Talking with multiple NFL sources, it looks like the 49ers and Seahawks could be the two key players in Clausen's final destination. Both teams have two 1st-round picks, neither seems totally desperate for a QB (Seattle has Matt Hasselbeck and Charlie Whitehurst, the 49ers have Alex Smith and David Carr), but both do have a need to find a QB at some point. They're in the same division, you might have realized. I've heard Pete Carroll is a Clausen fan, as Peter King has said. The Seahawks are at 6 and 14. The 49ers are at 13 and 17. I've heard many smart people say that if Clausen is there at 13, the 49ers will take somebody else and wait to take Clausen at 17 if he lasts that long."
Lowell Cohn of the Santa Rosa Press-Democrat
says the 49ers should trade down to add picks, then collect building blocks, not showpieces. Cohn: "There is talk the 49ers will use (waste) one of their first-round picks on Notre Dame quarterback Jimmy Clausen if he's available. Nuts to that. The 49ers need to embrace the basics of team building, and that means getting grunts who get down and dirty. They took Michael Crabtree last year and had to endure his ridiculous holdout and still they couldn't make the playoffs. They have to build a team the right way."

Jerry Brewer of the Seattle Times
says Carroll's pre-draft tweeting reflects a different kind of coach. Brewer: "the person who has the most to lose seems to be the loosest. Seahawks fans have been talking about this draft since last October, when it became obvious early last season that the franchise would be drafting high. The Seahawks earned the No. 6 pick by virtue of their 5-11 record in 2009, and they also have Denver's first-round selection, which is No. 14 overall. With those two picks, Seattle has a chance to own Thursday night. Or fail dramatically."
Greg Johns of seattlepi.com
expects the Seahawks to make trades during the draft because it's in their best interests and it's consistent with how general manager John Schneider likes to operate. Johns: "It's a debate of quantity vs. quality at times, but Schneider firmly believes if a team scouts well and understands the draft board and who will be available in later picks, it is well worth the risk of giving up higher choices in exchange for adding more options later."
Eric D. Williams of the Tacoma News Tribune
predicts which players the Seahawks might draft by round. Russell Okung and Taylor Mays are his top two choices, with Seattle potentially trading down before drafting the latter.
Also from Williams
: Draft analyst Rob Rang says the Seahawks would be more likely to take Bryan Bulaga at No. 14 than No. 6 based on the tackle's athletic ability.
John Morgan of Field Gulls
gives the Seahawks Eric Berry and C.J. Spiller in his latest Seattle-centric mock draft.
April, 20, 2010
4/20/10
8:55
AM ET

Matt Barrows of the Sacramento Bee
runs through the 49ers' needs heading into the draft. Barrows: "The 49ers must open up their attack and use the perimeter more often in 2010. That means improving the overall speed on offense. The team took a step in that direction by acquiring Ted Ginn Jr. from Miami. Ginn was one of the fastest players in the 2007 draft. If they pass on speedy running backs such as Clemson's C.J. Spiller and Cal's Jahvid Best in the first two rounds, someone such as Ole Miss' Dexter McCluster or USC's Joe McKnight could bring pizazz to the running game in later rounds."
Matt Maiocco of the Santa Rosa Press-Democrat
sends Joe Haden and Anthony Davis to the 49ers in his latest mock draft. He has Maurkice Pouncey going to Arizona at No. 26, although the Cardinals are on the record saying they don't want to select offensive linemen early. Russell Okung and Earl Thomas are the choices for Seattle. Sam Bradford is the choice for St. Louis. Maiocco: "What about C.J. Spiller? I don't think the 49ers would take him at 13 or 17. And if my mock miraculously falls the way I diagram, we won't find out."
Also from Maiocco
: A scout familiar with the 49ers said he thought the team would be wise to select quarterback Jimmy Clausen because the 49ers are presently working on a year-to-year basis at quarterback.
Tom Abate of the San Francisco Chronicle
details the kicking battle between the 49ers' Joe Nedney and a robot. Abate: "The lighthearted contest, a stunt to highlight the three-day RoboGames competition that opens Friday at the San Mateo County Fairgrounds, ended when Nedney easily kicked a football 45 yards while his mechanical adversary twice failed to clear the goalposts at that distance."

Danny O'Neil of the Seattle Times
says the Seahawks have not drafted an offensive tackle since selecting Ray Willis back in 2005. Chris McIntosh was the last tackle Seattle drafted in the first round. Those streaks should end this year.
Greg Johns of seattlepi.com
says draft analyst Rob Rang expects the Seahawks to select an offensive tackle -- probably Russell Okung -- with the sixth overall choice. A personnel person familiar with Seattle line coach Alex Gibbs told me he thought Gibbs might prefer Bryan Bulaga over Okung, but it's tough to know for certain how much input Gibbs will have if Seattle does take a tackle in that spot.
Eric D. Williams of the Tacoma News Tribune
thinks Georgia Tech's Derrick Morgan could make sense for Seattle with the 14th overall choice. Williams: "Seattle's tentative starting defensive front line, defensive ends Lawrence Jackson and Chris Clemons, who came to Seattle in the (Darryl) Tapp trade, and defensive tackles Colin Cole and Brandon Mebane, combined for nine sacks last season."
Also from Williams
: defensive linemen and linebackers the Seahawks could consider on a round-by-round basis, according to Rang.

Kent Somers of the Arizona Republic
considers options at nose tackle for Arizona heading into the draft. Somers: "Weight is a problem for Alabama nose tackle Terrence Cody, who is listed at 360 pounds. Tennessee's Dan Williams likely will be gone by the time the Cardinals pick. The club could decide to gamble and hope that someone such as North Carolina's Cam Thomas or East Carolina's Linval Joseph is available in the second round."
Also from Somers
: a chat transcript featuring thoughts on Deuce Lutui, among other Cardinals subjects.
Darren Urban of azcardinals.com
says he thinks the Cardinals could be more likely to move back in the draft than move up, even though general manager Rod Graves sounded more excited about using the team's extra third-round choice as ammunition.
Also from Urban
: The proliferation of 3-4 defenses in the NFL makes it tougher for Arizona to find a nose tackle. Urban: "A player like Alabama's Terrence Cody is considered by many best-suited for the second or even the third round because of ongoing weight issues. Others, like East Carolina's Linval Joseph or North Carolina's Cam Thomas, can be had after the first round as well."
Jim Thomas of the St. Louis Post-Dispatch
says sources close to Rams minority owner Stan Kroenke say the billionaire remains focused on acquiring full ownership of the team, independent of whatever dealings Kroenke might have had with bidder Shahid Khan. Thomas: "Meanwhile, a backlash continues to grow over the absence of comments or statements by Kroenke about a commitment to keeping the Rams in St. Louis. The controversy began when Kroenke did not mention St. Louis in his April 12 announcement that he was exercising his right of first refusal. Radio personality McGraw Milhaven, who hosts a morning drive show on KTRS (550 AM), is asking fans to boycott Rams games if Kroenke doesn't make some kind of statement about keeping the team in St. Louis by the start of Thursday's draft."
Also from Thomas
: Defensive tackle Gary Gibson has re-signed with the Rams.

Bryan Burwell of the St. Louis Post-Dispatch
says fans should not trust Kroenke. Burwell: "As far as I can tell, what we have learned about Kroenke is that every move he makes is straight out of a Machiavellian playbook. From his cunning 11th hour maneuver to gain complete financial control of the franchise, to this latest reported strategy to seek an eight-figure 'compensation' from would-be buyer Shahid Khan to step out of the buying process, his actions reek of cold-blooded duplicity."
Bernie Miklasz of the St. Louis Post-Dispatch
says the Rams' ownership uncertainty is hurting the team with fans. Miklasz: "So the Rams' ownership saga gets crazier and more confusing by the day, which only creates distraction and frustration at a time when Rams fans would like to be in a happier mood, looking forward to this week's NFL Draft. By the time this nasty ownership mess is sorted out, there may be about 248 Rams fans left in St. Louis."
Howard Balzer of the St. Louis Globe-Democrat
says Kroenke's reported dealings raise questions about what kind of owner he might become. Balzer: "No one can convince me that the fingerprints of Rams senior adviser John Shaw aren't all over Kroenke's tactics. Remember, it was Shaw who orchestrated the move of the Rams to St. Louis in 1995 and then, at the 11th hour, with the papers ready to be signed, suddenly demanded the controversial 25-percent clause be included in the lease that could end up allowing the Rams to move after the 2014 season. What choice did we have but to acquiesce?"
Also from Balzer
: The Rams and player agents don't think it's necessary to begin early negotiations with the future No. 1 choice in the draft.