August, 21, 2014
8/21/14
4:30
PM ET
GLENDALE, Ariz. -- As he does every day during training camp,
Arizona Cardinals
coach Bruce Arians addresses the media after the morning walk-through. Here is a recap of what Arians discussed:
Arians was more than impressed with how defensive lineman Isaac Sopoaga showed up, took a physical, signed a contract, got dressed and then practiced with the first team -- and then showed the starters how to do certain things. "It was a real good start for him. He brings a lot of energy and a professionalism. He was calling out who was going in motion. We haven't had any of that. It was obviously contagious because other guys started doing it."
Last season, the Cardinals struggled in Wednesday practices after having Tuesdays off. Arians saw that Wednesday and wasn't pleased with the tempo at which practice started. He's trying to end that trend this year.
T Max Starks (ankle), G Jonathan Cooper (toe) and LB Kevin Minter (pec) will not practice Thursday.
Arians said the starters will still not play more than a half against the Bengals on Sunday and could play less depending on how their first few drives go.
While talking about Carson Palmer playing his old team on Sunday, Arians said it was "different" to play Pittsburgh in the 2012 preseason, less than a year after being forced out, while he was coaching the Colts.
Linebacker John Abraham looked good in practice Wednesday, Arians thought, and said the Cardinals will continue to increase his workload.
Rookie tight end Troy Niklas is playing without a soft cast on his right hand.
The Cardinals have two roster spots open after the team released defensive lineman Amp McCloud Thursday morning. Arians said those spots will likely stay open as first cuts approach in five days.
Arians said rookie WR Walt Powell will most likely have to make the final roster on special teams. "He's starting to learn how to play gunner and vice and some of those things," Arians said. "We'll try to shoot him out there as a return man and see what he's got. He's got an uphill battle with all those guys ahead of him."
Despite not a whole lot of production out of the running game through two preseason games, Arians isn't concerned. "When you go for fourth down four times and you make it, that's a pretty good running game."
August, 1, 2014
8/01/14
6:30
PM ET
GLENDALE, Ariz. -- The
Arizona Cardinals
didn't have to look far for depth on its offensive line.
Starks
The Cardinals signed veteran tackle
Max Starks
on Friday in a move that brought back memories of
Eric Winston
's signing last training camp. But Arians said this move was different. Starks, who lives in Fountain Hills, Arizona, about an hour drive from University of Phoenix Stadium, wasn't added because of desperation on the offensive line.
"Last year, we were not sold we had a right tackle," Cardinals coach Bruce Arians said. "Right now, I feel very confident in (right tackle)
Bobby (Massie)
. He's having a great camp. This is more of a swing. Eric could not swing. He's a right tackle only. Max has played left for a long time and he started out at right. It's just quality depth for us."
Starks will enter camp working with the second team, Arians said, backing up Massie at right tackle and
Jared Veldheer
on the left side. Even though he hasn't played since Week 4 of last season and missed the first week of training camp, Starks' said the transition is easier with the Cardinals because of his history with Arians.
Starks played in Pittsburgh during Arians' entire tenure with the Steelers. He'll also reunite with Cardinals' offensive coordinator Harold Goodwin and assistant offensive line coach Larry Zierlein, who were the Steelers' offensive assistant and offensive line coach, respectively, during part of Starks' Pittsburgh career.
"All the terminology seems to be the old terminology, so it's starting to click again," Starks said. "Obviously it's been two years since I was with BA so just getting used to that lingo and getting that going. But all the play calling is very similar to what I was used to in Pittsburgh."
Starks was the Cardinals' first roster move of training camp. Arians wanted to add enough depth to avoid any visible seams if an injury were to occur. But the addition of Starks is a statement on the Cards' backups, in particular
Bradley Sowell
.
Arians said Friday that Sowell isn't playing "as well as he should" and that the experience Starks brings is more valuable than a rookie.
"You want to give young players all the benefit of the doubt," Arians said. "But once you know they can't help you, it's time to build the depth in your roster."
September, 20, 2013
9/20/13
3:30
PM ET
EARTH CITY, Mo. -- If nothing else, you'd be hard pressed to find a team in the league that looks more intimidating getting off the bus than the
St. Louis Rams
.
With the official addition this week of tackles
Mike Person
and
Max Starks
, the Rams are now carrying a whopping 12 offensive linemen on their roster, enough to fill out an entire NBA roster.
[+] Enlarge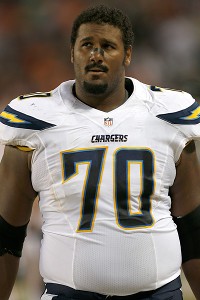 AP Photo/Scott BoehmMax Starks joins a crowded offensive line with the Rams.
The offensive line room is now so crowded that Starks joked he didn't have anywhere to sit.
"I sat on some boxes earlier," Starks said, laughing. "This is the first time I've seen that. The most I've seen before is 11, so to see 12 is like, 'Wow, we've got a lot of extra bodies.' It's like training camp almost."
Starks was just kidding about the boxes, but there's no doubt that a dozen large men can fill up a room quickly. With right tackle
Rodger Saffold
out this week with a knee injury and two games in a five-day span, the Rams are clearly taking no chances that they'll be caught short-handed along the line.
Of course, the bulk of the team's Sunday inactives will likely come from the offensive line group, but the idea remains that they'd like to have as many linemen up to speed or close to it as possible entering this stretch.
"We're just making sure that we've got numbers there for backups and that kind of thing," coach Jeff Fisher said. "It's a little unusual that we carry 12 on the active, but you're probably going to see more than the normal deactivated on Sundays."
As it stands, the Rams have a starting five of left tackle
Jake Long
, left guard
Chris Williams
, center
Scott Wells
, right guard
Harvey Dahl
and, most likely, right tackle
Joe Barksdale
.
From there, the Rams can mix and match backups with versatile options all over the place. Starks and Person are more true tackles, but Person has the ability to move around. Guards
Brandon Washington
and
Shelley Smith
are more pure guards, but Washington has the ability to move out to tackle. At center,
Tim Barnes
and
Barrett Jones
provide depth, but could play guard as well.
In all likelihood, the Rams will keep no more than eight of their linemen active against Dallas, which means the more likely options to stay up are guys who can move around.
The addition of Starks gives the Rams a veteran option in a relatively green group of backups. Starks played in 123 games in nine seasons with Pittsburgh at both tackle spots.
Although he just arrived in St. Louis yesterday, Starks said he's familiar with the offense, and it seems entirely possible he'll serve as the team's swing tackle in Dallas.
"I'm sure there's an opportunity," Starks said. "I feel like I have the opportunity as long as I get in my books and learn enough and show working knowledge of the offense, I wouldn't see it as too far-fetched."
Person, meanwhile, is a younger option who said he's played a little bit of everything since coming into the league. That was part of his appeal, according to Fisher.
"He can play all the positions," Fisher said. "He's a smart guy, a tough guy, and we liked what we saw on film."
It's just a bonus that Person qualifies as almost a perfect spy, an Agent 0073, so to speak.
Person entered the league in 2011 with San Francisco and spent last season with Seattle. In between those two stops, he even spent a week with now Arizona coach Bruce Arians in Indianapolis when Arians was offensive coordinator there.
To this point, Person's focus has been on acclimating to an offense much different than the one he knew in Seattle.
"It's a lot different," Person said. "It's completely new terminology, but that's what you sign up for in this business. You have to learn new stuff."
With so many linemen -- average size nearly 6-foot-5, 317 pounds -- the Rams might need a bigger airplane, but if nothing else they can rest easy in the knowledge that they won't run out of bodies anytime soon.
"That's definitely something I have never seen in my short career," Person said, laughing. "But hey, next guy up, right?"
June, 29, 2011
6/29/11
6:33
PM ET
The
neck surgery
center
Eric Heitmann
underwent makes it tough to envision the longtime starter returning to the
San Francisco 49ers
.
Heitmann
Without it, though, the odds against him were longer.
"The symptoms were not changing and the doctor said, 'This was what you need to do,' " agent Kenny Zuckerman said by phone Wednesday.
Heitmann was experiencing tingling and shooting pains down his lower back and extremities. The neck issues prevented him from returning last season even after Heitmann recovered from a broken fibula. The 49ers placed him on injured reserve in early November.
The procedure, performed about four weeks ago by Dr. Robert Watkins, entailed going into the neck, pushing aside the throat and larynx and fusing together vertebrae. It's the sort of procedure players undergo as a last resort.
"You don't just say, 'Oh, you are having pain? Let's operate on it,' " ESPN injury expert Stephania Bell said. "It used to be that when guys had fusions, they did not come back. But
Max Starks
had one and the Steelers put him on IR."
Heitmann is heading into the final year of his contract and most likely will have gone two full seasons without playing by the time he's healthy enough to consider playing. Recovery time is six months.
David Baas
took over for Heitmann last season and fared well enough to project as the starter for 2011. The team also addressed its offensive line in the draft, selecting Appalachian State's
Daniel Kilgore
in the fifth round.
The lockout prevented Heitmann from having surgery under terms of standard player medical insurance policies. He was insured through one of the COBRA policies available to him during the lockout.
November, 8, 2009
11/08/09
12:25
AM ET
Posted by ESPN.com's Mike Sando
CHICAGO -- With the Cardinals-Bears game approaching, NFC North alderman Kevin Seifert joined me over a Giordano's pizza for a divisional summit Saturday night.
We almost forgot to talk about football.
There will be plenty of time for that Sunday.
Kevin and I did talk some about left tackles. The Bears are getting by with
Orlando Pace
. The Cardinals'
Mike Gandy
is in a contract year. Other teams in the divisions we cover also face issues at the position.
Good luck finding one in free agency. As an NFL scout reminded me earlier in the day, left tackles are so scarce that the Steelers twice
used their franchise tag
on
Max Starks
, who wasn't even a full-time starter some of that time.
August, 13, 2009
8/13/09
10:38
PM ET
Posted by ESPN.com's Mike Sando
Thoughts and observations from the Cardinals' first exhibition game of the 2009 season, against the Steelers on Thursday night:
I'm filing this with about 5 minutes left in the game. Figured I could follow up with anything else that jumped out the rest of the way, such as Tyler Palko stealing the show late.
July, 15, 2009
7/15/09
6:26
PM ET
Posted by ESPN.com's Mike Sando
All three franchise players from the NFC West are under contract after Oshiomogho Atogwe signed the Rams' one-year offer.
The chart shows how the franchise system generally rewarded players at premium positions: left tackle (Max Starks), quarterback (Matt Cassel) and pass-rusher (Terrell Suggs). Giants running back Brandon Jacobs also landed a long-term deal.
Eight franchise players signed one-year deals and only one of them, Panthers defensive end Julius Peppers, played a premium position (tackle, quarterback, pass-rusher, cornerback).
The fact that only three of the 14 franchise players had been to a Pro Bowl shows that teams use the franchise tag as a tool in free agency, not only as a mechanism to guard against losing true franchise cornerstones. The Seahawks demonstrated this by revoking the tag from linebacker Leroy Hill, who then settled for a discounted contract.
Texans cornerback Dunta Robinson is the only unsigned franchise player. Refusing to sign the one-year franchise offer prevents the Texans from fining him for missing training camp. Refusing to sign made little sense for Atogwe, who wanted to be in camp and was practicing even before he signed the franchise offer Wednesday.
From the collective bargaining agreement: "Any Club designating a Franchise Player shall have until 4:00 p.m., New York time, on July 15 of the League Year (or, if July 15 falls on a Saturday or Sunday, the first Monday thereafter) for which the designation takes effect to sign the player to a multi-year contract or extension. After that date, the player may sign only a one-year Player Contract with his Prior Club for that season, and such Player Contract may not be extended until after the Club's last regular season game."
June, 8, 2009
6/08/09
12:00
PM ET
Posted by ESPN.com's Mike Sando
| | | | |
| --- | --- | --- | --- |
| 2009 NFL Franchise Player | Pos. | Team | Salary |
| Julius Peppers | DE | Panthers | $16,683,000 |
| Matt Cassel | QB | Patriots | $14,650,000 |
| Dunta Robinson | CB | Texans | $9,957,000 |
| Antonio Bryant | WR | Bucs | $9,884,000 |
| Karlos Dansby | LB | Cardinals | $9,678,000 |
| Max Starks | OL | Steelers | $8,451,000 |
| Leroy Hill | LB | Seahawks | $8,304,000 |
| Terrell Suggs | LB | Ravens | $8,304,000 |
| Brandon Jacobs | RB | Giants | $6,621,000 |
| Darren Sproles | RB | Chargers | $6,621,000 |
| Oshiomogho Atogwe | FS | Rams | $6,342,000 |
| Bo Scaife | TE | Titans | $4,462,000 |
| Shayne Graham | K | Bengals | $2,483,000 |
| Michael Koenen | P | Falcons | $2,483,000 |
Rams safety Oshiomogho Atogwe knows how to maximize risk. He has an NFL-high 32 forced fumbles and interceptions over the last three seasons.
Still, I went to St. Louis last week thinking Atogwe was taking an unnecessary gamble by declining to sign the Rams' one-year, $6.342 million franchise offer.
Hadn't Atogwe seen Leroy Hill take a lesser deal after the Seahawks rescinded their unsigned $8.3 million franchise offer? What if the Rams' priorities changed unexpectedly or Atogwe suffered an injury?
The NFL's other unsigned franchise players -- Julius Peppers, Dunta Robinson and Terrell Suggs -- play premium positions. Peppers and Suggs are pass rushers. Robinson is a cornerback. The NFL values those positions at a higher level. Safeties? Only punters, kickers and tight ends have lower franchise-player values.
There's much to admire about Atogwe's approach. He continues to participate fully in the Rams' offseason program, from organized team activities (OTAs) to minicamps. He isn't publicly complaining about his contract situation. The Rams have noticed. They probably will reward him with a long-term deal at some point.
It's just that Atogwe arguably could have it both ways by signing the contract. The money would become guaranteed and the Rams still would consider a long-term deal. At present, the Rams are free to rescind the tag and Atogwe is free to skip training camp and the regular season without incurring fines. Both scenarios appear unlikely, but circumstances can change unexpectedly.
The Rams are rebuilding whether or not Atogwe shows up. As much as they value him, their long-term future doesn't depend on a safety. Atogwe seemingly has more to lose. I raised these issues with Atogwe. A transcript of our conversation follows.
April, 3, 2009
4/03/09
3:06
PM ET
Posted by ESPN.com's Mike Sando
| | | | |
| --- | --- | --- | --- |
| 2009 NFL Franchise Player | Team | Status | Salary |
| Julius Peppers | CAR | Unsigned | $16,683,000 |
| Matt Cassel* | KC | Signed | $14,650,000 |
| Dunta Robinson | HOU | Unsigned | $9,957,000 |
| Antonio Bryant | TB | Signed | $9,884,000 |
| Karlos Dansby | ARI | Signed | $9,678,000 |
| Max Starks | PIT | Signed | $8,451,000 |
| Leroy Hill | SEA | Unsigned | $8,304,000 |
| Terrell Suggs | BAL | Unsigned | $8,304,000 |
| Brandon Jacobs | NYG | Signed | $6,621,000 |
| Darren Sproles | SD | Unsigned | $6,621,000 |
| Oshiomogho Atogwe | STL | Unsigned | $6,342,000 |
| Bo Scaife | TEN | Unsigned | $4,462,000 |
| Shayne Graham | CIN | Unsigned | $2,483,000 |
| Michael Koenen | ATL | Signed | $2,483,000 |
Rams safety Oshiomogho Atogwe was among 14 franchise players this offseason. He isn&#
39;t complaining about it, which I find refreshing.
"It's a blessing to come out here and play," Atogwe told reporters from the Rams' ongoing minicamp. "And to be thought of as one of the top five at my position is an honor. I relish this."
How hard was that? Even if Atogwe were unhappy about having his options restricted in free agency, complaining about being a millionaire qualifies as bad form.
"I don't have to be [here] contractually," Atogwe said, "but I feel like I'm obligated to be here for my teammates and for my coaches. Going forward in this year, if I want to be a part of this team, I want to be a part of this team from the beginning to the end and I think it's important that we all put aside our own personal stuff and just really sacrifice for the team. Put the team first and allow us to come together as one unit so we can get a lot done this year."
Atogwe's actions line up with what new Rams coach Steve Spagnuolo said at the NFL owners' meeting late last month. Spagnuolo wanted new leaders to emerge in place of some of the older players St. Louis released as part of its rebuilding plan this offseason.
The chart shows the contract status of each of the 14 franchise players.
Matt Cassel
's status changed when the Patriots traded him to Kansas City, but I left him on the list.
February, 19, 2009
2/19/09
5:28
PM ET
Posted by ESPN.com's Mike Sando
| | | | |
| --- | --- | --- | --- |
| 2009 NFL Franchise Player | Pos. | Team | Salary |
| Julius Peppers | DE | Panthers | $16,683,000 |
| Matt Cassel | QB | Patriots | $14,650,000 |
| Dunta Robinson | CB | Texans | $9,957,000 |
| Antonio Bryant | WR | Bucs | $9,884,000 |
| Karlos Dansby | LB | Cardinals | $9,678,000 |
| Max Starks | OL | Steelers | $8,451,000 |
| Leroy Hill | LB | Seahawks | $8,304,000 |
| Terrell Suggs | LB | Ravens | $8,304,000 |
| Brandon Jacobs | RB | Giants | $6,621,000 |
| Darren Sproles | RB | Chargers | $6,621,000 |
| Oshiomogho Atogwe | FS | Rams | $6,342,000 |
| Bo Scaife | TE | Titans | $4,462,000 |
| Shayne Graham | K | Bengals | $2,483,000 |
| Michael Koenen | P | Falcons | $2,483,000 |
INDIANAPOLIS -- The NFC West tied the NFC South and AFC North with three franchise players when the deadline passed Thursday.
NFC West teams played some horrid defense in 2008, but all th
ree franchise players came from that side of the ball.
The Seahawks tagged linebacker Leroy Hill after ranking 25th in points allowed. The Cardinals tagged linebacker Karlos Dansby after ranking 28th. The Rams tagged safety Oshiomogho Atogwe after ranking 31st.
The franchise tag evolved into an insurance policy for an unpredictable market. Teams were willing to make one-year bets at inflated salaries in exchange for a chance to size up the long-term market once free agency begins Feb. 27. At that point, teams will have a better idea of how much players might command on long-term deals.
Eleven of the 14 franchise players this year have never earned Pro Bowl status. Julius Peppers, Terrell Suggs and Shayne Graham are the exceptions.
Divisional franchise scorecard: NFC West 3, NFC South 3, AFC North 3, AFC South 2, AFC East 1, NFC East 1, AFC West 1.