August, 2, 2013
8/02/13
6:10
PM ET
San Francisco 49ers
coach Jim Harbaugh is going to l-l-love the NFC West video preview featuring ESPN's Merril Hoge and Herm Edwards. Both picked a team other than the 49ers to win the division in 2013, giving Harbaugh the type of we-get-no-respect ammunition a coach covets (particularly coming off back-to-back division titles and a Super Bowl appearance).
Hoge also pointed to the
Arizona Cardinals
as a sleeper team in the NFC, contending that coach Bruce Arians and top offensive assistant Tom Moore will marry their disparate views regarding offense to produce an "explosive balance" to complement their defense. That is an interesting pick. The
St. Louis Rams
would seem to qualify as well, although they might not be a true sleeper after producing a respectable 7-8-1 record last season, including 4-1-1 within the division.
While down in Arizona, I didn't hear much about plans for blending what Hoge described as Arians' aggressive downfield approach with Moore's preference for focusing more on protecting the quarterback. To my knowledge, this is going to be Arians' offense and it's going to be aggressive in taking deep strikes in the passing game.
May, 19, 2013
5/19/13
11:30
AM ET
Recommended video:
ESPN's Merril Hoge sat down recently with new
Arizona Cardinals
coach Bruce Arians for a discussion covering
Carson Palmer
,
Tyrann Mathieu
, calling plays and taking over for
Indianapolis Colts
coach Chuck Pagano on an interim basis last season.
Jim Irsay, the Colts' owner, asked Arians to take over once doctors diagnosed Pagano with cancer. Arians agreed, with one stipulation: that the Colts leave on the light in Pagano's office until the coach returned.
"Christmas Eve, we had our normal game-plan meetings and I was walking out of the building and all of a sudden I looked and the light was off," Arians recalled. "I had to get in the car and dry up some tears before I could drive home. It was an extremely emotional night -- the best Christmas I've ever had."
January, 21, 2013
1/21/13
4:00
PM ET
ESPN's Ron Jaworski and
Merril Hoge
are taking opposite sides in picking the Baltimore-San Francisco winner in the Super Bowl.
As they spoke, my mind turned to the few players on each team with the raw athletic ability, notably speed, to make game-breaking plays.
Quarterback
Colin Kaepernick
, tight end
Vernon Davis
and possibly running back
LaMichael James
are three such players for San Francisco. Receiver
Torrey Smith
is one such player for Baltimore.
Jaworski is picking the Ravens based on how well
Joe Flacco
is playing. He'll be covered either way, however. Before Flacco got on a hot streak against Denver and New England, Jaworski cited Kaepernick as the reason he thought
the 49ers would win it all
.
May, 7, 2012
5/07/12
12:22
PM ET
Under criticism
from ESPN's Merril Hoge and others, Kurt Warner has clarified his stance on concussions with
a reasoned response
that advances the conversation with civility.
Should we have expected anything less from the former
St. Louis Rams
and
Arizona Cardinals
quarterback?
Warner disagrees with Hoge's contention that treatment for head trauma is the problem, more than the trauma itself. He personalizes the issue by noting that his own child has suffered effects from brain injury. He agrees with Hoge on the need for better treatment. He diffuses Hoge's contention that Warner should "get involved" with his kids' football programs to better ensure safety, pointing out how his 12-year-old son's Pop Warner league conducts baseline neurological testing.
Warner directly counters Hoge's contention that Warner was "uneducated" and "uninformed" on the subject matter. Drawing from his own experience as a player, Warner describes the pressure players feel to get back on the field. He points to the situation in Cleveland with
Colt McCoy
last season as evidence the NFL is still finding its way on the concussion issue.
Warner also differentiated between his approach as a player and his feelings as a parent.
"As a football player and a fan of the game, I want my kids to play the game that I am so passionate about," he wrote. "They currently play football, and there are few things that bring me more joy than watching them play and getting excited about the game I love. But, at the same time I am constantly concerned about my kids and the violence of the game of football. I worry about them suffering head trauma and developing any long-term issues as a result of that injury."
This was a nearly perfect followup to the less measured comments Warner made last week.
May, 5, 2012
5/05/12
12:26
PM ET
Greetings, and Happy Cinco de Mayo.
A look back at
the most recent NFC West chat
shows the concussion issue permeating what are usually football-related discussions. The issue was a significant one for the division last season as several players, notably
Arizona Cardinals
quarterback
Kevin Kolb
and
St. Louis Rams
tackle
Jason Smith
, missed extended periods after suffering head injuries.
Both men absorbed inadvertent knees to the head (as did the
San Francisco 49ers
'
Delanie Walker
, who suffered a broken jaw as a result). There was not much anyone could have done to prevent these injuries, but
as ESPN's
Merril Hoge
said Friday, how teams and players respond can make all the difference.
NFC West teams seemed to respond appropriately in these cases. Walker said he did not suffer a concussion, only the jaw injury. Kolb and Smith missed extended periods following their concussions.
Brian from Arizona asks whether Kolb, who suffered a concussion playing for Philadelphia prior to suffering one last season, would have to consider retirement if he suffered one serious enough to sideline him for multiple games in 2012.

Mike Sando: Reasonably, yes, but we have evidence suggesting players will try to keep playing, and teams will keep giving them chances. I wonder if we're headed for a day when players must go through some sort of neurological or medical board to get a license to play in the NFL. Sort of the way boxing requires boxers to get a license. I mean, Brandon Stokley is playing in the NFL after suffering more than 10 significant concussions, by his count.

David from Maryland asks which wide receivers are most likely to stick on the Rams' initial 53-man roster.

Mike Sando: We need to know whether Steve Smith is going to be healthy. A scout for an NFL team told me he though the Rams would cut a receiver who would catch on with another team. Brian Quick makes it as a second-round choice. Danny Amendola makes it as a slot receiver. I suspect Greg Salas makes it. Chris Givens has a decent shot as a fourth-round pick. We haven't even mentioned Brandon Gibson, Austin Pettis or Danario Alexander. My feel is that injuries will make some of the decisions for the Rams. Smith and Alexander are two players to watch on that front. Can they hold up OK?

Boothe from parts unknown asks which is a more plausible hypothesis: The 49ers approached this draft with an eye on giving Alex Smith more weapons, or that they drafted these players to pair with Colin Kaepernick (in the near future) in a more dynamic, high-speed offense? "Or is neither exclusive of the other?" he asks.

Mike Sando: The 49ers were adding to their offense, period. If Alex Smith makes the most of those weapons, good for him. If not, on to the next guy. I'm sure they're thinking in the backs of their minds about a day when Colin Kaepernick, A.J. Jenkins and LaMichael James are on the field together with Vernon Davis, etc. But for now, Alex Smith gets first crack.

Bernie from Burien, Wash., asks whether the Seattle Seahawks should consider converting Mike Williams to tight end, a position where the team needs additional depth.

Mike Sando: Mike Williams wouldn't offer enough as a blocker. Plus, he is 230 pounds, too light for a tight end, and he has had trouble staying healthy. The team needs to add a real tight end. Visanthe Shiancoe is the most logical candidate by far among veteran free agents. He is 32, but he has not missed games.
Enjoy your Saturday. I'll be ducking out to watch our youngest play baseball.
May, 4, 2012
5/04/12
7:06
PM ET
The surest way to avoid a football-related concussion is to stop playing football.
It's a path retired quarterback Kurt Warner has considered promoting, and one retired running back Merril Hoge strongly rejected during a provocative Friday. Both suffered multiple concussions as players.
Concussions forced Hoge, now an ESPN analyst, to retire. They severely
affected his quality of life
. The fear of additional concussions played at least some role in Warner's decision to retire following the 2009 season.
"I understand how great the game of football was for me, and what it did for my family, but when I'm sitting back and watching my kids play, my boys play right now -- they love it, their dream is to play in the NFL -- I worry about it,"
Warner told Colin Cowherd
.
Warner was speaking from the heart only days after Junior Seau's suicide amplified concerns over what role, if any, head trauma might have played in the retired linebacker's demise.
"I worry about the long-term effects for me personally," Warner continued. "I worry about what can happen after football, as we've seen with a number of guys. I worry about what could happen at a younger age. ... With the way things are going right now and the way guys are getting bigger and stronger and faster, I would encourage my kids to probably stay away from it, if I could."
Hoge, meanwhile, has thought through this issue to a degree most others have not. He used the words "uneducated" and "uninformed" to describe Warner's take on the situation.
"When you think about what the problem is, it is not head trauma," Hoge said. "It is how head trauma is cared for. That is the issue. You are going to have concussions in every sport known to man. You're going to have them riding a bike. My son is 16, played football for eight years. He has had one concussion and that came from falling off a bike, hitting his head on a curb, splitting his helmet open. That doesn't mean I don't let him ride the bike."
Warner's response was understandable. In listening to his conversation with Cowherd, it was clear to me that Warner was still formulating his thinking on the matter. Hoge has a much stronger opinion.
"In Kurt Warner's situation, there was a chance to inform and educate those that are uninformed and uneducated," Hoge said. "Instead of scaring them away from the game, make them embrace the game by doing this: get involved, Kurt Warner. Get involved with your kids and their programs, make sure they are following the right guidelines. If your son is concussed, if your daughter is concussed in soccer or whatever, what are you doing for that player? Are you removing him from the game? Do you have the proper procedures in place? That is what is critical."
Warner could already be doing the things Hoge encouraged him to do, for all we know. The bottom line, in my view, is that the discussion is moving forward.
January, 19, 2012
1/19/12
11:07
AM ET
Let's give former New York Giants linebacker Antonio Pierce credit for suggesting a couple months back that the San Francisco 49ers would beat out New Orleans for the NFC's second playoff seed.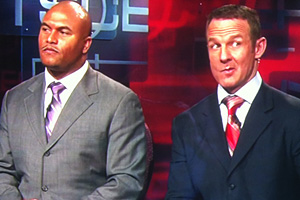 ESPN.comThis is how Merril Hoge reacted to Antonio Pierce suggesting the 49ers would get to 12-4 and be the No. 2 seed in the NFC.
Pierce's comments triggered a memorable reaction from fellow ESPN analyst Merril Hoge.
I'd forgotten about the
Pierce-Hoge exchange
until 49ers fans such as
@slder78
brought it up following the 49ers' 36-32 victory over the Saints in the divisional playoff round.
Pierce and Hoge were debating the 49ers' credentials right before San Francisco secured the No. 2 spot in ESPN's NFL Power Rankings heading into November.
Hoge flashed a classic eye roll when Pierce said he thought the 49ers would finish 12-4 (actual record: 13-3) and ahead of New Orleans. Hoge pointed to a weak NFC West as one reason the 49ers should not be taken too seriously. The 49ers were 6-1 at the time.
"I'm sorry, Merril," Pierce said. "I'm going to have to cut you off. They have only beaten one team in their division. The other five wins, outside their division. Tampa Bay, Detroit. They've played some good teams and put a smacking on them."
Hoge came around.
He picked the 49ers
to beat the Saints last week.
A look through Hoge's weekly 49ers picks shows he actually thought they would go 13-3. He picked against them only twice -- against the Giants and Pittsburgh Steelers -- after the 49ers got to 6-1.
October, 31, 2011
10/31/11
1:10
PM ET
The
San Francisco 49ers
went into Week 8 ranked fourth in
ESPN's NFL Power Rankings
.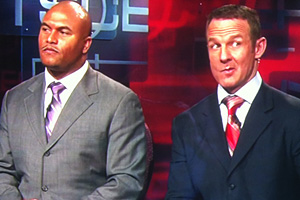 ESPN.comThis is how Merril Hoge reacted to Antonio Pierce suggesting the 49ers would get to 12-4 and be the No. 2 seed in the NFC.
They defeated the 24th-ranked
Cleveland Browns
. Top-ranked Green Bay did not play. Second-ranked New England lost at fifth-ranked Pittsburgh. Third-ranked New Orleans lost at 30th-ranked St. Louis.
The question: Should the 49ers move up to second? What about the Steelers?
ESPN's Merril Hoge rolled his eyes when Antonio Pierce suggested the 49ers would finish 12-4 and earn the No. 2 seed in the NFC playoffs. Hoge said he thought the 49ers would come up short against elite teams, including the Saints. He pointed to the weak NFC West.
"I'm sorry, Merril," Pierce said. "I'm going to have to cut you off. They have only beaten one team in their division. The other five wins, outside their division. Tampa Bay, Detroit. They've played some good teams and put a smacking on them."
I'm inclined to rank the 49ers second behind Green Bay this week. Would they beat the Steelers the way
Ben Roethlisberger
is playing right now? Would they have beaten New England, as the Steelers did Sunday? I'm not sure, but they're 6-1 overall, 3-0 on the road and own multiple victories over winning teams, including Detroit, Tampa Bay and Cincinnati.
September, 8, 2011
9/08/11
11:31
AM ET
You know it's coming if and when NFC West teams win games in Week 1.
There's a decent chance winning head coaches will make reference to all the doubters out there. It's become the norm.
I can just hear Ken Whisenhunt following an Arizona Cardinals victory over Carolina with something along the lines of, "There's been a lot said and written about us, much of it negative, over the last year or so. As long as the 53 men in that locker room believe, that's all that matters."
Sorry, NFC West coaches. Someone needs to revoke your disrespect cards for Week 1.
All 10 ESPN predictors
, eight human and two computerized, are taking the Cardinals over the Panthers in Week 1.
Nine of 10 are taking the San Francisco 49ers over the Seattle Seahawks, but Pete Carroll cannot say no one is picking his team. Chris Mortensen has Seattle's back this week. Carroll would be OK saying, "Not many people gave us a chance" or the equivalent if his team prevails. And he can certainly crow if Tarvaris Jackson, the most disrespected starting quarterback of the preseason, lights up the 49ers in victory.
The Philadelphia Eagles were a trendy pick for much of the offseason, but Mortensen, Merrill Hoge and Adam Schefter are picking the St. Louis Rams to beat them in the opener.
I'll run our weekly in-season "You called it" item later in the day Thursday.
January, 16, 2009
1/16/09
3:23
PM ET
Posted by ESPN.com's Mike Sando
Cardinals coach Ken Whisenhunt, addressing reporters in a news conference that has recently concluded, repeated the line about nobody picking his team to win a playoff game.
While plenty have picked against Arizona to this point, the Cardinals are adding believers. Seven of the 13 forecasters to make picks on our site -- here and here -- are taking the Cardinals to beat the Eagles and advance to the Super Bowl.
Picking the Cardinals:
Seth Wickersham
Merril Hoge
Mark Schlereth
Keyshawn Johnson
Cris Carter
Tom Jackson
Bill Simmons
Picking the Eagles:
David Fleming
Eric Allen
Mike Golic
Mike Ditka
Ron Jaworski
Chris Mortensen

Allen and Golic played for the Eagles when the Cardinals were their NFC East rivals.
ESPN.com is soliticing your picks here. And of course you can leave your prediction in the comments section of this item for a shot at joining our Wall of Fame.
Note: This item was updated after Jaworski and Mortensen made their picks. Thanks to cyclonem31 for the heads up.