January, 21, 2013
1/21/13
12:28
PM ET
Two of the first 10 players selected in the 2006 NFL draft are scheduled to start in the Super Bowl on Feb. 3.
Both are starters for the
San Francisco 49ers
.
Both were arguably selected higher than their positions warranted in terms of value.
Both have earned Pro Bowl recognition in recent seasons. Both have made high-impact plays in postseason victories over the past two seasons.
Tight end Vernon Davis and strong safety Donte Whitner are key players for the 49ers heading into the team's Super Bowl matchup against Baltimore.
I've singled out Davis in this item because the seventh-year tight end provided yet another high-impact postseason performance Sunday, his third 100-yard receiving game in four playoff appearances over the past two seasons. Davis also had a 44-yard reception against Green Bay last week in his lone playoff performance totaling less than 100 yards.
As the chart below shows, Davis accounts for three of the five highest single-game postseason yardage totals for tight ends over the past two seasons. Davis and
Dallas Clark
are the only NFL tight ends with more than one 100-yard receiving game in the playoffs since 2001, according to ESPN Stats & Information. Each has three.
The Ravens have allowed only one postseason touchdown pass to a tight end since 2001. They have allowed only two 110-yard receiving games to tight ends in regular-season or playoff games since 2001. Philadelphia's
Brent Celek
had 157 yards against the Ravens last season. San Diego's
Antonio Gates
had a 105-yard game against Baltimore in 2007.
August, 12, 2011
8/12/11
10:31
AM ET
Looking back upon the three things discussed here heading into the Arizona Cardinals' preseason opener Thursday night:
Kevin Kolb's protection:
The Raiders got pressure on Kolb a few times, but the Cardinals' new quarterback generally handled the pressure well. He threw away the ball quickly when the Raiders blitzed
Michael Huff
early. He scrambled for a 15-yard gain to avoid pressure another time. He rolled right away from pressure when left tackle
Levi Brown
faltered in protection. Kolb had his pass batted and nearly intercepted on this play. I previously thought Kolb had taken a sack when scrambling up the middle. He gained four yards on the play. Overall, Kolb showed he could handle pressure instinctively. Let's face it, there wasn't much game-planning going on.
The running backs:
Arizona backs carried 21 times for 90 yards overall.
Beanie Wells
punctuated a 15-yard run with a stiff-arm play recalling his efforts as a rookie. He ran hard for a 5-yard gain to the Oakland 3 on the next play. Wells, operating against the Raiders' second-team defense, then gained nothing on consecutive runs from the Oakland 1-yard line. Rookie
Ryan Williams
gained 11 yards on his first carry and 23 on a reception. Wells and Williams both lost the ball after being ruled down. Fumbles have been a problem for Arizona running backs, and it is one of the reasons the team drafted Williams and traded
Tim Hightower
. The Cardinals would not complain if their running backs held onto the ball after the play, just to be safe.
Young pass-rushers:
Rookie
Sam Acho
showed up on the stat sheet for roughing the passer. Inside linebacker
Stewart Bradley
and outside linebacker
Brandon Sharpe
recorded the Cardinals' only sacks of the night. Oakland quarterbacks completed 23 of 36 passes for 248 yards, one touchdown and a 93.3 rating.
August, 9, 2011
8/09/11
8:48
AM ET

Jim Thomas of the St. Louis Post-Dispatch
says the St. Louis Rams are relying more heavily on free agents this offseason. Thomas: "In a 10-day span since the lockout ended, they agreed to terms and then signed 11 veteran free agents from other teams. Five of those new Rams are projected as starters, and it could be six if Brady Poppinga wins the job at strong side linebacker. In most of the previous 16 offseasons for the Rams in St. Louis, the team would sign two or three starters in free agency and maybe a half-dozen free agents total. Sometimes, it was a lot less. For example, over a six-season stretch from 2000 through 2005, the Rams signed only six free agents who ended up as primary starters the year they signed." The pool of free agents was considerably larger than usual this offseason. Hundreds of players who normally would have hit the market a year earlier had to wait while the labor situation played out.
Also from Thomas
: The Rams added H-back Demarco Cosby.
Bernie Miklasz of the St. Louis Post-Dispatch
rates Hall of Fame chances for various key performers from the Rams' Greatest Show on Turf teams. He gives Aenaes Williams a 70 percent change. Miklasz: "He was named to eight Pro Bowls. He was a 3-time first-team All Pro. His 55 interceptions rank 18th in NFL history. Williams has more INTs than Hall of Fame DBs such as Deion Sanders, Darrell Green, Willie Brown, Mel Renfro, Herb Adderley, Larry Wilson, Willie Wood, Jimmy Johnson and Roger Wehrli."
Nick Wagoner of stlouisrams.com
also looks at Rams Hall of Fame candidates.

Matt Maiocco of CSNBayArea.com
provides an update from 49ers camp. Maiocco: "Rookie QB Colin Kaepernick showed his speed with a boot leg from midfield that fooled everybody on defense. He hit TE Delanie Walker on back-to-back touchdown throws of 9 and 4 yards. QB Alex Smith came back to find Braylon Edwards on a 4-yard fade route over tight coverage from Tramaine Brock."
Also from Maiocco
: 49ers safety Reggie Smith hints at a setback.
More from Maiocco
: The 49ers' offense could be gaining momentum.
Matt Barrows of the Sacramento Bee
says Smith has suffered a torn meniscus in his knee.
Also from Barrows
: Coach Jim Harbaugh liked how the 49ers practiced Monday.
Grant Cohn of the Santa Rosa Press-Democrat
passes along an Alex Smith interview transcript.
Cam Inman of the San Jose Mercury News
says Smith is embracing Harbaugh's offense. Smith: "To get a chance to have him hands on, to have him demonstrate, to have him jump out there and be competitive, it's fun. For all (quarterbacks), it's great to have a visual explanation sometimes, instead of getting it told to you. To get to see it happen, even from an old guy, it's good."
Gwen Knapp of the San Francisco Chronicle
says Smith has been more colorful than Harbaugh recently, an upset.
Eric Branch of the San Francisco Chronicle
says Dashon Goldson's return came as a surprise. Branch: "The Raiders were interested in Goldson, but re-signed Michael Huff. The Cowboys were in the discussion, but signed free-agent safety Abram Elam. Goldson visited the Patriots on Sunday, but ended up right back where he has spent the first four seasons of his career."

Clare Farnsworth of seahawks.com
offers highlights from practice Monday. Farnsworth's offensive highlight: "Rookie wide receiver Ricardo Lockette taking a pass from Portis along the left sideline and then making like the sprint champion he used to be to race back to his right and score a TD." Lockette appears to be one of the more athletically gifted players in camp.
Also from Farnsworth
: The Seahawks can go bigger on offense now that they've got tight end Zach Miller from Oakland. Farnsworth: "That's the 6-foot-5, 255-pound Miller working with the 6-5, 251-pound John Carlson, as well as 6-5, 235-pound split end Mike Williams and just-signed 6-4, 204-pound flanker Sidney Rice. Connect the dots between those impressive dimensions and it creates the perfect picture of a mismatch for some overmatched defensive back."
Danny O'Neil of the Seattle Times
updates Jamison Konz's position change for Seattle.
Also from O'Neil
: a closer look at Seahawks guard Robert Gallery, who will be the 11th player to start at left guard for Seattle since Steve Hutchinson signed with Minnesota following the 2005 season.
Dave Boling of the Tacoma News Tribune
sees good things from Seahawks linebacker Leroy Hill. Boling on younger linebackers in camp: "K.J. Wright, at 6-4, 246 looks too lanky in the middle, and in the first days of camp was spinning around at times in pass coverage. He's getting more and more comfortable, and a couple times Monday showed good instinct and technique scraping and filling against the run. Malcolm Smith is another, on the outside, who will be interesting to watch. He's 6-0, 226, but has jets and really closes ground. ... Mike Morgan is another who looks lanky as a SAM linebacker, but also has come up with athletic plays."
Eric D. Williams of the Tacoma News Tribune
says Golden Tate's niche with Seattle could be as a slot receiver.

Bob McManaman of the Arizona Republic
updates Adrian Wilson's arm injury. McManaman: "Although it remained unclear as to how badly Wilson's biceps tendon is torn, most athletes who suffer the injury opt for surgery." Much depends upon which of the three biceps tendons is torn, and to what degree.
Also from McManaman
: Early Doucet is faring well in Cardinals camp so far. Whisenhunt: "I've been very impressed. He's in good shape, he's made some plays. We'd just like to see Early continue with that track. There's no question that when Early has been healthy and played, he's made some big plays for us."
Darren Urban of azcardinals.com
says Wilson wasn't giving much ground when asked how the biceps tendon injury would affect him.
Also from Urban
: Longtime Cardinals scout Bo Bolinger has passed away. Urban: "An All-America selection as a guard at the University of Oklahoma, Bolinger finished ninth in Heisman voting following his senior season and was a starter on the Sooners' national championship team of 1955. He was selected by the Chicago Cardinals in the 13th round of the 1956 NFL Draft. He went on to coach at the collegiate level for 11 seasons, including stints at the University of Denver, Tulsa, New Mexico and Utah State, and spent two seasons as the offensive line coach for the Calgary Stampeders of the Canadian Football League before joining the Cardinals organization in 1971."
July, 31, 2011
7/31/11
3:10
PM ET
The
San Francisco 49ers
have taken their chances with free agents this offseason, allowing quite a few of their own players to test the market.
Takeo Spikes
and
David Baas
found deals elsewhere quickly.
Two more starters,
Dashon Goldson
and
Aubrayo Franklin
, reached free agency. Losing one or both would have stung, but the team was unwilling to pay a premium to keep them from the market.
Recent events suggest the 49ers could have a shot at retaining both players. The
Oakland Raiders
' agreement with safety
Michael Huff
appears to have removed them from the list of potential suitors for Goldson. And with ESPN's Adam Schefter reporting that
Franklin plans to visit
the team Sunday night, perhaps the 49ers are closer to bringing him back.
The market for defensive tackles has been softer than I had anticipated.
Brandon Mebane
re-signed with Seattle for about $5 million per season -- good money, to be sure, but not a blockbuster by NFL standards. Franklin's status as a former franchise player threatened to cloud his value after
Albert Haynesworth
's old deal with Washington inflated the franchise figure for defensive tackles.
Getting Goldson and Franklin back would affirm general manager Trent Baalke's contention that patience in free agency can work well for a team. Goldson and Franklin have more value than Spikes and Baas.
June, 15, 2011
6/15/11
5:42
PM ET
The second in a series of items analyzing one player per NFC West team without a contract for 2011.
Dashon Goldson, FS, San Francisco 49ers
Age:
26
NFL seasons:
four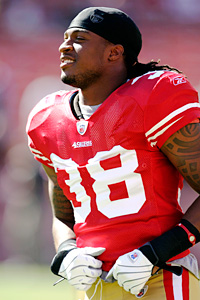 AP Photo/Ben MargotDashon Goldson had 80 tackles and one interception in 16 games for San Francisco last season.
Situation:
Goldson's status for free agency hinges upon the next labor agreement or whatever system goes into effect in the absence of one. Before 2010, players needed only four seasons to become unrestricted free agents. Goldson could revert to restricted free agency if players need more than four seasons. In that case, the 49ers would probably be able to re-sign him on a relatively modest one-year deal.
Matt Williamson of Scouts Inc.:
Goldson is better against the run than against the pass. I don't know that he recognizes things exceptionally well from a deep center-field perspective. But with his size, you want him at free safety, not strong safety. He is not a
Michael Lewis
, not an
Adrian Wilson
. He is good at a few things, but not great at any and I am not really sure what his niche is. He is an upgrade over what they have had in the past. You can win with him. He is a good player, but I don't think he is a featured player. If you had one more top-20 corner to add to that secondary, all of a sudden he might look a little better. But if you are needing him to make up for deficits on the edges, no. There are a ton of safeties on the market who are better than him.
Eric Weddle
,
Michael Huff
, those guys. You might tell him, 'See what you can get, let us know,' and if he can get a big number he goes, but if he comes back, you get him back at your price and everyone is happy.
My thoughts:
The 49ers' pass defense was worse than anticipated in 2010. Goldson went into the season with a chance to prove himself worthy of a lucrative long-term deal. He was definitely ascending coming out of his first season as a full-time starter. Goldson failed to continue on that trajectory. It wasn't all his fault, but the season showed that Goldson, unlike elite safeties, was not going to transcend a bad situation. Williamson's point about Goldson needing help at cornerback is well taken. The 49ers addressed the position in the draft, but not early enough to signal they've solved the problem altogether. Keeping Goldson as a restricted free agent would be ideal for San Francisco. The team's new defensive staff could then evaluate him over a full season. Goldson would also have much to prove.
February, 17, 2011
2/17/11
4:10
PM ET
As
promised
,
Kevin Kolb
's potential trade value has provided a starting point for additional discussion.
"Shades" from Chico, Calif., used the
recently concluded NFC West chat
to question why NFL teams seem to over-value draft choices, and specifically whether the
San Francisco 49ers
would be foolish to consider trading the seventh overall choice for Kolb:
These are unproven, college players. Kevin Kolb has been an NFL starting QB, has had success, and has a nice upside. If he were a collegiate player, he would surely go high -- perhaps even with the No. 7 pick if he were as he is today. Can somebody, anybody, please, please give me a triple Oy Vey? I'd be all teeth to see the 49ers land Kolb and it doesn't seem like a No. 7 pick is too much of a reach, given the state of the QB situation. Of course, I'd rather trade a large turkey leg, a Prince Purple Rain CD, a sack of frozen burritos, a case of frozen Otter Pops, a BBQ-slathered porksteak, and a gigantic bowl of corn for Kolb. Smile.
This is a question I'd like to throw open for discussion, then revisit Friday.
First, I'll provide a chart showing the last 20 players drafted seventh overall, with how many seasons they played and how many Pro Bowl seasons they have earned, courtesy of Pro Football Reference.
August, 10, 2010
8/10/10
10:15
AM ET
ESPN.com's Training Camp Chatter
provides a forum for all-out discussion on all things NFL. I've been dropping by daily, as have the other divisional bloggers and various others, and that will continue through camps.
Here a transcript of our NFC West-related exchanges from Monday, as moderated by editor Emily Schaible:
Mike Sando: Greeting from NFC West land.

Emily Schaible: Welcome, Sando!

Brad: Who is getting the most first-team reps at running back for the Seahawks?

Mike Sando: Justin Forsett.

Jack: So, now that San Francisco is on the rise and Denver is all injured or traded away, which division is worse, the AFC West or the NFC West?

Emily Schaible: There were claims earlier that the Redskins could win the NFC West.

Mike Sando: The NFC West had by far the fewest non-division victories last season. Take away Kurt Warner, give Jason Campbell to Oakland and the burden of proof lies with the NFC West.

Tre: The 49ers just completed an injury-riddled practice this morning, so let's not put the cart before the horse.

Eric: Hi Mike, so which camp so far looks the most focused for the season?

Mike Sando: I have not yet been to see the Rams, but the Cardinals have an edge about them, no doubt. They relish proving doubters wrong.

Tre: Sando, what are (Anthony) Davis and (Mike) Iupati's margin of error now that they are the starters "for now" according to Singletary? How much growing pains is the team willing to endure?

Mike Sando: There's no looking back because the 49ers do not have great alternatives.

Brad: Who is expected to be the No. 2 receiver in Arizona now that Anquan Boldin is gone?

Mike Sando: Steve Breaston is 2, Early Doucet 3.

Tre: Sando, which OLB's might be available cheap for the 49ers considering three of their OLB's are currently not practicing?

Mike Sando: Bad options such as Adalius Thomas. It is still early.

Ryan: Sando, who can cover Vernon Davis? Seems like he will be the focus of opposing defensive coordinators. Raider fan here seeing if Michael Huff can get the job done.

Mike Sando: No one can consistently match up against Vernon Davis' combination of size and speed. It would take a great effort from a physical safety.

Will: How is the Cardinals offense looking in training camp? Do you think Beanie Wells and Tim Hightower will be as productive this year as last year with Warner and Boldin in the offense?

Mike Sando: Beanie Wells should be more productive. He is a new man physically. Remember, he could not practice last offseason til mid-June and he got hurt the first day if camp. He has been in their program all offseason this year.

Jack: How did Charlie Whitehurst look in the scrimmage yesterday?

Mike Sando: Whitehurst looked OK. He is not really pushing Matt Hasselbeck, though. And I think he appears a little slender. Would not want to see him scramble into, say, Darnell Dockett or Patrick Willis.

Steve: Is Mike Singletary going to to implement a "Marty Ball" offense like Rex Ryan did last year?

Mike Sando: The 49ers are going to run it a lot with Frank Gore. It depends some on how much their run blocking improves. They do have weapons in the passing game.

Emily Schaible: How many more questions can you take, Sando?

Mike Sando: Let's do two more.

Wil: How did the Cardinals' offensive line look?

Mike Sando: Good depth. I wonder what Alan Faneca has left, but they have good options at guard. Brandon Keith looks good at RT.

Jonathon: Will the Seahawks be better than they are given credit for? They have a good enough team to surprise some people?

Mike Sando: I think Seattle will improve by a couple games. The LT situation was horrible in 2009. The depth behind Hasselbeck could be better too.

Mike Sando: Thanks!

Emily Schaible: Thanks Sando!
Sorry, Rams fans, but there apparently were not Rams-related questions or comments during my session.
Note:
The 49ers subsequently agreed to terms with outside linebacker
Bruce Davis
, formerly of the
Denver Broncos
,
New England Patriots
and
Pittsburgh Steelers
.