NFC West:

Michael McCrary
February, 2, 2011
2/02/11
7:15
PM ET
DALLAS -- All defensive tackles were not created alike. That goes for the great ones, too.
[+] Enlarge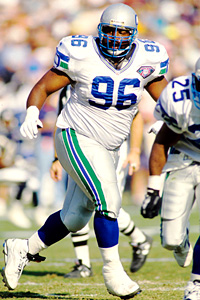 US PresswireFormer Seattle Seahawks defensive tackle Cortez Kennedy was a versatile player over his 11-year career.
Some are mostly run-stuffers, coming off the field in passing situations. Others rush the passer with little or no regard for playing the run.
Very few could dominate across all situations.
Cortez Kennedy
could, and did, during an 11-year NFL career that landed him a spot among the final 10 candidates for the most recent Pro Football Hall of Fame class. Kennedy is among the final 15 modern-era finalists again this year, and I'll be presenting his case to the other selectors during our annual meeting Saturday.
Several themes have emerged during my research into Kennedy's career. I'll expand upon them here one by one, drawing upon coaches and players' first-hand knowledge.
Sheer physical dominance
Very good players sometimes enjoy great careers. Some lean heavily on savvy and preparation. Not all of them dominate physically. Kennedy generated superior power and sudden quickness from a massive lower body.
"Cortez was the most dominant interior lineman that we ever faced and certainly the very best against the run," said former
Oakland Raiders
guard
Steve Wisniewski
, an eight-time Pro Bowl choice between 1989 and 2001.
Seattle scrapped its 3-4 defense to rebuild around Kennedy at a time when Kennedy's college coach at Miami, Jimmy Johnson, was bringing his 4-3 scheme to the NFL.
"That time in football is when you really got the dominant defensive players inside," Johnson said. "The big, overpowering defensive linemen inside just disrupted everything. Cortez got teams looking for that dominant player."
There's that word again -- dominant.
"He was very dominant and could take over the game," said longtime NFL offensive line coach Howard Mudd, who coached for and against Seattle during Kennedy's career. "He just had great instincts about where the ball was and he was a pass-rusher so you would think, 'Gee, we could run screens on that guy.' But he smelled them out and he was always running into the screens."
Longtime NFL offensive line coach Alex Gibbs said offenses had to plan for Kennedy specifically or pay the consequences, or both. Gibbs coached the lines for three of Seattle's old AFC West rivals across 10 of Kennedy's 11 seasons. He was with Seattle briefly in 2010, and that is when he provided a testimonial.
"The Seahawks were a nightmare because I knew I was going to get them twice a year, and it was going to boil down to making a decision -- do I spend all my time with Cortez or do I deal with those other guys?" Gibbs said.
Complete player
Kennedy joined
John Randle
,
Bryant Young
and
Warren Sapp
on the NFL's all-decade team for the 1990s. He was a different type of defensive tackle, opponents said. They lauded him for his versatility.
"I knew that when I was going to go play against Cortez Kennedy, it was going to be a full-meal deal, a battle," said retired Pro Bowl center
Tim Grunhard
, who started 164 games for Kansas City from 1990 to 2000. "I knew when I was going against Warren Sapp, when you got him, you could block him. ... At times, he lined up as wide as any tackle ever. Cortez Kennedy lined up head-on you and went man to man and dominated you."
Asked to rank Kennedy among contemporaries, Wisniewski wanted to know which tackles appeared on the all-decade team for the 1990s. I ran through the names and asked Wisniewski to put Kennedy's abilities in perspective.
"(Kennedy) had that ability to stop the run, to play with leverage and have the quickness to hit the edge of an offensive guard and split the seams to put pressure on the quarterback," Wisniewski said. "Hands down, he was a much better player against the run than a John Randle, much better than a Warren Sapp. I didn't have to play against Bryant Young as many times. He was a much lighter guy, kind of high effort, 50-50 (against run and pass alike)."
Randle is already in the Hall of Fame. Sapp and Young are not yet eligible for consideration. Each was outstanding in his own way, but Kennedy was different.
Made teammates better
Kennedy collected 14 sacks in 1992 and 58 for his career even though Seattle asked him to do so much more than rush the passer. Opponents funneled more resources toward Kennedy after that 14-sack season, creating opportunities for his teammates.
Michael Sinclair
,
Sam Adams
,
Michael McCrary
and others benefited.
"He was such a powerful guy who could play, in essence, two gaps," Gibbs said. "He forced you to get two people on him in order to get through the seams, which gave the linebackers who played here a tremendous advantage. You couldn't get the combinations to block him. You always tried to get one of them off and his body frame was so wide and strong that we couldn't get there, so the linebackers made all the plays. He had a unique ability to control one and force another to free up his teammates to make a lot of plays."
Former Seahawks linebacker
Terry Wooden
said the same thing recently when I happened to be sitting near him on an airplane. According to Wooden, Kennedy would never seek to make a play on his own if it meant weakening the defense overall or compromising a teammate.
Durability and accolades
Kennedy played 16 games nine times, 15 games once and eight games in his only injury-shortened season. He matched
Reggie White
and
Bruce Smith
as the only defensive linemen with eight Pro Bowls during the 1990s. He went to as many Pro Bowls during the 1990s as
Jerry Rice
,
Deion Sanders
,
Emmitt Smith
, Bruce Smith and
Derrick Thomas
.
Kennedy was also the Associated Press' defensive player of the year on that 2-14 team, which featured one of the worst offenses in NFL history (Seattle was the only NFL team to field a top-10 defense in 1990, 1991 and 1992). Only White and
Lawrence Taylor
won the award previously while playing for losing teams.
According to the Seahawks, Kennedy played more than 90 percent of the defensive snaps for at least his first six seasons, including 97.2 percent in 1994.
Since sacks became an official stat in 1982, Kennedy and Hall of Famer Randy White are the only defensive tackles with at least 150 starts, 50 sacks and eight Pro Bowls. Again, though, the sack totals were never what defined Kennedy's contributions.
Grunhard put it this way: "When they are 330 pounds, at times their job is to tie you up. Their job is to clog up the middle. It is not fair when people say they are taking plays off. They are doing their jobs. There is a difference. Sometimes plays aren't designed for them to make the plays. Their job is to free up other people and he did a great job doing that. But when Cortez wanted to go and had the opportunity to go make a play, he was unstoppable. He was unblockable. That puts him in an elite level."
December, 15, 2010
12/15/10
2:39
PM ET
A scorekeeper's change from Week 14 has made
Chris Clemons
the 11th player in
Seattle Seahawks
history to
reach at least 10 sacks
in a single NFL season.
The change turned
Aaron Curry
's sack on the
San Francisco 49ers
'
Alex Smith
into a half-sack for Curry and Clemons. I watched replays and also thought Clemons deserved at least some credit for the sack.
Clemons now has 10 sacks in 13 games with Seattle. He becomes the first Seahawks player since
Patrick Kerney
in 2007 to have at least 10 in a season. Kerney had 14.5.
Clemons becomes the eighth player from a current NFC West team to record at least 10 sacks in a season since 2000. The list:
The Rams'
James Hall
ranks second to Clemons in sacks among NFC West players this season. He has 8.5. Teammate
Chris Long
is next with 6.5, followed by the 49ers'
Justin Smith
(5.5) and four players with five sacks (
Travis LaBoy
,
Patrick Willis
,
Raheem Brock
and
Joey Porter
).
Clemons joins a Seattle double-digit sacks list featuring Jacob Green (five times),
Michael Sinclair
(three),
Rufus Porter
(two),
Jeff Bryant
(two),
Cortez Kennedy
(one),
Michael McCrary
(one),
John Randle
(one), Randy Edwards (one), Kerney (one) and Peterson (one).
February, 24, 2010
2/24/10
2:00
PM ET
»
NFC Busts/Gems
:
East
|
West
|
North
|
South
»
AFC
:
East
|
West
|
North
|
South
»
Draft Watch
:
Biggest needs
(2/17) |
Busts/gems
(2/24) |
Schemes, themes
(3/3) |
Recent history
(3/10) |
Needs revisited
(3/17) |
Under-the-radar needs
(3/26) |
History in that spot
(3/31) |
Draft approach
(4/7) |
Decision-makers
(4/14) |
Dream scenario/Plan B
(4/21)
Each Wednesday leading up to the NFL draft (April 22-24), the ESPN.com blog network will take a division-by-division look at key aspects of the draft. Today's topic: Busts and late-round gems.
Arizona Cardinals

Gems:
With the 129th choice of the 1963 NFL draft, the Cardinals selected ... Jackie Smith, tight end, Northwestern State. Smith spent 15 seasons with the organization during a Hall of Fame career, earning him high standing on any list of Cardinals draft gems. Hall of Famer Larry Wilson, chosen 74th overall in 1960, also belongs in the conversation. More recently, the team found
Anquan Boldin
,
Aeneas Williams
,
Adrian Wilson
and
Darnell Dockett
outside the top 50 overall choices.
Busts:
Quarterbacks George Izo and Kelly Stouffer combined to play two games for the Cardinals, both by Izo, despite joining the team as top-five overall selections. Izo, the second player chosen in the 1960 draft, tossed 12 career touchdown passes with 32 interceptions, most for the Redskins. Stouffer, picked sixth in 1987, never signed with the Cardinals, missing his rookie season before landing in Seattle via trade. The Cardinals have whiffed on quite a few other players, but these two stand out.
San Francisco 49ers

Gems:
Jesse Sapolu
, Tommy Hart, Dwight Clark and Jerry Mertens earned Pro Bowl berths as position players despite being selected between the 239th and 289th overall choices in their draft classes.
Charles Haley
,
Terrell Owens
and
Joe Montana
were chosen between the 82nd and 96th choices.
Busts:
Quarterback
Alex Smith
(2005) and receiver Harry Babcock (1953) are the only players drafted first overall by the 49ers. Smith still has a chance to change his legacy, but so far it's not looking good. The 49ers whiffed on Steve Spurrier with the third overall choice in 1967.
Jim Druckenmiller
stands out as a memorable first-round disappointment in more recent years.
Seattle Seahawks

Gems:
Michael Sinclair
and
Michael McCrary
became Pro Bowl defensive ends after Seattle made them seventh-round choices in the early 1990s. Running back
Chris Warren
was a fourth-round find in 1990. Overall, though, the Seahawks haven't unearthed a long list of draft gems. Trading up in the second round to select three-time Pro Bowl linebacker
Lofa Tatupu
was an impressive move.
Busts:
Rick Mirer
(1993) and Steve Niehaus (1976) never lived up to expectations as the second overall choices in their draft classes. Ownership's decision to select quarterback
Dan McGwire
with the 16th pick in 1991 looks even worse when one considers that coach Chuck Knox wanted
Brett Favre
instead.
St. Louis Rams

Gems:
Finding defensive end Andy Robustelli with the 228th choice of the 1951 draft stands out as significant even though Robustelli spent much of his Hall of Fame career with the Giants. Larry Brooks, Harold Jackson and Drew Hill all went to Pro Bowls after the Rams drafted them 323rd overall or later. Pass-rusher
Kevin Greene
was a fifth-round find in 1985. The Rams found Hall of Famer
Jackie Slater
in the third round (1976).
Busts:
Terry Baker won the Heisman Trophy and played in the Final Four while at Oregon State, but that didn't do the Rams much good after they drafted the quarterback first overall in 1963. Baker played three NFL seasons without completing a touchdown pass. The selection of
Lawrence Phillips
with the sixth choice of the 1996 draft stands out as one of the team's worst draft decisions in more recent memory. As of 2009, Phillips was serving a 31-year prison sentence.