September, 1, 2012
9/01/12
4:38
PM ET
The
San Francisco 49ers
announced their initial eight-man practice squad Saturday.
That provides a chance for me to pass along an updated version of the 49ers' roster
for download
. This Excel file features 27 columns for every 49ers player, plus those no longer on the roster (dating to roughly 2007, when I started maintaining theses for each team).
The chart shows positional counts for the 49ers' active roster and practice squad.
San Francisco signed to its practice squad two linebackers (
Cam Johnson
,
Michael Wilhoite
), two offensive linemen (
Kenny Wiggins
,
Al Netter
) and two defensive linemen (
Matthew Masifilo
,
Tony Jerod-Eddie
). The 49ers also signed receiver
Nathan Palmer
and safety
Michael Thomas
.
Johnson provides practice depth at outside linebacker. Wilhoite was one of the NFC West's more impressive young inside linebackers during preseason. Thomas was a player 49ers veteran safety
Donte Whitner
singled out as likely to stick on the practice squad, with a chance to develop into a regular-season contributor.
The
New York Jets
claimed tight end
Konrad Reuland
off waivers. The
Indianapolis Colts
claimed offensive lineman
Mike Person
.
September, 1, 2012
9/01/12
12:33
PM ET
NFL teams can begin forming practice squads once eligible players clear waivers Saturday.
A look at which players released by NFC West teams have eligibility:
Arizona Cardinals

Eligible:
Crezdon Butler
,
Antonio Coleman
,
Blake Gideon
,
Ricky Lumpkin
,
Colin Parker
,
Larry Parker
,
Steve Skelton
,
Quan Sturdivant
,
Everrette Thompson
,
Martell Webb
,
Scott Wedige
,
Brandon Williams
,
Isaiah Williams
,
D.J. Williams
.
Not eligible:
DeMarco Sampson
,
Alfonso Smith
,
Ronald Talley
,
Stephen Williams
,
Clark Haggans
,
Russ Hochstein
St. Louis Rams

Eligible:
Cornell Banks
,
Tim Barnes
,
Tom Brandstater
,
Mason Brodine
,
Aaron Brown
,
Sammy Brown
,
Kendric Burney
,
Ben Guidugli
,
Cory Harkey
,
T-Bob Hebert
,
Jamaar Jarrett
,
Nick Johnson
,
Joe Long
,
Deangelo Peterson
,
Chase Reynolds
,
Scott Smith
Not eligible:
Vernon Gholston
,
Bryan Mattison
,
Jose Valdez
,
Kellen Clemens
,
Ovie Mughelli
San Francisco 49ers

Eligible:
Derek Hall
,
Joe Holland
,
Tony Jerod-Eddie
,
Cam Johnson
,
Matthew Masifilo
,
Anthony Mosley
,
Kyle Nelson
,
Al Netter
,
Chris Owusu
,
Nathan Palmer
,
Mike Person
,
Konrad Reuland
,
Kenny Rowe
,
Michael Thomas
,
Kenny Wiggins
,
Michael Wilhoite
Not eligible:
Eric Bakhtiari
, Ikaika Alama-Francis,
Rock Cartwright
,
Josh Johnson
,
Brett Swain
Seattle Seahawks

Eligible:
Pierre Allen
,
Allen Bradford
,
Kris Durham
,
Cooper Helfet
,
Rishaw Johnson
,
Jermaine Kearse
,
Kyle Knox
,
Cordarro Law
, Pep Levingston,
Ricardo Lockette
,
Sean McGrath
,
Kris O'Dowd
,
Josh Portis
,
DeShawn Shead
,
Vai Taua
,
Korey Toomer
,
Lavasier Tuinei
Not eligible:
Phillip Adams
,
Deon Butler
,
Paul Fanaika
Note on eligibility
Straight from the collective bargaining agreement:
"The Practice Squad shall consist of the following players, provided that they have not served more than two previous seasons on a Practice Squad:

"players who do not have an Accrued Season of NFL experience;
"free agent players who were on the Active List for fewer than nine regular season games during their only Accrued Season(s).


"An otherwise eligible player may be a Practice Squad player for a third season only if the Club by which he is employed that season has at least 53 players on its Active/Inactive List during the entire period of his employment.

"A player shall be deemed to have served on a Practice Squad in a season if he has passed the club's physical and been a member of the club's Practice Squad for at least three regular season or postseason games during his first two Practice Squad seasons, and for at least one regular season or postseason game during his third Practice Squad season.

"(For purposes of this Section, a bye week counts as a game provided that the player is not terminated until after the regular season or postseason weekend in question.)"
August, 31, 2012
8/31/12
10:28
PM ET

Most significant move.
The
San Francisco 49ers
' decision to keep running back
Anthony Dixon
played into a broader special-teams theme. Veteran fullback
Rock Cartwright
, once seen as a key special-teams addition following
Blake Costanzo
's departure in free agency, received his release. The 49ers traded another core special-teams player, safety
Colin Jones
, to Carolina for what was thought to be a 2014 seventh-round choice.
The 49ers' decision at quarterback was also among those I found most significant. The team kept
Scott Tolzien
over
Josh Johnson
in the No. 3 role even though Johnson played for 49ers coach
Jim Harbaugh
at the University of San Diego. Johnson also outplayed Tolzien in the final exhibition game. Keeping Tolzien appealed, however, because his ceiling appears less defined. Johnson has played in the NFL without setting a sharply upward career trajectory.
Colin Kaepernick
's emergence as a stronger No. 2 quarterback bought some insurance for carrying a less-experienced third-stringer, perhaps.
Onward and upward:
Linebacker
Michael Wilhoite
, offensive lineman
Mike Person
and safety
Michael Thomas
appear to be young players with futures in the NFL. Defensive lineman
Matthew Masifilo
impressed in the final exhibition game. The 49ers' practice squad will be an option for some of the players let go, but I won't be surprised if waiver claims from other teams get in the way. The 49ers have done a good job building talented depth throughout their roster.
The team also released
Eric Bakhtiari
,
Ikaika Alama-Francis
,
Derek Hall
,
Joe Holland
,
Tony Jerod-Eddie
,
Cam Johnson
,
Anthony Mosley
,
Kyle Nelson
,
Al Netter
,
Chris Owusu
,
Nathan Palmer
,
Konrad Reuland
,
Kenny Rowe
,
Brett Swain
and
Kenny Wiggins
.
Reuland could get another chance. It was a mild surprise, perhaps, to see
Garrett Celek
stick ahead of Reuland as the third tight end.
What's next:
The 49ers will watch closely to see which players clear waivers. Wilhoite is one they would like to re-sign, according to his agent, but teams looking for young depth at linebacker could submit claims. The team could use another outside linebacker, at least on paper, but the 49ers got through last season with only three of them.
The 49ers are carrying only eight offensive linemen. Their swing tackle,
Alex Boone
, is starting at right guard. If there's an offensive tackle out there worth claiming, the 49ers could consider adding one. But two of their division rivals, Arizona and St. Louis, have greater needs and higher waiver priorities.
August, 16, 2012
8/16/12
1:35
PM ET
SANTA CLARA, Calif. -- One school of thought says the
San Francisco 49ers
got the most they'll ever get from quarterback
Alex Smith
last season.
What if last season was only the beginning?

That question ran through my mind while watching Smith fire passes on time and on target during a recent three-day stay at 49ers training camp. The answer became clearer every time Smith connected with newcomers
Randy Moss
and
Mario Manningham
, which was frequently. He appeared more accurate, more confident and more in command than I can ever recall seeing Smith during a training camp -- or any other time, for that matter.
"He's letting the ball go, he's making the right decisions and he's not afraid," tight end
Vernon Davis
said. "He's playing ball, he's having fun."
Of course, it figures a quarterback would look better throwing to proven targets than when operating without them.
Michael Crabtree
,
Kyle Williams
,
Brett Swain
and
Joe Hastings
were the only wideouts available to Smith in the NFC Championship Game last season. Williams, now fighting for a roster spot, ranked second among the 49ers' wide receivers with 20 catches during the regular season.
[+] Enlarge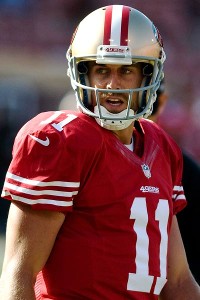 Ed Szczepanski/US PresswireThe 49ers brought in more weapons for Alex Smith to work with on offense.
Life for Smith is better now.
"If you watch our team last year, we were kind of one-dimensional as far as offense," left tackle
Joe Staley
said. "The passing game went through Vernon and Crabtree. The running game was Frank [Gore] and Kendall [Hunter]. We've added a lot of talent. The more weapons you have, the more versatile you can be. Our coaches are very creative."
Smith proved last season he could be a trusted extension of the 49ers' coaching staff. He threw five interceptions in 445 pass attempts, playing to the team's strengths on defense and special teams.
Smith has what offensive coordinator Greg Roman calls a "unique" ability to grasp a game's dynamics in real time for the purposes of managing risks. On the surface, that sounds like a creative way to avoid slapping the dreaded "game manager" label on a quarterback with limited skills. The 49ers don't see it that way at all. They think Smith has demonstrated all the intangibles great quarterbacks should possess: mental and physical toughness; an off-the-charts football IQ; a level head no matter the circumstances; a passion for preparation; and the ability to perform in the clutch. They see him leading an offense that wasn't as bad as advertised, one that should only get better.
"Without an offseason here, we finished 10th in the NFL in scoring [actually 11th] and fourth in time of possession," Roman said. "That is in spite of being poor on third down, which is pretty remarkable.
"We're going to be opportunistic, strike when we feel it's time to strike," he said. "The other part of it is, when we make decisions on offense, it's big picture. The offense, defense and special teams are all intertwined. But we have an offseason under our belt now and are working through our second camp together. We certainly expect a lot of ourselves this year."
THREE HOT ISSUES
1. Crowded offensive backfield.
Frank Gore
is going to get his carries.
Kendall Hunter
,
Brandon Jacobs
and
LaMichael James
will be competing for what's left over. Their roles haven't solidified, but Hunter has enjoyed a tremendous camp. He caught my attention this week by hauling in a deep pass up the sideline, the type of play running backs rarely make. Hunter is going to play. James, as a rookie, figures to need time.
Jacobs, signed from the
New York Giants
, has been getting work in short-yardage situations, an area in which
Anthony Dixon
struggled in the postseason.
After collecting two Super Bowl rings in five seasons with Kevin Gilbride as his coordinator, Jacobs has been blown away by Roman's ability to showcase each player's individual strengths. That is a recurring theme among 49ers players.
"That is what this staff does the best," Jacobs said. "'G-Ro' is a genius, man. I've seen it, mainly these last couple days, we started doing some different things on offense, things out of different formations and basically putting the defense in sets he wants them to be in, versus what they want to be in."
Based on what he's seen, Jacobs said he thinks Gore would have six or seven Pro Bowl appearances by now, instead of three, had this 49ers staff been in place the whole time.
[+] Enlarge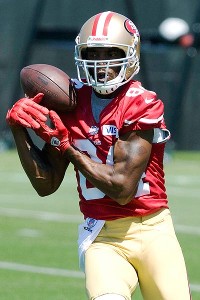 Ed Szczepanski/US PresswireAfter sitting out for a season, Randy Moss joined a revamped 49ers receiving corps.
2. Role for Randy Moss.
The passing game went through Crabtree and Davis last season. Both are in the primes of their careers. Neither figures to see his role diminish appreciably. With Manningham joining the mix and rookie first-round choice
A.J. Jenkins
lurking, a rotational role for Moss appears likely.
The sentiments Jacobs expressed regarding Roman and the 49ers' coaching staff could be important to keeping Moss from growing frustrated. Moss never has been one to suffer fools, even perceived ones, especially if the ball stopped coming his way. He did buy into "the New England way" when the Patriots' offensive staff was at its best and the team was winning. Moss also was catching balls left and right from an all-time great quarterback back then, circumstances the 49ers will not replicate.
The question then becomes whether Moss, 35 years old and coming off an idle season, will put team goals ahead of personal ones no matter what.
Davis, probably the most emotionally authentic player on the team, said he "loves" Moss for having "a great heart" and being a selfless teammate.
"Not only has he extended some knowledge to me, he has shown me that being great requires you to work even when you've had tons of success, with people saying you're a potential Hall of Famer, first ballot," Davis said of Moss.
3. Potential sophomore slump.
Aldon Smith
has incurred a DUI arrest, suffered stab wounds at a party and been carted off the Candlestick Park field with a preseason hip injury since setting a franchise rookie record with 14 sacks last season. That sounds like a sure-fire recipe for a sophomore slump.
Smith has been getting around slowly with the help of a forearm crutch. Hip injuries can be terribly painful. Athletes as lean as Smith have so little padding in that area. On the positive side, Smith has bounced back quickly from injuries in the past. He missed three games after suffering a cracked fibula during the 2010-11 season at Missouri.
The 49ers are asking Smith to transition from situational pass-rusher to full-time outside linebacker. Missed practice reps could slow that transition in the short term.
REASONS FOR OPTIMISM
The 49ers brought back all the important players from a team that finished 13-3 and reached the NFC Championship Game last season. They added weapons at receiver and running back after falling short offensively.
Both sides of the ball figure to benefit from a full offseason after scrambling to learn new schemes on the fly following the lockout.
The progress Davis showed late last season comes to mind as an extreme example. Adapting to yet another offense was tough in the beginning, but once he grasped the concepts more fully, there was no stopping him (10 receptions, 292 yards and four touchdowns over two playoff games).
Finishing 13-3 again would
break from precedent
, but all signs point to the 49ers as NFC West favorites.
Much will hinge on whether the offense improves, and to what degree.
The line appears in position to take a step forward. Four of the five starters played at least 92 percent of the offensive snaps last season. The new starter, right guard
Alex Boone
, is entering his third season with the team. The best offensive lines play together for years. This one increasingly has continuity. There's talent, too, with first-round choices in three of the five spots.
REASONS FOR PESSIMISM
Niners fans should be familiar with the warning labels by now.
Injuries: The 49ers were unusually healthy last season. Alex Smith took a league-high 44 sacks and somehow started every game. He started 16 games in a regular season for the first time since 2006 and the second time in his career. The defense suffered very few meaningful injuries in 2011-12, but the hip bruise Aldon Smith suffered last week highlighted the implausibility of a repeat on that front.
Turnovers: History says San Francisco's plus-28 turnover differential will be unsustainable.
Targets on backs: The 49ers are going from hunters to hunted. Opponents will be gunning for them. Opponents will also have fuller, more accurate reads on the schemes Jim Harbaugh and staff brought to the NFL from Stanford. The unconventional shifting and personnel combinations San Francisco unleashed on opponents might not have the same effect a second time around. That might have begun to happen last season, when the 49ers proved
far less dominant
when facing opponents a second time.
OBSERVATION DECK
Tarell Brown has been the best cornerback in camp. Teammates say he puts in the prep time. It shows when the 49ers do situational work. The more specific the situation, the better Brown seems to fare. Brown is also probably the 49ers' best corner in press coverage, an asset in short-yardage situations, whereas the other starting corner, Pro Bowl choice Carlos Rogers, tends to prefer off coverage.

Jacobs has run effectively in short-yardage situations. I did notice rookie linebacker Kourtnei Brown rocking Jacobs twice in one-on-one pass-rush drills during the team's recent Fan Fest practice.

When the 49ers enter their locker room from the practice field, a sign meets them with a list of five points: work hard, stay loose, stay focused, be accountable and take care of one another. The sign greeting them as they leave the locker room reads, "You are getting better or getting worse. You never stay the same."

Versatile corner Perrish Cox is making a strong push to unseat Chris Culliver in the nickel role. No matter what happens, Cox figures to play this season. He's made an impact on special teams as well. Seeking continued improvements in the secondary was additionally important with Aaron Rodgers, Matthew Stafford, Eli Manning, Jay Cutler, Drew Brees and Tom Brady on the schedule this season.

While Harbaugh has defended Jenkins from premature and unfair criticism, all indications point to a gradual assimilation for the receiver San Francisco selected in the first round. Veteran safety Donte Whitner: "When he gets there, I would compare him to a guy like Robert Meachem. He's not really big in stature, but he has a lot of speed. He has some quickness."

Safety Michael Thomas could be an undrafted free agent to watch for the 49ers this season. He knows the defense after playing for coordinator Vic Fangio at Stanford. Whitner: "If I was a betting man, at the end of the season, he'll be somewhere around this football team, whether it be on practice squad or on the 53[-man roster] because he wasn't drafted, he's not the biggest guy, not the fastest guy, but he has football instincts and he has football smarts. He's around the football in practice."

The 49ers do a good job maximizing roster spots. They used nose tackle Isaac Sopoaga at fullback in power packages last season. Staley and Sopoaga caught passes. Bruce Miller successfully converted from college defensive end to starting fullback. Defensive lineman Demarcus Dobbs is the latest project. He's working as a blocking tight end and could conceivably push Nate Byham for the third roster spot at that position. Harbaugh: "He's definitely far enough along. We still don't know what that ceiling is yet."

The defense has a firmer grasp of Fangio's playbook entering a second season together. The team had 42 defensive calls installed when this week opened. That's not an unusual number, but Fangio should be able to call more of them with confidence.

Every player I spoke with -- Alex Smith, Davis, Williams, Jacobs, Staley and others -- mentioned putting team goals before individual ones. Harbaugh and staff have ingrained that mindset in players. It's a storyline to watch now that the 49ers have additional offensive weapons, a strong personality in Moss and higher expectations overall.
July, 3, 2012
7/03/12
2:00
PM ET
Our two-day look at NFC West rosters continues with projections for the San Francisco 49ers' defense and special teams.
Defensive linemen (10)

Average number kept since 2003:
7.0
Safest bets:
Justin Smith
,
Ray McDonald
,
Isaac Sopoaga
,
Ricky Jean Francois
Leading contenders:
Will Tukuafu
,
Demarcus Dobbs
,
Ian Williams
Longer odds:
Patrick Butrym
,
Matthew Masifilo
,
Tony Jerod-Eddie
Comment:
The top three are firmly entrenched. All are playing at a high level. The 49ers might want to address this position in the 2013 draft. For now, though, they're set. San Francisco kept seven defensive linemen on its Week 1 roster last season. Tukuafu, Dobbs and Williams combined to play about five percent of the defensive snaps.
Linebackers (13)
Average number kept since 2003:
7.6
Safest bets:
Patrick Willis
,
NaVorro Bowman
,
Aldon Smith
,
Ahmad Brooks
,
Parys Haralson
,
Larry Grant
,
Tavares Gooden
Leading contenders:
Cam Johnson
,
Kourtnei Brown
,
Eric Bakhtiari
Longer odds:
Michael Wilhoite
,
Joe Holland
,
Darius Fleming
(injured)
Comment:
The 49ers have kept eight linebackers on their Week 1 roster for each of the past six seasons. Brown, an undrafted rookie from Clemson, stands 6-foot-6, weighs 255 pounds and moves well. He's also raw and has had injury problems. Johnson, a seventh-round choice, might need to fight off Brown and the more experienced Bakhtiari for a roster spot. Special teams will be a determining factor.
Defensive backs (17)
Average number kept since 2003:
10.0
Safest bets:
Carlos Rogers
,
Donte Whitner
,
Dashon Goldson
,
Tarell Brown
,
Chris Culliver
,
C.J. Spillman
Leading contenders:
Perrish Cox
,
Trenton Robinson
,
Curtis Holcomb
,
Tramaine Brock
,
Colin Jones
Longer odds:
Ben Hannula
,
Mark LeGree
,
Michael Thomas
,
Deante' Purvis
,
Cory Nelms
,
Anthony Mosley
Comment:
The 49ers lack experienced depth at safety. They could go young this season or consider adding a veteran later. Robinson, a sixth-round rookie, took some first-team reps while Goldson stayed away as an unsigned franchise player. Spillman also worked with the starters. The undrafted Thomas could have the inside track for a practice-squad spot after playing for coach Jim Harbaugh and defensive coordinator Vic Fangio at Stanford. Holcomb, a seventh-rounder in 2011, is coming off Achilles surgery.
Special teams (5)
Average number kept since 2003:
2.9
Safest bets:
Andy Lee
,
David Akers
,
Brian Jennings
Leading contenders:
none
Longer odds:
Giorgio Tavecchio
,
Kyle Nelson
Comment:
All three specialists earned Pro Bowl honors last season.
June, 26, 2012
6/26/12
7:45
PM ET
Jeff from St. Louis
asks whether the
St. Louis Rams
have a decent shot at going from worst to first in the division.
"I know the 49ers have expectations this year," he wrote, "but it seems in our division it changes year to year. I'm a die-hard fan and always hope for the best."
Mike Sando:
Yes, the Rams have a chance. It's an outside chance. They arguably have the most talented quarterback in the division. They have talent on their defensive line. Strength at those positions will give a team a chance.
The Rams will need much better luck with injuries. They're due on that front.
Also, while the NFC West has improved, the quarterback situations aren't stable across the board. There are no perennial Pro Bowl quarterbacks standing in the Rams' way. Every team in the division has taken too many sacks recently. Sacks put quarterbacks at risk to injury. A team's fortunes can swing wildly with an unexpected quarterback change.
Alex Smith
started all 16 regular-season games for the 49ers. He was an exception among quarterbacks in the division. League-wide, seven quarterbacks have started 16 games in each of the past two seasons:
Joe Flacco
,
Philip Rivers
,
Matt Ryan
,
Drew Brees
,
Tom Brady
,
Eli Manning
and
Mark Sanchez
.
Peyton Manning
,
Carson Palmer
,
Matt Schaub
,
Josh Freeman
and Bradford started 16 games in 2010, but not last season (Palmer was not injured).
Fifteen different quarterbacks have put together consecutive 16-start seasons since 2007.
---
Doug from Newbury Park, Calif.,
thinks the
San Francisco 49ers
look great on paper. He wonders where I might see the biggest depth concerns.
Mike Sando:
Let's go with the safety position, where the 49ers have unproven depth. The 49ers have eight safeties on their roster, counting unsigned franchise player
Dashon Goldson
. The six backup safeties --
C.J. Spillman
,
Colin Jones
,
Ben Hannula
,
Trenton Robinson
,
Mark LeGree
and
Michael Thomas
-- own a combined one NFL start (Spillman, with San Diego in 2009).
This doesn't mean I'm opposed to the 49ers' approach. I'd rather go young and trust the coaching staff's ability to develop than simply take the comfortable, short-sighted route with retread players. But the price is some uncertainty.
---
Boomer, deployed in Afghanistan,
asks whether
Bruce Irvin
might put up
Aldon Smith
-like numbers (14 sacks in 2011) while playing a similar role for Seattle. He also wants to know who I think should start at quarterback for the Seahawks.
Mike Sando:
Smith appears stronger and more physically imposing. He also benefited from stunts featuring Pro Bowl defensive end
Justin Smith
. The Smiths each had five sacks on third down alone.
Ahmad Brooks
(seven total sacks) also threatened offenses.
Seattle has
Chris Clemons
and newcomer
Jason Jones
. I'd give Irvin a decent shot at double-digit sacks. If he gets to 14, great for him, but that's a lot to ask.
---
Joe from Fort Worth
suggests he'd rather have the
Arizona Cardinals
' receivers by a wide margin over those from other NFC West teams even though every team in the division expects improvement at the position.
"Please agree or disagree (and comment, of course)," he writes.
Mike Sando:
Agreed. I'd probably take
Larry Fitzgerald
over the entire receiving corps elsewhere in the division. Every other receiver in the division could be replaced with relative ease -- if not right away, then after the season. There is no replacement for what Fitzgerald represents on and off the field. The gap widens further when we throw in first-round pick
Michael Floyd
, the underrated
Andre Roberts
and third-down threat
Early Doucet
.
June, 13, 2012
6/13/12
8:00
AM ET
Larry Fitzgerald dropped one pass in 150 targets last season, according to ESPN Stats & Information.
It's news, even in practice, when a football touches Fitzgerald's hands on its way to the ground.

Kent Somers of the Arizona Republic
said it happened Tuesday as the Cardinals opened their three-day mandatory camp. Fitzgerald also made a spectacular grab, but the drop stood out. Somers: "Quarterback Kevin Kolb hit Fitzgerald in stride, and the ball just bounced off his hands. Fitzgerald was not happy. He picked up the ball and punted it into the oleanders that border the Eastern edge of the practice field. I'm not sure if it cleared the oleanders and landed near the railroad tracks, but I doubt it. Still, it was a pretty nice kick."
Also from Somers
: Sure, Vonnie Holliday is up there in years by NFL standards, but he's not that old -- unless you're as young as Michael Floyd, the Cardinals' 22-year-old first-round draft choice.
Darren Urban of azcardinals.com
says the team had full attendance Tuesday except for defensive lineman Nick Eason, who was excused for personal reasons.
Also from Urban
: Enthusiasm runs high. Linebacker Paris Lenon: "That's always something you have to be concerned with young guys, because everything is such a whirlwind. There is so much information thrown at them at one time, and they are looking for that light at the end of the tunnel. But if you have enough guys doing it the right way, everyone will fall in."

Clare Farnsworth of seahawks.com
offers notes from the team's first mandatory minicamp practice. Turns out receiver Antonio Bryant wasn't the only player attending on a tryout basis. Farnsworth: "Also in for a tryout is former Texans wide receiver David Anderson, a seventh-round draft choice in 2006 who was released during the season last year and signed with the Redskins. The 5-10, 193-pound Anderson has caught 88 passes for 965 yards in seven NFL seasons. The tryout list also includes tight end Cooper Helfet, who was the rookie minicamp last month; and linebackers Brian Banks and Kyle Knox. Banks who had a tryout last Thursday was working out for the Chiefs today but is scheduled to join the Seahawks' minicamp [Wednesday]."
Also via Farnsworth
: a fantastic quote from tight end Kellen Winslow, who was asked about his potential impact on the offense once healthy. Winslow: "If I was healthy, which I never will be again, I would be Aaron Hernandez and (Jason) Witten together."
Danny O'Neil of the Seattle Times
says the Seahawks were a bit surprised, but not shocked to see Chris Clemons skip minicamp. Coach Pete Carroll: "He's done a very good job for us in the first couple of years. We're real pleased with his play and his work habits and everything. I'm a little bit surprised we're not able to get further than we are, but we'll see what happens."
Eric Williams of the Tacoma News Tribune
says Carroll had high praise for the job Tarvaris Jackson did as the starter in practice Tuesday.
Noted:
The praise Carroll delivers encourages competition, which could, in theory, bring out the best in the team's new quarterbacks, notably Matt Flynn.

Jim Thomas of the St. Louis Post-Dispatch
answers Rams-related questions during his latest chat, including one about second-year defensive end Robert Quinn. Thomas: "The big question is run defense. Can he hold up -- and hold the edge -- play in, play out at 260-265? He played about half the snaps on defense last season, and to me showed promise as a pass rusher."
Steve Korte of bnd.com
says Rams running back Steven Jackson has challenged rookie receiver Brian Quick to become an impact player right away. Jackson: "Over the next six weeks, he's going to have to work really to prepare for a long season because we are going to lean heavily on him. He's a high draft pick, and we're going to need someone on the outside to make plays. I'm challenging him right now to use these next six weeks to prepare himself to be a standout on this team."
Nick Wagoner of stlouisrams.com
checks in with Rams rookie receiver Chris Givens, the first player chosen in the fourth round. Givens: "Just the velocity in which the ball comes to you, that's the biggest difference. Each quarterback has a strong arm and whether it's a deep ball or a hitch route, the ball gets on you pretty fast."

Matt Barrows of the Sacramento Bee
offers thoughts on the 49ers' quarterbacks, noting that Josh Johnson has fared well recently. Barrows on the two-minute drill: "Johnson had the prettiest drive of the three. It lasted 11 plays and included a nice, over-the-middle pass to the goal-line to receiver Joe Hastings. A few plays later -- with 2.2 seconds left on the clock -- Johnson hit Hastings again on an out route in the end zone in [front] of safety Michael Thomas."
Also from Barrows
: how Alex Smith is altering his approach. Barrows on habits Smith developed following shoulder trauma: "Smith compensated for weaknesses in the shoulder, and in doing so his mechanics changed slightly. House gave Smith an exercise regimen to get him back to his pre-injury form. That regimen ranges from very specific exercises designed to strengthen small muscles, especially in the back of the shoulder, to broad concepts like eliminating bench press from his routine. Smith admits he never used to warm up his shoulder before practice. Now he goes through what he described as an 'intense' warm up."
Taylor Price of 49ers.com
offers highlights from practice. Price: "[Carlos] Rogers found himself being tested early in one-on-one drills against the 49ers receiving corps. Matched up against last year's leading wideout Michael Crabtree, Rogers was beaten slightly down the field on a 35-yard pass from second-year signal caller Colin Kaepernick. Crabtree beat the Pro Bowl cornerback by just a step to make the impressive deep catch."
Eric Branch of the San Francisco Chronicle
says 49ers offensive coordinator Greg Roman was particularly excited about Moss and guard Alex Boone.
June, 1, 2012
6/01/12
12:25
PM ET
Four safeties from the NFC earned Pro Bowl honors last season.
All four played in the NFC West:
Earl Thomas
and
Kam Chancellor
from Seattle,
Dashon Goldson
from San Francisco, and
Adrian Wilson
from Arizona.
On the surface, few positions appear stronger within the division. Beneath the surface, there isn't much depth -- at all.
Matt Barrows of the Sacramento Bee sized up the situation in San Francisco recently, noting that
C.J. Spillman
is the team's
only backup safety
with even one regular-season defensive snap on his resume.
The 49ers can expect Goldson, an unsigned franchise player, to report at some point before the season. But San Francisco, like Seattle in particular among NFC West teams, lacks proven alternatives if injuries strike at safety. The drop from Pro Bowl talent to unknown backup can be a hard one.
It's a position to watch in the NFC West, for sure.
Arizona Cardinals

Starters:
Wilson,
Kerry Rhodes
Backups:
Rashad Johnson
(498 defensive snaps in 2011),
James Sanders
(462),
Blake Gideon
(0),
Eddie Elder
(0).
Comment:
Rhodes missed nine games to injury last season. Johnson started in his place and played extensively during the Cardinals' late-season defensive revival. The experience Johnson gained should leave the Cardinals feeling better about the position. Sanders started six games for Atlanta last season. Arizona did not re-sign backups
Hamza Abdullah
or
Sean Considine
, who were special-teams contributors. Overall, the Cardinals feel very good about their depth in the secondary. Wilson's ability to play at a high level last season despite a torn biceps tendon improved the position's outlook. Wilson turns 33 in October, but appears to have quite a bit left.
Seattle Seahawks

Starters:
Thomas, Chancellor
Backups:
Chris Maragos
(11 defensive snaps in 2011),
Jeron Johnson
(9),
Winston Guy
(0),
DeShawn Shead
(0).
Comment:
Atari Bigby
provided veteran depth last season. San Diego signed him as a potential starter in free agency. Maragos projects as a core special-teams player. The Seahawks were high enough on Jeron Johnson, an undrafted rookie in 2011, to keep him on the 53-man roster over a draft choice,
Mark LeGree
. Maragos projects as a core special-teams player. Guy and Shead have made positive impressions in practice recently. This is one position where Seattle could stand to develop or acquire quality depth in case Thomas or Chancellor suffers an injury. But with two of the NFL's best young safeties in the lineup, the team should be set at the position for years to come.
San Francisco 49ers

Starters:
Goldson,
Donte Whitner
Backups:
C.J. Spillman (16 defensive snaps in 2011),
Colin Jones
(0),
Ben Hannula
(0),
Trenton Robinson
(0), Mark LeGree (0),
Michael Thomas
(0).
Comment:
The 49ers did not re-sign veteran backups
Reggie Smith
and
Madieu Williams
. They did not use an early draft choice for a safety or target a veteran in free agency. Spillman, undrafted from Marshall in 2009, is getting plenty of reps this offseason while Goldson remains unsigned as the 49ers' franchise player. Spillman is already among the very best special-teams players in the division (he joined Seattle's
Heath Farwell
among non-positional specialists on our
all-NFC West team for 2011
). It's a bit early to know whether the 49ers could count on Spillman at safety if an injury forced their hand. But with eight safeties on the roster, the 49ers do have developmental options at the position.
St. Louis Rams

Starters:
Quintin Mikell
,
Darian Stewart
Backups:
Craig Dahl
(486 defensive snaps in 2011),
Matt Daniels
(0).
Comment:
Dahl started three games last season and 24 over the past three. He gives the Rams decent veteran depth behind Mikell and the emerging Stewart. Daniels is an
undrafted free agent from Duke
. He was
eager to sign
with the Rams when he learned they had only three other safeties under contract. Rookie third-round choice
Trumaine Johnson
has the size to play safety, but coach Jeff Fisher said the plan will be for Johnson to remain at cornerback. "(Moving to safety) may be something that happens later in his career, but right now he helps us as a corner," Fisher told reporters during the draft.
May, 7, 2012
5/07/12
9:16
AM ET
Figuring out who makes the personnel decisions for the Arizona Cardinals isn't easy.
More than any team in the NFC West, the Cardinals seem to take a group approach involving general manager Rod Graves, coach Ken Whisenhunt, president Michael Bidwill, and vice president of player personnel Steve Keim.
All four have been together since 2007, when Whisenhunt became coach.

Dan Bickley of the Arizona Republic
says Keim's role has grown, making him a logical candidate to succeed Graves in the GM role. Bickley: "Keim isn't a general manager by title. But he talks like one. He acts like one. He's not shy with his opinions. Recent draft classes reveal a franchise operating in sync, and a team enjoying a steady influx of young players. He knows what Ken Whisenhunt wants in a player, and over time, has earned the coach's trust."
Noted:
Sounds like an invitation to compare recent draft classes for NFC West teams. I'll take a look this week, although comparing one team's draft success against that of another can be tricky. For example, in recent seasons, the Cardinals have drafted later in the first round on average than any team in the division, about 19th overall since 2009. That compares to about eighth overall for St. Louis, 13th overall for Seattle and 15th overall for San Francisco.
Also from Bickley
: The Cardinals have reason to consider legal action after losing 3,200 parking spots at University of Phoenix Stadium.

Matt Barrows of the Sacramento Bee
runs through the San Francisco 49ers' undrafted free-agent class. Barrows: "Among the standouts are the three Stanford players, Chris Owusu, Matt Masifilo and Michael Thomas, and running back Jewel Hampton, whom I wrote about earlier in the week. Also of note is Clemson's Kourtnei Brown, who has Aldon Smith-like dimensions and who ran his 40-yard dash in the 4.6-second range."
Also from Barrows
: Perrish Cox's legal troubles aren't finished. The cornerback, acquitted on criminal sexual assault charges, faces a civil suit stemming from the case.

Clare Farnsworth of seahawks.com
says the Pacific Northwest Football Hall of Fame welcomed Marcus Trufant and Jacob Green as members. Trufant: "This is a very cool deal. Just the whole organization in general is a good deal. There are a lot of important people here who have done a lot of good things in this area for a long time -- and they haven't done it to make a lot of money, they're doing it for the community and they're doing it for the kids. So just to be mentioned in the same light as those people, it's a big deal to me."
Also from Farnsworth
: a look at the Seahawks' quarterback competition. Coach Pete Carroll: "There's no timeline. The format is really just to do everything I can to organize it and orchestrate it so that they get a legit shot at showing what they can do with all the guys that are available. We're going to have to mix and match it, and just make it a real cool process, and hopefully it will show itself somewhere down the road and we'll figure it out then."
Dave Boling of the Tacoma News Tribune
says Carroll seems to be welcoming the quarterback competition in Seattle, counter to the way most coaches view uncertainty at the position.
Art Thiel of Sports Press Northwest
says the Seahawks haven't had a quarterback competition like their current once since Matt Hasselbeck and Trent Dilfer were competing a decade ago.
Liz Mathews of 710ESPN Seattle
passes along thoughts from Seahawks linebacker Leroy Hill regarding the evolution of his game. Hill: "I wanted to hurt you and hit you harder than you hit me. That's how I played, and I think it caused a lot of injuries early on in my career. Now that I'm getting older, I'm more about making the tackle -- just get the man down. I want to play the way that I played, just in a more veteran way, you know?"
Brock Huard of 710ESPN Seattle
thinks Gus Bradley, the Seahawks' defensive coordinator, projects as a head coaching candidate.
Noted:
Not many coordinators keep their jobs when a team changes head coaches. Bradley did, remaining in the role after the switch from Jim Mora to Pete Carroll. Mora had planned to name Dan Quinn coordinator, but Bradley impressed him so much during his interview that Mora decided to make him coordinator instead.

Albert Breer of NFL Network
runs through Rams GM Les Snead's priority list for St. Louis this offseason: "Snead, formerly personnel director for the Atlanta Falcons, was hired by the Rams in mid-February. His self-imposed directive since then has been to focus on four aspects of roster management. They were, in order, to assess the strengths and weaknesses of his new club; deal the second pick in the draft; prepare for and complete free agency; and then do the same with the draft. ... Snead can unpack and find a place to live now. His vision for the Rams, in this job he spent the better part of two decades preparing, is beginning to take shape."
Katie Felts of KDSK.com
checks in with new Rams coach Jeff Fisher.