August, 4, 2012
8/04/12
7:02
PM ET
CANTON, Ohio -- The NFL has allowed suspended
New Orleans Saints
coach Sean Payton to attend the Pro Football Hall of Fame enshrinement now under way.
I saw Payton and his son at the Gold Jacket Dinner on Friday night. They sat briefly at the table next to ours, but Payton did not stay long. He was seen back at the McKinley Grand Hotel while the dinner proceedings were ongoing. The NFL obviously wants Payton to keep a low profile during his bounty-related absence.
Payton's connections to the program extend beyond the enshrinement of former New Orleans (and Kansas City) tackle Willie Roaf.
Another enshrinee, Cortez Kennedy, has worked for the Saints in an advisory role. Kennedy remains particularly close to Saints general manager Mickey Loomis, who was a
Seattle Seahawks
executive when Kennedy played for that team. Kennedy won a Super Bowl ring with the Saints. He has two NFL families, in other words, and Payton leads one of them when he's not suspended.
April, 23, 2012
4/23/12
10:51
PM ET
The
San Francisco 49ers
twice lost close games against New Orleans in the Superdome when the Saints were
allegedly eavesdropping
on visiting coaches from 2002-2004.
Coincidence? Evidence of malfeasance?
"There's something missing here,"
said Bill Polian
, the ESPN analyst and former longtime NFL executive. "I don't know what kind of competitive advantage you can get."
The report by "Outside the Lines" cites people familiar with the Saints' game-day operations as saying Mickey Loomis, the Saints' general manager, had the ability to monitor opposing coaches from his private box during home games.
NFC West teams played three games at the Superdome during the period in question.
The 49ers suffered a 35-27 defeat at New Orleans in 2002 after the Saints outscored them 22-3 in the fourth quarter. They also suffered a 30-27 defeat there in 2004 after Aaron Brooks found Donte Stallworth for a 16-yard touchdown with 1:01 remaining. Also in 2004, the
Seattle Seahawks
claimed a 21-7 victory at New Orleans.
The NFL has already suspended Loomis, a former longtime Seahawks executive, for the first eight games of the 2012 season as punishment for his handling of the Saints' bounty situation.
The allegations against Loomis are damaging whether or not the Saints realized any in-game advantages.
"Mickey would have to know the verbiage of every other opposing team in order to translate it, and then he would have to do it instantly and find some way to communicate with his coaching staff and get it down to the field in time for it to be useful," Polian said. "That would be very difficult to do, in my opinion."
The Saints have strongly denied the allegations.
Steve Mariucci (2002) and Dennis Erickson (2004) were the 49ers' head coaches for the NFC West defeats in question. Erickson and Loomis worked together in Seattle years earlier.
Another NFC West alum, Jim Haslett, was the Saints' head coach at the time.
April, 9, 2012
4/09/12
1:50
PM ET
The
New Orleans Saints
' Sean Payton, Mickey Loomis and Joe Vitt won the potential for financial relief after appealing their bounty-related punishments to NFL commissioner Roger Goodell. The bulk of
their appeals failed
, however, affirming Gregg Williams' strategy as the right one for his situation.

Williams, now with the
St. Louis Rams
, decided against appealing, and for good reason:
The contrition factor: Williams was the brashest and most flagrant violator of NFL rules. His eventual reinstatement depends upon the sincerity of his contrition. Appealing the commissioner's decision would have sent the wrong message on that front.
Suspension length: The league handed down well-defined suspensions to Payton, Loomis and Vitt. Williams was suspended indefinitely. It would be tougher to appeal "indefinitely" than to appeal a set amount of games. The commissioner had already said he would review Williams' case following the 2012 season. Shortening that time frame would have been unrealistic. If and when Williams does return, he'll do so most effectively between seasons.
The best strategy for Williams will be to keep a low profile in the short term, cooperate fully with any future investigations and, eventually, to publicly explain the error of his ways.
Williams, though widely scorned at this point, will have opportunities to redefine himself through outreach programs and charitable works. Sports figures routinely draw from their own mistakes in advising others to take different paths.
This will be a tough transition for Williams, with no guarantees for success. His decision against appealing marked a small step in the right direction.
April, 9, 2012
4/09/12
8:00
AM ET
The NFL took a break from dominating the sports news cycle over the weekend.
The silence will not last long.
Bounty-related punishments for current and former New Orleans Saints players await. The NFL will address recent bounty-related appeals from Saints coach Sean Payton and general manager Mickey Loomis. Teams will continue filling out their rosters with second-tier free agents. The league will also release its 2012 regular-season schedule in the next week or so.
In the meantime, we take a quick look around the division on a Monday morning.

Peter Delevett of the San Jose Mercury News
says San Francisco 49ers players spent part of their weekend participating in the search for missing Bay Area teenager Sierra LaMar. Delevett: "The search effort is being aided by thousands of volunteers; by the families of other Bay Area youngsters who have been kidnapped and killed, including those of Polly Klaas and Xiana Fairchild; and by San Francisco 49ers quarterback Alex Smith. On Saturday, Smith and teammates Joe Staley, Delanie Walker and Scott Tolzien were among about 500 people combing southern Santa Clara County for signs of Sierra. The NFL stars made it clear they did not welcome the media attention, but Sierra's sister, Danielle, was grateful for the celebrity support. 'When those kinds of people get involved, it gives us a whole new audience,' she said."

Steve Kelley of the Seattle Times
checks in with former Seattle Seahawks players Joe Tafoya and Kerry Carter, who have joined forces with other former teammates to operate a mobile apps company. Kelley: "Two years ago, Tafoya, now 33 and a computer-science major from Arizona, bought an 11-year-old Redmond mobile apps distributor. Now he's joined forces with like-minded former Seahawks Carter, Chike Okeafor and Omare Lowe to form Jump It Media. ... They're building profile applications for athletes to help them increase their brands through online channels. Among their subjects are Chicago Bears defensive end Lance Briggs and Dallas Mavericks guard Jason Terry."
Brock Huard and Mike Salk of 710ESPN Seattle
discuss whether the Seahawks would be wise to move back from the 12th overall spot in the 2012 draft.

Kent Somers of the Arizona Republic
reports on the wine company Cardinals guard Daryn Colledge founded with two former teammates. The label -- "
Three Fat Guys
" -- reflects their good humor and significant girth as offensive linemen. Somers: "It started small in 2008 and has stayed that way. The initial objective was to produce enough wine to stock the three fat guys' homes and for them to give away as presents. Only 126 or so cases are produced each year, so it's more than a novelty but less than a full-time business. ... Their greatest fear now is not that the operation will go under, but that it will grow too fast and consume too much time. The players see the humor in that, because they weren't long out of college when the idea of becoming winemakers was hatched."
Darren Urban of azcardinals.com
offers thoughts on Deuce Lutui's departure from the Cardinals to the Seahawks as an unrestricted free agent. Urban: "The door hadn't been closed on Lutui in Arizona, but I didn't see him starting again here. He may not in Seattle, but he reunites with his college coach, Pete Carroll, and the Cards will get a chance to see him again."

Jim Thomas of the St. Louis Post-Dispatch
says Trevor Laws, a free agent from the Philadelphia Eagles, visited the St. Louis Rams recently. Thomas: "A second-round pick out of Notre Dame in 2008, Laws has been a rotation player for the Eagles, used specifically as an interior pass rusher in the nickel package. He has started only twice in 56 regular-season games, but registered a career-high 40 tackles last season, including a sack and 16 quarterback pressures. He had four sacks in 2010. Laws, 6-1, 304, is at least the fifth free agent to visit Rams Park this week, joining quarterback Dennis Dixon (Pittsburgh), defensive end William Hayes (Tennessee), and wide receivers Jerricho Cotchery (Pittsburgh) and Jerome Simpson (Cincinnati). All told, the Rams have had nearly two dozen free agents in for visits, signing eight to contracts."
March, 6, 2012
3/06/12
1:17
PM ET
Gregg Williams is in the principal's office, Sean Payton has gone underground with Mickey Loomis and the
New Orleans Saints
have resorted to working out
Randy Moss
.
There is no precedent for what is happening in the NFL this week.
Some think the league's investigation into the Saints' bounty system qualifies as
a ridiculous overreaction
. Others feel as though the public is
all too forgiving
.
NFC South blogger Pat Yasinskas joined me in navigating key issues affecting the Saints and Williams, who left New Orleans for the
St. Louis Rams
this offseason. Pull up a chair and we promise no one gets hurt.
Yasinskas:
First off, I have no doubt the league is going to come down hard on the Saints. Personally, I think the NFL should suspend Payton and Loomis for a year. If not, owner Tom Benson, even though
he has pledged to stand behind his coach and general manager
, should go ahead and fire them. Loomis flat-out ignored Benson's order to put a stop to the bounty program. Payton knew about it and didn't stop it. They defied Benson and disgraced his franchise.
Sando:
Payton and Loomis brought a championship to New Orleans. I believe that's what matters to Benson. No way would he give back that Super Bowl victory to avoid this scandal. And let's face it, if these Saints were the 1976 Raiders, we'd be watching an NFL Films special set to a reverent score, reminiscing about how the game was played when gladiators roamed the arenas.
Yasinskas:
I totally get the argument that football is a physical game and there naturally will be violence and injuries. I also get the argument that bounties may have gone on for years in other places. Maybe they still do. But those aren't the issues here and have absolutely no relevance. What we're talking about is a GM who was told to stop the bounty system, but did not. We're also talking about a coach who knew about the system and did nothing to stop it. Payton and Loomis defied their owner and their league, disgracing both.
Sando:
Benson didn't seem too shook up about it. He offered a 59-word statement featuring a brief acknowledgement of the charges, followed by a sentence saying the Saints "look forward to putting this behind us and winning more championships in the future for our fans." I have a hard time believing Benson would push his top guys out the door.
[+] Enlarge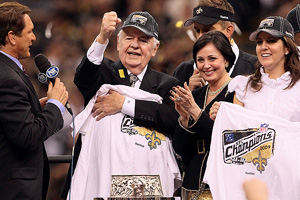 Jed Jacobsohn/Getty ImagesSaints owner Tom Benson is reportedly standing by the coach and general manager who helped bring the franchise a Lombardi Trophy in 2010.
Yasinskas:
Short of a suspension or firing, Payton and Loomis should do what a lot of college coaches and officials have done when their programs have run into trouble -- resign to spare the program additional embarrassment. For all the good Payton and Loomis have done for the Saints through the years, this may overshadow it all. At the very least, this already has unveiled a culture of arrogance (or a sense of being above everyone else) that's been around for a long time. More and more keeps coming out and I'm sure the league is absolutely delighted (ultimate sarcasm intended) that Mike Ornstein's felonious name is being tied to all this. He was once a member of
Reggie Bush
's marketing team, a close friend of Payton's and once did prison time for fraud.
Sando:
The Ornstein element should invite its own investigation, but I haven't seen evidence the league is interested in going down that road. Instead, it looks to me like the lawyers have taken over Roger Goodell's office. They realize taking a strong stance against bounties could strengthen the NFL's position regarding lawsuits from players alleging negligence on safety. It could help the league eventually justify an 18-game regular season.
Yasinskas:
Yep, if this happened 15 or 20 years ago, it's a non-issue or a slap on the wrist. But Goodell has made player safety one of his biggest crusades. Plus, safety was a big part of the CBA negotiations last summer. How many stories have we seen about concussions? I'm not trying to go lightly on the Saints here, but I think the fact is, they did what they did at the worst possible time in league history.
Sando:
The league cannot condone formal bounty systems organized by coaches, but the game is still officiated on the field. Policing intent is unrealistic. This is not Pop Warner ball. Players either deliver hits within the rules or outside them. Crews featuring a referee, head linesman, line judge, side judge, field judge and back judge have scrutinized every hit the Saints have delivered, throwing flags the way they would for any other team. The league office has reviewed those same plays and meted out fines in some cases. No one from the Saints was waiting for opponents in dark alleyways the week before the games.
Shane Stant
was not on the roster.
Yasinskas:
True, although I wouldn't be surprised if another means of punishment is for the NFL to charge the Saints for the bounties under the salary cap. It's a physical game and there's no doubt fans like big hits and that helps drive the popularity of the game. I like watching big hits, too, as long as they're within the rules. If this had been players acting on their own, well, it's understandable and not that big a deal. Players are competitors by nature. But this was highly organized and orchestrated by a defensive coordinator. More significantly, it was approved of, to some degree, by a coach and a GM. That's a big problem.
Sando:
It's a big problem for Williams. For that, he can blame his own big mouth. Winning was never good enough for Williams. He had to let everyone know how great he was at motivating players to
unleash mayhem
on their opponents. He reveled in it, even flaunted it. Now he is going to pay a price.
Yasinskas:
I don't see any way Williams gets off easy on this one. He's at least as wrong as Payton and Loomis. He should be suspended for at least a year, maybe even banned. But those who want to see Williams become the only fall guy are missing the point by a mile. There still are guilty parties in New Orleans. Payton and Loomis ran the franchise. For three years, they basically enabled Williams and the bounty system. Strange thing is, for as vicious as this defense supposedly was, it never was really all that good. The Saints might have been able to play a better brand of defense if they had simply stayed within the rules.
Sando:
The Saints' swagger on defense was part of their identity during that Super Bowl season, for sure. I think it contributed to their ability to force turnovers. It was part of why they won. To what degree does that taint their championship? Pat and I addressed that one in the video above. Thanks for coming along.
March, 3, 2012
3/03/12
12:58
PM ET
The
New Orleans Saints
are in trouble —
deep, deep trouble
— for the
bounties they offered
for knocking out opposing players.
The question for NFC West observers is to what degree this Saints scandal will affect new
St. Louis Rams
defensive coordinator Gregg Williams, who held the same job in New Orleans from 2009 through last season.
Williams has
apologized
for his "participation" in the bounty program. He called it a mistake and said "we" knew it was wrong, implying shared blame. Williams admitted to "getting caught up in it" without saying he was the organizer. He took "full responsibility for my role" without detailing the extent of that role. He also said he would never "participate in or allow" similar activity in the future.
Williams' former players have described
similar
bounty systems
when they played for him in Washington. That opens Williams to criticism outside whatever culture coach Sean Payton and general manager Mickey Loomis might have promoted or condoned in New Orleans.
Light shined upon the player-safety issue in recent years arguably stands as
the biggest threat
to the NFL's future. Commissioner Roger Goodell realizes this, and that is why he has been so aggressive in taking ownership of an issue that was getting away from the league previously. Goodell has promoted rules changes, hammered offending players with fines and taken every opportunity to stress safety issues in general.
The Saints scandal provides Goodell with a rare opportunity to attack player safety at the institutional level. Individual players have felt his wrath previously. Goodell can go after the Saints vigorously without taking on players specifically. That is a bonus for Goodell given the
borderline hatred
some NFL players have expressed toward him.
Many questions remain unanswered.
Was Williams doing anything unusual? How prevalent are bounty systems? Have other coordinators organized or condoned similar systems? ESPN analyst
Damien Woody
, who played for three NFL teams over a 12-year career, said bounty systems exist
throughout the league
. The existence of other similar systems might shift some of the focus away from Williams specifically. But will the league care?
The Rams appear well positioned to handle a Williams suspension. Head coach Jeff Fisher has been a defensive coordinator. Assistant head coach Dave McGinnis has been a defensive coordinator and head coach. Both could fill the void capably if a suspension kept Williams away from the team.
Williams' long association with Fisher, coupled with revelations that a bounty system existed when Williams was with the Redskins, invites questions about what went on when Fisher and Williams were together in Houston and Tennessee.
Fisher played for Buddy Ryan in Chicago.
Ryan's bounty systems made news
when he was with Philadelphia. Williams and Ryan were together in Houston with the Oilers for the 1993 season. Williams and Fisher were together with Houston and Tennessee from 1994 to 2000.
This story is only going to gain momentum. The extent of Williams' involvement with bounty systems in New Orleans and elsewhere will be pivotal to his fate.
September, 23, 2010
9/23/10
9:07
AM ET

Matt Maiocco of CSNBayArea.com
passes along Ronnie Lott's thoughts regarding the speech Lott delivered to the Saints one day before New Orleans faced the 49ers. The Saints asked Lott to address their team about what it takes to win back-to-back championships. Lott: "So it is my responsibility to at least share some thoughts. A lot of that is, if you go back and look at that 1982 Super Bowl, 15 guys got in trouble because we didn't know how to handle a Super Bowl experience. Fifteen guys got in trouble because they didn't understand what it was like. ... I'm very confident and comfortable that whatever I did was for the right intentions of making sure I never fracture the game and I never fracture my relationship with the 49ers." The fact that Lott would see no conflict in addressing the Saints before their game against the 49ers shows players think differently than some fans think. I just don't see this as a big deal and Lott obviously did not, either. Lott will always be a 49er, and I've always thought he valued his legacy in San Francisco. Side note: I spent part of pregame warm-ups on the field speaking with another former NFC West great whose relationship with the current Saints regime is even stronger. Cortez Kennedy has worked for the Saints and he sometimes travels with the team. Saints general manager Mickey Loomis was with the Seahawks when Kennedy played for the team. They remain close.
Also from Maiocco
: Frank Gore has played all but two offensive snaps this season.
Matt Barrows of the Sacramento Bee
says Lott was "rooting [his] butt off" for the 49ers on Monday night, according to Lott.
Dan Brown of the San Jose Mercury News
says the 49ers used their editorial input to remove KPIX's Dennis O'Donnell from their weekly interview show featuring coach Mike Singletary. That's no surprise after O'Donnell agitated Singletary with repeated questions about communication problems at Seattle in Week 1. Brown: "KPIX originally posted the interview on its web site but removed it when it became a minor sensation. Singletary on Tuesday acknowledged that he lost his cool during the interview. He vowed to be more measured in his responses."
David White of the San Francisco Chronicle
says rookie NaVorro Bowman is the 49ers' only real option for replacing the injured Takeo Spikes.
Eric Branch of the Santa Rosa Press-Democrat
says the 49ers' communication will face challenges at Arrowhead Stadium in Week 3. Alex Smith: "Yeah it will be another really good test for us," he said. "In the first three weeks, we'll be playing in the two, I think, of the two loudest outdoor stadiums. So yeah, it will be another good test for us as far as communication goes. I think it's something we've improved on but, you know, I think it's one of those things that you can never stop working on."
Also from Branch
: Smith runs well for a quarterback.
More from Branch
: Gore says rookie guard Mike Iupati improved markedly in his second regular-season game, allowing the 49ers to run inside effectively against the Saints.

Kent Somers of the Arizona Republic
says three of the Cardinals' five receivers in Week 2 were rookies. Somers: "All have had shaky moments early in their careers. Last week, (Stephen) Williams lined up wrong on the first play and dropped a pass. In Week 1, (Max) Komar lost a fumble at the Rams' 5. Roberts struggled to catch the ball in camp and hasn't seized the opportunity to become the team's main punt returner." Veteran receiver Steve Breaston and more recently Stephen Spach have also had problems lining up properly over the last couple seasons. They have incurred penalties. The Cardinals mixed up their personnel groupings in Week 2, sometimes using running back LaRod Stephens-Howling as a receiver. They used two tight ends and three wide receivers at times. They used three running backs and two tight ends. The changes were not very productive, though.
Also from Somers
: Beanie Wells is eager to make his 2010 regular-season debut.
Darren Urban of azcardinals.com
checks in with Larry Fitzgerald regarding NFL teams' willingness to make changes. Fitzgerald: "This game is about winning. Whatever a coach feels is going to give his team the best chance to win, he's going to do. The New York Giants, they are 0-2. We're talking about a team that won the Super Bowl three seasons ago. And they are talking about that coach being on the hot seat – a perennial playoff football team. That shows you how fickle this league is. It don't matter what you did two years ago. People just don't care. What are you doing right now today? Are you having success with your quarterback play, that's all that matters. In Tennessee, Vince Young, wins what, 10 of 11 down the stretch last year and he gets benched Week Two. That's just how it is these days."
Also from Urban
: The Cardinals are working to improve on third down.

Jim Thomas of the St. Louis Post-Dispatch
says the Rams did make an offer to the Chargers for receiver Vincent Jackson. Thomas: "One of the sources also said that the hangup in Jackson going to the Rams was the trade terms with the Chargers. In any event, it became apparent Tuesday that the Rams had decided to pass on Jackson."
Also from Thomas
: The Rams are 0-2 despite holding their first two opponents to 17 points or fewer.
Bill Coats of the St. Louis Post-Dispatch
says Bradley Fletcher is getting lots of action at cornerback in what almost amounts to another rookie season for him. Coats: "It's no surprise that opposing offensive coordinators have been targeting Fletcher and trying to stay away from veteran cornerback Ron Bartell. Fletcher expects more of the same Sunday, when Washington and veteran quarterback Donovan McNabb visit the Edward Jones Dome."
Also from Coats
: The Rams could seek an extension for selling tickets to avoid a local television blackout in Week 3.
Kathleen Nelson of the St. Louis Post-Dispatch
says the Rams have added Laurent Robinson and Oshiomogho Atogwe to their injured list.
Bernie Miklasz of the St. Louis Post-Dispatch
says the Rams' coaches must be more creative in helping an undermanned roster. Miklasz: "In 18 games under (Steve) Spagnuolo and offensive coordinator Pat Shurmur, the Rams have scored 28 points -- with only one touchdown from scrimmage -- in the third quarter. That's an average 1.5 points per third quarter. It hasn't been so bad in the second quarter of the 18 games; the Rams have been outscored 127 to 91. But in the third quarter the Rams have been outscored 103-28. This perhaps explains why I'm of the opinion that the staff seems to be slow to adjust, adapt and counter the other team's strategy when reorganizing at halftime." Spagnuolo took over the team in 2009. The 2008 Rams averaged 9.6 points per game -- make that 2.2 now that I'm looking at the right stats -- in third quarters on their way to a 2-14 record.
Steve Korte of the Belleville News-Democrat
says Rams rookie Mardy Gilyard wants more playing time on offense and the Rams might give it to him.
Nick Wagoner of stlouisrams.com
offers a few Rams-related notes. Wagoner: "The Rams added QB Thaddeus Lewis to the practice squad and he was back on the field Wednesday. Lewis was released to make room for CB Marquis Johnson last week. Because of the injuries up and down the roster, the Rams need every spot possible so carrying a third signal caller didn't make sense."
Also from Wagoner
: a look at James Laurinaitis' leadership skills.

Clare Farnsworth of seahawks.com
says rookie safety Earl Thomas expects more action against the Chargers, a team that features its tight end in the passing game.
Also from Farnsworth
: Colin Cole has anchored the Seahawks' strong run defense. Coach Pete Carroll: "He's been very effective in the first couple of games and really given us good play. The style really suits his makeup. He's very physical at the point, doesn't get knocked around and also has good instincts to find the football." That last part has stood out. Cole has come off blocks and gotten near the football.
More from Farnsworth
: Carroll and Lofa Tatupu are together again. Carroll: "When you've been with guys for some time, the depth and the reservoir of things that you have in your pocket really makes you versatile and can make you really strong and very adaptable. And that's something you have to have in this league."
Danny O'Neil of the Seattle Times
says the Seahawks think Deon Butler can stretch defenses. Carroll: "This is a guy honestly, I tell you, when we looked at him on film last year we thought, 'Boy, it's going to be a long ways to get him to be a factor for us.' ... We just didn't really know what we had because we hadn't been on the field with him. We saw the speed and the explosion and natural catching ability. He's just improved tremendously."
Also from O'Neil
: Leroy Hill is out, again.
More from O'Neil
: The Seahawks plan to introduce St. Louis Blues executive Peter McLoughlin as their new CEO at a news conference Thursday. McLoughlin is a Harvard graduate with vast experience brokering deals in the NHL and the corporate world (while with Anheuser-Busch and NBC Sports). The Seahawks have previously said they like their setup. That suggests McLoughlin will fit into the current structure without shaking things up too significantly. Outgoing CEO Tod Leiweke is a St. Louis native with strong hockey roots, and he played a leading role in identifying his successor. The Seahawks job has to be attractive for McLoughlin relative to his job with the Blues, an unprofitable team facing ownership uncertainty.
Greg Johns of seattlepi.com
says Charlie Whitehurst has little trouble playing the role of Philip Rivers in Seattle practices.
Dave Boling of the Tacoma News Tribune
says rookie Golden Tate feels in control of his own destiny. Tate: "The way I see it, being active or inactive is up to me," he said. "It's not up to somebody being injured or not playing well, it's up to me to practice hard and do everything right, to show the coaches I deserve to be out there. How I practice these next days is what will determine whether I deserve it or not."
March, 26, 2010
3/26/10
11:53
AM ET
D. from Seattle writes:
Hi Sando, I have a question regarding Donovan McNabb and any potential trade. When, if ever, was the last time a veteran QB with as many years in the league as McNabb has, was traded to another team and got them to the playoffs or Super Bowl (preferably with at least one playoff victory)? My point, which is probably pretty obvious, is that trading for a veteran QB rarely takes a team over the top. But I'd love to see the statistical evidence that either refutes or confirms this. Thanks!
Mike Sando:
Teams rarely trade good quarterbacks. The Chiefs were already a good team when they acquired Joe Montana before the 1993 season. They had won a playoff game over the Raiders in 1991, their only playoff victory since the 1969 season. They added Montana and immediately won two playoff games, advancing to the AFC title game against Buffalo. Fran Tarkenton was traded from the Vikings to the Giants and back to the Vikings before leading Minnesota to multiple Super Bowls. Those are a couple that come to mind.
---
Adam from Gettysburg writes:
Mike, as a 49ers fan I am very interested in trying to acquire Donovan McNabb. I read your "
bold moves
" article where you and Matt Williamson discussed this issue. To avoid basically a three-team deal as Williamson suggested, what about this one? The 49ers send the 17th and 49th picks valued at 1,360 points to the Eagles for McNabb, the 24th and the 121st picks. That would put the value of McNabb at around 570 points or the high second round.
Now, I know the 49ers still need a tackle, but maybe one of the top three is there or maybe they could offer the 24th to the Ravens for Jared Gaither, a proven tackle who has a first-round tender? Those two moves would give the 49ers McNabb, Gaither and the 13th overall pick, which they could use on the best player available. I like that approach and it would seem to make everyone very happy -- well, except maybe the Ravens. But it is, in my humble opinion, a very reasonable scenario. Your thoughts?
Mike Sando:
These scenarios are a lot of fun to consider. I think we need to remember that this could be a buyers' market for McNabb. The more I thought about the "bold moves" discussion, the more I reminded myself what's going on here. Most or all of the McNabb rumors and reports are originating in Philadelphia. It's pretty clear the Eagles are trying to generate a market.
Reports have suggested the Eagles would want one of the first 42 picks for McNabb? So, what? I'd like to get $20,000 for my 2004 Hyundai. Doesn't mean someone is going to pay. McNabb is an asset to the Eagles right now, but his value diminishes if it becomes clear the team wants to start Kevin Kolb in 2010. The 49ers would not need to rush into anything even though McNabb would benefit from the extra time to get acclimated to a new offense.
So far, of course, the 49ers have shown no apparent interest in McNabb or any other quarterbacks beyond the ones already on their roster.
---
Hodson from Capo Beach, Calif., writes:
Sandman, I love the blog but we gotta get past this idea of getting mcnabb. He is a good quarterback, but not elite. The problem with the Niners has been the o-line, not the qb. Fix the o-line and you win the division. If they traded to get a tackle and McNabb, per your suggestion, he would still get pounded into oblivion and the Niners would have wasted a chance to fill a couple of holes.
Mike Sando:
I never said I would make that trade, but I also think there's no sense in suggesting the 49ers would be the same with McNabb or Alex Smith, with all the emphasis on the offensive line.
---
Ron from Charleston, S.C., writes:
There is a lot of talk from different people saying it would be a good idea to get Mcnabb and let Alex Smith go. If you actually look at the whole scenerio, this last season was actually Smith's first or second year. His first year, the 49ers were totally torn apart and they tried to make him fix all of the wreckage. He then missed the next two years. Take a look at Vernon Davis. He finally came around after all of the critics thought he was a bust. Last year was his most complete year and he proved a lot of people wrong. Looking at Alex's stats the last 10.5 games, they were within the better half of the quarterbacks in the leagues. The play-calling was all right, but still too conservative. Mark my word, Alex Smith will lead our team in the right direction. If not us, whereever he goes, he will!
Mike Sando:
This is what I meant when I said the 49ers were pot-committed to Smith. They've waited this long and invested this much. Why give up on him just as there's a chance he might finally take that next step? I'm sympathetic to that thinking. But it's definitely tantalizing to think what a proven quarterback could mean to the 49ers.
---
George from Orlando, Fla., writes:
Mike, I love the blog and check 2-3 times a day for my 49ers fix. I find the possibility of the 49ers adding Donovan McNabb very enticing (I grew up in Western NY and am a huge Syracuse fan -- hurting from the loss right now).
I just read your post about the
discussion with Matt Williamson
and how the 49ers' second-rounder (49th) would not be enough to get the Eagles to bite. What other offers do the Eagles see getting for him? I've seen the reports of the Rams' No. 33 pick being "on the table". If the 49ers packaged the 49th (410 points) and 79th (195) picks, that would equate to between the 30th and 31st picks. If we could get a linemen, Joe Haden/Kyle Wilson and Donovan McNabb, would that securely propel the 49ers to the favorite to win at least the West and possibly a first-round bye with home-field advantage.
Mike Sando:
Thanks, George. The Rams are strongly denying any such conversations with the Eagles. I don't think they're heading in that direction. As for what it would take to get McNabb, I'll refer back to what I told Adam. The Eagles appear to be the ones trying to make a sale here. It takes two teams to make a deal.
January, 30, 2010
1/30/10
10:18
PM ET
MIAMI -- The NFC West blog has temporarily relocated to South Florida.
The Pro Bowl is first on the agenda, followed by a week of Super Bowl buildup, followed by Hall of Fame voting Saturday, followed by the Super Bowl itself.
Jerry Rice
,
Cortez Kennedy
,
Roger Craig
,
Richard Dent
,
Charles Haley
,
John Randle
and
Rickey Jackson
are among the Hall of Fame finalists with ties to current NFC West franchises.
A few Super Bowl participants also have ties to the division, including Colts safety
Aaron Francisco
(Arizona) and Saints general manager Mickey Loomis (Seattle), among others.
The focus here will remain mostly on the NFC West, with some South Florida flavor.
And if you've got ideas or suggestions, please fire away. It's appreciated.
July, 21, 2009
7/21/09
11:02
AM ET
Posted by ESPN.com's Mike Sando
Saints coach Sean Payton, covering for Peter King on "Monday Morning Quarterback," thinks Rickey Jackson and former Seahawks defensive tackle Cortez Kennedy belong in the Hall of Fame.
Why would Payton single out Kennedy? One, Kennedy was indeed a dominant player and one of the best defensive tackles in league history. Kennedy also has ties to the Saints. Their general manager, Mickey Loomis, was with the Seahawks from 1983 to 1998. Kennedy has spent more time around the Saints than Seahawks in recent seasons.
Payton: "I think former Saints linebacker Rickey Jackson and ex-Seattle defensive tackle Cortez Kennedy should have a spot reserved for them in Canton. This is coming from an offensive coach who believes it is time to fill the Pro Football Hall of Fame with more of the NFL's defensive elite."
Kennedy was one of 17 finalists for the Hall of Fame this year. He might have to wait a while, but I think he'll get in eventually. It's tough being named the NFL's Defensive Player of the Year on a 2-14 team, but Kennedy did it in 1992. He was that good.
Who else from the NFC West -- beyond the obvious ones such as Jerry Rice -- should be in the Hall of Fame? What about John Brodie? Aeneas Williams? Kenny Easley? Others?

NFC WEST SCOREBOARD
Thursday, 9/4
Sunday, 9/7
Monday, 9/8