December, 22, 2011
12/22/11
10:43
AM ET
Rookie draft choices are making strong contributions throughout the NFC West, but less so in St. Louis after the NFL suspended receiver
Austin Pettis
.
More on the Rams' rookie class below. First, a look at how other teams' rookies have fared:
Seattle: Fourth-round linebacker K.J. Wright and fifth-round cornerback Richard Sherman are flourishing as starters for Seattle. First-rounder James Carpenter and third-rounder John Moffitt were starting for the Seahawks until injuries ended their season.
San Francisco: First-rounder Aldon Smith has become a candidate for defensive rookie of the year with 13 sacks in 14 games. Third-rounder Chris Culliver and fourth-rounder Kendall Hunter have become key role players on an 11-3 team. Seventh-rounder Bruce Miller has developed into the starting fullback. The team asked nothing right away from second-round choice Colin Kaepernick, the backup quarterback.
Arizona: The Cardinals' first-round choice, Patrick Peterson, has set records as a return specialist, returning four punts for touchdowns. He has started all season at cornerback and has increasingly made positive contributions to an improving defense. Fourth-round outside linebacker Sam Acho and fifth-round fullback Anthony Sherman have become solid starters. Acho has five sacks. Sixth-rounder David Carter has contributed as part of the rotation on the defensive line.
Back to the Rams. As the chart shows, first-rounder
Robert Quinn
and second-rounder
Lance Kendricks
remain on the 53-man roster. Pettis, a third-round choice, and fourth-rounder
Greg Salas
are out for the season. The Rams drafted four additional players, three in the seventh round, and none remains with the team.
St. Louis had no 2011 sixth-rounder after sending it to Baltimore in the
Mark Clayton
trade. Clayton made an immediate impact last season, but injuries have forced him to miss 24 of 30 games.
.
November, 18, 2011
11/18/11
10:40
AM ET
The
St. Louis Rams
have lost cornerbacks
Ron Bartell
,
Bradley Fletcher
,
Jerome Murphy
,
Al Harris
, Mikail Baker, Dionte Dinkins,
Tim Atchison
and
Brian Jackson
to season-ending injuries.
A ninth corner,
Chris Smith
, was waived/injured earlier in the season, returning as a member of the practice squad. A 10th,
Marquis Johnson
, opened the season on the physically unable to perform list.
Even opponents realize that's a "
ridiculous
" injury situation at one position.
"That's crazy,"
Seattle Seahawks
quarterback
Tarvaris Jackson
told reporters in St. Louis.
And with cornerback
Justin King
suffering an ankle injury Thursday, four days after he suffered a concussion, the situation could be getting worse.
As much as the Seahawks have leaned on the ground game recently, the Rams' injury situation at cornerback could, in theory, coax them into a more pass-happy approach. The Seahawks could also try running the ball from personnel groups featuring three-plus wideouts. That is one of the more interesting strategic possibilities in the NFC West this week.
The Seahawks used three or more wide receivers on 35.8 percent of their plays against Baltimore in Week 10, according to ESPN Stats & Information. That was a season low.
Sidney Rice
and
Doug Baldwin
suffered concussions, leaving Seattle with fewer available wideouts. The team also wanted to protect a lead by grinding out yards with
Marshawn Lynch
, who carried 32 times for 109 yards in the team's victory over Baltimore.
Rice and Baldwin are back practicing and expected to play Sunday.
Before the Baltimore game, Seattle had used three-plus wideouts on 66.3 percent of its snaps this season, including 90.5 percent against the
New York Giants
in Week 5. The Seahawks averaged between 4.6 and 6.7 yards per carry with three wide receivers on the field in games against Dallas, Cleveland, Arizona, Cincinnati and the Giants.
September, 21, 2011
9/21/11
8:59
AM ET
Three NFC West teams signed veteran guards to start for them in 2011.
Harvey Dahl (St. Louis Rams) and Daryn Colledge (Arizona Cardinals) have brought toughness and experience to their new teams. Robert Gallery was supposed to do the same for Seattle. News that Gallery needs groin surgery and will miss at least a month raised a question in my mind: Was the injury affecting him over an extended period, preventing Gallery from playing as well as anticipated?

That was apparently the case. According to coach Pete Carroll, Gallery had a tougher time playing through the groin injury once he suffered a sprained knee in the final exhibition game. He wound up aggravating the groin injury during the first quarter of Seattle's Week 2 game at Pittsburgh, but Gallery didn't tell anyone about the injury until after the game.
Clare Farnsworth of seahawks.com
says Gallery's absence means sixth-year veteran Paul McQuistan will start for the first time since the 2007 season. That means Seattle will use its third starting combination in as many games along its offensive line, continuing a trend that has complicated life for the Seahawks' running backs and quarterbacks.
Danny O'Neil of the Seattle Times
says the Seahawks' latest starting quarterback, Tarvaris Jackson, hasn't made much of an impact either positively or negatively. Carroll: "He hasn't had that many opportunities where we said, 'He should have done this, he should have done that.' He has pretty much taken what's there. There hasn't been a lot of situations where he's turned down a big throw."
Eric D. Williams of the Tacoma News Tribune
checks in with a medical expert for thoughts on labrum injuries such as the one Sidney Rice is battling through.

Bob McManaman of the Arizona Republic
says the Cardinals might simplify their defense after allowing 466 yards per game over the first two weeks of the regular season. Safety Kerry Rhodes: "It's a tough system to learn. Coming to a new season with it, it's been a little frustrating. But we've got a lot of time to rectify it, though. Yeah, it's complicated, but we've got to be pros at the same time and figure it out. This is what we get paid to do. We don't have anything else to do but learn it and try to get it down."
Darren Urban of azcardinals.com
says playing the Seahawks' offense should help Arizona's defense.

Kathleen Nelson of the St. Louis Post-Dispatch
updates the injury situation in the Rams' secondary. Tim Atchison is headed for injured reserve. Nelson: "An undrafted rookie from Baylor, Atchison was with the Rams in camp, signed to the practice squad, released, then signed to the active roster last week. He will be the fifth cornerback to go on IR since the start of camp. The others are Ron Bartell (neck), Jerome Murphy (ankle), Dionte Dinkins (ankle) and Mikail Baker (hamstring). In addition, Marquis Johnson, a seventh-round pick in 2010, was placed on the physically unable to perform list because of a hamstring injury and won't be available until at least Oct. 23, when the Rams face the Cowboys."
Jim Thomas of the St. Louis Post-Dispatch
says the Rams aren't panicking at 0-2.

Matt Maiocco of CSNBayArea.com
offers his player-by-player review of the San Francisco 49ers' defense against Dallas in Week 2. Safety Donte Whitner played every snap. Maiocco: "He was credited with four tackles and three passes defensed. . . Was in the right spot to get an interception in the end zone against Jon Kitna. . . . He bit hard on a run fake on the first play of overtime, allowing Jesse Holley to get behind him for a 77-yard gain that set up the winning field goal."
Also from Maiocco
: player-by-player review of the 49ers' offense. On Frank Gore: "Started at running back and played 53 of the team's 54 offensive snaps. There wasn't much room for him to operate. He gained 47 yards and a touchdown on 20 carries. But do you want to know why the 49ers like him so much? His pass-protection was outstanding. He leveled blitzing safety Barry Church off the right side to allow Smith to complete a 21-yard pass to Braylon Edwards. On 49ers' second drive, cut-blocked DeMarcus Ware to the ground to allow Smith to hit Ted Ginn 14-yard gain."
Matt Barrows of the Sacramento Bee
runs through each of the six sacks the 49ers allowed Sunday.
August, 30, 2011
8/30/11
3:36
PM ET
All four NFC West teams reached the required 80-man roster limit by the NFL deadline Tuesday.
The
St. Louis Rams
did so by waiving cornerback
Mikail Baker
, defensive tackle
Jermelle Cudjo
and cornerback
Dionte Dinkins
, per
Jim Thomas of the St. Louis Post-Dispatch
.
Teams must reduce rosters to 53 players by Saturday at 6 p.m. ET.
I'm most interested in seeing how the Rams proceed at receiver and on the offensive line.
The Rams kept only eight offensive linemen on their Week 1 roster last season, one fewer than teams generally keep. I have a hard time finding eight definite keepers from the current group of 13. Keeping a lower total on the line could buy time in the short term to keep a player at another position.
August, 25, 2011
8/25/11
9:46
AM ET

Matt Barrows of the Sacramento Bee
says Alex Smith is picking up where he left off with Mike McCarthy in 2005. Smith on Jim Harbaugh: "Meeting with him this offseason, I was excited to get coached like that, getting coached hands on and how he was talking about the quarterback position, the offense. No question, you guys can see it out there. We sure get it every day -- the detail coaching on every level, not just in the film room but on the field. It never ends. That's what I wanted. No question it's intense at times and it can be a lot, but that's what I wanted and the way you want it as a player." It's never been easier to write off Smith simply because he's had so many chances to this point. It's also probably true that 2011 represents his best chance at succeeding -- not as a franchise quarterback, but simply as a competent one. Can he throw with touch and accuracy on the shorter throws in Harbaugh's system? Does he have a good enough feel for the game to play effectively when acting instinctively?
Also from Barrows
: a look at the most competitive camp battles for the 49ers. On Adam Snyder's battle with Jonathan Goodwin at center: "When the 49ers signed Goodwin, it seemed as if the Snyder experiment would end very quickly. After all, Snyder hadn't played center before in his career while Goodwin was the starting center on the Saints' Super Bowl team. That Snyder has remained the first option at the position shows how much faith the coaching staff has in him there. Goodwin also has been working with the first-team offensive line, but not as much as Snyder. It will be interesting to count the snaps for each in Saturday's game. My guess is that Goodwin ultimately will start at the position, but the 49ers seem in no hurry to move Snyder out of the lineup."
Matt Maiocco of CSNBayArea.com
projects which players have the best shot at sticking on the 49ers' initial 53-man roster. Maiocco: "Seven offensive linemen will suit up on game days, and this group appears pretty solid, regardless of the winner of the center competition."
Cam Inman of the San Jose Mercury News
says Patrick Willis cautions against reading too much into how the 49ers have played during preseason.
Also from Inman
: a transcript from Willis' interview session.
Eric Branch of the San Francisco Chronicle
handicaps the Snyder-Goodwin battle.
Grant Cohn of the Santa Rosa Press-Democrat
describes Michael Crabtree's routine during the 49ers' media-availability session.
Also from Cohn
: music prevails in the 49ers' locker room. Speak up, Vernon Davis.

Danny O'Neil of the Seattle Times
updates Mike Williams' career with the Seahawks. Great quote from Williams, who continually downplays his achievements: ""If there's a getting-tackled-at-the-1 Pro Bowl, I definitely would have been first ballot for that."
Also from O'Neil
: thoughts on cornerback Walter Thurmond. O'Neil: "Thurmond is not an exceptionally tall cornerback like 6-foot-4 Brandon Browner or 6-3 rookie Richard Sherman. He is 5-11, but has a large wingspan, and is an explosive athlete. Seattle chose Thurmond in the fourth round of the 2010 as he was coming off a knee injury in which he suffered three torn knee ligaments during his senior season of 2009. Prior to the injury, he was regarded as a second, perhaps even late first-round choice."
Eric D. Williams of the Tacoma News Tribune
says rookie Byron Maxwell had the play of the day for Seattle.
Also from Williams
: checking in with new Seahawks linebacker David Vobora, formerly of the Rams. Williams: "Vobora also rolls in an interesting car. Last summer he bought a 1984 Chrysler LeBaron convertible 'Woody' edition off Craig's List for $1,500. The car's still in St. Louis, so he has to have it shipped back to Seattle. He said the only accessories he bought for the car was some fuzzy dice and Bob-a-Hula Girl, along with a car tree air freshener decorated in wood paneling."
More from Williams
: Free-agent receiver Doug Baldwin continues to impress for Seattle. Baldwin: "One (of) my strengths is my creativity in the slot, being able to be witty and creative matched up against a nickel corner or a (weakside) linebacker, so just being able to be creative in there, getting open and getting separation."
Liz Mathews of 710ESPN Seattle
checks in with Seahawks fullback Mike Robinson, who covers the team for which he plays.
Also from Mathews
: Thurmond expects to play against Denver.
Clare Farnsworth of seahawks.com
recaps the practice day for Seattle. Thurmond stood out.
Also from Farnsworth
: Maurice Fountain is making the most of his latest NFL opportunity. Farnsworth: "Despite not practicing with the team since January – or any team, for that matter – the 6-foot-4, 270-pound Fountain tackled Vikings running back Lorenzo Booker for a 5-yard loss in the third quarter and then teamed with rookie middle linebacker K.J. Wright to make another tackle in the fourth quarter."
John Boyle of the Everett Herald
provides a Seahawks injury update. Boyle: "Linebacker Aaron Curry returned to action after missing Tuesday's practice with a sore knee. Seattle's other two starting linebackers, Leroy Hill and David Hawthorne, remained out for a second straight day, however, also with knee injuries. Carroll didn't meet with the media today, however he did tell 710 ESPN Seattle that Hawthorne has a knee strain, and that Hill's injury is an old issue, but that he should be OK."

Kent Somers of the Arizona Republic
says catching up with Adrian Wilson can be an adventure. Somers: "When motivated, Wilson can be a great interview. In bad years, he's been brutally honest about teammates who didn't care enough about the game. In good years, he's been one to pump the brakes on excitement, pointing out that the team hadn't done anything. There have been times in one-on-one interviews when he's opened up about how much his wife and kids mean to him, when he's talked about his changing definition of leadership. And there have been times when he has been begged to talk, when team's media relations people have been asked to intercede and remind him that NFL players are required to be available to reporters at least once a week."
Also from Somers
: It's unlikely Max Hall will the see the field again for Arizona.
Dan Bickley of the Arizona Republic
says Hall was never the same after taking a huge hit against New Orleans.
Darren Urban of azcardinals.com
offers thoughts on Hall's status and Brodie Croyle's arrival. Croyle should have a decent feel for the Cardinals' first regular-season opponent, Carolina. Panthers coach Ron Rivera was running the Chargers' defense when Croyle was quarterback for the AFC West-rival Chiefs.
Also from Urban
: Kevin Kolb looks forward to his first home game as a member of the Cardinals.
More from Urban
: Injuries affected Stewart Bradley's career with the Eagles. He's healthier now. Urban: "The Cardinals are counting on that. Bradley got a five-year deal worth up to $30 million for Bradley to come in and solidify the middle of the linebacking corps after the team released Gerald Hayes. Playing behind fellow veteran Paris Lenon for now, Bradley should team with Lenon and Daryl Washington for a three-man rotation."
Bill Coats of the St. Louis Post-Dispatch
visits with Rams quarterbacks Sam Bradford and A.J. Feeley. Feeley: "Sam's a really bright guy and an amazing quarterback; you could see that from day one when he came in here. He's mature beyond his years, he's got all the physical tools, he's got the charisma, he's got the moxie. He's got everything you could possibly want in a quarterback."
Also from Coats
: The Rams want to size up their new outside linebackers in game situations.

Jim Thomas of the St. Louis Post-Dispatch
says Bradford wants more consistency from the first-team offense.
Roger Hensley of the St. Louis Post-Dispatch
asks colleagues whether they think the Rams have improved at wide receiver. Thomas: "Well, if you could tell me that the group was healthy – and could stay healthy – it would be an emphatic yes. But who knows if Donnie Avery and Danario Alexander can stay healthy for 16 games – or close to it. Same goes for Mardy Gilyard. Mike-Sims Walker will help, but he's had only a couple weeks of practice time and still needs to get in sync with Sam Bradford. The rookies, Austin Pettis and Greg Salas, haven't shown a whole lot. Salas was out with a hamstring injury for a while, but made a couple of nice catches on the fourth-quarter field goal drive against Tennessee." Pettis looked pretty good when I visited Rams camp.
Nick Wagoner of stlouisrams.com
says Mike Hoomanawanui, Mikail Baker, Jermelle Cudjo and Fred Robbins will not play in the Rams' next preseason game.
Also from Wagoner
: Darian Stewart's push for playing time in the Rams' secondary.
More from Wagoner
: Mike Sims-Walker's expectations for the season.
Howard Balzer of 101ESPN St. Louis
appreciates what Bradford offers the Rams.
May, 11, 2011
5/11/11
12:30
PM ET
The
Seattle Seahawks
were on the clock with the 99th overall choice in the 2011 NFL draft when the
Minnesota Vikings
called to inquire about a trade.
Coach Pete Carroll and general manager John Schneider had a decision to make. The team wanted to add more picks, so sliding back into the Vikings' spot at No. 106 carried some appeal. But the Seahawks had not addressed defense to that point in the draft, and Mississippi State outside linebacker
K.J. Wright
was a player they had been targeting.
Seattle decided to
stand pat at No. 99
.
"It is rare that you would find a linebacker with that much length (6-foot-4) and 4.6 speed,"
Carroll said after the draft
. "We need that flexibility."
[+] Enlarge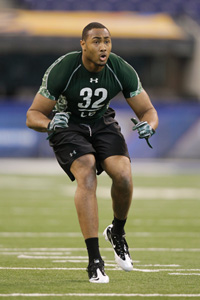 AP Photo/Michael ConroyK.J. Wright, who was drafted by the Seahawks with the No. 99 pick, was the last 4-3 strongside linebacker drafted.
This seemed a bit improbable. After all, teams selected 24 more linebackers over the remaining 155 selections. Surely one of them could have provided what the Seahawks wanted from Wright, right? Not necessarily. The more I studied those selections, the more I understood what Carroll was talking about. Wright was the fourth and final 4-3 strongside linebacker selected in the draft. All were gone among the top 100 selections.
The NFL has become so specialized, particularly on defense, that players are increasingly difficult to categorize. Seeking fresh perspective on the 2011 draft, I reclassified the 254 players chosen into 20 positional categories, based largely on how teams plan to use them. The process was imperfect because teams view players differently, and some players transcend easy categorization. But patterns that emerged were helpful in bringing the big picture into clearer focus.
Breaking down linebackers into five categories across 3-4 and 4-3 schemes was particularly helpful.
Teams selected one 4-3 strongside linebacker in each of the first four rounds, but none thereafter. They selected 12 4-3 weakside linebackers -- none in the first two rounds, five in the sixth and three in the seventh. That position carried less value relative to others based on when the players came off the board.
Nine of 11 4-3 defensive tackles went in the first three rounds, affirming how much teams value that position. Teams selected five 4-3 defensive ends in the first two rounds, then none until taking one in the fifth and four more in the seventh. Teams selected four five-technique defensive ends in the first round and one in the second, but none over the next four rounds.
I ultimately divided players into percentiles based on where they were selected in relation to other players from the same positional categories. Three NFC West players were the first players chosen at their specific positions. They were in the top percentile for their positions. Three, including Wright, were the last players chosen at their specific positions. They were in the bottom percentile.
The percentiles say nothing about whether individual players will succeed in the NFL. In some cases, players with lower percentiles probably carried more value at that moment in the draft based on how few prospects remained available at their positions.
Without categorizing players more specifically, we might not have any idea.
Overall, this draft featured 37 cornerbacks; 28 wide receivers; 24 running backs; 21 interior offensive linemen; 20 offensive tackles; 16 safeties; 13 tight ends; 12 quarterbacks; 12 4-3 weakside linebackers; 11 4-3 defensive tackles; 10 4-3 defensive ends; 10 3-4 outside linebackers; eight five-technique defensive ends; seven 3-4 inside linebackers; seven fullbacks; six 4-3 middle linebackers; four 4-3 strongside linebackers; four nose tackles; and two specialists. Two defensive linemen -- Kansas City's
Allen Bailey
and Baltimore's
Pernell McPhee
-- qualified as nickel pass-rushers.
And now, a look at all 35 NFC West draft choices, listed by how early they were drafted in relation to other players at their specific positions:
First quarter: 75th percentile and higher
Patrick Peterson
, CB,
Arizona Cardinals
: First of 37 cornerbacks selected
Aldon Smith
, OLB,
San Francisco 49ers
: First of 10 3-4 outside linebackers
Robert Quinn
, DE,
St. Louis Rams
: First of 10 4-3 defensive ends
Ryan Williams
, RB, Cardinals: Second of 24 running backs, putting him in the 91.7 percentile for the position (FBs excluded)
Lance Kendricks
, TE, Rams: Second of 13 tight ends (84.6)
James Carpenter
, T, Seattle Seahawks: Fourth of 20 offensive tackles (80.0)
Chris Culliver
, CB, 49ers: Eighth of 37 cornerbacks (78.4)
Rob Housler
, TE, Cardinals: Third of 13 tight ends (76.9)
John Moffitt
, G, Seahawks: Fifth of 21 interior offensive linemen (76.2)
Second quarter: 50th to 74th percentile
Anthony Sherman
, FB, Cardinals: Second of seven fullbacks (71.4)
Austin Pettis
, WR, Rams: Eighth of 28 wide receivers (71.4)
Kendall Hunter
, RB, 49ers: Tenth of 24 running backs (58.3)
Bruce Miller
, FB, 49ers: Third of seven fullbacks (57.1)
Kris Durham
, WR, Seahawks: 12th of 28 wide receivers (57.1)
Daniel Kilgore
, C, 49ers: 10th of 21 interior offensive linemen (52.4)
Sam Acho
, OLB, Cardinals: Fifth of 10 3-4 outside linebackers (50.0)
Colin Kaepernick
, QB, 49ers: Sixth of 12 quarterbacks (50.0)
Greg Salas
, WR, Rams: 14th of 28 wide receivers (50.0)
Third quarter: 25th to 49th percentile
Richard Sherman
, CB, Seahawks: 24th of 37 cornerbacks (35.1)
Mark LeGree
, S, Seahawks: 11th of 16 safeties (31.3)
Quan Sturdivant
, ILB, Cardinals: Fifth of seven 3-4 inside linebackers (28.6)
Byron Maxwell
, CB, Seahawks: 27th of 37 cornerbacks (27.0)
David Carter
, DE, Cardinals: Sixth of eight five-technique defensive ends (25.0)
Jermale Hines
, S, Rams: 12th of 16 safeties (25.0)
Fourth quarter: Zero to 24th percentile
Colin Jones
, S, 49ers: 13th of 16 safeties (18.8)
Jabara Williams
, LB, Rams: 10th of 12 4-3 weakside linebackers (16.7 )
Ronald Johnson
, WR, 49ers: 24th of 28 wide receivers (14.3)
Mikail Baker
, CB, Rams: 32nd of 37 cornerbacks (13.5)
Pep Levingston, DE, Seahawks: Seventh of eight five-technique defensive ends (12.5)
Mike Person
, C, 49ers: 19th of 21 interior offensive linemen (9.5)
Malcolm Smith
, LB, Seahawks. Eleventh of 12 4-3 weakside linebackers (8.3)
Jonathan Nelson
, S, Rams: 15th of 16 safeties (6.3)
K.J. Wright, LB, Seahawks: Fourth of four 4-3 strongside linebackers (0.0)
DeMarco Sampson
, WR, Cardinals: 28th of 28 wide receivers(0.0)
Curtis Holcomb
, CB, 49ers: 37th of 37 cornerbacks (0.0)
May, 1, 2011
5/01/11
4:09
PM ET
Mel Kiper Jr. gave the
St. Louis Rams
a
B grade
for their efforts in the 2011 NFL draft.

Everything looks better with a young, ascending quarterback in place.
The Rams used three of their first four picks on weapons for
Sam Bradford
. All three fit the mold for new coordinator Josh McDaniels, who
prefers big receivers
. All three should help the Rams
improve in the red zone
, where they struggled badly last season.
First-round choice
Robert Quinn
added pass-rush help to a defense that wasn't hurting in that area, but still had longer-term concerns. Kiper thought Quinn could have been a No. 1 overall selection on raw talent. Quinn went later after serving a one-year suspension in 2010. A benign brain tumor was another potential concern.
The Rams' calculated gambles went beyond Quinn. Receivers
Austin Pettis
and Greg Salas do not seem to add the speed element the Rams could use on the outside. General manager Billy Devaney cautioned against overvaluing speed at the expense of finding good players. Those warnings are fair. Also, the most dynamically talented receivers tend to go earlier in the draft. Receivers available after the first round tend to have holes in their games. The Rams went for bigger, physical, more reliable targets. They weren't going to get
A.J. Green
or
Julio Jones
.
Later in the draft, the Rams took chances with players carrying injury histories. Seventh-rounders Mikail Baker and
Jonathan Nelson
come to mind. There are no perfect prospects in the seventh round, of course. Teams are making educated guesses and hoping for some luck.
The Rams still have work to do, but it's low-pressure work. While division rivals search for quarterbacks, the Rams can target free agents at defensive tackle, guard and possibly linebacker. Oh, and there's always the now-annual search for a complementary running back. They took tight end
Lance Kendricks
at No. 47, nine spots before McDaniels' former team, New England, took running back
Shane Vereen
. They took Pettis, the receiver, five spots after New England selected another running back,
Stevan Ridley
.
Eleven running backs came off the board between the Rams' fourth- and fifth-round selections.
"It was probably close a couple of times and we didn't force it," Devaney told reporters. "There were running backs that we were thinking about taking and they went before our next pick came up. But we didn't react by saying, 'OK, we lost the back, now we've got to drop down in value in this round and take a back no matter what [even] if he doesn't warrant going there.' It didn't work out."
That was true for teams across the league. The Rams weren't going to fill every need.