July, 7, 2014
Jul 7
10:00
AM ET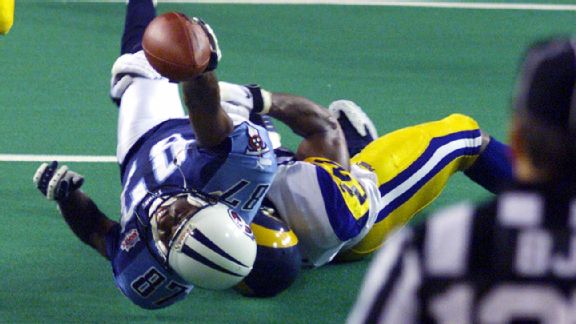 AP Photo/Michael Conroy
»
VOTE HERE
»
NFC Plays:
East
|
West
|
North
|
South
»
AFC:
East
|
West
|
North
|
South
This is the first of three plays nominated as the most memorable play in team history. In the next two days, we'll feature Isaac Bruce's 73-yard touchdown catch that provided the winning points in Super Bowl XXXIV and Ricky Proehl's 30-yard touchdown catch to beat Tampa Bay in the NFC Championship Game. Please vote for your choice as the Rams' most memorable play.
Score:
Rams 23, Titans 16
Date:
Jan. 30, 2000
Site:
The Georgia Dome

While the Greatest Show on Turf stole most of the headlines in the Rams' storybook 1999 season, it was somewhat fitting that Super Bowl XXXIV would fall on the shoulders of an underrated defense. More specifically, the game would come down to the ability of solid, if unspectacular, linebacker Mike Jones to make a tackle as time expired and preserve a championship.
Tennessee coach Jeff Fisher used his final timeout with six seconds remaining as his team desperately drove the length of the field in search of a tie or, possibly, the win. Quarterback Steve McNair marched the Titans down the field in short order and had an exhausted Rams defense on its heels at the St. Louis 10. The Titans were out of timeouts, and the ensuing play was nearly certain to be the last of the game.
Before the snap, receiver Kevin Dyson motioned left and back to the right, where he stepped in behind tight end Frank Wycheck, allowing him a free release at the snap. Wycheck ran directly at Jones with Dyson breaking for an inside slant route. The hope for the Titans was Jones would stay with Wycheck, allowing Dyson an easy catch and run for the touchdown.
Jones stayed with Wycheck for a moment but quickly realized what was happening. Upon safety help arriving on Wycheck, Jones turned his attention to Dyson, whom McNair hit in stride at the 5. Jones converged on Dyson as he moved toward the end zone and the sure-tackling Jones wrapped him up and brought him down as he stretched toward the goal line. Dyson came up a yard short, time ran out and the Rams celebrated as world champions.
There's really no debate that this is one of the most memorable plays in Rams history and for the league as a whole. It doesn't get more dramatic than sealing a victory in the Super Bowl as time expires. Plays can be memorable for many reasons, including their greatness, their place in history and what they mean in telling the story of a franchise. In this case, the play simply known as "The Tackle" represents everything a memorable play should be.
@nwagoner #NFLNRamsTopPlays gotta be the Mike Jones tackle. It won the frickin' Super Bowl!!!!!!!!!

— yes! (@stevedavidl) June 12, 2014
January, 23, 2013
1/23/13
4:15
PM ET
NFL history changed when the
St. Louis Rams
'
Mike Jones
famously tackled
Tennessee Titans
receiver
Kevin Dyson
at the 1-yard line in Super Bowl XXXIV.
Jones' life changed, too.
Rams fans and NFL fans in general should check out our "
Lost Heroes of the Super Bowl
" pieces from Jeff Chadiha, Liz Merrill and photographer Dominic DiSaia. The associated
photo gallery
is definitely worth a look.
Jones, Rod Martin,
Chris Reis
, Jim O'Brien and
Ricky Sanders
were the subjects.
From Merrill's vignette on Jones:
"The Rams' defense was gassed that night. Jones played every defensive snap and was running around on a bad ankle. Titans quarterback Steve McNair was determined, Jones said. McNair had rallied his team from a 16-0 deficit, and three plays turned into four and into five. 'He was not going to be denied,' Jones said. On the last play of the game, Frank Wycheck ran straight up the field, drawing Jones, and the plan was for McNair to hit an open Dyson near the goal line. He was open, but Jones switched direction. Jones wrapped him up, and Dyson's knee hit the ground at the 1-yard line."
May, 10, 2011
5/10/11
1:00
PM ET
What key event significantly changed the fortunes of the Rams -- for better or worse? Give us your take and we'll give you our definitive moment on May 19.
Long before
Kurt Warner
was directing the Greatest Show on Turf, Bob Waterfield and Norm Van Brocklin were connecting with Elroy "Crazy Legs" Hirsch and Tom Fears for the Los Angeles Rams of the 1950s. They won a championship, too.
The Rams' 1951 title team sustained an 11-year stretch without a losing season. The Rams would remain successful for years under Sid Gillman, George Allen, Chuck Knox and Ray Malavasi, but none of those teams would win a championship.
The biggest trade in franchise history also earned a spot on the ballot. This swap involved owners, not players. The Rams and Colts traded ownership in 1972. Carroll Rosenbloom's death in 1979 left the Rams to his wife, Georgia Frontiere, who would later move the franchise to her native St. Louis. Her passing in 2008 precipitated the team's latest ownership change.
The Rams' 16 seasons in St. Louis have been eventful. Hiring Dick Vermeil, drafting
Orlando Pace
, acquiring
Marshall Faulk
and turning to Warner could all earn spots on the ballot. These were among the defining moments as the Rams brought a championship to St. Louis.
The drama associated with quarterback
Trent Green
's 1999 preseason injury and
Mike Jones
' Super Bowl tackle conferred special status to those two events. Green's injury was supposed to doom the Rams' season, but Warner intervened. And when Jones brought down
Tennessee Titans
receiver
Kevin Dyson
at the 1-yard line on the final play of Super Bowl XXXIV, the Rams were champions again.
If you vote Other, give us your suggestion in the comments area below.
August, 30, 2010
8/30/10
5:50
PM ET

Matt Leinart
apparently has
no idea where he stands
with the
Arizona Cardinals
. That makes it tough for the rest of us to predict exactly what might happen.
Will Leinart start at quarterback for the Cardinals in Week 1? Will he serve as the backup? Will the Cardinals release him? Might they trade him?
The next week to 10 days should provide answers. NFL teams have until Saturday to reduce their rosters to 53-man limits, with the 75-man deadline passing Tuesday.
After
looking at the Seahawks' roster
earlier Monday, here's a quick run through the Cardinals:
Quarterbacks (4)
Average number kept since 2003:
3.0
Keepers:
Derek Anderson
Looking safe:
Max Hall
On the bubble:
Leinart,
John Skelton
Comment:
Coach Ken Whisenhunt's handling of Leinart suggests there's more than tough love at work here. It's fair to question whether Leinart fits into the team's plans at all this season. The smart move, it seems, would be to keep Anderson, Leinart and the winner of the Hall-Skelton competition. But it's clear Whisenhunt isn't convinced Leinart has what it takes to be a starting quarterback.
Running backs (8)
Average number kept since 2003:
5.3
Keepers:
Tim Hightower
,
Beanie Wells
,
LaRod Stephens-Howling
,
Jason Wright
On the bubble:
Reagan Maui'a
,
Charles Scott
Also:
Alfonso Smith
,
Nehemiah Broughton
Comment:
Scott arrived via trade this week after Broughton suffered a season-ending knee injury. Maui'a could be the choice heading into the regular season. Scott provides depth for the final exhibition game, but it's unlikely he would be refined enough as a blocker to factor into the offense in a meaningful way. Smith's speed caught my attention early in camp.
Wide receivers (11)
Average number kept since 2003:
6.1
Keepers:
Larry Fitzgerald
,
Steve Breaston
,
Early Doucet
Looking safe:
Andre Roberts
,
Stephen Williams
On the bubble:
Onrea Jones
,
Max Komar
Also:
Isaiah Williams
,
Darren Mougey
,
Mike Jones
,
Ed Gant
Comment:
Gant serves a suspension to open the season. Roberts will make the team as a third-round pick. Williams pretty much wrapped up a spot with his latest strong performance (at Chicago). Jones and Komar could be competing for a sixth and final spot at the position.
Tight ends (4)
Average number kept since 2003:
3.1
Keepers:
Ben Patrick
,
Anthony Becht
,
Stephen Spach
Also:
Jim Dray
Comment:
The team released
Dominique Byrd
on Monday. The top three appear set. Not much drama here. Dray looks like practice-squad material.
Offensive linemen (12)
Average number kept since 2003:
8.9
Keepers:
Lyle Sendlein
,
Alan Faneca
,
Brandon Keith
,
Reggie Wells
,
Levi Brown
,
Deuce Lutui
,
Rex Hadnot
,
Jeremy Bridges
Looking safe:
Herman Johnson
Also:
Ben Claxton
,
Tom Pestock
,
Jonathan Palmer
Comment:
Lutui could be trending toward a spot back in the starting lineup despite reporting to camp overweight. Johnson also reported overweight. He isn't a starter, and that's why I listed him separately from the keepers (even though it's an upset, most likely, if Johnson does not stick).
Defensive line (9)
Average number kept since 2003:
7.4
Keepers:
Darnell Dockett
,
Calais Campbell
,
Dan Williams
,
Bryan Robinson
Looking safe:
Alan Branch
,
Gabe Watson
,
Kenny Iwebema
Also:
John Fletcher,
Jeremy Clark
Comment:
This position appears pretty much set. I would expect seven to earn roster spots.
Linebackers (14)
Average number kept since 2003:
7.1
Keepers:
Gerald Hayes
,
Paris Lenon
,
Clark Haggans
,
Joey Porter
,
Daryl Washington
Looking safe:
Will Davis
,
Cody Brown
Bubble:
Monty Beisel
,
Reggie Walker
Also:
O'Brien Schofield
,
Steve Baggs
,
Mark Washington
,
Chris Johnson
,
Pago Togafau
Comment:
Hayes and Schofield could open the season on reserve/physically unable to perform, opening two roster spots. Beisel and Walker could be competing for the final spot at this position.
Defensive backs (13)
Average number kept since 2003:
8.9
Keepers:
Adrian Wilson
,
Dominique Rodgers-Cromartie
,
Kerry Rhodes
,
Greg Toler
,
Trumaine McBride
,
Matt Ware
Looking safe:
Michael Adams
,
Hamza Abdullah
,
Rashad Johnson
On the bubble:
Marshay Green
Also:
A.J. Jefferson
,
Trevor Ford
,
Justin Miller
Comment:
Toler could be passing McBride on the depth chart as the starting right cornerback, fulfilling expectations. Johnson appeared more physical early in camp. Haven't heard much about him lately, though.
Specialists (3)
Average number kept since 2003:
2.9
Keepers:
Jay Feely
,
Ben Graham
,
Mike Leach
Comment:
Arizona has three on the roster and that's how many the team will keep. Simple enough.
June, 24, 2010
6/24/10
9:15
AM ET
Notable players:
QB
Kurt Warner
, RB
Marshall Faulk
, WR
Isaac Bruce
, WR
Torry Holt
, LT
Orlando Pace
, WR/PR
Az-Zahir Hakim
, DE
Kevin Carter
, DE
Grant Wistrom
, DT
D'Marco Farr
, CB
Todd Lyght
.
[+] Enlarge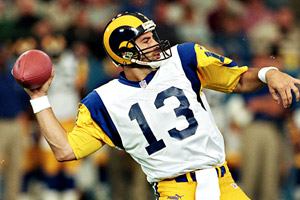 Tom Pidgeon/Getty ImagesKurt Warner threw for 4,353 yards and 41 touchdowns during the 1999 season.
Analysis:
The 1999
St. Louis Rams
were tied with the
Tennessee Titans
in the final minutes of the Super Bowl.
Conventional wisdom called for a clock-killing drive to the winning field goal, but convention didn't appeal to the 1999 Rams. They had shrugged off losing their starting quarterback during the preseason. They had knowingly backed Warner without much evidence to suggest he would succeed. They passed the ball first when tradition called for establishing the run. They pushed the ball downfield when West Coast schemes were favoring shorter timing throws.
And so with the 2-minute warning approaching in a 16-16 game, the Rams went deep to Bruce for a 73-yard touchdown. The aggressiveness came with a price when the Titans, armed with plenty of time, moved within a yard of the tying touchdown. But the Rams won their way -- defiantly and with an offense few teams in NFL history could challenge for pure multidimensional flair.
The only team in Rams history to win a Super Bowl gets my vote for best team in franchise history. The 1951 version also won an NFL title, but that team finished the regular season with an 8-4 record. It played only one postseason game. Chuck Knox's Rams of the early 1970s were very good. John Robinson had some solid Rams teams in the 1980s. The 2001 Rams had a chance to be the best in franchise history, but the 1999 team separated itself by becoming the only Rams team to win a Super Bowl.
Dick Vermeil was coach of the year. Warner was MVP and Super Bowl MVP. Faulk was offensive player of the year.
This was a team of signature players and also signature plays:
Ricky Proehl's dramatic juggling catch to beat the Tampa Bay Buccaneers in the NFC title game (he hadn't caught a touchdown pass all season);

Bruce's daring 73-yard touchdown grab in the Super Bowl;

Mike Jones' game-saving tackle of the Titans' Kevin Dyson at the 1-yard line as time ran out in the Super Bowl.
Most impressive win:
For years the Rams had watched the
San Francisco 49ers
dominate them and the NFC West. That's what made the Rams' Week 5 victory over the 49ers so meaningful that season. Bruce caught four touchdown passes during a 42-20 victory as the Rams improved to 4-0. Fans wanted to believe after a 38-10 victory over the
Cincinnati Bengals
a week earlier. The blowout against San Francisco provided validation (no one knew the 49ers would finish with a 4-12 record that season).
Return to sender:
Offense wasn't the only way the 1999 Rams found the end zone. Hakim averaged 10.5 yards per punt return with one touchdown.
Tony Horne
averaged 29.7 yards per kickoff return with two touchdowns. The Rams scored seven touchdowns on interception returns and one more on a fumble return.
Honorable mention
2001:
The Rams rebuilt their defense and made another run to the Super Bowl.
Tom Brady
and the
New England Patriots
kept St. Louis from winning another title and challenging for the title of best team in Rams history.
1973:
First-year head coach Chuck Knox turned around the Rams quickly, leading them to a 12-2 record with No. 1 rankings in total offense and total defense. John Hadl tossed 22 touchdown passes with 11 interceptions in his only full season as the Rams' starter.
1951:
The Rams won a championship for Los Angeles thanks to Bob Waterfield, Norm Van Brocklin and Elroy Hirsch. Four-time Pro Bowl fullback Dan Towler averaged 6.8 yards per attempt.
September, 25, 2009
9/25/09
9:18
AM ET