January, 16, 2013
1/16/13
10:22
AM ET
The
Chicago Bears
' hiring of
Marc Trestman as head coach
leaves Arizona, Philadelphia and Jacksonville as the final three teams with vacancies heading toward the 2013 season.
Trestman was not a known candidate for any other job. His
rather curious hiring
should not affect the Cardinals in any way.
A quick look at the known candidates for the Cardinals, Eagles and Jaguars:
Arizona: Offensive coordinators Darell Bevell (Seattle), Jay Gruden (Cincinnati) and Todd Haley (Pittsburgh) have reportedly interviewed or will interview. Cardinals defensive coordinator Ray Horton has already interviewed and remains on staff. Andy Reid and Mike McCoy were candidates before taking jobs elsewhere.
Eagles: The Eagles have interviewed and/or pursued Seahawks defensive coordinator Gus Bradley (Seattle), former Cardinals head coach Ken Whisenhunt, Gruden, McCoy, Atlanta Falcons defensive coordinator Mike Nolan, Falcons special-teams coordinator Mike Armstrong, Falcons offensive coordinator Dirk Koetter, former Baltimore Ravens coach Brian Billick, Notre Dame coach Brian Kelly, Oregon coach Chip Kelly, Penn State coach Bill O'Brien, former Chicago Bears coach Lovie Smith, and then-Syracuse coach Doug Marrone. Did I miss anyone? Phil Sheridan of the Philadelphia Inquirer joked that the Eagles have interviewed "every living male with a visor" to this point.
Jaguars: Bradley headed from his Eagles interview to meet with the Jaguars on Wednesday. Bevell and St. Louis Rams offensive coordinator Brian Schottenheimer also interviewed. Schottenheimer was a finalist for the job one year ago, but the Jaguars hired Mike Mularkey. Jaguars defensive coordinator Mel Tucker interviewed. San Francisco offensive coordinator Greg Roman would be a logical candidate for the job given his success with the 49ers and close ties to new Jaguars general manager David Caldwell, Roman's former college teammate and roommate. The Jaguars were not yet conducting their coaching search when Roman was available for interviews during the window provided before divisional-round games. He remains off-limits during Championship Game week. Armstrong, the Falcons' special-teams coach, has also been mentioned as a candidate. AFC South blogger Paul Kuharsky sizes up the field.
The chart is an expanded version of previous ones I've produced, designed to show which openings might be most appealing from candidates' perspective. I would order them Philadelphia, Arizona and Jacksonville based on a range of factors, including quarterbacks and ownership.
January, 10, 2013
1/10/13
3:00
PM ET
A few NFC West assistant coaches and personnel evaluators remain in play for jobs elsewhere:
A look at where things stand:
Greg Roman, San Francisco 49ers offensive coordinator: Roman's name has surfaced in connection with head coaching jobs in San Diego and Jacksonville. He has ties to the general managers each of those teams hired recently. Roman and the Chargers' new general manager, Tom Telesco, were college teammates and even roommates. Roman and new Jaguars GM Dave Caldwell also played together in college and worked together with the Carolina Panthers. The Jaguars are expected to have interest in Roman after firing Mike Mularkey, according to ESPN's Adam Schefter. Losing Roman could put more pressure on 49ers coach Jim Harbaugh to oversee the offense. Harbaugh's background is on offense, so the 49ers appear to have some protection on that side of the ball. Niners players have referred to Roman as an offensive genius, however, so it's clear Roman would be missed.
Tom Gamble, 49ers director of player personnel: Gamble is reportedly a leading candidate to replace Mike Tannenbaum as the New York Jets' general manager.
Gus Bradley, Seattle Seahawks defensive coordinator: Philadelphia received permission to speak with Bradley about its head coaching vacancy. Rules allowed for contact this week, but the Seahawks are focused on a divisional-round playoff game against the Atlanta Falcons. The Eagles have quite a few known candidates. They appear to be in no rush. No clear favorite has emerged. Bradley is in the mix, at least. Head coach Pete Carroll's background is on defense. That would appear to provide some insurance for the Seahawks if Bradley took a job elsewhere.
Darrell Bevell, Seahawks offensive coordinator: The Chicago Bears received permission to speak with Bevell, an NFC North alum via the Minnesota Vikings. Line coach Tom Cable coordinates the running game for Seattle. The Seahawks would look to keep their offensive system if Bevell departed. Cable's presence provides some insurance.
Brian Schottenheimer, St. Louis Rams offensive coordinator: Schottenheimer quickly emerged as a candidate in Jacksonville once the Jaguars fired Mularkey. Schottenheimer interviewed for this job one year ago before the team chose Mularkey. If Schottenheimer left, the Rams would presumably hire a replacement from the outside and try to keep a similar offensive system in place. Quarterback Sam Bradford has changed coordinators every season. The Rams would want a smooth transition if Schottenheimer did take a job elsewhere. Still, adjusting to yet another coordinator would likely come at a price for Bradford.
Ray Horton, Cardinals defensive coordinator: The NFC West assistant considered most likely to generate interest this offseason appears to have little going at this time. He remains a candidate to succeed Ken Whisenhunt in Arizona, it appears. But there's been little buzz on the Horton front lately.
January, 16, 2012
1/16/12
8:00
AM ET
This is going to be a fantastic week, probably the best for the NFC West since Arizona's Super Bowl appearance three years ago.
It could get a whole lot better with a San Francisco 49ers victory over the New York Giants in the NFC Championship Game.
Fans for other teams in the division will have a hard time pulling for a despised rival, of course. But if you think criticism of the division has too often overlooked NFC West postseason successes, another 49ers victory could provide additional relief.

A 49ers victory over the Giants would give all four current NFC West teams one Super Bowl appearance since February 2002, right before the league realigned into eight four-team divisions. The NFC South is the only other division with more than two during that time (Carolina, Tampa Bay and New Orleans).
Tim Kawakami of the San Jose Mercury News
thinks the 49ers would have had an easier time against Green Bay than against the Giants. Kawakami: "I think Eli Manning is a very scary playoff QB -- when he's throwing it well (like now), and has confidence in his receivers (like now), he is very tough to beat. The Giants are red-hot right now and they showed in 2007 that when they get red-hot, they're nearly impossible to beat. It seems odd to say this, but I think Manning is a tougher out in the playoffs than either Drew Brees or Aaron Rodgers. Can't exactly say why I think this, but I do."
Noted:
Manning's arm and size allow him to make throws other quarterbacks cannot make. I would expect the 49ers' defensive front to get much more pressure than Green Bay mounted, however.
Mark Purdy of the San Jose Mercury News
says the 49ers should be happy to play at home, but not necessarily against the Giants. Purdy: "This is going to be a fascinating reboot, with lots of coaching brain power involved. The Giants have the NFL's oldest coach, Tom Coughlin, who is known for the right calls at the right times. The 49ers have rookie head coach Jim Harbaugh, who has made almost no wrong moves over the past three months."
Noted:
The 49ers fooled the Giants with an onside kick when the teams played in Week 10. They caught the Giants' front line retreating a little too quickly.
Grant Cohn of the Santa Rosa Press-Democrat
expects the Giants to double-cover Vernon Davis, load up against the run and find out whether the 49ers' wide receivers can do enough for San Francisco to win. Cohn: "Here's some good news for the offense. Delanie Walker wrote on Twitter that he worked out Sunday and he's ready to play next weekend. Alex Smith needs a secondary receiver to complement Davis and Walker can be that guy. Last time the Niners played the Giants, Walker led all Niners with six receptions for 69 yards."
Matt Maiocco of CSNBayArea.com
updates the 49ers' injury situation. Maiocco: "Ray McDonald was noticeably limping throughout the game with a right hamstring strain, which he sustained in the regular-season finale against the St. Louis Rams. Earlier this season, McDonald missed a game with a left hamstring strain. McDonald, who typically plays every down, played just 44 of the 49ers' 80 defensive snaps. Backup lineman Ricky Jean Francois played 36 snaps. However, McDonald was on the field for the 49ers' final 12 defensive plays of the game."

Bernie Miklasz of the St. Louis Post-Dispatch
assesses what Jeff Fisher's hiring means for the Rams under owner Stan Kroenke. Miklasz: "Kroenke is financially committed. Kroenke edged out another billionaire, Miami owner Steve Ross, in the tense competition for Fisher. When Fisher's contract is finalized, he'll be among the NFL's highest-paid coaches with an annual salary that should average at least $7 million. Fisher was also granted a generous budget for hiring assistant coaches. Kroenke undoubtedly agreed to bankroll other football-related hires made by Fisher. Kroenke is doing more than paying a head coach; he's funding a new football operation. That's a major investment."
Jim Thomas of the St. Louis Post-Dispatch
updates where the Rams stand after hiring Fisher. On the general manager search: "Dawson may look like the front-runner because he has worked with Fisher in Tennessee. But he has less experience than most on the Rams' candidate list, including another Tennessee personnel department exec, Ruston Webster. The Rams have yet to interview Webster, although they have received permission to do so from Tennessee. The same holds true for Steve Keim of Arizona, Joey Clinkscales of the New York Jets, Brian Gaine of Miami and Tom Telesco of Indianapolis."
Also from Thomas
: Brian Schottenheimer is among the candidates to become offensive coordinator for the Rams.
Noted:
I'll have more on this one later Monday morning.
Kathleen Nelson of the St. Louis Post-Dispatch
polls Rams players for thoughts on Fisher. One theme: That Fisher's background as a player helps him understand the physical demands of the game.

Kent Somers of the Arizona Republic
updates the Todd Haley situation in relation to the Cardinals. He also serves up a couple other coaching-related tidbits. Somers: "As far as I know, line coach Russ Grimm and tight ends coach Freddie Kitchens have not re-signed with the Cardinals. They have been offered contracts. Grimm worked with Jaguars coach Mike Mularkey in Pittsburgh, so maybe Jacksonville is a possible landing spot for him. But will the Jags be willing to spent the $1.5 million or so to hire Grimm? That's what he makes in Arizona. With Kitchens, word is Rams coach Jeff Fisher thinks Kitchens is an excellent coach. Kitchens name has also been tied to openings at Alabama, his alma mater."
Noted:
The potential for Grimm's departure would have been big news in Arizona a couple years ago. Does it still have that feel?
Darren Urban of azcardinals.com
checks in with Cardinals running back Ryan Williams, who is rehabilitating from the knee injury he suffered as a rookie during the 2011 preseason. Williams: "No injury is going to stop me, unless one of my legs is (cut) off somewhere and I only have one leg. I am too self-motivated to be the best player I can be. I want my career to last 10 to 14 years. Ten is the least for me. I won't stop. I want my career to be here … but if something happens where it isn't, all 31 other teams will have to stand in front of me and tell me no for me not to be a football player and even then, I'd probably have to hear it again. That's how much football means to me."

Brady Henderson of 710ESPN Seattle
passes along thoughts from former Seahawks quarterback Jon Kitna, who is entering into retirement. Sounds like Kitna will do some coaching at the high school level in the Tacoma area. Kitna: "Football was great, but as you get to the end of your career you kind of realize that it's more than just football. It's relationships that you form and things like that. So I consider myself awfully, awfully blessed to have played 16 years in this league. ... There's a lot of things that, for me, I'm excited about doing after football, and that would be teaching and coaching and pouring into the lives of inner-city kids here in Tacoma. So I'm definitely looking forward to that. ... I'm really excited about the next phase of life for me and my family."
April, 27, 2011
4/27/11
1:45
PM ET
Colleague Kevin Seifert showed
some daring
by sending TCU quarterback
Andy Dalton
to the
Minnesota Vikings
at No. 12 in a recent
ESPN.com mock draft
.
He wasn't arguing for Dalton's value so much as saying the Vikings' need for a quarterback might compel them to take one there.
[+] Enlarge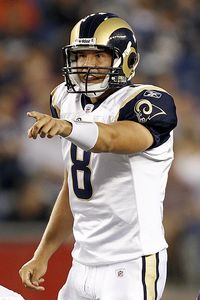 AP Photo/Winslow TownsonDid the Rams "reach" to get quarterback Sam Bradford in the first round last year?
"To me,"
Seifert later wrote
with first-year Vikings coach Leslie Frazier in mind, "there is no better time to jump to the other side than in a coach's first year, giving him a building block for the rest of his program."
The key, of course, is not mistaking anchors for building blocks.
Steve Mariucci was the
San Francisco 49ers
' first-year coach when the team used a 1997 first-rounder for
Jim Druckenmiller
, a blunder softened only by
Steve Young
's presence on the roster. That experience should not directly influence the 49ers' thinking as they consider first-round quarterbacks for new coach Jim Harbaugh, but it's a reference point.
With Harbaugh and the 49ers in mind, I went through recent drafts to see which teams with first-year head coaches used first-round selections for quarterbacks. More precisely, I looked at all first-round quarterbacks since 2000 to see which ones had first-year head coaches.
Six of the last eight first-round quarterbacks --
Matthew Stafford
,
Mark Sanchez
,
Josh Freeman
,
Matt Ryan
,
Joe Flacco
and
JaMarcus Russell
-- joined teams with first-year head coaches. All but Russell remain franchise quarterbacks in their teams' eyes. All but Russell are still playing for their original head coaches. Four of the six had winning records in 2010.
For most of those franchises, value and need lined up pretty well, and first-year coaches benefited.
"If you don't have a quarterback, you're drafting maybe a different kind of running back, maybe a different kind of offensive lineman, than if you have somebody," Lions coach Jim Schwartz told reporters at the scouting combine. "We had
Calvin Johnson
, but our ability to get
Jahvid Best
,
Nate Burleson
in free agency, to draft
Brandon Pettigrew
-- those pieces were because of the quarterback that we have."
We could also argue that the
St. Louis Rams
were better off building their offensive line and other areas of their roster before making
Sam Bradford
the first overall choice in 2010. They could have drafted Sanchez or Freeman instead of defensive end
Chris Long
in 2009, then spent subsequent selections on players to build around one of those quarterbacks.
Bradford and Denver's
Tim Tebow
were the "other" first-round quarterbacks in the eight-man group featuring Stafford, Sanchez, Freeman, Ryan, Flacco and Russell.
In general, getting the right quarterback for a first-year head coach puts a franchise in strong position for the long term. There's no sense forcing the issue, however, because the wrong quarterback can drag down any coach, regardless of tenure.
A coach such as the Vikings' Frazier might have a harder time waiting. His contract runs only three seasons and ownership expects quick results. Harbaugh has a five-year deal with the 49ers. Expectations are high, but there's less urgency for immediate results.
The first chart shows the 14 first-round quarterbacks since 2000 that landed with returning head coaches.
The second chart shows the 14 first-round quarterbacks since 2000 that landed with first-year head coaches.
February, 6, 2009
2/06/09
1:11
AM ET
Posted by ESPN.com's Mike Sando
The Cardinals will miss offensive coordinator Todd Haley if and when he becomes the Chiefs' head coach, but they're in good position to weather his departure.
One, the Cardinals have had time to prepare contingency plans. I do not know those plans. Russ Grimm is assistant head coach. Running backs coach Maurice Carthon has experience as a coordinator. Either one could step into the role if the Cardinals decided to hire from within.
Two, the Cardinals have an offensive-minded head coach. Ken Whisenhunt was calling the plays through much of the 2007 season. He handed off play-calling duties to Haley to fulfill a promise he had made as part of a broader effort to keep Haley on his staff. Whisenhunt could resume calling plays while giving the new offensive coordinator time to grow into the role.
The search for coaches with ties to Whisenhunt takes us to Bill Cowher's old staffs in Pittsburgh. Mike Mularkey would be an ideal candidate to replace Haley if he weren't offensive coordinator for the Falcons. Mark Whipple, the new offensive coordinator at the Univeristy of Miami, was quarterbacks coach for the Steelers from 2004 through the 2006 season, but he wasn't part of the staff Whisenhunt assembled in Arizona. I am not sure why.
We'll know the Cardinals' plans soon enough, assuming Haley indeed becomes the Chiefs' next head coach. Whisenhunt has had plenty of time to prepare for Haley's eventual departure.
December, 30, 2008
12/30/08
8:55
AM ET
Posted by ESPN.com's Mike Sando

Jim Thomas of the St. Louis Post-Dispatch says former NFL linebacker Winston Moss is first up in the Rams' coaching search. Moss is assistant head coach in Green Bay.
Bernie Miklasz of the St. Louis Post-Dispatch explains why Jim Haslett could still emerge as the Rams' choice. The Rams might not be in position to land a higher-profile coach.
Bill Coats of the St. Louis Post-Dispatch says the Rams packed their belongings and headed home. Some are unlikely to return.
Also from Coats: Kenneth Darby might have done enough to be the Rams' kick returner next season.
Steve Korte of the Belleville News-Democrat says Haslett expressed no regrets about his tenure as the Rams' interim coach.
Also from Korte: Rams safety Oshiomogho Atogwe laments the inevitable roster changes that await each offseason.
More from Korte: Rams tight ends Joe Klopfenstein and Anthony Becht need surgeries.

John Crumpacker of the San Francisco Chronicle says Mike Singletary expects to make a decision on offensive coordinator Mike Martz by Wednesday.
Also from Crumpacker: Takeo Spikes, scheduled to become a free agent in March, says he wants to return.
Gwen Knapp of the San Francisco Chronicle thinks 49ers quarterback Shaun Hill has earned the starting job.
Kevin Lynch of Niner Insider looks at 49ers players without contracts for the 2009 season, from Bryant Johnson to Ron Fields.
Matt Barrows of the Sacramento Bee says the 49ers emerged from this season with hope after winning four of their final five games. Spikes lamented a road loss to Arizona that severely damaged the 49ers' playoff chances.
Chrissy Mauck of 49ers.com says Frank Gore and other players are lamenting their 2-6 start, which prevented them from making a playoff run. Gore singled out defeats to the Eagles, Seahawks and Cardinals as particularly costly.

Bob McManaman of the Arizona Republic explains why the Falcons and Cardinals should be familiar with one another. Strong ties between Cardinals coach Ken Whisenhunt and Falcons assistant Mike Mularkey led to sharing of plays.
Paola Boivin of the Arizona Republic says the Cardinals and Edgerrin James need one another, an unexpected twist after Whisenhunt benched James earlier in the season.
Bob Young of the Arizona Republic digs up the Cardinals' past missteps in order to bury them once and for all heading into the team's playoff game.
Kent Somers of the Arizona Republic says receiver Anquan Boldin is definitely playing against the Falcons. Also, the Cardinals had about 8,000 unsold tickets as of Monday.
Darren Urban of azcardinals.com checks in with fans who waited overnight to win free tickets to the Cardinals' first home playoff game since 1947.
Also from Urban: Cardinals players will have to study the Falcons carefully because Atlanta is a new team this season.
Mike Tulumello of the East Valley Tribune quotes Whisenhunt on playoff intensity. The coach compares the playoffs to a Monday night game times 10.
Also from Tulumello: The Cardinals have sold out every home game for three seasons, but tickets remain available as the blackout deadline approaches.

Clare Farnsworth of the Seattle Post-Intelligencer says the Seahawks have begun the transition from Mike Holmgren to Jim Mora. I would expect the change to become official in the next couple weeks.
Also from Farnsworth: Seattle lagged in several statistical categories this season.
Jose Romero of the Seattle Times says the Seahawks expect Mora's high-energy approach to distinguish the coach-in-waiting.
Eric Williams of the Tacoma News Tribune quotes Julian Peterson on the difference between Holmgren and Mora. Peterson: "Jim's a little fiery, a little younger and moves from sideline to sideline a little faster than Coach [Holmgren]. But other than that, it's still going to be getting back to work and guys getting ready to play."
Also from Williams: A look at the choices facing Seattle this offseason.
John McGrath of the Tacoma News Tribune says it's time to bid farewell to Holmgren, no questions asked.