December, 1, 2013
12/01/13
7:16
PM ET
INDIANAPOLIS -- An NFL team faces a division rival six times a season.
Those are six premium games with huge influence on the easiest path to the playoffs and a division title.
Sunday, with a
22-14 loss
to the
Indianapolis Colts
at Lucas Oil Stadium, the
Tennessee Titans
dropped to 0-4 in the AFC South. Indianapolis, which will win the division, moved to 4-0.
[+] Enlarge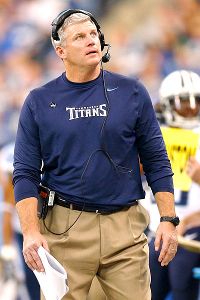 Gregory Shamus/Getty ImagesMike Munchak did not have any answers about why the Titans cannot close out games.
Since Mike Munchak took over as the Titans coach, his team is 4-12 against Indianapolis (1-5), Houston (1-4) and Jacksonville (2-3). The franchise's divisional winning percentage should be the No. 1 thing Munchak has to explain to Tommy Smith, the man who's now the head of the ownership group, when the season ends and they discuss the coach's future.
Sure, the Titans should win rematches in Week 16 at Jacksonville and Week 17 against Houston. But the Jaguars and Texans are looking forward to those games, not fearing them.
And why should they?
When it comes to the AFC South, the Titans can talk of being close and finding ways to lose and the frustrations that come with such defeats and the opportunities ahead. What they cannot talk about is some pivotal moment that changes the franchise's course, because they have proven incapable of finding such a moment.
Munchak wasn't making the blunders on the field Sunday.
He was not part of the failure to recover even one of the Colts' three fumbles. He was not the quarterback who threw three picks. He wasn't the linebacker who shoved an opponent in the back for a 15-yard penalty that resulted in a field goal. He wasn't the safety letting an easy interception bounce off his chest.
He wasn't the guy with any answers for any of that stuff, either. He has to offer some, right? He has to do something that sparks change, something to turn the rudder.
Instead he's a patient plodder talking about being close and lacking answers. A team generally takes on the personality of its coach, and this group is hitting a bulls' eye given that target.
Narrow losses show up the same as the blowouts in the standings.
The average score in the Titans' 16 division games since 2011 has been, when we round the numbers, a 24-21 loss. Seven of the defeats have been by six points or fewer. (Some players skipped the math and lumped this 8-point loss into the same category.)
That illustrates just how bad this team is at closing games.
"Things go so right for you for so long and then all of a sudden in crunch time it derails," said linebacker
Moise Fokou
, who had one of the Titans'
worst moments
in this loss. "That's something we just have to continue to work at."
"The Tennessee Titans, we are our own worst enemy," safety
Bernard Pollard
said.
Jurrell Casey
is the Titans' best defensive player and was more than the Colts interior offensive line could handle in this game. He had a sack, two tackles for a loss, three quarterback hits and consistently caused problems.
He was a third-round pick out of USC not long after Munchak was installed as the head coach.
"I just can't really understand what's the problem," Casey said. "Every game comes down to the wire. We lead in games and we let them slip away. It's the problem we've been having since Day One since I got here, and that's finishing. We have the right plays and system, the right fits, things like that. But when it comes down to nut-cutting time, we can't finish the games.
"And that's been our downfall since I've been here. Especially in divisional games, you've got to take your game to another notch. As of right now we're not getting the job done."
The Titans added nine free agents and a first-round draft pick they expected would have 16-game impact. Munchak sold them as the final piece for making a jump.
They've not been enough for the team to win in the division and the Titans, while better than 2012's 6-10 team, are not likely to finish with a significantly better record. Tennessee lost its starting quarterback to injury, but backup
Ryan Fitzpatrick
was supposed to be top-flight insurance. He is 1-4 as the starter, with three picks and a lost fumble in this defeat.
"Last year I think we only won one game in the division," running back
Chris Johnson
said. "We haven't won any yet [this year.] Since I've been here, that's just something that doesn't happen. When I first got here we always counted that we were going to win two with Houston and two in Jacksonville and then it was going to be a battle with the Colts when
Peyton Manning
was here.
"It's just a total turnaround. We have an opportunity to win the game, we're just not making plays at the end."
Munchak shared no revelation about what's wrong in the AFC South, not because he's withholding, but because he's got no revelation to share.
"That's where we're at," he said. "We're there, we can't finish the game, we make too many mistakes for whatever reason."
Dec. 1, 2013 in Indy wasn't a turning point for the Titans.
Perhaps, at least, it can be the point where Munchak retires "for whatever reason" and commits to replacing it with an actual solution.
April, 26, 2013
4/26/13
5:50
PM ET

The
Arizona Cardinals
had their offensive line in mind when they used the seventh overall choice in the 2013 draft on North Carolina guard
Jonathan Cooper
.
They were also thinking about the NFC West.
"Our division is so physical," coach Bruce Arians told reporters Thursday night, "and the thing that sets San Francisco, Seattle, and now St. Louis also, apart is their offensive and defensive lines of scrimmage are extremely good."
It's not yet clear whether Cooper will play left guard or right guard for the long term. The Cardinals can use him against NFC West interior defensive lines featuring
Brandon Mebane
,
Michael Brockers
and
Justin Smith
in base and/or sub packages.
"We have to match that physicality on both sides of the ball," Arians said.
Daryn Colledge
,
Rex Hadnot
,
Deuce Lutui
,
Alan Faneca
,
Adam Snyder
,
Rich Ohrnberger
and
Pat McQuistan
have started at guard for the Cardinals over the past three seasons.
The Cardinals see Cooper becoming a perennial Pro Bowl player. They embraced comparisons to Larry Allen, who was recently enshrined in the Pro Football Hall of Fame.
"He has a unique skill set, maybe one of the more athletic offensive linemen I've [scouted] in the 15 years I've been in the business," Cardinals general manager Steve Keim said. "He has tremendous feet, bend, athleticism, space skills, and the ability to pull and play on the perimeter."
Keim is in his first season as the Cardinals' GM. He played on the offensive line at North Carolina State, potentially giving him special insight into the position.
Drafting a guard will never captivate the broader public, but evaluators with experience in line play can border on giddiness when they see a prospect as talented as Cooper. That was the sense in Tennessee when Titans coach Mike Munchak and line coach Bruce Matthews drafted
Chance Warmack
, the other highly rated guard in the 2013 draft. Munchak and Matthews were Hall of Fame linemen.
"I've known Munchak and Matthews since 1996,"
Paul Kuharsky wrote
on the AFC South blog. "I can't recall ever seeing the two low-key, business-like football men beam quite so brightly. The glow they gave off at the news conference at the Titans' headquarters after making the 10th pick made me believe it when they said there was no question Warmack was their man early on -- something virtually every coach stated Thursday night."
The feeling had to be similar for Keim in Arizona.
"I think the question was first posed to me at the combine in Indianapolis of whether I thought No. 7 was too high to take an offensive guard," Keim said. "I think that we have our answer."
June, 16, 2012
6/16/12
8:00
AM ET
Our recent discussion with San Francisco 49ers coach Jim Harbaugh brought media ethics to the fore.
Harbaugh
The way Harbaugh sees things, reporters committed "character assassination" by doubting the coach's contention that the 49ers evaluated
Peyton Manning
without pursuing the quarterback. Submissions to the NFC West mailbag raised similar complaints.
Paul from San Francisco has seen no evidence suggesting the 49ers pursued Manning more aggressively than Harbaugh suggested they had.
"Do any of the sportswriters have inside knowledge of the 49ers' front office, the agents involved, or Manning himself?" Paul wrote. "What do these stories claiming Harbaugh is a liar stand upon? No one denies interest or evaluation took place, but no one has offered a shred of solid evidence that the 49ers were interested beyond that. What have you got for me here? I hope the standards of sportswriting do not continue evolving toward that of the celebrity gossip machine."
Mike Sando: Manning suggested the 49ers were viable suitors up until the end. Manning alluded to calling Harbaugh and Tennessee Titans coach Mike Munchak with the news that he would be signing with Denver instead.
"I wish I hadn't gotten so close to 'Munch'," Manning said of Munchak, according to Peter King. "That was a tough call. Same with Jim Harbaugh."
That qualifies as a shred of evidence that the 49ers' interest went beyond the evaluation process, or at least that Manning thought so. That doesn't mean Harbaugh was lying. It's possible Manning notified Munchak and Harbaugh before talks with Tennessee and San Francisco ever became serious.
Harbaugh would have a good feel for how close the 49ers came to signing Manning. I believe him when he says he wanted Alex Smith back no matter what. I believe him when he implies that the 49ers wouldn't have signed Manning at any price. I also think this story has played out -- unless Harbaugh addresses it again.
March, 27, 2012
3/27/12
3:25
PM ET
Peter King has
the play-by-play
from
Peyton Manning
's wild tour through free agency.
I'll mix in some color commentary for portions reaching into the NFC West.
Manning
King notes that the teams Manning considered the strongest featured former NFL players as point men. That included John Elway in Denver, Mike Munchak in Tennessee, Jim Harbaugh in San Francisco, and Ken Whisenhunt in Arizona.
Wait, Manning didn't know
Seattle Seahawks
coach Pete Carroll was an all-conference safety at University of the Pacific? He didn't know Seahawks GM John Schneider played a year at University of St. Thomas? Ha. Ha.
King says Manning was thrown off when Carroll and Schneider flew to Denver "unannounced" for a shot at meeting before Manning left for Arizona.
"Peyton Manning does not like surprises," King writes. "He said no thanks. Carroll flew home."
The decade Carroll spent away from the NFL made him even more of a Manning outsider. Neither was there sufficient connection between Seattle and Manning's former teammate,
Brandon Stokley
, for that relationship to work for Seattle. Stokley played for Carroll in 2010, but King pointed to Stokely's connections to Manning and Denver as helping make Manning more comfortable with the Broncos.
And so Manning was off to Arizona for a meeting with the Cardinals. What happened there? What did Manning think of Arizona? How serious was he about the Cardinals? Those questions remain unanswered.
Within a couple days, Harbaugh and 49ers offensive coordinator Greg Roman were scouting a Manning workout in North Carolina.
"First they watched from a car by the side of the field, then, to get a better view, they came onto the field, hoodies pulled over their heads so as not to be recognized by some nosy iPhoner," King writes.
The 49ers' interest in Manning had not yet become known publicly. Still, the drama and secrecy seems silly. Manning and Stokley took similar precautions while throwing together in Denver.
Manning's tour was all about Manning and what made him comfortable. As Carroll found out, if you had to ask what made Manning comfortable, you didn't have a chance.
March, 16, 2012
3/16/12
7:55
PM ET
The
St. Louis Rams
are getting one of the better centers in the NFL. They're also getting a veteran with the ability to assist
Sam Bradford
's development as a quarterback.
Wells
That is the immediate takeaway from news the Rams have
agreed to terms
with veteran center
Scott Wells
, who earned a Pro Bowl berth with the
Green Bay Packers
last season.
The Rams loaded up Bradford with additional responsibilities last season, including making protection calls at the line of scrimmage. Wells, the Packers' starting center since 2006, became a resource for
Aaron Rodgers
.
Rodgers has recently credited Wells for helping take pressure off him mentally. The Rams are looking to help Bradford with a strong running game. Having a veteran center known for his attention to detail also looks like a Bradford-friendly move.
"Scott knows the offense as well as anybody in the building,"
Rodgers told Jason Wilde of ESPNMilwaukee
. "I'd say, if you look at guys who really are the smartest players on the team -- and I'm not going to include myself in that mix -- Scott Wells and (fullback)
John Kuhn
know the offense as well as anybody and they're able to make checks without me even saying anything."
That should be a huge asset for Bradford.
"It takes a ton of stress and pressure off of me and my film study and my preparation when I know that if I guess wrong, or if I'm unsure about a look, that I know Scotty is going to be right there next to me, a step ahead of me at times, knowing what the call needs to be," Rodgers said. "Scotty and his smarts take a ton of pressure off me."
Matt Williamson of Scouts Inc., speaking to Paul Kuharsky of the AFC South blog when Wells and
Chris Myers
were under consideration for Tennessee, had
this to say
about the 31-year-old center: "Myers is the better player -- and in his prime -- but Wells is a top-seven or -eight center, too. ... Wells is a tough guy that
Mike Munchak
will love."
Jason Brown
was the Rams' starting center last season. The previous coaching staff benched him for
Tony Wragge
. The Rams released Brown, 28. Wragge, 32, is an unrestricted free agent.
Brown was already the starter when the Rams drafted Bradford in 2010.
June, 21, 2011
6/21/11
1:52
PM ET
ESPN.com's NFL writers rank the top 10 up-and-coming assistant coaches in the league today. Next week: Top players overall.
Seven NFL teams named new head coaches after last season, tapping into a pool that included experienced coordinators and relatively unknown assistants alike. The class of 2011 featured longtime candidates (Leslie Frazier, Ron Rivera). It also included a trusted position coach in Mike Munchak (
Tennessee Titans
) and a couple of relative hotshots in Hue Jackson (
Oakland Raiders
) and Pat Shurmur (
Cleveland Browns
).
Who will comprise the NFL's next batch of head-coaching candidates? That was the question ESPN.com hoped to answer in this week's edition of the offseason Power Rankings. We established one ground rule by eliminating any assistant who has already had a permanent head-coaching job. The idea was to develop a list that focused on the "next wave" of coaching candidates.
No less than 24 NFL assistants received at least one vote, a reflection of both the variables involved in head-coaching searches and the relative lack of national name recognition for all but the most highly regarded assistants.
So in that vein, it was no surprise to see four well-known assistants at the top of our list, headed by
New York Giants
defensive coordinator Perry Fewell -- who placed first or second on six of the eight ballots.
Dallas Cowboys
defensive coordinator Rob Ryan finished second, followed by
New York Jets
offensive coordinator Brian Schottenheimer and Arizona offensive line coach Russ Grimm.
Fewell is an ideal candidate in many ways, having spent time as the
Buffalo Bills
' interim coach in 2009 and leading a substantial turnaround of the Giants' defense last season. Fewell interviewed for four head-coaching jobs last winter, and NFC East blogger Dan Graziano suggested that experience, along with a high profile afforded to coaches in New York, make him "the most likely guy on the list to be a head coach soon."
Just don't bother forwarding his name to AFC South colleague Paul Kuharsky, who couldn't find room for Fewell on his 10-man ballot. Kuharsky noted the Giants' poor performance in Week 2 last season against the
Indianapolis Colts
, during which quarterback
Peyton Manning
threw three touchdowns and cruised to an easy 38-14 victory.
"Certainly I'm letting one game overinfluence my ballot," Kuharsky muttered. "But Fewell's plan for the Giants against the Colts last season was so bad that I could not help but score him down for it. Was he not familiar with how Peyton Manning and Indianapolis operate?"
We can't cover every coach who received votes in this exercise, but let's hit some of the more interesting names that received attention.
Another Ryan?
Deserved or not, Ryan has long been considered a loose cannon. There is little doubt about his schematic prowess, but hiring him would require a confident owner ready to make a leap of faith.
The success of twin brother Rex Ryan with the Jets might have softened the perception of that risk, and collectively we see Rob Ryan on the doorstep of a job.
"Similar to Rex, Rob Ryan is good with X's and O's and has the type of outgoing personality players want to be around," AFC North blogger James Walker said. "I think both are equally important in today's NFL. Both brothers say exactly what's on their mind, and before that scared off a lot of teams. But Rex broke the ice with his success in New York and that could help Rob in the future."
The next generation:
Schottenheimer has turned down more opportunities to interview for head-coaching jobs than he has actually submitted to. He has nixed requests from the
Miami Dolphins
and Bills in recent years, but he did interview for the Jets' job that ultimately went to Ryan. I placed him atop my ballot (he finished No. 3 overall) because I think NFL people have made up their mind that he is the kind of young and innovative assistant who can turn around their franchise. (Think: Cowboys coach Jason Garrett.)
Schottenheimer's pedigree doesn't hurt -- he's the son of longtime NFL coach Marty Schottenheimer -- and I'm not sure how closely teams will dissect the specifics of the Jets' offensive performance. Graziano, on the other hand, thinks Schottenheimer is close to coaching his way out of the golden-child image he cultivated and left him off his ballot.
"Having spent a good amount of time around that team the past couple of years, I just feel like defensive coordinator Mike Pettine is the more likely guy to end up a head coach," Graziano said. "Schottenheimer's under a ton of pressure as Ryan defers the offensive responsibilities to him. I feel like, if the offense has a bad year, he could end up in trouble or even out of a job. And given their youth at quarterback and running back and the uncertainty of their receiver situation, a bad year for the Jets' offense is possible.
"Now, he could be a genius, make chicken salad and be the next hot name eight months from now. But I think there's the potential that he may have already peaked as a hot coaching prospect and that he might not be set up to succeed in New York."
The big fella:
Four years ago, Grimm thought he would be the next
Pittsburgh Steelers
coach. He moved to Arizona after the Steelers selected Mike Tomlin instead, and we view his status as a head-coaching candidate with wide disparity.
AFC West blogger Bill Williamson put Grimm atop his ballot, and AFC East blogger Tim Graham had him No. 2. Kuharsky and I left him off.
Williamson thinks Grimm has moved to "the top of the food chain" largely because most of his "hot-name" contemporaries have already gotten jobs. As well, Graham suggested that it will soon be Grimm's turn because he is still well-regarded throughout the league.
Personally, I couldn't get past Grimm's well-publicized gaffe after interviewing with the
Chicago Bears
, after which he referred to the team owners as the "McClaskey" family. I also agree with NFC West blogger Mike Sando, who ranked Grimm No. 8 and wondered: "Is he still ascending? Grimm seems content coaching the line in Arizona. He has plateaued and doesn't seem to be losing any sleep over it."
Welcome back:
Unless you're a college football fan, you might not have heard of
Jacksonville Jaguars
offensive coordinator Dirk Koetter. He spent six years as the head coach at Arizona State, but has drawn some quiet acclaim for his work with the Jaguars and made a strong impression while interviewing with the
Denver Broncos
last winter.
"In a setting where he won't have to deal with boosters and can shine for being a smart X's and O's guy with strong coaching DNA," Kuharsky said, "I think he'd do far better. He's smart and will interview quite well. He really impressed John Elway and the Broncos before losing out to John Fox's experience. St. Louis wanted him as coordinator, but Jacksonville wouldn't let him go. He's heading into the final year of his contract. How
Blaine Gabbert
develops early on will have a big bearing on Koetter's future."
Secret weapon:
In two years, the
Tampa Bay Buccaneers
have developed quarterback
Josh Freeman
into one of the better starters in the league. The man largely responsible is offensive coordinator Greg Olson, who navigated a disastrous 2009 preseason -- coach Raheem Morris promoted him in the middle of training camp after firing Jeff Jagodzinski -- and NFL teams often seek out coaches with success developing young quarterbacks.
"I think Olson deserves a ton of credit for developing Freeman so quickly," said NFC South blogger Pat Yasinskas. "Freeman threw for 25 touchdowns and six interceptions in his first full season as a starter and carried an incredibly young team to a 10-6 record. I also think people need to look at what Olson did last year with rookie running back
LeGarrette Blount
and rookie receiver
Mike Williams
. He helped make them into instant stars."
Super Bowl entitlement:
The
Green Bay Packers
were the only team to place more than one name in the top 10, as would be expected from a championship team. Assistant head coach/inside linebackers Winston Moss is at No. 6, while safeties coach Darren Perry finished No. 10. I also voted for receivers coach Edgar Bennett, who has moved over from running backs coach and is clearly being groomed for bigger things.
I'll detail my ranking of the Packers' assistants, including why I think so highly of Perry, in a future post for NFC North readers. But we'll say this for now: Moss is a strong leader who has drawn interest from the Raiders, while Perry is a disciple of Packers defensive coordinator Dom Capers and his coveted 3-4 scheme.
March, 20, 2011
3/20/11
8:30
AM ET
Of all the compliments Drew Hill earned from his 14-year NFL career -- he was productive, explosive, cool under pressure -- the one from Mike Munchak should mean the most.
"I played with Drew for a number of years, and he was one of the toughest players I ever played with," Munchak said.
[+] Enlarge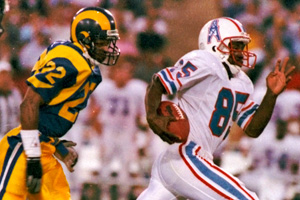 AP Photo/Red SaxonOver a 14-season career with the Rams, Oilers and Falcons, Drew Hill (right) amassed 634 catches, 9,831 receiving yards and 60 touchdowns.
You know a wide receiver was tough when a Hall of Fame offensive lineman such as Munchak describes him that way. Unfortunately, Munchak's respects appeared in
Hill's obituary
. Hill passed away unexpectedly Friday following two strokes. He was 54.
Hill made his name professionally with the Houston Oilers after beginning his career in the NFC West with the Los Angeles Rams. Hill was a rookie in early 1980 when he accounted for the Rams' second-longest reception, good for 28 yards, during the team's Super Bowl defeat to the
Pittsburgh Steelers
.
The Rams traded Hill to Houston following the 1984 season. They already had Henry Ellard and speedster Ron Brown, and the offense ran through Eric Dickerson until the team traded him, too, a couple of years later.
Hill caught 60 passes for 1,347 yards and 10 touchdowns in five seasons with the Rams. His seven-year totals with the run-and-shoot Oilers: 480 catches for 7,477 yards and 46 touchdowns. Not even Ellard could match those numbers for the Rams during the same span (1985-91, when Ellard caught
435 passes for 7,199 yards and 37 touchdowns
).
"Drew meant so much to us as a player and as a person," former Oilers quarterback Warren Moon told the Houston Chronicle. "I counted on him so much. He was the consummate professional. It's just so sad."
May, 18, 2010
5/18/10
4:20
PM ET
NFL assistant coaches are some of the best people to know for those looking to learn more about the game.
That has been my experience in covering the NFL since 1998.
I've helped push for better media access to assistants through the Professional Football Writers of America. I've also learned more about some of the issues important to coaches, including some outlined in
this recent story
about the NFL Coaches Association.
The chart shows NFLCA team reps as the association talks about forming a union.
Kevin Spencer (Cardinals), Johnnie Lynn (49ers), Dan Quinn (Seahawks) and Andy Sugarman (Rams) are the reps for NFC West coaching staffs. The 49ers' Jimmy Raye is president of the NFLCA executive committee.
It's not clear yet whether the NFLCA will move to unionize and such an effort would face a challenge even if the association did decide to move in that direction. But as coaches consider their options, these assistants presumably will be active behind the scenes.
January, 5, 2009
1/05/09
9:08
AM ET
Posted by ESPN.com's Mike Sando

Dan Bickley of the Arizona Republic emphasizes the positive in looking at the Cardinals heading into their divisional-round game at Carolina.
Kent Somers of the Arizona Republic says the Panthers surprised the Cardinals in Week 8 by loading up against the run. Arizona enjoyed a big day in the passing game.
Also from Somers: Recent history gives the Cardinals hope going on the road for the divisional round. Wild-card teams have made it to Super Bowls recently.
More from Somers: Anquan Boldin's injury could affect a chunk of the Cardinals' game plan.
Bob Young of the Arizona Republic wonders why the Cardinals tend to leave their retractable roof closed even when the weather is perfect. I can think of two reasons. One, Kurt Warner prefers the roof closed, and he let team president Michael Bidwill know about it. Two, bright sunshine can blind a small number of fans in part of the stadium.
Bob McManaman of the Arizona Republic takes a quick look at the Panthers.
Darren Urban of azcardinals.com says the Cardinals prefer the underdog role.
Billy Witz of the New York Times checks in with the most disrespected Cardinal of them all, Edgerrin James.

Brian McIntyre of Scout.com breaks down the Seahawks' defensive participation by scheme and player. Brian Russell played all but one snap on defense, by his count. And there were several plays when Seattle had only 10 defenders on the field. Oops.
Also from McIntyre: A look at offensive participation and personnel use. Ironman Floyd Womack played a higher percentage of offensive snaps than any Seattle player.
John Morgan of Field Gulls says poor quality at the top of the 2009 NFL draft means the Seahawks are less likely to find an impact player there. I had this conversation with a scout Sunday. He couldn't think of a dynamic pass-rusher worthy of the fourth overall pick, unles the Seahawks took a chance on Wake Forest linebacker Aaron Curry.
Clare Farnsworth of the Seattle Post-Intelligencer says the Seahawks could hire Rod Marinelli. Meanwhile, longtime tight ends coach Jim Lind is expected to retire.
Eric Williams of the Tacoma News Tribune says the Seahawks tried to hire Marinelli twice when Mike Holmgren was head coach, but the Bucs denied permission each time.
William Tomisser of Seahawk Addicts breaks down the Seahawks' situation at running back. Maurice Morris, Julius Jones and T.J. Duckett combined for solid numbers, even if the perception was that Seattle didn't get top production from the position.

Jim Thomas of the St. Louis Post-Dispatch says the Rams have shown "at least some level of interest" in Jim Fassel, Russ Grimm, Jim Schwartz, Mike Munchak, Steve Spagnuolo and Jason Garrett. Winston Moss has already interviewed. The team has received formal permission to interview Todd Bowles, Leslie Frazier, Rex Ryan and Ray Sherman.
Drew Olson of onmilwaukee.com lists Mike Nolan and Jim Haslett as potential candidates to become defensive coordinator for the Packers. Both worked with current Packers coach Mike McCarthy.

Chrissy Mauck of 49ers.com lists the team's players scheduled to become free agents.
Matt Maiocco of the Santa Rosa Press-Democrat looks at the 49ers' rushing production by play direction. The team ranked fifth among NFL teams in yards per carry up the middle.
Matt Barrows of the Sacramento Bee says a power running game can help a team succeed without having a top-flight quarterback.
December, 11, 2008
12/11/08
9:14
AM ET
Posted by ESPN.com's Mike Sando

Bernie Miklasz of the St. Louis Post-Dispatch says the Rams will have a hard time retaining Jim Haslett as coach given the team's struggles. Potential candidates: Giants defensive coordinator Steve Spagnuolo, Cardinals assistant head coach and offensive line coach Russ Grimm, Titans defensive coordinator Jim Schwartz, Ravens defensive coordinator Rex Ryan, Titans offensive line coach Mike Munchak, Bucs defensive backs coach Raheem Morris and Stanford head coach Jim Harbaugh.
Jim Thomas of the St. Louis Post-Dispatch says Rams safety Oshiomogho Atogwe has at least one takeaway in seven of his last 10 games. Atogwe is responsible for 10 of the Rams' 17 takeaways this season.
Bill Coats of the St. Louis Post-Dispatch explains why the Rams are benching Corey Chavous in favor of Todd Johnson. Age is one factor. Johnson also played relatively well against the Cardinals in Week 14, according to Haslett.
Steve Korte of the Belleville News-Democrat says Rams receiver Dane Looker is the emergency kicker while Josh Brown rests a groin injury.
Also from Korte
: Chavous declined comment following his job loss.

John Crumpacker of the San Francisco Chronicle says 49ers nose tackle Aubrayo Franklin points to improved conditioning and more creative play calling as reasons for his success this season.
Kevin Lynch of Niner Insider says 49ers tight end Vernon Davis could play a role in blocking Dolphins pass-rusher Joey Porter.
Matt Maiocco of the Santa Rosa Press-Democrat checks in with Franklin and linebacker Patrick Willis, key players in the 49ers' defense. Willis thinks he has improved since last season even though his stats aren't as prolific.
Also from Maiocco: NFL rules prevent teams from signing interim coaches to long-term deals until after the season. They 49ers cannot hire Mike Singletary before Dec. 29.
Lowell Cohn of the Santa Rosa Press-Democrat explains why 49ers coach Singletary carries around a black book with gold leafing on the pages. Singletary has been a prolific note taker since his retirement from the NFL in 1993.
Also from Cohn: A transcript of his conversation with Singletary.
Matt Barrows of the Sacramento Bee doesn't understand why the Dolphins and other teams have had success with the Wildcat offense.
Daniel Brown of the San Jose Mercury News says the Dolphins' Ronnie Brown has 47 carries for 249 yards from the Wildcat this season. Singletary credits the Dolphins' coaches. Also, the 49ers' confirmed that offensive coordinator Mike Martz is no longer a candidate for the San Diego State coaching job.

Paola Boivin of the Arizona Republic explains how Cardinals pass-rusher Bert Berry became an advocate for children. His wife overcame leukemia when both were in middle school.
Bob McManaman of the Arizona Republic says the Vikings' Adrian Peterson expected the Cardinals to draft him.
Darren Urban of azcardinals.com explains why the Cardinals drafted Levi Brown instead of Peterson. Coach Ken Whisenhunt wanted to build a strong offensive line. Meanwhile, Brown isn't interested in rehashing the draft.
Also from Urban: Kurt Warner is taking a low-key approach to the Cardinals' success. The quarterback is projecting a business-as-usual demeanor.

Clare Farnsworth of the Seattle Post-Intelligencer expects Seneca Wallace to start at quarterback against the Rams in Week 15. Wallace is getting the meaningful coaching in practice.
Also from Farnsworth: Pro Bowl left tackle Walter Jones also might miss the St. Louis game.
John Morgan of Field Gulls explains why selecting a quarterback in the first round can make sense. That's where teams tend to find the great ones.
Jose Romero of the Seattle Times thinks Jones might not prevail in Pro Bowl voting for the first time in years.
Danny O'Neil of the Seattle Times says the Seahawks are reluctant to let Hasselbeck play while the quarterback still feels a "tingle" stemming from his back injury.
Eric Williams of the Tacoma News Tribune says Julian Peterson and other Seahawks are eager to get another shot at Rams guard Richie Incognito, whom they accused of dirty play.