July, 14, 2011
7/14/11
12:00
PM ET
»
AFC Future Stars
:
East
|
West
|
North
|
South
»
NFC
:
East
|
West
|
North
|
South
A team-by-team look at the players I expect to be the most dominant in the NFC West from 2014-2016.
NFC West teams have drafted eight players among the Top 10 overall selections since 2008. No other division has landed as many.
The
Arizona Cardinals
,
Seattle Seahawks
,
St. Louis Rams
and
San Francisco 49ers
should, therefore, have a few future stars on their rosters. And they do. I've singled out four of them, one per team, for consideration as part of our Dream Team project this week.
[+] Enlarge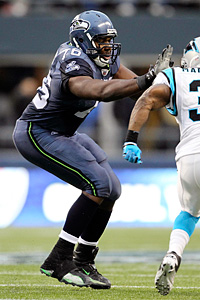 Joe Nicholson/US PresswireSeahawks left tackle Russell Okung has shown the on-field demeanor needed to be special.
Russell Okung, Seahawks tackle:
By now regular visitors to the NFC West blog have
read plenty
about the talent that makes Okung such a bright prospect at left tackle. Some Rams fans have heard enough about Okung and think their team's young left tackle,
Rodger Saffold
, should get stronger consideration after exceeding expectations as the 33rd player chosen in the 2010 draft. I won't bore them with more generalities. Instead, let's consider a few specific examples suggesting Okung has the temperament, not just the talent, to excel for years to come. Three examples of Okung's aggressiveness stand out as I look back on his rookie season: the way Okung drove back and ultimately ticked off Chicago's
Brian Urlacher
during
Justin Forsett
's touchdown run in Week 6; the way Okung clobbered Kansas City's
Mike Vrabel
in Week 12 when it wasn't really necessary; and the way Okung blasted Carolina's Captain Muderlyn during an interception return in Week 13.
Sam Bradford, Rams quarterback:
The NFL's offensive rookie of the year will be only 26 years old when the 2014 season begins. The Rams went from 1-15 without him in 2009 to 7-9 with him in 2010. Bradford played a bigger role than anyone in turning around the Rams. Defenses caught up with Bradford and his diminished receiving corps late last season, but the arrow is pointing up overall. Bradford is only getting started. He had 11 touchdown passes with only one interception from Weeks 6-12. Bradford finished 2010 with rookie records for completions (354) and pass attempts (590). Only
Peyton Manning
has passed for more yards as a rookie in NFL history. Bradford also answered questions about his durability, playing every offensive snap.
Colin Kaepernick, 49ers quarterback:
This is a more tenuous projection and even a stretch. The young players I've singled out from other teams are safer bets. Guard
Mike Iupati
was a candidate, but even the best guards aren't really stars so much as they're valued contributors. Linebacker
Patrick Willis
would have been an obvious choice -- too obvious. He'll still be only 29 in 2014. Tight end
Vernon Davis
should remain in his prime from 2014 to 2016. He'll also be in his 30s by then, something I hadn't noticed when considering Davis for
a video
we shot this week. Receiver
Michael Crabtree
was a consideration. I went with Kaepernick because he has uncommon physical skills and a promising mental makeup, and he'll presumably get good coaching from Jim Harbaugh. He'll push veteran
Alex Smith
for the starting job this season. If all goes to plan, Kaepernick will be entering his third full season as the starter when the 2014 season rolls around.
Patrick Peterson, Cardinals cornerback:
Peterson appeared twice on our Dream Team ballot, once as a cornerback and also as a return specialist. There's no such thing as a sure bet coming out of college. Peterson looks like one. The physical talent he possesses is obvious. His confidence and strong presence persuaded me to list him as a future star even though Peterson hasn't even lined up for a minicamp practice, let alone for a regular-season snap. Peterson's decision to drop 10 pounds to disprove speculation that he might evolve into a safety seemed to show Peterson has the right makeup. His talents in the return game will give him an opportunity to make an immediate impact, diminishing the pressure upon him to excel immediately as a cornerback.
April, 11, 2011
4/11/11
11:49
AM ET
Eric Dickerson, Marshall Faulk, Roger Craig, Sean Morey,
Sam Bradford
and
Takeo Spikes
are among the NFC West players and alumni scheduled to appear at the NFL Players Association's draft-related festivities in New York beginning April 28.
Hall of Famer and current
Seattle Seahawks
radio analyst Warren Moon, who played for Seattle before the team's move back to the NFC West in 2002, is also on the guest list revealed Monday.
The NFLPA took criticism when news broke that it
planned to discourage players from attending
the draft itself, but these events have been scheduled to give players flexibility should they choose to attend both.
"The series of events is a celebration of legacy -- of past, present and future football players coming together to honor those making the journey from prospect to professional," the NFLPA said in a news release.
The NFLPA has scheduled a welcome meeting and dinner with families for 4 p.m. ET on Thursday, the first day of the draft, which begins at 8 p.m. ET. Draft prospects attending would then have time to appear at the draft, should they choose to do so, as both will be headquartered in New York.
The NFLPA has scheduled media access for Friday from 8 a.m. to noon, followed by a lunch and dinner with reception at 4:30 p.m. A fitness and skills clinic is set for Saturday from 10 a.m. to noon in Harlem, followed by lunch and a party beginning at 9 p.m.
NFL teams generally fly first-round choices to their facilities in the day or two following the first round. Rules will allow that to happen again, despite the lockout. Players heading to their new teams' facilities for news conferences could miss NFLPA-sponsored events for Friday and/or Saturday.
The initial guest list, subject to change, features the following current and former NFL players:
Charlie Batch
,
Cornelius Bennett
,
Dwayne Bowe
, Bradford,
Ahmad Bradshaw
, Craig,
Zak DeOssie
, Dickerson,
Eddie George
, Faulk,
Felix Jones
,
Maurice Jones-Drew
,
Dustin Keller
,
Brandon Marshall
,
Kevin Mawae
,
Willie McGinest
,
Brian Mitchell
, Moon, Morey,
Shaun O'Hara
,
Ray Rice
,
Tony Richardson
, Spikes and
Mike Vrabel
.
The list of draft prospects includes
Prince Amukamara
,
Marvin Austin
,
Adrian Clayborn
,
Marcell Dareus
,
Nick Fairley
,
Blaine Gabbert
,
A.J. Green
,
Mark Ingram
,
Julio Jones
,
Cameron Jordan
,
Ryan Kerrigan
,
Corey Liuget
,
Von Miller
,
Rahim Moore
,
Cam Newton
,
Patrick Peterson
,
Robert Quinn
,
Aldon Smith
,
Daniel Thomas
and
J.J. Watt
.
December, 9, 2010
12/09/10
5:17
PM ET
Fifteen little things I noticed while watching NFC West teams play in Week 13:
Rams defensive end James Hall pushing Cardinals tackle Levi Brown back far enough to affect Arizona quarterback Derek Anderson. Anderson's hurried pass bounced off Beanie Wells' shoulder, setting up third-and-11.
Sam Bradford having plenty of time to complete a 15-yard pass to Brandon Gibson. Left tackle Rodger Saffold handled Joey Porter. Right tackle Jason Smith scrapped with someone on the Cardinals after the play. That's what the Rams want from their tackles: solid pass protection on the left side and a nasty attitude on the right side. Later, Smith ran over to Steven Jackson when it appeared the running back might be in danger following a play.
Cardinals tight end Ben Patrick making a couple key blocks on successful running plays. He moved out Rams linebacker Na'il Diggs on Wells' 16-yard run. He did enough to turn Rams defensive end Chris Long inside during Tim Hightower's 23-yard run.
Porter celebrating Kerry Rhodes' sack on Bradford. Rams center Jason Brown had decked Porter with a left jab moments earlier. Porter flopped as if trying to draw a penalty. Are players trying to take advantage of heightened awareness over personal fouls? The Packers' Desmond Bishop raised my suspicions when he went cartwheeling after 49ers guard Chilo Rachal shoved him as a play was winding down.
Dockett practically taking the snap from Bradford after knifing into the backfield past Rams right guard Adam Goldberg on second-and-goal from the 2. A similar breakdown led to an intercepted shovel pass against Atlanta.
Seattle's Matt Hasselbeck and Marshawn Lynch colliding in the backfield. Tight end Cameron Morrah couldn't hold his block, creating a logjam in the backfield.
Carolina defensive end Charles Johnson giving another NFC West right tackle problems. Johnson was the one who knocked out 49ers quarterback Alex Smith this season. He threatened Hasselbeck a few times Sunday.
Hasselbeck getting hit before throwing an interception on a deep pass intended for Ben Obomanu. This play might have resulted in a touchdown if the Panthers hadn't hit Hasselbeck. Left guard Mike Gibson had problems on this play.
Hasselbeck completing a 36-yard pass to Morrah right after the team honored retired left tackle Walter Jones. Inspiration?
Seahawks left tackle Russell Okung blasting the Panthers' Captain Munnerlyn following an interception. Okung likes hitting people. A week earlier, against Kansas City, Okung had nothing to do as a play neared its end. He turned and decked Chiefs linebacker Mike Vrabel with a violent shove.
The 49ers failing to fool the Packers with a pass play on third-and-1. San Francisco and Alex Smith in particular have made big plays by throwing in these situations, often to a tight end. Troy Smith could not connect with Michael Crabtree. Will these plays work as well without Frank Gore in the backfield?
Troy Smith making a play Alex Smith would never make, in my view, when he threw to Vernon Davis for a 25-yard gain while two defenders were about to sack him. Davis made an acrobatic catch. There was nothing textbook about this play. It was a sandlot play.
Troy Smith holding the ball too long and taking sacks in the red zone on consecutive plays soon after the strike to Davis. Alex Smith has been better in the red zone. Might the 49ers have gotten a touchdown here instead of a field goal? Troy Smith missed a red-zone throw to Crabtree late rin the game.
49ers linebacker Patrick Willis forcing and incomplete pass with pressure up the middle. Willis could be a concern for Seattle in this manner Sunday.
49ers safety Reggie Smith missing a tackle on Packers receiver Donald Driver at the San Francisco 27, then coasting while Driver eluded another tackle and ran to the end zone. Ahmad Brooks and Nate Clements hustled their way into the play. Smith never factored after his initial whiff.
I also watched (and charted) the
San Francisco 49ers
' game against Green Bay, but my notes weren't as good (had some time constraints).
March, 30, 2010
3/30/10
11:58
AM ET
Todd asks via Facebook
whether trading draft choices for veteran players generally works out. He suspects not.
Mike Sando:
Relatively few early choices change hands in this manner. Teams generally do not trade productive young players.
The Browns picked up an extra 2009 second-round choice and a 2010 fifth-rounder thanks to the
Kellen Winslow
trade, using the second-rounder for receiver
Mohamed Massaquoi
. The Chiefs parted with a second-round choice to acquire
Matt Cassel
and
Mike Vrabel
from New England last offseason (New England selected safety
Pat Chung
). The Eagles parted with multiple picks, including a first-rounder Buffalo used for guard
Eric Wood
, in the
Jason Peters
trade. The Falcons parted with a 2010 second-rounder for
Tony Gonzalez
.
The teams acquiring the players arguably fared well in those deals.
In the NFC West, Seattle and St. Louis acquired veteran players last offseason. The Seahawks traded
Julian Peterson
to Detroit for
Cory Redding
and a 2009 fifth-round choice, which Seattle later traded to Philadelphia. The Rams swapped spots with Atlanta in the fifth and sixth rounds to acquire receiver
Laurent Robinson
. Robinson had shown some promise in Atlanta, but injuries held him back. That was the story of his 2010 season with the Rams.
August, 31, 2009
8/31/09
5:00
AM ET
Posted by ESPN.com's Mike Sando

Bill Coats of the St. Louis Post-Dispatch wonders if Jason Smith has moved closer to the Rams' starting lineup. With right guard Richie Incognito resting a sprained knee, coaches moved right tackle Adam Goldberg into Incognito's spot, clearing the way for Smith to play right tackle with the first-team unit in practice. Coats also provides injury updates.
Also from Coats: Rams receiver Laurent Robinson keeps making strides. Also, cornerback Jonathan Wade is getting some first-team reps at Tye Hill's expense.
Jim Thomas of the St. Louis Post-Dispatch says Rams guard Jacob Bell is trying to make up lost ground following a concussion. Bell never saw what hit him against the Jets two weeks ago. He stayed in the game one more play, but teammates had to tell him which player to block. Bell: "And I'm practically blocking him with my eyes closed. They probably should've left me in there and seen what happened."

Jim Corbett of USA Today revisits Larry Fitzgerald's ambitions offseason. Corbett: "The only thing more impressive than Fitzgerald's remarkable postseason ascent was his ambitious offseason agenda. There's little concern about a post-Super Bowl letdown for the sixth-year wideout, who reinvented himself as a respected league-wide leader."
Kent Somers of the Arizona Republic says the Cardinals can clear two roster spots by placing Cody Brown and Pago Togafau on injured reserve. The team would then need to clear three roster spots to comply with the 75-man limit.

Ray Ratto of the San Francisco Chronicle
sees little value in exhibition results, counter to 49ers coach Mike Singletary's stated position.
John Crumpacker of the San Francisco Chronicle breaks out positive aspects of the 49ers' performances while posting a 3-0 record during the exhibition season. The team has succeeded in forcing turnovers.
Also from Crumpacker: 49ers general manager Scot McCloughan says he expects first-round choice Michael Crabtree to sign at some point.
Matt Barrows of the Sacramento Bee says Josh Morgan's hold on a starting job at receiver could be tenuous. Singletary: "He's still learning how to be a pro. At some point, the light's going to go on and he's going to take off." The 49ers' passing game hasn't made anyone but Arnaz Battle look good recently. Remember Jason Hill?
Matt Maiocco of the Santa Rosa Press-Democrat says Andre Smith's signing in Cincinnati doesn't necessarily mean the 49ers are closer to signing Crabtree, the last unsigned draft choice. Maiocco: "The sides are no closer in principle, but ... it is another day closer to the beginning of the regular season. That's significant because a player without a contract starts to feel the pinch on his wallet once the regular season begins. Players get 1/17th of their base salaries every week during the regular season. So, Crabtree will only begin losing money when he's not collecting game checks."
Dan Brown of the San Jose Mercury News lists players who helped and hurt their standing in the 49ers' game against the Cowboys.

Danny O'Neil of the Seattle Times takes a closer look at the Seahawks following their exhibition game at Kansas City. He notes: "Fullback Justin Griffith plays like the bushwhacking trailblazer the running game needs. Through one quarter Saturday, Julius Jones had carried five times for 15 yards behind starting fullback Owen Schmitt. Griffith entered in the second quarter, and Jones popped consecutive 8-yard runs, which isn't mind-blowing but certainly constituted improvement."
John Morgan of Field Gulls examines the interception Matt Hasselbeck threw early in the game against the Chiefs. Morgan: "Hasselbeck either didn't see (Mike) Vrabel or underestimated him."
Brian McIntyre of NorthwestFootball.net provides updated snap counts and information on personnel groupings for the Seahawks during the exhibition season.
Mike Salk of 710ESPN Seattle
wants to see more from the Seahawks' Lofa Tatupu and Patrick Kerney. It's tough to know how to analyze these exhibition games. Some veteran players seem to pick their spots. I've noticed it when watching other teams in the NFC West as well. Singletary said he thought Nate Clements lost focus at times.
April, 30, 2009
4/30/09
1:26
PM ET
Posted by ESPN.com's Mike Sando
Thanks to those who dropped by the NFC West chat Thursday. Full transcript here. Highlights below:

Chuck (SF): I know its easier said than done, but how can the 49ers go into next season with Shaun Hill or Alex Smith at QB? With Crabtree, Morgan, Bruce, Gore, Vernon Davis, a decent O-line, and promising defense, dont you absolutely have to make a play at QB?

Mike Sando: On paper, yes, but the 49ers haven't seemed too concerned. They like Shaun Hill. They couldn't really name Hill their starter because they needed to promise Alex Smith a chance to compete for the job in exchange for reducing his contract. And of course they are still holding out hope that Smith will develop. The 49ers weren't going to make a move at QB unless they were convinced they would be upgrading the position. They didn't think Jeff Garcia would be better than Hill. A lot of us might disagree, but Hill was 7-3 as a starter last season. He was effective on third down. There's a feeling he'll be competent, if not excellent.
Paul (Albany, OR): Why did the Rams go for an Ohio State linebacker in the draft. It is not like they have proven themselves in the NFL since who, Spielman. I cannot figure that front office out. Are they headed in the right direction?

Mike Sando: OK, you got me on this one. I just dialed up the most recent Ohio State linebackers in the draft: James Laurinitis and Marcus Freeman this year, Larry Grant in 2008, A.J. Hawk, Bobby Carpenter and Anthony Schlegel in 2006, Robert Reynolds in 2004, Cie Grant and Matt Wilhelm in 2003, Courtland Bullard in 2002, Na'il Diggs in 2000, Andy Katzenmoyer in 1999, Mike Vrabel in 1997 -- hey, we found a terrific one. Looks like you have made a decent point, sir.
cgolden: (Fort Worth, TX): With the trade of Julian Peterson and basically a release of LeRoy Hill, is the addition of Curry really an improvement for just a lateral move, at best?

Mike Sando: That depends some on whether Curry is a much more dynamic player in terms of his ability to grasp concepts and help Seattle implement a more sophisticated defense. Lofa Tatupu is one of those coach-on-the-field guys. Curry strikes me similarly. Hill and Peterson never struck me that way. Let's see what the Seahawks' new staff does with Curry and the defense as a whole.
James (Indy): Have to remember that the Draft is just a bunch of projecting. Until we see results on the field, it's kind of a fruitless exercise to declare "winners" or hand out "grades."

Mike Sando: I tend to ask whether a draft fell the way teams wanted it to fall. The Cardinals wanted a running back and got one. Last year, they wanted a cornerback and got one. Things fell their way and they got highly-rated players. Teams can still enjoy strong drafts even when the draft doesn't fall their way. The 49ers wanted pass-rush help and OL help, but got neither. They still might come out with a great draft given Crabtree's obvious value.
The more I think about the 49ers' draft, the more I wonder if they have helped themselves the most among NFC West teams, at least in the short term. More on that in a bit.
April, 24, 2009
4/24/09
2:15
PM ET
Posted by ESPN.com's Mike Sando
The Tony Gonzalez trade from Kansas City to Atlanta leaves Walter Jones and Ronde Barber as the only 1997 NFL draftees still with their original teams.
Seahawks general manager Tim Ruskell was the Bucs' college scouting director when Tampa Bay drafted Barber. This week, Ruskell listed Barber among the choices with which he was proud to be associated. Among the others: Brandon Mebane, Leroy Hill and John Lynch.
"They didn't care about where they went in the draft, and they became good football players," Ruskell said. "You got to give credit to the player. It makes you feel good, too, that you did something a little extra."
The Bucs also drafted Al Harris in 1997. Harris and Barber are among 17 players from the 1997 class still active. The Seahawks, Rams and Bucs each drafted two of those players. Note that eight of the 17 were first-round choices.
April, 17, 2009
4/17/09
3:15
PM ET
Posted by ESPN.com's Mike Sando
Will from Washington, D.C., writes: Hey Mike, I was wondering since a lot of people consider this year's class of quarterback to be not as great as others, and most have a possibility to be a bust, would it perhaps be better for the Seahawks to draft an OT in the first round, and then take Josh Freeman in the second?
| | |
| --- | --- |
| | |
| | NFL.com Video |
| | An inside look at quarterback Mark Sanchez. |
I believe what draws people to Sanchez over Freeman is the fact that Sanchez was made to look alot better then he actually is by the fact that he was surrounded by tons of talent in USC, whereas Freeman wasn't. What are your thoughts about this?
Mike Sando: I do think Sanchez benefits from the perceived lack of quality depth at quarterback this year. This Seattle team probably isn't going to win playoff games in the short term with anyone other than a healthy Matt Hasselbeck under center.
Every team needs to prepare for the future, but the Seahawks need to prepare for 2009. This team won four games last season. The fourth player chosen needs to help the team now. Another down season would signify the start of a trend, not tough luck.
I do see the other side. I do think Seattle needs to at least consider a quarterback at No. 4, if available. How many times does Seattle expect to draft this early? Might as well take a quarterback now while you have the chance to get a highly rated one.
It's a tempting thought, but I'm not convinced it's the most likely option.
March, 10, 2009
3/10/09
6:55
PM ET
Posted by ESPN.com's Mike Sando
Orlando Pace's release leaves the 1997 NFL draft class with a dozen players on active rosters, including three still
with their original teams.
The Seahawks, Bucs and Jets drafted six of the 12.
Three of the 12 remain with their current teams: Walter Jones, Tony Gonzalez and Ronde Barber.
Eight of the 12 played defense and five were first-round draft choices.
Pace will presumably resurface on another team.
Chris Naeole
and
Warrick Dunn
are unrestricted free agents from the 1997 first-round class.

NFC WEST SCOREBOARD
Thursday, 9/4
Sunday, 9/7
Monday, 9/8