September, 12, 2013
Sep 12
7:30
PM ET
EARTH CITY, Mo. -- Rams defensive end
Robert Quinn
impressed just about everyone with his three-sack, two forced fumble performance against the
Arizona Cardinals
in week 1. Everyone, that is, except defensive line coach Mike Waufle.
Waufle leads the Rams' band of quarterback-chasing brothers by always keeping his eye on the next play, the next practice or the next game. When his linemen reach a goal, he sets the bar higher.
[+] Enlarge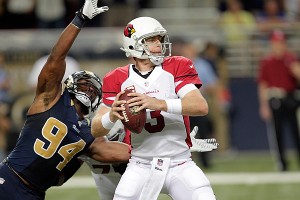 AP Photo/Tom GannamRams defensive end Robert Quinn showed his considerable upside in Week 1 against Arizona.
When a player like Quinn dominates a game and wins NFC Defensive Player of the Week honors, Waufle is proud but far from satisfied.
"It was a good day at the office, a good start," Waufle concedes.
Perhaps in part because he knows better than anyone what Quinn's true upside is as the end enters his third season, Waufle wants to do everything possible to push Quinn to reach it.
When the Rams drafted Quinn with the 14
th
pick in the 2011 NFL draft, they knew they were getting a fast-twitch player who would instantly be one of the best pound-for-pound athletes on the team. They also knew they were getting a player who hadn't played college football in 2010 and was going to be a bit of a project.
Quinn did just fine in his first two seasons, posting 15.5 sacks, but his pure speed and athleticism were enough to hit those marks.
So, with the help of Waufle and his fellow linemen, Quinn has set about looking to find ways to add more moves to his repertoire.
"I have been trying to incorporate more of an inside move, working on chops, stuff like that and just diversifying to be a better pass-rusher," Quinn said. "That way offensive linemen don't just have to focus on one thing. You have to be a master of all, which is tough to do, but that's our job to do so we work at our craft, try to get better each week."
Even in Quinn's award-winning performance against Arizona and left tackle
Levi Brown
, Quinn showed glimpses of a more diverse skill set, but still won each of his three sacks by using his speed to bend the edge.
On the first sack, the Rams rushed four and Quinn used his hands to quickly knock away Brown's attempts to engage. Quinn then quickly gets around the edge and chops down on Arizona quarterback
Carson Palmer
's arm to come up with a sack and a forced fumble.
On sacks two and three, fellow defensive ends
William Hayes
and
Eugene Sims
lined up in the middle and bookend
Chris Long
was in his usual spot opposite Quinn. A pure speed rush around the edge allowed Quinn to blow past Brown, who barely touched him on his way to the quarterback.
Out of those three sacks, the best sign for the Rams moving forward could actually be the two forced fumbles. The Rams had 10 forced fumbles in 2012, tied for 24
th
in the league and recovered four, which was second to last.
Quinn said he has made it a point to work on his version of the tomahawk chop. He said the coaching staff preaches to go for the arm instead of the ball because it offers a greater surface area to target and can have the same effect.
"The most important thing is coach Fisher wants us to get turnovers," Waufle said. "He wants us to get that ball out and we were able to accomplish that. We have got to be better at what we do, and the consistency factor has to be great to help our team."
Beyond the sacks and fumbles, the best sign of progress for Quinn might have come in the third quarter when Brown shaded him to the outside and Quinn used his left arm to knock Brown away as he rushed to the inside. The play didn't result in a sack, but it did draw a holding penalty on Brown and showed Quinn's developing understanding of how to take advantage of what one move can do to set up another.
"I'm one of the smaller [defensive] ends in the league, so I am not going to try to lift up a 300 pound tackle all the time," Quinn said. "You have got to mix it up, incorporate different things, think outside the box and keep your opponent off balance. That way he can't focus on one thing. Once you get him off balance, you are the aggressor now on what you decide to do and have him reacting to you. You have got to set the tone early, but definitely you can't do one thing over and over again, because people will adjust to it."
In his young career, Quinn now has two three-sack games, both against Arizona with tackle D'Anthony Batiste and Brown as the primary victims. Waufle is quick to point out that even though Quinn had six sacks in those games, that also implies they blocked Quinn on a large number of plays, also.
The next step for Quinn is to continue to improve against the run and use his developing moves to consistently beat some of the league's elite tackles. He'll see plenty this season with two dates against San Francisco's
Joe Staley
and Seattle's
Russell Okung
, and another game against Houston's
Duane Brown
, among others.
Waufle mentions words like precision and timing as areas Quinn can still improve, but he says it's important not to rush Quinn into trying to do too much too soon.
"He's a young player so he's developing a number of things, but you only take one thing at a time," Waufle said. "You don't want to try to give him a whole handful and be a jack-of-all-trades and a master of none. He's working on specifics and getting better. He still has a lot of work to do."
April, 18, 2012
4/18/12
9:58
AM ET
With a new stadium on the way and a division championship in their possession, the San Francisco 49ers' leadership has fresh opportunities to enjoy the sporting spotlight.
Those opportunities have not been missed this week.
Interviews with CEO Jed York and general manager Trent Baalke have hit the news just as the NFL was announcing five prime-time games for the 49ers in 2012, tied for most in the NFL.

Tim Kawakami of the San Jose Mercury News
gathers thoughts from Baalke on parallels between the 49ers and San Jose Sharks, drawing on the relationship between Baalke and the Sharks' leadership. Baalke on Sharks GM Doug Wilson: "Everyone has an individual style; some styles mesh closer with others. I think with Doug and I, there's a strong mesh. I like how he conducts business. He keeps things very private. We like to keep things really private. He's not a guy that wants to be the face of the organization, nor am I. We like to do things subtly and behind the scenes and I respect that out of him."
Mike Rosenberg of the San Jose Mercury News
offers part three of his interview with York, who has this to say about the technological vision for the new stadium: "It's not putting something in there that's a hardware-driven stadium; you want to make sure it's a software-driven stadium. Smart phones in two years are going to be different than what they are today, the same with tablets. I'm not going to limit what HP, Apple, Google create. I just want to make sure that the experience is enhanced and you can use those devices to the fullest capability and beyond."
Matt Maiocco of CSNBayArea.com
offers thoughts on the 49ers' schedule, including this one about the Week 17 game against Arizona: "In two games against the 49ers last season, Cardinals quarterback Kevin Kolb attempted just one pass. He missed one game with an injury and he was knocked from the second game with a concussion after throwing his first pass. Like the 49ers, the Cardinals went after free-agent quarterback Peyton Manning. Failing in that bid, Kolb is back for his second season."
Also from Maiocco
: a 49ers offseason scorecard.
Matt Barrows of the Sacramento Bee
points to the 49ers' game against the New York Giants as a highlight. Barrows: "This could be the best game of the season. The 49ers and Giants are evenly matched and they meet for the third time in a year. Did the Giants target Kyle Williams in the NFC Championship because they knew he had previous concussions? Will the 49ers be avenging that still-painful loss? The fact that San Francisco has added two ex-Giants, including one, Brandon Jacobs, who wasn't always happy with his former team, only adds to the drama."

Kent Somers of the Arizona Republic
says the Cardinals should be "pleased" with their 2012 schedule. Somers: "They need to start fast and three of the first four games are at home. They play at New England on Sept. 16, so they won't get clobbered in the snow, as they were in 2008. The game in Green Bay is on Nov. 4, so it would take an unusually early dose of winter to impact the game."
Also from Somers
: The Cardinals' schedule should help them avoid another slow start. Coach Ken Whisenhunt: "The first thing that jumps out at me is something that's been different for me, is a lot of home games at the front end of the schedule. We've talked about trying to carry the momentum we built at the end of last season into next season, and you'd like to think playing at home would give us a better chance to do that."

Jim Thomas of the St. Louis Post-Dispatch
checks in with Rams quarterback Sam Bradford for thoughts on the team's new offense. Bradford on having a position coach this year: "I'm glad that we have a quarterbacks coach now. Obviously, with Josh (McDaniels) trying to do both last year, I think it was just a lot for him to handle. Sometimes some of the little things such as drops, footwork, throwing mechanics kind of got put aside as opposed to putting reads and everything in front. ... I think it's going to be great for my development."
Stu Durando of the St. Louis Post-Dispatch
says defensive line coach Mike Waufle played a role in recruiting free agents to the Rams.
Bryan Burwell of the St. Louis Post-Dispatch
checks in with Rams coach Jeff Fisher as the team holds its minicamp. Burwell: "We've been through this a lot with the Rams, listening to the predictable comments of the players after another coaching change. Every time, it's the same stuff, as the team kept shifting leaders, kept shuffling the deck, kept hiring and firing, kept searching for the man with the magic touch. Fisher is the first one since Dick Vermeil to show up with a résumé that had some head-coaching heft behind it. And that matters to this group of players, who are sick and tired of being sick and tired."
Nick Wagoner of stlouisrams.com
offers notes from Rams practice, including this one: "Jason Smith also was back on the field and he appears to be more chiseled and focused than ever. I'll have more on Smith's enthusiastic return to the team in a full story for the front page tomorrow but Smith wanted it known that he has used his battles with concussion to really zero in on the important things. To the point where he says the experience has been life changing."

Danny O'Neil of the Seattle Times
runs through the Seahawks' schedule, game by game. On the December game at Chicago: "This is the sixth time in seven seasons the Seahawks and Bears will play in the regular season. They've also met twice in the playoffs in that time. This is the third year in a row the Seahawks play at Chicago, Seattle winning there each of the previous two regular-season meetings."
John McGrath of the Tacoma News Tribune
says the NFL's schedule rollout stands as the latest example of the league's domination. McGrath: "During the first week in April, fans figured to be savoring a heavenly confluence of sporting events: The NCAA tournament championship game on a Monday, the domestic opening of the Major League Baseball season on a Wednesday, the first round of the Masters golf tournament on a Thursday. And in the Pacific Northwest, what was the most talked-about story that week? The unveiling of the new Seahawks uniforms on a Tuesday."
January, 24, 2012
1/24/12
9:15
AM ET
The NFC would have a hard time fielding a Pro Bowl secondary without its Western division.

Clare Farnsworth of seahawks.com
notes that the NFL has added Seattle's Kam Chancellor and Brandon Browner to the NFC squad after the San Francisco 49ers' Dashon Goldson and Carlos Rogers withdrew from the game, citing injuries. Chancellor and Browner were alternates. Arizona's Adrian Wilson is also one of the safeties, as is Seattle's Earl Thomas. This means three-fourths of the Seahawks' secondary is in the Pro Bowl even though arguably the team's best corner, Richard Sherman, did not make it.
Noted:
Goldson and Rogers both have expiring contracts. Playing in the Pro Bowl would have meant spending the week hanging out with Green Bay's coaching staff. The Packers haven't been big spenders in free agency, but the Pro Bowl is one of the few places rules allow players from one team to hang out with coaches from another.

Matt Maiocco of CSNBayArea.com
says the 49ers' Brian Jennings has been added to the NFC roster as a "need" player. Jennings is arguably the best long-snapper in the NFL. Maiocco: "Jennings, a 12-year veteran, will make his second career appearance in the Pro Bowl. He becomes the ninth 49ers player to be selected to play in this year's game, which is takes place Sunday in Honolulu. The eight 49ers players previously selected to the NFC roster are defensive backs Dashon Goldson and Carlos Rogers, defensive lineman Justin Smith, linebacker Patrick Willis, running back Frank Gore, tackle Joe Staley, kicker David Akers and punter Andy Lee."
Tim Kawakami of the San Jose Mercury News
says the 49ers' need for wide receiver help is glaring after Michael Crabtree's single 3-yard reception accounted for all catches by San Francisco wideouts in the NFC title game. Kawakami: "The Giants' three wide receivers combined to catch 16 passes for 214 yards and a touchdown Sunday, helping counterbalance the 49ers' huge advantages in almost all other areas. It took two botched punt returns by Kyle Williams to set up the Giants for their game-deciding scores, but they would have been nowhere near the 49ers without their wide receivers. So as the 49ers hurtle into their offseason, upgrading their receiving corps has to be their central focus."
Eric Branch of the San Francisco Chronicle
did not notice the Giants going out of their way to inflict a concussion upon Williams.
Lowell Cohn of the Santa Rosa Press-Democrat
says Jim Harbaugh's refusal to discuss his feelings smacks of emotional immaturity.

Kent Somers of the Arizona Republic
offers thoughts on the Cardinals' chances for landing Peyton Manning, should the Colts part with the future Hall of Fame quarterback. Somers: "Throwing to Larry Fitzgerald has to be an attractive prospect. With Beanie Wells and Ryan Williams, the Cardinals have two talented young running backs. There are questions on the offensive line, however. The Cardinals' defense was stout over the last half of the season. Under Ken Whisenhunt, the Cardinals have proven they are willing to throw the ball and to mold their offense around the strengths of an older quarterback."
Noted:
Manning has never needed a strong offensive line. He has long proven how much quarterback play matters for avoiding sacks.
Also from Somers
: Jerry Sullivan was briefly a candidate to rejoin the Cardinals.
Noted:
Seems like Bruce Arians would be a natural fit in Arizona after the Steelers decided
against offering
a new contract to him.
Darren Urban of azcardinals.com
provides a timeline for scheduled bonus payments to Manning and the Cardinals' Kevin Kolb. Manning is scheduled to receive $28 million from the Colts on March 8. Kolb is scheduled to receive $7 million from the Cardinals on March 17. Urban also notes that Hue Jackson could be interviewing with the Cardinals, per Charley Casserly.
Noted:
With free agency beginning March 13, the gap between bonus payments to Manning and Kolb would give the Cardinals time to explore their options with Manning, should the Colts decline to pay the bonus.
Also from Urban
: Calais Campbell would not complain if the Cardinals named him their franchise player.
The Cardinals' Beanie Wells
suggests he's undergoing surgery, presumably on the knee that bothered him this past season.
Noted:
Ryan Williams is also coming off surgery.

Jim Thomas of the St. Louis Post-Dispatch
updates Rams coaching moves after the team reached agreement with Dave McGinnis to join the staff as assistant head coach. Thomas: "Several other staff additions appear to be in the works but have not been made official, including Paul Boudreau as offensive line coach, Mike Waufle as defensive line coach, Rob Boras as tight ends coach and Tim Walton for what could be a job as assistant defensive coordinator/passing game."