NFC West:

Mike Williams lockout interview
June, 13, 2011
6/13/11
5:51
PM ET
The third and final item in a series stemming from a recent interview with the Seattle Seahawks' leading receiver for 2010 ...
The past two NFL comeback players of the year were easy choices for the Pro Bowl.
Tom Brady
(2009) and
Michael Vick
(2010) played at the highest level upon their returns. Both were already stars before overcoming what they overcame.
Mike Williams
' comeback with the Seattle Seahawks last season was more shocking because Williams had failed so famously earlier in his career. He did not come back so much as he showed up. Williams' 65-catch, 751-yard production with Seattle exceeded his career totals since entering the NFL as the 10th player chosen in the 2005 NFL draft.
It was a great season for someone who had not caught a regular-season pass since 2007, but it was not a great season by NFL standards -- or by Williams' standards.
"The first go-around, it was about getting back and showing up and making up," Williams said during a recent interview. "Now, it is about taking it to another level."
Williams signed a three-year extension in January that could pay him more than $3.5 million in 2011. Bypassing free agency for a solid-but-unspectacular contract showed Williams was serious about needing to prove more.
"The reality is, it is a wonderful story, but when you talk football, I am still looking at a 60-catch, 700-yard season," he said. "You get past the Oprah part of it, the feel-good part of it, you are looking at a player who has to do better."
The lockout has prevented Williams and other players from preparing the way they normally might. Williams does have video showing every one of his plays from last season -- the good, the bad and the ugly. There were spectacular grabs against Arizona in particular, but also dropped balls, lapses in concentration and situations when he could have put his size to better use in creating a more inviting target.
"There were a lot of plays I left out there that could have made a good season great," Williams said. "People are caught up in the story. I was never caught up in the story. I see a top No. 1 or No. 2 receiver in the league every year in Fitz (
Larry Fitzgerald
). I have to make my own noise."
June, 8, 2011
6/08/11
1:23
PM ET
The
Seattle Seahawks
' leading receiver this past season is living proof that people can remake themselves through resolve and humility.
Mike Williams
went from first-round draft bust in Detroit to NFL irrelevance before reestablishing himself in 2010 with a 65-catch season that came out of nowhere.
Williams is eager to take the next step. He has grown weary of the personal redemption angle, badly wants to outgrow it and constantly downplays what he accomplished in 2010. He realizes there's a long way to go in becoming a true No. 1 receiver.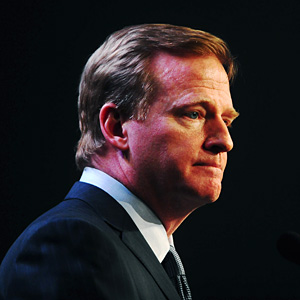 Mark J. Rebilas/US PresswireMike Williams questions how players will relate to Roger Goodell after the lockout ends.
"
Larry Fitzgerald
is not a 60-catch, 700-yard No. 1 receiver," Williams said, underselling his own stats, but driving home the point effectively.
In speaking with Williams about a range of subjects recently, I was most struck by his thoughts on a more prominent NFL figure whose image will need repairing.
Commissioner Roger Goodell's transition from perceived NFL ambassador and part-time disciplinarian to punching bag for the players during the ongoing labor dispute could be by design. Goodell has absorbed punishment that might have otherwise struck the 32 team owners he represents. He has taken one for the owners' team.
But players'
disdain for Goodell
has sounded
more like hatred
at times. It has gotten personal. Some have felt as though Goodell betrayed them. The commissioner's harshest critics consider him to be a
fraud
. Once the lockout finally does end, the
hard feelings
will complicate Goodell's efforts to lead with credibility from the players' perspective.
"No disrespect to the commissioner because I have nothing personal against him," Williams said, "but how everything has been handled and how the players feel about him and how things have been said, who is to say there is not going to be problems with that?"
The idea that Goodell could resume fining players and funneling appeals through league channels strikes Williams as problematic.
"Do we get more than one guy to make decisions on whether guys are fined and that stuff?" he asked. "If there is going to be that much overhaul in the [labor] rules, we might as well change the whole thing. Really, he is a dictator."
In truth, Goodell has always represented the owners.
The commissioner, more than anyone, is the league. It was the owners, after all, who approved Goodell as Paul Tagliabue's successor in 2006. It was the owners who
stood and applauded
Goodell's ascension.
The NFL commissioner is the players' commissioner as well, but his role in relation to them, though blurred during times of labor peace, has always been different. The labor standoff has defined Goodell's role more clearly, and players have not liked what they have seen.
"I have been around long enough to see more than one NFL commissioner, and when I first got drafted and was following football, it seemed like the players love the shield," Williams said. "They embraced the relationship with the commissioner. I never heard a bad thing about him. When he did fine or suspend a guy, it was not a big deal."
The situation was different following the 1987 work stoppage because there was no lockout. It was the players who went on strike. When Tagliabue succeeded Pete Rozelle in 1989, the labor situation was playing out in the courts. Players had yet to make the labor gains a younger generation can take for granted. Media was far less pervasive as well.
The situation was different even in 2006, when Tagliabue and the late Gene Upshaw reached agreement on the most recent labor deal.
"Now, with social media and the Internet and Twitter and Skype, the commissioner's role has taken on a celebrity status, almost," Williams said. "I don't remember Tagliabue wearing makeup to go on camera. It is a way higher-profile position that Mr. Goodell is in as opposed to his predecessor. It is different."
How Goodell handles the transition out of a lockout and back to football will be critical in setting the tone for future dealings with players.
In retrospect, the commissioner could have done a better job directing his labor-related rhetoric at the players' attorneys. He could have done more to depersonalize this fight by expressing genuine admiration for the players leading the labor fight, even as he questioned their lawyers' tactics.
Going forward, the resolve and humility Williams has shown on a smaller scale would serve the commissioner well.
"He has a road to climb the whole way," Williams said.
June, 6, 2011
6/06/11
7:26
PM ET
The
Seattle Seahawks
'
Mike Williams
caught 22 of his 65 receptions last season against a certain NFC West rival.
That team, the
Arizona Cardinals
, subsequently used the fifth pick in the 2011 NFL draft for a cornerback,
Patrick Peterson
.
The Cardinals presumably would have drafted Peterson regardless, but if any receiver they faced in 2010 justified the decision, it had to be Williams. He owned Arizona.
"If that was the case, I'm not happy about it," Williams said during a recent interview. "They've got two first-round picks on the edge."
Peterson joins 2008 first-rounder
Dominique Rodgers-Cromartie
on the corners for Arizona. You can bet the Cardinals will make slowing Williams a point of emphasis in 2011.
"It was really more scheme than personnel," Williams said of last season. "When they are healthy, that is a hard defense to block up. They play well. The second game, they didn't even have (Darnell) Dockett. He was on the sideline."
Williams again pointed to scheme, however. He said the Seahawks' offensive coordinator at the time, Jeremy Bates, figured out the Cardinals and attacked them effectively. Of those 22 receptions, Williams saw only a handful for which he could take credit personally.
"I had one fade route on Rodgers-Cromartie and one on (Greg) Toler, a slant on Toler, an out route on Cromartie," Williams said. "That is four catches in two games where I lined up on a guy one-on-one and I made a catch. All the other stuff was zone read and getting caught in the shuffle. They got better."
The modesty Williams showed during this conversation has been a recurring theme for him. He continually downplays his accomplishments. We discussed much more and I'll share more thoughts from him over the next couple days.