September, 2, 2014
Sep 2
8:00
AM ET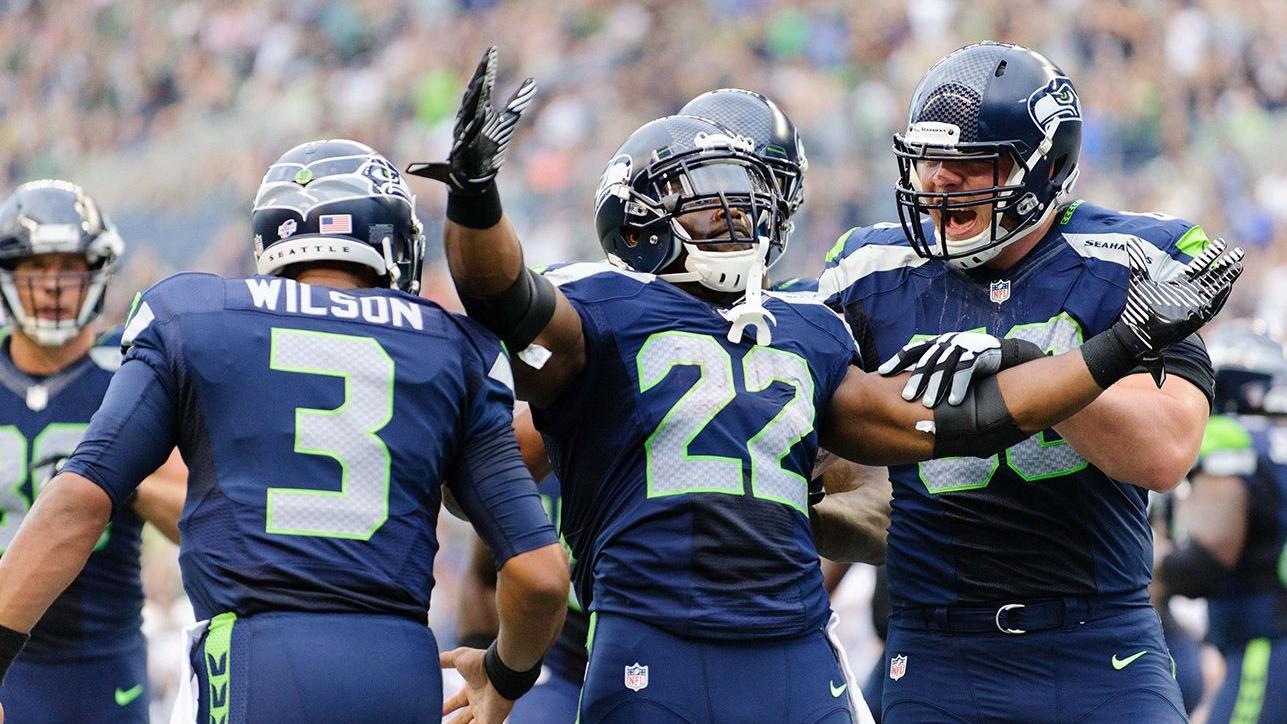 ESPN.com
Seattle Seahawks
reporter Terry Blount makes his game-by-game picks for the 2014 season.
Week 1: Green Bay Packers
All the pregame hype will center around the so-called Inaccurate Reception, the controversial Hail Mary catch by Golden Tate two years ago that won the game over the Packers at Seattle on a Monday night. Tate has moved on to Detroit, but the Seahawks now have too many weapons for the Packers to stop, no Hail Mary required. Prediction: Win
---
Week 2: at San Diego Chargers
The Chargers better hope they play a lot better than they did in the preseason game at Seattle, a 41-14 victory for the Seahawks on Aug. 15. San Diego will play better, but not good enough to beat a much better team. Prediction: Win
---
Week 3: Denver Broncos
The Broncos and their fans got a tiny bit of meaningless Super Bowl revenge in the preseason opener with a 21-16 victory over the Seahawks in Denver. Enjoy it while it lasts, boys. Repeating that outcome in Seattle is not an option. Prediction: Win
---
Week 5: at Washington Redskins
Traveling coast to coast to play on the road for a Monday night game is a tough task against any NFL opponent, and even tougher against quarterback Robert Griffin III. But the Seahawks catch a break in this one by coming off a bye week with plenty of time to prepare and be fresh for the journey. Prediction: Win
---
Week 6: Dallas Cowboys
Cowboys owner Jerry Jones gave Seattle a little bulletin-board material last month when he said the Seahawks were to blame for the increase in penalty flags during the preseason. There won't be near enough flags against Seattle for the Cowboys to win this one. Prediction: Win
---
Week 7: at St. Louis Rams
Any division game in the NFC West is a rugged battle. The Rams have a defensive line that gave the Seahawks problems a year ago. But they aren't strong enough overall to beat Seattle, even at home in their out-of-date dome. Prediction: Win
---
Week 8: at Carolina Panthers
The Seahawks were fortunate to win the season opener at Charlotte a year ago. That Panthers team was better than this one, but back-to-back road games against very physical defensive teams will end the Seattle winning streak. Prediction: Loss
---
Week 9: Oakland Raiders
Coming off their first loss of the season and returning home against an outmanned opponent, is there any doubt? Prediction: Win
---
Week 10: New York Giants
The Seahawks easily defeated the Giants 23-0 last year in New Jersey, a dress rehearsal for their Super Bowl victory at the same location -- MetLife Stadium. The Seahawks won't need a rehearsal to roll past the Giants in this one. Prediction: Win
---
Week 11: at Kansas City Chiefs
This likely will be a low-scoring game between two strong defensive teams. Odds are against any team that has to try to win by matching its defense against the Seahawks' D. Prediction: Win
---
Week 12: Arizona Cardinals
The last time the Cardinals played at CenturyLink Field was last December when they handed the Seahawks a 17-10 loss. That won't happen again unless the Seahawks get caught looking ahead to the 49ers game. The Seahawks don't look ahead. Prediction: Win
---
Week 13: at San Francisco 49ers
It's a Thanksgiving night, national TV game in the 49ers' shiny new stadium against the hated Seahawks. If San Francisco can't win this one, its time as a championship contender is over. Prediction: Loss
---
Week 14: at Philadelphia Eagles
This is the toughest part of the season for the Seahawks with back-to-back road games against likely playoff contenders. But the 10 days between games will help and be enough of a cushion to keep Seattle from losing two in a row. Prediction: Win
---
Week 15: San Francisco 49ers
This is a game that could decide which team wins the NFC West. No way the Seahawks lose to the 49ers twice in three weeks, especially not in front of a rabid full house of 12s. Prediction: Win
---
Week 16: at Arizona Cardinals
The Cardinals probably will be fighting for a playoff spot, and the Seahawks already will be in at 12-2. That difference will be just enough for Arizona to win at home in the same stadium where the Seahawks will win the Super Bowl a few weeks later. Prediction: Loss
---
Week 17: St. Louis Rams
For the second consecutive year, the Rams close the regular season in Seattle. And for the second consecutive year, the Seahawks will beat them without much trouble. Prediction: Win
---
Predicted Record: 13-3
March, 11, 2009
3/11/09
2:33
PM ET
Posted by ESPN.com's Mike Sando
Tracking free-agent visits can become a part-time job during the initial rush of free agency. Now that things have settled, I've put together an unofficial list showing where NFC West free agents have visited and which players the division's teams have visited with.
These visits fall into four basic categories:
March, 5, 2009
3/05/09
8:45
AM ET
Posted by ESPN.com's Mike Sando

Jim Thomas of the St. Louis Post-Dispatch says receiver Torry Holt has asked the Rams for his release. Thomas: "Holt, 32, is due a roster bonus of $1.25 million March 17, so it's highly unlikely he will be a Ram beyond then. But the Rams could still try to trade him until then, meaning any potential trade partner wouldn't have to compete for his services, as would be the case if he were released."

Bob Young of the Arizona Republic counts three ways Kurt Warner's re-signing helps the Cardinals. He also offers advice on Edgerrin James, Karlos Dansby and Anquan Boldin.
Kent Somers of the Arizona Republic says Warner knew early in his trip to San Francisco that Arizona was the best place for him. Somers: "Warner planned to spend a few weeks after the season considering retirement. But two days after the Pro Bowl, he was thinking of football again." Warner: "I told my wife, 'Sorry, honey, it's not time.' I think two years is good. I think I can play at a high level, I think I can help this team continue to build, take the next step over the next couple years, leave them in a good position after that."
Also from Somers: The Cardinals have about $22 million in salary-cap space remaining after re-signing Warner. They can gain another $5 million by releasing James.
More from Somers: Patriots free-agent nose tackle Mike Wright visited the Cardinals.
Darren Urban of azcardinals.com says Warner's pledge to set aside money to re-sign Boldin never materialized. No surprise there.
Scott Bordow of the East Valley Tribune finds no fault in the Cardinals or Warner for their prolonged negotiations. Meanwhile, Warner's family remains focused on convincing the quarterback to let them have a puppy.

Clare Farnsworth of the Seattle Post-Intelligencer says it's surprising more teams haven't pushed for visits with free-agent fullback Leonard Weaver.
Vaughn McClure of the Chicago Tribune quotes Bears general manager Jerry Angelo as suggesting the Seahawks overpaid for T.J. Houshmandzadeh. Something for Houshmandzadeh to keep in mind when the Bears visit Qwest Field in 2009.
John Morgan of Field Gulls expresses doubts about new Seahawks defensive tackle Colin Cole after continuing to watch him with Green Bay last season. Morgan: "Cole wasn't signed to dance with single blockers. He was signed to stand up to the double team and keep blockers out of the second level. I see no evidence that he will."
Also from Morgan: He likes what Jermaine Phillips would offer the Seattle defense.

Matt Barrows of the Sacramento Bee says Terrell Owens would be a horrible fit for the 49ers at this point. Agreed. Barrows: "Yes, they need a No. 1 receiver and yes, Mike Singletary certainly has the guts and the gravitas to stand up to a prima donna. But that's far outweighed by the 49ers relatively youthful locker room, its inexperience at quarterback and its new devotion to the running game. Owens complained mightily that he didn't get the ball enough in the Cowboys' wide-open offense. How would he react in a run-first offense?"
Matt Maiocco of the Santa Rosa Press-Democrat confirms a Sporting News report that the 49ers have given safety Mark Roman permission to seek a trade. As expected, the 49ers have penciled in Dashon Goldson as the starter for 2009.