NFC West:

Monday Night Football
April, 18, 2013
4/18/13
8:00
PM ET
"Monday Night Football" loads up on the NFC for 2013 with an emphasis on young quarterbacks
Russell Wilson
,
Colin Kaepernick
and
Robert Griffin III
.
Griffin's recovery from knee surgery will be the key variable for a Week 1 matchup between his
Washington Redskins
and Chip Kelly's
Philadelphia Eagles
at FedEx Field.
Wilson's
Seattle Seahawks
and Kaepernick's
San Francisco 49ers
each make two "MNF" appearances, but none against each other -- an upset given all the hype surrounding these NFC West rivals.
The Seahawks make their 2013 "MNF" debut on the road against the
St. Louis Rams
on Oct. 28 (Week 8). They face the
New Orleans Saints
at home in another "MNF" game, this one set for Dec. 12 (Week 13).
The 49ers make two "MNF" appearances, both in the final six weeks of the season: at Washington on Nov. 25 (Week 12) and home against the
Atlanta Falcons
in an NFC title game rematch on Dec. 23 (Week 16).
Miami, Chicago, Atlanta, New Orleans, Seattle, San Francisco, San Diego and Washington are the only teams appearing twice on a 16-week, 17-game "MNF" schedule featuring 21 appearances by NFC teams. That means Wilson, Kaepernick, Griffin,
Jay Cutler
,
Drew Brees
,
Matt Ryan
,
Ryan Tannehill
and
Philip Rivers
are the only projected starting quarterbacks set to appear more than once.
Tom Brady
,
Ben Roethlisberger
,
Andrew Luck
,
Tony Romo
,
Michael Vick
,
Peyton Manning
,
Eli Manning
,
Matthew Stafford
,
Aaron Rodgers
and
Cam Newton
are among the starting QBs scheduled to appear once. Five of the six teams not appearing on the "MNF" schedule -- Buffalo, Cleveland, Jacksonville, Kansas City and Tennessee -- hail from the AFC. Arizona will also make no "MNF" appearances.
October, 29, 2012
10/29/12
8:00
AM ET
Here's the thing, though: This game might be the 4-3 Cardinals' easiest for nearly another month.
Arizona visits Green Bay (5-3) in Week 9 and then Atlanta (7-0) in Week 11, following a bye.
Beating the 49ers would secure no worse than a 5-5 record for the Cardinals following that rough stretch. Losing to the 49ers would extend the Cardinals' skid to four games following a 4-0 start to the season. It would also drop Arizona to 3-2 at home (the Cardinals started 3-2 at home last season, then won their final three at University of Phoenix Stadium to salvage a 6-2 home record). Arizona lost at home to Buffalo two weeks ago.
For more on the 49ers-Cardinals matchup, check out
the column I wrote
Saturday, plus
our MNF preview page
.
PHOENIX -- The Arizona Cardinals face a difficult matchup on "Monday Night Football" when the defending NFC West champion San Francisco 49ers visit University of Phoenix Stadium in Week 8.
September, 19, 2010
9/19/10
2:00
PM ET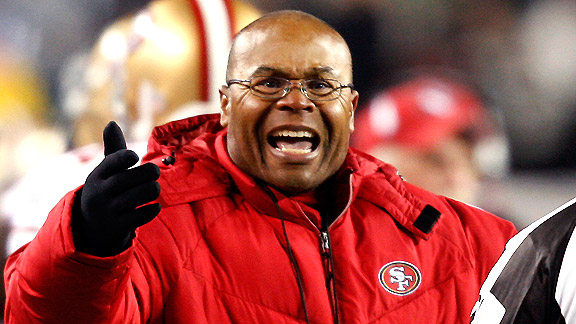 AP Photo/Mel EvansSideline communication has been an issue at times for the 49ers under coach Mike Singletary.
SAN FRANCISCO -- Confusion reigned on the
San Francisco 49ers
' sideline during a road game against a division opponent.
The 49ers ultimately had little chance because their offensive coordinator wasted precious clock time and -- through circumstances arguably beyond his control -- he could not get the right information communicated to the quarterback.
Afterward, coach Mike Singletary cited a lack of communication.
"It would be great if there was better communication on each sideline -- not just ours, but on each sideline about what the heck just transpired so that, now, the coordinator can make an intelligent decision," Singletary said at the time.
The problem outlined above, though seemingly consistent with what happened to the 49ers in Week 1 this season, actually took place during a "Monday Night Football" game at Arizona two seasons ago. Mike Martz, not Jimmy Raye, was the offensive coordinator.
Back then, the 49ers blamed the officiating crew for failing to inform them where the ball had been spotted and when the clock would begin running with 4 seconds left and San Francisco in position to score the winning touchdown. The reality was that Martz had plenty of time to discuss all potential scenarios with quarterback
Shaun Hill
while officials conducted a replay review to determine whether
Frank Gore
had been down by contact on the previous play.
Then, as now, communication and game management were issues for the 49ers.
The team is back on "Monday Night Football" -- the
New Orleans Saints
visit Candlestick Park in Week 2 (ESPN, 8:30 ET) -- and the focus is rightly upon whether the 49ers can communicate quickly and accurately enough to function efficiently. Blaming the officiating crew isn't an option this time. The 49ers must improve their play-calling communication system to restore confidence in the coaching staff and give themselves a chance to knock off the Super Bowl champions in prime time. That's serious stuff after only one game and reason why the communication issue, though not a primary reason for the 49ers' 31-6 defeat at Seattle last week, remains an important symbolic issue.
How has it come to this?
Like any defensive-minded head coach, Singletary must rely heavily on his offensive coordinator. That was the case when Martz was running the 49ers' offense during Singletary's 2008 run as interim head coach. That remains the case with Raye running the offense since last season.
Singletary was additionally dependent and vulnerable in these situations because he lacked administrative experience before becoming head coach. He had never been a coordinator. He had served only five seasons as an assistant coach. Expecting him to suddenly master all aspects of an operation wasn't realistic. He simply isn't equipped to cover for whatever mistakes his offensive coordinator might make during the course of a game.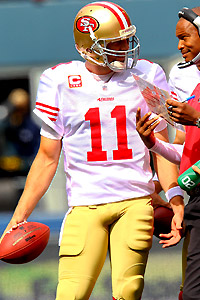 AP Photo/Kevin TerrellCoach Mike Singletary has vowed to streamline the play-calling for quarterback Alex Smith.
But the 49ers did not hire Singletary for his game management, right? They coveted the intensity he brought and the strong leadership he could offer. Singletary has delivered in those areas, but head coaches also must prove they have specific answers for problems that arise. Singletary has vowed to streamline the offensive play-calling to make sure the calls get to quarterback
Alex Smith
with more time remaining on the play clock. Delivering on that promise isn't going to ensure victory over the Saints, but failing to deliver would carry negative consequences more lasting than a single defeat to the NFL's best team in the second week of a long season.
Perceptions become reality and the perception right now is that Singletary could be losing his grip. He opened the week calling a late-night meeting upon returning from Seattle, hoping to keep everyone on the same page. He ended the week vowing to stop
Drew Brees
during
a contentious interview
that surely became fodder in New Orleans' locker room.
Bottom line: Does Singletary have answers?
Teams sometimes arm quarterbacks with wristbands featuring a numbering system for plays. Smith reportedly wore one during practices this week. The tactic could allow the coordinator to call out a play number instead of the full play, saving time and
avoiding delay penalties
. Singletary has also toyed with moving Raye from the pressbox to the sideline, although quickly finding the right play could conceivably be harder amid an environment as chaotic as an NFL sideline.
"We're still talking about it," Singletary told reporters Friday.
One season-opening game should not define a season. Singletary was right this week in reminding reporters that this team remains a work in progress. The 49ers opened the regular season with the
youngest starting offense
in the league. They remain in position to challenge for the NFC West title and claim their first winning season since 2002.
Provided, of course, that Singletary and the 49ers are not still talking about the same issues next week.