March, 3, 2013
3/03/13
9:49
AM ET
NFL players' March musings on Twitter aren't necessarily the gold standard for information, but
Randy Moss
' comments Saturday line up with expectations the San Francisco 49ers will go with younger players at the position in 2013.
"Wished we could've finished the job!!thanks for the opportunity an good luck in the future 9ers,"
Moss' Twitter account said
.
Moss is 36 years old. He provided value to the 49ers during a transitional season at wide receiver. The team needed him more than anticipated once an injury felled
Mario Manningham
. Whatever mentoring and veteran leadership Moss provided in 2012 carried value. The 49ers seemed to appreciate it genuinely.
Moss finished the regular season with 28 receptions for 434 yards and three touchdowns. His 15.5-yard average per reception was near the 15.6-yard average for his career. He was a positive factor. He also was willing to block.
But in the longer term, there's something wrong if the 49ers cannot develop younger alternatives at the position, particularly after using the 31st pick of the 2012 draft for receiver
A.J. Jenkins
. Moss is not the future.
If Moss were to re-sign with San Francisco, the 49ers ideally wouldn't be counting on him. They would be looking at him as a potential insurance policy. But if Moss' tweet is any indication, that policy is about to expire.
December, 13, 2012
12/13/12
11:10
AM ET
The ninth installment in a series tracking the feel as wide receiver Randy Moss continues his career revival with the San Francisco 49ers.
Randy Moss appears to be gaining in relevance as the San Francisco 49ers' regular season heads into its final three-game stretch.
That has been more out of necessity than by design. Injuries have sidelined
Kyle Williams
for the season and
Mario Manningham
for a recent stretch. Manningham's availability will influence how much Moss plays when the 49ers visit his former team, the
New England Patriots
, for a Sunday night game in Week 15.
Moss played a season-high 50 percent of the 49ers' offensive snaps during a 27-13 victory over the
Miami Dolphins
in Week 14. He caught two passes for 30 yards, both for first downs.
Moss now has 21 receptions for 326 yards, good for a 15.5-yard average. He has 17 first downs on his 21 receptions, an 80.1 percent conversion rate that leads the team by a wide margin (not counting running back
LaMichael James
, who converted a first down on his lone reception).
The 49ers appear to appreciate Moss' presence as a resource for younger players. By all accounts, Moss remains an asset in that way. The issues
precipitating his departure
from New England, including a blowup with the team's offensive coordinator, have not recurred in San Francisco.
On the field, the 49ers aren't leaning on Moss for consistent production.
Michael Crabtree
is the best wide receiver on the team. He has 66 receptions for 761 yards and five touchdowns, 40 first downs and 382 yards after the catch, all team highs.
Moss has provided targeted strikes. His 47-yard touchdown reception at Arizona in Week 8 featured 41 yards after the catch. The touchdown briefly demonstrated Moss' big-play ability at age 35.
Moss had a shot at a 47-yard touchdown on a flea-flicker against the Dolphins. Replays showed a defender grabbing Moss' arm to prevent the reception. Connecting on that play would have raised Moss' profile heading into his New England return.
The Patriots allowed 12 receptions of 30-plus yards during a four-game stretch ending in Week 5. They have allowed six over their seven subsequent games.
November, 9, 2012
11/09/12
2:05
PM ET
The MossWatch item
posted earlier Friday went live before I knew our own Front Row blog was posting a snippet from a Randy Moss interview with rapper Lil Wayne.
Their item
includes some background on how this interview came together. ESPN plans to air a fuller version of the interview on the next "Sunday NFL Countdown" (10 a.m.-1 p.m. ET).
Moss' 47-yard touchdown reception in Week 8 helped the San Francisco 49ers break open their most recent game, a 24-3 victory at Arizona.
November, 9, 2012
11/09/12
11:55
AM ET
The seventh installment in a series tracking the feel as wide receiver Randy Moss continues his career revival with the San Francisco 49ers.
Randy Moss was a fine, upstanding NFL locker-room citizen through the 2012 offseason and training camp.
Just wait til the regular season, we whispered. Moss will become what Moss has always become in the eyes of past employers: more headache than asset.
"Moss impresses wherever he goes,"
we wrote back in May
, noting that Moss had previously impressed the folks in Minnesota, Oakland, New England and Tennessee before departing each team amid suggestions he had worn out his welcome.
This history stayed in our minds when
the 49ers gushed
about Moss' commitment and professionalism during June minicamps.
Moss' humility
resonated as training camp opened. The 49ers lauded his
character and goodhearted nature
deeper into camp. Moss caught a touchdown pass in the opener, suggesting his addition was
helping on the field
, too.
More recently,
questions arose
over Moss' relative lack of playing time. But with Moss flashing speed and elusiveness during a 47-yard touchdown reception against Arizona on "Monday Night Football" in Week 8, the feel surrounding Moss' addition is positive.
Most telling, I think, are
the recent stories
explaining how Moss' blocking has inspired teammates. CBS analyst
Rich Gannon
had
questioned Moss' passion for blocking
when the Titans signed the veteran receiver in 2010. The 49ers' receivers have shown a passion for blocking predating Jim Harbaugh's arrival as head coach. Moss has, by all accounts, embraced the mentality. There are few better ways for a receiver to demonstrate his commitment to the team, particularly when that receiver isn't catching many passes.
Moss has 13 receptions for 235 yards and two touchdowns through eight games. His 18.1-yard average would be Moss' highest since his rookie season. The 49ers have a 6-2 record, which should make everyone happy. Moss has flashed with touchdowns in high-profile games against Green Bay and in the Monday night game. He has played roughly 20 snaps per game and appears primed to help as needed during the second half of the season.
So far, so good for Moss and the 49ers.
October, 3, 2012
10/03/12
9:15
AM ET
The
San Francisco 49ers
attempted one pass to
Randy Moss
during their 34-0 victory against the
New York Jets
.
Moss
Alex Smith
wasn't even the quarterback of record for the play.
Moss, 35, has only eight receptions for 88 yards and one touchdown in his first four games with the team. That puts him on pace to finish the 2012 season with 32 receptions for 352 yards and four scores. That type of production would nearly match his 16-game total for 2010, Moss' most recent season in the NFL. Moss played 16 games for three teams that season, finishing with 28 receptions for 393 yards and two touchdowns.
In that context, then, Moss has picked up where he left off. I see a couple potential reasons for the modest production:
Age factor: Moss simply isn't good enough at this stage of his career to command additional playing time and a larger role in the offense. He would be playing nearly every snap if the 49ers thought he could play the way he played as a younger man. Of course, if Moss could perform at that level, the New England Patriots probably would have held onto him. Moss has played between 26 percent and 36 percent of the offensive snaps in each game so far. That includes games with 21, 16, 21 and 22 snaps.
Offensive philosophy: Coach Jim Harbaugh and offensive coordinator Greg Roman brought a power-oriented scheme to the 49ers. San Francisco has used two running backs and two tight ends on a league-high 53 plays this season, according to ESPN Stats & Information. The team's base offense features one back and two tight ends. Those groupings leave room for only one or two wide receivers. The team has better depth at receiver this season. Michael Crabtree and Mario Manningham are younger than Moss. They're going to play. Crabtree is also a tremendous blocker. That adds to his value.
The chart shows the 49ers' pass targets by week. The games against Green Bay (Week 1) and Minnesota (Week 3) show the 49ers are willing to target Moss regularly in some games, but probably not every game.
Smith missed an open Moss on couple throws against Minnesota in Week 3. The two might have a harder time developing a strong rapport while Moss continues to see limited snaps in a run-oriented offense. Keeping Moss fresh could allow him to become more of a factor in specific game plans, including during postseason.
September, 18, 2012
9/18/12
4:40
PM ET
The
San Francisco 49ers
hoped quarterback
Alex Smith
and their offense would benefit from upgrades at wide receiver this season.
It's working so far.
Smith has completed 25 of 28 passes (89.3) when targeting wide receivers. That includes 12-of-13 passing when targeting newcomers
Randy Moss
and
Mario Manningham
.
Thanks to ESPN Stats & Information for sharing that remarkable note.
Digging a little deeper, I put together a chart showing the 49ers' offensive production with and without Moss on the field. Variables beyond Moss affect the numbers. At the very least, however, the numbers make it tough to say Moss is holding back the offense in any way.
Moss drew a pass-interference penalty in the end zone against Detroit on Sunday night, setting up
Frank Gore
's 1-yard touchdown run during a 27-19 victory.
For more on the 49ers' passing game, check out
Matt Maiocco's breakdown
focusing on the 11 incomplete passes Smith threw Sunday night. Nearly all of them were catchable. The one uncatchable pass came on a ball Smith threw away to avoid a big loss.
Side note:
Moss gets a shot at his original NFL team when the 49ers visit Minnesota in Week 3.
August, 14, 2012
8/14/12
1:30
PM ET
The fourth installment in a series tracking the feel as wide receiver Randy Moss continues his career revival with the San Francisco 49ers.
SANTA CLARA, Calif. -- Watching Randy Moss interact so playfully with
Vernon Davis
and
Michael Crabtree
following practice Monday was a good sign for the 49ers.
Moss
Moss, 35, was an emerging NFL superstar before Davis and Crabtree were in high school. By the looks of things at 49ers camp, bridging the generation gap isn't going to be a problem. The banter and interaction between Moss and his younger teammates couldn't have appeared more natural while Moss and Davis stayed after practice to catch passes. And when Crabtree passed by, Moss engaged him in some banter, too.
"Randy is a great guy," Davis said afterward. "I love him. I love him. He has great character. The person that he is, he has a good heart. And he loves the game of football. Even though he's been around for a while, he still loves the game of football. That's what you need around here."
This is where the obligatory Moss disclaimers tend to pop up, the ones suggesting it's
only a matter of time
before this relationship goes bad. There are only positive signs for the 49ers right now. There have only been positive signs to this point, by all accounts. Coach Jim Harbaugh, defensive coordinator Vic Fangio, Davis and others have provided glowing reviews, not just positive ones.
"You would never know that's Randy Moss if you didn't know what he looked like," Davis said. "That is what I admire about him. He fits right in. He is a great guy, man, he's a great guy. He comes from different cloth. He is just one of those guys that is exceptional."
July, 28, 2012
7/28/12
9:08
AM ET
The third installment in a series tracking the feel as Randy Moss continues his career revival with the San Francisco 49ers.
Moss
We left off June 15 with 49ers defensive coordinator Vic Fangio saluting Moss for the receiver's commitment, for being "down to earth" in his approach and for being a "throwback" in terms of his love for the game.
The veteran wide receiver's news conference Friday, available for viewing
here
, provided supporting evidence for the overwhelmingly positive reviews this offseason from Fangio and others in the organization.
Moss came off as a player humbled by the opportunity to join a playoff-caliber team. He never once sounded defensive or annoyed by the line of questioning. Moss even channeled JFK when saying he was more concerned with what he could do for the game than for what the game could do for him. A sampling of what he said:
"Well, when I first came into this league, it was more of I didn't really understand really everything that goes on with the NFL. And now that I'm matured physically and mentally, my philosophy is, I do not like what the NFL does for me, I want to know what I can do to make the NFL better. And if that's coming out here teaching the young guys and showing my professionalism and being a leader on and off the field, that's what I want to do because I think that if we get that type of mind-set it'll make it a better league.

"The league has blessed me and my family and I'm very fortunate to be in a position that I'm in, but like I said, I like what I can do for the league, not what the league can do for me. Money comes and goes, but as far as trying to make this a better league, we're having young players come in, just being able to teach the game and understand how to take care of your body, how to approach the game day to day, week to week."
There's still a chance Moss' tenure with the 49ers will end the way his previous tenures with Minnesota, Oakland and New England ended -- prematurely and with questions about Moss' willingness to put the team first amid difficult circumstances.
A blowup
with an assistant coach precipitated his departure from New England.
The first day of training camp isn't the time to pass final judgment. But in listening carefully for signs of insincerity in Moss' comments Friday, there were no red flags to see. It's as though Moss is embracing one final chance to recast his Hall of Fame legacy. Moss has
impressed wherever he's gone
. So far, so good in San Francisco.
June, 15, 2012
6/15/12
1:00
PM ET
Randy Moss has backed up the positive first impression he made with the San Francisco 49ers this offseason.
Even defensive players and coaches have been impressed.
"Well, just how committed and down to earth of a football player he is," defensive coordinator Vic Fangio said during the 49ers' recently concluded mandatory minicamp. "He has really been as good as you can possibly ask for in terms of being totally engrossed in football. He's a throwback."
[+] Enlarge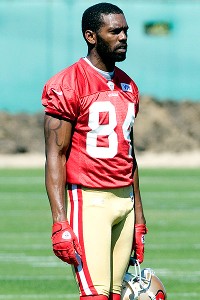 Ed Szczepanski/US PRESSWIRE"I don't care how old he is, he's a playmaker," Vernon Davis said of new 49ers teammate Randy Moss.
We've discussed
Moss' history
in detail, noting that "with Moss, it's often about impressive debuts and new beginnings. Sometimes, he sticks around and produces, as the case was with New England. Other times, the initial impressions do not foreshadow future results."
This seemed like a good time for a fuller progress report. Veteran players are finished until training camp.
"It's been great watching the players interact, the quarterbacks interact, the receivers interact with him," Fangio said. "And we'll all be better because of it. And just truly impressed with everything Randy Moss represents."
49ers safety
Donte Whitner
played against Moss for four seasons in the AFC East. Whitner sees Moss as highly motivated and still possessing sufficient physical abilities:
"Moss still has the vertical speed. Ever since he's been in the National Football League, it never looks like he's running fast. He's such a long strider. But once he gets up on you, it's separation time. He always had the hands, he always had the want-to when he wants to go out there and play football.

"He hasn't really said anything. He just goes out and plays football. You can see him in the weight room first thing in the morning, when no one else is here. I think he's truly, truly motivated to go out and quiet a lot of critics.

"I think him being with [Michael] Crabtree and having an explosive group, with [Mario] Manningham and Vernon Davis, there are not going to be many people who can double cover and put a safety over the top because you have other weapons. Plus, you have a running game.

"So, I believe he's going to see as much one-on-one coverage as he's ever seen in his career. And I believe he's going to be able to take advantage of it. He's been doing it in practice. He's a really good football player still and he's always been a freak of nature. That's why they call him, 'The Freak.' "
The 49ers have generally favored a second tight end over a third wide receiver in their personnel packages on early downs (and sometimes even on third down). They still will, in some cases, because second tight end Delanie Walker adds another dimension. But the 49ers also have the ability to line up with Moss, Crabtree and Manningham at wide receiver. That gives them more playmaking ability, at least on paper, than they've had previously. Defenses have to account for Davis and Frank Gore as well.
"I don't care how old he is, he's a playmaker," Davis said. "He's had a lot of sucesss. One thing I know about Moss is he's going to compete. It's in his nature. ... He might not be as fast as he was back in the day, but he still has great ball skills. His ball skills are pretty significant to what we're trying to do."
To be continued during training camp and as long as Moss remains on the roster.
May, 24, 2012
5/24/12
10:46
AM ET
Randy Moss
' impressive offseason with the
San Francisco 49ers
continues, generating
positive reviews
.
"The first day, it was surreal out there throwing balls to him," quarterback
Alex Smith
said. "The physical skills everybody knows. The thing you appreciate a lot is the guy's a true pro. He's played a lot of football. He's incredibly smart out there."
If this sounds familiar, it should.
With Moss, it's often about impressive debuts and new beginnings. Sometimes, he sticks around and produces, as the case was with New England. Other times, the
initial impressions
do not foreshadow future results.
Moss impressed
the
Oakland Raiders
when he joined them by trade from Minnesota in 2005. That situation did not work out well (the Raiders obviously deserve some of the blame).
"I thought Randy was outstanding," Norv Turner, then the Raiders' coach, said after Moss' first couple practices with the team. "He got in yesterday afternoon late and we put a lot of offense in today and we have a lot going in this weekend. He handled it extremely well. It's a whole different system than he's been around. He went out and relaxed and obviously he can run and catch and do those things. He looked very comfortable to me."
Moss impressed
the
New England Patriots
when he joined them by trade from Oakland in 2007. Moss played very well for the Patriots before his time with the team ran its course.
"
Tom Brady
has heard the critics who expect Moss to bring more baggage to the Patriots than a hotel valet would," The New York Times wrote back when Moss joined New England. "But so far, Brady has been impressed, and Moss looked explosive during Wednesday's workout. During one portion of practice, Brady and Moss stood off to the side by themselves, talking and throwing a football, part of the working bond they hope to create."
Moss impressed
the Vikings when he
rejoined
them by trade from the Patriots in 2010. Moss wound up making little impact (the Vikings, like the Raiders, had their own issues).
"He's had a whirlwind week-and-a-half catching up on a new playbook, and the Vikings were quite pleased with his performance against the
New York Jets
last week despite the lack of familiarity," the Associated Press reported. "The coaches have noted progress in practice this week, believing he'll be able to be more comfortable with his routes without having to stop and think too much about his assignment."
Moss impressed
the
Tennessee Titans
when he joined their team off waivers in 2011. He made almost no impact with the team on the field, however.
"When Randy Moss comes into your locker room, he brings something. Guys are seeing that and responding to it," Kerry Collins, then a Titans quarterback, told reporters. "The biggest thing is just the way he's working. You never judge a book by what you hear. You wait and see what a guy is about. He's come in here with a great attitude and ready to work. The guy just wants to win. Period. The end. He'll do whatever it takes to make that happen."
Moss impressed
the
New Orleans Saints
during a workout in 2012. They did not sign him, however.
"Moss had an off-the-charts workout at the Saints facility this morning," sportsNOLA.com reported. "The 35-year old Moss reportedly performed the 40-yard dash in the 4.39 to 4.4 range and ran routes while hauling in nearly 50 passes. One source described Moss as being more impressive than anticipated, saying that he is in great shape."
And, of course, Moss is
impressing the 49ers
this offseason. The situation in San Francisco appears more stable than the ones in Oakland or Minnesota (the second time). Perhaps the results will be better as well.