September, 2, 2014
Sep 2
8:00
AM ET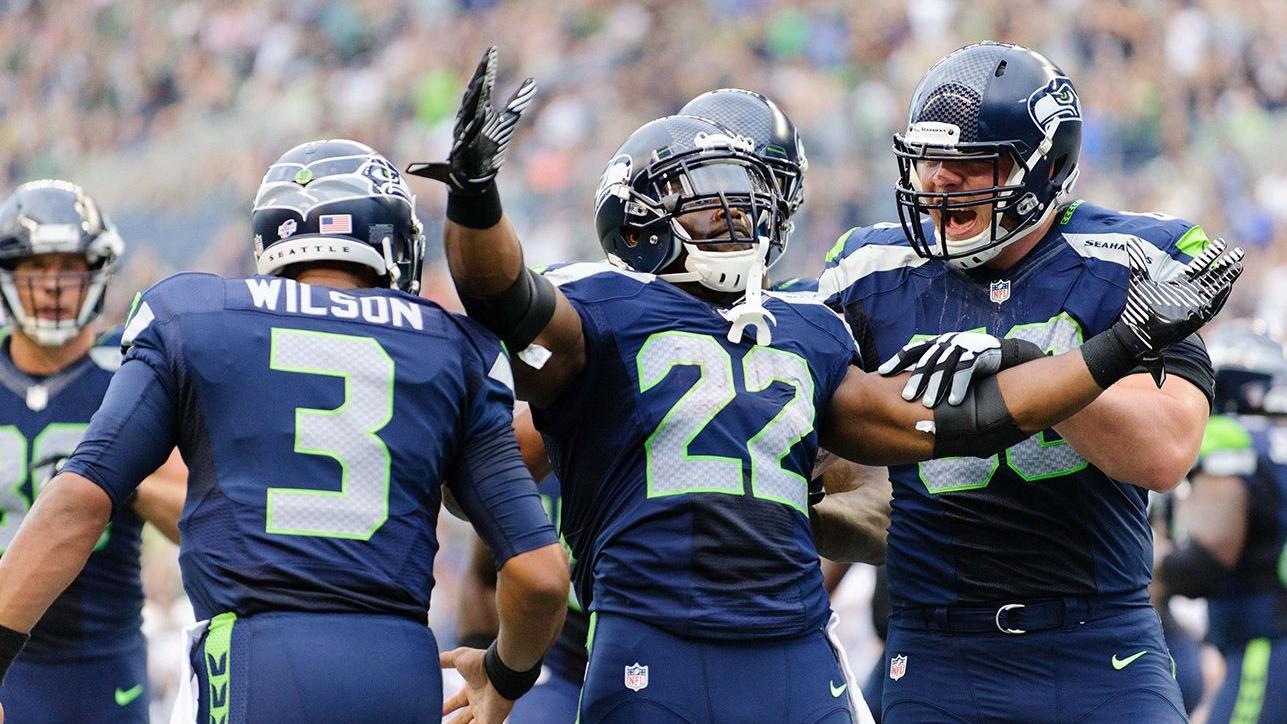 ESPN.com
Seattle Seahawks
reporter Terry Blount makes his game-by-game picks for the 2014 season.
Week 1: Green Bay Packers
All the pregame hype will center around the so-called Inaccurate Reception, the controversial Hail Mary catch by Golden Tate two years ago that won the game over the Packers at Seattle on a Monday night. Tate has moved on to Detroit, but the Seahawks now have too many weapons for the Packers to stop, no Hail Mary required. Prediction: Win
---
Week 2: at San Diego Chargers
The Chargers better hope they play a lot better than they did in the preseason game at Seattle, a 41-14 victory for the Seahawks on Aug. 15. San Diego will play better, but not good enough to beat a much better team. Prediction: Win
---
Week 3: Denver Broncos
The Broncos and their fans got a tiny bit of meaningless Super Bowl revenge in the preseason opener with a 21-16 victory over the Seahawks in Denver. Enjoy it while it lasts, boys. Repeating that outcome in Seattle is not an option. Prediction: Win
---
Week 5: at Washington Redskins
Traveling coast to coast to play on the road for a Monday night game is a tough task against any NFL opponent, and even tougher against quarterback Robert Griffin III. But the Seahawks catch a break in this one by coming off a bye week with plenty of time to prepare and be fresh for the journey. Prediction: Win
---
Week 6: Dallas Cowboys
Cowboys owner Jerry Jones gave Seattle a little bulletin-board material last month when he said the Seahawks were to blame for the increase in penalty flags during the preseason. There won't be near enough flags against Seattle for the Cowboys to win this one. Prediction: Win
---
Week 7: at St. Louis Rams
Any division game in the NFC West is a rugged battle. The Rams have a defensive line that gave the Seahawks problems a year ago. But they aren't strong enough overall to beat Seattle, even at home in their out-of-date dome. Prediction: Win
---
Week 8: at Carolina Panthers
The Seahawks were fortunate to win the season opener at Charlotte a year ago. That Panthers team was better than this one, but back-to-back road games against very physical defensive teams will end the Seattle winning streak. Prediction: Loss
---
Week 9: Oakland Raiders
Coming off their first loss of the season and returning home against an outmanned opponent, is there any doubt? Prediction: Win
---
Week 10: New York Giants
The Seahawks easily defeated the Giants 23-0 last year in New Jersey, a dress rehearsal for their Super Bowl victory at the same location -- MetLife Stadium. The Seahawks won't need a rehearsal to roll past the Giants in this one. Prediction: Win
---
Week 11: at Kansas City Chiefs
This likely will be a low-scoring game between two strong defensive teams. Odds are against any team that has to try to win by matching its defense against the Seahawks' D. Prediction: Win
---
Week 12: Arizona Cardinals
The last time the Cardinals played at CenturyLink Field was last December when they handed the Seahawks a 17-10 loss. That won't happen again unless the Seahawks get caught looking ahead to the 49ers game. The Seahawks don't look ahead. Prediction: Win
---
Week 13: at San Francisco 49ers
It's a Thanksgiving night, national TV game in the 49ers' shiny new stadium against the hated Seahawks. If San Francisco can't win this one, its time as a championship contender is over. Prediction: Loss
---
Week 14: at Philadelphia Eagles
This is the toughest part of the season for the Seahawks with back-to-back road games against likely playoff contenders. But the 10 days between games will help and be enough of a cushion to keep Seattle from losing two in a row. Prediction: Win
---
Week 15: San Francisco 49ers
This is a game that could decide which team wins the NFC West. No way the Seahawks lose to the 49ers twice in three weeks, especially not in front of a rabid full house of 12s. Prediction: Win
---
Week 16: at Arizona Cardinals
The Cardinals probably will be fighting for a playoff spot, and the Seahawks already will be in at 12-2. That difference will be just enough for Arizona to win at home in the same stadium where the Seahawks will win the Super Bowl a few weeks later. Prediction: Loss
---
Week 17: St. Louis Rams
For the second consecutive year, the Rams close the regular season in Seattle. And for the second consecutive year, the Seahawks will beat them without much trouble. Prediction: Win
---
Predicted Record: 13-3
January, 31, 2010
1/31/10
12:33
PM ET
NWCards from Mukilteo, Wash., writes:
Sando, what will the Cards do with the $11.5M they saved with the
Kurt Warner
retirement? How does it affect the free-agent situation? Do they get to sign a free agent with the same dollar value to replace him? Of course, this is the Bidwills we're talking about here. They may just want to keep the $11.5M.
Mike Sando:
Warner is retiring. He is not leaving as an unrestricted free agent. Therefore, the Cardinals do not get the benefits associated with losing a player in free agency (in terms of a compensatory draft choice and considerations related to being one of the final eight playoff teams).
Arizona definitely saves the $4 million Warner would have earned in base salary for 2010. Warner forfeited that money by retiring. The other $7.5 million to which you refer represents the second half of the $15 million that counted as the "signing bonus" he received upon signing the deal.
The bonus was set up like most large signing bonuses. The team scheduled the bonus in two payments of $7.5 million, one last year and one this offseason. It was pretty much a given that Warner would not receive the second payment if he retired after one season. He retired before receiving the second payment of $7.5 million, and obviously the Cardinals aren't going to pay it now. Teams set up large bonus payments this way so they're not left trying to recoup money after a player walks away.
Back to your point. The Cardinals will have $11.5 million in their pockets that they would have paid to Warner had he kept playing. This should help their short-term cash flow, but I also think they will not spend the money just because they have it. Warner was worth the money. Not everyone else is worth the money.
The NFL is heading into an uncertain labor situation. Teams will be less excited about committing big money on long-term contracts. I would not expect the Cardinals to rush out and find ways to spend that money. If you blame that solely on the Cardinals' ownership, you're probably overlooking the fact that a lot of teams will proceed that way.
---
Dylan from Washington, D.C., writes:
Hey Mike, I love the blog and I read it every day. I know a lot of readers have said it before, bus as a 49ers fan, it is hard to get quality info out east. My question is of course a draft question. I know the 49ers need a right tackle, a safety and a big-play/return man. I have read a lot of mock drafts saying they go tackle and safety in the first round, but I was thinking a different line and was wondering what you thought of it.
I read the scouting reports on Myron Rolle, and I liked him in college, and I was wondering if the 49ers would consider holding off until the second round and pick up Rolle to eventually replace Lewis at strong safety so that they can draft someone like C.J. Spiller with 13 and the best offensive tackle available with 16?
Mike Sando:
Thanks for the support. I would take no issue with the 49ers waiting until after the first round to take a safety. I could even see them waiting until after the first round to take an offensive lineman, although they do need to find their next right tackle.
Safety generally is not a premium position. If you take one in the first round, that safety should be a dynamic talent, not just an OK starter. Very few safeties affect the game enough to justify picking one that early.
The perceived need at running back is a bit odd because the team has
Frank Gore
and 2009 third-rounder
Glen Coffee
already on the roster, while
Michael Robinson
is another running back commanding a roster spot. Is that really the position where the 49ers need to find their return guy? Or might the team be wiser using an earlier pick on a cornerback prospect who could help on returns before developing into a starter? I'm not sure I know the answer. It does seem as though the 49ers could use a change-of-pace running back.
---
Tim from Orlando, Fla., writes:
The Rams are bad now, but historically they are far from inept. Since 1974, the Rams have played in nine conference title games and three Super Bowls.
Mike Sando:
I wondered if someone would take issue with
my use of the word "inept"
to describe the state of the Rams and Cardinals before Kurt Warner arrived. The Rams had posted nine consecutive losing seasons before Warner and the 1999 team produced a 13-3 record. That is pretty inept.
The Cardinals' situation might bear revisiting. Warner was actually 3-12 as a their starter over a two-year period before things began to change under Ken Whisenhunt in 2007. I had associated the revival more with the 2008 season, when Whisenhunt committed to Warner as the starter.
---
IdahoVandalHawk from Bend, Ore., writes:
Hey Mike, maybe this is a stupid question, but why do you think the "head coach in waiting" idea worked so well for Jim Caldwell and the Colts and so poorly for Jim Mora and the Seahawks?
Many fans and members of the media felt that the Holmgren-to-Mora transition was doomed from the start. When Caldwell was named the successor to Tony Dungy a year before Dungy retired, did we hear any complaints from Indianapolis? Obviously, having
Peyton Manning
on your team can't hurt, but it can't be all Peyton, can it? Your thoughts? Thanks.
Mike Sando:
It can be 50 percent or 75 percent Manning, and that is a huge difference. We also need to consider the personalities of the people involved, and the football leadership of both organizations.
Mike Holmgren made it known over time that he wasn't all that excited about the team naming Mora as his successor. It wasn't that Holmgren had anything against Mora. He just would have preferred if the whole transitional thing hadn't been announced. He also didn't like it when people made it seem like he was a big backer of the plan, when in reality that move was largely a Tim Ruskell production.
For the Colts, Dungy was very much behind the decision to elevate Caldwell. Dungy also doesn't seem to let his ego factor into these personal interactions as much as the people in Seattle allowed egos to affect the dynamics. That is another big difference.
Also, the Colts have a very strong football operations man in president Bill Polian. The Colts have drafted very well under Polian even though they routinely pick later than most teams (Manning helps make those picks look better, but still, the bottom line is the same).
Taking those factors into account helps explain why things worked so well for the Colts. Remove any one of those factors -- particularly the talent that leads to winning, which makes everything OK -- and things can break down quickly.
January, 13, 2010
1/13/10
1:20
PM ET
It's easy to look past the Rams and 49ers this week with the Seahawks hiring Pete Carroll and the Cardinals preparing for the Saints.
Here's a Rams-centric mailbag. I'll hit on some 49ers stuff separately.
Brian from Kent, Wash., writes:
Do you see the Rams drafting Ndamukong Suh or trading the No. 1 pick? Also, I have heard rumors that the rams are after Mike Vick.
Mike Sando:
It's tough getting teams to trade into the top spot, or even the top five, from lower in the round. The Rams would want the top pick if there were an obvious choice for the No. 1 pick. If
Peyton Manning
were in this draft, the Rams would keep the pick, right? I just don't see that type of obviously superior quarterback talent in this draft. For that reason, the Rams are probably stuck with the pick.
Picking a quarterback that early forces teams to pay a premium price relative to other positions in the draft (if not relative to quarterbacks already in the league). I'm not sure the Rams will see a quarterback worth the price. That could lead them to the veteran trade market, where Vick stands out as one of the better options.
The price a team pays for a player defines the risk. Adding Vick for the right price makes more sense now than it would have a year ago. One, Vick has kept a low profile and stayed out of trouble, to the best of our knowledge. Two, he spent the past season learning the offense St. Louis uses. It's still fair to question how he would fare over a 16-game schedule. The Rams would have a chance to lead the league in rushing yardage with Vick and
Steven Jackson
on the same team, but leading the league in rushing isn't necessarily a worthy goal.
The Rams need more from their passing game and better health on their offensive line.
---
Jesse from Fallbrook, Calif., writes:
Up until the last few weeks of the season, I was hoping the Rams would pursue OLB
Derrick Johnson
, S
Nick Collins
and QB
Jason Campbell
. I am quickly thinking that all three will be nearly impossible. Nick Collins is now a two time Pro Bowler and will cost more than
Oshiomogho Atogwe
. Johnson had two picks for six in the last week of the season. Way to leave an impression on the front office before your contract expires. Campbell will be a restricted free agent with an uncapped season. And he might fit Shanahan's offense nicely.
Now I am thinking we move
Quincy Butler
to free safety if his cover skills will warrant the move, and attempt to draft Myron Rolle (fourth round) at strong safety and A.J. Edds (third round) at SLB. And hope for Sean Canfield to slip to the fifth. I'd hate to use both fives to get back up to get him or someone similar. Your thoughts?
Mike Sando:
Campbell is probably the best quarterback option for the Redskins. Here is
what Shanahan said about him
, according to the Washington Post: "I just love the way Jason handles himself. I'm looking forward to sitting down and watching film and going through every play that he's had throughout his career, and looking forward to sitting down and talking with him. Hopefully the best years are ahead. But that's a process that will take some time."
Doesn't sound like Shanahan will be in a hurry to trade him. In Green Bay, Collins just finished his fifth season in the league. He is part of the 2005 draft class. Without a new collective bargaining agreement, Collins reverts to being a restricted free agent. Same goes for the Chiefs' Johnson and even Atogwe.
Butler is listed at about 190 pounds. He has good height, but I'm not a big fan of having players change positions. Butler, while promising, isn't a top-flight corner. What makes us think he would become the answer at safety?
Free agency could be even worse than usual this season if the NFL remains without a CBA. Fewer players will hit the market as unrestricted free agents.
---
Adam from Mesa, Ariz., writes:
Should the Rams follow the Chargers' example in 2004 and trade a coveted player in the draft for several high picks? They are similar to San Diego in that they already have the all-world running back in Steven Jackson (compared to San Diego with
LaDainian Tomlinson
in 2004) and have the No. 1 overall choice.
The Lions or the Bucs make sense since they both need Ndamukong Suh and both drafted a quarterback last year. Should the Rams build up Ndamukong Suh, then trade him at the last minute for as much as they can get, even if its a discounted price, instead of taking the perceived best player available? Our precedent is the 2004 draft with
Eli Manning
and
Philip Rivers
(the No. 1 overall for the No. 4 overall, a third-rounder in 2004 and a first- and fifth-rounder in 2005).
If the Rams offer the No. 1 overall to either team for say, the No. 2 or No. 3 overall and a second-rounder this year and second-rounder next year, it might be a discount, but would that be better than one dominant player this year? What are your thoughts?
Mike Sando:
The Rams could benefit from having multiple picks. They also need difference makers. This team hasn't found truly elite, high-impact players at the top of the draft recently. The important thing becomes determining whether Suh will be that type of player relative to other players available near the top of the draft.
The 2004 draft did feature a couple of highly regarded quarterbacks. The Chargers and Giants both came away with quarterbacks who have since won playoff games. The 2010 draft doesn't necessarily seem to feature quarterback prospects as highly regarded as Manning and Rivers were six years ago.
The bottom line, I think, is that other teams will not be willing to trade into the top pick. Recent history tells us it's a tough sell.
---
Jason from St. Louis writes:
Even if they have to take less than market value for the No. 1 overall choice, don't they need to get away from the money a top five pick makes after drafting the last two No. 2 overall picks? Suh may end up being one of the greatest lineman of all time, but do we know for sure that is going to happen? And just for the opportunity for that to happen, he gets a rookie contract for about what
DeMarcus Ware
makes. I don't know that any team could carry three contracts the size these three young gentlemen will be making.
Even without a cap next year, a cap has to come back in any CBA, right? And this team is setting itself up to be in serious cap trouble. The Rams let
Chris Draft
go over I think $700,000 before this year because of cap issues. Giving Suh $70 million over six years isn't going to help matters. If the Rams could get a late first and a couple second-rounders, you have to make that deal, right? And with Suh at the top, someone has to be willing to give that up for him.
Mike Sando:
The Rams have dramatically improved their salary-cap outlook. Cap space is not going to be a problem. The Rams' cap guy, Kevin Demoff, left the Bucs with tens of millions in cap space when he took the job in St. Louis. He knows how to create room. Cash could be more of a concern than cap space. The Rams are looking for a buyer. Their wallet is only so deep.
The decision on Draft was also a value judgment based on the fact that he was an older player on the decline. Keeping him on the roster for Week 1 would have forced the Rams to guarantee his full salary. Once they cut Draft, it's not like a long line of teams rushed out to sign him.
There's no way the Rams could justify dropping from the first pick to the bottom of the first round. They need playmakers. They're more likely to find one in the top five or 10 than if they trade all the way to the bottom of the round.
---
Rob from Asheville, N.C., writes:
Mike, can
Adam Carriker
be an effective starter in the NFL? If so, can the Rams pass on Suh and take Anthony Davis or Eric Berry? Is Suh dominant enough that somebody would actually offer the Rams a package to move up to No. 1?
Mike Sando:
The Rams cannot bank on Carriker being healthy, let alone becoming an effective starter. They might have hope for him, but they cannot count on him. Any decision they make on Suh probably has to stand on its own, not in relation to what they might get from Carriker.
The Rams spent last offseason beefing up the offensive line. They need to work more on the defensive line this offseason. Steve Spagnuolo will want depth up front so he can create the type of rotation he enjoyed while with the Giants.
Drafting Davis first overall wouldn't make a great deal of sense after the Rams used the second overall choice for another offensive tackle, Anthony Davis. Berry has playmaking ability, which the Rams need, but can they afford to focus so much of their resources on a back-end player? Seems to me the Rams will want to upgrade their front four and front seven first.
April, 10, 2009
4/10/09
11:55
AM ET
Posted by ESPN.com's Mike Sando
Bronson from Montana writes: I've heard the Browns say that they are up to trading pretty much everyone on their roster. Considering that Shaun Rogers wants out, what do you think about the Niners making a move for him? I think this would be a big upgrade for our 3-4 scheme that will actually be a 3-4. Didn't they give up a middle to late rounds pick for him last offseason? Thanks again Mike!!
Mike Sando: Rogers wanted out of Detroit and now he wants out of Cleveland. I'm sensing a pattern here. We can pick apart the Lions in a lot of ways, but their head coach at the time, Rod Marinelli, has been one of the top defensive line coaches in the league for years. Red flags should go up when a top defensive line coach trades a talented defensive lineman.
If I were the 49ers, I wouldn't give up much for a 30-year-old defensive lineman with a history of weight problems, injuries and wanting to be traded.
---
Mr. Pickles from parts unknown writes: Hey Sando, what are your thoughts on the 49ers going after Braylon Edwards? He'd give them a receiver with true #1 potential, and would have to help spread the field more for Frank Gore. Do the 49ers have the pieces to make it happen, and if you're the GM, do you go for it?
Mike Sando: Can the Browns afford to move Edwards now that Donte Stallworth is looking at a potential prison sentence? Is it a good sign for the 49ers when multiple fans think raiding the 4-12 Browns can help upgrade the roster?
In all seriousness, Edwards would upgrade the 49ers' offense, no question. Seems to me the 49ers are emphasizing building through the draft, not trading away picks.