NFC West:

Nate Washington
September, 26, 2012
9/26/12
12:23
PM ET
Larry Fitzgerald
is the NFC's offensive player of the week after playing a key role in the
Arizona Cardinals
' 27-6 victory against Philadelphia.
Fitzgerald
Fitzgerald's key 37-yard scoring reception and the Cardinals' 3-0 record combined to make him a worthy choice even though his nine catches for 114 yards did not represent an off-the-charts statistical line by his elevated standards.
Somewhat amazingly, Fitzgerald
never won the weekly NFC award
during his first 116 career games. He has now won it twice in his past 11 games.
The chart, from ESPN Stats & Information, ranks wide receivers by yardage totals for Week 3. Note that Fitzgerald caught all nine passes thrown his way.
Congrats to those of you who left Fitzgerald in your fantasy lineups following a slow first couple games. That list would include my 7-year-old son, but not my wife. Live and learn. The great ones produce eventually.
Related:
Chris Brown's piece
for Grantland.com on Fitzgerald's big play against the Eagles.
May, 19, 2012
5/19/12
9:00
AM ET
There's little sense in taking the bait when
San Francisco 49ers
coach Jim Harbaugh tells a radio program
Michael Crabtree
"
has the best hands I've ever seen
on a wide receiver."
Anyone with a strong grasp of NFL history would place Cris Carter, Raymond Berry and Steve Largent on a short list for receivers with the surest hands.
Hall of Famer Ken Houston, speaking for
a 2008 piece
on all-time great wideouts, stood up for AFL stars Otis Taylor and Lionel Taylor.
"Lionel Taylor, I mean, he would catch a BB," Houston said.
Green Bay Packers
general manager Ted Thompson, speaking for the same piece, said
Randy Moss
, then with New England, had the best hands in the NFL at that time (2008).
"A lot of guys can catch," Thompson said then. "He can catch on any platform, as we say in scouting. He can adjust and catch it over the top of somebody's head, catch it falling down, and it doesn't matter if he is covered."
With Moss now on the 49ers, it is possible Crabtree does not possess the best hands among wide receivers on his own team.
Oops. I wasn't going to take the bait on this one, but now it's too late. Time to regroup.
Bottom line, I suspect Crabtree has impressed Harbaugh this offseason, and Harbaugh would like that to continue for as long as possible. By offering such strong public praise for Crabtree, Harbaugh is setting a standard for Crabtree to meet this season. He realizes Crabtree has the ability to meet that standard, or else he wouldn't make the statement.
We should all recall Harbaugh's calling quarterback
Alex Smith
"elite" and promoting him for the Pro Bowl last season. Then as now, Harbaugh was standing up for his guy. Smith enjoyed the finest season of his career and even outplayed the truly elite
Drew Brees
at times during the 49ers' playoff victory over New Orleans. The way Harbaugh backed Smith played a role in that performance, in my view.
Back to Crabtree. He has the ability to rank among the most sure-handed receivers in the game. He has not yet earned that status, but now he has little choice, right?
As the chart shows, Crabtree finished the 2011 season with 12.2 receptions per drop, which ranked 28th in the NFL among players targeted at least 100 times.
Larry Fitzgerald
led the NFL with 80 receptions and only one drop. Those numbers are according to ESPN Stats & Information, which
defines drops
as "incomplete passes where the receiver should have caught the pass with ordinary effort."
Crabtree suffered six drops last season by that standard, a few too many for the player with the best hands his head coach has ever seen on a wide receiver.
November, 9, 2010
11/09/10
3:00
PM ET
»
NFC High Energy
:
East
|
West
|
North
|
South
»
AFC
:
East
|
West
|
North
|
South
A look at a player who gave his team a significant boost in Week 9.
I'd be OK renaming this award for the
Arizona Cardinals
'
LaRod Stephens-Howling
if his name would fit in the headline.
Perhaps we could simply hyphenate the "High Energy" part in his honor.
[+] Enlarge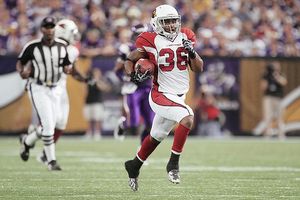 AP Photo/Andy BlenkushLaRod Stephens-Howling returned a kick 96 yards for a score in Sunday's loss at Minnesota.
Stephens-Howling would merit consideration even without the game-breaking kickoff returns he provides on occasion. The second-year running back has been a force on special-teams coverage units, putting his 5-foot-7 frame on the line against much larger men. He's also a threat on offense, having scored on a 30-yard run in Week 8.
A seventh-round draft choice from Pitt in 2009, Stephens-Howling broke a 96-yard kickoff return for a touchdown against Minnesota in Week 9, giving Arizona needed life right after the Vikings took a 7-0 lead. The Cardinals had lost the early momentum after
Kerry Rhodes
failed to protect the football during the final stages of an interception return, ultimately losing the ball as he approached the goal line for what should have been a Cardinals touchdown.
Stephens-Howling caught the kickoff just inside the Cardinals' left hash and cut to his right. He crossed the right hash at the 15, hit full stride inside the yard-line numbers near the 30 and then cut back toward the right hash as Vikings kicker
Ryan Longwell
flailed at him helplessly. There were key blocks -- safety
Hamza Abdullah
and linebacker
O'Brien Schofield
on Vikings linebacker
Jasper Brinkley
, defensive end
Alan Branch
on Vikings cornerback
Chris Cook
, fullback
Jason Wright
on Vikings cornerback
Asher Allen
, tackle
Jeremy Bridges
on Vikings running back
Toby Gerhart
, tight end
Jim Dray
on Vikings safety
Husain Abdullah
, Hamza's brother -- but the little guy with the football made them all look good.
"He's obviously a dynamic player," Cardinals coach Ken Whisenhunt told reporters Monday. "He does a lot of things very well for us. We all see the kickoff returns, but he does some other things for us in coverage and those aspects that are invaluable to us. We really have a good young player in LaRod."
Stephens-Howling has two kickoff returns for touchdowns this season and three in his career. Only Ollie Matson has more in franchise history (six between 1952 and 1958). Only Stephens-Howling, Matson and Les Goble have scored more than once on kickoff returns in the same Cardinals season. League-wide, Stephens-Howling is one of three players this season with multiple kickoff returns for touchdowns, joining New England's
Brandon Tate
and Seattle's
Leon Washington
.
December, 18, 2009
12/18/09
11:25
AM ET
The 49ers faced third-and-4 from their own 44 with less than 4 minutes remaining against Arizona in Week 14.
They were leading, 24-9, and trying to run time off the clock.
Quarterback
Alex Smith
took the shotgun snap from
Eric Heitmann
and looked left immediately. Receiver
Michael Crabtree
darted inside across the yard-line numbers from his spot wide to the left. Smith delivered the ball a little high. Crabtree caught it 2 yards short of the first-down marker, ducked and lunged forward for a 6-yard gain. The drive would continue.
The play marked the fifth time this season Crabtree has caught a pass short of the first-down marker and still converted on third down. Only three players have more than five conversions in these situations. Unlike Crabtree, those players did not miss the first five games during a contract dispute.