NFC West:

NFC West draft analysis
April, 28, 2012
4/28/12
6:17
PM ET
»
NFC draft analysis
:
East
|
West
|
North
|
South
»
AFC
:
East
|
West
|
North
|
South
The shift in NFL disciplinary emphasis from off-field behavior to on-field safety should serve the NFC West well over the coming months.
The division took calculated gambles early and often in the 2012 NFL draft, selecting players with rap sheets as varied as the players' on-field skill sets.
But player safety is trumping player behavior as the prevailing NFL issue these days, and NFC West teams aren't likely to draw much scrutiny for their decisions, at least initially.
Five of the first 10 players NFC West teams selected had, at various times, faced accusations relating to drunken driving (
Michael Floyd
), robbery (
Bruce Irvin
), marijuana possession (
Janoris Jenkins
), attempted strangulation (
LaMichael James
) and resisting arrest (
Trumaine Johnson
).
They were not all charged nor convicted. They are not necessarily bad guys, of course. But each carried red flags into the evaluation process. Each represents a heightened risk for his new NFC West team.
What's going on here?
A theory: Pete Carroll, Jeff Fisher and Jim Harbaugh, in particular, are three of the higher-profile, more highly paid coaches in the NFL. Higher-paid coaches tend to have more power (Carroll and Fisher demanded personnel influence as a condition of employment). Coaches also tend to listen to their assistants. They might be more apt to take chances, confident in their ability to manage players.
Cardinals coach Ken Whisenhunt, also
well-compensated
and facing a pivotal year at quarterback, has made it clear that he's a believer in
drafting with character in mind
. He also might need to win his bet on
Kevin Kolb
, perhaps one reason the Cardinals, having done their homework on Floyd, took the first calculated gamble among NFC West teams.
Arizona made Floyd the second receiver drafted, taking him at No. 13. Irvin went to Seattle two spots later, followed by Jenkins to St. Louis (39th), James to San Francisco (61st) and Johnson to the Rams (65th).
BEST MOVE
The Rams' pre-draft move to trade back four spots from the second overall pick set up their next three drafts, beginning with this one.
[+] Enlarge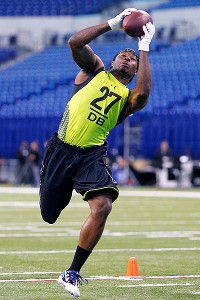 Joe Robbins/Getty ImagesManuevering for additional picks meant the St. Louis Rams could take a chance on defensive back Janoris Jenkins.
Moving back again from sixth to 14th overall brought a 2012 second-rounder in return, leaving the Rams with six of the first 96 overall selections -- the most for any team in recent seasons (New England had six of the first 97 picks in the 2009 draft).
With three second-round choices this year, the Rams felt comfortable taking a chance on Jenkins, a player widely regarded as a first-round talent. Jenkins might have the ability to make this draft for the Rams, but taking him at No. 39 and amid so many other early selections insulated the team from undue risk.
The Rams move forward with four first-round selections over the next two drafts. They're in position to get better the right way through the draft.
RISKIEST MOVE
There were a few candidates for consideration, including the Cardinals' decision to draft a wide receiver instead of an offensive tackle at No. 13.
But Irvin's selection with the 15th overall choice stands out given his background, one-dimensional nature and the surprise factor associated with his selection.
Irvin dropped out of high school, lived on the streets for two years, was arrested on robbery charges and more recently was charged with disorderly conduct. His life and career have been trending in the right direction for a few years, but with so few analysts projecting Irvin for the first round, the Seahawks can expect louder than usual criticism if Irvin fails to develop.
Seattle could have drafted
Fletcher Cox
,
Quinton Coples
,
Michael Brockers
,
Melvin Ingram
or
Chandler Jones
among the defensive players available when the Seahawks were scheduled to select with the 12th overall choice. They traded back and took Irvin after Philadelphia took Cox at No. 12 and St. Louis took Brockers at No. 14.
MOST SURPRISING MOVE
We could double up on Irvin in this space, but the 49ers deserve a mention as well.
They made Illinois receiver
A.J. Jenkins
a surprise selection with the 27th overall choice. Analysts knew San Francisco might consider a receiver in the first round, but if any of them projected Jenkins as a possibility in that slot, that would be news to me.
Personnel people I've spoken with said they liked Jenkins. The Rams reportedly had him ranked not far behind
Justin Blackmon
, the first receiver selected.
Receivers
Stephen Hill
,
Alshon Jeffery
and
Rueben Randle
drew more mention before the draft. All were available when the 49ers selected Jenkins, as were
Brian Quick
and
Ryan Broyles
, all taken in the second round. The 49ers will get an up-close look at Quick, drafted by the Rams. But Jenkins was the player they wanted.
FILE IT AWAY
The quarterback situations in Seattle and Arizona have become more competitive.
The Seahawks used a third-round choice for Wisconsin's
Russell Wilson
, a strong-armed quarterback with fantastic intangibles. Concerns over Wilson's 5-foot-11 height knocked him down draft boards, but a third-round pedigree in Seattle should put Seahawks quarterbacks
Matt Flynn
,
Tarvaris Jackson
and Justin Portis on notice.
Arizona used a sixth-round choice for San Diego State quarterback
Ryan Lindley
. The Cardinals have shown a willingness to let less-heralded quarterbacks compete for playing time.
John Skelton
and
Max Hall
over the last couple seasons come to mind. With Kolb and Skelton battling for the starting job, Lindley arrives as a potential alternative for the future.
The 49ers did not head into this draft needing to draft a quarterback, but this is a good time to recall the move they made to acquire
Colin Kaepernick
in the second round a year ago.
Alex Smith
is the incumbent starter, but his contract gives the 49ers an easy out after one or two seasons.
April, 24, 2010
4/24/10
5:00
PM ET
»
NFC draft analysis
:
East
|
West
|
North
|
South
»
AFC
:
East
|
West
|
North
|
South
The 2010 NFL draft should stand as a watershed event for the NFC West.
The division entered the draft with a league-high six first-round choices, and NFC West teams used those picks to fill obvious needs with highly rated players.
That's what stood out about this draft for the division. Teams filled obvious needs with almost every pick. There was less talk about drafting the best player available regardless of position. There were exceptions, like when the Rams valued tackle
Rodger Saffold
enough to take him 33rd overall even though they could have justified going in another direction from a need standpoint.
In most cases, however, perceived value aligned with need -- exactly what teams want from a draft. Some of those perceptions will prove incorrect, of course, but there's very little to complain about based on what we think we know.
The Rams found their franchise quarterback in
Sam Bradford
. The Seahawks found their replacement for all-world tackle
Walter Jones
, the sixth player chosen in 1997, when they drafted
Russell Okung
with the sixth pick this year. The 49ers finally addressed a lingering issue at tackle when they drafted
Anthony Davis
at No. 11. The Cardinals filled their primary need when nose tackle
Dan Williams
fell to them somewhat unexpectedly at No. 26.
Every NFC West team emerged from this draft legitimately able to claim things went their way. Three of the four second-round choices -- Saffold (Rams), safety
Taylor Mays
(49ers) and receiver
Golden Tate
(Seahawks) -- were widely considered likely first-round choices by general managers I spoke with in recent weeks.
"I thought, overall, the NFC West killed it," Steve Muench of Scouts Inc. said.
Best move
[+] Enlarge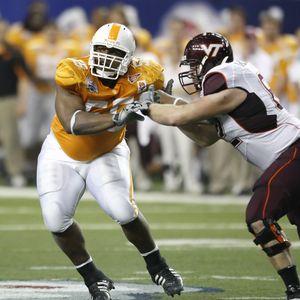 Todd Kirkland/Icon SMIDan Williams recorded 62 tackles during his senior season at Tennessee.
The Cardinals' ability to land Williams at No. 26 without maneuvering stood out.
Arizona was picking later in the first round than any team in the division, but the Cardinals' need at nose tackle was significant. Most mock drafts suggested Williams could go 12th to the Dolphins. The Cardinals said they had Williams rated 11th overall.
Those factors, coupled with the growing list of other teams running 3-4 defenses, put pressure on Arizona to consider moving up for Williams as its pick approached. The team held an extra third-round choice, so the Cardinals had options. But instead of panicking, they let the draft come to them.
Arizona has emerged from its past three drafts with Pro Bowl cornerback
Dominique Rodgers-Cromartie
(2008), ascending running back
Beanie Wells
(2009) and now Williams despite picking in the last half of the first round each time. Those are building-block players.
Coach Ken Whisenhunt has pushed the Cardinals toward a purer version of the 3-4 predicated on strong play from the nose tackle position. Arizona already has a Pro Bowl left end in
Darnell Dockett
and a strong starter at right end in
Calais Campbell
. Adding Williams to the mix could help the Cardinals become more consistent defensively.
"He has the potential to be their franchise nose tackle with the potential to develop into a
Vince Wilfork
,
Jamal Williams
-type player," Muench said. "We were really high on
Maurkice Pouncey
, the center/guard from Florida. These guys really got after each other in the Florida-Tennessee game. You get a sense when he makes the jump in the NFL, he is definitely is going to be able to hang."
Riskiest move
Drafting a quarterback first overall carries great risk when that quarterback has had trouble staying healthy.
Bradford was the smart choice for the Rams at No. 1 based on their obvious need at the position. But so many factors go into determining whether a quarterback succeeds ultimately.
Steve Young has stressed the importance of having a strong organization with the right mix of top-notch offensive coaches. Are the Rams a strong organization right now? Do they have the right mix of top-notch offensive coaches? It's tough to answer those questions definitively in the affirmative at this point.
Throw in the question marks surrounding Bradford -- his health, how he'll adjust to an NFL offense -- and it's clear the first overall choice was also the riskiest one.
"There are concerns about Bradford and I get it," Muench said. "Anytime you are in an offense where you turn to the sideline to get the play, there are questions. I think he is so smart, he can make the transition to a pro-style offense and two, he can beat pressure because he's smart. He'll learn where pressure is going to come from."
Most surprising move
The 49ers sacrificed a fourth-round pick in moving up two spots to No. 11 before selecting Davis out of Rutgers. San Francisco then took Idaho guard
Mike Iupati
with the 17th overall choice.
I figured the 49ers were excited about upgrading their offensive line. I figured coach Mike Singletary would have more input following Scot McCloughan's departure as general manager five weeks before the draft. I still didn't expect the 49ers to be so aggressive and emphatic in their effort to beef up their offensive front.
The 49ers punctuated their first round with exclamation points.
The picks they made might be wise ones. I was just surprised they would double up on the offensive line early while trading up to get it done.
File it away
The Seahawks and Cardinals invested fourth-round choices in talented defensive players coming off serious knee injuries.
Look for cornerback
Walter Thurmond
(Seattle) and pass-rusher
O'Brien Schofield
(Arizona) to emerge as more significant contributors in 2011. Both would have been drafted much earlier if healthy.