NFC West:

NFC West Final Word
December, 28, 2012
12/28/12
1:30
PM ET
»
NFC Final Word
:
East
|
West
|
North
|
South
»
AFC
:
East
|
West
|
North
|
South
Five nuggets of knowledge about Week 17:
Three of a kind.
Not since 1991 have three NFC West teams finished a season with winning records. It could happen in 2012 if the
St. Louis Rams
upset the
Seattle Seahawks
on Sunday. The Rams would finish 8-7-1 with a victory. Seattle and San Francisco already have 10 victories apiece. The 1991 NFC West race finished with New Orleans (11-5), Atlanta (10-6) and San Francisco (10-6) ahead of the Los Angeles Rams (3-13). Also with a victory, the Rams would become the second team since the merger to post an undefeated division record without qualifying for postseason.
[+] Enlarge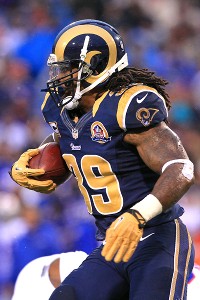 Kevin Hoffman/USA TODAY Sports Steven Jackson is nearing another milestone. closing in on his eighth consecutive 1,000-yard season.
Making history.
The Seahawks have never finished a season ranked first in fewest points allowed. Seattle enters Week 17 having allowed 232 points, fewest in the NFL by 21 points. Chicago has allowed 253. The 49ers have allowed 260. Seattle has allowed 17 or fewer points in its past four games, the Seahawks' longest streak since 2003 and 2004.
Milestone weekend.
Steven Jackson
,
Russell Wilson
and
Aldon Smith
are chasing milestones as the regular season wraps up.
The Rams' Jackson needs 10 yards rushing for his eighth consecutive 1,000-yard season, which would tie LaDainian Tomlinson and Thurman Thomas for fourth behind Emmitt Smith (11), Curtis Martin (10) and Barry Sanders (10).
Seattle's Wilson has 25 touchdown passes, within one of
Peyton Manning
's rookie record. Wilson, with a 98.0 NFL passer rating, also has a shot at breaking
Matt Hasselbeck
's single-season franchise record (98.2).
Smith, with 19.5 sacks, needs three to break Michael Strahan's single-season record for sacks. Houston's
J.J. Watt
(20.5) is nearer the record, however.
Stopping the bleeding.
The 49ers have been outscored by 50 points and allowed more than 700 yards over their past five-plus quarters. That is nearly as much yardage as the 49ers allowed over a 12-quarter stretch of games against Chicago, New Orleans and St. Louis. The trend is about to end. The 49ers' Week 17 opponent, Arizona, has 735 yards in its past four games. The Cardinals'
Brian Hoyer
is making his first NFL start at quarterback.
Crabtree's time.
The NFC West is in danger of finishing without a 1,000-yard receiver for the first time since the NFL realigned into eight four-team divisions in 2002. The 49ers'
Michael Crabtree
needs 67 yards against Arizona to become the team's first 1,000-yard receiver since
Terrell Owens
in 2003. Arizona's
Larry Fitzgerald
needs 215 yards to reach 1,000 for the sixth consecutive season. Seattle's
Sidney Rice
needs 252 yards for 1,000. Crabtree is averaging 91.5 yards per game since Week 13, sixth-most in the NFL.
ESPN Stats & Information contributed to this item.
December, 14, 2012
12/14/12
1:30
PM ET
»
NFC Final Word
:
East
|
West
|
North
|
South
»
AFC
:
East
|
West
|
North
|
South
Five nuggets of knowledge about Week 14:
Chasing Brady, record:
San Francisco 49ers
outside linebacker
Aldon Smith
needs three sacks to tie the NFL's single-season record since 1982, when sacks became an official NFL stat.
While Smith will be matching up primarily against the
New England Patriots
' offensive tackles Sunday night, quarterback
Tom Brady
looks like his toughest adversary. Brady has taken 20 sacks on 517 dropbacks this season. He has held the ball three or fewer seconds on 70 percent of pass attempts. That means Smith and the 49ers' pass-rushers need to work quickly.
The 49ers have collected 24 of their 32 sacks this season after three seconds. That included all five of their sacks against New Orleans'
Drew Brees
, another tough-to-sack quarterback. San Francisco beat Brees thanks largely to a pair of interception returns for touchdowns. While Brady has thrown only four picks all season, he threw three of them during defeats to NFC West teams (Seattle, Arizona).
49ers scoreboard watching:
The 49ers have scored at least 27 points in two of their past three games. That looks good on paper, but the offense hasn't always been functioning at optimum efficiency. Interception returns accounted for 14 of 31 points against New Orleans. Then, after a 16-13 defeat at St. Louis, the 49ers scored only six first-half points against the
Miami Dolphins
before pulling away to win 27-13.
New England has held its past three opponents beneath 20 points, the Patriots' best three-game stretch since 2009. The 49ers are 1-3 when failing to score 20 points.
Waiting game:
Coaches generally instruct their quarterbacks to deliver the football in timely fashion. The sooner the better, sometimes. There are still times when good things come to those who wait.
Seattle Seahawks
receiver Sidney Rice ranks tied for the NFL lead with four touchdown receptions on throws delivered at least four seconds after the snap.
Week 15 opponent Buffalo has allowed eight such touchdown passes, most in the NFL. Quarterback
Russell Wilson
's willingness to hold onto the ball is one key variable. One question this week is whether a foot injury will sideline Rice or limit his effectiveness. Rice has avoided concussions the past two weeks despite taking huge hits. He's unsure when he suffered the foot injury, but it has kept him from practicing.
Third-down prowess:
The
St. Louis Rams
' Week 15 opponent, Minnesota, has surrendered first downs on 44 percent of third-down pass attempts, the highest rate in the league.
Can the Rams take advantage? Quarterback
Sam Bradford
has been outstanding on third down during fourth quarters and overtime. His 86.9 Total QBR in those situations ranks fifth in the NFL. Unfortunately for the Rams, Bradford ranks 35th out of 36 qualifying quarterbacks in third-down QBR during the first three quarters of games. He's at 7.6, ahead of only Arizona's recently benched
John Skelton
.
Ben Roethlisberger
(92.2), Brady (89.6) and
Aaron Rodgers
(84.8) lead the NFL in third-down QBR across all quarters. Bradford ranks 29th at 20.1. He has three touchdowns, three interceptions, 16 sacks and a 54.8 completion percentage on third down this season.
Third-down improvement could be key as the Rams try to follow through on coach
Jeff Fisher's stated priority
: keeping Vikings running back
Adrian Peterson
off the field.
Where Fitz stands:
Arizona Cardinals
quarterback
Ryan Lindley
has completed six of 30 attempts when targeting top receiver
Larry Fitzgerald
. That is one reason Fitzgerald ranks only fourth in receiving yardage among NFC West players this season.
Fitzgerald ranks second on his own team behind
Andre Roberts
even though Roberts has 42 fewer targets (126-84) and one fewer game played.
Michael Crabtree
(761), Roberts (675) and Rice (658) have more receiving yardage than Fitzgerald (652) this season. The Rams'
Chris Givens
(584),
Danny Amendola
(576) and
Brandon Gibson
(537) have a chance to overtake Fitzgerald.
ESPN Stats & Information contributed to this item.
November, 23, 2012
11/23/12
1:30
PM ET
»
NFC Final Word
:
East
|
West
|
North
|
South
»
AFC
:
East
|
West
|
North
|
South
Five nuggets of knowledge about Week 12:
Fateful QB decision:
If carried out as expected, the
San Francisco 49ers
' move to replace Alex Smith with
Colin Kaepernick
will be the most scrutinized decision in the NFL this week and perhaps all season.
Smith has completed 25 of his past 27 passes. The 49ers have posted a 19-5-1 record the past two seasons with Smith in the lineup. Smith has 38 touchdowns with 11 interceptions in his past 30 starts dating to late in the 2010 season. His Total QBR score has risen from a sub-average 45.8 last season to 69.8 this season. The latter figure ranked ninth in the NFL through Week 11 and would represent Pro Bowl-caliber play if sustained over a full season.
What's not to like? Smith ranks only 25th in third-down QBR at 32.0. That is up from 22.0 last season, but it's still not good enough.
Smith has done a disproportionate amount of damage on early downs, when opponents must account for the 49ers' formidable ground game. His QBR score on first and second downs has jumped from 55.9 last season to 80.8 this season. Might the lagging third-down production point to limitations the 49ers think Kaepernick can transcend?
Kaepernick hasn't played enough to draw meaning from his third-down performance. So far, though, so good. The second-year pro has completed 7 of 12 passes for 123 yards on third down. He has one passing touchdown and one rushing touchdown. His third-down QBR score (65.6) would mark a significant improvement if maintained over time.
[+] Enlarge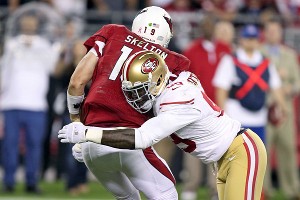 AP Photo/Paul ConnorsAldon Smith (99) is poised to become the NFL's all-time leader in sacks over a player's first two seasons.
Chasing down history:
49ers outside linebacker
Aldon Smith
needs two sacks to pass Derrick Thomas and tie Reggie White for the most sacks in a player's first two seasons since 1982, when sacks became an official stat. White had 31 in 1985-86. Thomas had 30 in 1989-90. Smith has 15 this season after collecting 14 as a rookie. Denver's
Von Miller
ranks sixth on the list with 24.5 in his first two seasons heading into Week 12.
Fresh-faced QBs:
Kaepernick, Seattle's
Russell Wilson
and Arizona's
Ryan Lindley
had not started an NFL game before this season. All three are expected to start in Week 12. That makes St. Louis'
Sam Bradford
, with 36 career starts, the most seasoned starting quarterback in the division this week. The NFC West is bucking a broader NFL trend, however. Teams will have used no more than 42 starting quarterbacks through Week 12, the fewest to this point in any of the past 20 seasons, according to Elias Sports Bureau.
Hitting the road:
Wilson has gone 5-0 at home with 11 touchdowns, zero interceptions and a 67.7 QBR score in those games. He heads to Miami in Week 12 having posted a 1-4 record on the road with four touchdowns, eight picks and a 47.3 QBR score. It's looking up for Wilson on the road, however. He completed 71.4 percent of his passes for 236 yards, two touchdowns and a 93.7 QBR score in his most recent road game, at Detroit. He's got a 70.7 QBR score for his past three road games, up from 23.6 for his first two. My feel is that Wilson has improved overall in recent weeks and that should translate to the road as long as his overall trajectory remains upward.
Welcoming back Wells:
Running back
Beanie Wells
' return from a toe injury comes after the Cardinals pumped up their yards-per-carry average from a league-worst 3.5 through Week 8 to an 11th-ranked 4.3 since Week 9, a span of two games for Arizona. Wells faces a St. Louis run defense that has improved since he gashed it for 228 yards in Week 12 last season. The Rams are allowing 4.1 yards per carry, down from 4.8 last season. No Rams team has allowed fewer yards per carry over a season since 2002. On a side note, the Cardinals need no worse than a tie to avoid becoming the first NFL team to lose seven consecutive games after a 4-0 start.
Note: ESPN Stats & Information contributed to this item.
October, 12, 2012
10/12/12
1:30
PM ET
»
NFC Final Word
:
East
|
West
|
North
|
South
»
AFC
:
East
|
West
|
North
|
South
Five nuggets of knowledge about Week 6:
All about third down.
The
San Francisco 49ers
' offense took considerable criticism after converting just once on 13 third-down plays against the
New York Giants
in the NFC Championship Game. The 49ers' defense deserves some third-down scrutiny heading into the rematch at Candlestick Park. The 2011 49ers held the Giants to 4.6 yards per play with no touchdowns on first and second downs during the teams' regular-season game last season. Everything changed on third down. The Giants averaged 8.8 yards per third-down play against the 49ers. They gained 127 yards and scored two touchdowns on 10 third-down pass attempts against the 49ers' nickel defense, without taking a sack. The 49ers were much better getting third-down pressure in the playoff rematch, but the Giants still averaged 7.2 yards per pass attempt with seven first downs on third-down plays against the 49ers' nickel defense.
Letting Welker catch it.
The Seahawks' matchup against Patriots receiver
Wes Welker
will be a difficult one. The key, coach Pete Carroll has said, will be for Seattle to limit the damage once Welker inevitably gets the ball in his hands. This probably is an underrated aspect of the Seahawks' league-leading defense. Seattle is allowing 4.09 yards after the catch per reception. That ranks second in the NFL behind Minnesota (3.9) and just ahead of Green Bay (4.12). The figure for Seattle was 4.9 last season and 5.8 in 2010. Welker averages 6.4 YAC/reception, a significant figure given how many passes he catches (NFL-high 30 over the past three games, with 6.5 YAC/reception on those catches). The Seahawks have allowed 3.6 YAC/reception against wide receivers lined up in the slot, where Welker lines up most of the time. That figure ranks 12th in the NFL (the range is 1.9 to 8.1, with 4.5 as average).
[+] Enlarge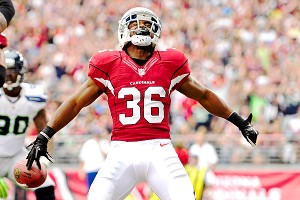 Matt Kartozian/US PresswireLaRod Stephens-Howling may now get more carries in Arizona with Beanie Wells and Ryan Williams injured.
Behold 'The Hyphen.'
LaRod Stephens-Howling
's return from a hip injury comes at the right time for Arizona. Fellow running backs
Beanie Wells
and
Ryan Williams
are out. Stephens-Howling has been a utility player for Arizona, not an every-down back, because he lacks the size needed to run on early downs, week after week. Desperate times call for desperate measures, however, and that could mean leaning on Stephens-Howling a little more regularly. The 5-foot-7, 180-pounder set career highs with 21 carries and 92 yards during a victory over Seattle in Week 17 last season. Four of his longest runs that day -- 39, 8, 8 and 7 yards -- came on first down with no more than two wide receivers on the field. Can Stephens-Howling,
William Powell
and
Alfonso Smith
help the NFL's worst rushing offense (2.7 yards per carry) exploit Buffalo's league-worst rushing defense (5.7 yards per carry allowed)?
First-and-Long.
The
Miami Dolphins
made left tackle
Jake Long
the first player chosen in the 2008 NFL draft. The
St. Louis Rams
took defensive end
Chris Long
with the second pick. Both players will be on the field at the same time when the Rams visit the Dolphins, but they'll be matching up against younger players. Jake Long faces 2011 Rams first-rounder
Robert Quinn
, who is coming off a three-sack game and has already exceeded his total for last season. Chris Long faces Dolphins right tackle
Jonathan Martin
, a second-round choice this year. Both Longs should like their chances in these matchups. If Quinn's speed can factor in the pass rush, perhaps St. Louis can force Dolphins quarterback
Ryan Tannehill
into mistakes.
Readying the stat sheet.
Last week, the 49ers had a 300-yard passer, a 100-yard rusher and two 100-yard receivers for the first time since 1961. Meanwhile, the Giants became the first NFL team since 1960 to have one player rush for at least 200 yards (
Ahmad Bradshaw
) while another player caught three touchdown passes (
Victor Cruz
). There is more. The 49ers have won each of their past two games by 30-plus points, the first time since 1961 they've accomplished the feat (they have never done it three games in a row). The Giants have set a franchise record for any four-game stretch with 1,877 yards against Tampa Bay, Carolina, Philadelphia and Cleveland.
Note: ESPN Stats & Information contributed to this entry.