NFC West:

NFC West over-under
June, 2, 2010
6/02/10
12:00
PM ET
Though NFL owners would like to curtail spending for the very earliest rookie draft choices, quite a few young players outperform their rookie deals.
The NFC West has its share of bargains, most priced at less than $1 million this season. The 49ers had fewer candidates than I might have expected, a reflection of the progress San Francisco has made in extending contracts for young core players:
[+] Enlarge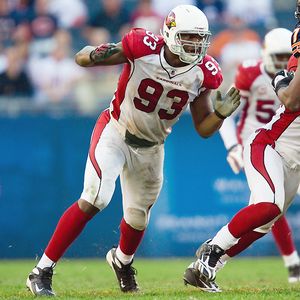 Dilip Vishwanat/Getty ImagesCalais Campbell tied for the team lead with seven sacks last season.
1. Calais Campbell, Cardinals defensive end.
Campbell produced 7.0 sacks in his first season as a starter, more than predecessor
Antonio Smith
has ever managed in a season. Sacks aren't everything, particularly for a 3-4 end, but Campbell is already better than some veteran starters. He'll earn $470,000 in salary this season on a deal averaging $726,250 per season.
2. Josh Wilson, Seahawks cornerback.
Like Campbell, Wilson entered the NFL as a second-round draft choice. His base salary is $550,000. Wilson is an opportunistic, fearless corner with value as a kickoff returner. He has six interceptions, four touchdowns and two sacks in three pro seasons.
3. Tim Hightower, Cardinals running back.
Beanie Wells
projects as the long-term starter, but Hightower has shown value as a good all-around player and short-yardage runner. Hightower has 18 touchdowns in two NFL seasons and his 2010 salary is $470,000. He has run with the starters this offseason.
4. John Carlson, Seahawks tight end.
Carlson provides more evidence that the second round can be a prime place to find bargains. He has 106 receptions for 1,201 yards and 12 touchdowns in two seasons. He'll earn less than $600,000 this season.
5. James Laurinaitis, Rams linebacker.
Four of the top five bargains were second-round choices. Laurinaitis' deal averages about $1.2 million annually. He improved as a rookie last season and projects as a leader for Steve Spagnuolo's defense.
6. Adam Goldberg, Rams offensive lineman.
Goldberg is earning more than $1 million this season, good money for a backup. But he has started 20 games over the past two seasons while providing leadership and stability to an offense lacking in both areas. Goldberg is also versatile enough to play guard or tackle.
7. Lyle Sendlein, Cardinals center.
The Cardinals could have new starters at four of the five spots on their offensive line. Sendlein, tendered at the $1.684 million level, is one lineman expected to remain in his previous spot. That says something about his value. Centers can be overlooked, but lots of things go wrong if a team has a bad one.
8. Justin Forsett, Seahawks running back.
Go ahead and move Forsett up this list if he emerges as Seattle's starter in 2010. Forsett averaged 5.4 yards per carry on 116 attempts despite all sorts of offensive problems around him last season. A seventh-round choice in 2007, Forsett's deal pays him $475,000 in base salary this season.
9. Brandon Mebane, Seahawks defensive tackle.
His salary is north of $1 million, but that's still a relative bargain based on what Mebane provides. The Seahawks had lots of problems on defense last season, but their situation at tackle wasn't one of them.
10. Donnie Avery, Rams receiver.
The 2008 second-round choice has 100 receptions and eight touchdowns in two seasons despite injury problems and the Rams' overall offensive malaise. The Rams are scheduled to pay him $547,500 in salary this season.
The fine print:
As noted, the 49ers have rewarded quite a few of their younger players. Others, including
Vernon Davis
, are earning good money this season.
Manny Lawson
,
Josh Morgan
and
Dashon Goldson
were considerations, but each had a chance to earn more money through escalators. The Rams'
Clifton Ryan
was a consideration at $1.684 million.
Earlier:
overvalued players
in the NFC West.
June, 2, 2010
6/02/10
11:15
AM ET
The
Seattle Seahawks
'
Deion Branch
is scheduled to earn more this season than all of the
St. Louis Rams
' wide receivers combined.
I thought that might be a good starting point in looking at which NFC West players could be overvalued and which ones might be undervalued -- my twist on requests to produce lists of overrated and underrated players. The thought in using salaries was that they would be more tangible than ratings that exist only in our minds.
I'll break out undervalued players in
a separate post
.
Sticker Shock: Overvalued NFC West players
[+] Enlarge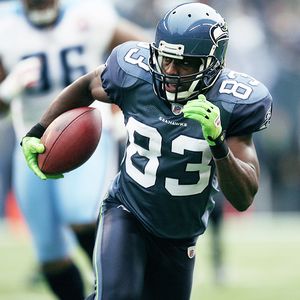 Otto Greule Jr/Getty ImagesDeion Branch caught 45 passes for 437 yards and two touchdowns last season.
1. Deion Branch, Seahawks receiver.
At least there isn't a cap for Branch's $5.47 million salary to count against. Branch averaged a career-low 9.7 yards per reception last season. On the bright side, coach Pete Carroll said he liked what he saw from Branch before the receiver's latest knee surgery.
2. Marcus Trufant, Seahawks cornerback.
Recent practices suggest Trufant might bounce back from a rough, injury-affected 2009 season. Trufant might need a trip to the Pro Bowl to justify a $5.7 million in salary and $3 million roster bonus.
3. Leroy Hill, Seahawks linebacker.
Hill can be a very good linebacker and has even seemed underrated in the past, but his $6 million salary for 2010 is too much under the circumstances. Hill faces a likely suspension for charges relating to marijuana and domestic violence. The team has asked him to stay away from recent practices.
4. Nate Clements, 49ers cornerback.
Clements appeared uncomfortable and off his game last season. An injury eventually landed him on injured reserve. The 49ers can stomach his $6 million salary if Clements returns to form, but the price otherwise appears quite steep.
5. Levi Brown, Cardinals left tackle.
Brown's base salary jumps from less than $700,000 last season to $3.225 million this season. He also receives a $3.675 million roster bonus for the third year in a row. The compensation isn't out of line for a starting left tackle, but Brown hasn't performed to his draft status. He committed 10 penalties last season, an inexcusable total regardless of salary.
6. Michael Lewis, 49ers safety.
Three concussions last season raised serious questions about whether Lewis should continue playing and whether he can stay on the field. His salary is $4.1 million.
7. Jacob Bell, Rams guard.
Bell has shown he can be effective when healthy. He was much better early last season, for example. But Bell has missed three games in each of his first two seasons in St. Louis, and he has played at a diminished capacity both seasons. Concussion, thumb and hamstring injuries were factors last season. Bell underwent knee surgery this offseason. His salary is $5 million in 2010.
8. Brandon Jones, 49ers receiver.
His $2.145 million salary isn't particularly burdensome, but Jones became worth far less to the 49ers once the team drafted
Michael Crabtree
and, to a much lesser extent, added
Ted Ginn Jr
.
The fine print:
I excluded players coming off their first or second seasons. It's a given players need time to develop. I saw no point in listing
Jason Smith
,
Chris Long
,
Aaron Curry
or similar players just starting out. Nearly all early draft choices are overvalued in their first couple seasons. The players listed above have been around long enough to evaluate. I also generally excluded players earning relatively modest salaries.