NFC West:

NFL concussion settlement 082913
August, 29, 2013
8/29/13
9:35
PM ET
SEATTLE -- Pro Football Hall of Fame quarterback Warren Moon, who said he had six concussions in his NFL career, believes the
$765 million concussion lawsuit settlement
is fair and will go a long way toward helping the former players involved.
"From what the first offer was to where it is now, I think it's a fair deal," Moon said Thursday at Century Link Field. "The thing that I'm happy about is they are going to take of some of these guys that are really affected by this. They will do the baseline testing and get these guys the help that they need, more so than the money.
[+] Enlarge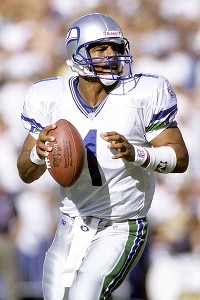 Peter Brouillet/Getty ImagesWarren Moon says he had six concussions in his football career. "I'm just waiting," he said.
"Those guys will spend the money, but what does that do for your health? And the league is going to do the things to try to make sure this doesn't happen again."
As part of the settlement, the NFL has no admission of liability that the plaintiffs injuries were caused by playing football.
Moon, 56, is now a broadcaster for the
Seattle Seahawks
. He played six seasons in the Canadian Football League and 17 seasons in the NFL, spending time in Houston, Minnesota, Seattle and Kansas City. He was a nine-time Pro Bowl selection and was voted in the Pro Football Hall of Fame in 2006.
Moon was not part of the lawsuit, but concussions were an issue during his NFL career.
"I had six of them, so I'm just waiting," he said. "I have a little short-term memory loss, but you don't know if it's because of that or just the fact that you're getting older. I know people who've never been hit in their life and can't remember what they did yesterday, so I don't know.
"That was one of the reasons I was skeptical about getting involved, just because I don't know if it affected me. It could affect me down the road."
Moon recalls part of what happened when he suffered his final concussion.
"It was 1992 in Pittsburgh," said Moon, who was the quarterback for the Houston Oilers at the time. "There's about 20 minutes of that game that I still don't remember. I got really sick and really nauseated and really cold. They wrapped me in all these capes and finally just took me off the field. I didn't know what the heck was going on."
Moon is in favor of the recent NFL rules changes to try to cut down on concussions, including the rule this season against using the crown of the helmet to hit another player outside the tackle box or more than 3 yards downfield.
"I know it's been tough on the players to try to adjust to it," Moon said. "They've been taught to play the game a certain way, especially at this level. It's hard to teach an old dog new tricks. The players bitch and moan about it, but over the long haul in the next five years it's probably all for the good."
August, 29, 2013
8/29/13
9:30
PM ET
Former
St. Louis Rams
defensive tackle D'Marco Farr isn't on the list of more than 4,500 plaintiffs who
settled their concussion-related lawsuit
with the NFL in a deal announced Thursday. That doesn't mean he hasn't thought about it.
"Every day I thought about it," said Farr, who played from 1994 to 2000. "Here's the thing and this is why I don't know if I'm right or wrong: I don't think I have any problems. I don't think I'm having the same problems that this guy is and I don't want to be one of those people that is trying to get in on some case just to get paid. I'd rather go out and work hard for it, you know what I mean? I'd feel bad if I went up there and I don't feel like I have symptoms, I might be taking money away from a guy that does.
"That's why I wasn't a part of it. But the thing that scares me about the settlement and everything else, I don't know what's going to happen to me next year or what's going to happen to me in 10 years. I don't know if this is the way Junior Seau felt 10 years before he shot himself, so that's the only concern."
The order from U.S. District Judge Anita Brody outlined a proposed $765 million settlement that has drawn mixed reaction from current and former players. It will pay about a third of the living former players, but Farr isn't one of them.
Farr retired after a seven-year career in which he went to a Pro Bowl and started for the Super Bowl XXXIV champions. Today, he's a sports talk-show host on ESPN radio in St. Louis and serves as the color analyst for Rams game broadcasts. He has pain in his knees and joints and gets an occasional migraine headache, but he said he has no noticeable signs of lingering concussion symptoms from head trauma.
When I spoke to Farr about the issue Thursday evening, he brought up an interesting point about the timing of the agreement. He understands the basics of the deal, but I got the sense he felt like it was a little too easy, like the NFL was hiding a secret that would make this agreement seem like a bargain.
"It just seems kind of, all kind of right that it would all come out right now before you get exposed," Farr said. "You might as well settle it before you get embarrassed and exposed. So, I don't know. That's the only thing I'm concerned with. I'm happy for the guys that are going through things and they are going to get that money and that care, but I really, really want to know what the NFL is not telling me about me."
I've known Farr for a long time and, in the interest of full disclosure, I consider him a friend. After talking to him, it's hard not to wonder if he's not far enough removed to see the big picture or what type of ailments his future may hold.
Playing defensive tackle meant a collision with another large man on every play, collisions that might be categorized as concussions but at the time were just thought of as part of the game.
"Back in the day, when concussions were funny and they're not funny now; concussions were when you got knocked unconscious," Farr said. "If you are unconscious, you probably have a concussion. Now they're saying you feel like you got your bell rung and that's a concussion, or if you say you feel dizzy, you've got a concussion. Well, that's almost every snap. That's just the way it went in the trenches, it was just an accepted part of the job."
As Slim Charles from "The Wire" might say, "the thing about the old days -- they the old days." Today's NFL has evolved to where doctors stand on the sidelines and have final say about whether a player has a concussion and can return to a game.
Farr jokes that, without the benefit of those cross-checks, he either had 20 concussions or none at all. The reality? The answer is probably closer to 20 than zero. Even with that knowledge, Farr opted not to join fellow alumni in the lawsuit.
"I had some very real talks with friends and family," Farr said. "I said 'You guys need to tell me, am I crazy? Tell me because I might not know. Do I forget things?' I think I have a pretty good grasp on who everyone is and phone numbers of where I live and stuff like that, but I don't know. As of right now, I didn't and don't feel like I need the NFL to take care of me post-career."
Here's hoping it stays that way.