April, 10, 2014
Apr 10
10:00
AM ET
By
ESPN.com staff
| ESPN.com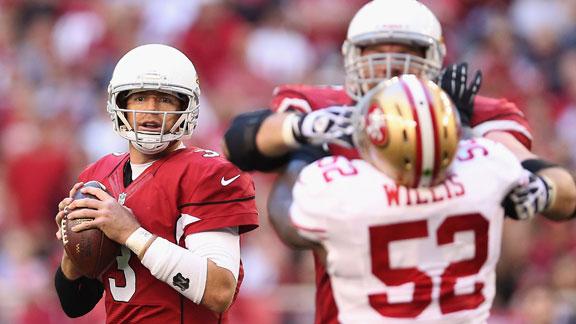 Catch us if you can.
That's a message the
Seattle Seahawks
could send out to the rest of the NFC West.
It is also something the
San Francisco 49ers
might say to the
Arizona Cardinals
and the
St. Louis Rams
. But the Cardinals and Rams might have a statement of their own: We're coming for you.
By almost everyone's estimation, the NFC West is the best division in the NFL. It includes a Super Bowl champion in Seattle along with a team in San Francisco that, arguably, came up one play short of reaching its second consecutive Super Bowl.
It also includes a team in Arizona that won 10 games, one of which was a victory at Seattle -- the Seahawks' only home loss in 2013. And there's a team in St. Louis that won two of its last three games to finish 7-9 while playing most of the season without starting quarterback
Sam Bradford
.
So the question heading into 2014 is whether the Cardinals and Rams are in position to catch the Seahawks and 49ers. Have Arizona and St. Louis closed the gap on what might be the NFL's two best teams?
The Cardinals have been active in free agency, signing cornerback
Antonio Cromartie
, offensive tackle
Jared Veldheer
, tight end
John Carlson
, receiver/kick returner
Ted Ginn
, running back
Jonathan Dwyer
and offensive lineman
Ted Larsen
.
Clearly, the competition in this division keeps getting better.
The four writers who cover the division for ESPN.com's NFL Nation -- Terry Blount in Seattle, Bill Williamson in San Francisco, Josh Weinfuss in Arizona and Nick Wagoner in St. Louis -- take a look at where things stand in the NFC West on four key topics. We also polled our Twitter followers to find how they viewed the issues.

The Cardinals have made significant moves in free agency. The Rams, aside from keeping Rodger Saffold, have mostly stood pat. Which is closer to the playoffs?
Terry Blount: This is a no-brainer for me. The Cardinals are a team on the rise with one of the NFL's best coaches in Bruce Arians. He took a 5-11 team and transformed it to 10-6 in one season. He was 9-3 at Indianapolis in 2012 while filling in for Chuck Pagano. Arizona was 7-2 in its last nine games and won three of the last four, with the only loss being 23-20 to the 49ers in the season finale. The Cardinals could become a serious challenger to the two-team stronghold of Seattle and San Francisco. However, I do believe the Rams will have a winning season if they can hold their own in the division games.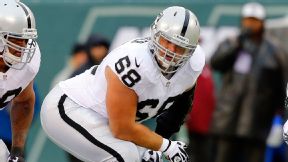 Nick Wagoner: It's hard to evaluate this without seeing what happens in the draft, especially with the Rams having two premium picks. Even then it would be unfair to judge right away. Still, I have to go with the Cardinals. They were trending up at the end of the season and patched a big hole with offensive tackle Jared Veldheer. Losing Karlos Dansby was a blow, but adding cornerback Antonio Cromartie to a talented stable at the position makes them better. The Rams, meanwhile, are clearly counting on a whole lot of in-house improvement and a big draft. Keeping Saffold was important (and lucky), but it seems risky to pin all hopes on a leap to the playoffs on a group of young players all making a jump at the same time.
Josh Weinfuss: Arizona is the easy answer, and that's not because I cover them. The Cardinals were 10-6 last season and the first team kept out of the postseason. All the Cardinals have done this offseason is fix deficiencies and plug holes. Their offensive line got markedly better with the addition of left tackle Jared Veldheer. Their wide receiver corps and kick return game were solidified with Ted Ginn, and they now have one of the best cornerback tandems in the league with Antonio Cromartie coming on board. General manager Steve Keim looked at what went wrong in 2013 and went to work on fixes. It should put the Cardinals over the playoff hump.
Bill Williamson: It has to be Arizona. The Cardinals were so close to making the playoffs last season. They would have likely been dangerous in the postseason too. I like the way this franchise is shaping up. It seems like it is well run and well coached. The roster is also getting deep. Carson Palmer will have to be replaced sooner or later, but the Cardinals are on to something. The Rams certainly have some nice pieces and are probably the best fourth-place team in the NFL, but they aren't close to matching what Arizona has going for it.
@joshweinfuss With the offseason the @AZCardinals have had I'd go with them. The rams are a solid offense away but AZ got the pieces needed.

- Joshua Bodrero (@JBodrero) March 25, 2014
---

The Seahawks and 49ers played for the NFC title in January. Any reason to believe either won't return to the postseason?
Blount: They were the two best teams in the NFL last season, and there's no legitimate reason to think they won't be among the best in 2014. Seattle has lost 10 players who were on the Super Bowl roster, but other than wide receiver Golden Tate, none of them were on the team's priority list to keep. The 49ers move into a shiny new stadium. The only question for San Francisco is the precarious relationship between coach Jim Harbaugh and team executives. Who knows what the future holds there, but it shouldn't matter on game day.
Wagoner: Aside from some debilitating injuries, it's hard to see how either team has taken a major step back. The Seahawks have lost some good players in free agency, but even those players seemingly already had replacements in place. Nobody does a better job of developing talent than Seattle. The Seahawks still have holes to patch on the offensive line and losing receiver Golden Tate is a blow, so there could be some hope the offense will regress. But the defense makes it all go, and it doesn't look like it's going to lose any of its most prized components. As for the Niners, they are the more likely of the two to take a step back, but it's hard to see them taking enough of one to fall out of the postseason. For most of their key free-agent losses they were able to quickly come up with a replacement as good or better than the player lost, and retaining Anquan Boldin says they are looking to make another run at the Super Bowl. Plus, they will have a fully healthy Michael Crabtree ready for the season. Until proven otherwise, these two teams remain the class of the NFC and probably the NFL.
Weinfuss: The only reason either of them won't make the playoffs in 2014 is because the Cardinals or Rams will take their place. The gap between the top and bottom of the NFC West has closed significantly this offseason, making the West much like the Southeastern Conference in college football; everybody will beat up on each other. It's likely the West, if it's anything like last season, can see three teams in the playoffs -- its champion and the two wild cards. If one of the teams between Seattle and San Francisco were not to make it, it's tough, but I think Seattle might slip. The Seahawks lost a significant part of their defensive line and will be going through a Super Bowl hangover. That's risky to deal with and still make the playoffs. On the other hand, San Francisco will be hungry from losing to Seattle in the NFC Championship Game.
Williamson: I believe these are the two best teams in the NFL. So it's difficult to fathom that either team won't find its way into the playoffs, barring major injuries. Arizona, though, could create an issue for the Seahawks and 49ers. The Cardinals are going to win a lot of games, so both Seattle and San Francisco have to be careful or things could get tricky. In the end, I can see all three teams making the playoffs. This is the reason this division is so intriguing and so fun: Every game is critical. There is just not much room for error. Look at the 49ers last year. They went 12-4, but a 1-2 start hamstrung them. They could never fully recover despite having a great overall regular season. The same intensity will be a factor in 2014 in the NFC West.
@TerryBlountESPN The Cards and Rams are pretty good. They'll be fighting for 2nd place behind the Seahawks.

- Danny ®" (@Dah_knee) March 26, 2014
---

Will Rams quarterback Sam Bradford come back strong from an ACL injury, and what effect will he have on St. Louis having its coveted breakthrough year?
Blount: I think Bradford will be fine as far as the ACL goes, but this is a make-or-break year for him in my view. Bradford was playing pretty well before his injury last year, but the verdict still is out whether he can be an elite quarterback. He enters this season with the best supporting cast he's ever had, but playing in this division with teams that emphasize physical defensive play makes it difficult to show improvement.
Wagoner: All indications from the Rams are that Bradford's rehab is coming along well and he's on schedule to make his return in plenty of time for the start of the regular season. He apparently had a clean tear of the ACL, but he has been rehabbing for a handful of months and should resume throwing soon. Bradford's healthy return means everything to the Rams' chances in 2014. Believe it or not, this is his fifth season in the NFL and, much like the team, this is the time to make some noise. The Rams attempted to open up the offense in the first quarter of 2013 with Bradford to miserable results. They switched to a more run-oriented attack in Week 5 and the offense performed better. Bradford also played better as the run game opened up play-action opportunities in the passing game. It will be interesting to see if the Rams choose to go a bit more balanced with Bradford at the controls or if they continue at the same run-heavy pace they played with backup Kellen Clemens. Either way, Bradford's contract has two years left on it. If he wants a lucrative extension, this is the time to prove he's worth it.
Weinfuss: Short answer, yes, Bradford will come back strong. Just look at how he started in 2013. He was on pace for a massive year statistically before he got hurt. If he can pick up where he left off, Bradford will return with a bang and show he's still one of the better quarterbacks in the league. As we've seen, a top-tier quarterback can be the difference between sitting idle in the standings and having a breakthrough year. With the talent that surrounds the Rams, with tight end Jared Cook, running back Zac Stacy and wide receivers Tavon Austin, Chris Givens and Austin Pettis, among others, Bradford may singlehandedly help close the gap between the Rams and the top of the NFC West.
Williamson: I have to be honest: I'm not a big Sam Bradford guy. I think he's just OK. Just OK doesn't cut it in this division, especially considering the defenses he has to play six times a season in the NFC West. He's serviceable, but he's not the answer. Given the state of this division, I cannot envision a scenario where Bradford is the reason the Rams become the class of the NFC West. I think they can get by with Bradford for the short term, but the Rams are going to have to start thinking about the future at this position much earlier than expected when Bradford was the No. 1 overall pick of the 2010 draft.
@nwagoner @Ryan_STL1 he's going to be the reason whether they go to the playoffs or not. If it doesn't happen this year it's time to give up

- Nick Green (@duttynick) March 24, 2014
---

If you had to start a team with either Seahawks QB Russell Wilson or 49ers QB Colin Kaepernick, whom would you choose?
Blount: You must be kidding. Give me Wilson every time, every day in every situation. Yes, Kaepernick is 5 inches taller than Wilson. Is there really anyone left who thinks Wilson's lack of height matters? Wilson also is at his best in pressure situations. He lives for it. And he is a more polished person on the field, and off it, than Kaepernick. That's not an observation. It's a fact. But this isn't a rip on Kaepernick. You would be hard-pressed to find any 25-year-old as polished as Wilson. The 49ers can win a Super Bowl with Kaepernick, and probably will soon. But if I'm starting a team, whether it is in football or almost any other life endeavor, I'll take Wilson without a doubt.
Wagoner: Wilson. For those of us covering other teams in the division, it's hard not to admire what he brings to the table. He presents himself as the consummate professional, and even opponents praise him for his work habits, intelligence and ability. He's already got the Super Bowl ring, and it's easy to see how he could add a few more. He's not all the way there in terms of his potential either, and it's probably safe to assume he's just going to keep getting better as his career goes along. That's nothing against Kaepernick, who is a unique talent in his own right, but there aren't many young quarterbacks in the league worth choosing over Wilson.
Weinfuss: Russell Wilson would be my pick, mainly because of his poise and maturity behind center. Colin Kaepernick is undoubtedly talented, but I get the sense he still has a lot of growing to do as a quarterback. He's tough to bring down, especially in the open field, but when he's pressured in the pocket, Kaepernick seems to panic and I wouldn't want that in a quarterback. I also think Wilson, despite his physical stature, is built to last. He's heady enough to stay out of harm's way, and his poise in the huddle will go a long way in leading a team.
Williamson: I'd take Kaepernick. I know it's a tough sell right now, since Wilson's team has beaten Kaepernick and the 49ers three of the past four times they've met, including the NFC title game, and the fact that Wilson has won a Super Bowl. I respect the value of Super Bowl wins and believe quarterback is the most critical position in sports. I'm sure I will smell like a homer with the Kaepernick pick. But moving forward, I just think Kaepernick has a higher ceiling. I think he can take over games more than Wilson can at a higher rate. Players built like Kaepernick and as athletic as Kaepernick just don't exist. He is special. He works extremely hard at his craft and is well coached. I'd take him, and I wouldn't look back. This isn't a knock on Wilson. He is proven and is going to be great. But if I'm starting a team, I'm taking Kaepernick, and I bet more general managers would agree than would disagree.
@BWilliamsonESPN Wilson. Controls the game & makes all the plays. Kaeps athletic advantage will fade overtime as Wilson's mental edge grows.

- HTB (@HoldenTyler) March 25, 2014
September, 22, 2012
9/22/12
2:30
PM ET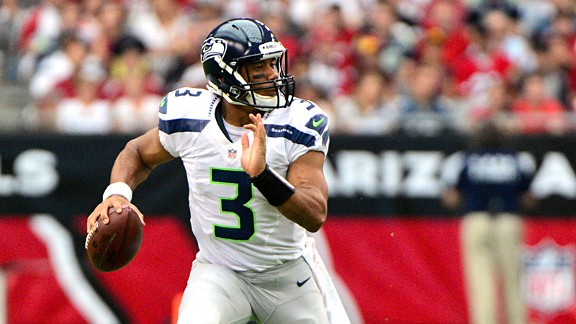 Matt Kartozian/US PresswireThe Seahawks expect Russell Wilson to make big plays on the move as his career progresses.
SEATTLE -- Sixty-five quarterbacks combined to throw 92 touchdowns and 51 interceptions from outside the pocket last season.
Two others,
Tony Romo
and
Aaron Rodgers
, achieved a higher level. Each finished 2011 with 10 TDs and zero INTs on these largely improvisational throws.
That approximates what
Seattle Seahawks
coach Pete Carroll envisions from his quarterback,
Russell Wilson
. He hasn't seen much of it during the team's 1-1 start. Wilson has 25 yards passing on 5-of-7 completions outside the pocket.
"I think it's just a matter of time that he really makes things happen on the move, because we know that he can and he will," Carroll said. "I'm hoping that will show up a little bit more."
Monday night against Green Bay, perhaps?
That would be an optimistic timetable for a rookie quarterback making only his third regular-season start. Not that Wilson has much use for timetables. Four months was all he needed to convert veteran acquisition
Matt Flynn
from presumed starter to a special consultant for strategy against the Packers, Flynn's former team.
Along those lines, I've put together a look at three keys for Wilson and the Seahawks against Green Bay:
Handling added pressure
Wilson appeared tentative against Arizona's pressure packages in Week 1. His accuracy suffered. A couple times, he held the ball as if unwilling to trust his receivers.
Wilson completed only 6-of-18 passes for 47 yards against Arizona when the Cardinals rushed him with five or more defenders. He completed 12-of-16 passes for 106 yards and a touchdown the rest of the time.
The pressure was off during Seattle's 27-7 victory against Dallas in Week 2. The Cowboys attacked Wilson with five or more rushers only six times. Wilson completed 12-of-15 passes for 130 yards and a touchdown when they sent four or fewer.
The Packers presumably will pattern their plan more closely after Arizona's approach than Dallas'. Playing at home should help Wilson and the Seattle offensive line communicate protection calls more effectively than they did at Arizona, where the Cardinals fooled the Seahawks with inside blitz combinations.
But Wilson still must show he can make opponents pay for coming after him. Green Bay has sent five-plus rushers on 37.1 percent of its defensive plays this season. That is the 10th-highest rate in the NFL, and above the 29.3 percent average for the 31 other teams heading into Week 3.
The chart shows how San Francisco's
Alex Smith
and Chicago's
Jay Cutler
fared against Green Bay this season when the Packers sent more than four pass-rushers.
"We have wishes and expectations," Carroll said, "but right now, I just want to see him play really smart."
Russell Okung versus Clay Matthews
Seattle had games such as this one in mind when it made left tackle a priority in the 2010 draft.
Okung, selected sixth overall that year, will match up primarily against Packers outside linebacker Matthews. Okung has the talent to contain Matthews, but he hasn't been playing to Matthews' level lately.
Matthews has six sacks through two games, matching his 15-game total from last season. He has 35.5 sacks in 48 career games, and
dominated
his Week 2 matchup with
Chicago Bears
left tackle
J'Marcus Webb
. That mismatch produced Cutler's notorious sideline outburst during the nationally televised game at Lambeau Field.
Seattle doesn't have to worry about its quarterback reacting that way. Wilson seems much more reserved and under control. But Okung is coming off a knee injury that sidelined him against Dallas, and blindside protection could be a concern Monday night.
Okung has missed 11 of 34 regular-season games to this point in his career. He was becoming a force late last season until suffering a torn pectoral muscle when Philadelphia's
Trent Cole
, acting out of frustration, yanked Okung to the ground. Okung struggled some against Arizona's
Sam Acho
in the opener before the knee injury knocked him from the game.
Rodgers versus Seattle safeties
Seattle sent three-fourths of its starting secondary to the Pro Bowl last season. The one player not invited, cornerback
Richard Sherman
, has arguably been the best of the four in 2012.
The question this season was how well the group would hold up against a long list of top quarterbacks. So far, so good.
Romo, who lit up the
New York Giants
in Week 1, left Seattle with his sixth-lowest Total QBR score (38.8) for a single game in his past 33 starts (minimum two attempts).
Rodgers,
Tom Brady
,
Matthew Stafford
and Cutler remain on the 2012 schedule. And with NFC West quarterbacks Smith and
Sam Bradford
playing at a high level so far, four divisional games are looking tougher as well.
This game marks the first time Seattle has faced an MVP-caliber quarterback in prime time since ... when? The team faced
Drew Brees
on a Sunday night in 2007 and Brett Favre in a memorable Monday night snowstorm a year earlier.
Containing Rodgers seemed impossible for so much of last season. But as the chart shows, Rodgers' production on longer passes has plummeted over his past five games, counting playoffs. Green Bay has a 2-3 record in those games.
Seattle has the personnel to keep the trend going. Sherman (6-foot-3) and fellow corner
Brandon Browner
(6-4) play press coverage on the outside. Free safety
Earl Thomas
roams sideline to sideline, helping out where needed.
Kam Chancellor
, the NFL's biggest strong safety at 6-3 and 232 pounds, plays the role of enforcer.
Thomas is the one to watch.
"His range reminds me of a guy we had here a long time --
Nick Collins
, who played at a Pro Bowl level his entire career," Rodgers said. "He was an integral part of our Super Bowl run, his ability to make up if anybody outside gets beat, or react to a ball deep down the field. Earl has that ability. ... He's a big-time player."
April, 26, 2012
4/26/12
1:02
PM ET
NFL general managers put their reputations on the line come draft day.
Some fare better than others.
The chart shows how many Pro Bowl players current NFC West GMs have drafted or helped draft over the past 10 years.
The numbers are not definitive. Current GMs from the division weren't always primary decision makers during the period in question. They do not deserve all the credit (or blame) for the players their teams drafted.
In some cases -- think first-team All-Pro choice
NaVorro Bowman
in San Francisco, for example -- very good players have not yet achieved Pro Bowl acclaim. In other cases, a single decision -- say, drafting
Aaron Rodgers
in Green Bay -- improved an organization's trajectory enough to launch other players to the Pro Bowl.
What we have, basically, is a starting point for discussion heading into the 2012 draft. Here's a look at each current NFC West GM and the associated 2002-2011 draft choices with Pro Bowls on their résumés:
Whoa, the NFC West chat is getting under way now. Gotta run.
January, 23, 2011
1/23/11
11:37
PM ET
The current Pro Bowl format preventing Super Bowl participants from playing in the game will pad NFC West representation this year.
The
Arizona Cardinals
announced
Larry Fitzgerald
's addition to the game Sunday night after Green Bay's Super Bowl berth knocked Packers receiver
Greg Jennings
from the game. Fitzgerald was a first alternate this season.
The following Packers will now miss the Pro Bowl: Jennings, starting tackle
Chad Clifton
, starting outside linebacker
Clay Matthews
, starting cornerback
Charles Woodson
, backup cornerback
Tramon Williams
and starting free safety
Nick Collins
.
Cardinals defensive lineman
Darnell Dockett
landed on the NFC roster as an injury replacement after Minnesota's
Kevin Williams
withdrew from the game.
Seattle's
Earl Thomas
could be in line to replace Collins at free safety. Thomas, a rookie, was named an alternate to the Pro Bowl.
Update:
Roman Harper of New Orleans gets the call
instead
, despite a rough outing against Seattle in the playoffs.
August, 21, 2010
8/21/10
11:37
PM ET


SEATTLE -- First-half thoughts from Qwest Field while watching the
Seattle Seahawks
against the
Green Bay Packers
in the second week of the exhibition season:
Russell Okung's ankle injury has not hurt Seattle a great deal in this game. Mansfield Wrotto has seemed to fare well, particularly early. But losing Okung for any length of time severely depletes the depth at tackle, particularly with backup right tackle Ray Willis already needing knee surgery. Getting Chester Pitts healthy enough to factor at tackle becomes more important pending news on Okung.
The Seahawks' offense helps out the tackles in pass protection. Example: Hasselbeck fooled the Packers twice on one play when he ran bootleg off a play-fake. The Packers bit on the fake and they were in even worse position to deal with the boot. Hasselbeck rolled left and threw across his body to Mike Williams for a first down. A team doesn't need an elite tackle to run that type of play effectively.
Hasselbeck turned in the type of performance Seattle wanted to see from him, completing 11 of 15 passes for 127 yards, one touchdown and a 120.7 rating. He played the full first half.
Chris Clemons could become a double-digit sack threat for Seattle with a little pass-rush help from the other side. I did see Aaron Curry bring down Packers quarterback Aaron Rodgers on one play, but the ball was already gone and Rodgers completed the pass. Clemons again showed he can push back tackles. He drove Chad Clifton into Rodgers' face on one play, but Rodgers got rid of the ball in time to avoid a sack. Also noted: Clemons gave good effort on the first-team punt-coverage unit. Late-half update: Packers rookie Bryan Bulaga was winning his matchup with Clemons. Clemons also gave up a reception in coverage.
Leon Washington excelled when working with the first-team offense early in the second quarter. Washington got the Packers' attention right away with violent pass-protection block on safety Nick Collins. Washington jacked up Collins, lifting him high into the air. Collins acknowledged Washington's effort after the play. Washington then opened up the pass to Williams with his play-fake to the inside. The drive ended with Washington quickly covering the remaining 11 yards to the end zone on an inside handoff. The touchdown meant the Seahawks matched the Packers, 14-14, when the first-team offenses were on the field (the Packers replaced Rodgers on their next drive, but Seattle left Hasselbeck and its starters in the game, with diminishing returns).
Rookie free safety Earl Thomas showed his range and leaping ability in breaking up a deep pass near the sideline. He also badly missed an open-field tackle and couldn't break up a spectacular deep connection between Rodgers and Greg Jennings early in the game. Jennings laid out for the ball with Thomas right behind him. This was more a great play by the Packers than a bad one by Thomas (and it wasn't even clear whether Thomas was primarily responsible for coverage on the play).
Mike Gibson worked some at left guard with the starting offense. Gibson might be better than veteran Ben Hamilton, but line coach Alex Gibbs likes having Hamilton around because Hamilton knows the system. Again, getting Pitts healthy would be a significant plus for Seattle.
Left cornerback Marcus Trufant looks better than I've seen him in a couple years, at least. He's active and playing with swagger.
T.J. Houshmandzadeh played extensively and justified the commitment. Hasselbeck seems to trust him more than he did a year ago. That was evident when Hasselbeck threw to Houshmandzadeh without hesitation, including when tight throws were required.
Julius Jones was the odd man out in the halfback rotation. Justin Forsett and Washington played extensively in the first half.
The Packers hold a 17-14 lead at halftime even though Seattle played key starters longer from what I saw.
July, 12, 2010
7/12/10
8:00
AM ET

Bernie Miklasz of the St. Louis Post-Dispatch
says he expects the St. Louis Rams' contract talks with first-round draft choice Sam Bradford to begin this week. Miklasz: "Rams chief operating officer Kevin Demoff, who will return from a brief vacation early next week, plans to get together with Bradford's agent, the Clayton-based Tom Condon." Condon has lots of experience representing highly drafted quarterbacks. Seems to me he and the Rams will find a way to get Bradford into camp on time or close to it. Having Bradford there from Day 1 benefits all parties. Everything we've seen from Bradford suggests he'll be eager to get into camp on time. And it's the player who can ultimately determine when he gets into camp. Players tend to have their breaking points. The San Francisco 49ers' Michael Crabtree was an exception last offseason. In Seattle, 2009 first-round choice Aaron Curry reached his breaking point about one week into camp. A deal then got done quickly. The issues that delayed Crabtree's arrival -- namely his contention that he should have been drafted earlier and valued at a higher level than Darrius Heyward-Bey -- do not apply to Bradford's situation.

Matt Maiocco of CSNBayArea.com
says during a chat he thinks the NBA's recent experience with Lebron James pretty much ensures the return of the franchise tag in the NFL, which will pretty much prevent someone such as Tom Brady from signing with the 49ers or anyone else. Maiocco: "No player is going to be bigger than the NFL. The Patriots will have the chance to place the franchise tag on Brady to retain his services. Now, if he's so disgruntled, he could demand a trade. But, I'd still say, there's a very slim chance Brady will be playing for the 49ers while he's still among the game's elite quarterbacks." Peyton Manning is probably the closest thing the NFL has to a player who is bigger than even his team, but his value is also highest to the Colts based on what all parties have invested over the years. Pro football is so much more a team sport than pro basketball. That is one reason why pro football players have a harder time commanding as much guaranteed money. An All-Star basketball player is generally worth more to his team than a Pro Bowl football player.

Greg Johns of seattlepi.com
explains how to register for Seahawks practices at training camp. Johns: "Fans interested in attending Seahawks' training camp practices this summer will be able to pre-register on the team's website starting Monday at 10 a.m. Open practices at the team's Virginia Mason Athletic Center in Renton will be held from July 31 through Aug. 16, but will be available only to those who sign up in advance at seahawks.com. The team will also host an open practice at Husky Stadium on Sunday, Aug. 8 that will not require preregistration since the stadium has plenty of seating. Registration for the VMAC practices will be available on a first-come, first-serve basis and fans 15 years or younger must be accompanied by an adult. A $5 transportation fee will be charged per person, as fans will be required to park at an off-site location and be shuttled to the VMAC before and after each practice."
John Morgan of Field Gulls
says the Seahawks' Olindo Mare will probably remain underappreciated even though the Seahawks named him their franchise player.
Ben Malcolmson of seahawks.com
profiles quarterbacks coach Jedd Fisch, whose coaching career began improbably with Steve Spurrier at the University of Florida. Malcolmson: "Fisch blindly and ambitiously packed up and went to school in Gainesville, with no connections to Spurrier or the program. He tried being an equipment manager for the team his freshman year, but that didn't pan out. Then he decided to get back to hands-on coaching by volunteering at a high school just off campus. ... But then fortune struck and Fisch's hard work began to pay off with a glimmer of hope. An assistant coach for the Gators was recruiting one of the players on Fisch's high school team, and before long, he had invited Fisch to do odd jobs around the football office. (Fisch) spent a year quietly laboring before another assistant started giving Fisch higher-profile tasks."
Sam Farmer of the Los Angeles Times
lists three NFC West players -- Justin Forsett, Dashon Goldson and Calais Campbell -- among his potential breakout players for 2010. I thought Campbell broke out last season with 7.0 sacks, a high number for a 3-4 defensive end. Farmer on Forsett: "Forsett, in his third season out of Cal, is everything LenDale White wasn't — undersized, dedicated, productive, and an instant Pete Carroll favorite. The Seahawks had the league's 26th-ranked running game last season, but they might have been much more effective had they put the ball in Forsett's hands. The 5-foot-8, 194-pound back averaged 5.4 yards in 114 carries with four touchdowns, and caught 41 balls out of the backfield. He was far more explosive than Julius Jones, who was limited to fewer than 50 yards in more than half of his starts last season."

Darren Urban of azcardinals.com
thinks the Cardinals should be ranked higher than ESPN had them recently. He also wonders how Adrian Wilson's name could elude a CBS list of top NFL safeties. Urban: "Wilson isn't better than Brian Dawkins these days? And even if you feel that strongly about Bernard Pollard or Nick Collins, Wilson has to be in the discussion, right?" Yes.
Also from Urban
: The Cardinals' top five draft choices remain unsigned after the team reached agreement with sixth-round choice Jorrick Calvin, a potential return specialist. Urban: "Calvin, a cornerback who did not play his senior season at Troy because he was academically ineligible, is trying to find a spot in the team's secondary. But his most likely avenue to the active roster would be on returns, after averaging 10 yards a punt return and 25.7 yards a kick return in 2008."
April, 23, 2010
4/23/10
1:13
AM ET
The Seahawks were convinced Philadelphia had leaped over them in the first round to draft safety
Earl Thomas
, the player Seattle wound up drafting at No. 14.The Eagles drafted linebacker
Brandon Graham
instead. Seattle wanted Thomas because the Seahawks saw him as a play-making safety with the ability to match up against wide receivers in coverage. Coach Pete Carroll and general manager John Schneider couldn't immediately think of a similar player in the NFL when I asked for a comparison. Schneider finally said he thought
Nick Collins
had similar abilities that way.
I must have missed the announcement naming Mike Solari as the 49ers' new general manager. Solari, the team's new offensive line coach, came out of the first round with tackle Anthony Davis and guard Mike Iupati. Position coaches stress over whether their teams' personnel people will find help for them in the draft. Solari will be the envy of the 49ers' coaches' meetings after this first round.
The Rams got their quarterback, as expected, and now they have an opportunity to help him, starting with the first pick of the second round. The top two receivers and the top tight end are gone. Notre Dame receiver Golden Tate is available. Would he make an immediate difference? The Rams have already invested quite a bit in their offensive line, but with Rodger Saffold available and Alex Barron's long-term future in question, would taking a tackle make any sense? What about a defensive end such as Everson Griffen? The Rams have enough needs to feel good about whichever player they take next.
The Cardinals hold three of the next 57 choices and they've already landed Dan Williams, widely considered the best nose tackle in the draft. They could move up if they chose or sit back and use the 58th, 88th and 89th choices. The team could use another linebacker and Florida's Brandon Spikes, described by scouts as a thumper with good instincts and strong work ethic, remains available.
March, 4, 2010
3/04/10
11:26
AM ET
NFL teams have or will be announcing tender levels for their restricted free agents.
I've put together an unofficial early list of Pro Bowl players and their known tender levels.
All but the Jets'
Leon Washington
would command at least a first-round choice if their current teams declined to match offers or negotiate a lower price via trade.
I think the price tags are mostly prohibitive, particularly given that each would require a long-term contract to justify the investment.
January, 13, 2010
1/13/10
1:20
PM ET
It's easy to look past the Rams and 49ers this week with the Seahawks hiring Pete Carroll and the Cardinals preparing for the Saints.
Here's a Rams-centric mailbag. I'll hit on some 49ers stuff separately.
Brian from Kent, Wash., writes:
Do you see the Rams drafting Ndamukong Suh or trading the No. 1 pick? Also, I have heard rumors that the rams are after Mike Vick.
Mike Sando:
It's tough getting teams to trade into the top spot, or even the top five, from lower in the round. The Rams would want the top pick if there were an obvious choice for the No. 1 pick. If
Peyton Manning
were in this draft, the Rams would keep the pick, right? I just don't see that type of obviously superior quarterback talent in this draft. For that reason, the Rams are probably stuck with the pick.
Picking a quarterback that early forces teams to pay a premium price relative to other positions in the draft (if not relative to quarterbacks already in the league). I'm not sure the Rams will see a quarterback worth the price. That could lead them to the veteran trade market, where Vick stands out as one of the better options.
The price a team pays for a player defines the risk. Adding Vick for the right price makes more sense now than it would have a year ago. One, Vick has kept a low profile and stayed out of trouble, to the best of our knowledge. Two, he spent the past season learning the offense St. Louis uses. It's still fair to question how he would fare over a 16-game schedule. The Rams would have a chance to lead the league in rushing yardage with Vick and
Steven Jackson
on the same team, but leading the league in rushing isn't necessarily a worthy goal.
The Rams need more from their passing game and better health on their offensive line.
---
Jesse from Fallbrook, Calif., writes:
Up until the last few weeks of the season, I was hoping the Rams would pursue OLB
Derrick Johnson
, S
Nick Collins
and QB
Jason Campbell
. I am quickly thinking that all three will be nearly impossible. Nick Collins is now a two time Pro Bowler and will cost more than
Oshiomogho Atogwe
. Johnson had two picks for six in the last week of the season. Way to leave an impression on the front office before your contract expires. Campbell will be a restricted free agent with an uncapped season. And he might fit Shanahan's offense nicely.
Now I am thinking we move
Quincy Butler
to free safety if his cover skills will warrant the move, and attempt to draft Myron Rolle (fourth round) at strong safety and A.J. Edds (third round) at SLB. And hope for Sean Canfield to slip to the fifth. I'd hate to use both fives to get back up to get him or someone similar. Your thoughts?
Mike Sando:
Campbell is probably the best quarterback option for the Redskins. Here is
what Shanahan said about him
, according to the Washington Post: "I just love the way Jason handles himself. I'm looking forward to sitting down and watching film and going through every play that he's had throughout his career, and looking forward to sitting down and talking with him. Hopefully the best years are ahead. But that's a process that will take some time."
Doesn't sound like Shanahan will be in a hurry to trade him. In Green Bay, Collins just finished his fifth season in the league. He is part of the 2005 draft class. Without a new collective bargaining agreement, Collins reverts to being a restricted free agent. Same goes for the Chiefs' Johnson and even Atogwe.
Butler is listed at about 190 pounds. He has good height, but I'm not a big fan of having players change positions. Butler, while promising, isn't a top-flight corner. What makes us think he would become the answer at safety?
Free agency could be even worse than usual this season if the NFL remains without a CBA. Fewer players will hit the market as unrestricted free agents.
---
Adam from Mesa, Ariz., writes:
Should the Rams follow the Chargers' example in 2004 and trade a coveted player in the draft for several high picks? They are similar to San Diego in that they already have the all-world running back in Steven Jackson (compared to San Diego with
LaDainian Tomlinson
in 2004) and have the No. 1 overall choice.
The Lions or the Bucs make sense since they both need Ndamukong Suh and both drafted a quarterback last year. Should the Rams build up Ndamukong Suh, then trade him at the last minute for as much as they can get, even if its a discounted price, instead of taking the perceived best player available? Our precedent is the 2004 draft with
Eli Manning
and
Philip Rivers
(the No. 1 overall for the No. 4 overall, a third-rounder in 2004 and a first- and fifth-rounder in 2005).
If the Rams offer the No. 1 overall to either team for say, the No. 2 or No. 3 overall and a second-rounder this year and second-rounder next year, it might be a discount, but would that be better than one dominant player this year? What are your thoughts?
Mike Sando:
The Rams could benefit from having multiple picks. They also need difference makers. This team hasn't found truly elite, high-impact players at the top of the draft recently. The important thing becomes determining whether Suh will be that type of player relative to other players available near the top of the draft.
The 2004 draft did feature a couple of highly regarded quarterbacks. The Chargers and Giants both came away with quarterbacks who have since won playoff games. The 2010 draft doesn't necessarily seem to feature quarterback prospects as highly regarded as Manning and Rivers were six years ago.
The bottom line, I think, is that other teams will not be willing to trade into the top pick. Recent history tells us it's a tough sell.
---
Jason from St. Louis writes:
Even if they have to take less than market value for the No. 1 overall choice, don't they need to get away from the money a top five pick makes after drafting the last two No. 2 overall picks? Suh may end up being one of the greatest lineman of all time, but do we know for sure that is going to happen? And just for the opportunity for that to happen, he gets a rookie contract for about what
DeMarcus Ware
makes. I don't know that any team could carry three contracts the size these three young gentlemen will be making.
Even without a cap next year, a cap has to come back in any CBA, right? And this team is setting itself up to be in serious cap trouble. The Rams let
Chris Draft
go over I think $700,000 before this year because of cap issues. Giving Suh $70 million over six years isn't going to help matters. If the Rams could get a late first and a couple second-rounders, you have to make that deal, right? And with Suh at the top, someone has to be willing to give that up for him.
Mike Sando:
The Rams have dramatically improved their salary-cap outlook. Cap space is not going to be a problem. The Rams' cap guy, Kevin Demoff, left the Bucs with tens of millions in cap space when he took the job in St. Louis. He knows how to create room. Cash could be more of a concern than cap space. The Rams are looking for a buyer. Their wallet is only so deep.
The decision on Draft was also a value judgment based on the fact that he was an older player on the decline. Keeping him on the roster for Week 1 would have forced the Rams to guarantee his full salary. Once they cut Draft, it's not like a long line of teams rushed out to sign him.
There's no way the Rams could justify dropping from the first pick to the bottom of the first round. They need playmakers. They're more likely to find one in the top five or 10 than if they trade all the way to the bottom of the round.
---
Rob from Asheville, N.C., writes:
Mike, can
Adam Carriker
be an effective starter in the NFL? If so, can the Rams pass on Suh and take Anthony Davis or Eric Berry? Is Suh dominant enough that somebody would actually offer the Rams a package to move up to No. 1?
Mike Sando:
The Rams cannot bank on Carriker being healthy, let alone becoming an effective starter. They might have hope for him, but they cannot count on him. Any decision they make on Suh probably has to stand on its own, not in relation to what they might get from Carriker.
The Rams spent last offseason beefing up the offensive line. They need to work more on the defensive line this offseason. Steve Spagnuolo will want depth up front so he can create the type of rotation he enjoyed while with the Giants.
Drafting Davis first overall wouldn't make a great deal of sense after the Rams used the second overall choice for another offensive tackle, Anthony Davis. Berry has playmaking ability, which the Rams need, but can they afford to focus so much of their resources on a back-end player? Seems to me the Rams will want to upgrade their front four and front seven first.
March, 10, 2009
3/10/09
12:19
PM ET
Posted by ESPN.com's Mike Sando
Four of the first 20 defensive backs chosen in the 2005 NFL draft call the NFC West home after the Cardinals signed Bryant McFadden from the Steelers in free agency.
A fifth, Eric Green, recently paid a free-agent visit to the 49ers after four seasons with Arizona. A sixth, Karl Paymah, also visited San Francisco.
The Rams' former front office qualifies for criticism on numerous fronts, but the team did emerge from the 2005 draft with half its projected starting secondary in Ron Bartell and Oshiomogho Atogwe.
The Cardinals can feel better about selecting Antrel Rolle with the eighth pick now that the sixth choice, Adam "Pacman" Jones, is out of the league. Rolle made a successful transition to free safety after failing to realize his potential as a cornerback.