September, 14, 2013
9/14/13
4:35
PM ET
TEMPE, Ariz. – Last week,
Arizona Cardinals
guards
Daryn Colledge
and
Paul Fanaika
watched the team's tackles become the center of attention.
This week, it's their turn.
Fanaika
Colledge
Colledge and Fanaika will spend Sunday trying to prevent the interior of the
Detroit Lions
' defensive line from feasting on Arizona quarterback
Carson Palmer
.
When you're talking about
Ndamukong Suh
and
Nick Fairley
, it's a job the tackles aren't envious of.
"Those guys are talented, they make that whole thing go," Colledge said. "If you're forced to double-team them, (the) linebackers are going to make plays. If you're forced to single them up, they got a chance to make plays themselves.
"So we have to neutralize the front."
But Colledge and Fanaika might be on their own.
Last week, the Cardinals used a running back or tight end for support in pass-rush situations. This week, their main option to help the guards will be center
Lyle Sendlein
. The tackles won't be able to cheat over, said left tackle
Levi Brown
.
"We don't have the luxury of helping out," Brown said. "We have enough work to do ourselves out on our sides. Usually, depending on which way the protection is going, the center will be able to help out the guard, depending on which way he's going.
"The other guys will just have to widen their guy and allow the quarterback to step up."
Like the Lions' offense, their defense will make the Cardinals choose whom to focus on, which means either Suh or Fairley will be single-blocked on every play.
Suh had seven quarterback hurries and one hit Week 1 against the Vikings, according to Pro Football Focus, while Fairley had 1.5 sacks and a hurry.
"If you try to double-team Suh than you have to Fairley one-on-one, so you can't double-team them both," Cardinals coach Bruce Arians said. "Our tackles had the tough job last week. Our guards have the tough job this week."
Offensive-line coach Harold Goodwin said the pass protection won't change much from Week 1, but will have an emphasis on technique in one-on-one blocking situations.
While Palmer had to step up in the pocket last week, he might be running for his life if Suh or Fairley break through.
"They're both pretty good," Goodwin said. "Obviously Suh is really good. So we got to do our best job as far as what we do with our protections and who has that guy's help.
"We got to do a good job with that."
September, 12, 2013
9/12/13
12:00
PM ET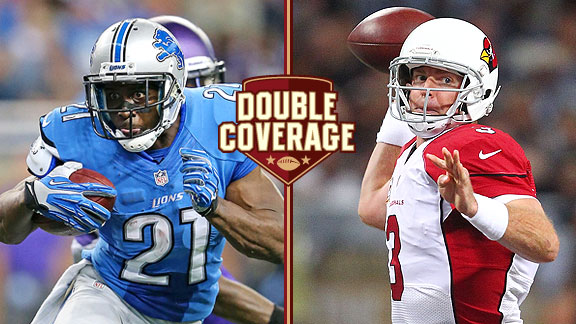 Getty ImagesReggie Bush and Carson Palmer have given their respective teams major upgrades on offense.
A lot has happened since the
Detroit Lions
' most recent trip to University of Phoenix Stadium, last December.
The
Arizona Cardinals
hired an entirely new coaching staff and enlisted a veteran quarterback to bolster the offense. The Lions, meanwhile, added a shifty new running back by the name of
Reggie Bush
. In last year's meeting, Detroit quarterback
Matthew Stafford
played poorly, and it allowed the Cardinals to break a nine-game losing streak.
My, how times have changed. The Lions are flying high off a season-opening victory against NFC North rival Minnesota, while the Cardinals are still trying to find their footing in 2013.
Cardinals reporter Josh Weinfuss and Lions reporter Michael Rothstein discuss Sunday's matchup.
Josh Weinfuss:
A lot has been made of offseason additions on both sides. How has the Lions' offense changed by adding Bush?
Michael Rothstein:
It has definitely become much more dynamic. You'll see a lot more screen passes and short passes to get Bush in space and allow him to create. The perfect example came on the 77-yard screen that went for a touchdown against the Vikings. Not sure the Lions had anyone with that kind of speed out of the backfield last season. Add to that Bush's ability to run between the tackles when he needs to, and it creates another dimension for defenses to be concerned about. No longer is it pay attention to
Calvin Johnson
and make Detroit's other pieces find a way to win. If teams do that, Bush will force them to abandon that strategy.
Sticking with offense, has the addition of
Carson Palmer
aided the passing game for both
Larry Fitzgerald
and
Michael Floyd
?
Josh Weinfuss:
Without a doubt. Palmer has brought not only stability to a position that's been a hurricane in the three seasons since Kurt Warner retired, but also talent. The proof of that came Sunday when Palmer and Fitzgerald connected for two touchdowns -- one on a 4-yard fade to the back left corner, the other on a 25-yard beauty that dropped into Fitzgerald's hands. Last season, Cardinals quarterbacks targeted Fitzgerald nine times in the red zone and didn't complete any. Palmer is already 2-for-3 in the red zone to Fitzgerald. Floyd also will benefit from Palmer's accuracy. With Floyd being a larger target than Fitzgerald, Palmer can get a little more creative with where he throws the ball, an issue all four Arizona quarterbacks had last season.
Let's switch sides of the ball. After his incident against the Vikings, is Lions defensive tackle
Ndamukong Suh
becoming a distraction already this season?
Michael Rothstein:
Distraction? No. The reason I say that is most people around the Lions have been around this situation before with Suh. If his teammates are telling the truth and indeed accepted his apology, it should be a nonissue for most in the locker room -- for now. Where it becomes a problem, perhaps, is if Suh does something like this again. It should become a distraction or an issue only if he were to be suspended in the future.
Since you asked about Suh, how does Arizona's offensive line deal with him,
Nick Fairley
and the rest of Detroit's deep, talented defensive line?
Josh Weinfuss:
This is a different situation from Week 1, when the Cardinals focused on stopping two very strong outside rushers. With Suh and Fairley coming up the gut, Arizona will have to rely on its guards and center more -- which could be an issue, considering that right guard
Paul Fanaika
played in his first game in almost two years Sunday. Don't expect the Cardinals to overload the box with blockers. Palmer said he'd rather have less time to throw and more options downfield, but the Cardinals more than likely will keep a running back home to pick up that inside rush and a tight end on the outside to allow the tackle to cheat over and help the guard.
Speaking of the offense, has any team figured out how to slow down Johnson, because stopping him is unlikely -- and if anyone has slowed the stud receiver, how'd they do it?
Michael Rothstein:
Kind of, Josh. Kind of. Johnson had four catches for 37 yards against Minnesota on Sunday. While he was targeted nine times -- and missed two touchdowns by not much -- the addition of Bush to the Lions' offense has taken some pressure off Johnson. When Minnesota chose to try to take away Johnson, Detroit focused on letting Bush operate. While I don't think teams will ever take Johnson out of the game while he is in his prime, it wouldn't shock me if he has some games in which Detroit looks to Bush more instead of always featuring Johnson. That, of course, just makes the Lions' offense much more difficult to stop.
I'll wrap it up with a question to you. How much is
Patrick Peterson
going to be involved in the offense? And can he be a true two-way player, be it this week or beyond?
Josh Weinfuss:
Ideally, Peterson would play a prominent role in the offense. And the Cardinals have planned for that, installing a package specifically for him that was, at last check, 60 plays deep. They want him out there, so much so that on cut day, coach Bruce Arians said Peterson would be considered the Cardinals' fifth receiver. But with all the hype, he played only three offensive snaps. Granted, Peterson's involvement will always be dictated by the situation, but I think a lot of people were expecting more in Week 1. As to your second question, that's tough to answer. Peterson is already playing nearly every down on defense and is the Cards' primary punt returner. He's young -- 23 in July -- so his body can handle it, but I don't know whether there's anyone these days getting significant time in all three facets. He's more likely to get hurt on offense, but if he can make an impact on defense, special teams and offense, you're looking at a potential MVP.
May, 31, 2012
5/31/12
8:53
AM ET
They say timing is everything, and those who enjoyed
the 7-9 post
Wednesday will hopefully appreciate the timing of this one.
It's as clever as I'm going to get at this relatively early hour. First person to solve the riddle in the comments section wins blog-wide acclaim.
Just don't expect San Francisco 49ers coach Jim Harbaugh to "flirt" with you or even "pursue" you. He wouldn't do those things to Peyton Manning, let alone for someone lacking the ability to transform his football team.
Or so he says.

Matt Maiocco of CSNBayArea.com
provides context for Harbaugh's remarks regarding the team's non-flirtatious flirtation with Manning during free agency. Maiocco runs Harbaugh's comments in full, which I hereby enter into the divisional record:
"There's a perception out there, and it's an erroneous perception, that we were flirting with Peyton Manning. I keep hearing that over and over and over again. It's silly. And it's untrue. It's phony. Even the perception we were pursuing him. We were evaluating him. I said it all along that Alex Smith is our quarterback. There's no scenario other than Alex choosing to sign with another team that we would've considered him not as our quarterback.

"Don't like to compare or talk about somebody else who's on another team, but in this case, wanted to set the record straight. Alex Smith is our quarterback, was our quarterback and had every intention of always bringing him back. There'd be no circumstance where we would've let Alex Smith go.

"Now, were we out there seeing, evaluating if we could have them both? Heck, yeah. You evaluate that. You eliminate the possibility. Further evidence, we would not have given any player that was out there in free agency (one-sixth) of our salary cap and let six or seven of our own guys go. So hopefully that sets the record straight and you don't have to keep reporting the silliness and the phoniness."
Of course, there was no way in the world Manning was going to sign with a team that planned on making him compete for a starting job. The 49ers had to know this going into the process. They had to know signing Manning and Smith was highly unlikely.
Monte Poole of Bay Area News Group
says Harbaugh's comments run counter to the image the coach projects as someone unconcerned by what others think.
Noted:
Everyone cares what others think, especially those who act as though they do not. Coaches and athletes tend to thrive on what others think of them. They use it for motivation.
Cam Inman of the San Jose Mercury News
offers 49ers notes relating to other subjects.

Ian Rapoport of NFL.com
notes that the Rams and 49ers would benefit if the league suspended the Lions' Nick Fairley and Mikel Leshoure, who have run afoul of the law this offseason. Rapoport: "Fairley has looked strong in OTAs, and Leshoure is progressing nicely after tearing his Achilles. The absences would sting. Both are going to be counted on big-time. And both could be on the sidelines when it all begins. If the Rams, under a new coaching staff, fulfill some of their promise, that's a scary game for the Lions. And that trip to SanFran won't be pretty. An 0-2 start heading to a road game in Nashville? Not what the Lions are looking for. Yes, they can overcome a slow start. But it will keep happening unless some of their younger players learn to behave."

Kent Somers of the Arizona Republic
sizes up the situation at tight end for the Cardinals. Somers: "Much was expected, and the 65 receptions by the tight ends were more than the Cardinals had in 2010 (25) and 2009 (23) combined. King's 27 receptions were the most by a tight end since Freddie Jones had 45 in 2004. But as a receiving threat, the position didn't produce as expected. Heap was not fully healthy after the first month. Housler's season was a series of setbacks and climbs because of injuries."
Darren Urban of azcardinals.com
quotes tight ends coach Freddie Kitchens on second-year tight end Rob Housler: "This league is about reliability, accountability and availability. If you don't have all three of those, the rest doesn't matter. Hopefully that's all gotten better and it will allow his ability to take over."

Clare Farnsworth of seahawks.com
says Jason Jones' ranginess appeals to the Seahawks. Center Max Unger: "He's real long. A guy with long arms can create a bunch of issues, especially inside where you usually have a little more compact type of player. So with a guy like that, who's real long, it's a different set of rules you've kind of got to follow when you're blocking somebody like that."
Noted:
Jones looks nothing like the traditional 4-3 defensive tackle. He's taller and leaner in appearance than his listed weight (276 pounds) would suggest.
Also from Farnsworth
: Kellen Winslow impresses.
Danny O'Neil of the Seattle Times
says Seahawks rookie Bruce Irvin is looking good while Chris Clemons stays away from voluntary practices.
Noted:
The speedy Irvin should have an added advantage while practicing without pads. How he fares initially in a more physical environment will reveal itself during training camp.
Also from O'Neil
: Jones' contract gives all parties flexibility.
August, 29, 2011
8/29/11
1:15
PM ET
Twenty-one 2011 first-round draft picks have started at least one preseason game this summer.
Seattle's
James Carpenter
is the only one from the NFC West to start so far. He has struggled in pass protection while showing promise in the running game. Like some other rookie offensive linemen -- Green Bay's
Derek Sherrod
comes to mind -- Carpenter is facing growing pains in his transition to the NFL.
Arizona's
Patrick Peterson
is the only player drafted among the top six overall picks without a start. He returned an interception 34 yards for a touchdown Saturday night. The Cardinals like their depth at cornerback. Coach Ken Whisenhunt also tends to make rookies earn their starting spots.
Greg Toler
's injury could lead to increased snaps for Peterson.
The two first-round NFC West pass-rushers,
Aldon Smith
(San Francisco) and
Robert Quinn
(St. Louis), are easing into their roles. Smith has at times looked like a favorite to start right away, but he continues working with the backups. The Rams have no plans to push Quinn into the starting lineup right away. They're set at defensive end. Quinn could use seasoning after missing the 2010 season.
Three of the 11 first-rounders without starts this summer have been sidelined by injuries:
Nick Fairley
(Detroit),
Prince Amukamara
(
New York Giants
) and
Jon Baldwin
(Kansas City).
.
May, 16, 2011
5/16/11
5:25
PM ET
Michael from Seattle
asked whether I noticed that the Seahawks had ranked last among NFL teams in
Rick Reilly's recent re-drafting
of the 2006, 2007 and 2008 first rounds, with cornerback
Kelly Jennings
going 210 spots later.
Mike Sando:
Not only were the Seahawks last, but the
St. Louis Rams
were second-worst and the
San Francisco 49ers
third-worst. The
Arizona Cardinals
finished 22nd. Poor draft choices drag down teams, no doubt, but bad teams also drag down questionable draft choices. Some of these players walked into rough situations.
One of the Seahawks' recent first-round picks,
Lawrence Jackson
, appears better suited for Detroit's scheme. He had a career-high six sacks for the Lions last season and could get close to double digits playing with
Ndamukong Suh
and
Nick Fairley
. But he was never going to enjoy that sort of success in Seattle, particularly as the team sought different qualities in its linemen. Jennings,
Kentwan Balmer
(49ers),
Tye Hill
(Rams) and
Matt Leinart
(Cardinals) dragged down their teams' drafts as well.
A quick look at the NFC West picks Reilly mentioned, and how many spots earlier or later they would have gone on a re-draft:
I've been meaning to address this re-draft. Thanks for bringing it up.
May, 4, 2011
5/04/11
9:50
AM ET
The
Arizona Cardinals
'
Patrick Peterson
seems like
a logical early candidate
to challenge for NFL defensive rookie of the year.
One thing to consider, however: No defensive back has won the award since
Charles Woodson
in 1998. Nine linebackers and three defensive linemen have won the award since Woodson won it. Since then, NFL teams have drafted 43 defensive linemen and linebackers -- but only 19 defensive backs -- among the top 10 overall choices.
Peterson was the only defensive back selected among the first 18 picks this year. This year tied with 2009 for the lowest number of defensive backs taken in that range over the past 10 drafts. There have been three or four defensive backs taken among the top 18 in seven of the past 10 drafts.
Texas A&M pass-rusher
Von Miller
(
Denver Broncos
) and Alabama defensive tackle
Marcell Dareus
(
Buffalo Bills
) were the first two defensive players selected this year. Peterson was the third, followed by Missouri's
Aldon Smith
(
San Francisco 49ers
), Wisconsin's
J.J. Watt
(
Houston Texans
), Auburn's
Nick Fairley
(
Detroit Lions
), North Carolina's
Robert Quinn
(
St. Louis Rams
), Purdue's
Ryan Kerrigan
(
Washington Redskins
) and Illinois
Corey Liuget
(
San Diego Chargers
).
All but Peterson are defensive linemen, linebackers or projected outside linebackers. I still think Peterson is well-positioned to contend for the award. He's joining a secondary filled with playmakers. He'll have chances to pick off passes, most likely. And whatever value he adds in the return game will raise his profile.
I also think Fairley should have a strong chance lining up next to
Ndamukong Suh
. He could rack up sacks. Miller, Dareus, Peterson and Fairley would be my early favorites. The other defensive players drafted early could play situational roles as rookies or play positions that make standing out more difficult. Defensive ends in 3-4 schemes have a harder time making an obvious impact.
April, 28, 2011
4/28/11
12:00
PM ET
Mel Kiper's fifth mock draft

for 2011 serves as the foundation for discussing how NFC West teams might proceed this offseason.

I'll continue with a look at his plans for the
San Francisco 49ers
, who hold the No. 7 overall choice.
7. San Francisco 49ers: Blaine Gabbert, QB, Missouri

Kiper's give:
I picked
Patrick Peterson
to fall to this point in my previous mock draft, but I don't think he gets there this time around. He offers too much trade leverage. This time, I think Gabbert lands here. While Jim Harbaugh has taken the dignified route and stated how much he wants to work with Alex Smith, I think it's pretty fair to assume the Niners will be looking for a long-term solution for their new coach.
Sando's take:
What a fun selection this would be in the NFC West. For this to happen, the division-rival
Arizona Cardinals
would have to pass on Gabbert. That part of the equation seems plausible; there's no sense that Arizona is smitten with the top-rated quarterbacks this year. The 49ers do think coach Jim Harbaugh can get the most from quarterbacks. That thinking lends credence to taking a quarterback later and allowing Harbaugh to develop him over time. In this case, Kiper thinks Harbaugh's expertise would allow the 49ers to get the most from Gabbert, whose background in a spread offense could require an adjustment period. Again, this would have enduring ramifications within the division. The Cardinals would face two games each season against the quarterback they decided against taking in the face of an obvious need. Peterson,
A.J. Green
and
Von Miller
were gone when Kiper made the Gabbert projection for the 49ers at No. 7.
Prince Amukamara
,
Nick Fairley
,
Cameron Jordan
and
Robert Quinn
were among those still available.
April, 25, 2011
4/25/11
2:12
PM ET
Von Miller
,
Robert Quinn
,
J.J. Watt
and
Mark Ingram
landed in the NFC West thanks to my shrewd maneuvering in
ESPN.com's Blog Network mock draft
for 2011.
I'm breaking out my selections on a team-by-team basis, with explanations that hopefully will invite your points and counterpoints. Running back Mark Ingram unexpectedly
landed with Seattle at No. 25
.
Let's continue in reverse order, with the
St. Louis Rams
at No. 14.
The selection:
J.J. Watt, DL, Wisconsin

Off the board:
Quarterbacks
Cam Newton
,
Blaine Gabbert
and
Andy Dalton
; defensive linemen
Marcell Dareus
,
Nick Fairley
,
Aldon Smith
; cornerbacks
Patrick Peterson
and
Prince Amukamara
; outside linebackers Von Miller and Robert Quinn; receivers
A.J. Green
and
Julio Jones
; and offensive lineman
Tyron Smith
.
The thinking:
The more I consider
rampant comparisons
between Watt and
Adam Carriker
, the less solid this selection seems to be on the surface. Carriker found himself caught between positions and ultimately caught between coaching staffs after the Rams made him the 13th choice of the 2007 draft. He played 31 of 32 games, starting 25, in his only two seasons with the Rams. He also needed shoulder surgery last offseason, complicating efforts to earn a spot in the Rams' rotation. Carriker's versatility was seen as an asset when he was coming out of college. The Rams' experience with him changes the outlook for Watt. It's fair to wonder whether Watt would fit well enough into any one position to maximize his value. Could he play primarily inside, adding to the rotation at defensive tackle? Would he possess the quickness and pass-rush ability to play enough on the perimeter? Would he even remotely fit the physical mold of the defensive linemen Steve Spagnuolo's teams have drafted early in the past -- guys such as
Brodrick Bunkley
,
Mike Patterson
,
Jerome McDougle
,
Corey Simon
,
Jay Alford
and
Derrick Burgess
? Those are valid questions. Watt could fit more naturally in a 3-4 scheme. The way this mock draft unfolded, however, Watt projected as a good value selection at a position where the Rams are seeking young reinforcements. The top two receivers weren't available. This was too early, it seemed, to fill needs at outside linebacker. Drafting for the offensive line seemed like a luxury for a team already set at both tackle spots. It's arguably a year early to spend such a high selection on a running back, although Ingram was available when I made this selection. Watt became the choice by default -- a big, versatile defensive lineman adding depth where coach Spagnuolo values it the most.
Odds of this happening:
Outside shot. I spent the last paragraph all but apologizing for the selection. I do think there's a good chance the Rams will select a defensive lineman, however.
April, 11, 2011
4/11/11
11:49
AM ET
Eric Dickerson, Marshall Faulk, Roger Craig, Sean Morey,
Sam Bradford
and
Takeo Spikes
are among the NFC West players and alumni scheduled to appear at the NFL Players Association's draft-related festivities in New York beginning April 28.
Hall of Famer and current
Seattle Seahawks
radio analyst Warren Moon, who played for Seattle before the team's move back to the NFC West in 2002, is also on the guest list revealed Monday.
The NFLPA took criticism when news broke that it
planned to discourage players from attending
the draft itself, but these events have been scheduled to give players flexibility should they choose to attend both.
"The series of events is a celebration of legacy -- of past, present and future football players coming together to honor those making the journey from prospect to professional," the NFLPA said in a news release.
The NFLPA has scheduled a welcome meeting and dinner with families for 4 p.m. ET on Thursday, the first day of the draft, which begins at 8 p.m. ET. Draft prospects attending would then have time to appear at the draft, should they choose to do so, as both will be headquartered in New York.
The NFLPA has scheduled media access for Friday from 8 a.m. to noon, followed by a lunch and dinner with reception at 4:30 p.m. A fitness and skills clinic is set for Saturday from 10 a.m. to noon in Harlem, followed by lunch and a party beginning at 9 p.m.
NFL teams generally fly first-round choices to their facilities in the day or two following the first round. Rules will allow that to happen again, despite the lockout. Players heading to their new teams' facilities for news conferences could miss NFLPA-sponsored events for Friday and/or Saturday.
The initial guest list, subject to change, features the following current and former NFL players:
Charlie Batch
,
Cornelius Bennett
,
Dwayne Bowe
, Bradford,
Ahmad Bradshaw
, Craig,
Zak DeOssie
, Dickerson,
Eddie George
, Faulk,
Felix Jones
,
Maurice Jones-Drew
,
Dustin Keller
,
Brandon Marshall
,
Kevin Mawae
,
Willie McGinest
,
Brian Mitchell
, Moon, Morey,
Shaun O'Hara
,
Ray Rice
,
Tony Richardson
, Spikes and
Mike Vrabel
.
The list of draft prospects includes
Prince Amukamara
,
Marvin Austin
,
Adrian Clayborn
,
Marcell Dareus
,
Nick Fairley
,
Blaine Gabbert
,
A.J. Green
,
Mark Ingram
,
Julio Jones
,
Cameron Jordan
,
Ryan Kerrigan
,
Corey Liuget
,
Von Miller
,
Rahim Moore
,
Cam Newton
,
Patrick Peterson
,
Robert Quinn
,
Aldon Smith
,
Daniel Thomas
and
J.J. Watt
.
April, 6, 2011
4/06/11
6:42
PM ET
Vishal from parts unknown
stretched the NFC West mailbag at the seams with a two-part, nearly 400-word dispatch critiquing
my ballot ranking the 10 best coaches
in the NFL. I'll break out the main points in bullet items before responding. He wanted to know ...
Why past performance mattered more for head coaches, specifically Mike Shanahan, than it did for players in our previous power rankings;
How I could justify leaving off the Atlanta Falcons' Mike Smith based in part on playoff losses to teams with inferior records, since those teams advanced to the Super Bowl;
Why Tom Coughlin ranked third despite enjoying the organizational support and stability that contributed to a lower ranking for Mike Tomlin.
Mike Sando:
These were difficult decisions. Some of the trade-offs weren't very satisfying. I put together my ballot over the weekend. Upon revisiting it Tuesday morning, I initially thought I'd left off Smith by accident. Then I remembered he was basically just an odd man out. He's a guy I do think of as being one of the best coaches in the league. John Harbaugh is another one. Those guys are deserving of the recognition they received from our voters. I could have felt good about including them as well.
The point you make on Coughlin and Tomlin is compelling. The Giants have strong ownership. They have had only three general managers in the last 30-plus years. I stand by the No. 3 ranking, but acknowledge that I might have considered ranking him lower if this conversation occurred prior to voting.
Coughlin ranked higher than Tomlin on my list for a few reasons I haven't explained:
Coughlin brought quick success and stability to Jacksonville when the Jaguars were an expansion franchise. That was impressive.
The Giants became more productive offensively under his watch, even with a young, inconsistent quarterback. Eli Manning is not the greatest passer. The Giants have ranked among the NFL's top eight in scoring four times under Coughlin after never ranking higher than 12th over a 15-year span under four other coaches.
Coughlin showed a capacity to change during his Giants tenure, becoming more responsive to players.That was important during the Super Bowl season.
Your question about Shanahan is easier to answer. The abilities a coach possesses early in his career do not necessarily deteriorate the way a player's physical skills deteriorate. Shanahan's 152-108 regular-season record, 8-5 postseason record, nine winning seasons and two Super Bowl titles worked in his favor.
---
Doug from Newbury Park, Calif.,
wonders whether I thought the
San Francisco 49ers
replaced
Gary Plummer
because they felt he was too critical as the team's radio color commentatory.
Mike Sando:
Plummer has been outspoken for years. If his outspokenness were a problem, the team presumably would have replaced him years ago. He had handled the job since 1998 and never held back. Fans accustomed to Plummer will be paying close attention to see how his replacement, Eric Davis, couches his criticisms. I expect Davis to speak his mind in his own style -- a style less combative than the one Plummer brought to the job as a former linebacker.
---
Joe from Phoenix
wonders whether the
St. Louis Rams
could trade out of the 14th overall choice with a team looking to draft running back
Mark Ingram
in that spot. He thinks teams are better off with one dominant runner than a committee approach, and he wonders specifically whether New England might be a team to watch from a trade standpoint.
Mike Sando:
The Patriots traded up to get
Daniel Graham
in 2002. They traded up into the 13th spot for
Ty Warren
a year later. New England has been much, much more likely to trade down in the first round over more recent drafts, however.
The Patriots would likely have to part with their third-round choice, 92nd overall, to jump three spots to No. 14. Recent history says that is unlikely.
As for running backs, the trend has been toward having multiple backs share the load. No more than seven backs in one season have reached 300 carries since 2007. There were at least nine backs with 300 or more carries in 10 of the previous 12 seasons, peaking with 13 in 2003.
The Patriots have had only one such player --
Corey Dillon
in 2004 -- since Bill Belichick became head coach.
None of this prevents New England from climbing three spots to nab Ingram. If it happens, however, it'll be a little surprising.
---
Rob from Phoenix
wonders whether the Cardinals would select Auburn defensive tackle Nick Fairley with the fifth overall choice, if available, even though the team doesn't have obvious needs on its defensive line. Texas A&M pass-rusher Von Miller would not be available under this scenario.
Mike Sando:
The scouting reports say Fairley projects better in a 4-3 defense. The same could be said for Cardinals defensive end
Darnell Dockett
, however, and the Cardinals have learned the hard way about favoring need (tackle
Levi Brown
) over value (running back
Adrian Peterson
) when picking fifth.
So, if Fairley is available and clearly the best player, the Cardinals would have to consider him. But I tend to think he projects as a higher-risk prospect based on concerns over his emotional stability and the consistency of his effort. That could scare off Arizona. Throw in other factors -- fit and need specifically -- and I envision the Cardinals going in another direction.