January, 28, 2015
Jan 28
2:00
PM ET
EARTH CITY, Mo. -- NFL teams can't trade players or sign free agents or do business aside from dealing with the guys on their own roster or not in the league until the new league year starts March 10.
But that doesn't mean the time between now and then won't be filled with plenty of rumors and speculation. In St. Louis, it's no secret that the Rams are going to explore all avenues to bolster the depth chart at quarterback. Even though they plan to bring
Sam Bradford
back, the Rams' search will include an extensive look at all outside options including the draft, free agency and, yes, the trade market.
"There's going to be competition at the quarterback position, there's no doubt," Rams coach Jeff Fisher said at his end of season news conference. "With somebody that is not in the building right now. We're hopeful for that."
Which makes 'Who will be the quarterback(s) brought in to compete with Bradford?' one of the most pressing questions of this offseason. Earlier this week, Philadelphia quarterback
Nick Foles
had the honor of being one of the first names to be rumored as a possibility. According to a report at NJ.com, the Rams are one of a handful of teams
showing early interest
in making a deal for Foles.
Foles was viewed as one of the league's emerging young quarterbacks after a breakthrough 2013 season in which he threw 27 touchdown passes with just two interceptions in leading the Eagles to an NFC East Division title. Some of the shine came off Foles' star this season though, as he threw 13 touchdowns and 10 interceptions while playing eight games before a fractured collarbone ended his season.
[+] Enlarge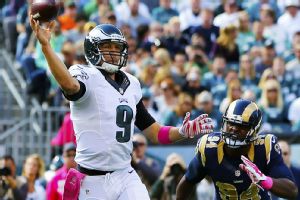 Jeffrey G. Pittenger/USA TODAY SportsWill Nick Foles be throwing passes for the Rams instead of against them next season?
Apparently, that drop off in performance was enough to leave Philadelphia coach Chip Kelly pondering whether Foles is the team's long-term answer at the position. In his season-ending news conference, Kelly was asked whether Foles was still his guy but offered no commitment.
"I don't know, we'll sit down and thoroughly evaluate everything in the offseason," Kelly told reporters. "It's no different than any other position. We'll look at it. Let's look at the film again. Let's get all the opinions on it and make valid decisions on it."
It's no secret that Kelly has an affinity for Oregon quarterback
Marcus Mariota
, the Heisman Trophy winner who Kelly coached before taking the Eagles job. But Kelly and the Eagles are almost certainly well out of range to select Mariota, as they hold the No. 20 overall pick in the draft.
Which might lead us to the crux of the situation. The Rams hold the No. 10 pick in the draft, which is also probably out of reach of Mariota but certainly a lot closer to Mariota's range than the 20th spot. Should Kelly and the Eagles decide to move up to try to get Mariota, they might have to make multiple trades and could dangle Foles as bait in one of those moves.
The question then becomes whether the Rams would be willing to make the move. There's no chance the Rams would simply trade the 10th pick for Foles straight up. If Philadelphia offered the 20th pick, Foles and a mid-round pick for the 10th pick, that would be something the Rams would have to take a closer look at.
As it stands, the Rams have no obvious in-house solution at quarterback, and there's no doubt that they'll explore any option out there. It remains to be seen how Foles would function outside of Kelly's offense, but at least he has more of a resume than any other free-agent quarterback or draft prospect the Rams could land.
Considering that the current Rams regime is entering its fourth year without a winning season to its name, adding a quarterback who could legitimately push to be the starter right away (while still drafting a young quarterback to groom) would make plenty of sense.
Over the next couple of months, plenty of other rumors will pop up, but Foles is one name that would be intriguing if he does become available and the price is reasonable.
October, 3, 2014
10/03/14
4:30
PM ET
EARTH CITY, Mo. -- The rushing attacks of the
St. Louis Rams
and
Philadelphia Eagles
are supposed to be the foundation for what both teams want to do offensively.
When the teams meet on Sunday afternoon, there's little doubt that the running game will play a major role in the outcome. But the numbers for both teams show that this one could really come down to which team is able to hit more big plays down the field in the passing game.
[+] Enlarge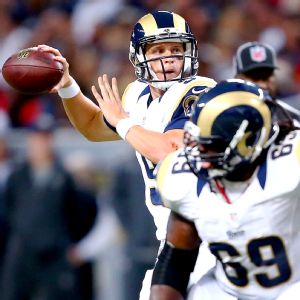 Dilip Vishwanat/Getty ImagesThe Rams haven't been shy about opening up their deep passing game with Austin Davis.
Through three games, the Rams have not been shy about taking their shots, especially with
Austin Davis
at quarterback. Davis leads all quarterbacks with a 72.3 percent completion rate but has also had his share of success throwing deep. He's attempted 20 passes traveling 15-plus yards in the air and hit on 12 of them, a 60 percent completion rate which also ranks No. 1 in the league. His quarterback rating of 99.7 on such throws is tied for third in the NFL.
Not many young quarterbacks trying to get their feet wet in the NFL would be so willing to go deep early, but Davis apparently has different wiring.
"We've always thought he threw the ball well down the field," offensive coordinator Brian Schottenheimer said. "He's as comfortable as I've ever been around a guy that gets thrown into that situation. He hasn't blinked from day one and again, I think this just speaks to the confidence we have in him. I think he knows the group trusts him and believes in him but he hasn't hesitated or blinked at one time from the moment he went in and had to play in the first game. I think that's a tribute to him."
Philadelphia has also been susceptible to the deep pass. The Eagles have allowed opponents to complete 12-of-25 passes traveling 15-plus yards in the air for 389 yards and two touchdowns. Opponents have a QBR of 98.4 on those attempts, which ranks 25th in the league.
On the other side, there's no team in the league that likes throwing the deep ball more than the Eagles and quarterback
Nick Foles
. His 52 pass attempts on throws 15 or more yards down the field are clearly the most in the league. Much of those throws come off of play-action passes, but just because Foles and the Eagles like to throw deep doesn't mean they are always successful.
On throws of 15-plus yards, Foles is 16-of-52 for 409 yards with three touchdowns and three interceptions for a QB rating of 74.0, which is 24th in the league. Last week, Foles attempted 10 passes traveling 20 or more yards downfield, did not connect on a single one and threw a pair of interceptions. Since ESPN Stats & Info began tracking such things in 2006, that's the most attempts without a completion in a game.
But the hit-or-miss nature of those passes doesn't mean the Rams expect the Eagles to stop throwing deep.
"This is the biggest vertical passing game that we've faced all season so for us, just making sure we are staying on top, getting pressure on the quarterback, getting him off his spot and that all goes in hand with each other," safety
T.J. McDonald
said. "That's the plan."
The deep passing game hasn't been something the Rams have seen much of in the first three games. In a clear effort to negate the Rams' pass rush, opponents have tried just nine passes 15 or more yards in the air, the fewest such attempts in the league. The Cowboys hit one for a 68-yard touchdown in Week 3 game but overall, opponents are 5-of-9 against the Rams in those situations.
November, 29, 2013
11/29/13
12:00
PM ET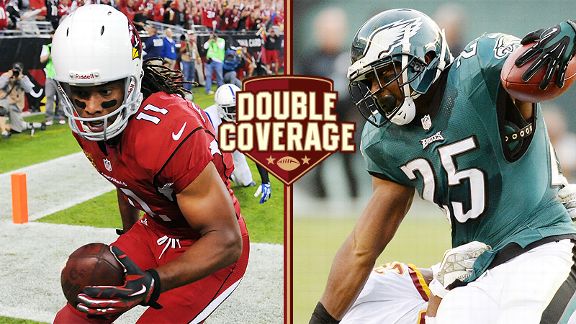 Getty ImagesLarry Fitzgerald and LeSean McCoy will look to keep their teams streaking on Sunday.
Bruce Arians and Chip Kelly come at their news jobs from very different places.
Kelly was the hot college head coach of the moment, hired by Eagles owner Jeffrey Lurie to replace the institution that was Andy Reid. Arians was a college head coach, too, at Temple back in the 1980s. He got his job with the
Arizona Cardinals
, though, based upon years as an often-overlooked NFL assistant.
And now here they are. Arians' Cardinals are 7-4 with a four-game winning streak, while Kelly's Eagles are 6-5 after a three-game winning streak. Their teams meet at Lincoln Financial Field Sunday in a game with major NFC playoff implications.
ESPN.com reporters Josh Weinfuss, who covers the Cardinals, and Phil Sheridan, who covers the Eagles, take a closer look at the matchup.
Phil Sheridan:
Bruce Arians is best known in Philadelphia as one of the rare coaches to survive a stint at Temple University. Nationally, he's known for winning the Coach of the Year Award after filling in for Chuck Pagano last year in Indianapolis. How has he conducted business and how much of this four-game winning streak results from that?
Josh Weinfuss:
I think all of it. Arians is the ultimate players coach and from everything I've heard about him from former players and current Cardinals who were with him in other places, he hasn't changed a bit. He'll tell the players like it is and if they can't handle it, they have to figure out a way to deal with it. He's not big on the sugarcoating, and the players appreciate it. As a head coach, he's taken a little bit from each of the coaches he worked for and put it into play in Arizona. He's learned how to delegate and put together a staff that complements him very well. On top of it all, he's an offensive genius who stayed patient with this team while they learned his scheme, and it's paying off.
On the topic of schemes, is Kelly's high-octane offense here to stay or will he need to adapt as the season progresses?
Sheridan:
Probably a little of both. Kelly already has adjusted to some degree. The foundation of his approach seems to be figuring out how a defense is designed to stop his offense and then exploiting whatever weaknesses and mismatches created by that design. When teams played man coverage and pressed to eliminate his bubble screens, Kelly shrugged and started throwing deep. When the Giants and Cowboys found a weakness in his run-blocking scheme, Kelly adjusted and got
LeSean McCoy
back on track. Kelly seems to enjoy the cat-and-mouse game with opposing coaches. That said, the foundations of what he does -- creating mismatches and exploiting weaknesses -- are as old as football. He just has some intriguing ways of getting there.
While we're on that side of the ball, how has Todd Bowles been able to win the hearts and minds of a defense that thrived under former coordinator Ray Horton? And how important is having
Karlos Dansby
back in the fold?
Weinfuss:
Bowles made one minor change up front and he's been the glimmer in the defensive line's eyes ever since. He went from a multi-gap system to a one-gap scheme, which has taken out the thinking from football. Now, the Cardinals front line can just rear back and go, and the changes are obvious.
Darnell Dockett
is having his best season in a while,
Calais Campbell
has emerged as one of the toughest defensive ends in the league and nose tackle
Dan Williams
has plugged the holes in the middle, forcing plays out to the edges -- and right into the hands of guys like
John Abraham
,
Matt Shaughnessy
,
Daryl Washington
and, of course, Dansby. He's playing at the lowest weight of his career and he's been able to fly around, going from sideline to sideline with relative ease for a guy who's been in this league for 10 years. While everything for the Cardinals' defense starts up front, each level has been benefiting from the line's presence.
Let's stay on defense. The Eagles have the worst pass defense in the league. How can they muster enough plays to slow the Cardinals' recently high-flying passing game under
Carson Palmer
?
Sheridan:
Josh, that could be the question that determines the outcome of this game. The only answer I have is that, somehow, that's just what the Eagles' defense has been doing in the seven games since
Peyton Manning
hung 52 points on them. They give up a lot of yards, but they haven't given up more than 21 points in a game since then. They've been good in the red zone and have started generating pressure and, in turn, turnovers. Palmer provides a very good measuring stick. The Eagles have thrived against the
Mike Glennon
s and
Scott Tolzien
s of the world, although in fairness they played well against
Eli Manning
and
Tony Romo
, too. But Palmer and that
Larry Fitzgerald
fellow definitely represent the kind of test the Eagles must pass before being considered a good defense.
Speaking of Palmer, the NFC Offensive Player of the Week, there seems to be a Kurt Warner vibe at work here -- veteran guy getting one more shot to prove he still has it. Warner did -- does Palmer? What's the ceiling on the offense with him at the helm?
Weinfuss:
All the evidence from the past four games points to yes -- Palmer does have a Warner-esque resurgence in him, but that's only because the Cardinals' offense is finally working. If it was still struggling, we'd be talking about Palmer being replaced either now or after the season. Crazy how that works. Palmer is the perfect quarterback for a Bruce Arians scheme. He has a big arm and can make throws on a dime. And those two things will carry this offense as far as it can until Palmer makes bad decisions. Even though the bad decisions have been cut down during the Cards' four-game winning streak, it would be na´ve of anybody to think they're totally done with. Arizona is just getting lucky. Twice against the Colts, Palmer had probable interceptions dropped, and against Jacksonville two weeks ago, a well-timed timeout by Arians saved Palmer from a potentially costly interception. If Palmer can take chances without making ill-advised throws, the ceiling is quite high, especially with the depth at receiver, tight end and running back.
A lot of University of Arizona fans out this way are loving the fact that
Nick Foles
is starting and playing well. Is he Mr. Right for the Eagles in Kelly's offense or Mr. Right Now?
Sheridan:
That's the question that will haunt the Eagles through the offseason. Foles has had some of the luck you described Palmer having. That seven-touchdown game against Oakland was partly the product of some of the worst defensive football I've ever seen (and I watched
Nnamdi Asomugha
jog through two years here). But Foles is smart, he's accurate and you can see him gaining confidence and comfort with every game. Clearly, he is not the quarterback Chip Kelly would order from the factory. But as he continues having success and winning games, you have to wonder how far Kelly is willing to tailor his offense to Foles for the long haul. It's the decision that will define the Kelly era, at least for the next few years. My gut says Foles is a good NFL quarterback, but Kelly will make a move to find his guy at the earliest possible convenience. If Foles keeps this up, though, my gut might be proven wrong.
February, 28, 2013
2/28/13
8:30
PM ET
Ryan from Denver
points to the
San Francisco 49ers
' interest in
Peyton Manning
last offseason as evidence the team would consider adding a high-profile, high-priced veteran such as
Darrelle Revis
. He questions
my assertion
that the 49ers do not splurge on these types of players from other teams.
"The 49ers may not make a run at Revis, but it won't be because they don't chase high-priced players from other teams," Ryan writes. "You don't think it would be in the 'Niner Way' to offer two second-round picks and $30 million to Revis on a two-year deal? They would obviously cut
Carlos Rogers
, meaning they would have a little less than $10 million a year over what they're scheduled to pay Rogers and they'd be upgrading to the best corner in the game."
Sando:
49ers brass is on the record saying it views veteran acquisitions as retail and drafted acquisitions as wholesale. They like to pay wholesale. Is the gap between Revis and Rogers really worth $10 million annually and multiple second-round choices, with Revis set to cash in a couple years later? Not to me.
Second-round picks have great value in the right hands. The 49ers recently used a second-round choice to get a franchise quarterback who will count $1.4 million against their cap this season. That's the way to build a team. I could maybe make a case for acquiring Revis if he were a free agent and not coming off ACL surgery, but giving up multiple second-round picks? Doesn't make a great deal of sense to me.
---
Jim from Norwalk, Conn.,
gets the feeling Seattle has to dump
Matt Flynn
for cost considerations. As a Seahawks fan, he fears San Francisco will come out ahead twice on its
Alex Smith
trade. One, the 49ers get additional picks. Two, the 49ers could be in position to snag Flynn if the Seahawks released him.
Sando:
No need to panic, Jim. The Seahawks are in a more favorable cap situation than the 49ers are in, and they can afford to keep Flynn on their roster as the second quarterback. I'll expand on this one Friday. In short, the 49ers had much more to gain from a cap standpoint by trading their backup quarterback than Seattle would gain from trading Flynn.
---
Terry from San Diego
asks whether the
Arizona Cardinals
should consider acquiring
Nick Foles
from Philadelphia.
"Bruce Arians is good with rookie QBs, and Foles fits the mold Arians likes at 6-foot-6 with big hands and a strong arm," Terry writes.
Sando:
The Cardinals should explore all options, but it's not like they're brimming with extra draft picks this year. They already got burned sending a second-round choice and
Dominique Rodgers-Cromartie
to Philadelphia for
Kevin Kolb
. They would have to feel strongly about Foles to make another deal for an unproven Philadelphia quarterback. Arizona should monitor the price on Foles, but I lean toward drafting a quarterback in the first few rounds after signing veteran insurance and reworking Kolb's deal.
---
Tom from Minot, N.D.,
asks whether the
St. Louis Rams
had to pay
Titus Young
while the receiver was on the roster briefly.
Sando:
They might have paid for his flight to St. Louis, but they would not have paid any salary. There are no salary-cap implications associated with Young's brief stay on the roster. The Rams brought him in, checked him out, took notes and sent him on his way.
If the Rams spend real money on a receiver in the near future, it figures to be for
Danny Amendola
. That could be a challenging negotiation, however. Amendola can claim he's a big part of the offense when healthy, pointing specifically to a memorable performance at San Francisco last season. The Rams can point to all the games Amendola has missed, and to
some statistics
calling into question Amendola's impact before third down.
February, 27, 2013
2/27/13
11:15
AM ET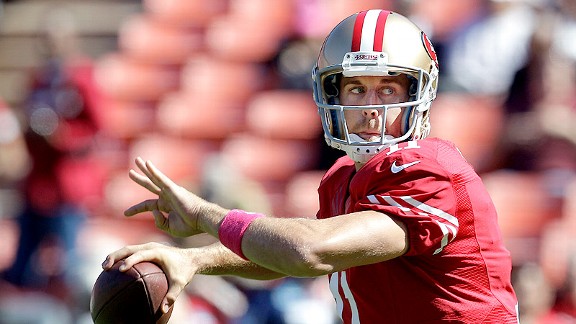 AP Photo/Tony AvelarHad the 49ers elected to keep Alex Smith, he would have counted $8.5 million against their salary cap.
Matt Williamson of Scouts Inc. is here to discuss a potential
Alex Smith
trade and its likely ramifications less than two weeks before the March 12 start to free agency.
We begin with a look at whether there's any realistic way for the
San Francisco 49ers
to keep Smith for another season. They would of course like other teams to think there's no urgency to make a deal.
Sando:
The 49ers were one of the few teams last season that realistically could have contended for the Super Bowl with either of its top two quarterbacks. They're flush with draft picks in 2013, so adding another one in exchange for Smith wouldn't necessarily help the 49ers as much right away as Smith would help them if something happened to starter
Colin Kaepernick
. That was one thought that came to mind.
Williamson:
You have to move Smith because he is still expensive, he is a proven starter and it is the right thing to do for the player. Usually, that isn't part of the equation, but in some instances, it's just the right thing to do. Let this guy who treated you great and never lost the job start someplace else. That bodes well for the team and everyone pats him on the back. Not to mention, you are going to get something in return, an asset.
Sando:
The 49ers are relatively snug against the salary cap, as well. The $8.5 million slot currently set aside for Smith could help them re-sign a player or add a starter in free agency. San Francisco currently has four players, including Smith, scheduled to count more than $7 million against the 2013 cap. The other three players are starters. Those are precious salary slots. So, if there's a chance to move a backup scheduled to count that much on the cap, a trade makes sense.
Williamson:
You can look at it like, 'OK, we're the best team in the league. We don't have glaring holes in our lineups. We have a ton of picks.' In a weird draft where everyone wants to move down, maybe the 49ers are one of the few teams wanting to move up. Maybe they move from No. 31 to No. 15 and get a stud defensive lineman to rotate in and be the next guy up front. I would strongly consider a big move up if I'm the 49ers. Adding a pick for Smith helps that. They need to get younger on defense. A stud defensive lineman or a corner could make sense. So could another receiver.
Sando:
Backup quarterback would also become a need. What route would you take there?
Williamson:
I don't like a lot of the veterans. It's a weak free-agent class.
Jason Campbell
comes to mind because as backup quarterbacks go, he is slightly above average, maybe. But you would also like to have your backup be more in the Kaepernick mold athletically so you won't have to change the offense too much. Campbell is not that guy. He doesn't run around. But no free agent comes to mind who would be athletic and someone you could trust to get you out of a game or grind out a win or two.
Sando:
Smith is such a security blanket. The 49ers have said they have the best quarterback situation in the league. Going with Kaepernick and some drafted guy would introduce some uncertainty into the situation. That is life in the NFL, however.
Williamson:
Yeah, it's a little frightening. You don't want to use too many assets for a guy you hope stays on the bench. You don't want to package two third-round picks to go up and get E.J. Manuel. There are a couple of decent athletes in this class. The kid at Arizona (Matt Scott) is intriguing as a developmental, toolsy guy who could run. But you can't make sure he's there in the fourth. You could do a little of both. You could go in with Kaepernick as the one, Scott Tolzein as the four, get a C-level veteran after the first couple of waves of free agency and then use a third- or fourth-rounder on a guy to cover yourself.
Sando:
Let's take a look at this situation from Smith's perspective. If you're him, you might want to be released so you can find work on your own terms. That seems unlikely to happen, so if you're him, where are you hoping the 49ers send you?
Williamson:
I think we've seen the best of Alex Smith. Jim Harbaugh got it out of him. Smith is a limited passer. If I am him, I don't want to go to Buffalo, Cleveland or the Jets -- bad-weather places. I'm not sold that he can be an effective cold-weather playoff quarterback driving the ball through the elements. Kansas City isn't in the tropics, but of all the places, that might be the best one for Smith. The Chiefs could keep
Dwayne Bowe
, they have a good offensive line, Andy Reid is a quarterback guru and the running back is in place. I thought they would win the division last year. They just turned the ball over a ridiculous amount of times. If the Chiefs last year would have had Alex Smith and one of his low-interception seasons, they would have been respectable and maybe even .500.
Sando:
But it still sounds like you're calling Smith a placeholder until a team like Kansas City can find the next guy.
Williamson:
Kansas City should trade for Smith, then wait until next year to go get its guy instead of reaching on Geno Smith or a second-round guy it doesn't love. That is my hunch of what they are doing there. It's just such a seller's market for quarterbacks and perfect for the 49ers. The other team it is good for is the Eagles with
Nick Foles
. I don't think Foles fits the Chip Kelly system, no matter what they say.
Sando:
We've talked about Smith. You've mentioned Foles. What about the market for Seattle's
Matt Flynn
?
Williamson:
Smith is better than Flynn. I think Flynn is a backup. He really doesn't throw the football very well. His arm strength is a problem. He is not a playmaker. He is a pretty much a game-manager, a smart guy who has gotten the most from what he has, capitalized on a great situation in Green Bay to have a couple of big games with a great supporting cast, but I don't want him as my starter. That showed this time last year. He was a free agent for a while. It wasn't like teams were beating at his door. Then he quickly lost the job. The Seahawks loved
Russell Wilson
, but not enough to take him in the first or second round.
Sando:
Flynn's contract is scheduled to count $7.25 million against the salary cap in 2013. That is nearly as much as the $8.5 million hit associated with Smith's contract in San Francisco. However, the 49ers have much more cap room to gain by trading their backup quarterback. They would save the entire $8.5 million if they moved Smith before April 1. The Seahawks would save $5.25 million in salary, but they would still have to account for $4 million in cap charges associated with the signing bonus Flynn received as a potential starter last season. They could push a couple of million into the future, but either way, the savings wouldn't be as great. And it's questionable whether Seattle could get sufficient value in return.
Williamson:
If you trade Flynn, you have to find somebody and do you want to use a draft pick or find a free agent? Because you cannot go with what you have. There's no other quarterback on the roster.
Sando:
That might be a conversation for another day. Smith's situation is paramount now. We didn't even discuss the
Arizona Cardinals
' reported interest in him. I don't see the 49ers making a deal within the division. If they do, we'll have even more to talk about.
January, 16, 2013
1/16/13
10:22
AM ET
The
Chicago Bears
' hiring of
Marc Trestman as head coach
leaves Arizona, Philadelphia and Jacksonville as the final three teams with vacancies heading toward the 2013 season.
Trestman was not a known candidate for any other job. His
rather curious hiring
should not affect the Cardinals in any way.
A quick look at the known candidates for the Cardinals, Eagles and Jaguars:
Arizona: Offensive coordinators Darell Bevell (Seattle), Jay Gruden (Cincinnati) and Todd Haley (Pittsburgh) have reportedly interviewed or will interview. Cardinals defensive coordinator Ray Horton has already interviewed and remains on staff. Andy Reid and Mike McCoy were candidates before taking jobs elsewhere.
Eagles: The Eagles have interviewed and/or pursued Seahawks defensive coordinator Gus Bradley (Seattle), former Cardinals head coach Ken Whisenhunt, Gruden, McCoy, Atlanta Falcons defensive coordinator Mike Nolan, Falcons special-teams coordinator Mike Armstrong, Falcons offensive coordinator Dirk Koetter, former Baltimore Ravens coach Brian Billick, Notre Dame coach Brian Kelly, Oregon coach Chip Kelly, Penn State coach Bill O'Brien, former Chicago Bears coach Lovie Smith, and then-Syracuse coach Doug Marrone. Did I miss anyone? Phil Sheridan of the Philadelphia Inquirer joked that the Eagles have interviewed "every living male with a visor" to this point.
Jaguars: Bradley headed from his Eagles interview to meet with the Jaguars on Wednesday. Bevell and St. Louis Rams offensive coordinator Brian Schottenheimer also interviewed. Schottenheimer was a finalist for the job one year ago, but the Jaguars hired Mike Mularkey. Jaguars defensive coordinator Mel Tucker interviewed. San Francisco offensive coordinator Greg Roman would be a logical candidate for the job given his success with the 49ers and close ties to new Jaguars general manager David Caldwell, Roman's former college teammate and roommate. The Jaguars were not yet conducting their coaching search when Roman was available for interviews during the window provided before divisional-round games. He remains off-limits during Championship Game week. Armstrong, the Falcons' special-teams coach, has also been mentioned as a candidate. AFC South blogger Paul Kuharsky sizes up the field.
The chart is an expanded version of previous ones I've produced, designed to show which openings might be most appealing from candidates' perspective. I would order them Philadelphia, Arizona and Jacksonville based on a range of factors, including quarterbacks and ownership.
January, 14, 2013
1/14/13
5:40
PM ET
While the
Arizona Cardinals
and four other NFL teams continue to pursue head coaching candidates, I've put together a look at what the candidates might see when considering their options.
Arizona caught a break, it appeared, when one of their candidates,
Denver Broncos
offensive coordinator
Mike McCoy
, became available earlier than expected following a divisional-round playoff defeat.
McCoy will reportedly have a second interview with the Cardinals after meeting with the
San Diego Chargers
.
The chart shows some of what Arizona has to offer relative to what the four other teams have to offer. Most or all of the other teams appear to have more attractive quarterback situations.
December, 5, 2012
12/05/12
10:53
AM ET
Every team in the NFC West has been starting a quarterback drafted since 2010 in recent weeks.
The trend will likely continue unless
Kevin Kolb
returns from injury and gets the start for Arizona against Seattle.
I've put together a chart showing 2012 stats for all quarterbacks drafted since 2010 (minimum 10 attempts). They're ranked by Total QBR, which is a rate stat, not a cumulative stat. The order doesn't necessarily reflect how much each player has contributed to his team over the full season. It does generally reflect how well each quarterback has played when given a chance.
June, 27, 2012
6/27/12
3:30
PM ET
Pete Carroll and his
Seattle Seahawks
coaching staff have shown little use for conventional wisdom.
They've built a strong, ascending defense in decidedly
unconventional fashion
. As discussed Tuesday, we'll be better off
setting aside the usual templates
when analyzing what Carroll and the Seahawks might do at quarterback.
Yes, it is possible the team will go into the 2012 regular season with a rookie third-round quarterback standing less than 5-foot-11. Russell Wilson will need a strong exhibition season and training camp to make that happen, of course.
Tony Softli, former personnel evaluator for the
Carolina Panthers
and
St. Louis Rams
, backed Wilson as an immediate threat to
Matt Flynn
. He also called Wilson
a future star
.
"Flynn will have his hands full in a training camp competition against this star in the making," Softli predicted.
A big thanks to Nick Andron for
passing along
what has to be
the most in-depth analysis
on Wilson to date.
Matt Waldman's debut piece for Football Outsiders ran in early April, before the draft and well before Wilson made a positive first impression during offseason practices. Waldman studied three games from Wilson's career at North Carolina State, each against a strong ACC opponent. He saw a smart, resourceful player with a strong arm, uncanny deep-ball accuracy (even on the move) and solid fundamentals. He stopped short of guaranteeing Wilson's success, but he saw parallels between Wilson and
Drew Brees
.
"Considering the examples from Wilson's junior year in the Atlantic Coast Conference where he's effective on deep passes off play-action, throws receivers open, and improvises on the move, his potential to develop into an NFL quarterback is better than his height may indicate," Waldman wrote. "Still, it is reasonable to approach Wilson's NFL prospects with skepticism. Brees never overcame doubts from the organization that drafted him. ... However, as Brees,
Tom Brady
,
Marc Bulger
,
Matt Hasselbeck
,
Tony Romo
,
Kurt Warner
, and several others have demonstrated, careers don't end due to an inauspicious beginning."
There has been nothing inauspicious about Wilson's beginning to this point. He's fallen into a perfect situation, one featuring an open-minded coaching staff, no established starter and a zone scheme requiring quarterback movement.
April, 2, 2012
4/02/12
7:56
PM ET
Wrapping up (for now, anyway) the first Monday in April:
The NFC West could be playing musical guards. Arizona already signed former San Francisco 49ers guard/tackle Adam Snyder. Former Cardinals guard Deuce Lutui visited the 49ers last week and met with the Seattle Seahawks on Monday, according to Howard Balzer. The Rams previously met with former 49ers starter Chilo Rachal. The 49ers met with long-ago Cardinals starter Leonard Davis.
Lutui played for Seahawks coach Pete Carroll at USC. Weight problems have raised questions about his commitment, leading the Cardinals to seek alternatives at right guard. They went with Rex Hadnot last offseason, then added Snyder this offseason. Seattle could use depth at guard after releasing Robert Gallery.
How would Lutui look in a Seahawks uniform? That might depend on which uniform. The new ones from Nike are expected to feature a tighter fit. That might be welcome news for Kam Chancellor and other statuesque players, but did anyone consult the big guys?
Quite a few Seahawks observers have sent photos purporting to offer clues regarding the new uniforms set for unveiling Tuesday. Some of them might be right, wrong or close to the real thing. Experience has taught me patience regarding "leaked" uniform photos. I recall seeing similar photos in the past, not all of them accurate. Nike's site was showing preview items for every team but Seattle earlier Monday, further affirming expectations of a full redesign for the Seahawks.
The Rams have made available a highlight video for the retiring Torry Holt. Holt's diving catch against Green Bay in the playoffs is worth another look.
The Cardinals have put together a video showing quarterbacks coach John McNulty checking out University of Arizona quarterback Nick Foles' workout. The Cardinals gave McNulty a raise and moved him to quarterbacks coach after blocking Tampa Bay from pursuing him as its offensive coordinator.
The Rams have the NFL's third-youngest roster after signing Jo-Lonn Dunbar and re-signing Tom Brandstater. Both are relatively young at age 27, but they actually made the revamped Rams slightly older on average. Tampa Bay and Seattle are tied for the youngest roster on average, with the Rams right behind. The 49ers (24th youngest) and Cardinals (25th) are older. Filtering out specialists produces slightly different rankings: Seattle second-youngest, St. Louis third, San Francisco tied for 11th and Arizona 21st.
Until next time, enjoy your Monday evening.
February, 26, 2012
2/26/12
1:31
PM ET
INDIANAPOLIS -- A few thoughts after watching select quarterbacks and wide receivers work out inside Lucas Oil Stadium on Sunday morning:
Disclaimer: In some ways and probably overall, watching the action on television beats watching from the stands, at least for those of us who aren't trained in scouting. Our group of reporters watching this session had prime club-level seats at about the 35-yard line. The players were working on the other side of the field. There were times when I glanced up to the big screen to make sure I'd properly identified the players.
Assignments: The Pro Football Writers of America assigned one or two players to each of the roughly 20 reporters watching this specific group. Arizona quarterback Nick Foles and Oklahoma State receiver Justin Blackmon were the players on my list. Sometimes it's tough to tell how a player fared, but in this case, Foles obviously struggled with his longer passes. Quarterbacks are often more comfortable throwing to their own receivers. In this case, Foles failed to connect deep when Arizona teammate Juron Criner was his receiver.
My notes on Foles: "Foles struggled with his throws, particularly on post-corner routes. Coaches appeared to advise him on his deep-ball trajectory after Foles overthrew Arizona teammate Juron Criner on an early deep pass. Foles put too much air under subsequent deep passes. He did not hit receivers in stride on those balls. Foles did elicit a 'good throw' commendation from one coach after connecting with Michigan's Kenneth Hemingway on a 10-yard out route. North Carolina State's Trevor Graham dropped pass from Foles on a hitch route."
My notes on Blackmon: "Blackmon appeared to be protecting his sore hamstring. He did not appear to open up and really run. He bobbled one pass while running through the gauntlet. He dropped one pass on a go route. There wasn't much to see here." The gauntlet consists of receivers running the width of the field while catching passes from quarterbacks stationed along the way. Receivers are to catch and quickly discard passes from seven quarterbacks while running the 53-yard width. Blackmon went to the ground making one catch.
Obvious limping: Tennessee Tech receiver Tim Benford seemed to be limping each time he returned to the group after running his routes. He appeared to step awkwardly after making an impressive over-the-shoulder catch early in the session. Wake Forest's Chris Givens appeared to suffer from cramping. He left the field with a trainer and stretched one leg while sitting on a table.
Diving grab: Georgia Tech's Stephen Hill made the most spectacular catch, a diving grab on a deep pass.
Quiet in there: Players are accustomed to performing before raucous crowds. The atmosphere in Lucas Oil Stadium would have let them hold a putting competition. We could hear the passes hitting players' hands.
There's another session scheduled for noon.