January, 10, 2013
Jan 10
11:16
AM ET
The
Seattle Seahawks
added defensive end
Chris Clemons
and kicker
Steven Hauschka
to their injured reserve lists this week.
Rookie
Bruce Irvin
, the 15th overall choice in the draft, will start in Clemons' place. Recently signed veteran
Ryan Longwell
will handle kicking duties for Hauschka.
Those moves led me to compile IR lists for remaining NFC playoff teams. I used the reserve lists at Ourlads.com, which updates its rosters daily.
October, 21, 2012
10/21/12
11:58
AM ET
ST. LOUIS -- The
St. Louis Rams
are healthier this season than last, but not at left tackle.
Joe Barksdale
will make his first career NFL start Sunday and will match up against
Green Bay Packers
outside linebacker
Clay Matthews
, who has eight sacks this season.
Barksdale replaces the injured
Wayne Hunter
, who was replacing the injured
Rodger Saffold
. Hunter, acquired from the
New York Jets
before the season, missed practice Friday and was named inactive Sunday. A back injury was the culprit.
The Rams will presumably help Barksdale with tight ends, running backs and their game plan. They are also playing with their third-string left guard and second-string center.
Barksdale,
Shelley Smith
,
Robert Turner
,
Harvey Dahl
and
Barry Richardson
will start.
Tim Barnes
and
Quinn Ojinnaka
are the backups. They are the only other healthy linemen on the roster. Teams typically keep seven linemen active for games.
Smith is replacing Ojinnaka, who has struggled. Smith could provide an upgrade in run blocking.
The Packers, meanwhile, will be without receiver
Greg Jennings
and defensive tackle
B.J. Raji
. Both were named inactive.
The Rams' inactive list:
Austin Davis
,
Danny Amendola
,
Terrance Ganaway
,
Mario Haggan
,
Matt Conrath
, Hunter and Saffold. The Packers' list:
Johnny White
,
Sam Shields
,
Nick Perry
,
Greg Van Roten
, Jennings and Raji. The Packers have one open roster spot, meaning they could list one fewer player on the inactive list.
Teams can have 46 players active for games under NFL rules.
August, 21, 2012
8/21/12
12:00
PM ET
FLAGSTAFF, Ariz. -- The
Arizona Cardinals
do not yet know which players will start at offensive tackle for them.

The Cardinals do have a pretty good idea which players those tackles will have to block in passing situations this season.
The list includes
Jared Allen
and
Jason Babin
, who combined for 40 sacks last season while ranking first and third, respectively, in that category. Overall, the Cardinals face nine of the 17 NFL players with at least 10 sacks last season, plus another player,
John Abraham
, who finished with 9.5. There are also players expected to reach double figures in sacks this season after failing to do so in 2011.
Mario Williams
and
Clay Matthews
head that list.
Kent Somers of the Arizona Republic identifies
D'Anthony Batiste
(left) and rookie
Bobby Massie
(right) as
potential favorites
to start at tackle after a triceps injury knocked out left tackle
Levi Brown
, perhaps for the season.
Batiste, 30, started four games for Atlanta in 2007. Massie, a fourth-round choice, started 29 consecutive games at right tackle to end his career at Mississippi.
The chart shows the Cardinals' 2012 schedule, plus projected top pass-rushers from the left and right sides of each opponent's defense. Those pass-rushers' sack totals from 2011 appear in parenthesis.
May, 8, 2012
5/08/12
11:38
AM ET
Justin from Phoenix
thinks the
Arizona Cardinals
can't win with critics.
"The Cardinals have caught grief over the last few years for not drafting offensive lineman, so this year they go out and draft three," he writes. "Now, they are catching grief for not addressing the outside linebacker position. Why can't this team ever do anything right?"
Mike Sando:
I don't know whether the Cardinals are taking significant grief for failing to select an outside linebacker. Let's assume they are, and then let's weigh their perceived needs against known opportunities.
The Cardinals used the 13th overall choice for receiver
Michael Floyd
when they could have selected Melvin Ingram, who went 18th to San Diego. Whitney Mercilus (26th to Houston) and Nick Perry (28th to Green Bay) were the other projected outside linebackers drafted in the first round by teams running 3-4 defenses. Time will tell whether the Cardinals might have fared better selecting one of those players over Floyd.
Having no second-round choice limited the Cardinals' options in this draft, but drafting an outside linebacker in that round might have been a stretch. Courtney Upshaw, chosen 35th overall by Baltimore, was the only 3-4 outside linebacker chosen in the second round (Miami used a third-round choice, 72nd overall, for Olivier Vernon).
That suggests Arizona, which sent the 51st overall pick to Philadelphia in the
Kevin Kolb
trade, did not necessarily miss out on pass-rush help in that round.
Vernon was the only 3-4 outside linebacker selected in the third round. Arizona, picking eight spots later, took cornerback
Jamell Fleming
.
The fourth round did provide an opportunity for the Cardinals to select help at outside linebacker. Arizona was picking 112th overall. Dallas took outside linebacker Kyle Wilber with the 113th pick. Washington took Keenan Robinson at No. 119.
Offensive tackle was clearly the No. 1 need for Arizona, however. The Cardinals' decision to use the 112th choice for tackle
Bobby Massie
seemed reasonable and almost imperative because the team had not taken an offensive lineman to that point in the draft.
Perhaps things would have been different for Arizona in the fourth round if the team had held onto the 51st overall choice. Tackle
Mike Adams
, selected 56th overall by Pittsburgh, would have been an option for the Cardinals.
Arizona used its fifth-round choice (151st overall) for another offensive lineman, Senio Kelemete. This again appeared reasonable, although teams did take 3-4 outside linebackers among the next 14 picks.
The Cardinals already have young pass-rushing prospects in
Sam Acho
and
O'Brien Schofield
. If they were going to select an outside linebacker, they arguably needed to get a true difference maker. Ingram, Mercilus and Perry would have been the options, but drafting one of them would have meant passing on Floyd.
April, 23, 2012
4/23/12
3:05
PM ET
The first six picks of
ESPN's Blogger Mock Draft
unfolded pretty much as expected.
That's when James Walker, our AFC East representative, put out the word: "I'm willing to make a trade back with Buffalo at No. 10."
Before anyone could respond, AFC South representative Paul Kuharsky announced he'd swung a deal with Dan Graziano of the NFC East. The Jaguars had traded the seventh overall choice and a sixth-rounder to Philadelphia for the 15th, 88th and 153rd selections.
The Eagles took defensive tackle
Fletcher Cox
at No. 7.
"By the way," I wrote in an email to the group, "Seattle would love to trade back from 12."
Then came the word from Walker, sent only to me, the NFC West rep: "Don't make your pick at No. 12 yet. I have an offer from New England coming. Working out the point chart. First, I have to figure out Buffalo's pick at No. 10."
A few seconds passed before the AFC West's Bill Williamson, unaware Walker had already made contact regarding the 12th pick, reached out to me in another email.
"If
Melvin Ingram
is on the board at 12," Williamson wrote, "I might have San Diego come up from 18."
This was intriguing. Seattle's actual leadership had swung a deal with San Diego for quarterback Charlie Whitehurst a couple of years ago, so trade talks for the 12th pick seemed realistic. But the Seahawks also have a working relationship with the Patriots, having traded Deion Branch to them not all that long ago.
"Sounds good," I replied to Bill. "James might also make an offer here."
The potential deal with Williamson and San Diego was fleeting. Walker executed a trade with himself, allowing the
New York Jets
to move into Buffalo's spot at No. 10. The Jets took Ingram, the player Williamson had wanted for San Diego.
The fun was only beginning.
Our eight divisional bloggers made four trades involving the seventh, 10th, 12th, 15th, 16th, 27th, 31st and 32nd overall choices, plus later considerations.
Five of our first-round selections in this mock failed to appear in our previous one.
Jerel Worthy
,
Kevin Zeitler
,
Chandler Jones
,
Shea McClellin
and
Coby Fleener
pushed out
Rueben Randle
,
Andre Branch
,
Peter Konz
,
Kendall Wright
and
Mike Adams
.
Courtney Upshaw
,
Dontari Poe
and
Stephen Hill
made double-digit drops from then to now.
Michael Brockers
,
Cordy Glenn
,
Stephon Gilmore
and Cox climbed at least eight spots since last time.
We drafted seven defensive ends/outside linebackers, six offensive linemen, five defensive backs, four defensive tackles, three receivers, three quarterbacks, two inside linebackers, one tight end and one running back.
Mostly, we had some fun with the process. Thanks for coming along.
***
ESPN.com's NFL bloggers went through one final mock draft leading up to Thursday's start of the NFL draft. Here is how
#ESPNbloggermock
played out.
April, 23, 2012
4/23/12
8:00
AM ET
Four days until the 2012 NFL draft. In the meantime, the mock drafts are piling up.
The chart below shows new projections from reporters covering the Seattle Seahawks, San Francisco 49ers and St. Louis Rams.
All three have the Rams and Seahawks drafting for defense. They all have the Arizona Cardinals drafting an offensive lineman and the 49ers drafting a pass-catcher of some sort.
I'll be participating in a live mock draft Monday at 1 p.m. ET, with trades permitted. Details to come.
Moving along ...

Kent Somers of the Arizona Republic
checks in with Ken Whisenhunt and Rod Graves regarding the Cardinals' draft options. Somers: "Addressing the offensive line in the first round makes considerable sense. The Cardinals haven't drafted a lineman the past two seasons. They haven't taken one above the fifth round since selecting Brown fifth overall in 2007. They have tried to plug holes with veterans at the end of their careers (guard Alan Faneca) and low-round picks they hoped would develop (right tackle Brandon Keith). The results have been mixed at best."
Also from Somers
: Whisenhunt points to continuity with Graves and personnel director Steve Keim as keys to success in the draft.
Darren Urban of azcardinals.com
looks at whether the Arizona Cardinals need a stronger No. 2 receiver to pair with Larry Fitzgerald. Urban: "The Cardinals went to a Super Bowl with Anquan Boldin alongside Larry Fitzgerald, but one of the reasons the Cards were eventually comfortable with dealing Boldin was the success Fitzgerald and the passing game had even in games Boldin missed with injury."
Noted:
Kurt Warner was the constant.

Eric D. Williams of the Tacoma News Tribune
has the Seahawks selecting Alabama inside linebacker Dont'a Hightower in his 2012 first-round mock draft. Williams: "Hawks might move down to get Hightower, but he fills an obvious need and will be the team's quarterback on defense for the next 10 years."
Danny O'Neil of the Seattle Times
looks at the Seahawks' need for a linebacker, noting that general manager John Schneider says this draft has more good ones than the previous draft offered. Schneider: "It's completely different than it was last year. There's good numbers up there."
Noted:
Value could lead the Seahawks to draft a linebacker in the first round, but if there are more to be found throughout the draft, the team could have reason to draft early at a position featuring fewer talented prospects.
Dave Boling of the Tacoma News Tribune
explains why he thinks Melvin Ingram might have more appeal to the Seahawks than Luke Kuechly. Boling: "Carroll and his staff like to find players with unique skills and then develop ways to work them into a scheme. While Kuechly looks to be a conventional middle linebacker type, Ingram could be more of a fun toy for Carroll."
Brock Huard of 710ESPN Seattle
makes two observations after attending a charity event featuring most of the team: Team chemistry appears strong, and the Seahawks have become a much bigger team physically.

Jim Thomas of the St. Louis Post-Dispatch
projects LSU cornerback Morris Claiborne to the Rams with the sixth overall pick after teams picking among the top five selected Justin Blackmon and Trent Richardson, among others.
Also from Thomas
: The Rams need help at defensive tackle, but none of the top three prospects appears worthy of the sixth overall choice. Thomas: "In a deep defensive tackle class, there should be multiple options for the Rams at the top of the second round and perhaps even at the top of the third."
More from Thomas
: a closer look at Claiborne and the cornerbacks. Thomas: "From a pure coverage standpoint, there are those who feel Claiborne is a significantly better prospect than his much-ballyhooed predecessor at LSU, Patrick Peterson, who went No. 5 overall in the 2011 draft to Arizona."
More yet from Thomas
: New Rams linebacker Jo-Lonn Dunbar has good things to say about Gregg Williams.

Pat Yasinskas of ESPN.com
says HBO has interest in the Baltimore Ravens and San Francisco 49ers as "Hard Knocks" alternatives to the Atlanta Falcons, who declined to participate.
Noted:
Tough to envision the 49ers accepting. Their football leadership has sought to close ranks.
Matt Maiocco of CSNBayArea.com
passes along thoughts from 49ers coach Jim Harbaugh on GM Trent Baalke's suggestion the team has one player in mind for the 30th overall choice. Maiocco: "I think Trent's trying to be dramatic with you guys -- build the drama. There's several -- there's a lot of good guys. There are a lot of good guys we'd love to have at that pick. Having been through this once, most of the guys you recognize as great football players are going to be playing against you. That's just the fact of business. But getting the right guy, the right fit for our team, is what we're all focused on."
Matt Barrows of the Sacramento Bee
has the 49ers drafting receiver Stephen Hill with the 30th pick.
Gwen Knapp of the San Francisco Chronicle
looks at history precipitating the 49ers' impending stadium move from San Francisco to Santa Clara.
Eric Branch of the San Francisco Chronicle
says new 49ers running back Brandon Jacobs has great speed -- on the highway.
Phil Barber of the Santa Rosa Press-Democrat
outlines five positions to watch in the draft for San Francisco.
April, 11, 2012
4/11/12
11:48
AM ET
With an
assist
from Clare Farnsworth, I've put together a chart showing 14 mock draft projections for NFC West teams.
The mocks are arranged by which players the
St. Louis Rams
were projected to select sixth overall. A couple other mocks fell from consideration because they projected trades, throwing off the comparisons.
A quick look at the player counts per team:
Each selection has the potential to affect subsequent ones, a big factor for mock drafts featuring more than one participant. Our ESPN.com Blog Network mock featured eight participants. The others featured one apiece.
These 14 mocks singled out 19 players for the four NFC West teams. There were five offensive linemen, four defensive end/outside linebacker types, four bigger defensive linemen, four receivers, one linebacker and one cornerback.
Most of the picks filled obvious team needs.
April, 11, 2012
4/11/12
8:43
AM ET
The San Francisco 49ers need to identify a starting right guard.
Adam Snyder is out, having signed with Arizona. Chilo Rachal appears to be out, having reached free agency without the 49ers showing much interest in him. Daniel Kilgore remains, but he remains a developmental player entering his second NFL season.
What about swing tackle Alex Boone?

Matt Maiocco of CSNBayArea.com
says the 49ers are expected to give Boone a shot at the job. Former NFL center LeCharles Bentley, who helps train Boone during the offseason, had this to say about the idea: "Honestly, in their scheme, guards are a dime a dozen. A good young offensive tackle is such a premium. It would be a waste of ability. .. But if he's one of the five best, yeah, get him on the field."
Noted:
The 49ers paid more than a dime for left guard Mike Iupati, a first-round choice in 2010, the year before Jim Harbaugh arrived as the 49ers' head coach. Boone could, in theory, remain a backup option at tackle even while playing guard. At 6-foot-8 and 300 pounds, however, Boone looks like a tackle, not a guard. Bentley thinks the team should move right tackle Anthony Davis to guard, but there are no indications the 49ers plan to head in that direction.
Also from Maiocco
: lists players scheduled to attend the 49ers' pro day for local prospects.
Eric Branch of the San Francisco Chronicle
says the 49ers have shown interest in tight end Andre Hardy, a college basketball player.
Matt Barrows of the Sacramento Bee
says the 49ers made little apparent effort to keep safety Madieu Williams, who reached agreement on a contract with the Washington Redskins.
Noted:
The 49ers signed Williams last offseason while Dashon Goldson remained a free agent. They then signed Goldson to a one-year deal. They had less need for Williams as an insurance policy with the franchise tag restricting Goldson this offseason.

Jim Thomas of the St. Louis Post-Dispatch
points during a recent chat to Jeff Fisher's history in suggesting the Rams probably will not select guard David DeCastro with the sixth overall choice. What if Matt Kalil were available? Thomas: "No. 6 is too high for DeCastro. Plus, I think it's been pretty well established that Fisher would rather not taken an offensive lineman in the first round. He didn't do it once in 16 full seasons with Houston/Tennessee. So it'll be very interesting if Kalil's there at No. 6, as was the case in the P-D's latest mock draft from last Sunday. Do the Rams take him or trade down?"
Also from Thomas
: The Rams might need to draft a punter after watching Donnie Jones sign with the Houston Texans.

Clare Farnsworth of seahawks.com
shares what various mock drafts are projecting for Seattle in the first round this year. Luke Kuechly showed up four times and Quinton Coples twice. Nick Perry and Fletcher Cox each showed up once. Pat Kirwan of CBSSports.com: "The Seahawks could go in a few directions at this spot, but Kuechly makes the most sense to me to QB Pete Carroll's defense. As Carroll said to me last week, linebackers in free agency moved off the board slowly because there are some very interesting linebackers in the draft."
Also from Farnsworth
: Ricardo Lockette's speed overshadows other parts of the receiver's game.
Danny O'Neil of the Seattle Times
has this to say about new Seahawks guard Deuce Lutui: "Lutui was signed to a one-year deal. That's not a long-term investment. Rather, it's an opportunity for Lutui to play his way back into position to earn a longer-term contract, going to a team coached by a man he's familiar with. For Seattle, the upside is that if Lutui is motivated and in shape, the Seahawks are getting a former second-round draft pick who started for five seasons at a bargain of a price."
Brady Henderson of 710ESPN Seattle
passes along Adam Schefter's note about former 49ers and Saints nose tackle Aubrayo Franklin paying a free-agent visit to the Seahawks.
Noted:
Former 49ers general manager Scot McCloughan works for the Seahawks now, giving Seattle a feel for Franklin.

Darren Urban of azcardinals.com
has details on Adrian Wilson's cameo appearance on "Hawaii Five-O" Monday night. Wilson was a prison guard on the show. Urban: "The scene was shot while Wilson was in Hawaii recently, although his spot in the show was somewhat of a fluke. One of his publicists, Carrie Carnie, got to talking to one of the producers of the show on an airline flight. Turned out the producer was a fan of Wilson's and the role was created. It's not exactly Wilson's arena, though. While the actual scene was being shot, it was fun, he said. But mostly, 'there was a lot of time in between shots, just waiting around.' "
Also from Urban
: Cardinals guard Chris Stewart put on hold his pursuit of a law degree to play in the NFL. Urban: "He got his bachelor's degree in history and political science in just three years at Notre Dame, and after redshirting his freshman year on the football field, he ended up with two years of football eligibility left with every option open for classes. The first year he took grad school courses trying to find his life's direction, including some law courses. The next year -- his senior year on the football field -- he decided to work out the logistics, take the LSAT, and enter Notre Dame's law school."
April, 2, 2012
4/02/12
11:14
AM ET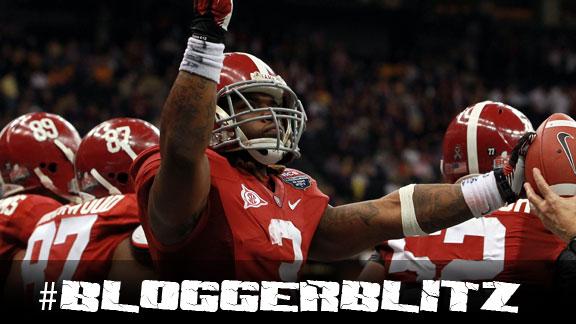 The NFL's transformation into a pass-happy league has sent teams scrambling for ways to keep up defensively.
Perhaps that explains why defensive linemen and 3-4 outside linebacker types dominated ESPN.com's first NFL Blog Network mock draft for 2012.
AFC West blogger Bill Williamson snapped up three of them for the division he covers. Six other defensive linemen and 3-4 outside linebackers found homes elsewhere in the first round.
Offensive linemen (seven), defensive backs (five) and wide receivers (five) accounted for most of the remaining first-round selections.
In keeping with the pass-oriented theme, Alabama's
Trent Richardson
was the lone running back selected, landing in Cleveland with the fourth overall choice.
And, of course, we kicked off the mock with a couple of quarterbacks.
March, 29, 2012
3/29/12
9:46
AM ET
NFL players won on the lifestyle front in their most recent labor negotiations.
They succeeded in pushing back an offseason that had encroached on their recovery time as teams sought competitive advantages through year-round preparation.
Those victories have come at a price in some situations, however. This would be a perfect time for St. Louis Rams quarterback Sam Bradford and other young quarterbacks to spend time with their coaching staffs, but rules prevent that from happening until deep into April. Even Bradford's rehab from an ankle injury became a solo endeavor at times.
Is that what is best for Bradford's career? Is that the path he would choose if given a choice in the matter? It's still only March 29, so perhaps Bradford and other young quarterbacks still have plenty of time. It just seems counter-productive for an outright ban to prevent players from getting in the work some of them would surely welcome.

Jim Thomas of the St. Louis Post-Dispatch
says Bradford recovered from his ankle injury about a month ago, according to coach Jeff Fisher. Fisher: "Now had it been during the season, they probably would've taken a different approach to the rehab. But they felt the best thing for him was to just shut it down. My understanding is that as part of his rehab, he has been doing his drops and sets, and throwing some balls. But we're not permitted to be a part of that."
Also from Thomas
: The timing of the NFL's announcement regarding the bounty-related punishments put the Rams and Saints in a difficult spot, perhaps by design. Thomas: "Factor in also the date -- March 2 -- when the NFL released the findings of its investigation. League bylaws prohibit teams from seeking permission to interview a coach under contract with another team after March 1. ... As a result, if Fisher wants to hire a Williams replacement this season, it has to be someone currently out of the league, severely limiting the pool of potential candidates."
Bernie Miklasz of the St. Louis Post-Dispatch
offers thoughts on Rams owner Stan Kroenke's failed bid to purchase the Los Angeles Dodgers. Miklasz: "Kroenke can still try to move the Rams. Unless he can make a deal to extend the lease at the Edward Jones Dome, Stan the Businessman almost certainly will have an escape clause to leave St. Louis after the 2014 season. ... I'm still among the seven or eight people in St. Louis who believe Kroenke will stay. As one NFL owner told me recently, Kroenke still has one of the best lease arrangements in the NFL. So what's the problem? Kroenke is a cold guy, but he isn't a bad guy. Stan just can't help himself; tough negotiations, and the art of the deal, excite him. So he'll push hard to get the necessary stadium improvements here."
Noted:
Kroenke is most likely going to want a new stadium, not a refurbished Edward Jones Dome. That is the likely end game. The dome's design is outdated.

Eric Branch of the San Francisco Chronicle
looks into Brandon Jacobs' reputation as a soft runner. Jerry Rice: "I like Brandon Jacobs, but I feel like Brandon Jacobs is a little bit soft. He can't get away from a defender. This guy is 265 and it upsets me when I see him get tackled by a guy that's like 190 or 200 pounds."
Matt Barrows of the Sacramento Bee
says Pro Football Weekly draft analyst Nolan Nawrocki thinks the 49ers can find a receiver after the first round. Nawrocki: "You can find them anywhere throughout this draft, so I don't know if they should reach for one that early."

Clare Farnsworth of seahawks.com
checks in with former center Blair Bush, now 55 and a financial analyst. Farnsworth: "Bush anchored the Seahawks' line from 1983-88, starting 78 games on teams that averaged 9.5 victories, played in the AFC Championship game (1983), won the team's first division title (1988) and advanced to the playoffs four times (1983, 1984, 1987 and 1988)."
Danny O'Neil of the Seattle Times
links to a photo gallery from the movie set where Marshawn Lynch is working this week. O'Neil: "Lee Majors is in it. So is Edward Furlong, aka the young John Conner from 'T2' who is not so young anymore. And then there's Lynch, whose role is detailed as 'Massive Goon.' He's a security guard for the bad guy, and while he does have a line, the script also calls for him to get aced during a bank robbery before he even gets in the building."
Brock Huard of 710ESPN Seattle
sees the Seahawks addressing linebacker and pass-rusher early in the draft. Huard: "Todd McShay's latest mock draft would be a dream scenario with a prototypical pass-rusher with the length and strength Carroll desires in UNC's Quinton Coples, and the rare burst and acceleration at linebacker with Cal's Mychal Kendricks. However, the mock draft script could be flipped with the draft's most dynamic and instinctive linebacker at No. 12 with Luke Kuechly going first, and at No. 43 a pass-rusher such as USC's Nick Perry or Marshall's Vinny Curry."

Kent Somers of the Arizona Republic
quotes Ken Whisenhunt and analyst Daryl Johnston on the Cardinals' quarterback situation. Johnston on whether Kevin Kolb or John Skelton is the best choice: "Kevin Kolb. You have the financial commitment to him. The big thing that happened to Kevin last year is the fact that he didn't have the offseason to work in, and it was a big change from his style of offense from Philadelphia to Arizona. So he struggled at times. You look at John Skelton did and you look at the record and you say, 'How can you pick Kevin Kolb? [Skelton] has a better win-loss record and football is all about winning.' They won with fewer points per game with a higher turnover ratio, so there are some other things that go there."
Darren Urban of azcardinals.com
checks in with Larry Fitzgerald, who is working with Anquan Boldin to fight the effects of drought and famine in Ethiopia. Fitzgerald: "There are so many needs here, basic ones to us back home. Just having clean drinking water or having water at all, (which is) something we never even think about at home. You turn the faucet on and you get clean drinkable water. (Here there is) no water for the livestock who plow the fields for vegetables and food. It's an ugly cycle."